I'm expecting Texas-style, highfalutin bountifulness when I walk into the lobby of The Post Oak Hotel in Houston's swanky Uptown — and that's what I get. Above me, a grand Swarovski crystal chandelier (inspired by the one in the Dubai Opera House) glitters, cascading for three stories to dominate the airy lobby. Mesmerizing Frank Stella masterworks adorn the walls. A multitude of ritzy restaurants, an in-house, bi-level Rolls Royce showroom, ubiquitous gleaming marble, and a buzzy pool scene in view behind the reception area's atrium-style doors, add to the hotel's exuberant amplitude. All around, sports icons, movie stars, and socialites mingle. The grandeur spellbinds. 
Yet, what sets The Post Oak apart goes beyond the palpable. Something that money can't buy, the hotel's most captivating distinction is flawless Swiss-hotel-style service — an attribute rarely found at this impeccable level in American five-star hotels. From doormen to spa attendants to waiters to the plethora of roving staff, The Post Oak's team perpetuates perfection at every turn. Not just words from a script, intuitive service emanates from everyone at the hotel, with unpretentious authenticity, while still maintaining that sense of lavish pampering that Post Oak's palatial mise-en-scène deserves. In the elevator, as if to punctuate my own awe, another guest says to me: "Can you believe the service here?" I just smile and nod.
Beyond the Service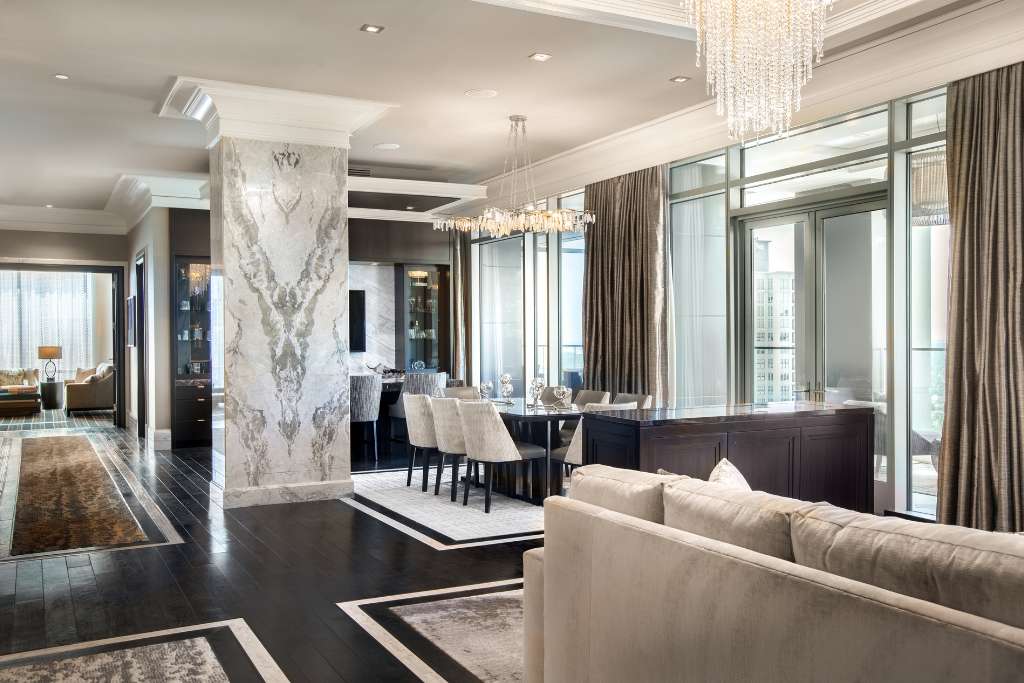 Conceived as a showpiece by celebutante billionaire Tilman Fertitta, the world's wealthiest restaurateur, a reality television star, and owner of the Houston Rockets, the Post Oak rises 38 stories, and is just steps from the world-class shopping haven, The Galleria, a beacon of lavish allure. The hotel's impressively imposing real estate footprint and its plentitude of amenities — including a huge ballroom and nine restaurants and bars — ensures a resort feel. But the fact that it offers just 250 pied-à-terre-style guest rooms (and suites) keeps things exclusive and boutique-y for guests in residence.
Each room stretches to at least 500 square feet, flanked by panoramic windows that bring in city views and the huge Texas sky. Equipped with two-sided, 50-inch flat screen televisions designed to disappear into a credenza (and a third television embedded into the white marble bathroom wall), the rooms include 500-count Egyptian cotton bed linens (and pillow cases monogrammed with the guest's initials), custom amenities by Acqua Di Parma, and a set of dumbbells for quick en-suite workouts. Always booked, the 5,000-square-foot Presidential Suite on the 22nd floor draws accolades from the world's top celebrities who compete to call it home. Reached by its own elevator, the suite features a living room, kitchenette, dining area, spacious bedroom, bathroom, exercise room, original art by the likes of Robert Motherwell, and an outdoor patio. With heli-pad access, this posh kingdom goes for $12K a night.
Dining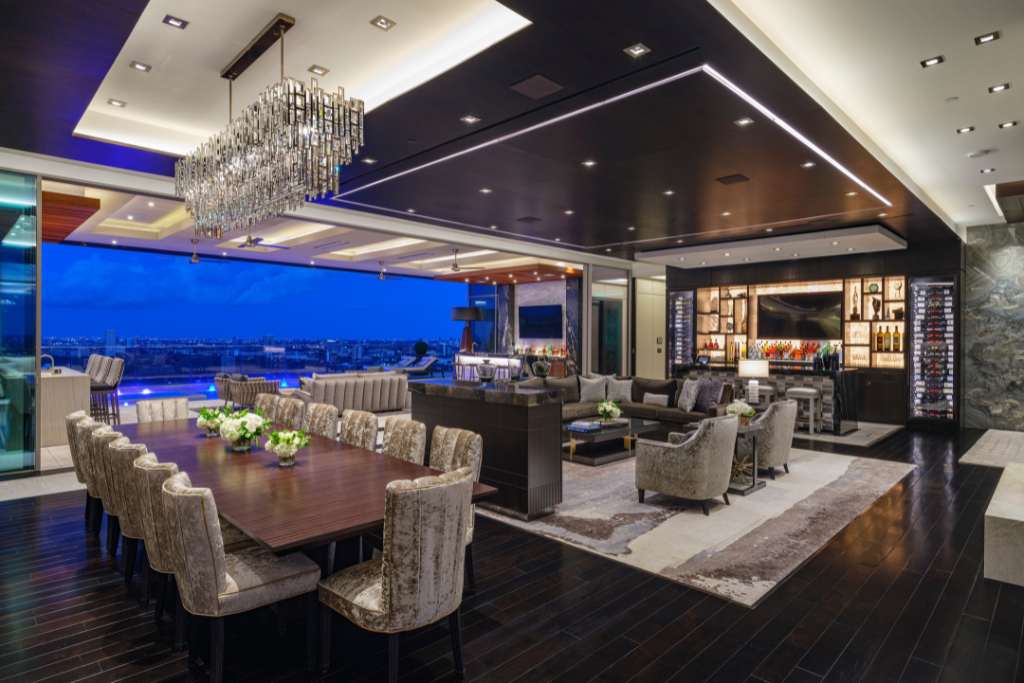 Naturally one of the world's most prominent restaurateurs would not let culinary excellence fall by the wayside. At The Post Oak, an eatery or drinkery exists to satisfy every mood. From an unparalleled steakhouse with 16 different cuts of meat (Mastro's Steakhouse) to Bouchée Patisserie with its freshly baked Parisian-evoking indulgent sweet treats and stellar coffee, to Craft F&B for wood-fired pizzas, the restaurants and bars serve as hotspots for guests and locals alike. Don't miss the newest venue, Stella's Wine Bar, a casual bistro-like nook with an outstanding wine list. In addition, the astonishing The Cellar at The Post Oak Hotel at Uptown Houston guards some 30,000 bottles of wine with vintages that date back to the 1800s. Two master sommeliers lord over the collection.
The Spa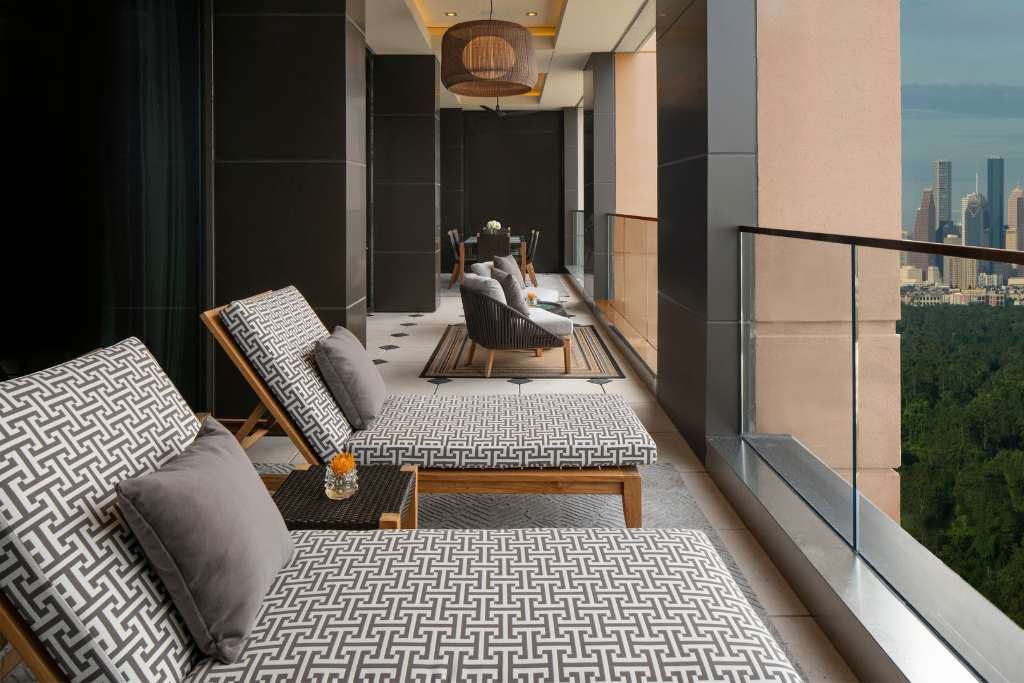 The oasis within the oasis, The Spa at The Post Oak Hotel unfurls for 20,000-elegant-white-sheathed feet on the hotel's fifth floor. A truly tranquil place, it offers guests a bit of bubbly as an optional enhancement before or after your treatment to be enjoyed amid the sanctum. Exemplar beauty brands such as Switzerland's Jacqueline Piotaz and France's Biologique Recherche rule the day. Located above the spa, a first-in-class fitness center satisfies every athlete's needs.