On Geneva's Rive Droite, inside the divinely splendorous, Beau-Rivage Geneva and its canny little bar, Albertine's, once a diminutive reading room that still feels literary, I ponder over the drink menu. While the Roger Moore Truffle Martini sounds impossible to resist (even deadly), and the Charlie Chaplin Smoky Fashion (replete with Aperol and Campari) sounds bitterly compelling, I falter. It takes the bartender popping the cork on a bottle of the house Champagne — Deutz Brut Blanc — to inspire my epiphany. "I need a Classic Champagne Cocktail," I say, conjuring my best Grace Kelly voice — and waiting. The debonair bartender nods approvingly, and gets to work with aromatic Angostura, a bit of brandy, and oodles of Deutz poured all the way to the top. "It's appropriate," he says, waving his hand as if embracing the surroundings. I know what he means. The Classic Champagne Cocktail was invented in the mid-1800s, That's just about the same moment in time (1865) as when the chateau-like Beau-Rivage, a showstopper on the shores of Lake Geneva, first opened its doors to celebutantes and royalty aplenty. Today, nearly two centuries later, the meticulously refurbished but unapologetically classic hotel continues to welcome posh visitors to its sumptuous interiors.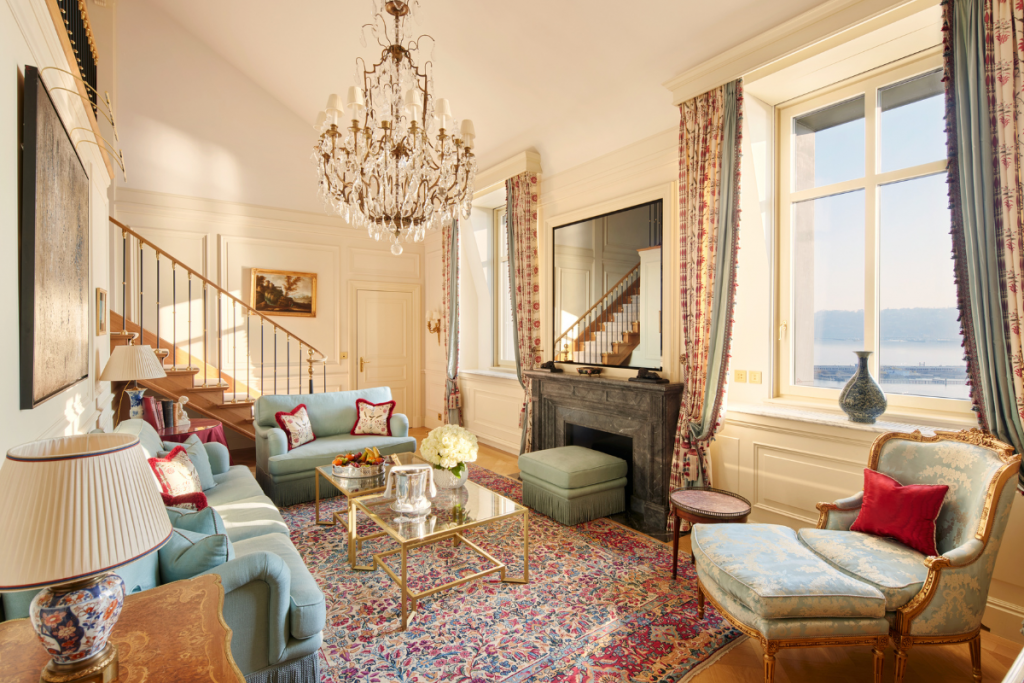 You might call it morbid, but I've come to visit because of someone who died here. And, I'm not the only one. Among the obsessed fans of Elisabeth, Empress Consort of Austria, also known affectionately to the masses as Sisi, a visit to Beau-Rivage is par for the course in a historic trek to pay homage to the beloved royal. It was at Beau-Rivage, family-owned until 2020 (then sold to another family), where Sisi was assassinated by a lunatic, Italian anarchist. Stabbed just outside the hotel as she ventured to board a paddle steamer, the Empress eventually returned to her suite wounded, tragically dying later. Today, not only does a bronzed plaque commemorate the site of the murder, but a cabinet within the hotel displays blood-stained items, including a ribbon and a pair of gloves. Creepy? Not according to a slew of guests who line up to book the over-the-top, gorgeous Sissi Terrace Suite, one of the hotel's most storied—and requested—rooms.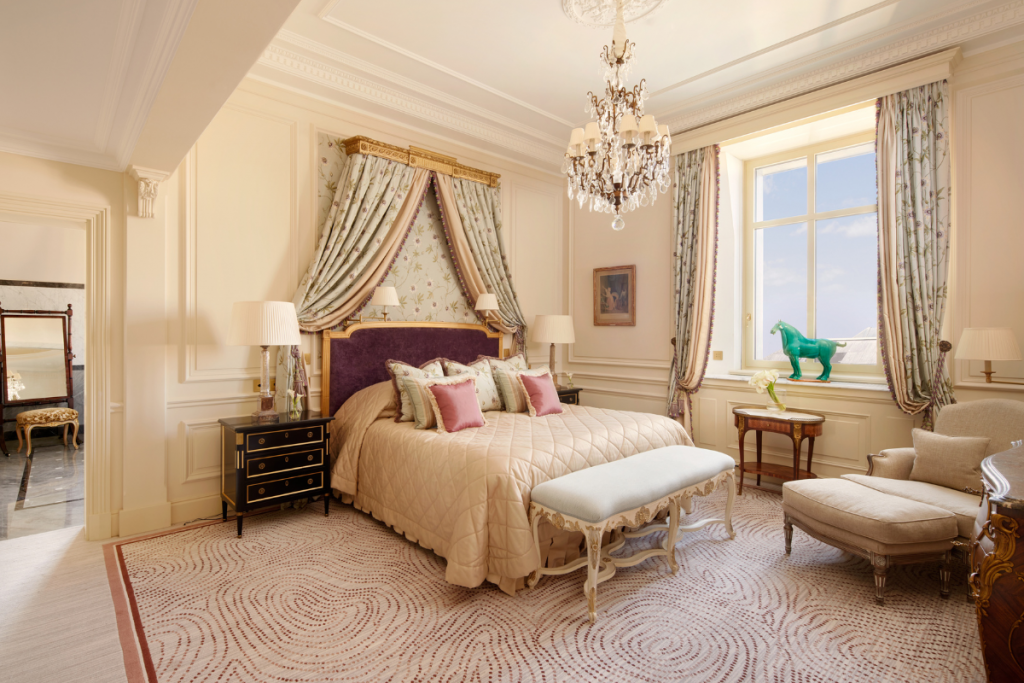 While I don't stay in the suite, notable for such things as its objets d' art, period furnishings and an immense (perfect for parties) terrace with direct views of the shimmering lake and Geneva's renowned fountain Jet d'Eau, I enjoy a lesser category room just as imperially. In my Premier Lakeview Room, with its rounded corners and multiple windows facing the lake, I revel in the soothing, sun-dappled waterfront, accentuated by the mountains beyond. I peer out, imagining Sisi walking along the lake shore, feeling her presence in a positive way. Oh, yes. I think even the exceedingly pampered Sisi would have approved of my stunning room, albeit tinier than her own. I toast that with another Classic Champagne Cocktail.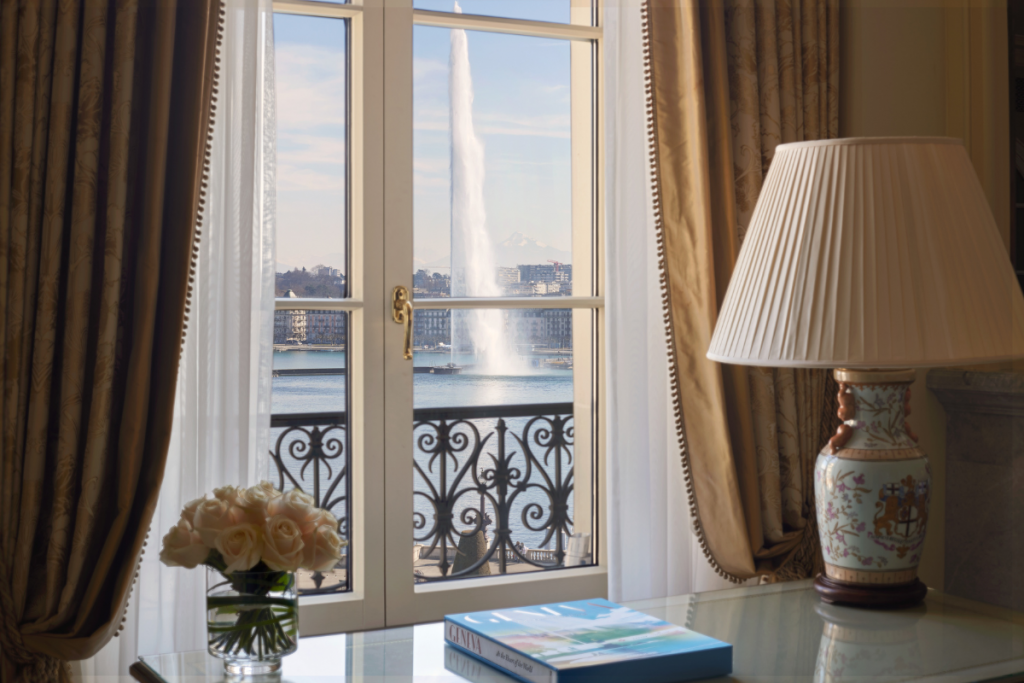 The Hotel
Expect the grand dame of your dreams. Poised lakeside, the hotel successfully completes its destiny to be an exemplar hotel in the manner of the world's first, pampering, home-away-from-home-style hotels — or, better said, palaces away from palaces. Meant not just as a place to provide a once in-a-lifetime getaway for those honoring a big event, but to be a place that provides stylish, peerless service, programmings and amenities to those who expect it every day, the hotel might be a place a countess could live happily for years on end.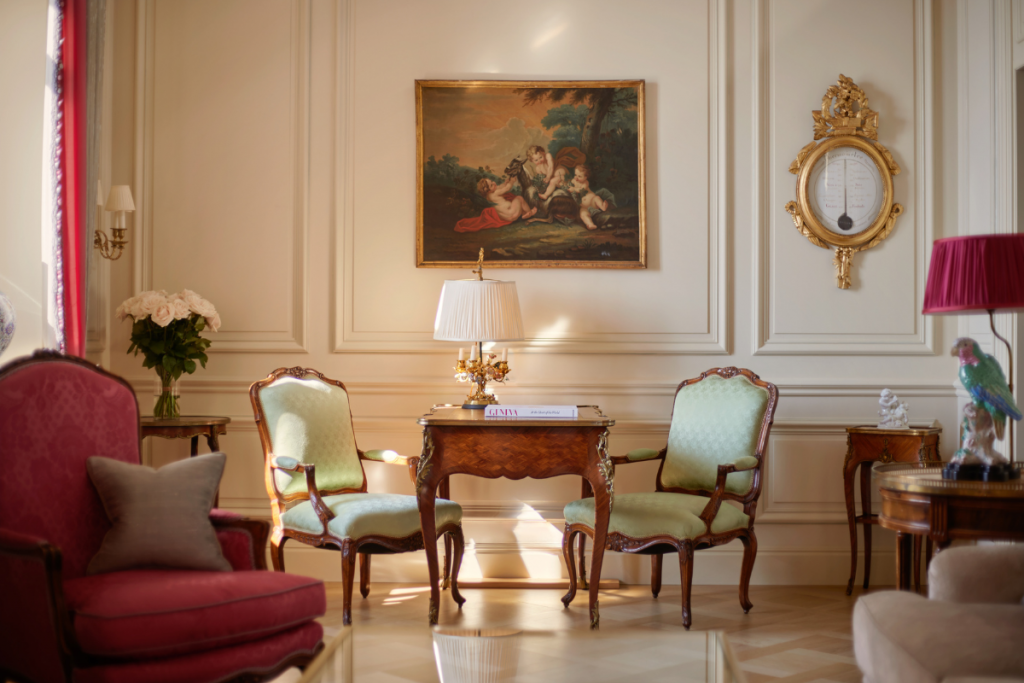 Service
It's Swiss. Not just perfect Swiss service but the mother of all flawless, superlative Swiss service. Part of this can be explained by the fact that it was owned and operated for five generations of the Mayer family as a personal enterprise (if only every hotel had that DNA), only recently sold in 2020 to another passionate hotelier family, the Casacubertas from Spain. The concierge desk here is particularly famous for its Clefs d'Or team.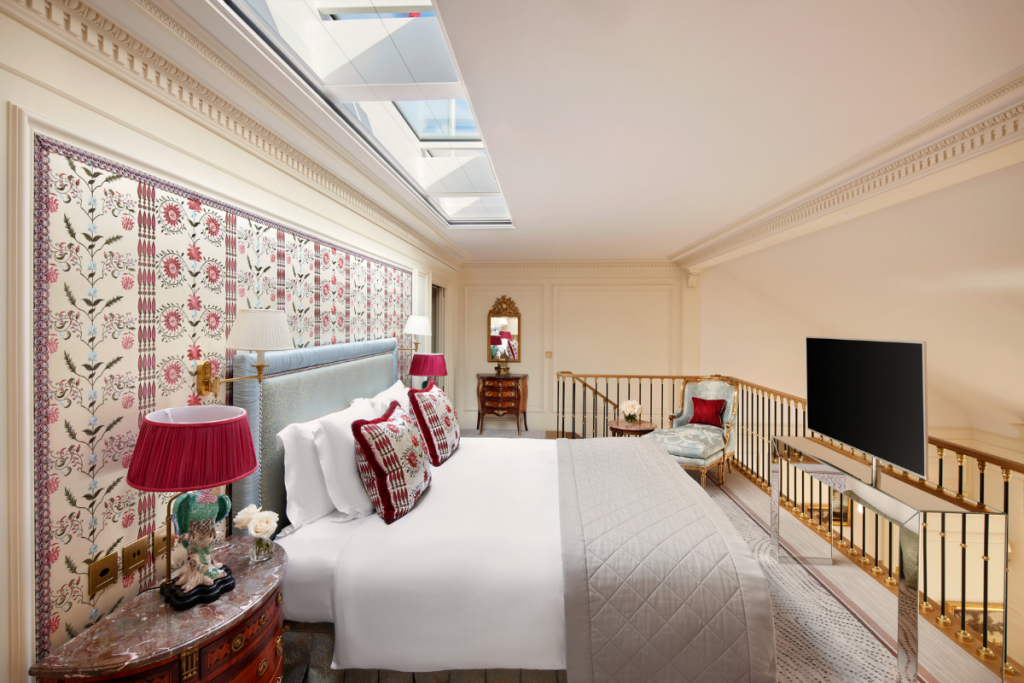 The Suites and Rooms
Fresh, redone, repolished, but deeply drawing from the extravagances and indulgences of the past, the rooms stand alone as unforgettable, unique chambers. They manifest the styles of past decades, splendidly fused from styles that range from Victorian to Art Deco. With lush fabrics and ornate details, each provides a haven. If the Sisi Terrace Suite is booked (it usually is) choose the Heritage Suite, a feast for the senses, bedecked in frescoes and moldings aplenty.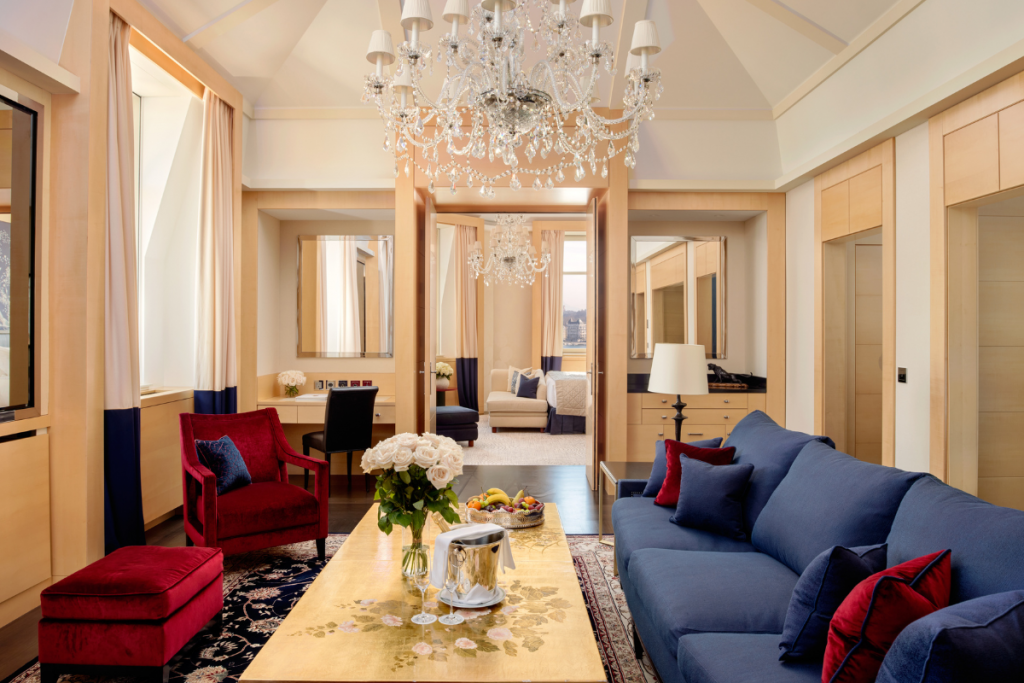 Dining
While Albertine's off the lobby beckons and a Thai restaurant, La Patara, keeps things spicy, Beau-Rivage's jewel in its epicurean crown, Le Chat-Botté, remains not only a gastronomic fixture but a yearned for life experience. Attracting locals as often as guests, the Michelin-touted chef Dominique Gauthier reigns and flourishes in this legendary restaurant, which first opened in 1967. The chef also oversees al fresco, more casual La Terrasse. In winter, the restaurant gainfully transforms into a cold weather wonderland, replete with heated, atmospheric bygone gondola cars from Gstaad.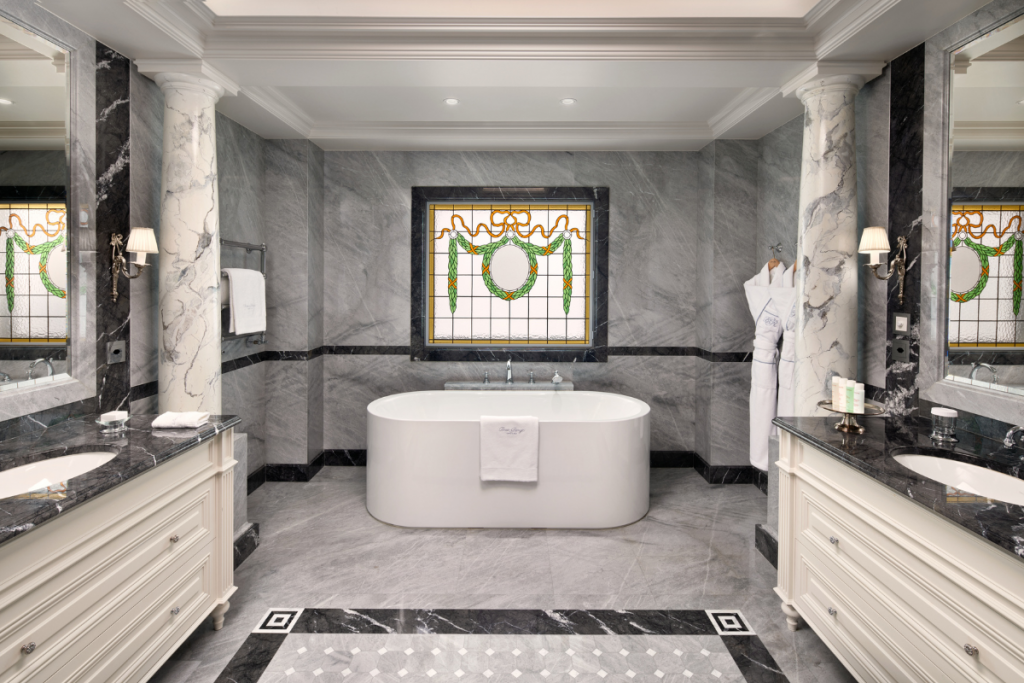 Wellness
Following a quality rather than quantity approach, Beau-Rivage has eschewed the colossal spa trend to simply offer its guests truly exceptional treatments one-at-a-time in the hotel's Bellefontaine Beauty Suite, featuring rituals with 100%, made in Switzerland Bellefontaine products — elite blends of biotechnological advancements and pure Swiss glacier water. A fitness room and small spa (hammam, sauna) are also available.