Like a fetching duo from a James Bond film escaping a villain's grasp, you zip across Lake Como on a Riva, the Cadillac of wooden-hulled speedboats, the ones that embody those heyday, glamorous times of the 1950s and 1960s in Italy – and beyond. On the Y-shaped lake, long the playground of the rich, famous and hope-to-be, magical vistas unfold. You glimpse terraced villages, mustard and saffron in hue and imposing villas as fancy as wedding cakes. But, you're going so fast it all becomes a blur of melodious Italian wind. She's wearing a scarf, and it flutters in the breeze like a kite's tail. You're both sipping champagne, though it's hard to drink at such velocity. Thank heavens you have a captain. As you course through the crystalline waters of Lake Como, you can't imagine a more romantic place on earth. When you dock at Grand Hotel Tremezzo, the wind's music lingers as a whisper in your ears. You make plans to return to the immense floating pool, the hotel's veritable outdoor living room or perhaps retire for a spa treatment. In the end, you simply head back to Villa Sola Cabiati because what could be better than your own home on Lago Di Como, a Clooney-style retreat.
More on VIlla Sola Cabiati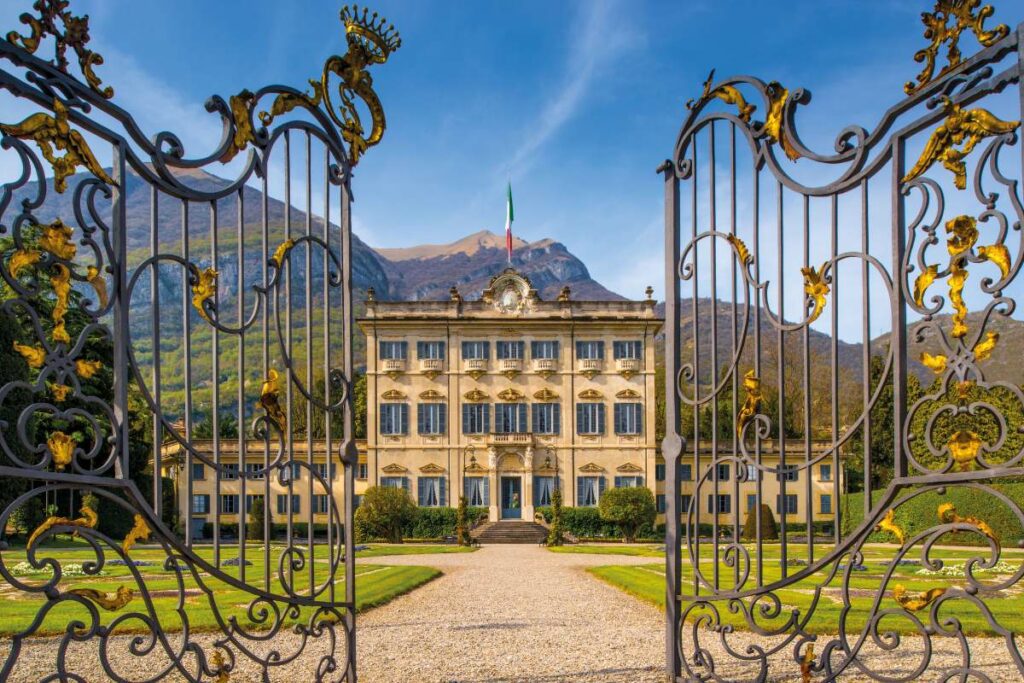 Managed by the hotel as an aristocratic residence available exclusively for events or gatherings and accommodating parties of up to 12 overnight, Villa Sola Cabiati lies just a few minutes from Grand Hotel Tremezzo. With six spacious suites, each with an en suite bathroom, the ornate mansion reflects its centuries-old history as a summer escape for nobility. A Neo-classical facade with characteristically blue shutters and marble balconies — opens to period decor, priceless antiquities, frescoed walls, arresting art and stately staircases. A villa manager, butler, chambermaid, and housekeeper await your commands.
Other Italian Villas With Dolce Vita Appeal
Villa Castiglione Ugolino, Umbria
Experience the fruits of Umbria — medieval towns, olive groves, truffles, and vineyards — at villa Castiglione Ugolino, a castle atop a hill overlooking the Tiber Valley, ensconced amid the 18,000-acre, family-owned Tenuta di Murlo estate. A haven nonpareil for weddings, the villa retains an attached church, captivatingly dating back to the 11th century. An infinity pool edged by gardens entices, a symbol of modern times, while indoors ten bedrooms and a panoply of common rooms (some embellished with circa 13th-century frescoes) beguile with terracotta floors and travertine marble staircases. Villa guests enjoy full access to the estate, its restaurant and a host of activities, including truffle hunting, beekeeping, biking, horseback riding, cooking classes, and swimming beneath waterfalls that cascade into the estate's natural swimming holes.
Tenuta Argentaia, Maremma, Tuscany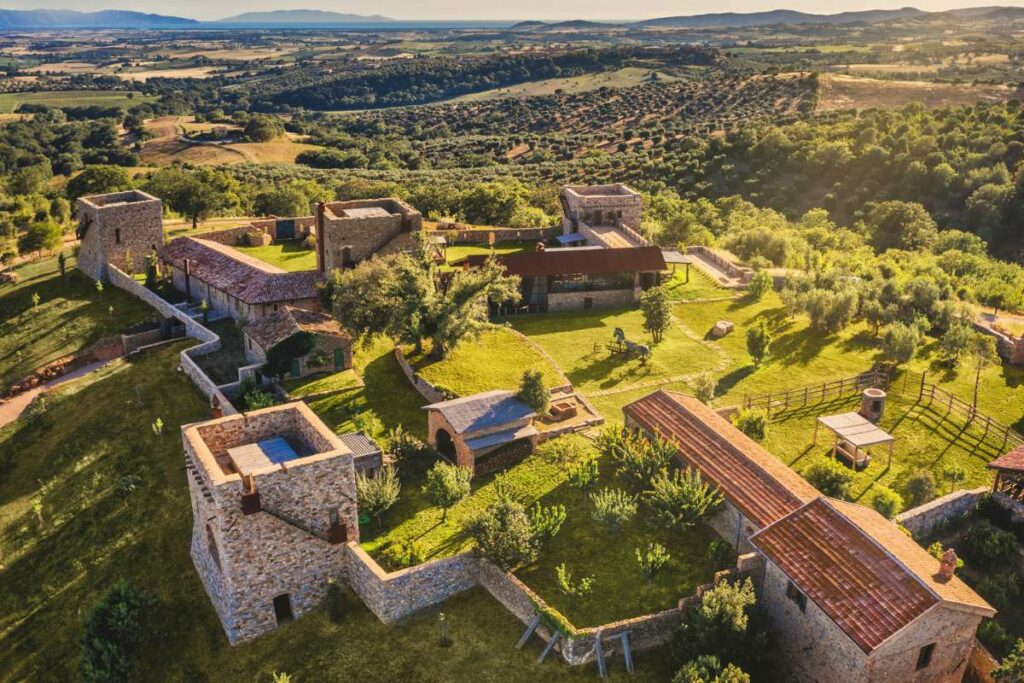 Head to the Maremma, Tuscany's lesser traveled hinterlands, long a retreat for sophisticates in the know. Often called the Texas of Tuscany, thanks to its butteri — or Tuscan cowboys — and wild horses, it sprawls near the sea as a tumble of olive groves, orchards, vineyards, and woodland.  Delve into its spirit at sustainable Argentaia, which melds the past with modern times.  An aesthete's dream of a castle, erected on the remains of a 12th-century monastery, the Italian villa has been cunningly imagined, adorned and restored by top architects, artists, and artisans. On a hillside with sea views that embrace the storied island of Montecristo, Argentaia sleeps 18 comfortably in 7 en suite guest rooms and suites, many tucked into towers. A saltwater swimming pool, spa, tennis court, and wine cellar complete the picture.
Villa Santa Maria Maddalena, Palazzo Di Varignana, Castel San Pietro Terme, Emilia-Romagna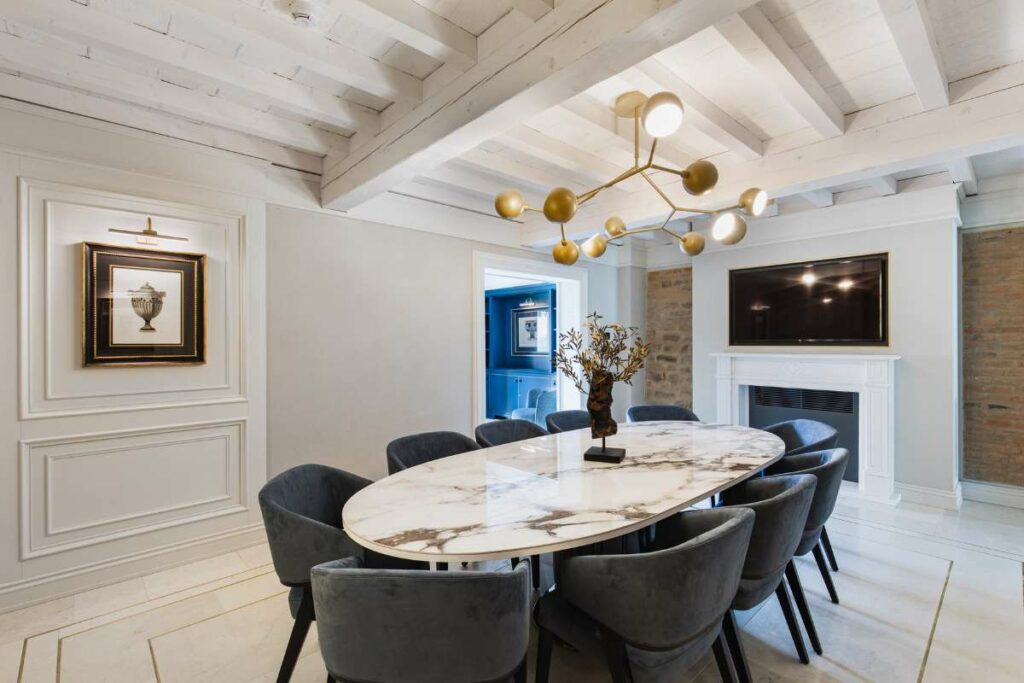 Near the vibrant university town of Bologna (known for such gourmet delicacies as mortadella, Lambrusco and tagliatelle al ragu), Palazzo Di Varignana puts nature on the forefront in the bucolic Emilian countryside. Bringing guests the essence of slow travel, a chance to relax and go inward, the palatial estate, an eden of olive trees (which produce an award-winning olive oil), vineyards, and a 1,200-acre farm, it provides both elegant hotel suites and (six) striking villas for larger parties. For an unparalleled stay, book five-bedroom Villa Santa Maria Maddalena, historically enriched with its own restored medieval chapel. Dining options include the villas' fully equipped kitchen and the possibility of a private chef or one of the Palazzo's four restaurants. Don't deny yourself a visit to the estate's acclaimed Varsana SPA, a peerless wellness center.
Villa Sofia, Forte Village, Sardinia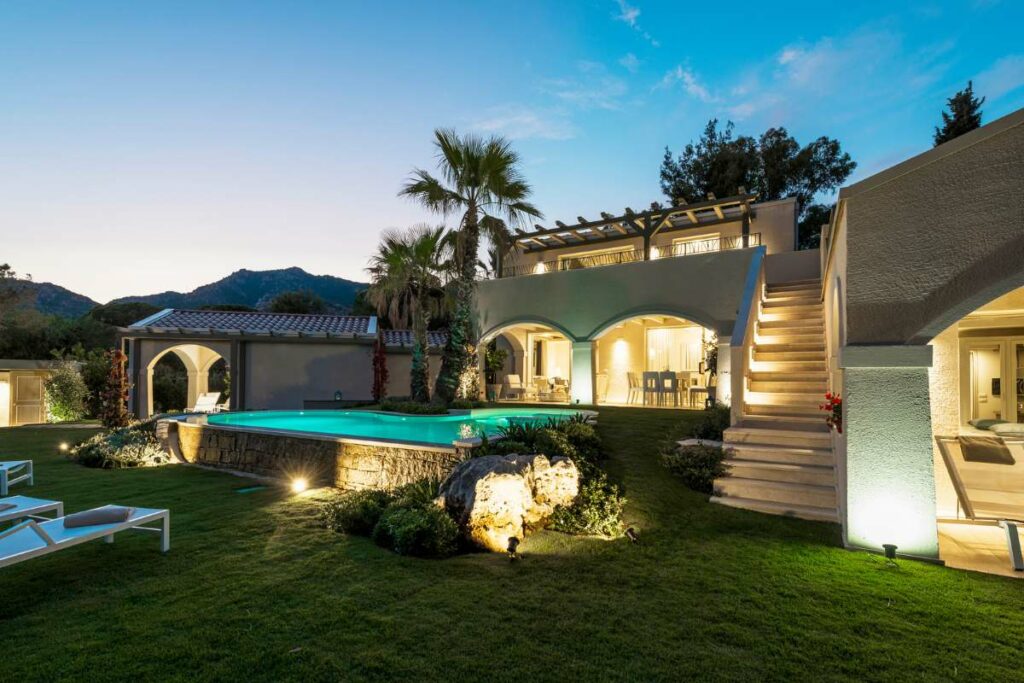 On the buzzy Blue Zone's list of healthy places to live, Sardinia draws a posh international crowd for its turquoise seas, beautiful beaches, and dramatic rock formations.Forte Village, founded in 1970 by Charles Forte (Sir Rocco Forte's father), boasts an electrifying 120 acres of hospitality, including 8 hotels, 21 restaurants, and an abundant wine cellar — not to mention legions of things to do. Share Villa Sofia, one of 13 luxurious villas set in secluded nooks around the garden, with some friends. Find room for six in three apartments — each suite in the villa with a private entrance. Sip wine by the private pool or hot tub, or try your hand at some Blue Zone-approved Sardinian recipes in the fully-equipped kitchen.
Villa Margherita at Caruso, A Belmond Hotel, Ravello, Amalfi Coast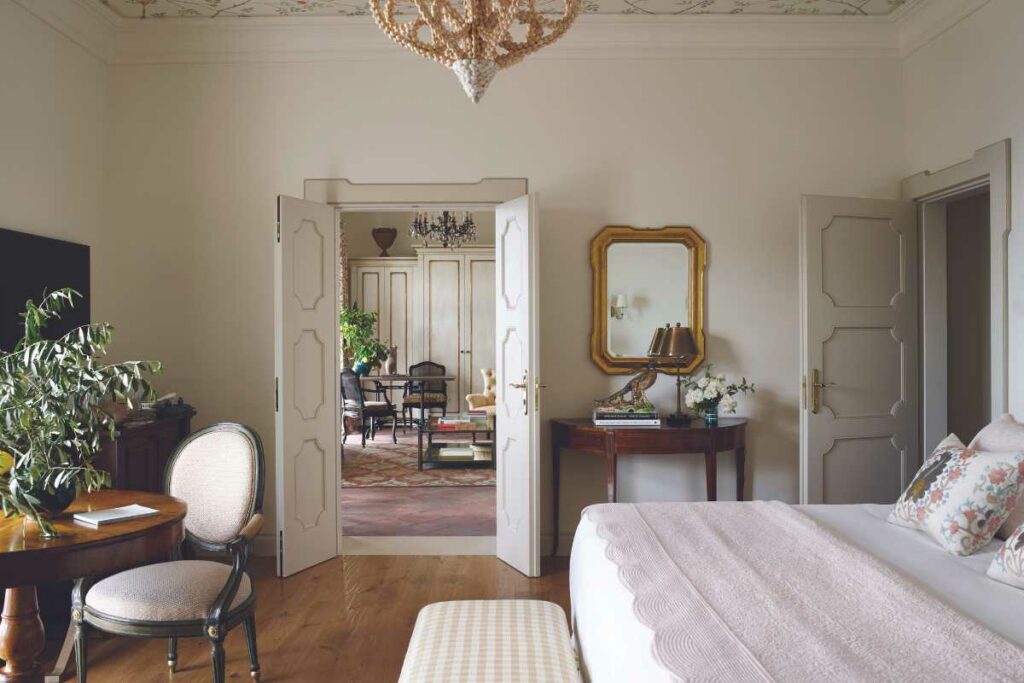 With the best views of Italy, Ravello lures throngs of music lovers for its summer music festival, one of the world's most esteemed. Break into song at Belmond's Villa Margherita, which caps a cliff 1000-feet above the Tyrrhenian Sea, embracing riveting views of the Amalfi Coast. A 2,152-square-foot summer house, the elegant, bi-level villa vaunts designer Eric Egan's vision of Amalfi Coast life: hand-painted murals, hand-scraped hardwood floors, and antique terracotta elements, all accented with 19th-century Neapolitan furnishings and Fortuny fabric flourishes. While villa guests can take full advantage of Caruso's amenities (fine dining at Ristorante Belvedere, a reserved cabana at the infinity pool, and the spa), they also will be indulged by a private butler.
Casetta Firenze, Chianti Region, Tuscany
You will be welcomed like family — literally. When owner Xenia Lemos greets you and opens the door to her charming 270-year-old luxury farmhouse to say ciao, you'll know you've discovered something exceptional. On 90 acres of Chianti terrain, an area known for its wine, cypress trees, sunflower fields, and age-pocked castles, Casetta Firenze revels in customizing opportunities for its guests, with the goal to incite memories. Whether that means a curated art history excursion, cooking lessons, VIP vineyard tours, hot-air balloon rides, equine therapy, or truffle hunts, the adventure options tempt you to leave the comfort of the farmhouse (and its five bedrooms and ensuite bathrooms) to experience the glories of Tuscan living. (But you'll always be glad to be "home.")
Trullo Fiaba, Martina Franca , Puglia
The heel of Italy's boot, unique Puglia remains a section of undiscovered Italy for most global travelers — though the Romans have made it their secret getaway for decades. Extolled for its sensational olive oil, orecchiette (little ears) pasta, and the longest coastline on mainland Italy, it has glorious beaches. But by far its most wonderful trait may be its trulli (trullo is the singular version of the word) hobbit-like houses made from limestone, painted white and topped with pointy roofs. Take the opportunity to sleep in one at Trullo Fiaba, a contemporary riff on the theme. With three bedrooms, a swimming pool, kitchen, and terrace, it offers an outstanding spot to base for exploring the region and to relax after long days.