Step inside the luxurious, immersive new world of W South Beach. Recently reimagined, following a major designer renovation, this 5-Star jewel in Miami's crown evokes a glamorous high-end beach retreat while staying true to the beloved brand's fashion, design, celebrity, entertainment, art, and culture vibe. If seeing is believing, do yourself a favor and plan a trip to discover its new next-level look, red hot programming calendar, outstanding gastronomy, a new world-class spa, and wellness sanctuary, and to enjoy the VIP treatment while immersing yourself in ultimate oceanfront charm, relaxation, and sophistication.
A Chic Ultra-Modern New Look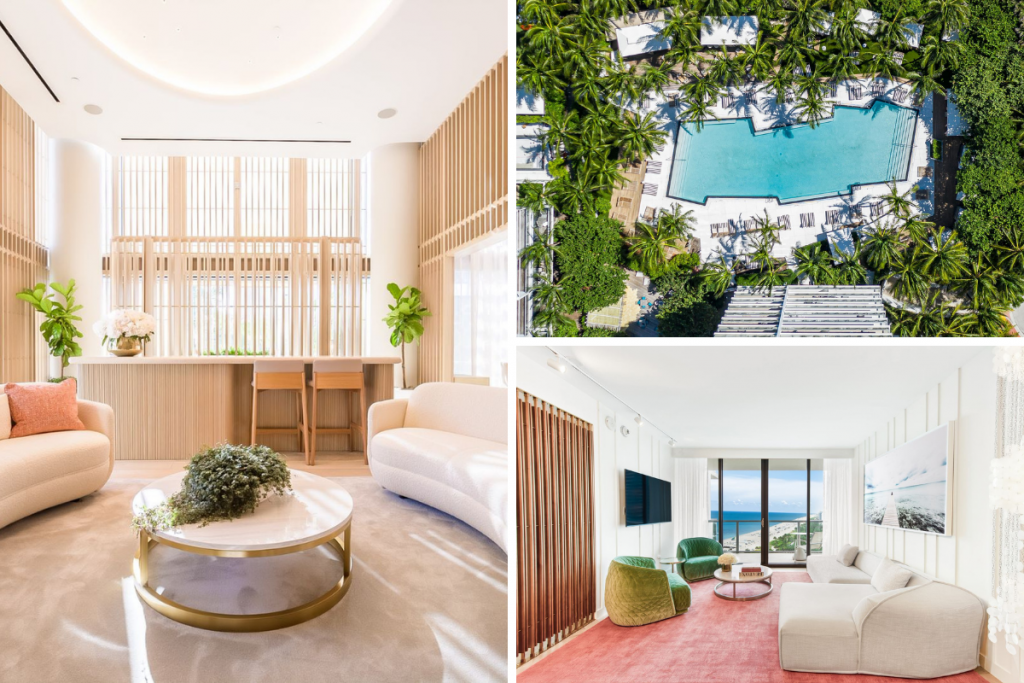 The stunning W South Beach, located on Miami's famed Collins Avenue, has unveiled a whole new look and feel courtesy of a $30 million room renovation. The iconic South Beach property retained its dynamic signature fashion, culture, and entertainment vibe while elevating its room aesthetic and design. As part of its next-level makeover, the design playbook by Urban Robot Associates sees a move away from the brand's signature hot pink and dark tones to introduce a fresh, serene, bathed in natural light, soft palette of beautiful coral, warm wood tones, chic neutrals, and sea blues to celebrate the surrounding beach. Beyond the retreat-style oceanfront suites, the heartbeat of the hotel is the spectacular Living Room, an inviting homey space filled with hangout areas that lead out to the pool, where you can unwind with books, games, enjoy a cocktail at the adjacent Living Room Bar, and marvel at the art-gallery inspired installation. Among the hotel's endless highlights are WET, the expansive pool deck refreshed with new plush cabanas, an adults-only private pool, rooftop basketball, and tennis courts, and your own private stretch of beach adorned with sun loungers and umbrellas in the new brand's new understated glam shade of coral.
Uber-Stylish Beach Retreat Suites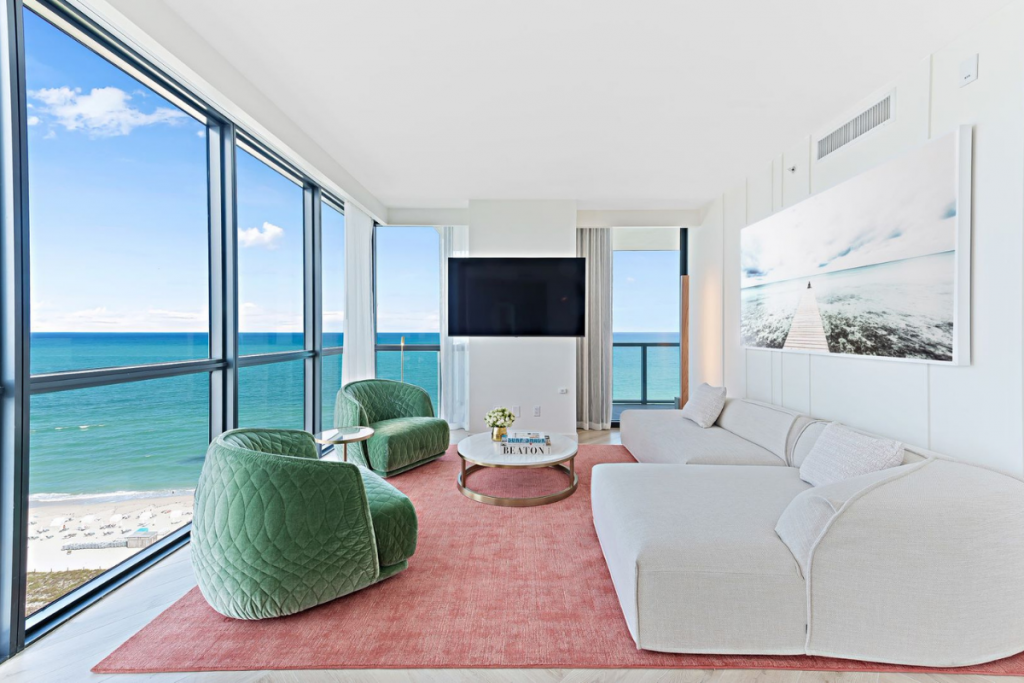 To showcase its epic location all of the spacious 357 guest suites — beautifully reimagined in the style of a luxurious, yet laid-back beachy retreat — face the beach and open out to balconies offering stunning views of the endless Atlantic Ocean. To achieve their vision of creating an idyllic retreat-style oasis that seamlessly transitions from inside out, the design gurus married beach house-style millwork, natural oaks, airy and plush neutral textures, with a breezy neutral color palette accented by soft corals and shaded teals. Adding to the escapist ambiance is circadian lighting with three preset mood modes (Bright/Entertain/Relax), transient 24-hour music playlists, sand gradient blackouts, and an under-bed light belt to mirror the floating effect of the ocean. Lining the chic wood-paneled walls is seaside-inspired art photography by French Photographer Jean-Phillipe Piter and a collection of artists from FarmBoy Fine Arts, while local Miami Artist Juan Manuel Rozas created hand-painted art on the powder room walls. Guests can choose from Queen Studio and Fantastic suites (featuring two oversized plush beds) and some of the larger suites come outfitted with kitchenettes, designed to provide a home-away-from-home experience for those wanting to embrace the trend for extended stays. Here you can work remotely from paradise in the confines of a luxury hotel. WSB also offers "Stay Longer" promotions (3 nights minimum) with discounts and benefits on stays for 30 days and beyond.
An Inspirational Modern Art Gallery Hotel
W South Beach is at once a relaxed seaside escape while encapsulating a pulsating hub of style, celebrity music, design, culture, and art. Inside, prepare to be dazzled by the $100 million museum-worthy private art collection owned and curated by Aby Rosen. On display throughout the property — and bringing the Living Room and guest suites to life in a riot of color and creativity — are modern, abstract artworks, silkscreens, and acrylics by the likes of Andy Warhol, Jean-Michel Basquiat, and Mike Kelley to name but a few of the greats.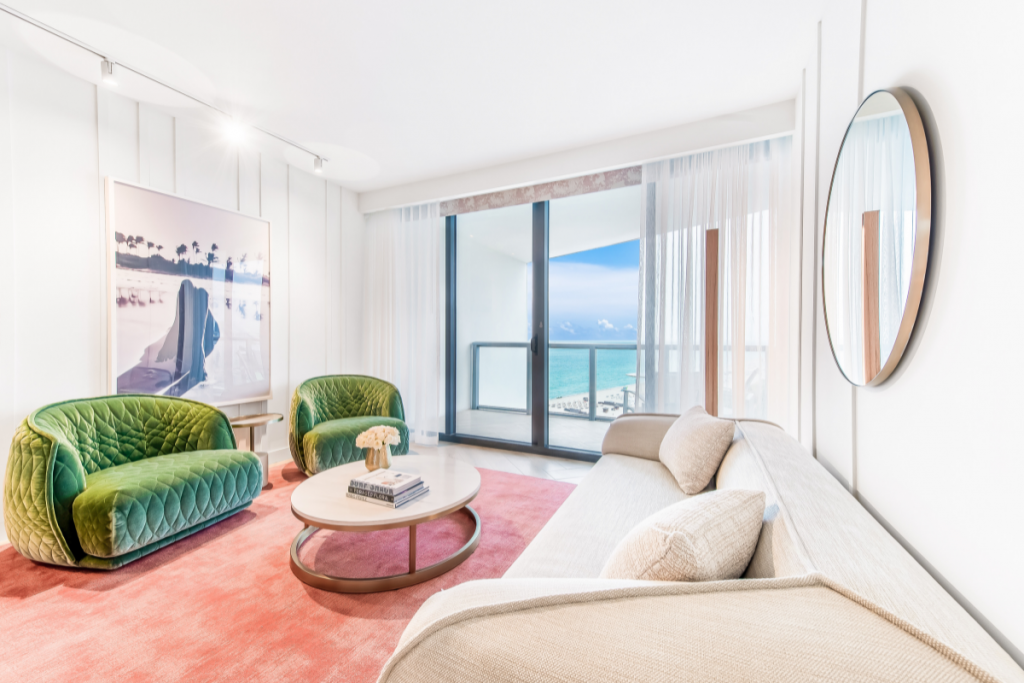 The Personal VIP Touch
What sets W South Beach aside is the personal touch. The longtime hotel of choice for A-listers like Leonardo DiCaprio, Justin Bieber, Lizzo, and Pharrell, WSB is where LeBron James celebrated after announcing that he was taking his "talents to South Beach;," Drake regularly performs on New Year's Eve; and where Sports Illustrated model Mara Martin famously strutted the runway while breastfeeding during Swim Week. So naturally, during your stay, you can also enjoy the VIP Treatment. All guests have access to their own W Insider, aka your private butler/to-go insider who is at your service 24/7 and ready to customize your itinerary and cater to your every whim. From your morning coffee and orange juice delivered to your room to booking a private yacht charter or organizing a personal coffee date with the General Manager, it's all about feeling like a celebrity here.
Innovative Cultural-Fueled Programming
While a trip to Miami presents an opportunity to immerse yourself in its pulsating Latin and American culture, outstanding cuisine, and nightlife, guests will also enjoy a totally immersive experience inside W South Beach. At the heart is a dynamic programming lineup designed to engage, excite, and inspire. Some of the highlights include coffee experiences where you can enjoy delicious Costa Rican, and blends from other legendary coffee regions, meet and greets and Cigar sessions with the hotel's General Manager, a red-hot lineup of contemporary and Spanish music, celebrity- and influencer-hosted events, onsite pop-up stores, film screenings hosted by the stars, yoga for all ages, and a curated camp throughout the summer months where you can indulge in arts, culinary, and wellness activities. WSB is also considered the social epicenter for Miami's most coveted cultural events – Art Basel, South Beach Wine & Food Festival, and Miami Swim Week.
Next Level Culinary Offerings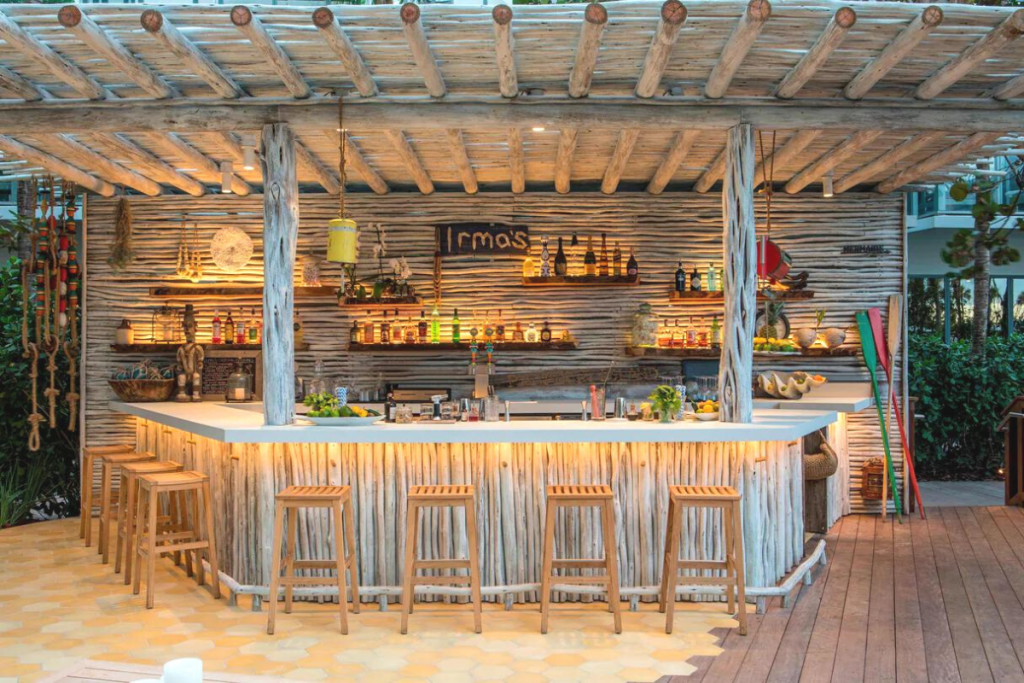 The culinary scene in Miami is one of the many reasons to make the trip but guests can also enjoy a high-end international gastronomy scene without setting foot outside the hotel. The signature restaurants include one by celebrity favorite Mr Chow, and the American-Italian influenced RWSB by Chef Vincenzo Scarmiglia which has a rotating menu for lunch and dinner. Take advantage of your beachy surroundings, by dining al fresco in the hotel's outdoor garden bar, Irma's, which was created using reclaimed materials by Hurricane Irma. Guests can also dine poolside or at the beach, and the hotel regularly hosts BBQ lunch and dinners, and foodie events like Champagne with Oysters.
A New Spa & Wellness Concept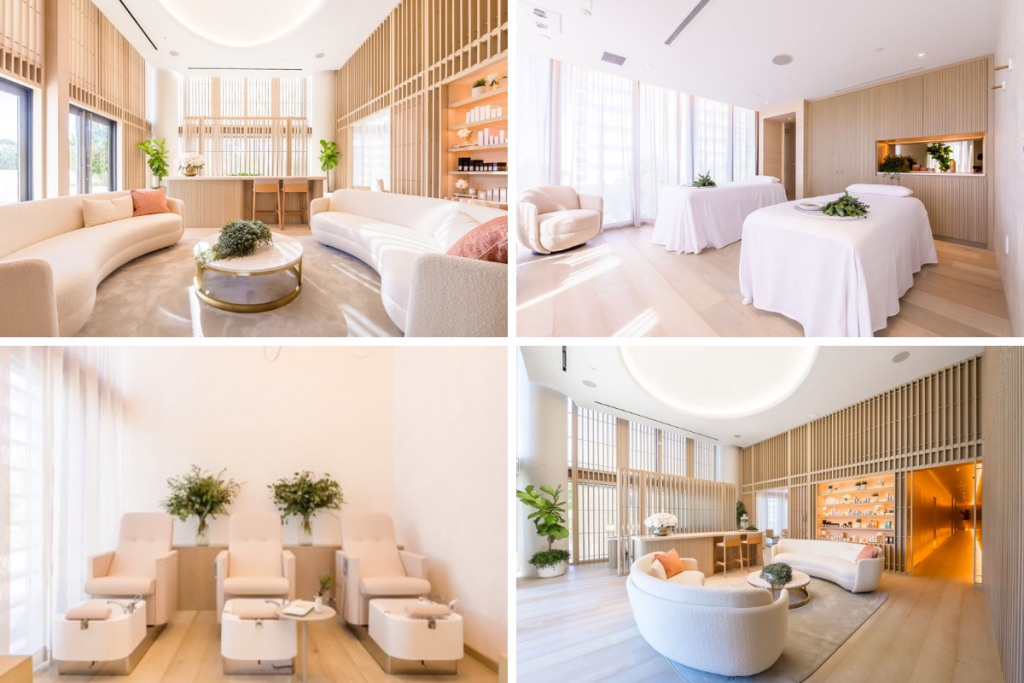 Perhaps one of the most exciting new additions is the WSB AWAY Spa, a 9000-square-foot wellness and beauty sanctuary devoted to rejuvenation, detox, and total relaxation. An ethereal space flooded with natural light and featuring a lush, sun-drenched pine-tree-lined outdoor terrace, the super stylish modern design aesthetic features all-natural materials, including oaks, limestones, live rich greenery, and a sophisticated neutral color palette accented with delicate white fabrics, fine brass finishes. Inside you will find dedicated powder rooms with eucalyptus-infused limestone steam showers, Chanel-inspired vanities, seven treatment rooms, a serene couple's suite (all infused with soothing aromas and atmospheric temperatures) manicure/pedicure nooks, and an indulgent spa lounge. On the bespoke spa menu are organic rituals and detoxifying relaxation massages, body healing, and revitalizing skincare and body treatments, all of which can be taken at the spa, by the pool in a private cabana, or outside overlooking the ocean. You can also book their signature The Ultimate HydraFacial, which begins with exfoliation and extractions, followed by a gentle resurfacing procedure then infuses antioxidants, peptides, and hyaluronic acids into the skin and concludes with LED light therapy to rejuvenate the complexion and target aging.
Traveling for Work and Play
WSB is also setting the innovation standard for special events, weddings, and the corporate traveler. Here you can throw the notion of the traditional, windowless, uninspiring ballrooms or event spaces out the window. In a first-of-its-kind, the hotel's renovated ballroom, an expansive modern space, features groundbreaking video mapping projection that can create any illusion you want and transport you to anywhere in the world — think a backdrop of a lush jungle, scenic mountain range, and even space travel.