Besides all the mayhem, sex, despicable personalities, quirky humor, morals on excessive wealth, and eye-popping resort settings, part of the fun of watching each season of Mike White's unexpected global hit The White Lotus is guessing who's going to be the dead body and how the death will unfold. But now that we are waiting with bated breath for Season 3, we're left with another mystery. Where will Season 3 take place? Thankfully, we know The White Lotus will return — though not as soon as we'd like. In the meantime, the anticipation has given rise to unmitigated speculation.
"The first season kind of highlighted money, then the second season sex," White says on Unpacking Season 2: Episode 7. He goes on to hint that the third season would address Eastern religion and spirituality, but with a "satirical and funny look at death."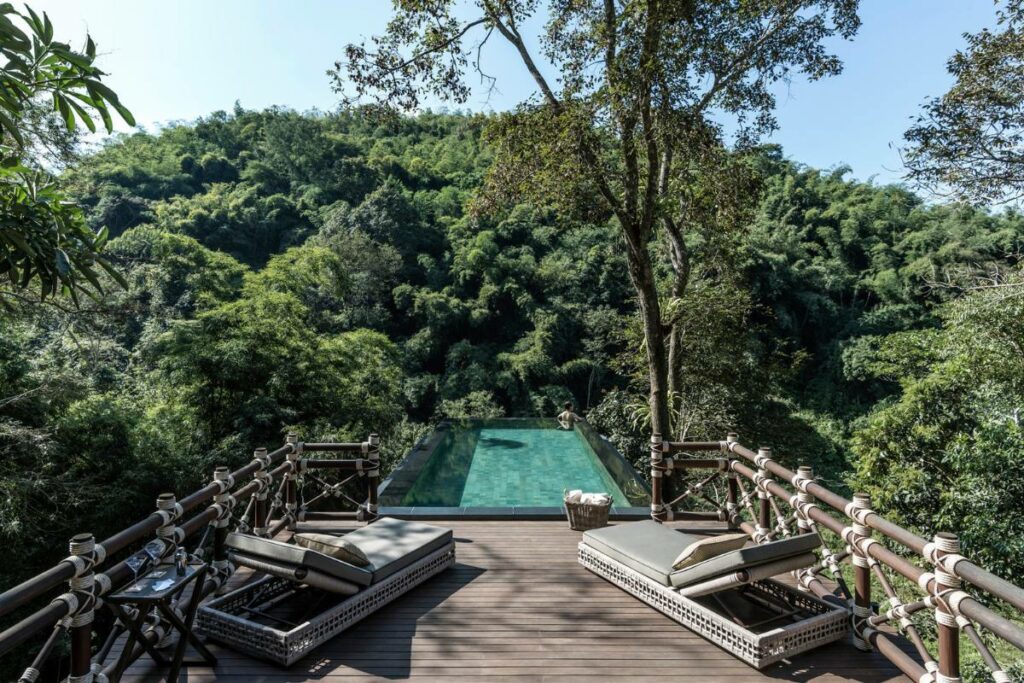 For most people watching, "Eastern religion" sounded like Asia, after all that's where Hinduism, Buddhism, Sikhism, Islam, and Confucianism reign. Then, we factored in that Season 1 was filmed at beachfront Four Seasons Maui, and Season 2 at Four Seasons San Domenico Palace, a cliffside haven near Taormina in Sicily. That led us all to surmise that wherever Season 3 takes place, it will certainly involve a swanky Four Seasons hotel. In the last few months as conjecturing and theorizing on Season 3's setting rose to a feverish pitch, fans discussed Four Seasons Resorts possibilities as far flung as Bali, Japan, Vietnam, Maldives, and India. At last the long-awaited filming location was announced: Thailand — where not one but four divine Four Seasons Resort properties reside: Bangkok at Chao Phraya River, Four Seasons Chiang Mai, Four Seasons Tented Camp Golden Triangle, and Four Seasons Resort Koh Samui. But which one will it be? That's the new mystery.
I've stayed in all four Four Seasons Resorts in Thailand, and I have a theory. Hint: I'm banking on the elephants. More on my theory below, plus some tidbits on each hotel so you can book your trip in advance of the film teams. Hey, maybe you can even nab a starring role.
My Pick: Four Seasons Tented Camp Golden Triangle
My money is on the Four Seasons Tented Camp Golden Triangle, remotely perched atop a cliff overlooking the Ruak River in northern Thailand, edged by tea fields, and surrounded by a bamboo jungle. Dreamily quixotic, it incorporates and (helps maintain) a rescued elephant sanctuary, ensuring a parade of long, eye-lashed pachyderms will be the real stars of Season 3. Designed by acclaimed architect/designer Bill Bensley to fancifully and romantically conjure a heyday explorer's camp, the Four Seasons Tented Camp Golden Triangle has only 16 roomy, opulently rugged, tented suites. Poised to frame sweeping views, each tent dreamily transports guests into a storybook world of glamor and nostalgia. At first sight, guests feel as if they've gone back into time or stepped into the pages of a dog-eared storybook. Every detail awakens the imagination: stacks of antique suitcases, telescopes, handcrafted, copper soaking tubs (planted adjacent to seriously comfortable beds), brass lamps, Turkish fabrics, overstuffed chairs, local art, and artifacts aplenty. Hidden among the trees, every suite feels like a lone outpost. Undulating pathways connect the various parcels of the property.  A theatrical suspension bridge connects two sides of a ravine, atop which I can imagine characters of Season 3 up to no good. Whimsical, hand-lettered signs, as if words from a fairy tale, urge guests onward: "Keep Going," says one.  Indeed, go all the way to the divine Burma Bar, a whimsy of vintage delight with lost in time libations mixed with modern ingenuity. A pool and spa provide repose at this enchanted retreat. When not on their terrace admiring the view, guests can feed and bathe the elephants or explore the Golden Triangle on a variety of expeditions off property.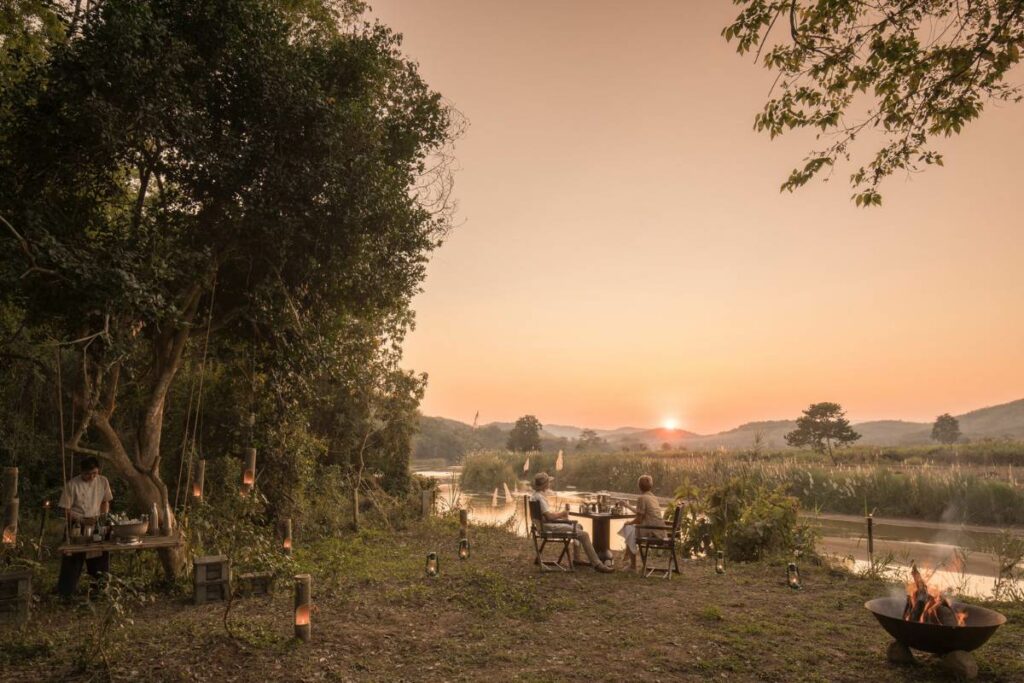 My Compelling Thought: The Water Arrival
But why should Mike White choose this hotel above all others? It has a dramatic (and popular) arrival by water that trumps most any arrival I've experienced anywhere.
Remember how each season of The White Lotus began with the characters arriving by boat? As in an Agatha Christie novel, that arrival becomes our metaphorical portal into the story, our first glimpse into the destination and into the characters. One by one we have a chance to observe them, it's as if we, too, are filthy rich travelers being transported to our holiday by boat along with them. While three of the four Thailand-sited Four Seasons' properties lie waterside (Chiang Mai, surrounded by rice paddies, is technically not on the water though it has a couple of lakes), only Four Seasons Tented Camp Golden Triangle has an already in place dramatic river arrival from Chiang Rai, which many guests enjoy. On devilishly fast, slender (and a little frightening) Long Tail boats, the scenic ride from the city of Chiang Rai, best known for Wat Rong Khun Buddhist temple, takes less than an hour. Upon arrival guests clamber out of the boat onto the Four Seasons' dock, where staff stand with a ceremonial gong and a hammer, urging guests to make an intention for their stay. Afterwards, they gather at an outdoor area for cocktails and check-in procedures, being given room keys and a map of the resort that seems right out of pirate's treasure tale. I like to imagine the characters of Season 3 just before they take off through the jungle and across the suspension bridge to their rooms. I'd film them being suddenly alarmed by a noise, a rustling among the trees. In close up, I'd show their astonished faces as some of the retreat's elephants come crashing through the foliage in hopes of a snack.
Three Other Four Seasons Possibilities for The White Lotus
Four Seasons Hotel Bangkok at Chao Phraya River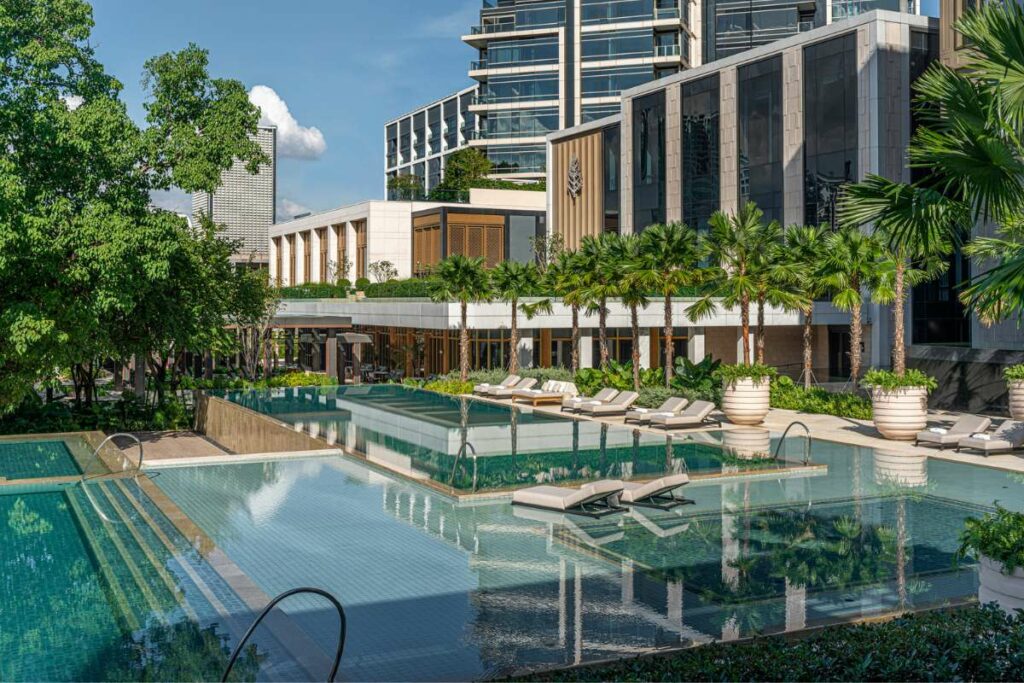 Located between Chao Phraya River and Charoen Krung Road, a bustling entertainment district and shopping hub in cosmopolitan Bangkok, this utterly urbane hotel would envelop The White Lotus characters into Bangkok's glitzy buzz. A large urban sanctum with 299 rooms (38 of those suites) and 366 residences, it embodies all the elements of a modern city hotel, including having three popular restaurants (Chinese, Italian, and French), a first-in-class spa, fitness center, lap pool, and vast amounts of conference space.
Four Seasons Resort Chiang Mai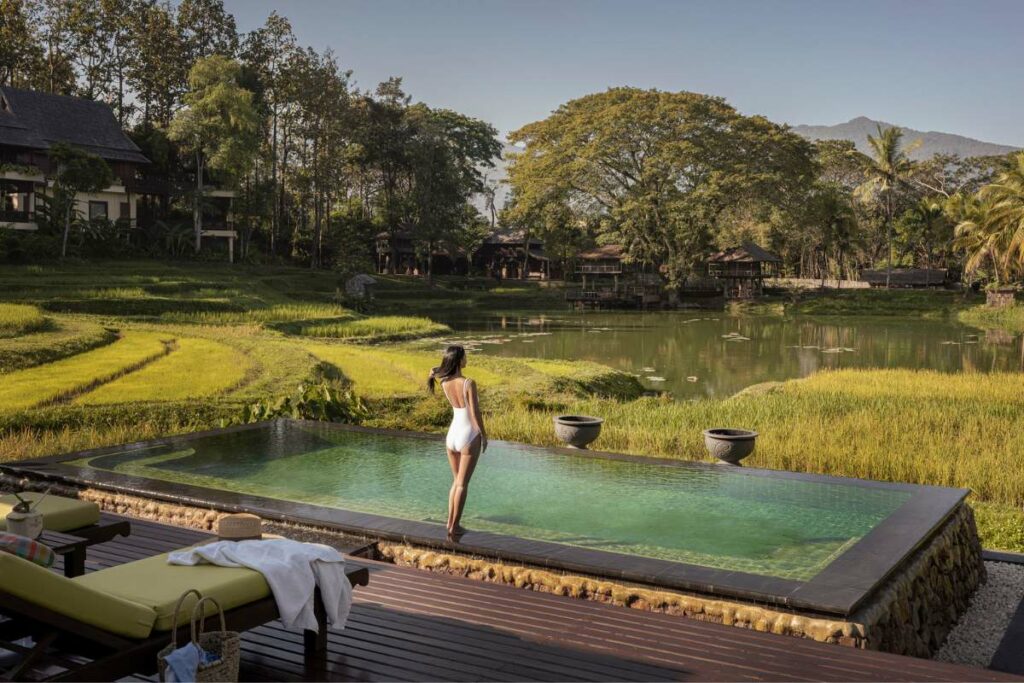 Known for its stunning temples, the city lies amongst a verdant mountainous landscape. Four Seasons Resort Chiang Mai delivers a relaxing stay defined by nature, accented by Thai sensibilities and Thai touches throughout, including a spa inspired by a Thai temple, Thai restaurants, an outstanding yoga program, 32 acres rife with rice terraces, a working rice farm, and a family of friendly water buffalo. Season 3 characters coming here might battle it out in the resort's acclaimed cooking classes, learn the art of rice planting, and bathe and scrub the buffalo.
Four Seasons Koh Samui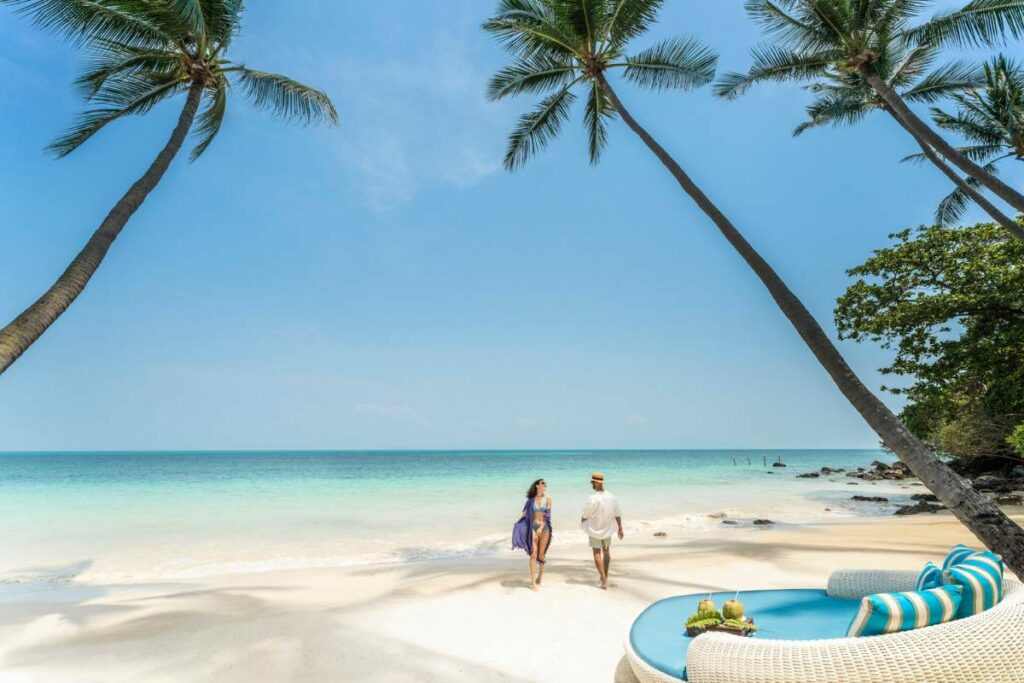 On the northwestern nook of one of Thailand's most storied islands, with views of the Gulf of Thailand, this jaw-dropping resort might be the second contender for Season 3 in my mind. Obviously boat arrival is possible to the retreat's private beach. Built on the site of a former orchard, the grounds flaunt 856 atmospheric coconut trees. Seventy one rooms ( 60 of them pool villas) wedge into the hillside overlooking the water. They feature private infinity pools and Thai design, including thatched roofs. A seafood and Thai restaurant tempt, the Secret Garden Spa nestles in a coconut grove, and a sparkling pool and serious tennis court beckon. With myriad classic resort activities, the options for Season 3 characters here would be abundant. But I imagine some of them duking it out in the authentic Muay Boxing ring — perhaps over an indiscretion or ten.