In-room sustenance worth the trip? Minibars. They aren't so mini anymore, at least not when it comes to quality. Hotels now see these once meh must-haves as yet another way to express a unique personality — as well as suffusing guests with a strong sense of place. Whether it's providing a complimentary snack (who doesn't love that?), offering an item we forgot to pack and actually need, or introducing us to a local product, today's mini bars have whimsy, temptation, and artistry in spades — these are the best hotel minibars in the world.
Each hotel is being equally honored in no particular order.
Hotel Havana, San Antonio, Texas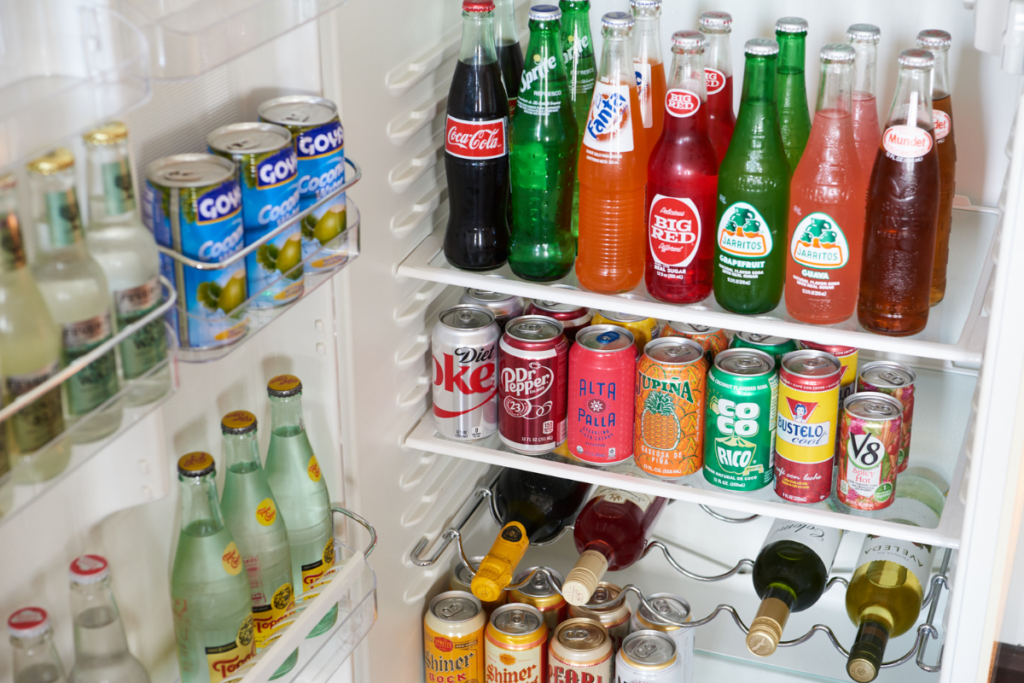 Reflecting San Antonio's past, but interpreted with an artistic point of view, this intimate hotel on the Museum Reach portion of the River Walk occupies a redone, historic Mediterranean-style mansion with flair. Hand-carved antique furniture, period art, original tiles, pops of bright color and glittering chandeliers set a mood that mingles old with new, exuding a subtle, pleasingly eccentric aura of luxury. Spacious rooms feature an abundance of desirable amenities (like the colorful, handmade kimono robes), but the minibar, housed in a vintage-style Smeg fridge takes the cake. An array of treats that draw from local culture (Topo Chico, Deep Eddy Vodka, Pork Cloud Chicharrones, Tio Pelon's Salsita) combine with useful necessities: Harry's Shave Kit or Vitamin C Face Mask to support your stay.
Four Seasons Boston
Steps from some of the United States' most storied historic attractions, the Four Seasons Hotel Boston houses a sophisticated crowd of both leisure and business travelers. In a destination ever at the forefront of new ways of thinking, it makes sense that this hotel would set the trend for a new kind of minibar — or rather an extension of the one found in the guest rooms. Just launched, the hotel introduces "The Vault," an entire room, positioned on each floor, full of complimentary, grab and go snacks for guests. Designed by the brand's first and only Director of Creative, Jim Peters, the treasure trove-like Vault, adorned with playful wallpaper (such as images showing Benjamin Franklin blowing bubblegum) can be accessed with a room key. It holds such irresistibles as popcorn, chips, movie-sized M&Ms and Swedish Fish, nuts and dried fruit, flavored sparkling waters, and more. Don't miss the Boston-centric red apple jelly beans.
Matakauri Lodge, New Zealand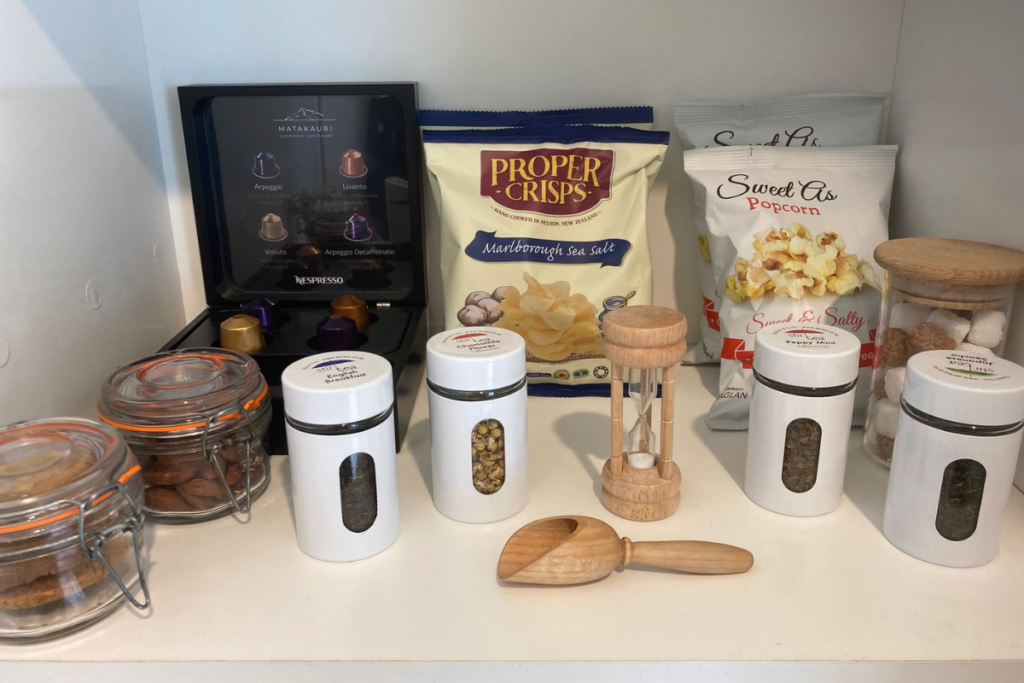 One travels a long way to reach New Zealand's South Island. Imbued with old school charm and casual elegance, this hideaway on shimmering Lake Wakatipu excels at cosseting. While the hotel hosts affable social events such as an evening cocktail hour, some guests might prefer to cuddle in their room with a view and nibble from the minibar, a satisfying, complimentary affair. Stocked with the kitchen's famous, homemade chocolate chip cookies, among other baked goods a selection of local wine and beer, Manuka honey-infused gin, New Zealand-made potato chips, chocolate bars, nuts, and much more also tempts.
Auberge du Soleil Napa Valley, California
Romantic, cozily elegant Auberge du Soleil has been seminal in setting the Napa Valley standard for a getaway in wine country. Deeply drawing from what we love about France, but reinterpreting it with Napa panache, the breathtaking destination checks every box in our wine vacation imaginings. Pointedly, that extends to the in-room minibar, offered free of charge. Loaded with soft drinks, juices, Izze Vitamin water, coffees and teas, the hoard also has locally-sourced snacks and signature vintages. Plan to nosh on Woodhouse Chocolates from St. Helena, Olivier Green Olive Tapenade & Artichoke Spreads from St. Helena, famous Rustic Bakery crackers, Napa Nuts (nuts mixed with dried fruit), not to mention local beers (North Coast, Scrimshaw Pilsner, among others), and Auberge du Soleil label wine, rotated by season.
The Cape, A Thompson Hotel, Los Cabos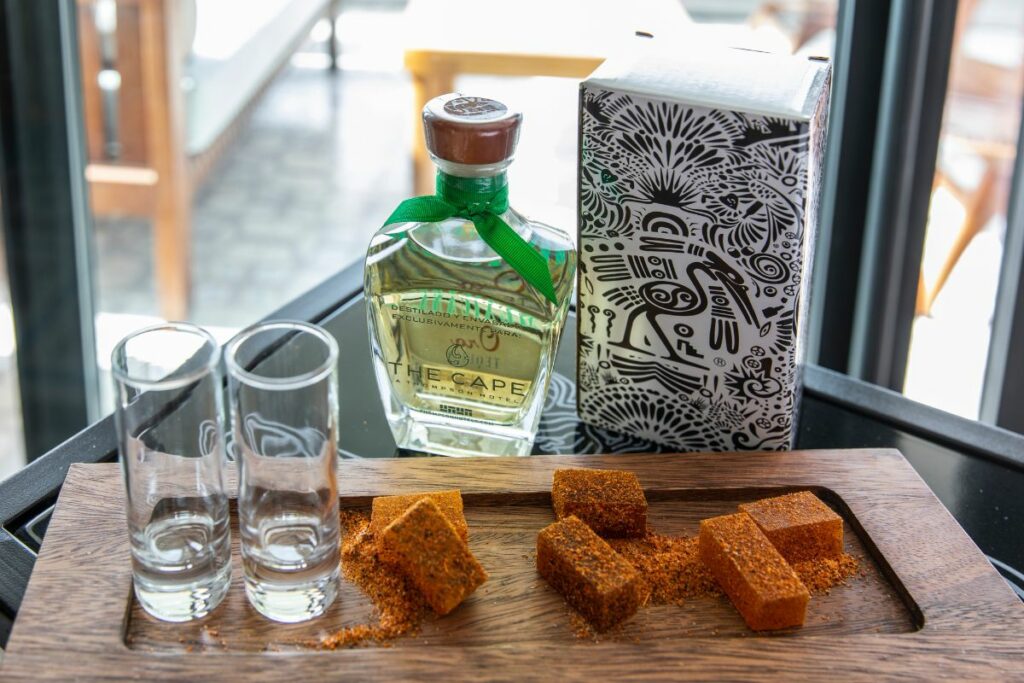 This contemporary hotel with a sophisticated soiree vibe gets the party started the moment you walk into your room, where a complimentary, custom 750ml hand-etched crystal bottle of Realeza Mexicana, 100% blue agave tequila welcomes you at the mini bar. Alongside it, candied mango, fresh orange slices, chili powder, and two shot glasses beckon. (The truly intrepid can request sal de gusana — that's smoky salt infused with worms — it's traditional!). While enjoying your best margarita on your balcony gazing at El Arco, nibble on other mini bar bounty, including wine, spirits, non-alcoholic libations, local chocolate, nuts, chips, and more.