Years ago, when I was first cutting my editorial chops as a health writer, I was given an assignment to report on an unprecedented situation taking place in hospitals around the country: "boarder babies" — newborns who were removed legally from their parents at birth and left to reside temporarily in hospitals. On a rainy Friday night, I drove my 20-something self deep into the bowels of Newark to an inner city hospital. A nurse, harried yet welcoming, led me to a tranquil room lined with rocking chairs. Here, cooing volunteers — a teacher, stay-home mom, retiree, Wall Streeter, and on this night, writer — gently cradled and rocked tiny newborns. Some of the babies had been living at the hospital for weeks going on months; others, born to drug-addicted mothers, were undergoing their own medical treatment. With nowhere to immediately place the babies, a massive volunteer initiative had been launched where a core group showed up at all hours of the day and night to rock, cuddle, and comfort these tiny beings. The reason? Touch was to be their lifeline.
"Touch is care," says Estela Gagliano, spa director at Aurora Anguilla Golf Resort & Spa, a 178-room property set on Anguilla's stunning Rendezvous Bay. "From our earliest moments, touch is a key component of building relationships through the stimulation of oxytocin. Touch bonds a child to the parent (or guardian) in the critical first five years — just think about that. Touch also [throughout the lifespan] reduces heart rate and blood pressure, helps us feel calmer and less stressed, and releases cortisol, which has a beneficial role in our immune response. Most significantly, touch transmits a sense of being cared for and reduces the feeling of loneliness."
Certainly hundreds of scientific studies — including The Harvard Study of Adult Development (one of the longest-running studies ever conducted on happiness, 85+ years) — have documented the powerful role touch and human connection play on health. The Harvard study began following 724 men when they were teenagers (in 1938). Every two years, researchers queried the participants on their emotional and mental wellbeing. Overwhelmingly, those deemed to be the happiest (and healthiest) reported having strong relationships and human connections.
Tactile in the Catskills
"Touch matters, human connection matters," says Katie Childs, director of wellness for Foster Supply Hospitality, which operates six hotels and five restaurants in the Catskills (New York's Sullivan County). "As a society, we have a lot to unpack, we are all recovering from the world right now."
Childs worked in tandem with Foster's dynamic owners, Sims and Kirsten Foster, in opening Hemlock Spa at Kenoza Hall, a former boarding house, built originally in the early 1900s as a Catskills summer retreat. The Fosters purchased the property in 2017 and, following a massive renovation, reopened it as a hotel and spa in 2020. Set on 55 acres, Kenoza Hall features 22 guest rooms and 11 bungalows — many with lake views and large soaking tubs. The newest, a wellness bungalow, opened just recently and was designed with in room spa treatments and wellness experiences in mind.
"Everything about this property is tactile," says Childs. There are no digital keys, no remote check in, guests are given old-fashioned, hard keys to their rooms; they connect with humans upon arrival and throughout their stay."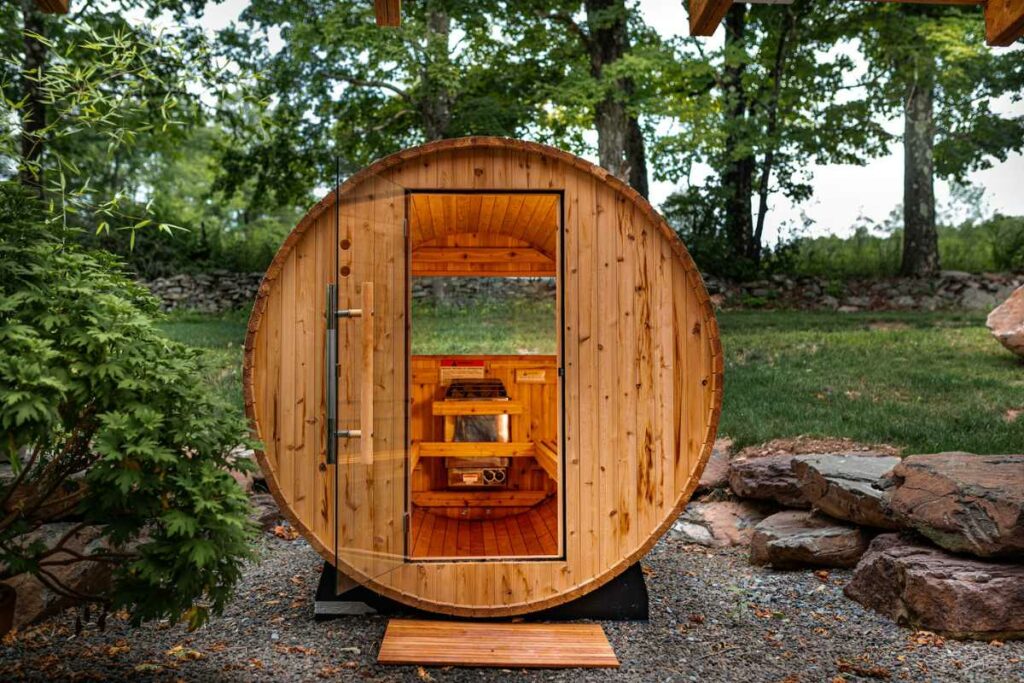 The high-touch philosophy continues in the small (just four treatment rooms) spa, where Childs leaned heavily on tried-and-true spa basics: a daily "morgen lauf" (morning walk), a barrel sauna, Kneipp treatments and cold-plunge bucket, a favorite of owner Kirsten, who lived and visited Germany and Austria often as a child. Kirsten's mother grew up in Germany.
"Visits to public Kneipp parks were common and inspirational," says Foster. "When I was sick, my mother encouraged a strong 'Krauter tea' and fresh air; a cold plunge if I dared. I spent nearly every summer with my Omi in Hamburg."
Yoga, custom facials, and very simple but effective massages, including a Kneipp neuromuscular deep tissue massage with arnica oil are also on the spa menu. In designing the program, it was important to both Childs and Foster to steer clear of the touchless therapies that emerged and quickly accelerated during the pandemic.
"The answer for a lot of spas was a digital experience, a move toward touchless treatments like IV therapies and Zero Gravity Massage," says Childs. "And while there are some wonderful touchless therapies out there, none are a replacement for true interaction and the wellbeing that you get from human touch."
Massage Will Continue to be in High Demand
Penny Kriel, corporate director of Spa & Wellness for Salamander Hotels & Resorts, in Middleburg, Virginia, believes that now more than ever before people are coming (or in many cases, returning) to the spa specifically for touch and connection. 
"The rush we saw in spas post COVID, had a lot to do with people needing to feel that personal reconnection," says Kriel. "With everyone's stress levels running higher than normal, we saw a huge increase in [the request for] massage. I also received feedback [from my therapists] that guests were talking a lot more during treatments which, to us, indicated they were craving the social element after being isolated.
"When COVID hit and we didn't know how it was being transmitted, there was a fear within everyone to avoid touch which led the industry to create a market for touchless treatments and therapies," Kriel continues. "But as someone who has tried most of them, I can attest that nothing matches a good, therapeutic, and customized massage. A personalized massage does so much more for you physically because it can be tailored to your tension areas, and emotionally, because it releases endorphins that help to boost your mood and make you feel better. One of the most relaxing massages is to combine scalp, neck, shoulders, and feet, which again, is very customized. There are no touchless treatments that can focus on only those areas. I think massage will continue to be one of the most demanded treatments because there is no tool or machine that can connect and touch like human hands — adjusting pressure and technique as needed — and providing that personal/social connection at the same time."
Safe Touch is Key
From her dreamy spa in Montego Bay, Jamaica, Tanya Vassell, spa director at Half Moon, concurs that the power of touch has never been as crucial as it currently is.
"The extended lockdowns and paranoia that gripped many as they made an earnest effort to avoid touch have been replaced with a desire for safe touch," says Vassell. "In the spa industry, we have watched the evolution of people slowly taking down their barriers to once again embracing touch. We started offering massages with masks, face shields, and protective gowns. Now, we have the occasional request for a fully vaccinated therapist and the use of a mask during service, but most often — before leaving the spa — we see clients openly embracing therapists with hugs and sharing physical appreciation."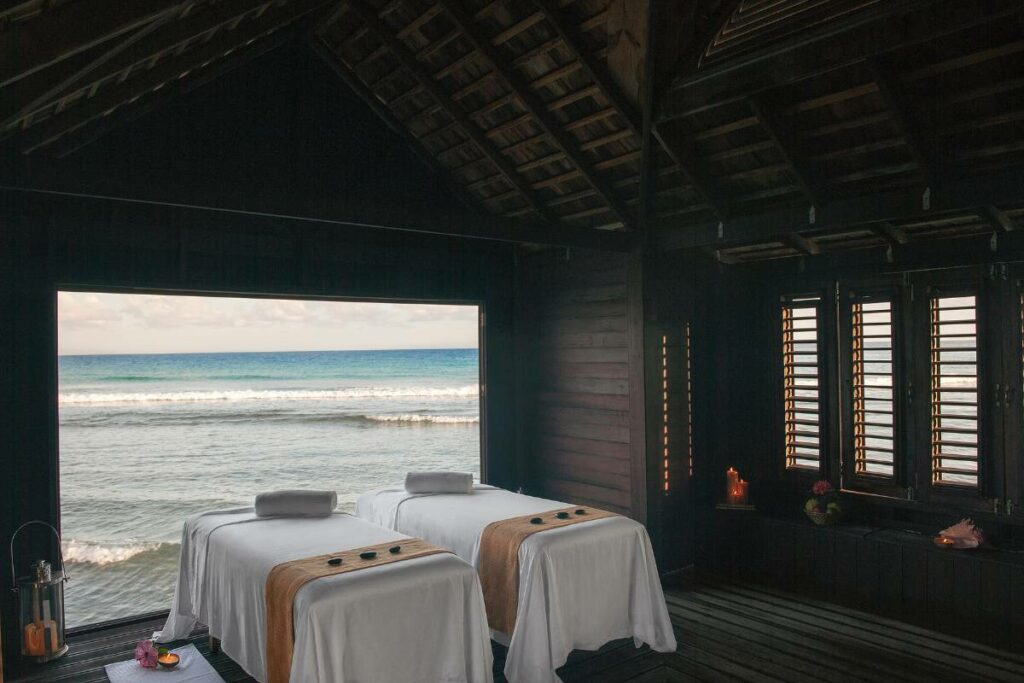 While some people remain uncomfortable in crowded rooms and among strangers, spa goers at Half Moon's Fern Tree spa find solace in both their treatments and their environment, according to Vassell. "Our calming and spacious ambiance creates the space for guests to feel safe and visit repeatedly as they take time out to embrace the power of touch — some for the first time in a long time." The spa features 68,000 square feet (about twice the area of a large mansion), tranquil gardens dotted with fruit trees, six pools, a meditative labyrinth, tea room, yoga pavilion, and 12 treatment rooms, including overwater bungalows.
More Touch Therapies We Love
Traditional Balinese Massage (90 minutes)
Authentic traditional Balinese methods combining kneading, stretching, skin rolling, and pressure point techniques.
Rose Crystal Lymphatic Facial (80 minutes)
A deep cleansing facial with lymphatic drainage and acupressure, ending with feet, hands, arms, and scalp massage.
Coconut Poultice Massage (90 minutes)
Coconut and sweet almond oils, lotus flower milk, and yogurt are drizzled onto the body; heated coconut poultices are applied at pressure points, as the therapist uses an array of eastern and western massage techniques.
Scalp, Signature Massage & Foot Reviver (120 minutes)
Full-body massage with calming oils, followed by a scalp massage and reviving foot treatment.