Nowhere beats the beauty and romance of New England (and upstate New York) for autumn leaf peeping. Every year, from late September to mid-November, travelers flock to the region eager to breathe in the resplendent yellows, golds, deep reds, and oranges. 'Leaf peeping'is a uniquely New England phrase. The term first surfaced in a 1966 article, "Thoughts of a Leaf Peeper," appearing in a Vermont newspaper, The Bennington Banner, where the writer gushed about the magnificent beauty of the state's foliage. While stunning fall colors can be spotted among many trees and shrubs, the star of New England's leaf-peeping show is the effervescent sugar maple (yes, the same tree behind Vermont's famous pancake syrup). Reportedly, it is the balance of the anthocyanin (the blue, red, or purple pigments found in plants and flowers) and carotenoids (orange pigment) that creates the tree's brilliant autumn hue. Most stunning are the sugar maple's red leaves — the result of anthocyanin, which in the summer serves as a sunblock, but with less sunlight allows the vibrant pigment to show, and orange — containing the same pigment that gives pumpkins their glow.
Here are a few of our favorite places to marvel at the gorgeous New England and New York fall foliage.
Barnard, Vermont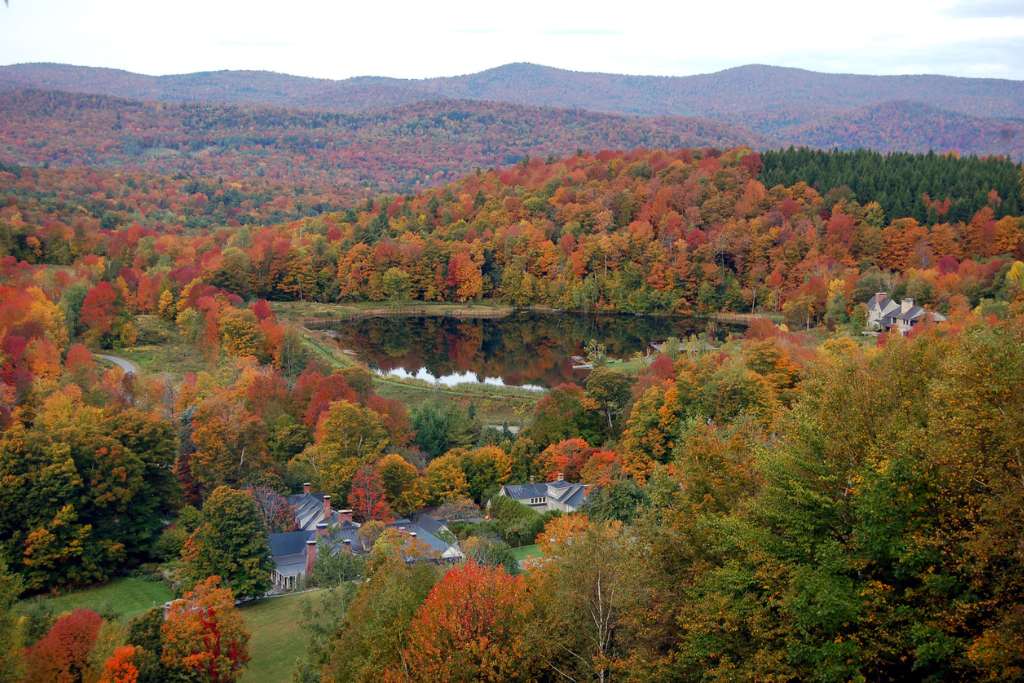 Vermont is home to more maple trees than anywhere else, so it's no surprise to find the most brilliant yellow, orange, and red hues here. And the tiny town of Barnard is perhaps its shiniest star. With a population of less than 1000, there's not a lot to do in town except gaze at the trees bursting with delicious fall shade, crunch an apple, and drive through the Green Mountain forest or hike the famous Appalachian trail. Which is fine by us.
Stay at: Twin Farms
The true reason to visit Barnard awaits at the glorious hideaway, Twin Farms. Nobel-prize-winning writer Sinclair Lewis bought this 18th-century farmhouse, surrounded by birch forests and flower meadows, in 1928 as a wedding gift for his bride, journalist Dorothy Thompson. Opened as a hotel in the early 1990s, Twin Farms – renowned for its one-of-a-kind cottages, fresh locally sourced cuisine, and museum-quality art (don't be surprised to see a Jasper Johns or Cy Twombly by your bed) – has become a bucket-list destination. Especially in autumn. Wander the hotel's private 300-acres, request a picnic for two deep in the forest, or take in the glory of fall from a canoe and paddle across the resort's own nine-acre lake.
Bedford, NY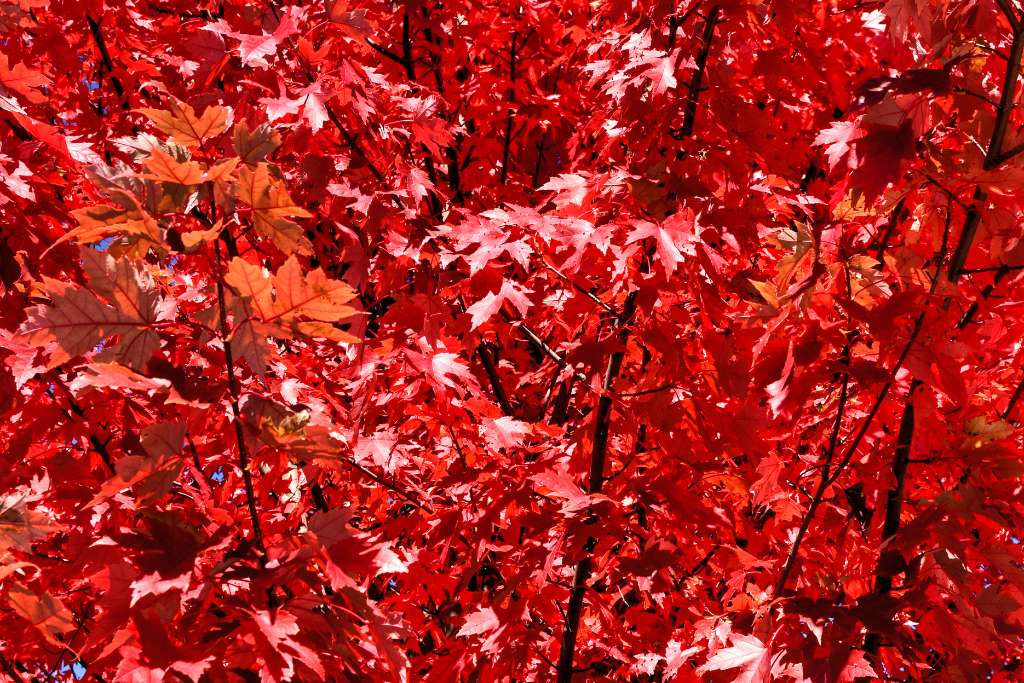 Beautiful, tranquil, and bursting with old-fashioned charm with its rolling horse farms and country estates, this small Westchester town is straight out of a Norman Rockwell painting. Founded by Puritans in 1680, Bedford is today, one of the wealthiest towns in the US, and home to numerous Hollywood A-listers: Ryan Reynolds and Blake Lively, Michael Douglas, and Catherine Zeta-Jones, Glen Close, adding celebrity watching in between the leaves.
Stay at: Bedford Post Inn
Surrounded by woodlands (perfect for fall foliage gazing) the historic (1860s) Bedford Post Inn was rescued and transformed by Westchester residents Russell Hernandez and (actor) Richard Gere. All eight rooms, designed by Tiffany Vassilakis, are hopelessly romantic, with fireplaces and Frette linens. An added standout, the tranquil, sun-drenched Yoga Loft, a multifaceted studio featuring daily classes, workshops, private sessions, guest speakers, and private yoga parties.
Litchfield Hills, Connecticut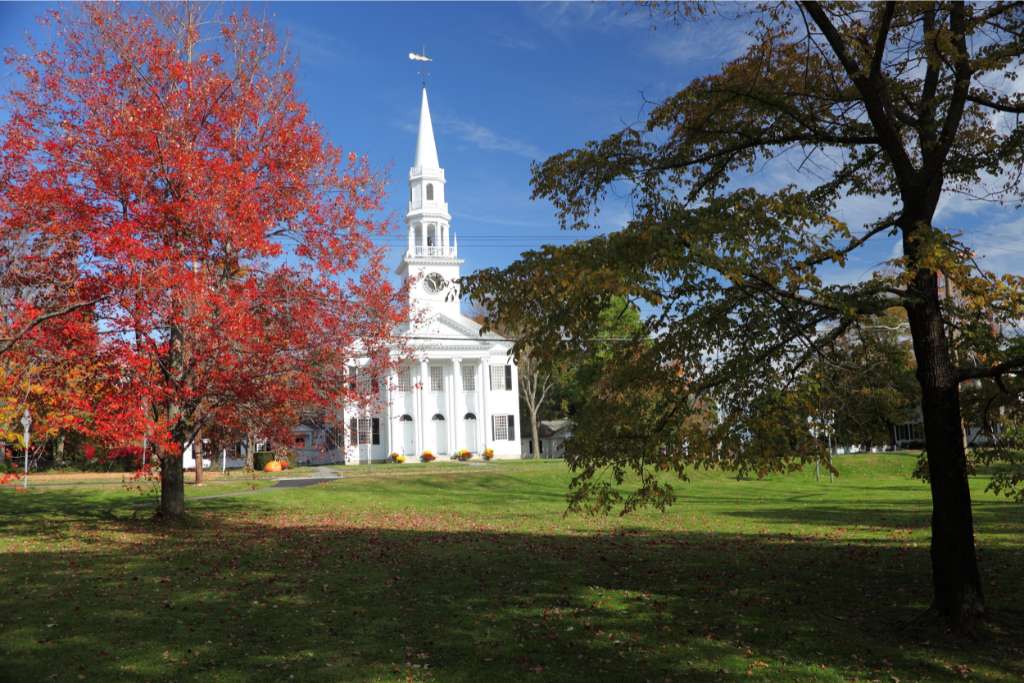 A small Revolutionary War town (yes, George Washington slept here), Litchfield Hills – with its meticulously restored historic homes, eclectic shops, and restaurants – is quintessentially New England. But its true wow factor comes in the surrounding verdant forests and lakes. Hiking is a way of life here, especially during the fall when locals and travelers journey into the deep hardwood forests, past fragrant glades and murmuring river beds to photo-capture the leaves.
Stay at: Winvian Farm
Set on 113 private acres, there's no better place to take in the autumn leaves than from one of Winvian Farm's whimsical luxury cottages. With themes like "Treehouse, Musical Conservatory and Helicopter," the cottages were designed by 15 different architects. None are even remotely the same or like any you've ever experienced. A favorite for leaf-peeping is "Woodlands," a cottage hidden deep in the forest made of rough-cut pines and peeled tree trunks. Inside, find a double-sided, wood-burning fireplace, an indoor waterfall cascading over stones, and a giant soaking tub overlooking the Crayola-colored woods and tranquil pond.
Bretton Woods, New Hampshire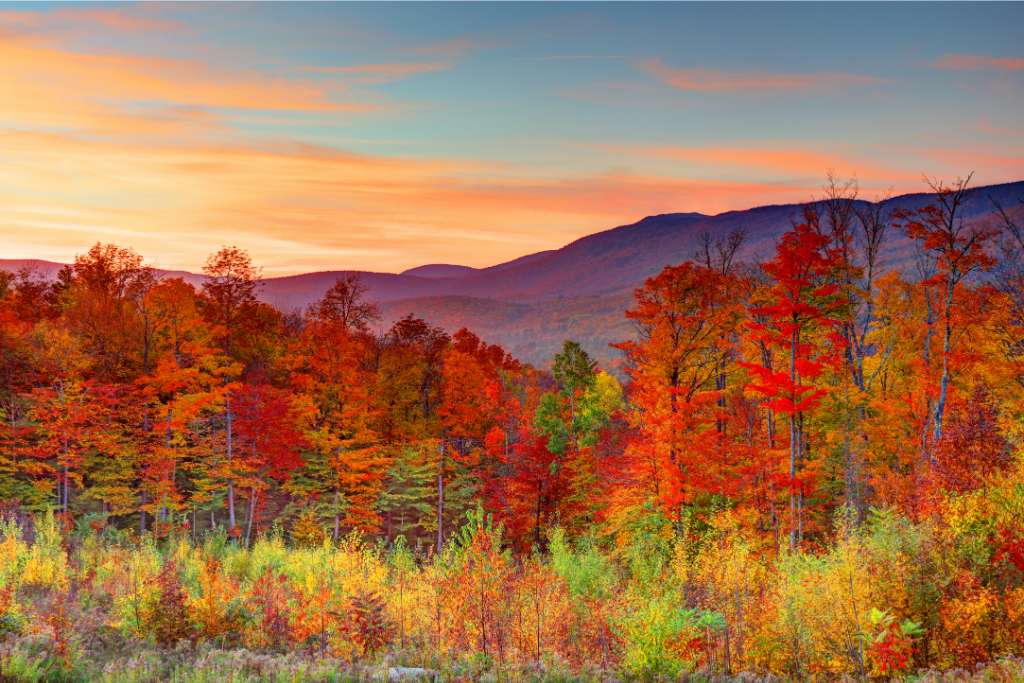 Not surprisingly, this stunning area – home to Mount Washington – is all about immersing yourself in the beauty of mother nature. And in autumn, her magnificent leaf show will take your breath away. Hike to waterfalls in Crawford Notch state park, visit Flume Gorge, an 800-foot long natural gorge. Or enjoy the blazing leaf view from the Mount Washington Cog railway, a vintage steam locomotive that takes travelers to the summit of the mountain. 
Stay at: Omni Mount Washington Resort
A ski lodge by winter and golf haven by summer, the historic Omni Mount Washington Resort built-in 1902 by 250 Italian craftsmen offers the perfect home base for leaf-peeping. The hotel's new Presidential wing, which saw the addition of 69 rooms, blends New England tradition and sophistication with memorable mountain views from guests' private terrace, patio, or most decadently, bath. Also, new: the rooftop Jewel terrace, featuring comfy outdoor seating and even more stunning mountain views.
Cover courtesy of Twin Farms