Some years ago, at Gérard Bertrand's charming Château L'Hospitalet (a wine hotel near Narbonne) amid his vineyards in France's maritime wine region, the Languedoc, I followed a dog through the vines. We were hunting for truffles — though only the dog really knew where to look. He found the first stone-sized one after a rapturous dig, with more truffles to follow, each bigger than the first. Misshapen, aromatic, and mottled with dirt, the black truffles seduced us like — as the French say — le coup de foudre, They were impossible to resist. So we opened bottles of Bertrand's Cigalus Rouge wine, threw down a tablecloth amid the vines, and cut into the fungi with a big knife. Surrounded by the scrubby garrigue terrain, with the sea in view, it was a picnic to stay emblazoned in my memory forever, a soul satisfying, utterly hedonistic adventure.
Last year, I visited again, my sights on the opportunity to sample Bertrand's bedazzling Clos du Temple — a first-in-class, age-able rosé, awash in nose notes of apricot, subtly turning to raspberry and lavender on the palette. A pale pink wine, glittery with gold tones, it comprises old vine yield (Cinsault, Grenache, and Syrah grapes) plus Mourvèdre and Viognier grapes grown bio-dynamically one hour from the Mediterranean Sea. Clos du Temple, encased in its pyramidal bottle, exudes the mystical vibes of a sacred offering to the earth gods. To sip it feels like a tribute to Pachamama — and certainly an homage to art de vivre, Bertrand's driving life and work philosophy. And the price? Clos du Temple sells for upwards $190 — a bit more expensive than your garden variety rosé-all-day wine. But worth every penny.
Keep reading for a breakdown of France's most prominent rose wine regions—from Champagne to the Loire Valley.
The History of Rosé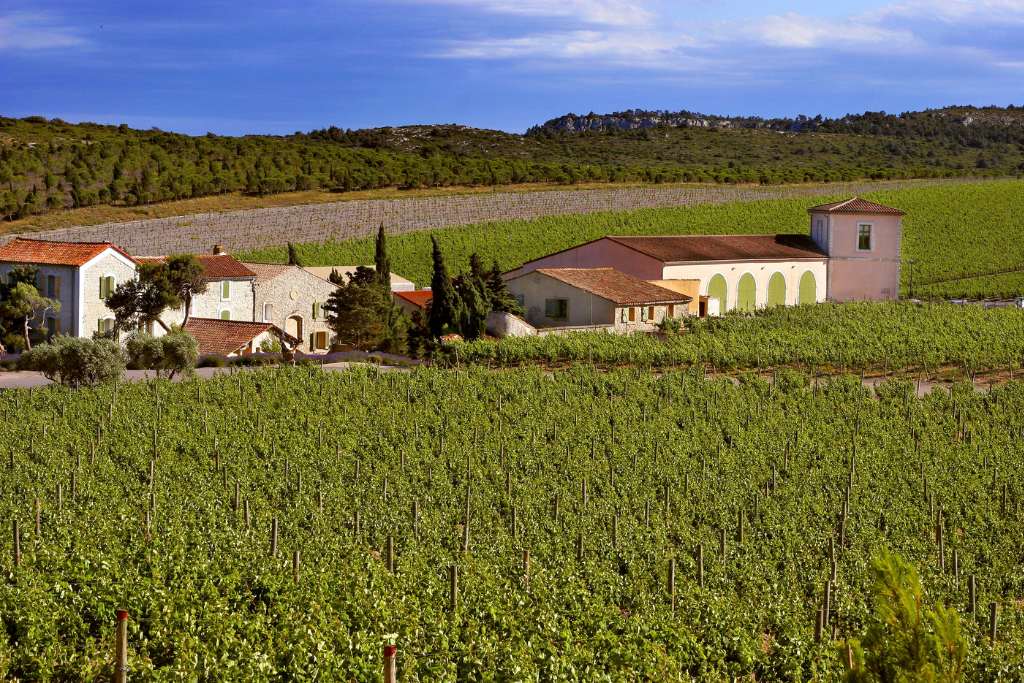 While a slew of wine regions in a host of countries produce rosé, we still think the light, summery wine, touted by Julia Child to "go with everything," has its biggest footprint in France. Its inception dates back to the Romans (they mixed red wine with water for hydration), the Greeks or the Phoenicians (they may have brought the first grapes to the French Riviera) depending on who pontificates on the subject. What we do know is that rosé — a natural swill on hot days — grew in popularity along with a streak of tourism that first burgeoned in the Cote D' Azur in the late 19th-century. Both the wine and the destination remain every bit as popular today. An accessible wine, usually uncomplicated and unpretentious, rosé is the stuff of picnics aboard a boat in the Mediterranean, sips at sunset on the beach, the drink to toast from your terrace in Vieux Nice, or the bottle you open on the train to Paris. Three production methods are used to make rosé: skin contact (aka, maceration, where the red wine skins have contact with the juice for hours to days depending on the results desired); saignée (a portion of crushed red grape wine juice is removed from a batch — what's bled off is fermented into a separate now bold-style rosé wine); and blending (red wine is mingled with white wine, a common method for making rosé Champagne). Quaffable and gaining newfound respect from experts and lay drinkers alike, rosé varies in color, body, taste, and nuances. Made with passion across France, each region offers its own riff on rosé wine.
Languedoc-Roussillon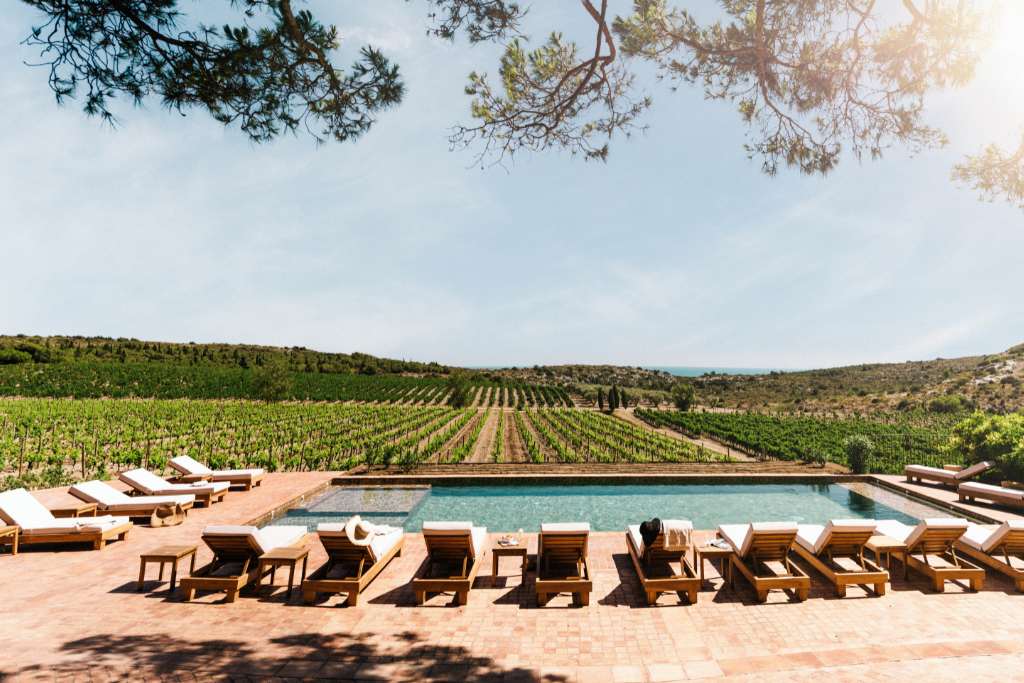 The history of wine In the Languedoc goes back to vines planted by the Greeks in the 5th-century B.C. near Narbonne along the coast. They're the oldest vines in France, along with some in Provence. The region stands out as the largest producer of organic wines in France, as well as the biggest producer of AOC rosé wines in the country. By far the most wonderful place to experience rosé in this region is amongst Gerard Bertrand's multiple wine estates. Stay at Chateau L' Hospitalet Wine Resort, his vineyard-ensconced hotel, minutes from the beach in Narbonne. Just 34 guest rooms lie in a variety of sleekly redone buildings. Grab wine from your minibar and sip by the infinity pool with views of the sea. Try at home: Cote Des Rosé
Provence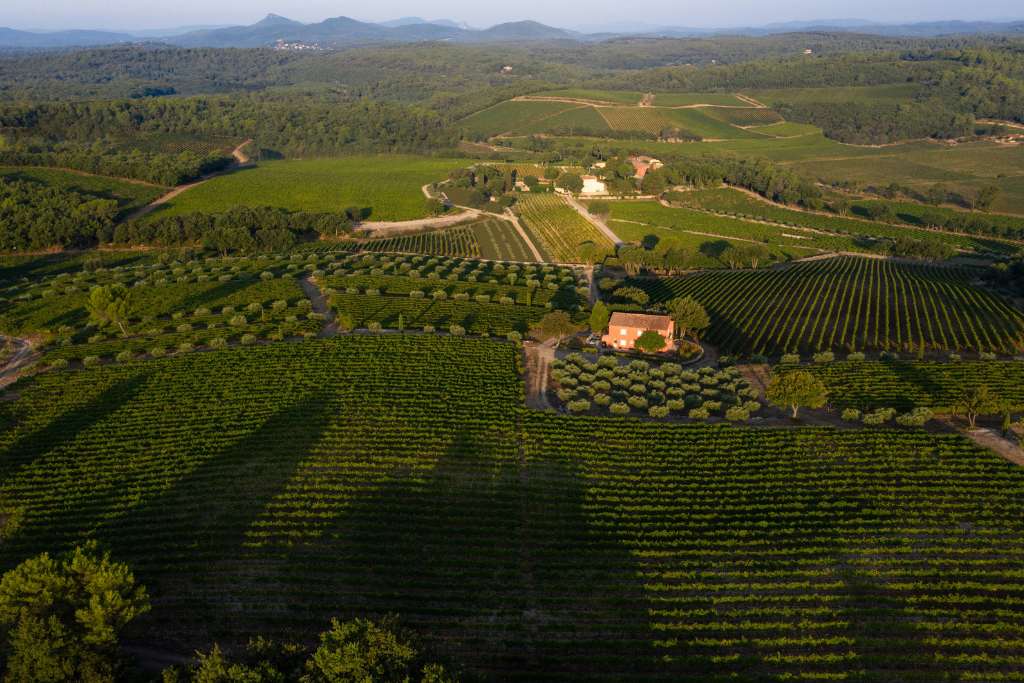 Fields of lavender, characteristic villages, inspirational light, and earthy flavors (like umani-esque tapenade) inform our visions of lusty Provence. As rosé wine's most celebrated locale, it draws oenophiles like bees to honey. Spend some quality time at Chateau La Mascaronne, situated in the rolling hills near Le Luc, a fetching medieval village. A fully organic, sustainable wine estate, renowned for its red and rosé wines, Chateau La Mascaronne welcomes visitors, who can also taste its olive oil while on site. Owned in a partnership between basketball star Tony Parker and hotelier Michel Reybier, the estate delivers classic elegance with its salmon-hued Château La Mascaronne Rosé 2021/22, created with grapes grown exclusively on the estate. Check into co-owner Reybier's swish La Réserve Ramatuelle, located nearby for the ultimate pampering.
Luberon Valley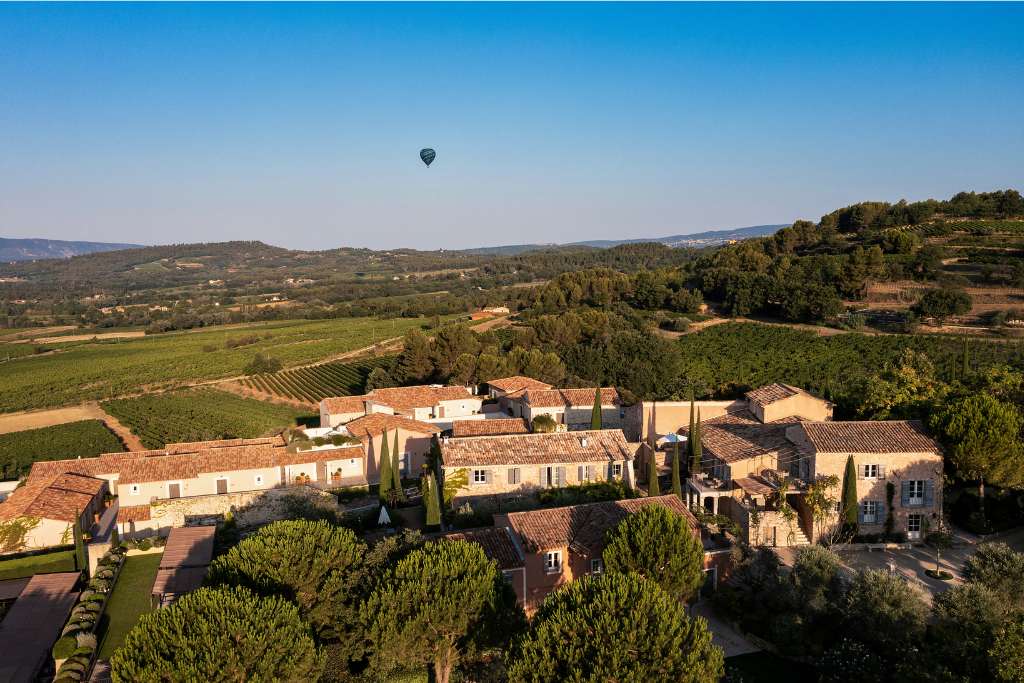 The Luberon sub wine region, a hilly, craggy expanse in southeastern France teems with olive groves and peerless wines. Edging the Rhone near Luberon National Park, the appellation favors Syrah and Grenache plantings. Tuck into tony Coquillade Provence Resort & Spa to tipple the retreat's own Cuvée Coquillade — a bright, refreshing rosé made on-site at Aureto, exclusively available at the hotel. The Aureto Vineyard, its wines renowned in the region, recently received its organic wine certification, after converting its entire production to biodynamic farming and organic winemaking.
Loire Valley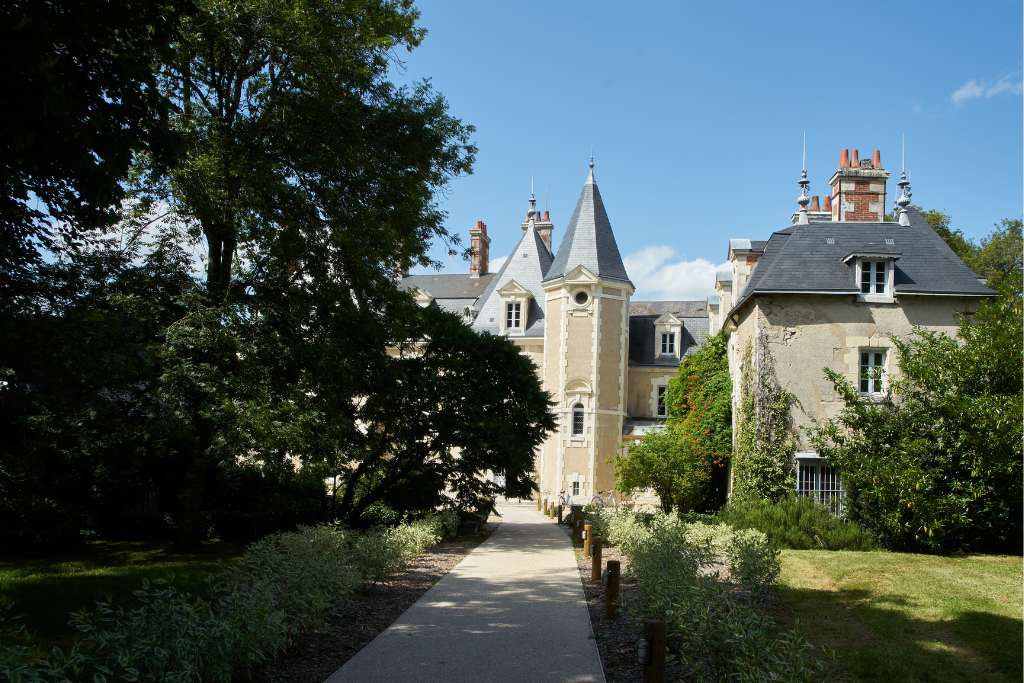 The land of chateaux, the playground of bygone kings, the stunning Loire Valley awaits just an hour from Paris. A bucolic wonderland of small villages, unspoiled forests, rivers, and vineyards galore, the Loire delights white wine lovers with its bright wines made with Sauvignon Blanc. But don't stop with white wines when you visit. The Loire Valley produces sensational rosé labels throughout, usually made with Gamay or Cabernet Franc. Base at the regal Les Sources de Cheverny, a village-like haven that occupies 110 acres of woodland. Suites span the property as private wooden cabins, renovated farmhouses or in the historic 18th-century Château du Breuil. After time spent in the estate's old wine storehouse L'Auberge Wine Bar or a tasting workshop with master sommeliers, let the hotel's concierges direct you to some of the Loire's award-winning rosé estates and labels, including: Domaine Charles Pain (Chinon rosé), Domaine de Rabelais (Earl Chollet), and Caves du Père Auguste (Touraine rosé).
Champagne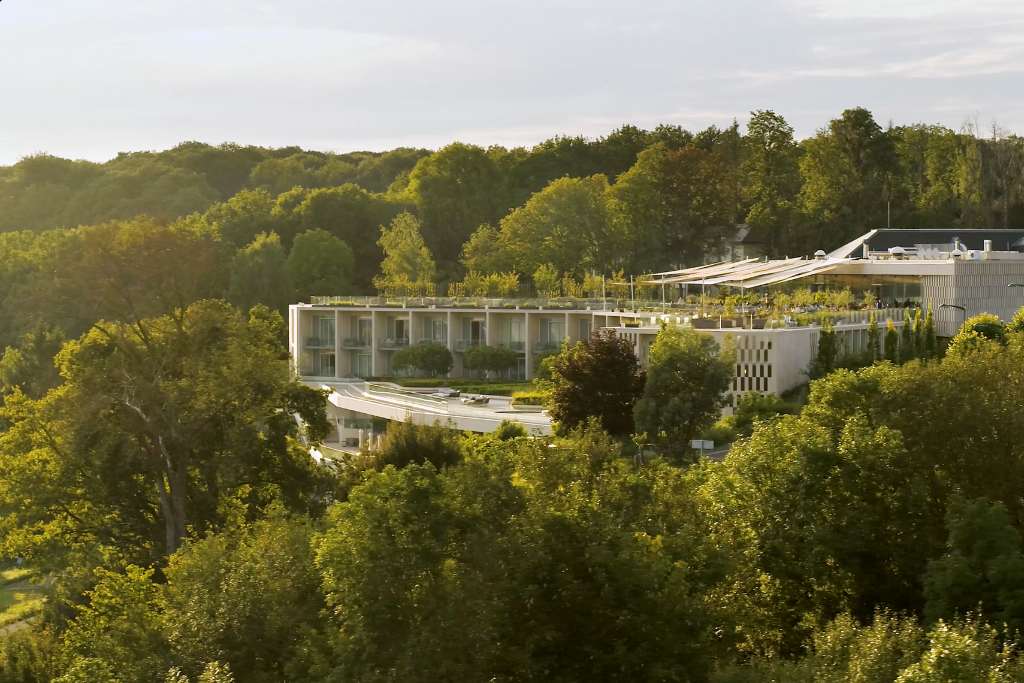 You may not have the moxie to bathe in tubs full of Champagne as Marilyn Monroe purportedly did, but that doesn't mean you can avail yourself of some of the region's 2,000 plus labels, many of them with pink hues. Home to the world's most prestigious and festive wine, this region beckons 45 minutes (by train) northeast of Paris. Settle into Royal Champagne Hotel & Spa, which overlooks a UNESCO World Heritage site. At the hotel, guests can taste hundreds of wines, including rare and exclusive varietals from small-batch vignerons. Go for the 'Champagne Chauffeur' retreat experience, which includes two nights in a Junior Suite (with vineyard views), breakfast, dinner, and a customized Champagne itinerary, replete with personal chauffeur.
Featured image credit: Sebastien Clavel