Some of the world's most picturesque small towns may be found in the United States, each with its unique charms, culture, and history. Small towns are also often a great way to immerse yourself in the larger destination itself (don't get us wrong, we love big cities, too) because the allure of the small town can range from farmer's markets, local artisans, charming places to stay, independent restaurants, and wonderful downtown shopping districts. From the stunning natural beauty of Sedona, Arizona, to the colorful houses of Bisbee, Arizona, and the historic gold rush town of Dahlonega, Georgia, a small town suits every taste. Here are our favorite small towns in the USA.
Sedona, Arizona
While Sedona isn't quite a small town (we've been coming here for years for the incredible wellness resorts) you can absorb yourself in Sedona, Arizona's exceptional natural beauty, including its magnificent red rock formations and thriving spiritual and health community. If you are looking to reset, detox, or destress, Sedona should absolutely be on your must-travel list.
Port Townsend, Washington
This coastal community is home to exquisite Victorian architecture, breathtaking views of the Olympic Mountains, and distinctive dining and shopping options. Visitors can learn about the town's fascinating history, eat delicious seafood, and peruse unique boutiques. It's a community that embraces both the distinctive history and culture of the Pacific Northwest and the region's natural beauty.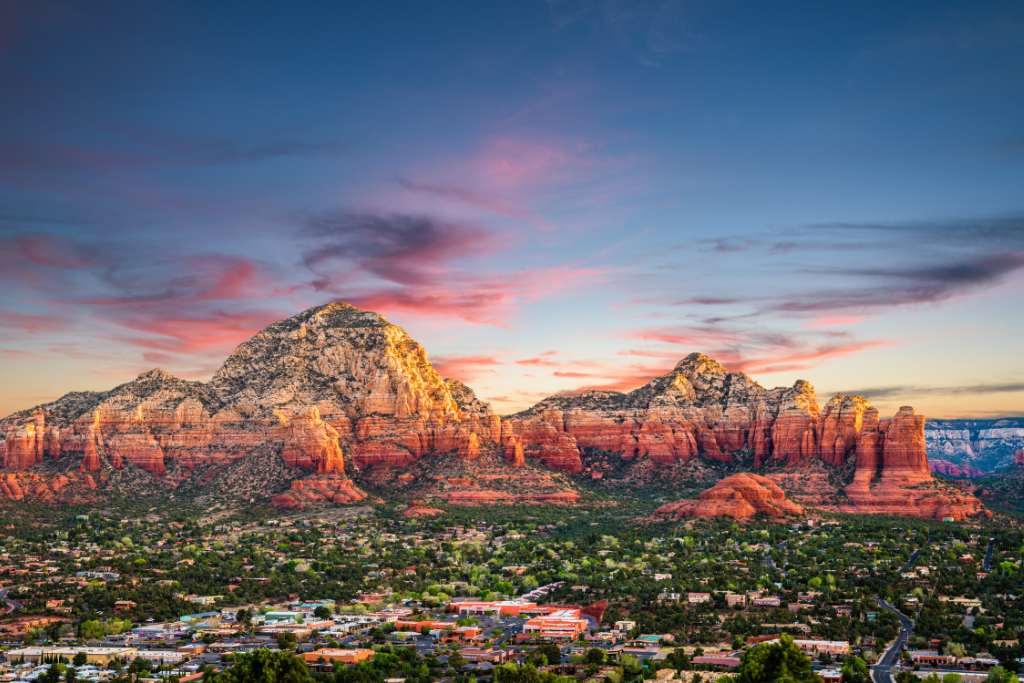 Fredericksburg, Texas
Take a trip to the charming Texas Hill Country town of what we think is one of the best small towns in Texas: Fredericksburg. Known for its wineries, there's also plenty of unique shopping, stunning architecture, and the infamous Enchanted Rock. 
St. Augustine, Florida
Notably, the oldest city in the United States, this east coast Florida destination takes travelers back in time to discover the historic town of St. Augustine, founded by the Spanish in 1565, with its beautiful beaches, stunning architecture, and museums.
Eureka Springs, Arkansas
Discover the charming Ozark Mountains town of Eureka Springs, Arkansas. Known for its natural springs, the historic downtown area is also worth a visit to see the well-preserved Victorian buildings that line the streets.
Breaux Bridge, Louisiana
The quaint Cajun hamlet provides mouthwatering Southern cuisine, one-of-a-kind shopping opportunities, and outdoor adventures. Tourists can enjoy everything from crawfish to zydeco music while immersing themselves in the region's rich history and culture. It is a community that honors the distinctive and dynamic character of Louisiana.
Telluride, Colorado
Most people know this as a big ski/snowboard spot in winter, but visiting during the warmer months, there's still plenty to see and do. See the splendor of the San Juan Mountains in Telluride, Colorado, a small mountain town known for its year-round outdoor adventures, breathtaking scenery, and active arts scene. With endless miles of hiking trails, waterfalls, scenic views at every turn, fly fishing, golf, an incredible food scene, you'll need a second trip to fit it all in.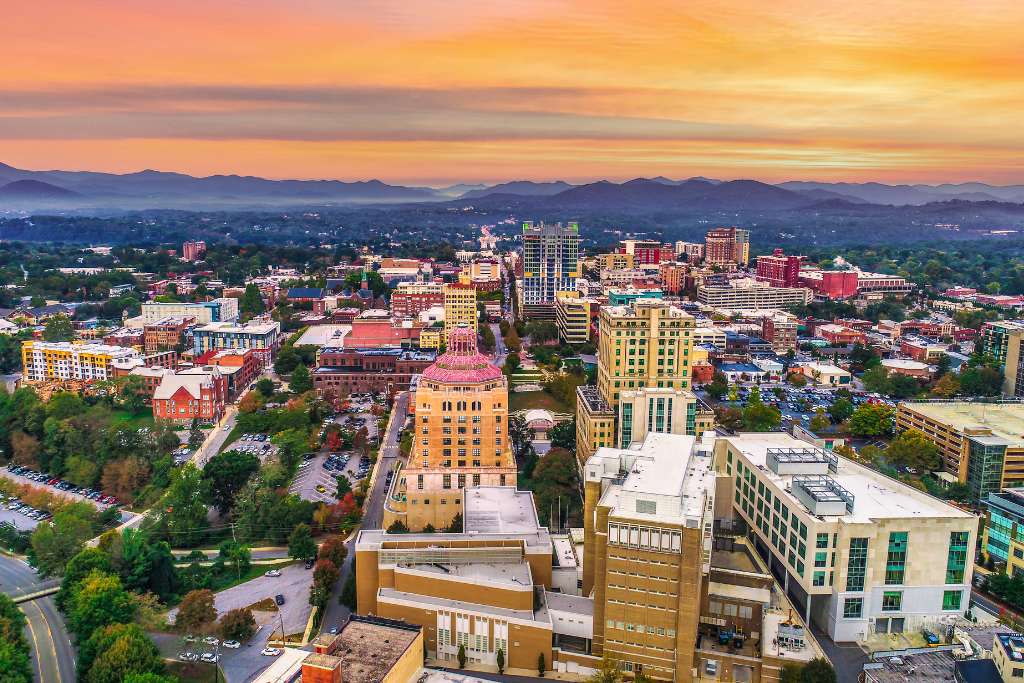 Asheville, North Carolina
Experience the thriving arts community, artisan breweries, and outstanding natural beauty of Asheville, North Carolina, tucked away in the breathtaking Blue Ridge Mountains.
Leavenworth, Washington
Travel to the picturesque Cascade Mountains town of Leavenworth, Washington, with its Bavarian-themed architecture, wineries, and outdoor activities.
Frederica, Delaware
The lovely colonial town of Frederica provides a window into early American history. Historic buildings can be admired, gorgeous gardens can be explored, and interesting dining and shopping options are available. It's a community that embraces the present while honoring the past.
Galena, Illinois
Take a trip to the charming town of Galena, Illinois located along the Mississippi River, with its 19th-century architecture, historic landmarks, and endless boutique shopping from local artisans. With plenty of festivals, historic sights, and even hot air balloon rides, you'll find something for everyone here.
Camden, Maine
Relax and enjoy the beautiful coastal town of Camden, Maine, with its stunning views of Penobscot Bay, historic architecture, and delicious seafood. Visit historic High Street featuring early 19th-century homes. Plus, it's Maine, so you'll have incredible views abound.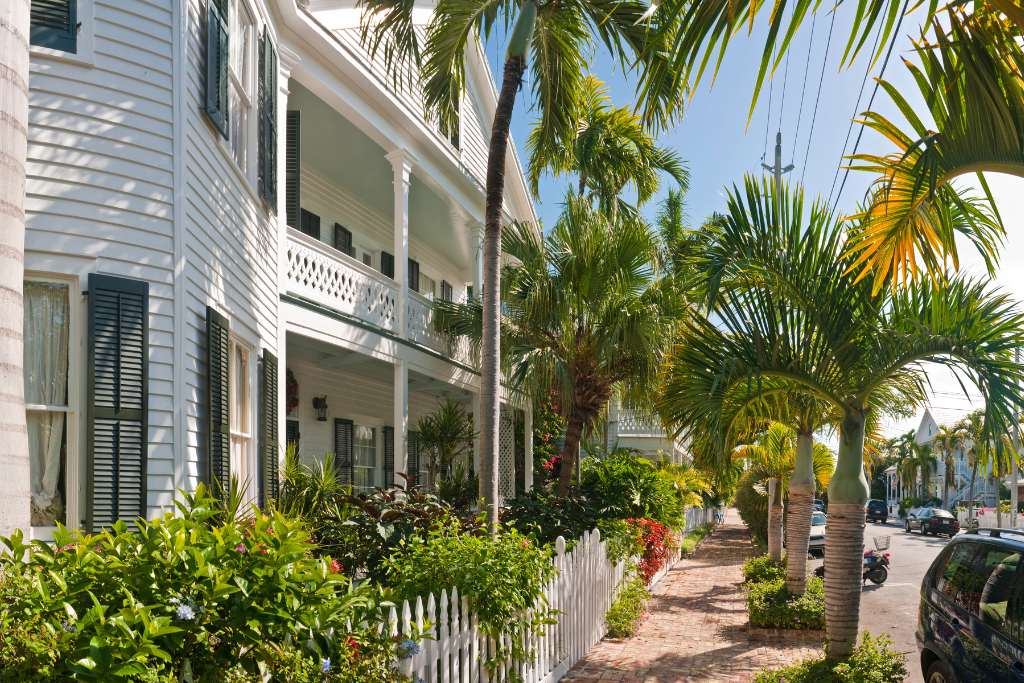 Chatham, Massachusetts
Take in the beauty of Cape Cod in the coastal town of Chatham, Massachusetts, with its beautiful beaches, lighthouses, and historical landmarks. There's also the incredible Monomoy National Wildlife Refuge where you can see migratory birds, gray seals, and other wildlife.
Deadwood, South Dakota
Experience the history and excitement of the Wild West in the charming town of Deadwood, South Dakota. Travelers will find casinos, mining history, and a downtown strip that will look very familiar (from being featured in several movies and TV shows).
Key West, Florida
Experience the vibrant nightlife and beauty of the southernmost point in the continental U.S. See colorful architecture, beautiful beaches, and historical landmarks. Relaxation is the unofficial pastime of Key West, but you'll find plenty of water sports, incredible dining and drinking options, and shopping galore.
Park City, Utah
Park City is a mountain town that offers a world-class skiing experience with stunning views of the Wasatch Mountains. But skiing is only one of the many draws to this town, as visitors can also enjoy a bustling arts and culture scene, unique shopping experiences, and delicious local cuisine. It's the perfect place to combine outdoor adventure with urban amenities.
Mystic, Connecticut
Discover the rich maritime history, famous aquarium, historic landmarks, and unique shopping and dining of the charming coastal town of Mystic, Connecticut.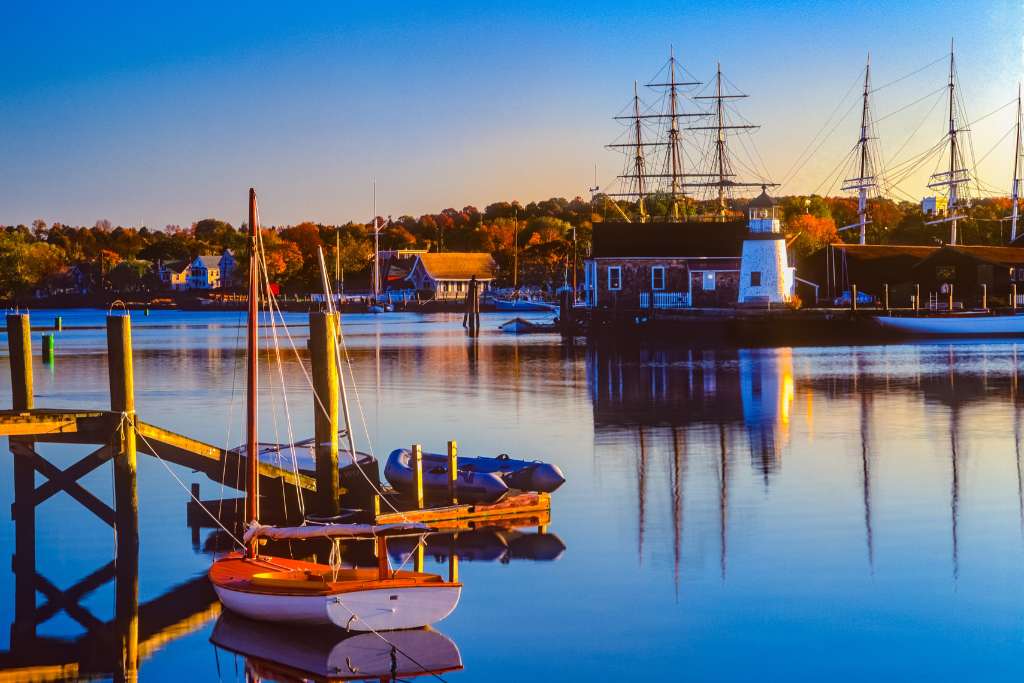 Moab, Utah
Explore the stunning desert town of Moab, Utah, near several national parks with red rock formations in Arches National Park, outdoor activities including spotting dinosaur tracks, and a popular arts community. Adventure enthusiasts will love Moab for its rafting, UTV tours, and more.
Solvang, California
Experience the unique Danish-themed town of Solvang, California, located in the beautiful Santa Ynez Valley, with wineries, delicious pastries, and unique architecture to visit. Travelers should check out the Elverhøj Museum of History & Art for a deeper understanding of Danish history and the Solvang Vintage Motorcycle Museum where aficionados can revel in early Japanese, American, and European motorcycles.
Bar Harbor, Maine
Indulge in the beauty of Acadia National Park and the coastal town of Bar Harbor, Maine, with stunning views, historic landmarks, and delicious seafood. There is plenty to see and do in the charming Maine town with an abundance of incredible views of the park, mountains, and Frenchman bay.
Breckenridge, Colorado
Enjoy the stunning views of the Tenmile Range and the buzzing arts and culture scene in the small mountain town of Breckenridge, Colorado, with plenty of outdoor activities coupled with a quite charming atmosphere.
Woodstock, New York
Nestled in the picturesque Catskill Mountains, Woodstock is a bohemian town celebrating art, nature, and freedom. It's the perfect place to escape the hustle and bustle of city life and immerse oneself in a more laid-back and creative atmosphere. Find an abundance of outdoor activities, farmers markets, antiquing, breathtaking views, charming shops, and just a short drive (about 20 minutes) is the famous Phoenicia Diner.
Saugatuck, Michigan
Relax in the picturesque coastal town of Saugatuck, Michigan, with beautiful award-winning beaches, waterways, art galleries, and unique shopping and dining experiences
Bisbee, Arizona
Located in the Mule Mountains, explore the former mining town turned artist community of Bisbee, Arizona. Featuring charming colorful houses, art galleries, historic landmarks, and a vibrant downtown, visitors will have plenty to keep them busy.
Bayfield, Wisconsin
Wisconsin's smallest city but big on Lake Superior views. Experience the scenic beauty of the Apostle Islands and enjoy water-based activities, orchards, and a charming small-town atmosphere in Bayfield, Wisconsin, on the shore of Lake Superior.
Dahlonega, Georgia
A historic gold rush town located in the foothills of the northern Georgia mountains, with unique shopping, dining, and outdoor activities. Find Amicalola Falls, gold mining tours, and incredible vineyards with wine tasting experiences.
Taos, New Mexico
Bounded by the Sangre de Cristo Mountains, and with a rich history of Native American, Spanish, and frontier cultures, Taos is known for its stunning landscapes, art galleries, and unique architecture.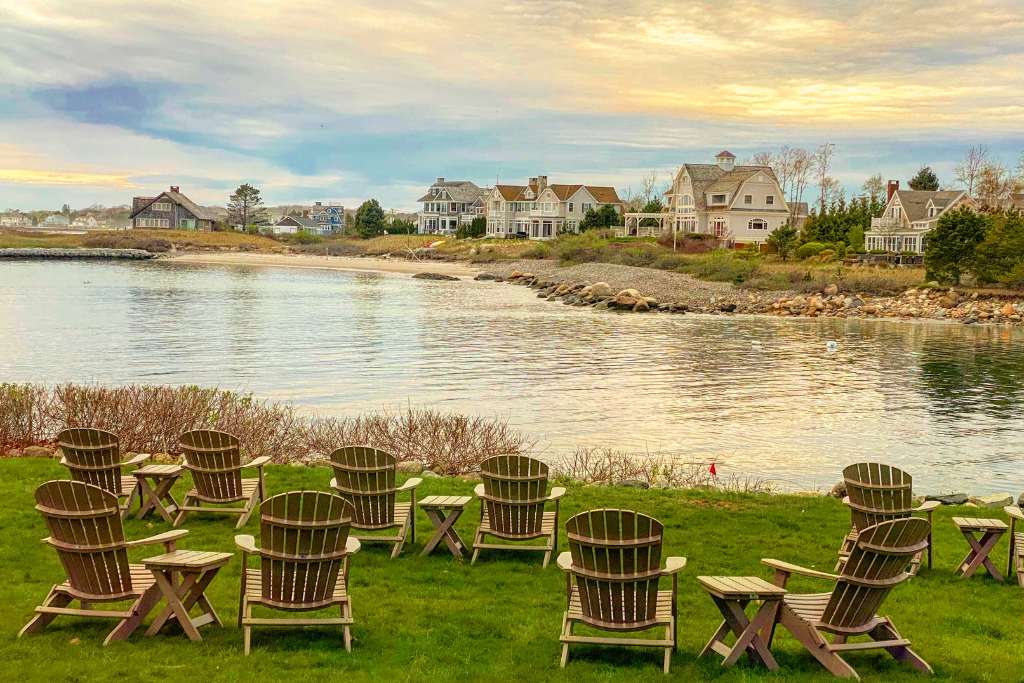 Kennebunkport, Maine
Kennebunkport is a quintessential coastal town where the Atlantic Ocean meets historic landmarks and succulent seafood dining options. From the picturesque beaches to the charming streets lined with shops, galleries, and restaurants, visitors can soak in the small-town atmosphere and the rich history of the New England region.
Beaufort, South Carolina
A historic coastal town where antebellum architecture meets Lowcountry cuisine. The town offers a glimpse of the South's rich past and presents with its charming streets, beautiful gardens, and unique boutiques. Indulge in delicious seafood and other local specialties while soaking in the warm Southern hospitality.
Ridgewood, New Jersey
A charming village located in the NYC suburbs, this picturesque town has a walkable downtown, beautiful parks, and countless award-winning restaurants. There's also a famed candy story where even adults will once again taste candies they thought were only childhood memories.
Bend, Oregon
Known as a small mountain ski town known for its stunning views of the Cascade Range, outdoor activities, and craft beer and food scene, there's plenty to do in Bend. From Newberry National Volcanic Monument where visitors can explore a lava cave to multi-use trails, museums, and water activities, your inner child will beam with excitement.
Carmel-by-the-Sea, California
A town of charm and beauty. With its quaint architecture, stunning beaches, and abundant galleries and boutiques, this seaside town is the perfect place to relax and indulge in the California lifestyle. There's plenty to see and do in this water town. From museums and art galleries to exploring the Carmel village and Mission, to exquisite dining and shopping, travelers can't wait to get back for another visit.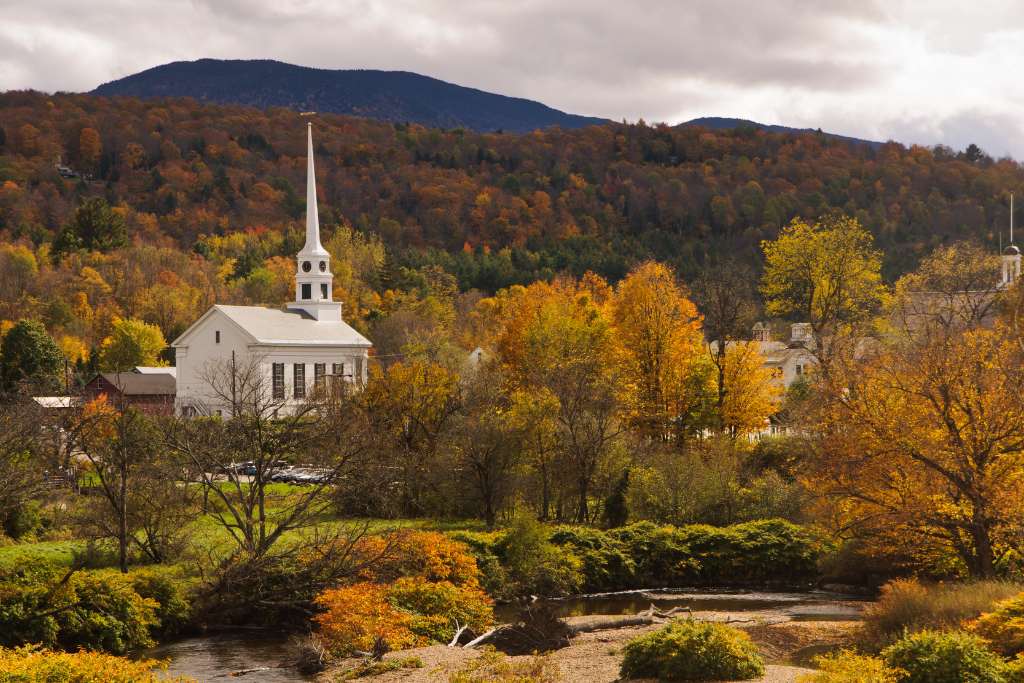 Mackinac Island, Michigan
Take a step back in time and visit the car-free island of Mackinac, located in the heart of Lake Huron. Admire the stunning views of the lake and the landmarks, such as Fort Mackinac, while riding a horse-drawn carriage or bicycle. The island is a true gem of Michigan, with a unique charm and a slower pace of life.
Stowe, Vermont
A charming New England town in the Green Mountains with a quaint village lined with boutique shops, cozy cafes, and fine dining. Stowe is a great spot for outdoor enthusiasts with excellent skiing, hiking, mountain biking trails and stunning fall foliage views.
Rhinebeck, New York
The small town is known for its historic charm, picturesque Hudson River views, and arts scene. Visitors can enjoy various cultural events, farm-to-table dining, and outdoor activities amidst the town's beautiful natural surroundings.