It's about midway through our six day bike ride from Passau (Germany) to Vienna (Austria) along the Danube River when we quit drinking beer. Not that we're being virtuous. To the contrary, after a few days cycling through woods, between meadows, up to the front door of ancient monasteries (where the monks invite us in and regale us with herbal elixirs and cure-alls) and to roadside cafes for leafy salads, sausage plates, and pints of lager-like Austrian beer, we finally roll into the Wachau Valley, home to the best Grüner Veltliner on earth. Who needs beer when you've got Grüner?
A UNESCO World Heritage Site since 2000, Lower Austria's Wachau Region occupies the verdant river valley between Melk and Krems. A spellbinding landscape of terraced vineyards, clifftop castles, baroque monasteries, apricot orchards, ancient stone fences and cobbled-street-laden medieval towns, the Wachau lies just 60 miles from Vienna, easily accessible by boat, car, bike, or train. It brims with hiking and biking trails that zigzag along the river and up into the hills. Though ever attracting an outdoorsy crowd, such as our fellow cyclists pedaling along side us on the legendary Danube Cycling Path from Passau to Vienna, the area might be best known for its wine, especially peppery, bright Grüner Veltliner and crisp, dry Riesling. Here in the Wacau Valley, on the last few days of our trek, wine becomes our motivator. Before we reached the Wacau Valley, we had greedily enjoyed the characteristic biergartens found beside the bike path. But pedaling into the Wacau, we change course on beverage choice and turn our back on beer. Intoxicated with regional wine — metaphorically speaking — we pursue the zone's small, family-owned wineries, some more commercial and others so tiny they're found at the top of steep inclines with hand-painted signs inviting passerbys to "knock for a glass of wine."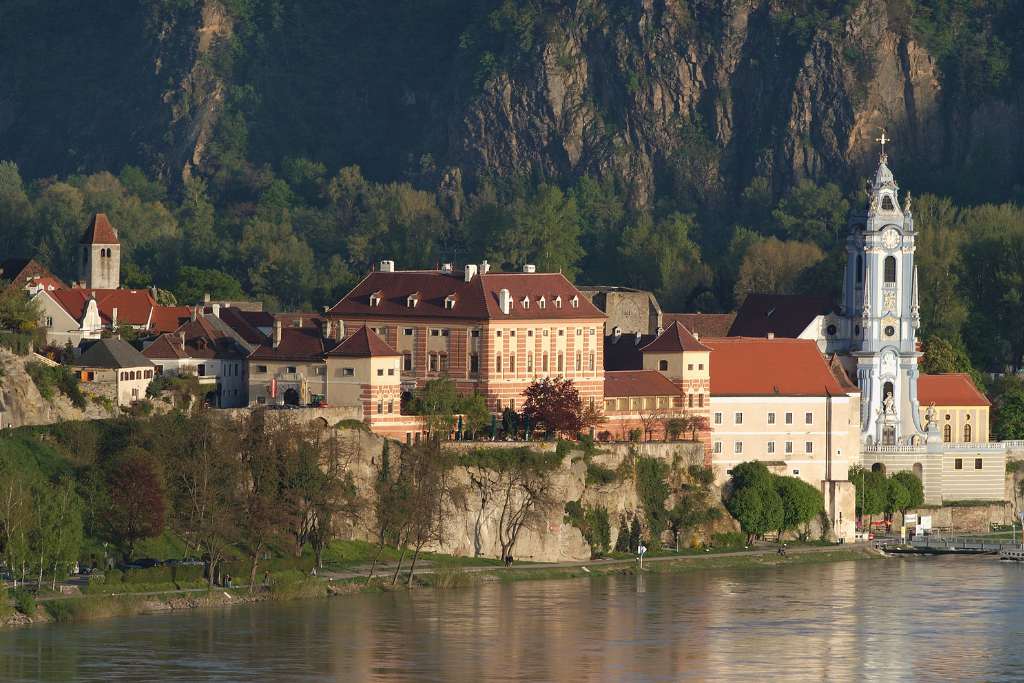 Eventually we pilot our bikes to Dürnstein. It's the last stop before we reach Vienna after days of cycling through small towns, riding raft-like ferries across the Danube, picnicking amid fields of flowers, shopping in small markets, and eating and drinking everything the locals offer us. Gorgeous, hamlet-sized Dürnstein, now popular with the river cruise set, has been called the Pearl of the Wachau for its elegant ambiance and beautiful architecture. One of its cherished structures, a baroque 17th-century castle is family-owned Schloss Dürnstein, a member of Relais Chateaux, the Wachau's top five star hotel — and a much beloved favorite destination for our family trips to Austria. So, despite our biking attire, bloody knees, and mud splattered everything, we check in— and are welcomed as warmly as if we had arrived in pearls, silk, and furs. In our princess-worthy suite, we stretch out sore muscles and prepare to wander the small town, famous for its hilltop castle ruins where Richard the Lionhearted was kept prisoner nearly a millennium ago. Since our final day of riding will take us to Vienna tomorrow, we celebrate our biking victories and curative wine tasting journey so far at the hotel's artful Restaurant Schloss Durnstein, which features gastronomic-level, iconic Austrian dishes such as goulash, Wiener Schnitzel, and breaded dumplings with apricots harvested organically in the Wachau by the hotel.
Where to Wine Taste in the Wachau Valley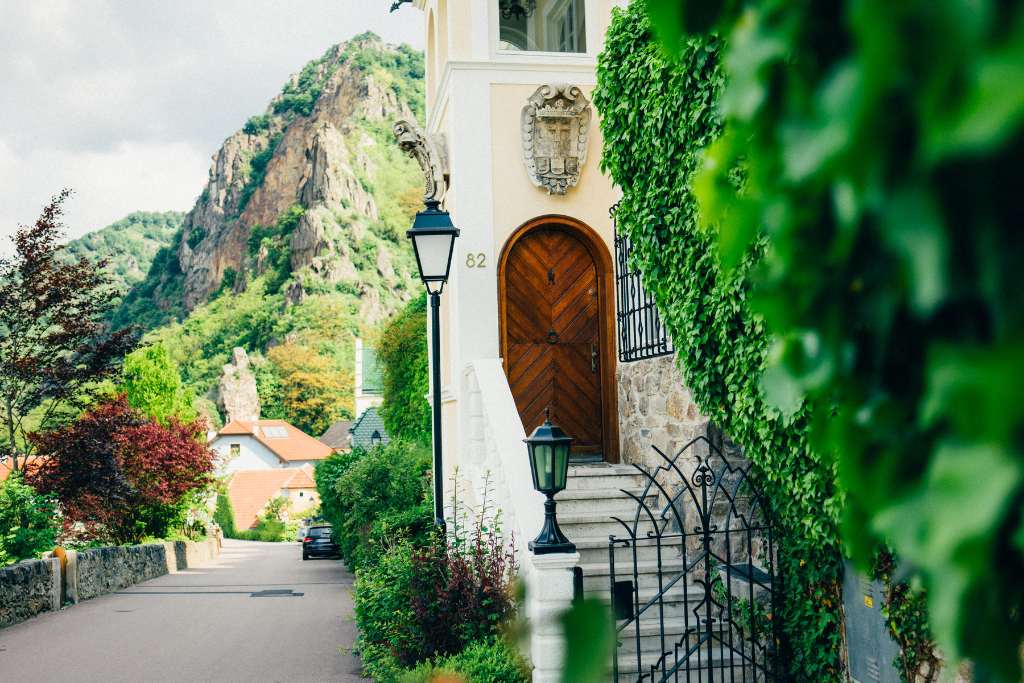 Domäne Wachau: One of the top wineries in Austria this highly regarded winery offers some of the best wine tourism experiences in the Wachau including a wine picnic, wine hike, wine boat ride—even wine Stand Up Paddleboarding.
Weingut Rudi Pichler: The Pichler family has been making wine since 1731, with Rudi Pichler taking the helm at his own elegant winery in 1989.
Nikolaihof: Known for its whites, this solidly Austrian winery has historic roots in the Wachau. A visit here can be paired with a meal at its on-site pub—an unforgettable and unpretentious experience.
Weingut Alzinger : On 27 acres this vineyard makes peerless, classic Grüner Veltliner and Reisling in the time-honored Austrian tradition.