You wake at 7 a.m. for sunrise yoga, saunter to the breakfast buffet, eat too much, and linger over coffee. Then you head to the beach, where a pleasant fellow sets up your beach umbrella and brings you a mid-morning Mai Tai (it is vacation, after all). A few pages into your book, you decide to take a kayak out to sea, and as you paddle you glimpse some turtles. Back on the beach, you order lunch, then hightail it to a cooking demonstration, printmaking workshop and rum tasting in that order. You're tired, but it's nothing a float in your personal plunge pool won't cure, something you do before picking up your younger children from the kids' club, finding your older children on the tennis court, and seeking out your husband in the cigar connoisseur's class for dads. All together, you play a quick round of beach volleyball as you watch the sunset. For dinner, you can choose from seven restaurants. Everybody wants to go to a different one, but you finally compromise and pick the steak and lobster joint — after all, the baked potatoes are enormous and they serve ice cream sundaes for dessert. Everybody's beat, but as you walk back to your suite after dinner, you hear some Reggae tunes, and all your happy feet dance their way to the evening concert. It's just another family vacation day in the Caribbean, but with one exception: You're at an all-inclusive and everything you did was included. Now, that's a deal. We've rounded up some of our favorite inclusive retreats in the Caribbean islands to help you plan your next getaway.
Jamaica All-Inclusive
Island Outpost music mogul Chris Blackwell's coterie of resorts in sunny Jamaica includes The Caves Hotel, an enclave cradled in the westernmost tip of the island nation in Negril. Brandishing just thirteen exclusive accommodations amongst its 10 acres, including cottages, suites, and one remarkable villa settled atop Negril's naturally formed volcanic caves with views of the turquoise Caribbean Sea, the intimate resort lies near Jamaica's central hub, yet feels sequestered and further flung. Adults-only, with paths twisting up a hill, The Caves features several jump-in points, including one at 30 feet.
Don't miss: The candle-lit Blackwell Rum Bar is composed of two of the many grottos within the cliff face.
Curaçao All-Inclusive
Sandals Resorts' brand-new Sandals Royal Curaçao reigns as the brand's most lavishly luxurious and romantic property to date. While some retreats offer guests complimentary golf carts, this one provides Mini Cooper convertibles for occupants of its top suites. In your own vehicle, on your own schedule, revel in the delights of the island, a tropical haven known for its coves, secluded beaches, peerless diving and pastel-painted colonial houses. Back on property, be pampered with butler service and personal pools in either the Awa Seaside Butler Bungalows (on the beach, complete with private infinity pools) or the Kurason Island Poolside Butler Bungalows, which surround a lagoon-like pool, anchored by a heart-shaped, man-made island. Around the haven, loll about the bi-level Dos Awa infinity pool, nosh from the menus offered at three seaside food trucks and/or eight restaurants, and enjoy a range of thrilling water sports, including scuba diving at 70+ island hot spots.
What We Love: Sandals Royal Curaçao has partnered with local restaurants for its innovative, complimentary "Island Inclusive" program," a dine-off site option that allows guests to explore the local food scene at a range of atmospheric eateries.
Antigua All-Inclusive
The scent of frangipani sets the mood at this privately owned sanctum on Antigua, an island known for its 365 bone-white sandy beaches. Created as a labor of love in a hidden nook as evocative as a postcard, the retreat features 30 stand alone suites — 13 of them planted right on the beach. Sailing, tours of the resort's own organic garden, scuba diving, daily Pilates and yoga fill days, interspersed with meals that authentically reflect Antiguan cuisine and sips of premium tipple. Ask the kitchen to make you a picnic to nosh as you explore the island.
Don't miss: Join the local fishermen amid the mangroves, where you can pick out cockles with your feet then return to the resort to cook them with the chef.
Turks & Caicos All-Inclusive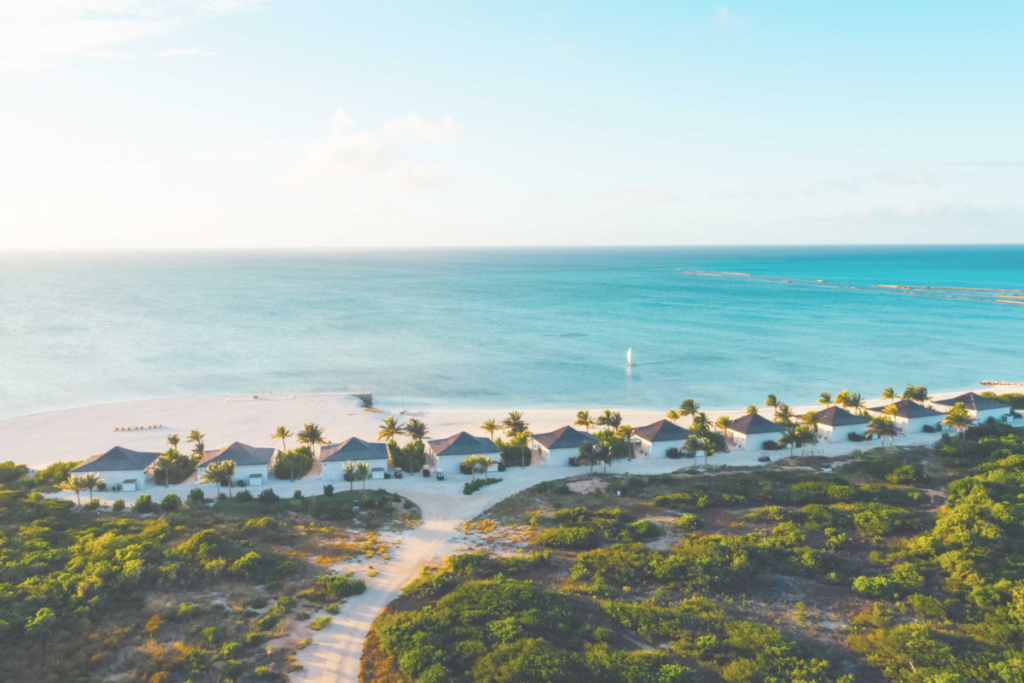 Haven't you always dreamed of being stranded together on a deserted island? Achieve that life goal at Ambergris Cay, a private island paradise in the archipelagic British Overseas Territory of Turks & Caicos. The ultimate diver's paradise, with the bluest water on earth — Turk's islands brim with coral and marine life. You'll find the best of the destination at Ambergris Cay, a three-mile long haven all its own. For couples, ten beachfront suites await, each with wrap-around verandahs and plunge pools. While families will want the various villas, replete with multiple bedrooms. Snorkel, bike ride, sip tropical drinks — it's all part of the package.
Don't Miss: Staff will pack you a lunch and drop you off at an even tinier island for a private picnic—or catch a boat ride to the nearby floating Tiki Bar.
Dominica All-Inclusive
Outdoors lovers swoon over Dominica, a wonderland of unspoiled nature, sometimes called "Nature Island," for its outstanding attributes, including the world's second largest hot spring. Spurred by its setting, Fort Young Hotel & Dive Resort, the island's landmark waterfront resort, digs deeply into local culture with its "​​All-Inclusive, Island-Included" program. Besides the promised house libations, massages, meals, and on-site waterspouts, the five night minimum package also incorporates hiking, snorkeling, and walking tours around the island, plus stops at local bakeries and rum shops. Trips to hot springs, guided hikes to Trafalgar Falls, Lionfish hunting, snorkeling jaunts by boat are just some of the stellar offerings.
Don't Miss: Upgrade your stay to include a swim with the resident sperm whales.
Barbados All-Inclusive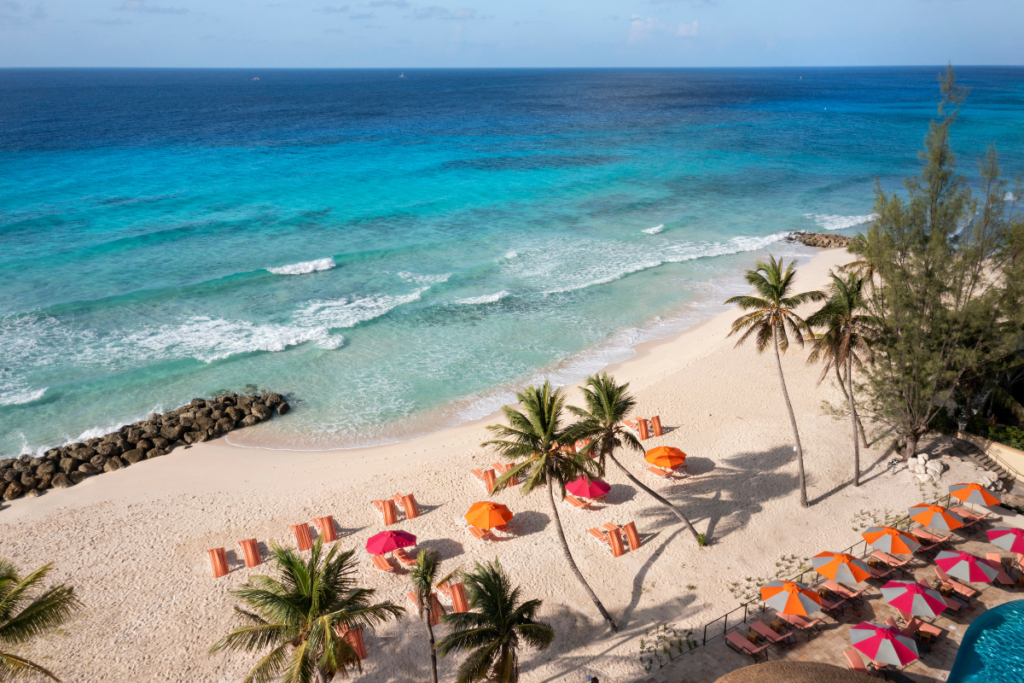 Learn to play the steel pan drum at O2 Beach Club & Spa, on Barbados, an island revered as the birthplace of rum. One of the destination's newest retreats, situated on the South Coast of the island, O2's unique concept includes jeep tours, horseback riding, snorkeling and a slew of other activities. Its 130 guestrooms, suites, and villas fall into three categories, each with a distinct mood. Choose adults-only luxury for its bright decor, larger suites, and swim-up rooms. Six dining outlets and seven bars tempt, as do three swimming pools, especially rooftop Brisa.
Don't Miss: Teeing off at a nearby golf course is included.
St. Lucia All-Inclusive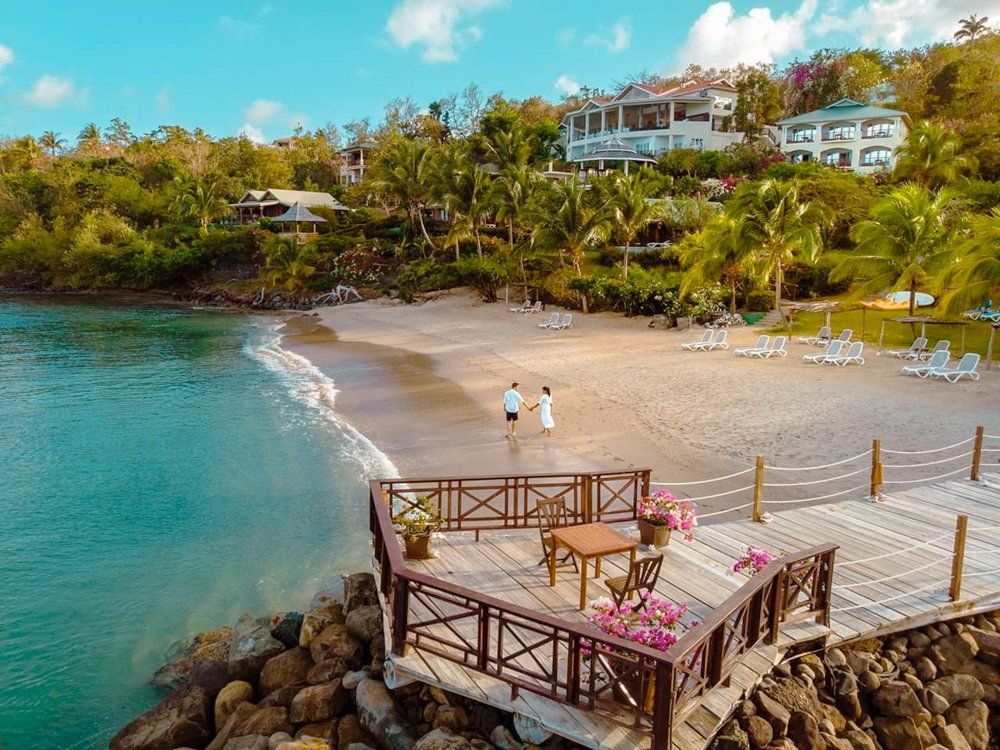 St. Lucia turns heads with its eye-popping Pitons, two mystically shaped volcanic spires and soothes with its volcano-heated Sulphur Springs. But to best enjoy its beachy virtues, book a stay at Calabash Cove Resort and Spa. Crowning a hill, framed by the lush rainforest, the property descends to a perfect coconut tree shaded beach. Take advantage of Calabash's "Unconditional All-Inclusive," plan, which means more gourmet add-ons — such as whole lobsters and up market liquors and wines. Cut a rug in the dining room, where the hideaways' signature red piano accompanies the talents of local musicians.
Don't Miss: St. Lucia is famous for its cacao. Experience it via a Chocolate Scrub in the spa.
Curaçao All-Inclusive
The color of the ocean that rims the Dutch island of Curaçao matches the blue of its island-made liqueur of the same name. Sip it at Mangrove Beach Corendon Curacao All-Inclusive Resort, a festive, family friendly vacation oasis. Chock full of dining venues (Dushi Sushi Club stands out), the getaway thrills with its six-slide Aqua Park. Scream through the twisty Free Fall Aquatube, and spin down the terrifying Cobra King, which spits sliders out of a snake's mouth at the bottom. On-site scuba, volleyball, live music day and night, and classes such as Zumba and Aerobics add to the fun.
Don't Miss: The thatched roofed outdoor spa cabanas are not included in the price but absolutely worth the extra fee!