Once upon a time…I feel like a princess. Until I start to dance.
I descend a gilded staircase in Vienna's Hofburg Palace (known as The Hofburg), once home to the Habsburg Dynasty, and join a throng of waltzing revelers. Inept in my step, despite lessons at the renowned Elmayer Dancing Academy, I can't quite perfect the elegant twirls and whirls required to move to music that emits a playful 100 beats a minute. Feeling like a failed Cinderella, I stomp on toes, and hear my partner sigh, then whisper: "Backward, between, left, right, together, turn." Finally, giving up, he picks me up just inches off the floor, and I glide to his prowess, appearing to dance as aptly as the others in the ornate room — Austrians born to the rhythm of the waltz. When the dance ends, he offers me a glass of Champagne, shrugs his tuxedo-clad shoulders, and tries to ameliorate the situation. "Not everyone can waltz their first try. Some special people require extra lessons."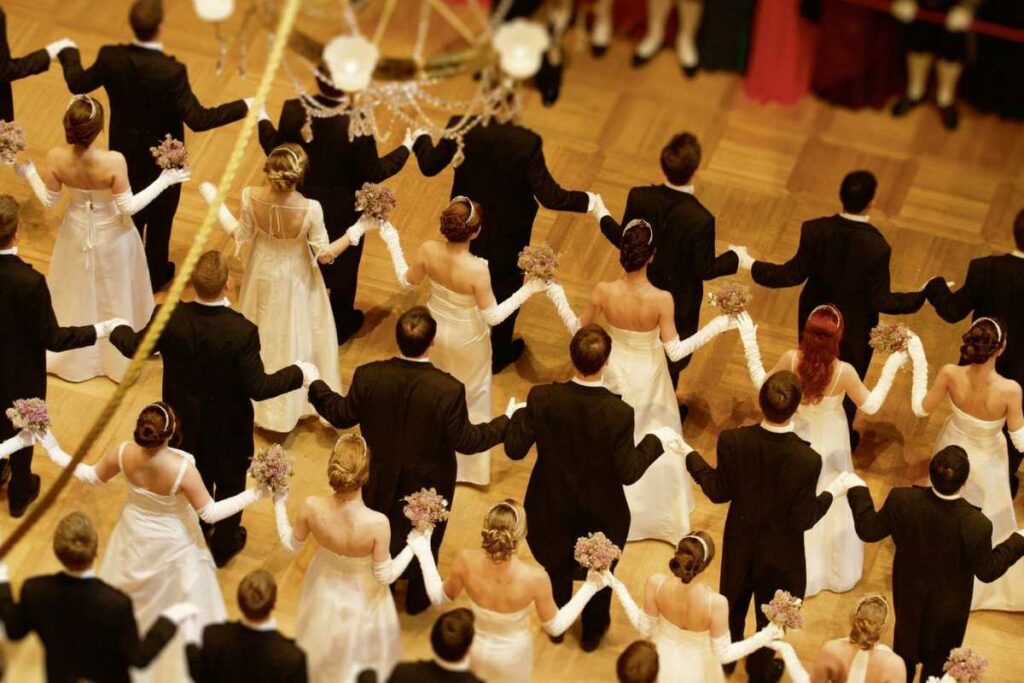 Not to be disheartened, I spend the rest of the night exploring the rambling, gilded palace, a magnificent building along the Ringstrasse which has more than 70 rooms. Home tonight to the prestigious Kaffeesiederball (or Ball of the Coffee Brewers), the stately space includes storied sections — such as the Spanish Riding School, an eye-popping example of Viennese largesse with tumbles of ornamental stucco, 46 decorated columns, glittering chandeliers, a coffered ceiling and haunting paintings. On Coffee Ball night the space has been transformed into an all night party, a place to play between waltzes, separate from the dance floor. When the ball and festivities end, I exit the building with friends, tossing off my shoes and nearly losing one, a la Cinderella. We retrieve it, then board a fiaker (a horse-drawn carriage) to take part in another local tradition. Cuddled together, giggling into the cold early morning air, we clip-clop to Cafe Landtmann, one of the city's most revered coffeehouses. There, in accordance with legendary after-ball traditions, we drink beer and eat goulash. Sated, ball gown disheveled and bun askew, my shoes thrown off beneath the table, I check the time. It's five a.m. Will I turn into a pumpkin? No, my Viennese friends assure me. We do this every year.
The storybook ball tradition may be the single most apt metaphor for elegant, edgy Vienna, a lustrous city steeped in unique traditions. Ball Season, an annual ritual embraced by young and old, trumpets the months leading to spring. Composed of more than 450 balls scheduled during lent season, many of them fundraisers or coming of age celebrations, most black-tie events, the custom began more than a century ago when Emperor Franz Joseph feared a revolt from his royal subjects. To quell the disharmony before it began, he invited the populace en masse into the castle for an extravagant party, a social act which proved a brilliant success and allowed merrymaking to cut across the social classes. The fête corresponded handily with the simultaneous popularity of an "upstart" local composer — Johann Strauss — who'd invented a peppy form of music (the Waltz), as well as the fast-paced dance that accompanied it — also called the Waltz. The beat made hearts race and placed couples in close physical proximity. It was sexy and scandalous — in short, a real-life fairy tale.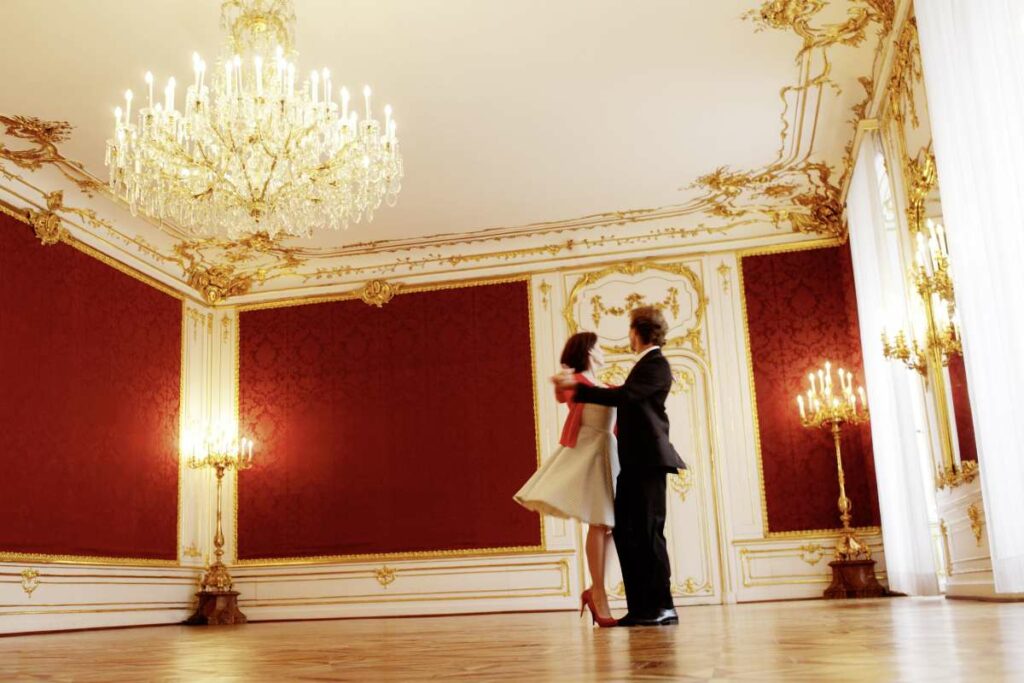 As popular as ever, Viennese balls today are ubiquitous in their season, which begins in January and lasts through fasching, usually ending by Easter. Varying in style and mood, not all are formal galas. Soirees such as the Wallflower Ball, for example, take another tact. That one dictates inconspicuous, mousy clothing (with the worst dressed dancer winning a prize) — just the opposite of the glitzy ambiance of the dressier affairs, such as my elegant twirl at the Coffee Brewers Ball in The Hofburg Palace.
But there's more to Vienna than dancing. With its backdrop of Baroque structures, towering Imperial buildings, Art Nouveau masterpieces, and inviting warrens etched with cobblestone streets, the fairytale city has a river (The Danube) that boasts swimmable beaches, coffeehouses where people linger all day, some of the worlds' most notable art museums, vineyards that fringe the city, and a food culture that includes both delicate cakes and robust wiener schnitzel. What fascinates me most about this enlivened city is its plucky nature — how it embraces the richness that constitutes the fabric of its past, but always keeps its eyes open for invention, evolution, artistry, and innovation. Here painter Egon Schiele mastered Expressionism, architect Adolf Loos rethought the shape of buildings, musicians from Mozart to Schoenberg took inspiration for the cityscape, and Ludwig Wittgenstein mulled over his philosophy of language.
Thinking about a visit? Here's my must-do list.
The Ringstrasse
As its name suggests, the circular boulevard loops Vienna's old city. Along its five kilometers, you'll find magnificent sites, a testimonial to the city's sumptuous history. Take a tram, rent a Citybike from any of the 120 easy-to-use bike stands, or simply walk it to discover unforgettable vistas, such as the Vienna State Opera, the Greek Revival-styled Parliament, the Imperial Palace, the Kunsthistorisches Museum, verdant parks, statues and the banks of the Danube — among other sights to behold.
Coffeehouses
Poets, philosophers, musicians, artists, family, and friends continue to gather in Vienna's iconic coffeehouses, keeping a culture alive that began in the 17th-century. Such a part of the city's fabric and lifestyle that UNESCO has listed it, the coffeehouse institution provided a place for people to work, think and socialize — some patrons have even had their mail delivered to their favorite swilling spot. While modern coffee cafes have cropped up (as in the rest of the world), it's the original ones textured with velvet curtain-framed vitrines, helmed by cranky waiters in white jackets, and packed with people likely to linger all day over one melange (a milky coffee concoction) that define Vienna. Some are fancier, adorned with chandeliers, others comfortably tattered — each vaunts a distinctive personality. Try Café Schwarzenberg (the oldest on the Ringstrasse), Café Central (beloved by Sigmund Freud), or soulful Café Hawelka.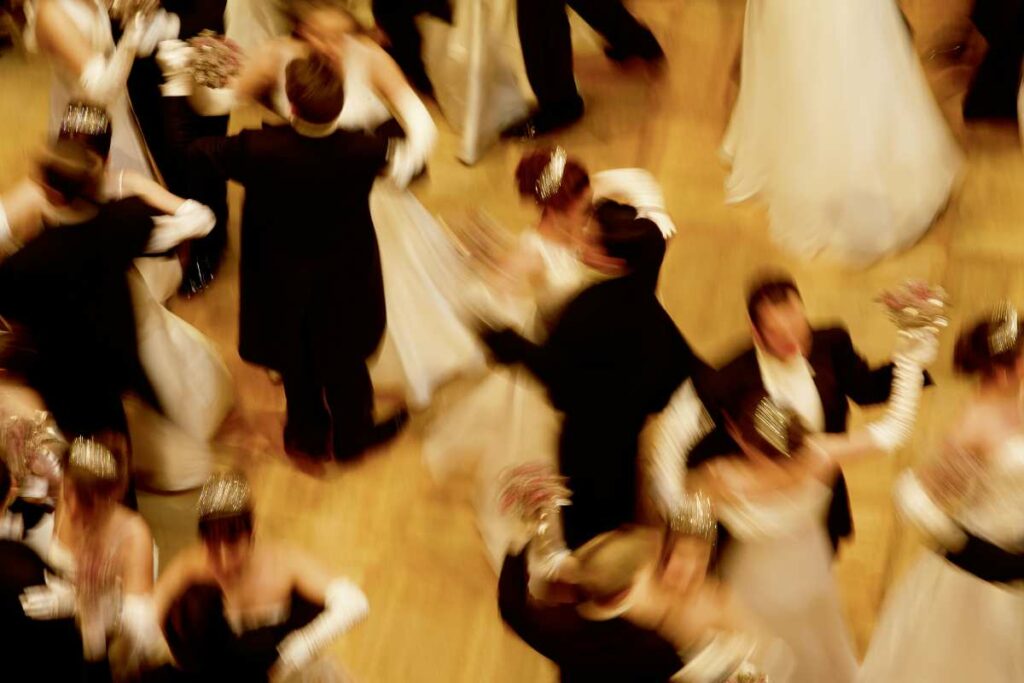 The Cuisine
You'll notice the Viennese have a penchant for sweets, mid-afternoon, they'll be tucked in a cafe or lined up at an ice cream shop, elegantly spooning desserts. Best known for its cakes, pastries as embellished as the city's most intricate architecture, Vienna offers myriad dolce options. But if you can try only one, go for the original Sacher torte, served at the opulent Sacher Hotel. Encased in chocolate fondant, the cake's multi-layers have apricot jam. Savory gourmets will want to taste the light-as-air, lemon-infused Wiener Schnitzel, too, a pan-fried veal cutlet. Indulge in the immense version at Figlmüller Wollzeile. For nibbles, save time one afternoon to wander the Naschmarkt (snack market), where vendors, artisan food makers and farmers occupy several blocks of shops selling everything from sauerkraut to sausage to vinegar.
The Arts
A feast for the senses, Vienna not only looks spectacular, it touches the soul. A night at the opera or ballet here won't be forgotten, a concert played in a palace or church will stir your heart, and the art museums, with masterworks that span centuries will feed your curiosity. Visit the MuseumQuartier, a tremendous arts complex, packed with cafes, open spaces and some of the city's best museums — such as the Leopold Museum, which presents a stellar collection of Egon Schiele's work. At the Kunsthistorisches Museum, spend time perusing some of the world's best Bruegels, and at the Belvedere Palace, further afield, enjoy masterpieces such as Gustav Klimt's The Kiss.