At St Barth's five-star eco-resort Manapany, a luxury hotel in the Caribbean, a storm carrying sea wind blows silvery swirls of sand around my feet and tickles my neck as I sit at the bar, a vision of hand-crafted local woodwork. Waves nearby pound in rhythmic chanting like monks at evening vespers. After a crazy flight from St. Maarten, where the plane careened so low over sunbathers I could almost see their expressions, not to mention that famously abrupt — but always expertly executed — landing at Gustaf III Airport, I'm in need of a drink. As my bartender concocts my Mojito, she talks to me about living on St Barth, in husky French-accented English, claiming the baguettes are as good here as back home. Once I take one sip of the sweet lime drink, gaze at the fuchsia-tinted evening sky, I relax to marvel at how an island in the French West Indies can feel so positively Parisian. When I finish, I catch a short ride up a hill in the Manapany electric shuttle to Villa Nanne, my moan-worthy accommodation, located a one minute walk from Corossol Beach.
More about Villa Nanne on St. Barth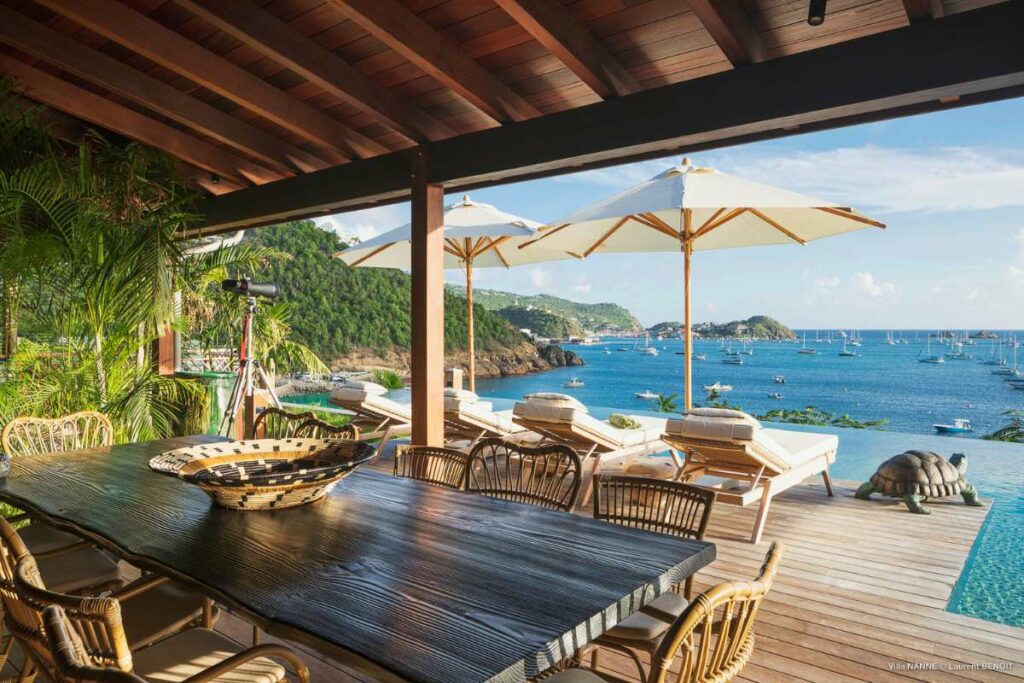 Sustainable and brimming with art d' vivre like Manapany itself, this luxury villa evokes all that certain je ne sais quoi created by the fantastically stylish mother/daughter team behind B Signature Hotels & Resorts — Anne and Agathe Jousse (Anne personally has designed and curated Villa Nanne). Offering an extra dose of privacy and luxury, the villa has access to all of Manapany's amenities. Committed to sustainability, it spans 3,390 square-feet to embrace four bedrooms and bathrooms. Its spacious 1,614 square-foot terrace, perched above the iconic bay of St Barth, is large enough for a party, and views from the glimmering infinity pool are inimitable. Enjoy private butler service on request.
Read on to discover more luxurious Caribbean villas you can't resist.
Pangolin Villa, Mustique
There was a time when a trip to swish Mustique required an invitation from HRM Princess Margaret to score a visit. Still utterly exclusive, the island continues to cull who visits, allowing, like Studio 54 in its heyday, only the most worthy to enter. The realm of glitterati from rock stars to royalty to CEOs for decades, the island has laid-back glamor. It's the sort of place where jet setters go to party en masse, rather than to hide away. Join them with a stay at Pangolin Villa, the largest estate in Mustique, recently remodeled in the plantation style. Encompassing a whopping 20 acres, Pangolin boasts eight en-suite bedrooms, an indoor living room, a dining room, a TV room, and a library indoors, each space awash in object d' art and jaw-dropping design features. Outdoors, practice yoga in the 580-square-foot, open-air pavilion or lounge around the glistening pool.
Patio Villa, Mandarin Oriental Canouan, Canouan Island, Saint Vincent & The Grenadines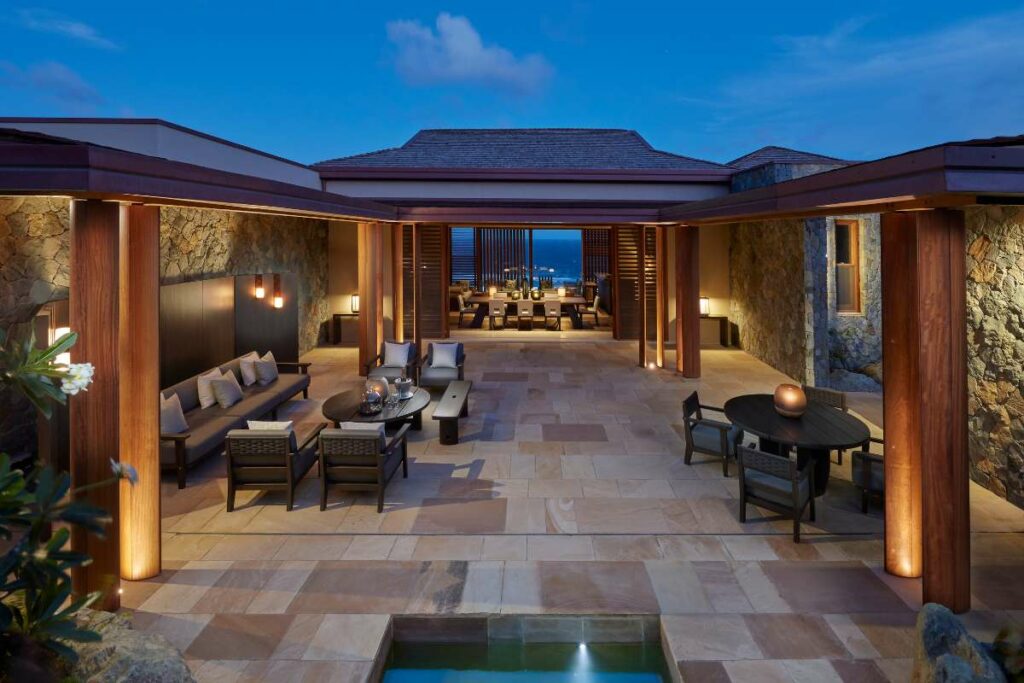 Paradisiacal, diminutive Canouan is what Robinson Crusoe would have been looking for if he were a swanky dude who loved opulence and pampering as much as gorgeous nature. On this further flung playground, just 1,200 acres in size, guests can reconnect with each other, themselves, and the universe in unspoiled surroundings. Restore in the Patio Villa, poised near the top of the hillside, overlooking Godahi Bay. Designed by a leading team of architects from Milan, the sleek digs redefine vacation home living, taking chic to another level. A symphony of stone, glass and wood, melding with the hillside, the two (or three) bedroom Patio Villas vaunt infinity pools, and hot tubs — among other amenities.
Seahorse Villa, Palm Island, The Grenadines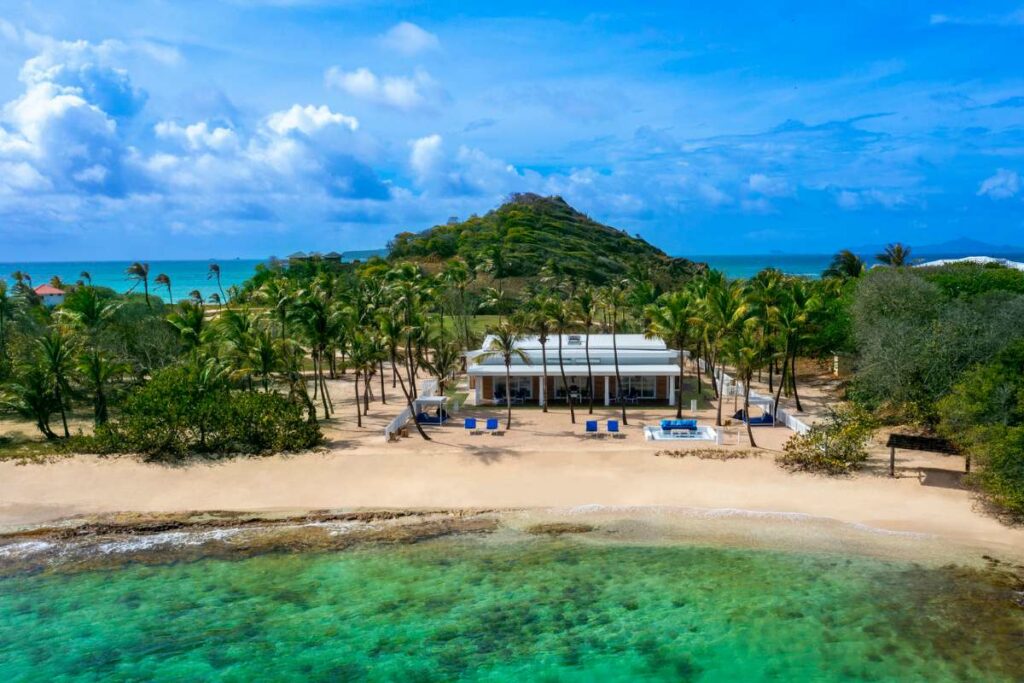 With James Bond off the radar appeal, adult-focused Palm Island Resort & Spa can only be accessed by private launch from nearby Union Island, the southernmost island of the Grenadines. A haven of rustic chic, it harbors nostalgic, lost-in-time Caribbean vibes (coconut water sipped from coconuts spiked with rum, lobster nibbled by movie stars hidden behind huge sunglasses) and a slow pace. A secret hideaway, its romantic Seahorse Villa, aesthetically outfitted with furniture crafted from shipwrecked wood and laden with bright textiles created from recycled plastic, lies beachfront. Mirroring the surrounding seascape, its 4,000 eye-catching square feet holds two en-suite bedrooms, an ample-sized kitchen, laundry room, and dining room, while a large deck inspires lazy days outdoors.
Villa Lovango, Lovango Resort + Beach Club, US Virgin Islands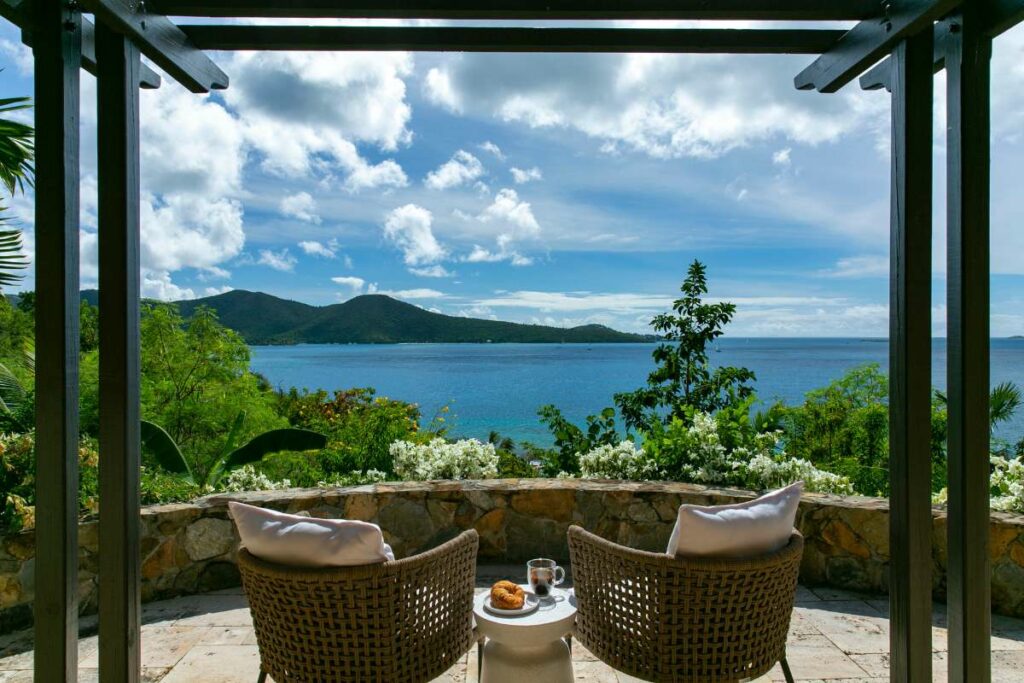 Just a ten minute ride from St. John and St. Thomas, Lovango Resort + Beach Club occupies a private island with access to 45 acres of undeveloped Caribbean Sea-edged wilderness. Notable as the U.S. Virgin Island's first new-built resort in 30 years, the retreat features luxury treehouses, but its top drawer stay, Villa Lovango, with space for six adults and three children, draws families for its grand size. Expect 5,400-square feet of oceanfront views that embrace three bedrooms, a state of the art kitchen, swimming pool, living spaces, and fire pit.
The Boat House, Pine Cay, Turks & Caicos
In the Atlantic Ocean, southeast of the Bahamas, Turks & Caicos is a British Overseas Territory, composed of 40 low altitude coral islands. One of those isles, Pine Cay, rife with activity offerings, thrives as home to a newly designed 13-bedroom Relais & Chateaux hotel, as well as a collection of villas, eight of which are available to rent. Choose The Boat House for its three spacious, en-suite bedrooms, tropical interiors, private beach (with Tiki hut that overlooks the Caicos Banks), private lagoon access, and captivating views of Lake Marou. Cast a line steps from the front door, paddle a kayak, ride a bike or gadabout the island (destination the Pine Cay Club for cocktails?) in either of two golf carts provided.
Estate Villa, Round Hill, Jamaica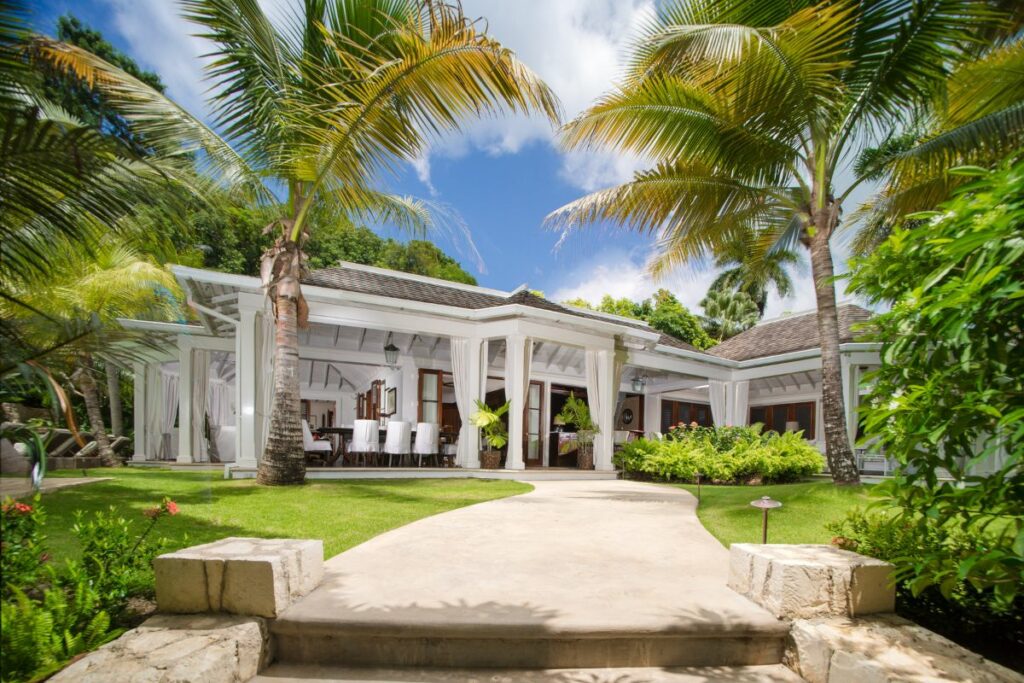 Since 1953, Round Hill has attracted a swanky set, including the likes of Sir Noel Coward. Its Pineapple House, airy and organic, was designed by Ralph Lauren as an ode to tropical sophistication. Move into this creme-de-la-creme of this Caribbean resort, Estate Villa, a six-bedroom fantasy, poised on the edge of a tropical rainforest. Two private pools, a waterfall, fire pits and showers indulge outdoor loungers. Within, six bedrooms, eight bathrooms, a bar and sweeping views from every window bring reposeful satisfaction.
The Artists Villa, Amanyara, Turks and Caicos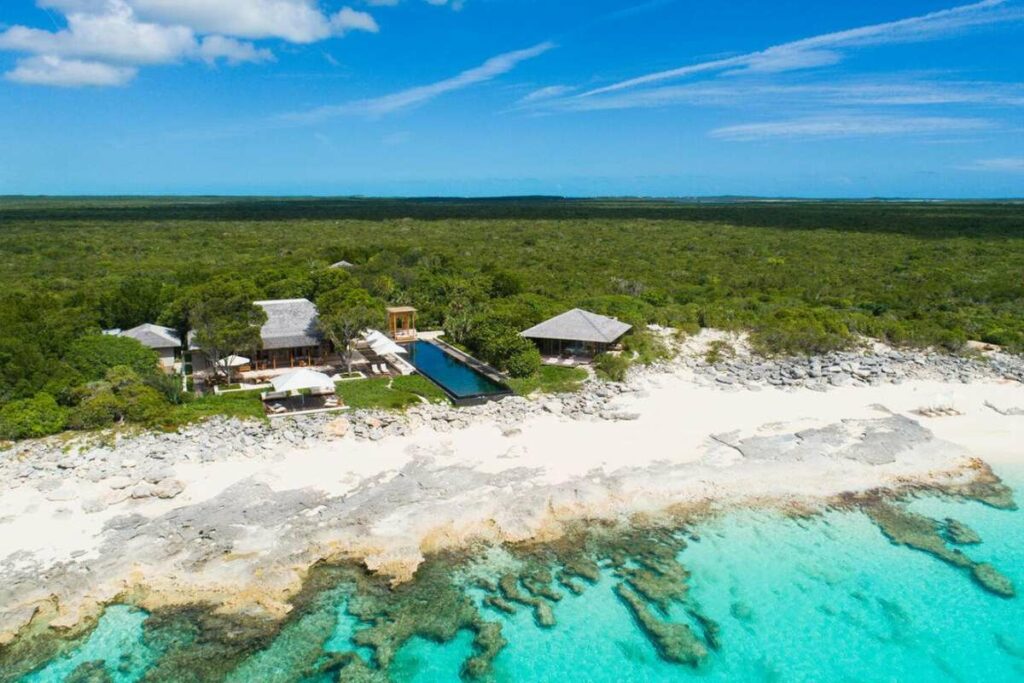 Blessed with its own crescent of white sand,The Artists Villa, replete with a lap lover's 108-foot infinity pool facing the sea, sits among three acres of verdant garden. A private yoga sala and sprawling sundecks with lounge areas enhance outdoor living, while five bedrooms indoors, tended to by a dedicated staff of three ensure all guest needs are satisfied A fleet of six-seater and four-seater golf buggies whisk residents across the grand Amanyara property, allowing them to take full advantage of all included resort amenities.