Dramatic mountain ranges, rich history that goes back thousands of years ago, more than a hundred and fifty miles of beautiful Black Sea coastline, fantastic food, and a fascinating culture blending an eclectic mix of ethnic influences make Romania one of Europe's most unique destinations.
But this East European nation, stretching south from Ukraine all the way to the Danube river, has an especially rich medieval heritage. Hundreds of fortresses and castles were erected throughout the country to serve as aristocratic residences for royalty or defend against invaders such as the Ottomans. Many of these spectacular constructions have withstood the test of time, adding to the country's exceptional architectural heritage and inspiring some of our favorite movies, TV shows, and novels, such as Count Dracula's castle to Wednesday Adams's Nevermore Academy.
Keep reading for a roundup of nine of the grandest and most exquisite castles in Romania to put on your travel wishlist.
Bran Castle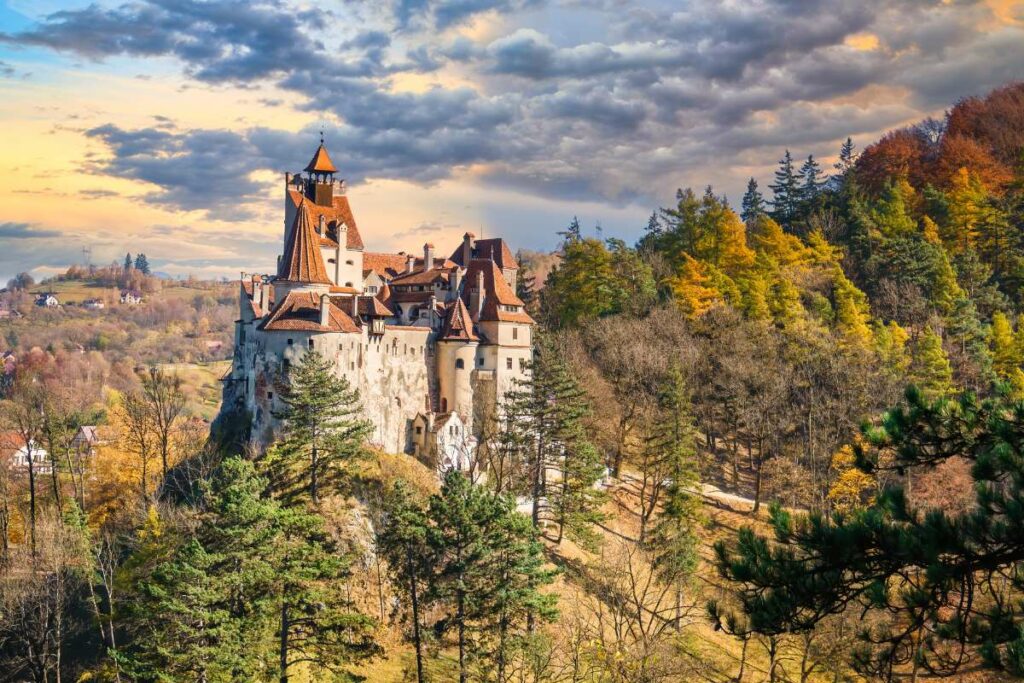 While Bran Castle's most famous inhabitant was a fictional one — namely Count Dracula of Bram Stoker's 1987 novel Dracula — this 14th-century castle had some pretty high-profile occupants in real life, too, such as Queen Maria of Romania and Princess Ileana.But it's easy to see why some people still refer to it as Dracula's Castle. Its mythic location — sitting at the edge of a steep cliff overlooking the Moeciu valley — together with its imposing gothic, medieval architecture comprising fortified walls and multiple towers, looks absolutely magical. Here's how to visit.
Peleș Castle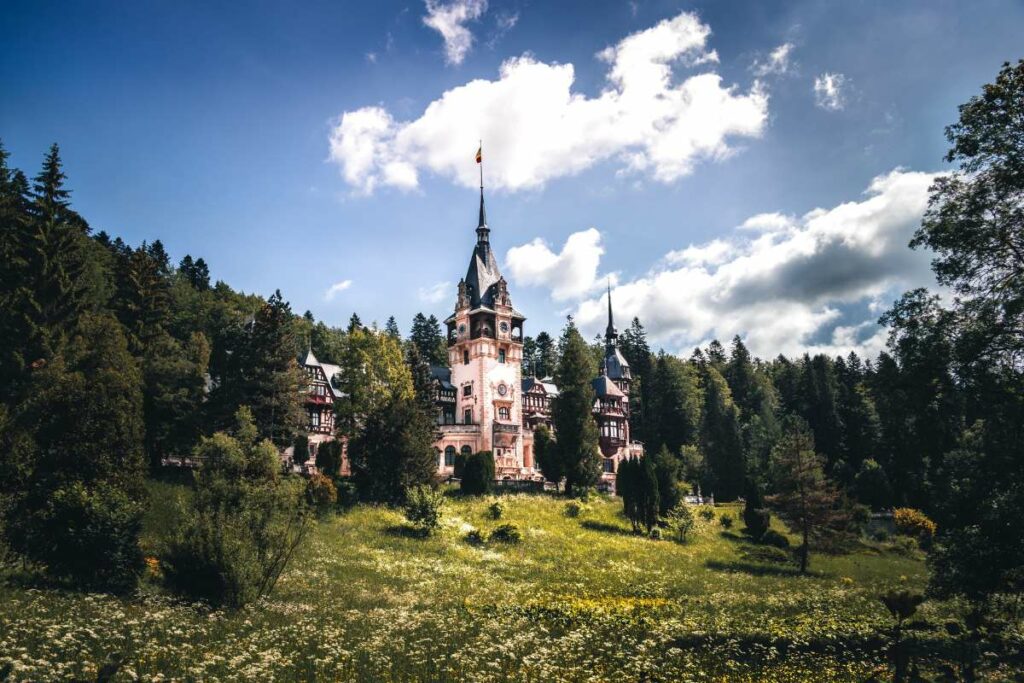 A marvelous example of German neo-Renaissance architecture, Peleș Castle, commissioned by King Carol I in the late 19th century, is a sight to behold both for its opulent interiors and awe-inspiring façade. With 160 rooms, including a concert hall, a Turkish salon, a music room, a 60-seat theater, and a library with a secret door, each uniquely decorated in lavish Baroque style, Peleș Castle is one of the finest in Europe. At the time of its completion in 1883, the castle was also the first one on the Old Continent to have electricity and central heating. Here's how to visit.
Pelisor Castle
Sitting right next to Peleș Castle is the equally splendid — albeit smaller — Pelisor Castle, built by King Carol I for his nephew King Ferdinand and his wife, Queen Marie, at the beginning of the 20th century. While the castle's exterior is mostly in German neo-renaissance style, the two towers are clad in colorful tiles reminiscent of Romanian churches. Inside though, Queen Marie, an art enthusiast who helped decorate the castle, favored the trendy at the time art nouveau aesthetic, with much of the furniture designed by Bernhard Ludwig, a famous Viennese cabinetmaker.
Corvin Castle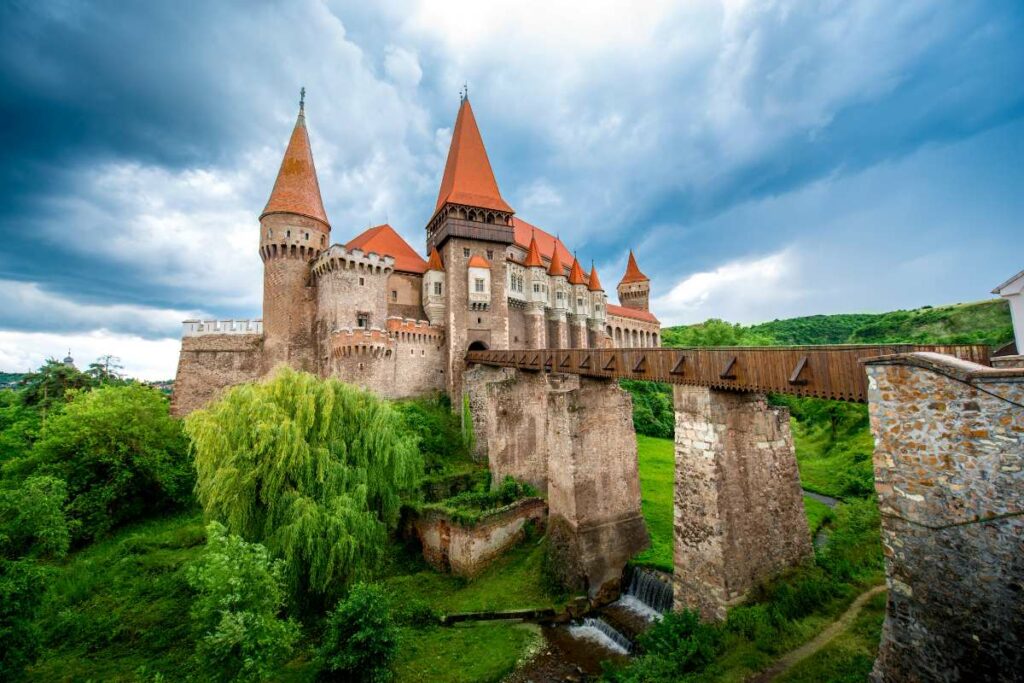 Initially built as a defense fortress against the Ottomans and a prison, Corvin Castle, also known as Hunyadi Castle, is now one of the largest in Europe and one of the "seven wonders of Romania" (Bran Castle is another). This Gothic-Renaissance castle was built on top of a fortification and comprises 42 chambers, two bridges, multiple towers, and two rectangular-shaped halls boasting high arched ceilings, where ceremonies and feasts were once held. Numerous movies have been filmed here, including Nostradamus, Ghost Rider: Spirit of Vengeance, and The Nun. Here's how to visit.
Sturdza Castle
Nestled among lush trees in an English-style garden, the neo-Gothic Sturdza Castle looks like an enchanted fairy-tale castle. The estate belonged to George Sturdza, a politician, and his wife, Maria, and was built between the end of the 19th and the beginning of the 20th century. As avid collectors, the Sturdzas had amassed an enormous collection of rare books, medieval costumes, artworks, and other historical artifacts that were, unfortunately, destroyed by the Russian Army during WWII, after which the castle was turned into an orphanage. Here's how to visit.
Cantacuzino Castle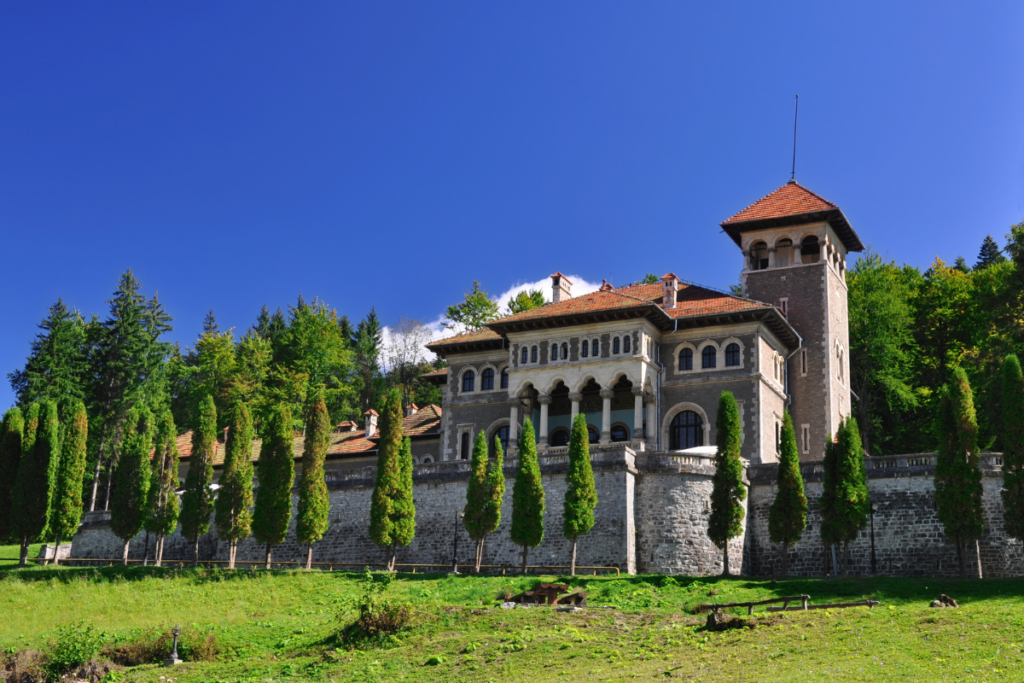 Welcome to Nevermore Academy, aka Cantacuzino Castle! That's right, this is the filming location for Netflix's blockbuster series Wednesday. And while the series' aesthetic might have you believe that this is a dark and somber place, in reality, the castle is an exquisite example of neo-Romanian architecture, teeming with world-class art and surrounded by perfectly manicured gardens with water features, statues, and even a grotto. That's because it was commissioned by one of Romania's wealthiest politicians, Prince Gheorghe Grigore Cantacuzino, who spared no expense. Think oak doors, Italian stained-glass windows, marble and gold foil accents, and panoramic views of the stunning Zamora Mountain. Here's how to visit.
Iulia Hasdeu Castle
Iulia Hasdeu Castle is the spookiest castle on our list. Built by famous Romanian academic Bogdan-Petriceicu Hasdeu as a tribute to his deceased daughter, the ultra-talented Iulia Hasdeu, every detail from the castle's architecture and design is said to have been designed by Iulia's spirit, who communicated with her father during seances. The construction is full of symbolism — the castle was built in the shape of a cross, has three towers (three is considered a magical number), and the Eye of Providence greets guests above the front gate. Stories of ghost sightings are also plentiful here, so much so that the museum had trouble finding workers for its night shifts.
Jidvei Castle
This beautiful Renaissance-style castle, built in the 16th century by Miklos Bethlen (also known as Bethlen-Haller Castle), underwent several renovations over the years, which is why it also features Baroque and modern elements. The castle was inspired by the grand palaces along France's Loire Valley and was built solely as a hunting and recreational place. Nowadays, the estate is home to one of Romania's premier wineries producing award-winning white wines. Here's how to visit.
Banffy Castle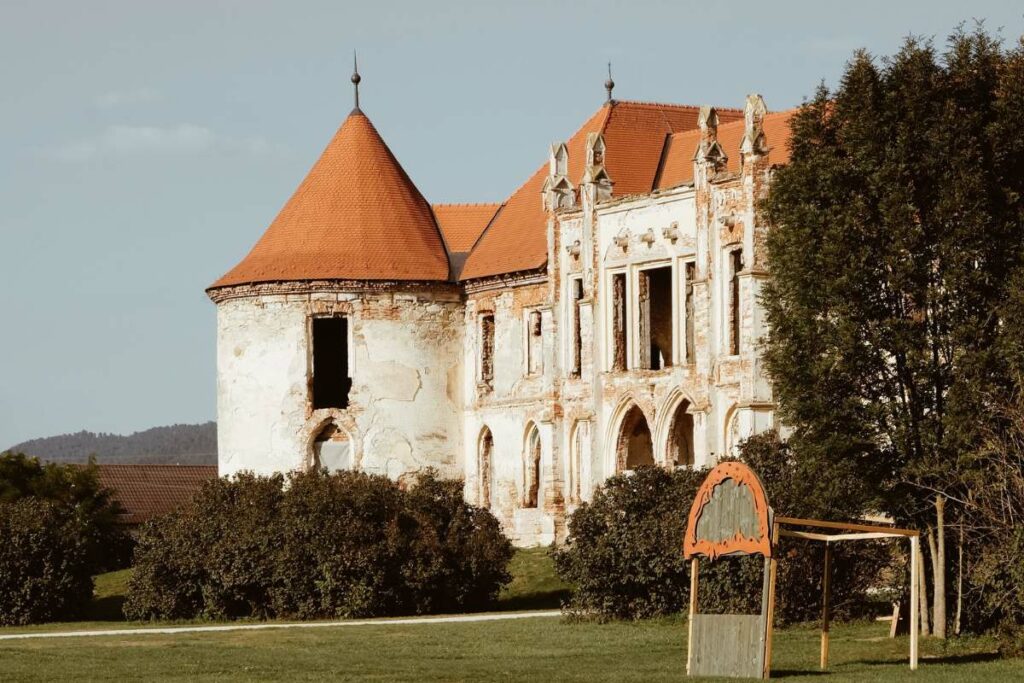 It took three centuries for Banffy Castle to be completed, and when that finally happened in the 19th century, the structure, which was dubbed Transilvania's Versailles, was a sight to behold. Incorporating elements of several styles, including Renaissance, Gothic Revival, and Baroque, the castle was accessible through a grand seven-story gatehouse and featured a French-style park. Unfortunately, German soldiers burnt the estate during WWII, which was neglected until 1999, when renovation and preservation works started. Today, this former aristocratic dwelling is open to the public and houses an art café in what was the castle's kitchen and a cultural and education center. Here's how to visit.