Who doesn't want to live in Charleston, with its sweet tea, fragrant magnolias, and syrupy drawl, even if just for a few days. With these colorful, Old South-style, modernized airbnbs, travelers can seamlessly live like locals. Loaded with charm (and rocking chair porches), here are 12 we love:
Downtown Charleston:
Mary Scott House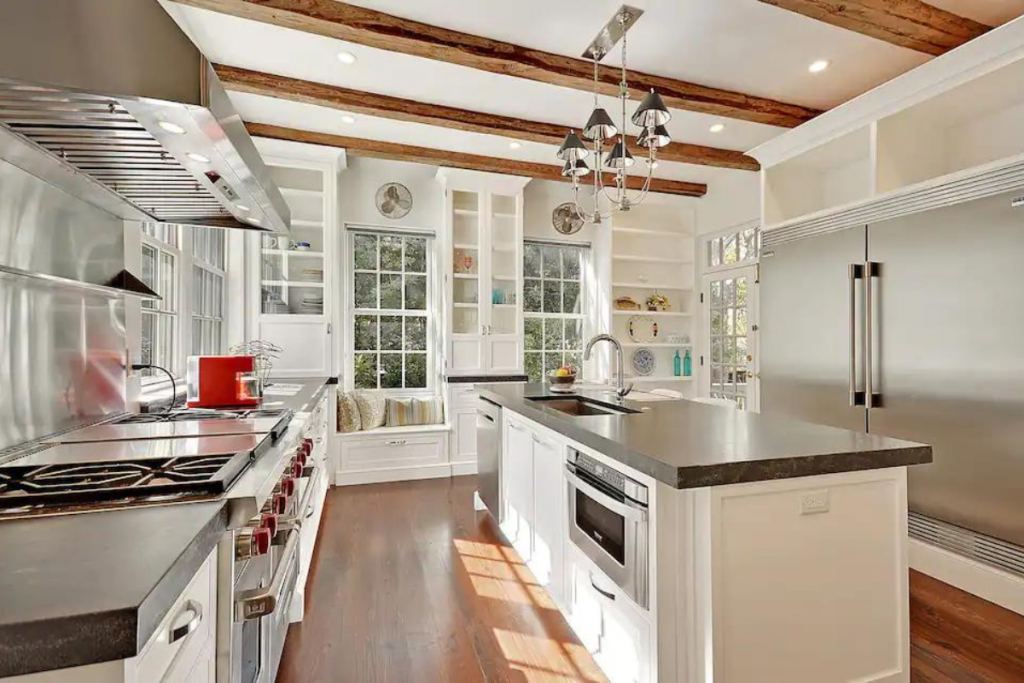 (Accommodates: 5 guests)
This spacious, quite spectacular apartment, in the refurbished 1813 Mary Scott House, resides in Charleston's historic Ansonborough neighborhood. Stretching across the upper two stories, the apartment comes with a stunning bedroom, wood-beamed kitchen, and deep soaking tub. We also love the terraces, outdoor piazza, fountain garden, and that the house is pet-friendly.
Sunrise
(Accommodates: 8 guests)
Located within easy walking distance of historic King Street, and winner of the "Best of Charleston' award, this three-bedroom stunner was originally built in the 1850s. Completely renovated by its (architect) owners, the house now features a clean white Scandinavian interior design, while remaining true to its original brickwork, exposed beams and wide pine floors. We especially love the private upstairs porch.
The Little Pink House on the Peninsula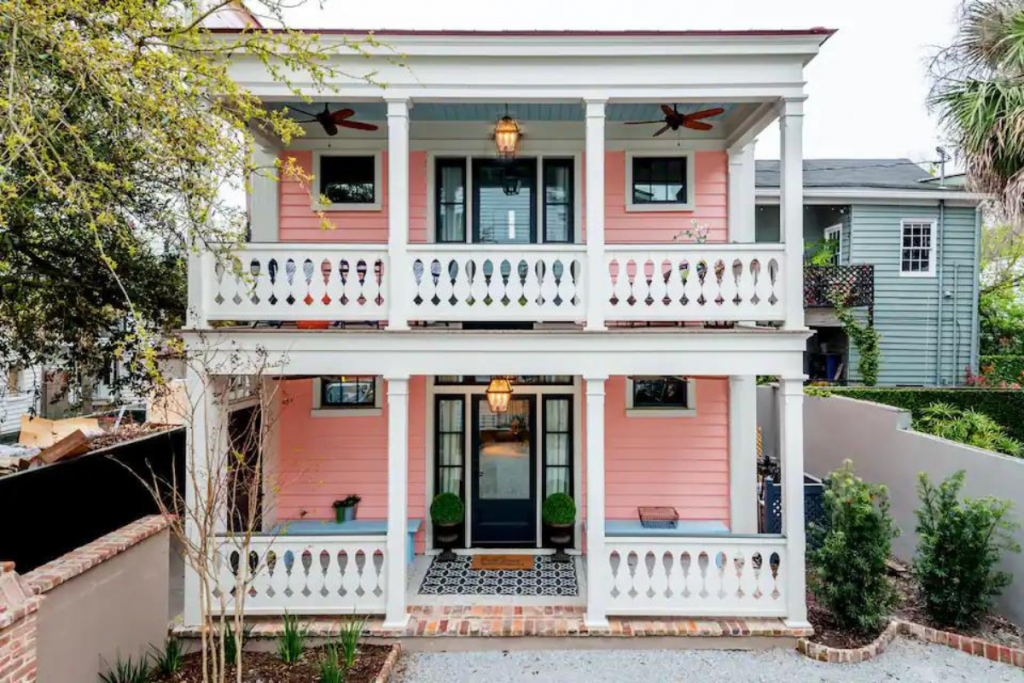 (Accommodates: 2 guests)
Romantic and undoubtedly pink, this small house canopied under live oaks on residential Bogard Street, is perfect for couples, and is the epitome of Charleston living. Newly built, the house features not one, but two, porches, both west-facing, making them perfect for sunset. The lofted master suite spans the second floor, while the downstairs living space has an intimate living area, kitchenette, and a half bath.
Jacob Rabb House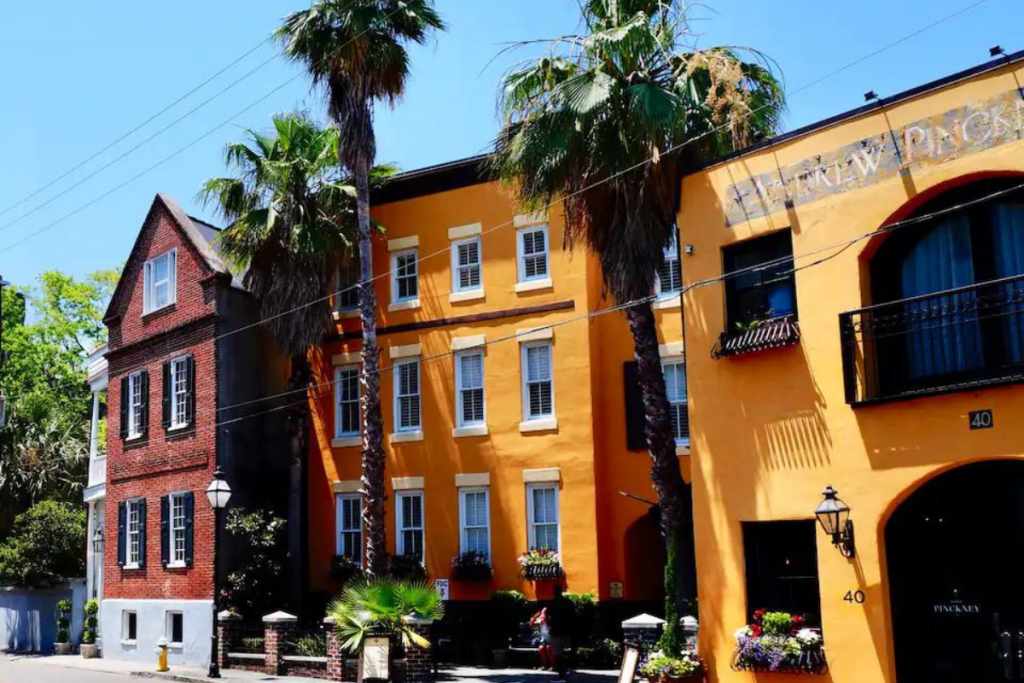 (Accommodates: 6 guests)
Originally built in 1851, the historic, three-bedroom Jacob Rabb House is located in Charleston's famed historic district. Its present-day owners spent several years restoring the house, leaving intact the exposed brick in the dining room. Walk to town (and market), and return to sip sweet tea from the rocking chairs overlooking the garden.
Brick House with Courtyard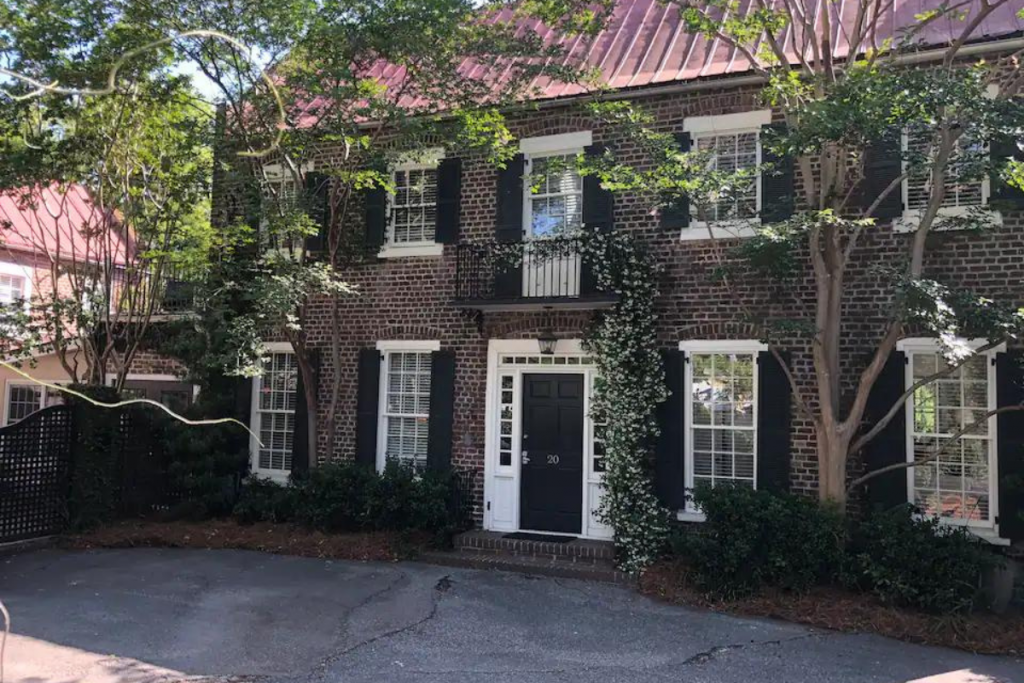 (Accommodates: 6 guests)
Quintessential Charleston. This three-bedroom brick home, in the heart of downtown, offers a true local perspective. Built in 1802 and renovated in 2017, the house is just steps from King and Calhoun Streets, the city's well-known shopping and restaurant district. Guests can enjoy the entire house: first-floor living room, kitchen, dining area, laundry and half bath; while upstairs there are two bedrooms, one with a private balcony and outdoor seating. An outdoor paved courtyard with wrought-iron furniture and gate completes the Chaleston vibe.
Historic Downtown Kitchen House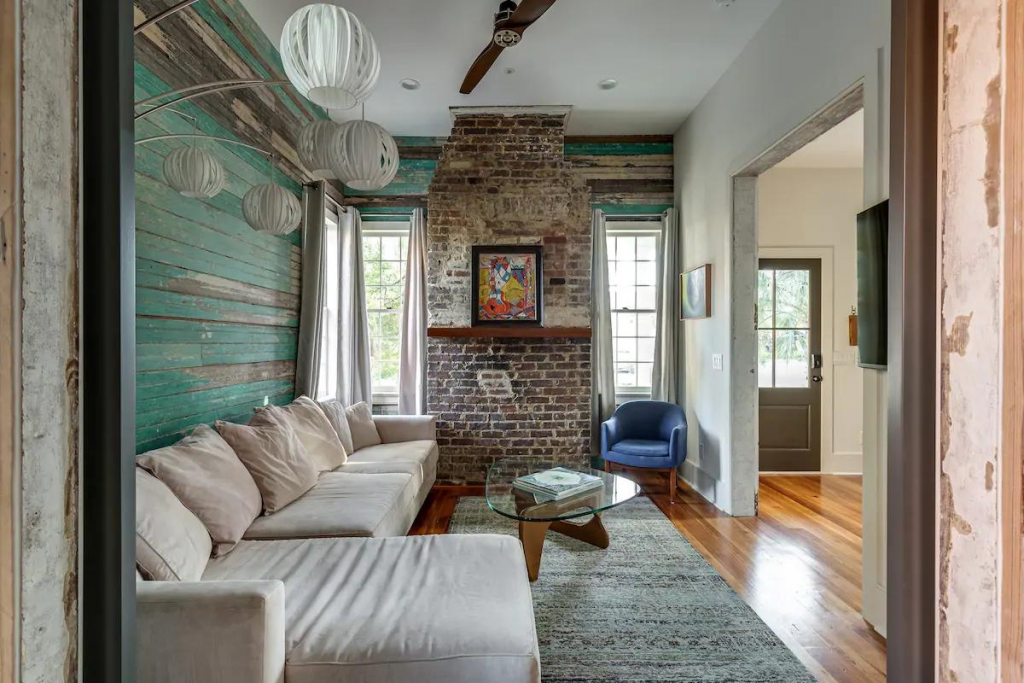 (Accommodates: 4 guests)
Modern meets authentic in this two-story, two-bedroom, two-bath apartment, near upper King Street. We love the exposed chimney on both floors, and the super southern back porch. A perfect set-up for couples, there are great eats nearby. Fuel, directly across the street, is ideal for cocktails and casual dinner; Goulette, a French bistro is also nearby.
Tully Alley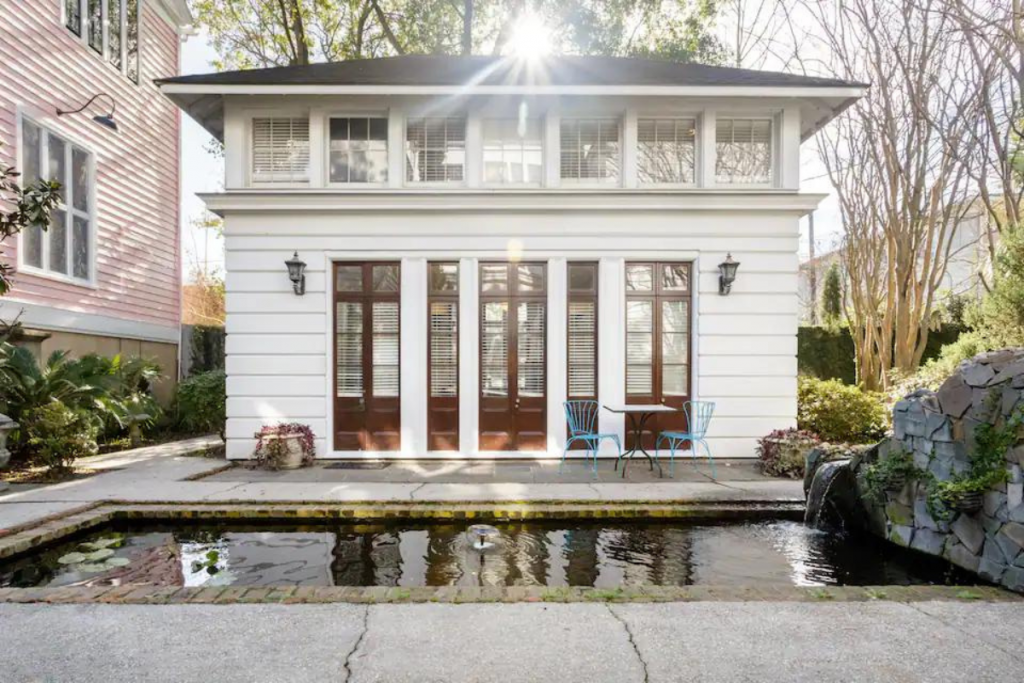 (Accommodates: 4 guests)
This serene, one-bedroom cottage (a stand-alone pool house) comes with French doors leading to a koi pond, and a heated lap pool (for guests) shrouded in bamboo. While there is a pull-out couch, the cottage is best suited for one couple seeking a romantic getaway. We love the pine floors, natural light filtering through floor-to-ceiling windows, and the white-on-white furniture and bedding.
1849 House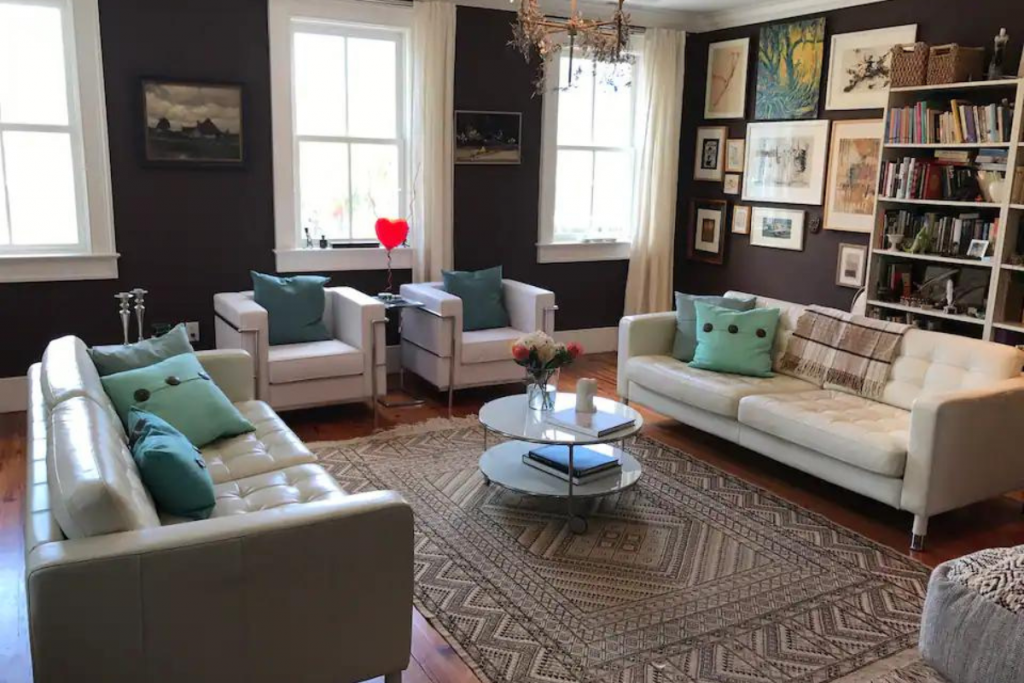 (Accommodates: 6 guests)
If a pool and hot tub are on your stay-downtown checklist, look no further than 1849, a historic property in the Cannonborough-Elliotborough neighborhood (and home to some of the city's best restaurants). This massive (2,500 square foot) home comes with three bedrooms, two full baths and one half bath, a chef's kitchen, two balconies, a ground-floor patio with pool and hot tub, and a rooftop deck (accessible by ladder).
St Philip House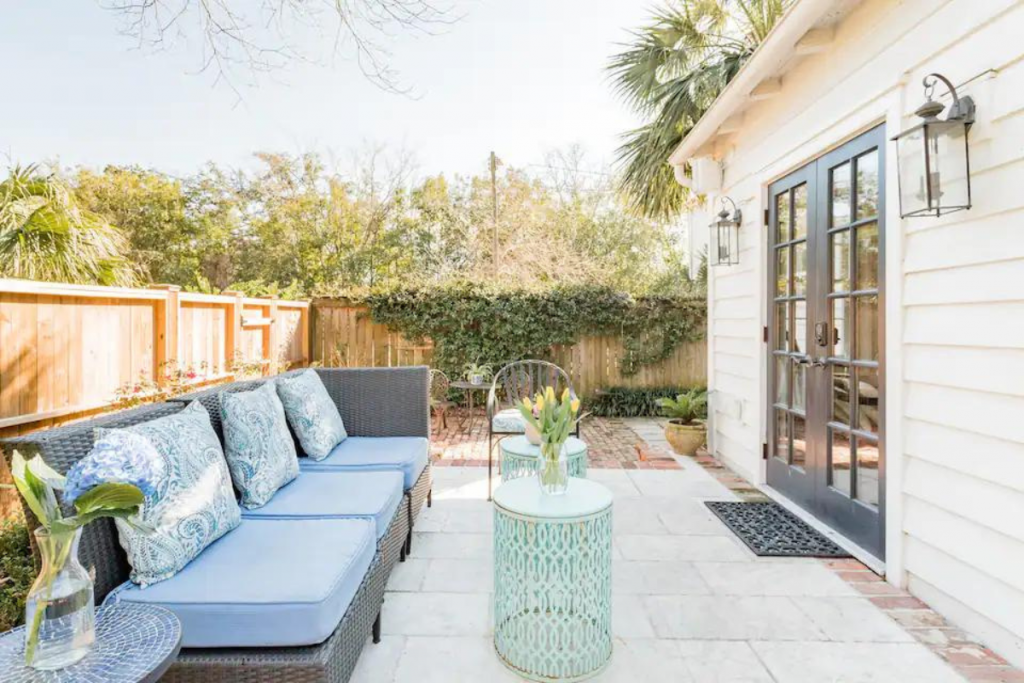 (Accommodates: 8 guests)
The perfect girls' getaway. Located just one block from King Street (and in walking distance to everything), this four-bedroom, 1840s house spills with southern charm. Days begin on the sunny patio with a cup of fresh-brewed coffee, Interiors feature hardwood floors, exposed beams, and low-country decor. There's even a sweet white baby crib for multi-generational trips. Added bonus: the house is also pet-friendly.
Surrounding Area:
Sea Fox Residence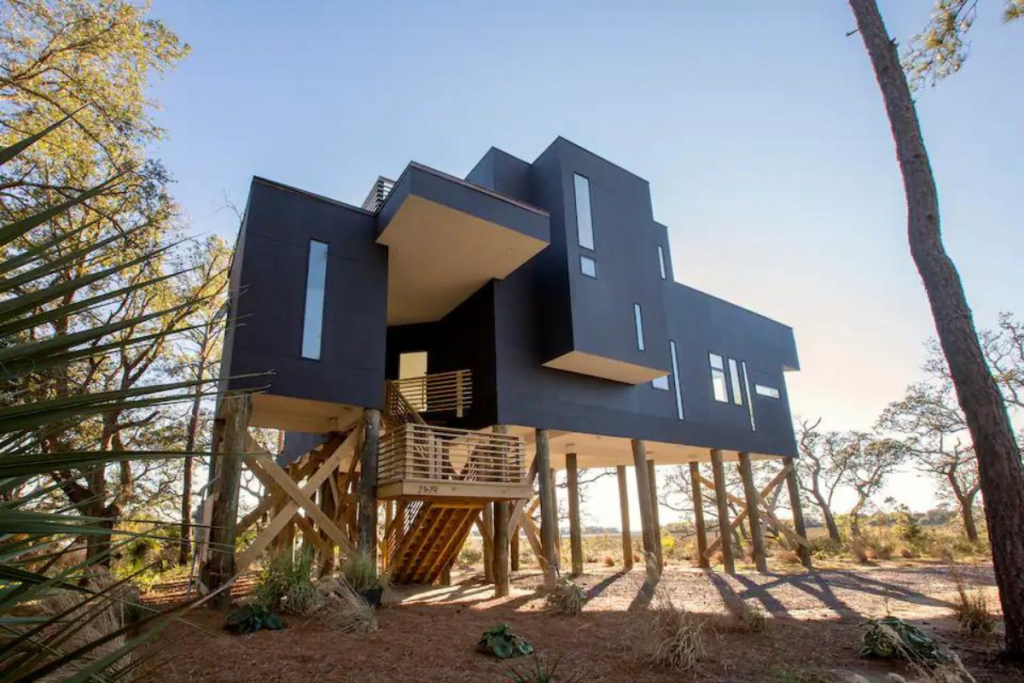 (Accommodates: 7 guests)
If a stay on the water — between downtown Charleston and Folly Beach (both are within a 10-minute drive) is preferred, Sea Fox Residence, in the historic Sol Legare community, offers the perfect respite. The primary bedroom features east-, south- and west-facing windows overlooking the tidal marsh; the bathroom, a slipper bathtub perfect for a starlight bath. Sip white wine on the back deck, overlooking the river, and shaded by live oaks. Chill in the living room with more water views, cook in the chef's kitchen, practice yoga on the rooftop deck (stocked with yoga mats, Tibetan singing bowls, and essential oils), or simply hang in the cushy rooftop day bed.
Captain's Quarters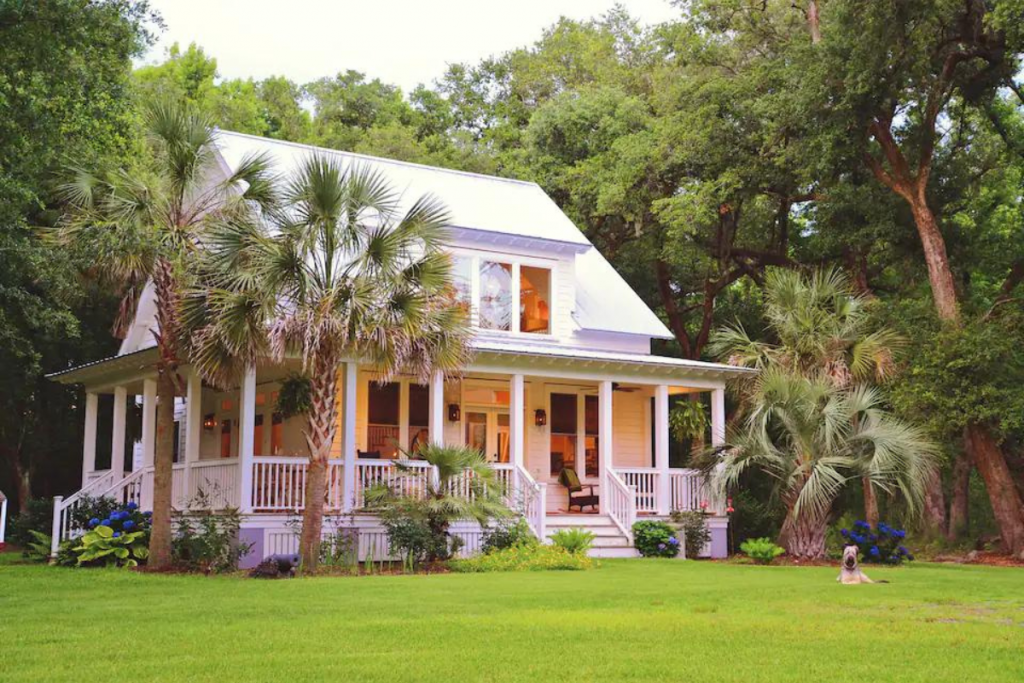 (Accommodates: 4 guests)
For a true lowcountry experience, this two-bedroom cottage, set on a gravel road surrounded by live oaks in Johns Island, is all about coastal country living. Floors are antique heart pine, the primary bedroom comes with a four-post lowcountry rice bed; wild turkeys roost in the trees, deer visit twice daily, and owls sound off around 5 p.m. Other special touches include gas lanterns, ceiling fans, a wrap-around porch with rocking chairs, crisp percale sheets, designer throws and pillows, fresh eggs from the chickens, and a Pawleys Island hammock in the trees. There is also a carefully curated collection of original art, sculpture, antiques and books from southern artists, and guests can even charter local captains for fresh seafood. All within an easy drive to downtown Charleston and Folly Beach.
Ocean's Eye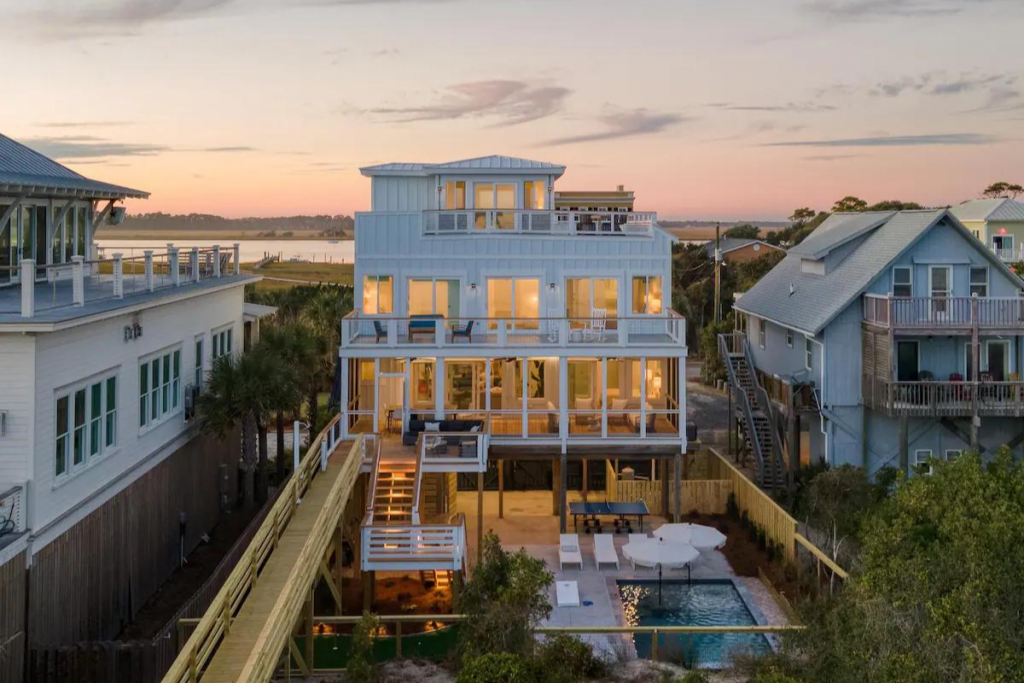 (Accommodates: 14 guests)
Bring the entire family to this multi-level, Folly Beach house, complete with floor-to-ceiling windows, balconies, covered terrace, furnished rooftop, pool and firepit overlooking the ocean. Just steps from the beach, the house features six bedrooms (seven baths), is just steps from the beach, and includes its own wooden catwalk to the sand. For added family fun, there are billiards and ping pong. Be sure to climb to the crow's nest, on the rooftop, for spectacular sunset views.