As Wassily Kandinsky, the famed painter and art theorist, said, "Color is a power which directly influences the soul." We say it's officially time to live this quote and feed your soul by traveling to some of the most colorful places in the world. This wonderful earth of ours is filled with color-drenched locales, including an array of majestic outdoor spaces, colorful beaches, and charming cities that take their cue from the rainbow.
From the candy-colored homes in Charleston, South Carolina to the bright blue walls of Morocco's famous Chefchaouen, we're highlighting five super colorful destinations for you to explore on your next jaunt around the globe.
Cinque Terre, Italy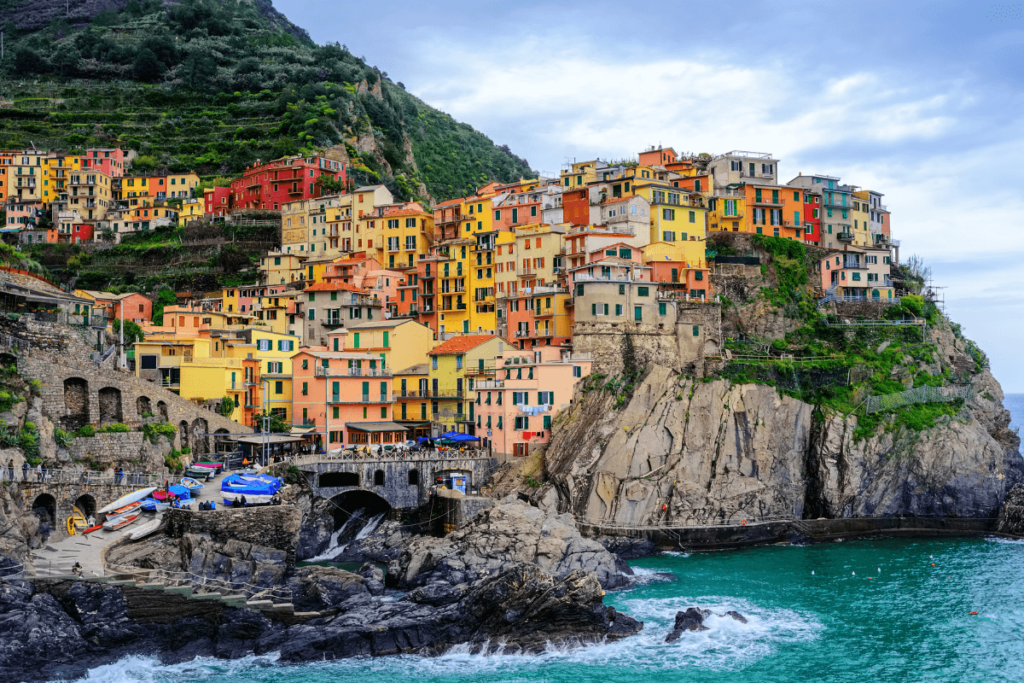 Cinque Terre, a small seaside town within Liguria, in the northwest corner of Italy, is as colorful a destination as they come. Considered one of the most beautiful places in the world, the fishing village sits high on a hill above the Italian Riviera. A stay here provides visitors with unforgettable glimpses of the azure waters below, though really, a swim in those waters is a must because looking back at the town is the best view.
The homes here are painted in a lovely spectrum of pastels, including pinks, blues, greens, and more, providing the perfect backdrop for a few Instagram images. And if you do post, you won't be alone, as there are more than 2.4 million mentions of the beautiful town on the 'gram. 
Planning Your Stay
Plan to spend about $200 to $400 per day during your trip to Cinque Terre, Italy. Summer is the high tourist season for Cinque Terre since the weather is warm, sunny, and perfect for beach activities. For reduced crowds, visit in spring or fall. Winter is the least busy, but the weather tends to be cool and rainy, which may not be ideal for your vacation.
Where to Stay
Stay in the middle of it all by booking a room at La Casa del Gigante Luxury Collection Villa, which provides fantastic views of the coastline out its massive picture windows. 
Where to Eat
Indulge in some of the best Italian food you'll ever eat by making a reservation at Torre Aurora Mare Cucina & Cocktails — which also boasts incredible views — and Ristorante Belvedere, a more casual spot that still delivers mouthwatering fare. 
Things to Do
Take time to explore each of the five villages (Monterosso al Mare, Vernazza, Corniglia, Manarola, and Riomaggiore), each of which boast their own unique charms. In Vernazza, you can hike up to the Doria Castle for panoramic views of the village and the surrounding landscape.
Insider Tip
Given that it's one of the most colorful places in the world, Cinque Terre is a popular destination for photography. This includes images of the city itself, portraiture, and beyond. For the best shots, set out in the early morning when the light is soft, or aim to take pictures at dusk as the sun sets. Tourist crowds are also thinner around these times of day.
Rainbow Row in Charleston, South Carolina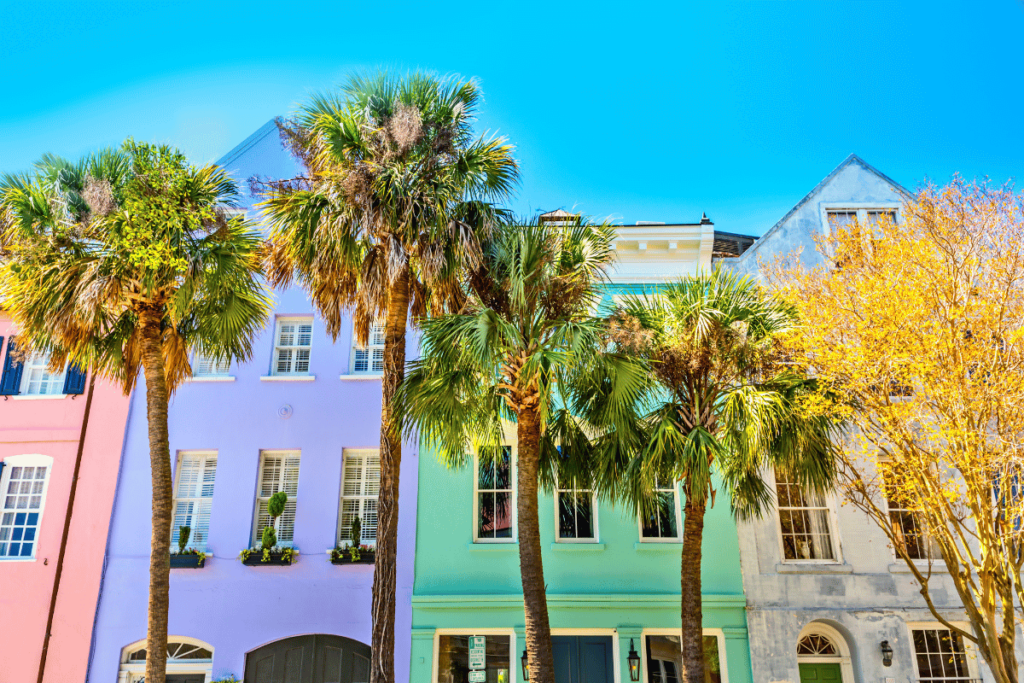 Take a stroll down Rainbow Row in South Carolina. Though it's a short stretch of just 13 homes, it will still leave you feeling happy at the end. The pastel-colored homes can be found on East Bay Street and are each historic gems. As Charleston.com explains, the homes were first constructed around 1740 and were used by merchants. The area became rundown following the civil war, but in 1931, Dorothy Porcher Legge and her husband, Judge Lionel Legge, purchased the section of houses on East Bay Street. They painted the first bright pink, and their neighbors followed one by one joining the upbeat trend. 
Planning Your Stay
Cost-wise, plan to spend between $150 and $300 per day when visiting Charleston. Spring and autumn are considered the best times of year to visit Charleston thanks to pleasant weather and fewer crowds.
Where to Stay
Stay close to Rainbow Row by booking a few nights at The Loutrel, an upscale boutique hotel just steps away.
Where to Eat
This colorful city has a thriving food scene and is especially popular for seafood enthusiasts. Magnolias is a high-end favorite that's considered one of the city's best, and same goes for Slightly North of Broad Restaurant and High Cotton Charleston Restaurant.
Things to Do
Poke around historic sites — like Fort Sumter and the Charleston Museum — relax on the beautiful beaches, and obvious pencil in some time to stroll along the charming streets of the Historic District. If you're feeling quaint-ish, consider a carriage ride. 
Insider Tip
Charleston is brimming with hidden gardens that'll make you feel like you're living in a fairy tale. Some of our favorites include the Gateway Walk or the gardens at the Aiken-Rhett House.
Chefchaouen, Morocco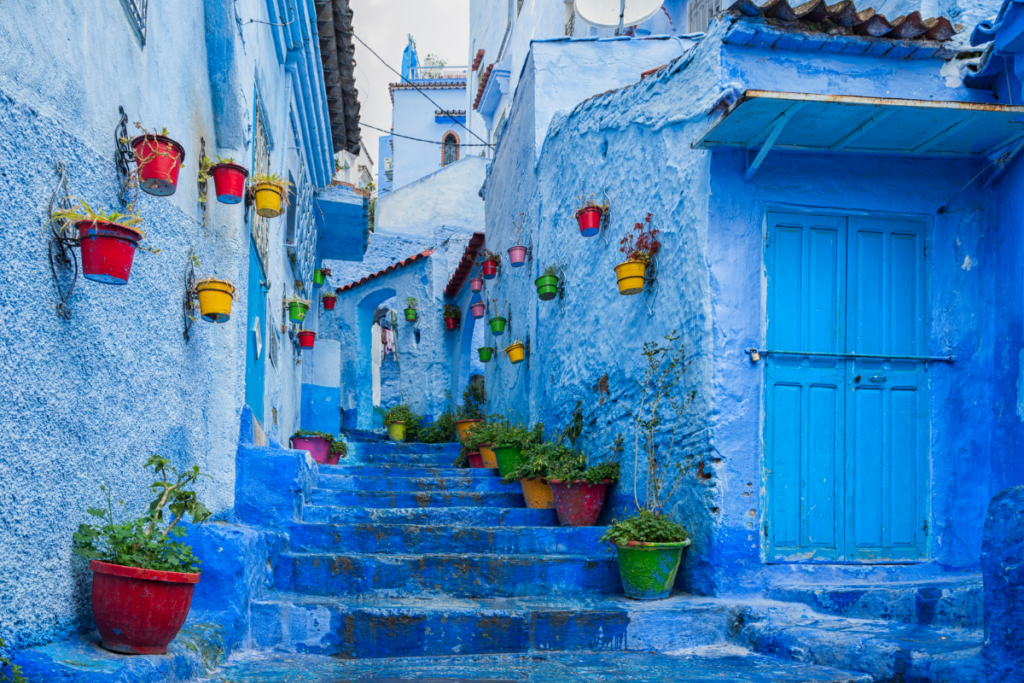 Get the blues — in the best way possible — by visiting Chefchaouen. Easily one of the most beautiful cities in the world, Chefchaouen is located in the Tangier-Tetouan region of Morocco. It's not exactly a destination that's easy to get to (it's two hours from Tangier and more than three from Fez) but the journey's well worth seeing the spectacularly blue-hued buildings. There's really nothing else like it in the world.
There's no clear answer as to why the streets here are blue, but just because its history is unclear doesn't mean it's not worth a visit. Come here to walk the streets and buy plenty of souvenirs, including local pottery and art, along the way.
Planning Your Stay
Expect to spend between $250 and $500 per day during your visit to Chefchaouen. The best time of year to venture there is spring through fall, which ensures you miss the cold and rainy winters. Mid summer tends to get pretty hot, so aim for April and May or September and October if you prefer milder temperatures.
Where to Stay
Book a stay at a local ryad, like the Lina Ryad and Spa, which comes with plenty of blue decor to match its surroundings.
Where to Eat
For classic Moroccan fare in a beautiful setting, head to Restaurant Triana, Restaurant Lalla Messaouda, or Restaurant Al Wiam. If you're seeking a casual spot to grab a quick bite, check out Assaada — the goat tagine comes highly recommended.
Things to Do
This "Blue Pearl" of Morocco has so much to offer. Get your steps in by climbing to the top of the Spanish Mosque (your reward is panoramic views of this colorful city), check out the local markets, artisan workshops, and souks, and pamper yourself at a local hammam with a traditional Moroccan spa experience.
Insider Tip
While the saturated blue medina makes this destination one of the most epic places to visit, don't shy away from perusing the quieter, less touristy areas of the city. You'll find that the blue alleys extend beyond the main streets and provide a more authentic glimpse into local life. 
Old Havana, Cuba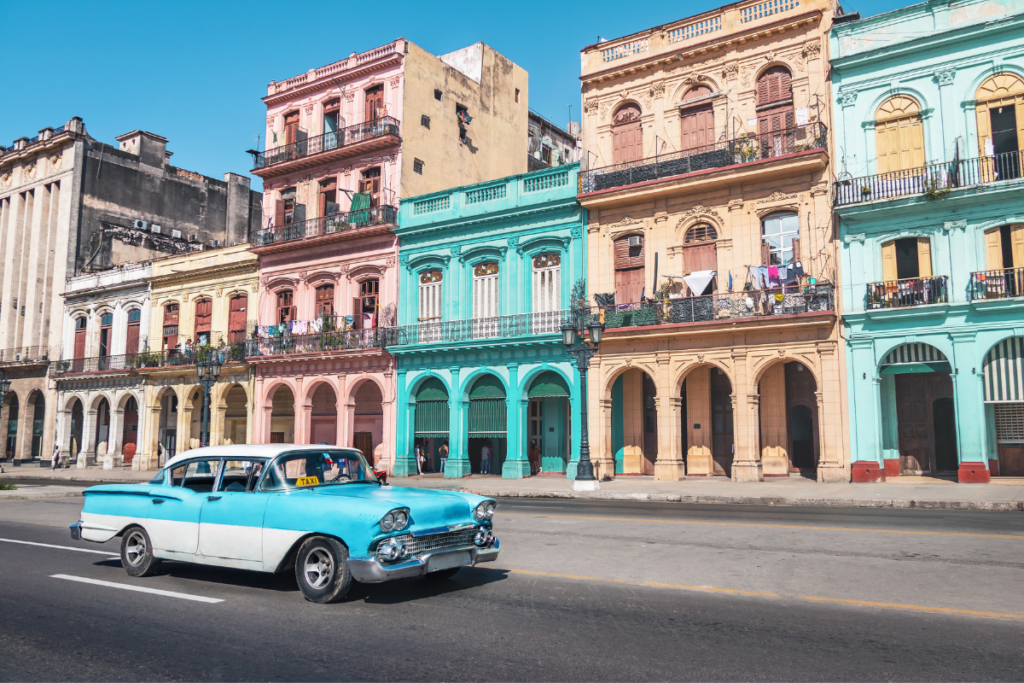 Havana is one of the most colorful places in the world thanks to its blue waters crashing against the Malecón straight up the street to Old Havana, a place filled with 16th and 17th-century buildings painted in every color of the rainbow. The colonial buildings and homes are further highlighted by all the art deco styling inside, as well as the bright and colorful vintage cars that will happily pick up tourists for a (paid) ride.
Planning Your Stay
A vacation to Havana, Cuba costs about $100 to $200 per day. When planning your trip, we recommend booking your stay between December and May since this time of year promises sunny skies and milder temperatures.
Where to Stay
Stay in the neighborhood by booking a room at The Gran Hotel Manzana Kempinski La Habana, a luxury hotel in the historic Manzana de Gómez building, which also comes with a rooftop pool so you can see the colorful neighborhood from above.
Where to Eat
For authentic Havana cuisine, dine at Los Mercaderes or Van-Van. The ambiance at both will have you feeling like a proper local. For incredible coffee and cool vibes, stop by HAV Coffee & Art.
Things to Do
Take to the cobblestone streets — which are lined with colorful colonial buildings — and explore some of Old Havana's historic squares, such as Plaza Vieja and Plaza de la Catedral. You don't want to miss iconic sites like the Malecón maritime promenade and the historic fort, Castillo de la Real Fuerza. 
Insider Tip
Check out Callejón de Hamel, a narrow, rainbow-colored alley featuring murals, sculptures, and Afro-Cuban art. This hidden gem hosts live music, dance performances, and workshops (Sundays are the most hopping). 
Balat (Istanbul), Turkey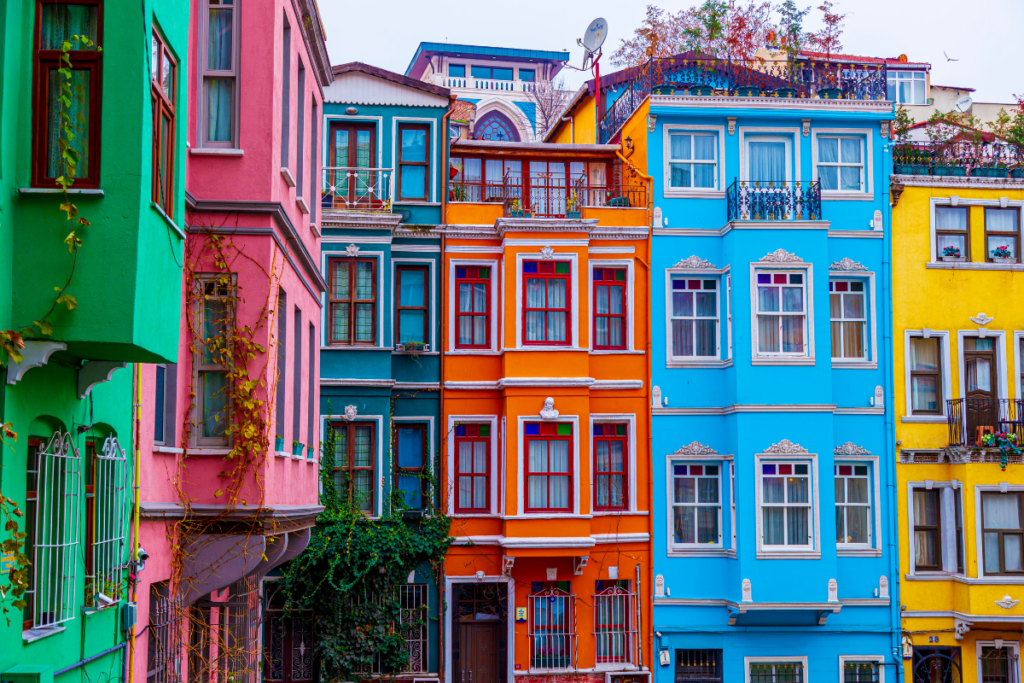 Eager to immerse yourself in one of the most colorful places in the world? Istanbul is filled with historic gems, but none quite as colorful as the neighborhood of Balat. Here, visitors will find old-school cobblestone streets and 200-year-old wooden houses painted in every color you can imagine. 
The neighborhood is one of the city's oldest, but it's quickly becoming one of its hippest, with more than its fair share of sleek cafes that are ready to pour you a Turkish coffee and pair it with a sweet Turkish delight.
Planning Your Stay
Budget for roughly $100 to $300 per day when traveling to Istanbul. Summers in this colorful city are considered the high season, but if you want to avoid large crowds then aim for the spring and fall shoulder seasons.  
Where to Stay
Spend as much time in the neighborhood as possible with a stay at the Troya Hotel Balat, a boutique hotel that combines four, century-old homes into one old-school cool accommodation. (Note: If you're a member of the SoHo House, you can also book a room at the nearby SoHo House Istanbul too.)
Where to Eat
Swing through the snazzy Velvet Cafe in Balat for a decadent brunch (you'll feel like you're Alice in Wonderland), and make sure to pencil in a reservation to the incredible Agora Meyhanesi 1890, as well.
Things to Do
Take time to meander through historic Balat's charming cobblestone streets, which are adorned with colorful Ottoman-era houses. We also recommend visiting Phanar Greek Orthodox College (the oldest Greek Orthodox school in Istanbul that's still standing) to admire its incredible architecture, and strolling along the Golden Horn waterfront for gorgeous views of the city skyline. 
Insider Tip
When in Balat, eat like the locals! You can't miss trying a traditional "simit"— sesame-covered bread rings — from street vendors. And while you're at it, consider nibbling on all the street food you can. It's some of the best in the world.