Autumn is gearing up to put on a magnificent orange, yellow, crimson, leaf-peeping show, and the best way to enjoy it is in person. So where to view the season's best fall foliage, and most importantly, where to settle in to enjoy all the fall leaves that Mother Nature has to offer (a cushy bed high in the clouds, perhaps)? From the majestic Blue Ridge Mountains in South Carolina to the Catskills in Upstate New York and the spectacular Great Smoky Mountains in Tennessee, we crossed six states to find 30 cozy and stylish Airbnbs, perfect for watching the leaves turn with a loved one or the whole family.
Homes vary from sprawling modern estates with high-end hotel-like amenities to classic mountain lodges with firepits and spacious decks. They all have one thing in common though — you'll get a front-row seat at one of nature's most breathtaking spectacles.
Ahead, 30 Airbnbs to book for the most incredible fall foliage views.
North Carolina
Cloud Nine, Candler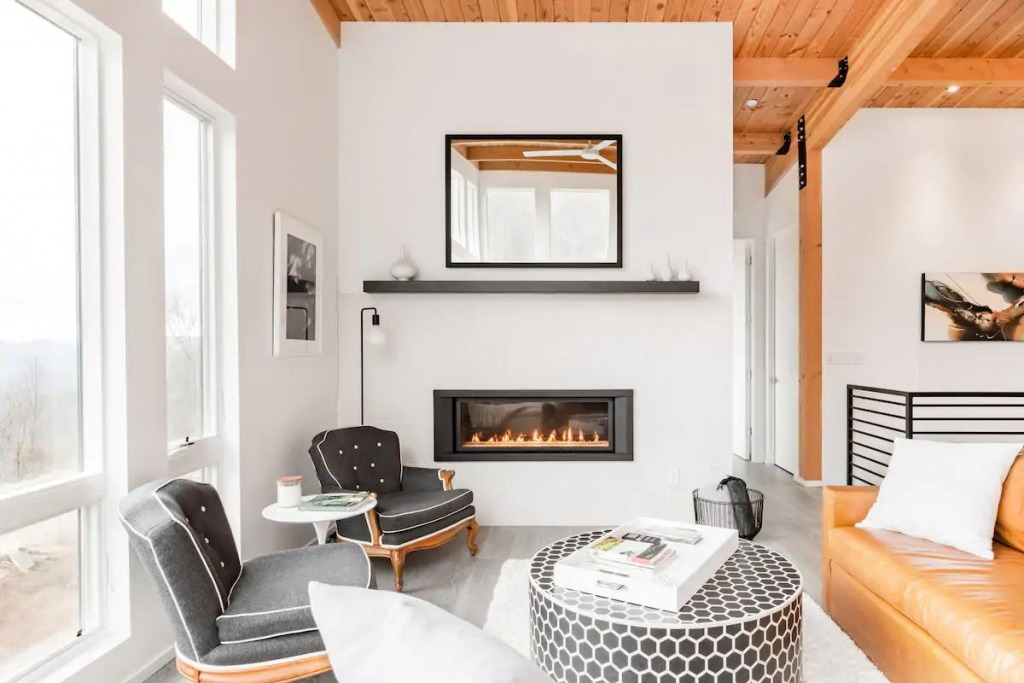 Float high above the foliage in the aptly named three-bedroom, three-bathroom Cloud Nine. Mornings start with breathtaking sunrises (worth setting an alarm for). Take in the colorful view — of the stunning leaves and clouds rolling in over the Blue Ridge Mountains — from the deep-soaking tub. Breathe in the mountain-forest air over a cup of fresh-brewed coffee on the terrace. Minimalist in design, the house — with its top-notch chef's kitchen, outdoor fire pit (perfect for toasting s'mores), and serene vibe — is truly all about the view. Enjoy the season's fantastic hues from the ground too — hike to scenic vistas and chase waterfalls. There are many.
Also Consider: Upstream Penthouse, Asheville; Black Mountain Bungalow, Black Mountain; Summit House, Candler; and Cedar Cabin, Ashville.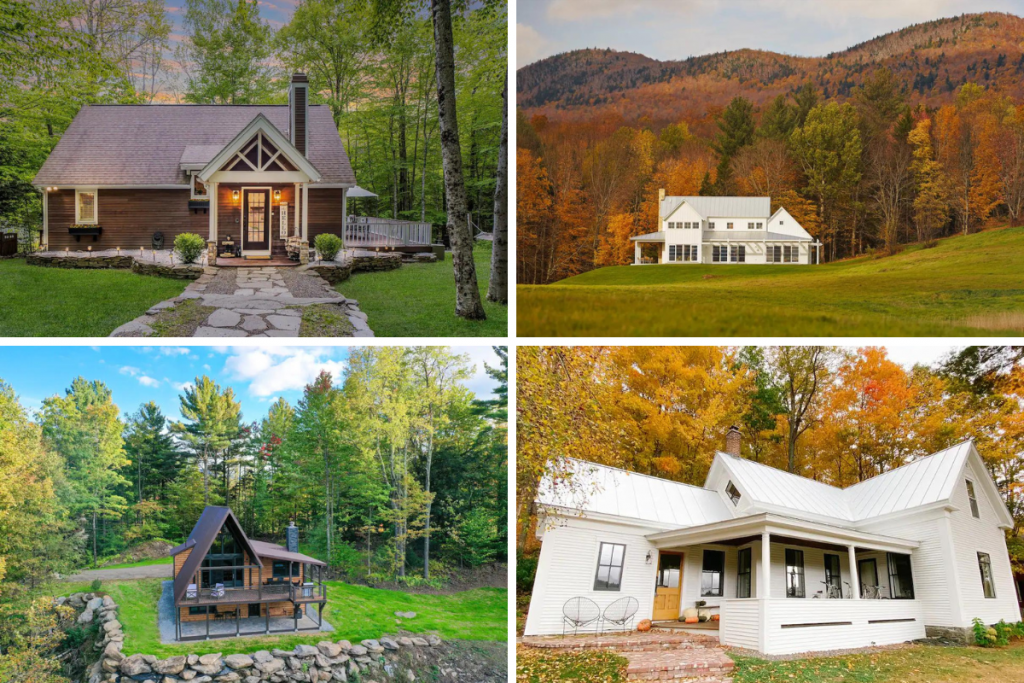 Also Consider: Modern Chalet, Killington; Modern Farmhouse, Rochester; A-Frame on the Ridge, Cambridge; and Farm House, Stowe.
Tennessee
Garrett Lodge, Gatlinburg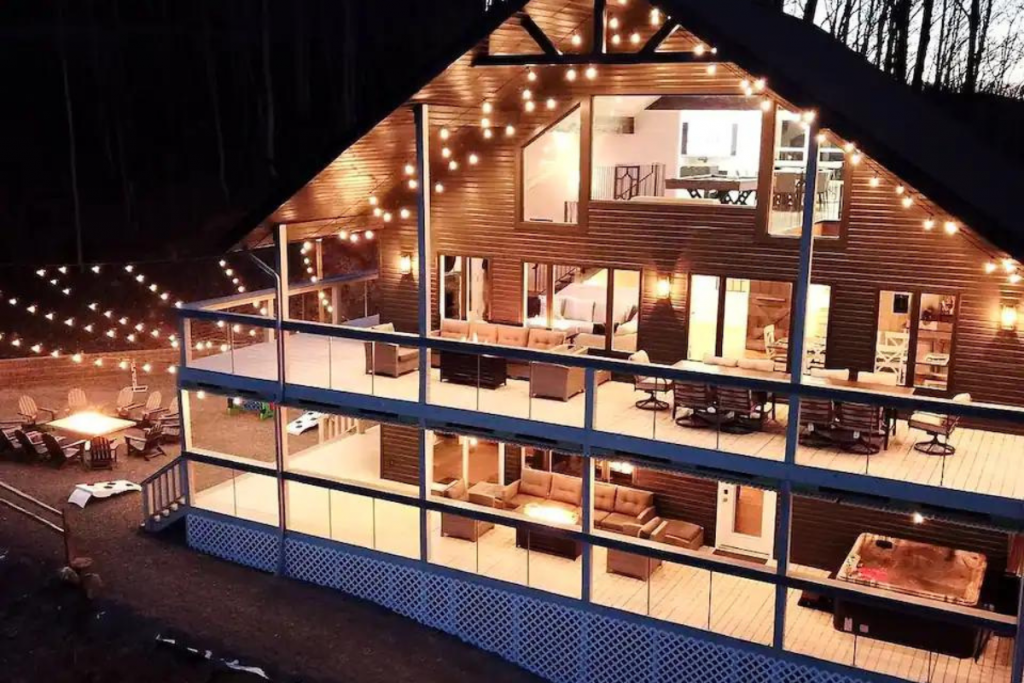 The view and outdoor space are the major draws of this stunning Great Smoky Mountains retreat (although the interior is far from shabby). With five bedrooms and 5.5 baths, Garrett Lodge features multiple covered decks (off each living area of the house) with comfy seating, fire pits, and a hot tub. We love that the home offers identical bedrooms — so there is never any squabbling. The two identical master suites feature king-size beds, fireplaces, walk-in showers and double vanities; while the two identical VIP rooms come with Queen beds, fireplaces, and beautiful ensuite bathrooms. A bunk room (with four beds and ensuite bath) is perfect for the kids.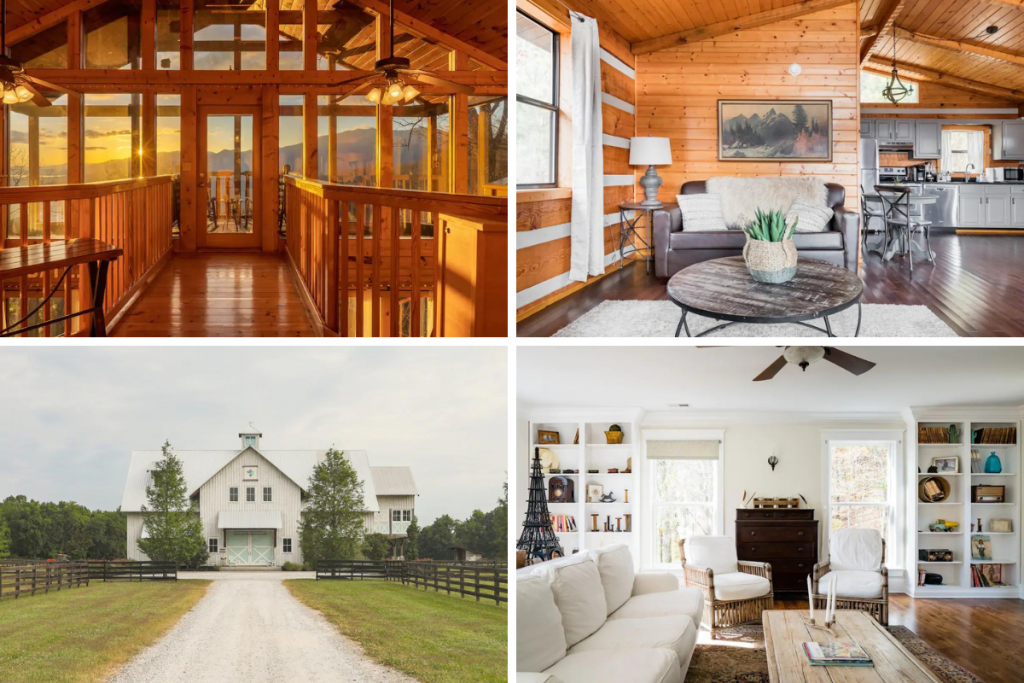 Also Consider: Glimmer Gatlinburg and Renovated Hillside Cabin, Gatlinburg; Barndominium and The Big Blue House, Franklin.
New York
Glasco Woodstock, Saugerties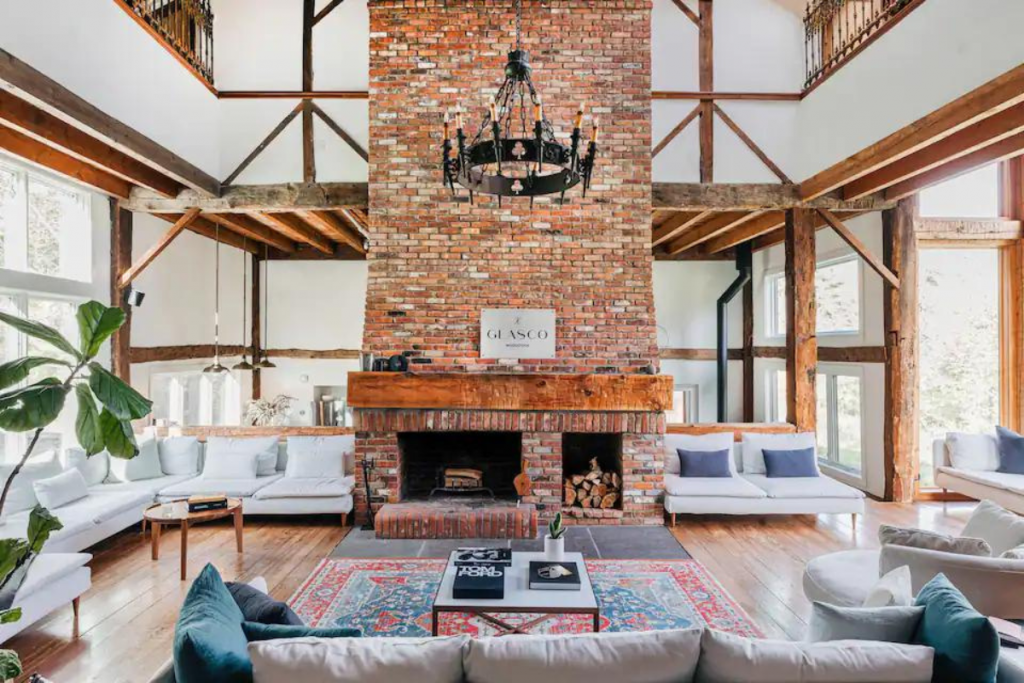 Located on 16 acres in the Catskills, with views of Overlook Mountain, this historic property dates back to the mid-1800s. Converted from a barn in the 1970s, the house comes with 30-foot ceilings, vast windows and skylights, perfect for leaf peeping. We also love the sun-drenched kitchen, stone fireplaces, stained glass and art, and outdoors —,the fire pit and hot tub for long soaks under the stars.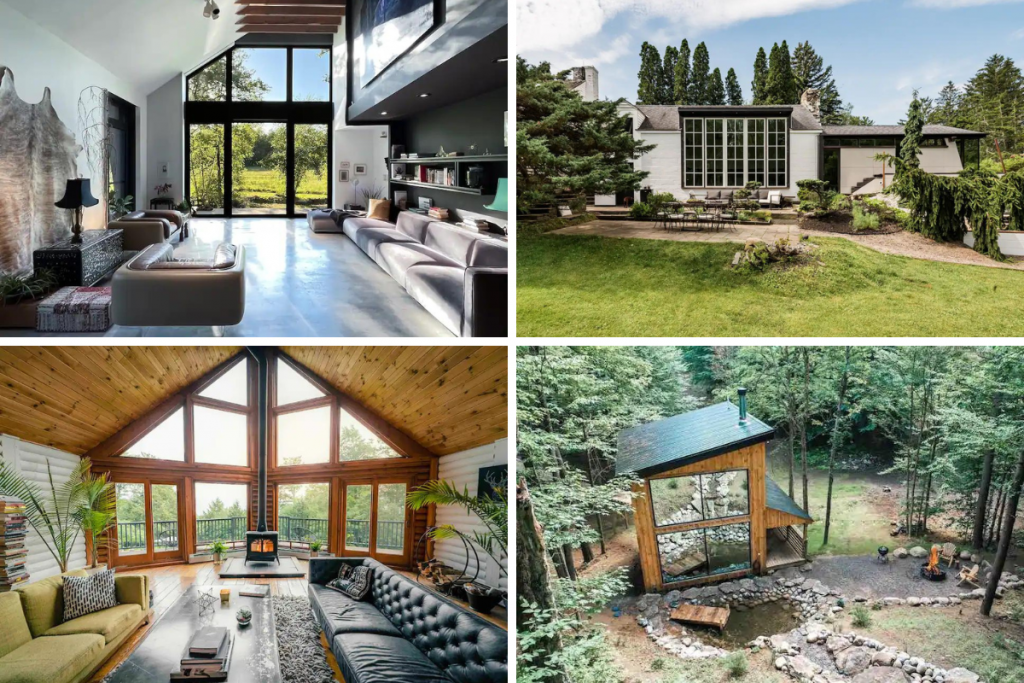 Also Consider: The Museum House, and The Pond House, Woodstock; Fox Ridge Chalet, Margaretville; and Treehouse, Remsen.
West Virginia
Blarney Estate, Harper's Ferry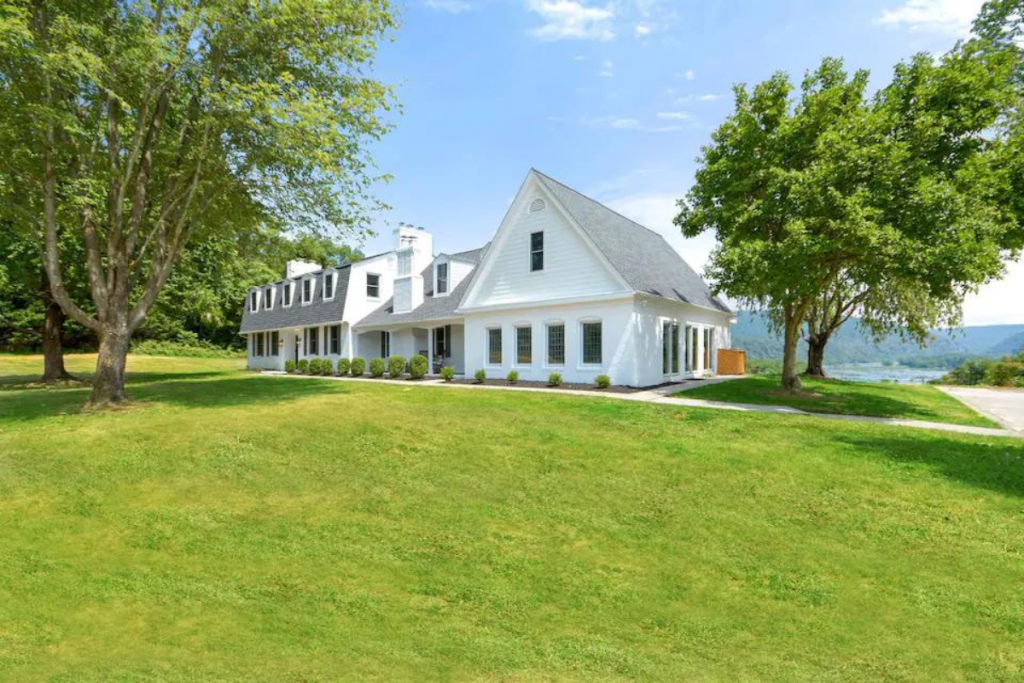 The iconic song lyrics, "almost heaven, West Virginia," could have been written about this heavenly estate. Set on 11 acres, the tony white house overlooks the Potomac River, three states (West Virginia, Virginia, and Maryland) and Appalachian mountains — simply spectacular in autumn. Standout features (aside from the stunning views) include an indoor pool and outdoor fire pit, perfect respites after days spent hiking crayola-colored trails. We also love the bedrooms, with their river and mountain views, and large soaking tubs.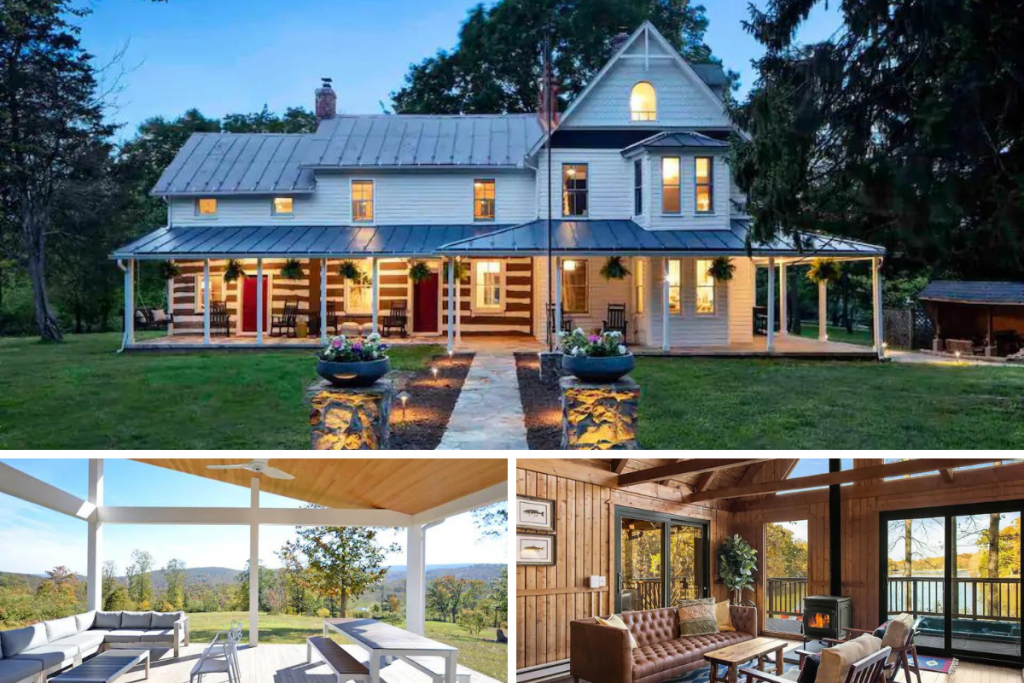 Also Consider: Lost River Solar, Mathias; Cozy Cabin and Historic Farmhouse, Harper's Ferry.
Colorado
Architectural Masterpiece, Telluride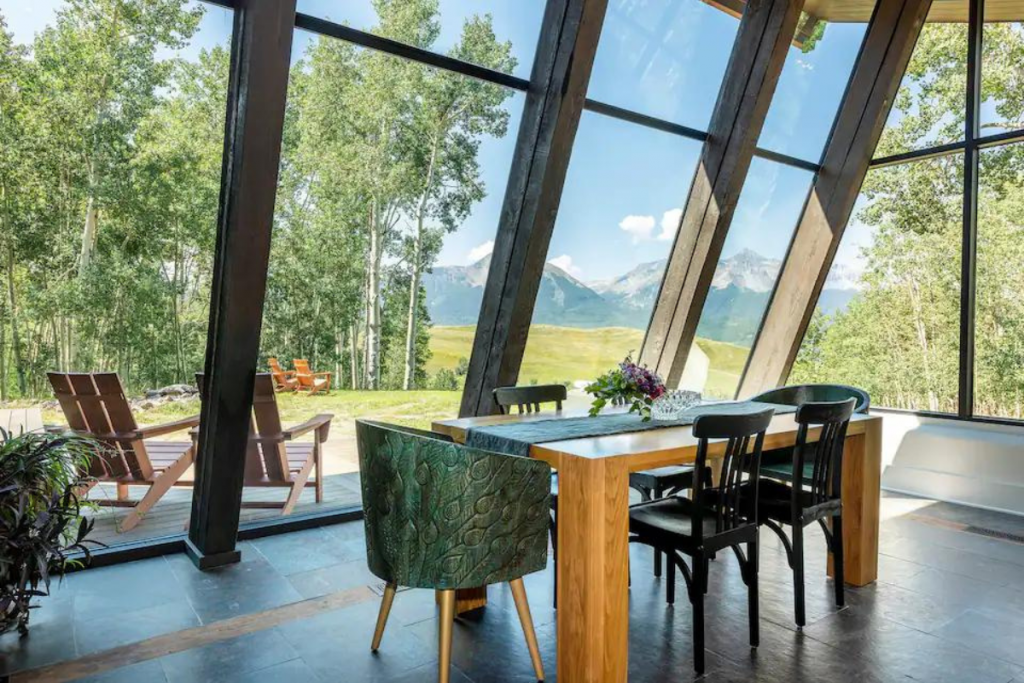 Exquisite architecture and a vie that never stops is the hallmark of this modern mountain home. Set on two acres of aspen forest — brilliant yellow — in autumn, architect Jack Young designed this home with the goal to bring the outside in. The 20-foot walls of windows make you feel like you are in a treehouse — especially with the views of the iconic Wilson's Peaks.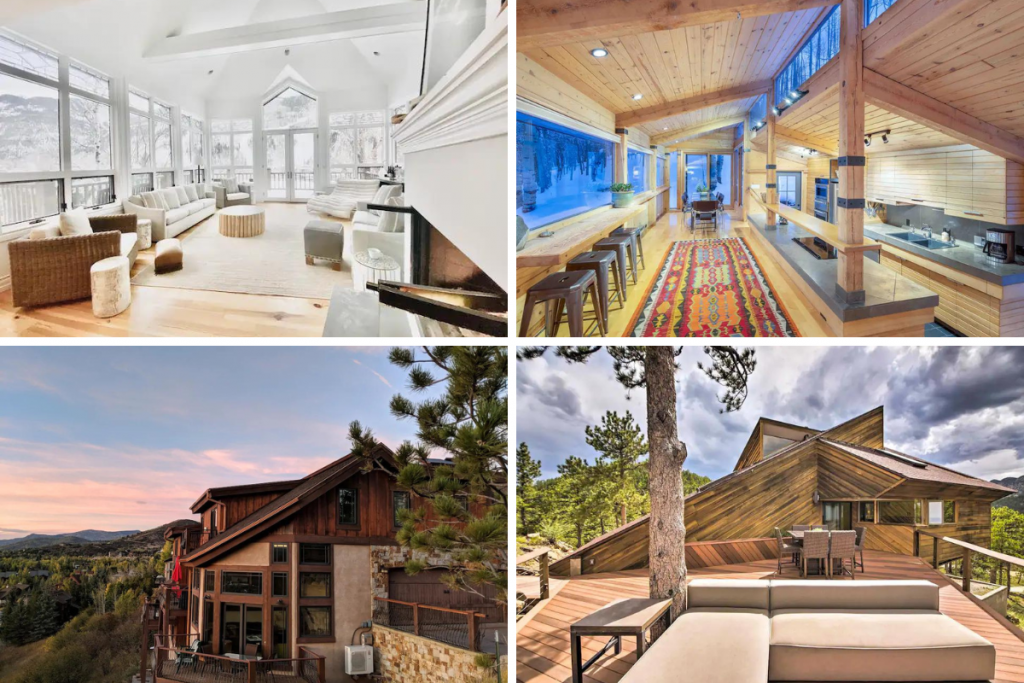 Also Consider: Town's End and Mountain Vista House, Telluride; Chalet, Steamboat Springs; Barrett House, Boulder.