You've probably experienced enough of life to know that bigger isn't always better. That certainly rings true when it comes to travel — especially when you're seeking a quick weekend getaway for one, two, or a crew.  For those craving a slower pace, wide-open spaces, dusty bookstores, comfort gastronomy, and historic downtown hubs so charming you'll swear you stepped into a Norman Rockwell painting, we have the answer. Scenic and surprisingly cool, we've rounded up some of the best small towns for a weekend getaway. 
Whether you prefer outdoorsy locales, quaint (but thriving) culinary scenes, or vibrant and artsy small towns, we promise these hidden gems will hit the spot. Each offers something special to any traveler eager to wander away from the bright lights of the city in favor of moseying along the road less traveled.
1. Tubac, Arizona
You may know Arizona for its Grand Canyon and its capital of Phoenix, but this Southwest state is speckled with some of the best small towns for weekend getaways. Tubac, Arizona — located an hour directly south of Tucson—is definitely one of those destinations. It's a quirky paradise that fuses rich history and a thriving art scene into one tiny space. The population is only 1200 — a large percentage of which are resident artists — though the town brings in over 60,000 visitors per year.
Curated Experiences
Carve out a full day to meander around the many independent shops filled with handmade goods, art galleries, museums, and eateries. (Pro tip: Time your trip in February to attend the popular Tubac Festival of the Arts.) Also pencil in a visit to the Soulistic Healing Center for a dip into the therapeutic hot springs. The Tumacacori National Historical Park is only 10 minutes away and absolutely worth the admission fee.
Where To Eat
For modern Mexican cuisine in a wild atmosphere, enjoy dinner at Elvira's Restaurant, which has been family-owned for nearly a century. The Huitlacoche and chicken tacos and hazelnut mole is worth writing home about. The Tubac Deli & Coffee Co is a great spot to take a load off midday, or you can start your day here with light breakfast and coffee.
Where To Stay
The Tubac Secret Garden Inn immerses you in is a beautiful property with a hacienda-style architecture. The traditional Southwest furnishings make you feel at home, and walking around the grounds at sunset is a real treat. If you're planning a romantic weekend getaways with someone special, this is the perfect spot.
2. Elk, California
This teeny-tiny former 19th-century logging hub roughly 150 miles north of San Francisco on Highway 1 is perfect for those looking to immerse themselves in scenic beauty, nature, and small-town charm. Less than 1,000 people live in Elk, which is sandwiched between redwood-dotted hills and craggy headlands that look out on rock arches and sea stacks climbing ever skyward from the swath of boundless blue.
Curated Experiences
Take a half-mile hike from town that ends at Greenwood State Beach, where you can boat, fish, kayak, or stroll the driftwood- and shell-strewn sand. Picnic tables sit atop the bluffs for those who want the views without the trek. These activities make it a memorable family weekend getaway spot.
Where To Eat
Grab sandwiches from the Elk Store. Hit Matson Mercantile for souvenirs of the home, garden, and kitchen variety. A quick drive will land you in other charming seaside villages, such as Mendocino, which is filled with local boutiques, cafes, and a scoop shop specializing in candy cap mushroom ice cream; or Boonville, where you can enjoy tastings of exquisite cheese (Pennyroyal Farm), wine, and beer (Anderson Valley Brewing Company).
Where To Stay
The Harbor House Inn is a collection of plush main house rooms and standalone cottages with private patios. Stays include a gourmet breakfast and access to a private cove. It is also home to Michelin-starred chef Matthew Kammerer whose 12-course tasting menu is loaded with seafood and vegetables caught and grown within miles of the inn and cooked with live fire, steam, and smoke.
3. Accord, New York
Upstate New York has long been a favorite weekend escape for a much-needed break from the hustle and bustle of NYC. Tucked between Shawangunk Ridge and the Catskills, Ulster County's Accord (pronounced ACK-ord) remains a little more under the radar than Hudson or Woodstock yet boasts many of the same draws. Bucolic splendor in spades, rural disconnection, autumnal color, farm-fresh food and drinks, potters, townie bars, and great places to hike make this one of the best small towns for a weekend getaway.
Curated Experiences
Hike or bike Stony Kill Falls in Minnewaska State Park Preserve, and take a photo for the 'gram with "Gnome Chomsky"—once the world's largest garden gnome—before a U-pick session at Kelder's Farm. Insider tip: Visit just before Christmas, and you can return home with a freshly cut tree to decorate from Bell's.
Where To Eat
Head to Arrowood Farms Brewery when there's live music on the docket for a fun night full of great brews. Or grab some crisp cider and wood-fired pizza at Westwind Orchard.
Where To Stay
Stonehill's four-bedroom farmhouse and two cottages are awash in rustic-romantic minimalism. They feature organic linens, natural toiletries, house-roasted coffee, writing desks, and snack boxes stocked with epicurean provisions. Nibble on warm cookies by the nightly bonfire and pay your respects to the resident farm animals, some of whom produce the eggs you'll enjoy during the included breakfast.
4. Whitefish, Montana
As the gateway to Glacier National Park, Whitefish allows you to motor along the breathtaking Going-to-the-Sun Road, cruise Lake McDonald aboard a historic wooden boat, and ramble along 700 miles of trails past idyllic meadows and ancient ice. This scenic destination juxtaposes urban amenities like shopping, galleries, and fine dining with alpine adventure throughout the four seasons. With a creek winding its way through town, a Rocky Mountain backdrop, smog-free skies overhead, and potentially more trees than buildings, this high-elevation Eden is easy on the eyes and good for the stressed soul.
Curated Experiences
Spring and summer have craft fairs and microbrew festivals along with whitewater rafting, zip-lining, and on-lake active pursuits like standup paddle boarding and cooling plunges at City Beach. Fall is the perfect time to hike or take a floatplane tour to get the lay of the land while leaf-peeping. Winter ushers in many snowy sports, including dog sledding, snowmobiling, and ice fishing. Ski lifts are only 15 minutes away.
What To Eat
For a fine dining experience, make a reservation at Tupelo Grille, which offers a delicious menu of Southern cuisine. If you're aiming for something more low key then head to the family-owned Buffalo Cafe. Here you'll find a combination of classic breakfast items, juicy burgers, and Southwest cuisine.
Where To Stay
After a long day on the slopes or trails, revive sore legs with a hot tub soak on the roof of The Firebrand, an upscale contemporary boutique hotel. The patio is also an excellent place to sip wine at sunset, challenge friends with a game borrowed from the hotel's collection, or wake up to a yoga class. They'll also hook you up with bikes or snowshoes to further explore the neighborhood.
5. Paia, Maui
Hawaii may be one of the most popular paradises on the planet, but its sunny shores still hold a few less-developed, less-frequented gems. One such spot is the Valley Isle's Paia. The north shore town experienced a sugar rush in the late 1800s and early 1900s when a successful plantation was operating there. After cane production ceased, it morphed into a hippie haven thanks to reasonable rents and proximity to the beach (Hookipa, Baldwin Beach). This is what protected Paia from becoming as touristy as Wailea or Kaanapali.
Curated Experiences
Its unspoiled beaches and steady breezes brought windsurfers in droves, so try your luck windsurfing, go snorkeling, or just laze on the sand. If you're planning to hit the stores and eateries, keep in mind that traffic piles up in the afternoon so it's best to head out early and on foot.
What To Eat
Be sure to make reservations for the famous Polynesian-inspired Mama's Fish House early. They book out well in advance, so plan accordingly. Cafe Mambo—a funky joint with a creative menu—is another favorite
Where To Stay
The Paia Inn is in the middle of the action, but lush outdoor lounges and private beach access help guests tune out. If you want to totally disconnect and unplug, Lumeria Maui is a wellness retreat a few miles outside city limits on a 5.6-acre Upcountry compound. When not taking classes in meditation, metaphysics, ecology, or Hawaiian heritage, relax in the hammock forest or at the masseuse's table at the spa.
6. Franklin, Tennessee
Thirty minutes south of Nashville, life slows down in Franklin, which is home to hidden lakes and hollows, best viewed from the basket of a hot air balloon. Back on the ground, Music City's suburb welcomes tourists with antebellum architecture, a postcard-worthy historic downtown, antique shops, and Civil War history. (Its rich history makes this one of the best small towns for a weekend getaway if you fancy yourself a history buff.) Your stay also offers you the chance to see one of the many famous folks who've settled there including Brad Paisley, Tim McGraw and Faith Hill, Nicole Kidman, and Miley Cyrus.
Curated Experience
Poke around downtown Franklin top shop and eat, swing by the butterfly garden at Timberland Park, and catch a live show at the historic Franklin Theater. History lovers should drop by the Lotz House Museum, a two-story house-turned museum built in 1858 that's considered the epicenter of the Battle of Franklin in the American Civil War in 1864.
What To Eat
Visit five stops on the newly debuted Craft Coffee Trail to earn a prize. If you need a stiffer drink, hit the Masters & Makers Trail of breweries, wineries, and distilleries instead. Soak up the vino with home style Tennessee comfort food — think fried chicken, catfish, or the cobbler of the day at Puckett's.
Where To Stay
We love The Harpeth, a 119-room luxury boutique hotel on the banks of the namesake river, a short walk from the town square. Or consider renting a refurbished home or cabin such as the Sugar Shack to live out your best Taylor Swift cottage-core fantasies among the shiplap, porch swings, galvanized light fixtures, and wicker chairs.
7. St. Michaels, Maryland
Easton, Chestertown, Tilghman Island, Oxford, Cambridge, Stevensville — no matter which Maryland Eastern Shore hamlet you choose to hunker down in, it will be an experience to remember. If you heart sailing, antiquing, waterfowl hunting, ogling Victorian or colonial homes, brushing up on American history, or feasting on Old Bay-seasoned crab cakes, you'll fit right in here. But St. Michaels is particularly photogenic and charming, especially in the fall when the weather starts to turn slightly crisp, and residents and businesses go all out with Halloween and harvest decorations and displays.
Curated Experiences
Get on the water aboard a 1920 buy boat through the maritime museum's river cruises. While there, learn more about oystering, peruse the floating fleet, and apprentice for a day at the museum's working shipyard.
What To Eat
Many of its best restaurants, such as Ava's, and shops are clustered along the main drag within walking distance of the distillery that makes Lyon Rum in an old mill. Walk a few extra blocks to lay your eyes on the Chesapeake Bay or break bread at a seafood-slinging harborside establishment.
Where To Stay
A converted schoolhouse, The Wildset Hotel brings the kind of mod boho vibe that's big in hipster hotspots like Ojai or Joshua Tree. The 34-room boutique property offers free-standing gas fireplaces and balconies in most rooms, as well as Parachute bedding, complimentary s'mores kits, and bikes to borrow. A pool and hot tub also join the amenity portfolio.
8. Muscle Shoals, Alabama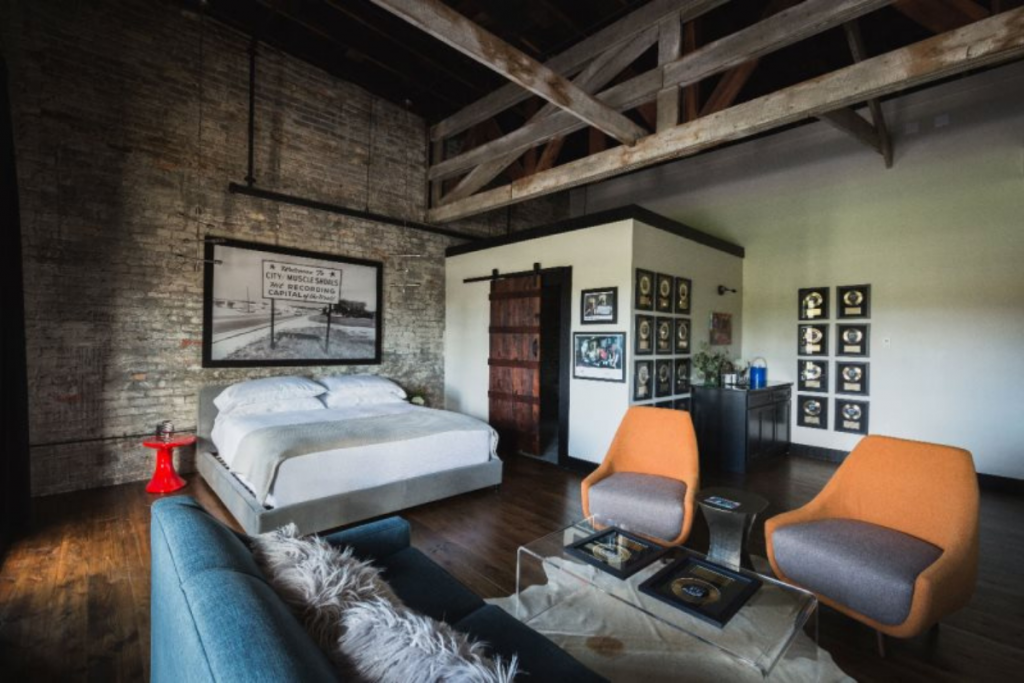 Colbert County is a mandatory pilgrimage for all music mavens. Not only can you visit the Alabama Music Hall Of Fame and the log cabin where W.C. Handy was born, but you can also tour several of the iconic studios, including FAME and Muscle Shoals Sound (MSS), that turned this remote region of the southern state into the "Hit Recording Capital Of The World" in the '60s and '70s.
Curated Experiences
Be sure to check out MSS's toilet where Keith Richards sat to finish writing "Wild Horses" or its hidden speakeasy where folks like Bob Dylan, Rod Stewart, and Cher could secretly drink in a dry county. Stand at the FAME mic where Aretha Franklin, Etta James, and Alicia Keys have belted out ballads. If you don't want to rock, explore Helen Keller's childhood home or a Frank Lloyd Wright-designed masterpiece instead.
What To Eat
Ripe with 40 years of secret family recipes, Champy's Famous Fried Chicken is a must-visit for its vibes and fare. If you're more of a seafood person, make a reservation at aptly named Juicy Seafood Restaurant,which serves up a huge assortment of fresh fish.
Where To Stay
Cross the Tennessee River into the bigger burg of Florence, where you'll find the GunRunner Boutique Hotel. Exposed brick, dark colors, clawfoot tubs, and moody lighting add an edgy gothic mood to its 10 suites, several of which are music-themed and filled with memorabilia. All rooms encircle the lively lobby bar, where you'll inevitably end up for a nightcap and a chat with fellow guests.
9. Kohler, Wisconsin
About an hour from Milwaukee, this suburb of Sheboygan was one of the nation's first planned communities. Built as a factory town for the Kohler Company (yes, the sink and bathtub people.) with the help of Central Park landscape architect Frederick Law Olmsted, the 4.5 square-mile village has plenty of green spaces, three churches, shops, walking trails, and the giant Kohler Design Center.
Curated Experiences
Wander the Kohler store for design inspo or take a weekday tour of the factory campus. The family also has its name on a state park (Kohler-Andrae) that features sand dunes near Lake Michigan.
Where To Eat
Classic American pub fare is all yours at The Horse & Plow, where you can also kick back with some microbrews and premium drinks. Another local favorite is the Blackwolf Run Restaurant, which is set on a golf course and offers some breathtaking views.
Where To Stay
The five-star, five-diamond, Tudor-style American Club Resort Hotel has been the crown jewel of Midwestern hospitality for more than a century. Not bad for a building that started life as a dormitory for single male Kohler employees. Surrounded by immaculately groomed lawns, its brick exterior evokes storybook feels. You'll never want for ways to fill your itinerary as the Club offers golf (plus an academy to fine-tune your swing skills), kayaking on the river, snow biking, a 500-acre private wilderness preserve, seven different dining options, infrared heated yoga, and one of only 85 five-star spas worldwide.
10. Round Top, Texas
You'll want to mess with this Texas town if you're a fan of relic hunting or pie eating. Located between Austin and Houston, Round Top is considered one of best small towns for a weekend getaway, and is particularly beloved by hipsters and artists as Marfa. The mammoth antique fair started in 1967 with just 22 dealers. Now, it's the largest in the nation, showcasing hundreds of dealers and miles of heirlooms and crafts twice a year.
Curated Experiences
Even when the antique fair isn't taking over the town, there's plenty of shopping around Bybee Square, Rummel Square, and Henkel Square Market, contained within buildings from the 1800s. In nearby Warrenton, you can see the world's smallest Catholic church. Also, a short skip down the road is Winedale, where the University of Texas stages Shakespeare plays in the spring and summer.
What To Eat
All that sight-seeing is sure to whip up your appetite, and for that there's Royers Pie Haven, where you can indulge in a slice or three of the sweet n' salty and hot coffee in the shade of an old oak. If you're looking for a proper meal, try Prost on Block 29 or Royers Round Top Cafe.
Where To Stay
Plant your precious cargo overnight at the Flophouze Shipping Container Hotel. Using recycled and reclaimed wood and materials, sourced from distilleries, schools, and even a bowling alley (the floors were repurposed into countertops!), the owners have created six memorable studios that gaze out on pastoral prettiness and vibrant sunsets. Each has a hammock and fire pit. The pool is also made from a container. If you love what you see, you're in luck, as all of the décor is for sale.
MEET THE AUTHOR
Carrie Bell is an LA-based writer whose work has appeared in People, Fodor's, Architectural Digest, Bridal Guide, TripSavvy, and Rolling Stone. The California native has visited 42 countries and 40 states. When she isn't traveling, the snowglobe collector can usually be found riding a bike, binging Succession, playing board games, and consuming massive amounts of dairy products. Seriously, it's a problem. Check out her website and Instagram for more of her adventures in wanderlust.