It's difficult to find a comparison for Georgia's most famous wine region, Kakheti. Some people have tried to call it the next Rioja, but in fact, Kakheti is a place that's in a category of one. Even though it's still sometimes necessary to clarify that we're talking about "Georgia (the country)," that seems to be changing as the former Soviet Republic, tucked into one of the easternmost reaches of Europe, is staking a claim for itself. Many of the winemakers in the region (and even more of the tourism marketers) boast about the way that eastern Georgia was a cradle of winemaking, a place where people begin producing fermented grape juice some 8,000 years ago in the traditional clay amphoras that have recently been embraced by wine lovers all over the world. While you can find the clay pots elsewhere, Kakheti still very much belongs on wine lovers' travel wish lists.
Why Visit Kakheti?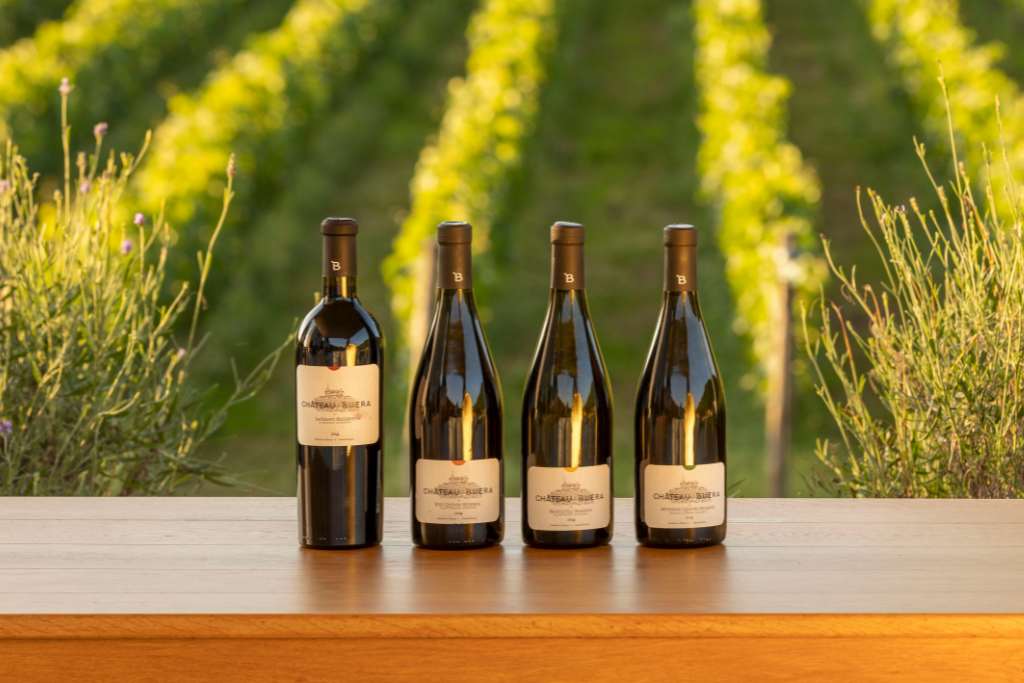 The unique winemaking techniques of Kakheti set it apart from other wine regions around the world. Wine here is produced using the traditional Georgian method of qvevri, which involves fermenting grapes in large clay vessels buried underground. This ancient winemaking practice has been recognized by UNESCO as an Intangible Cultural Heritage.
American-born winemaker John Wurdeman, who cofounded the restaurant and winery Pheasant's Tears with a Georgian grape cultivator in 2007, says, "Kakheti is unique for its vast views across the Alazani Valley against the backdrop of the towering snow-capped Caucasus Mountains. The wine traditions, melismatic polyphonic singing, expressive cuisine, and diverse natural habitats all captivated me early on."
He continues, "I was born in Santa Fe, New Mexico, and even though Kakheti is a long way from there, when [I was] in Davit Garedji and Vashlovani it felt like I returned home. Kakheti seemed to embark the heart of the country I had become enraptured with, not least because of its hauntingly beautiful songs."
Where to Stay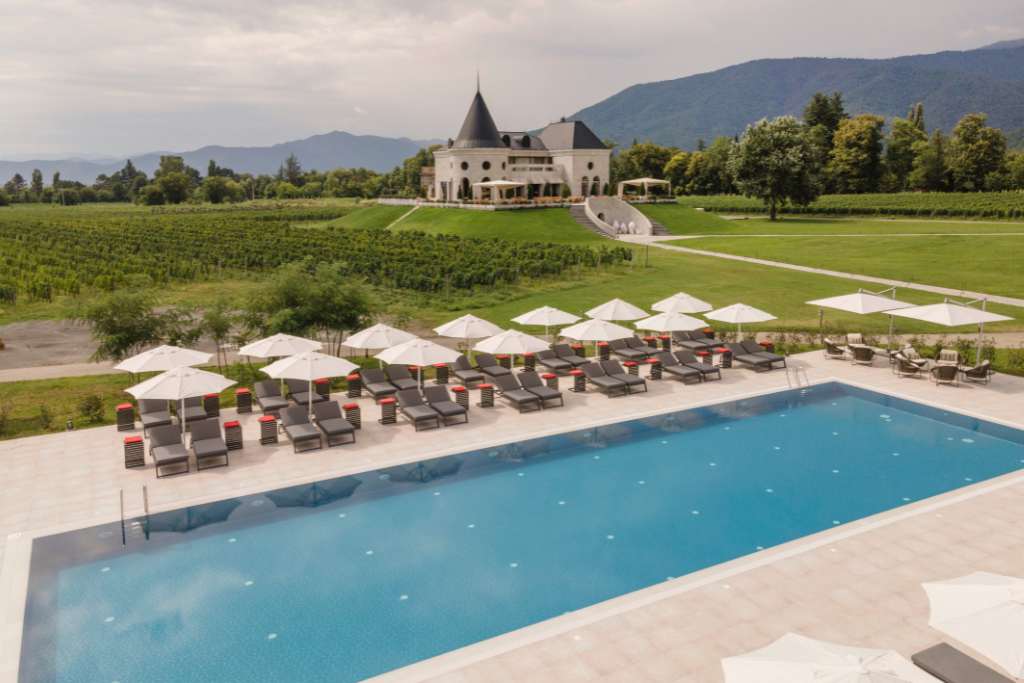 The newly revamped, family-owned Lopota Lake Resort & Spa is located on a sprawling and lush property with 232 rooms and suites, two indoor spas — one of which being a clandestine "treehouse" overlooking the lake — as well as multiple restaurants, several outdoor pools, a horse stable, and vineyards. A major highlight of Lopota is Château Buera, the property's onsite winery, restaurant, and wine cellar.
One of Wurdeman's other projects is the Lost Ridge Inn, Brewery, and Ranch. It has lovely permaculture gardens, a farm-to-table Ranch Cafe, horses, a brewery (beer is crafted from local fruits, flowers, and herbs), and a boutique hotel. Tsinandali Estate is a luxury hotel in an 18th-century estate that once belonged to the noble Chavchavadze family. It has breathtaking views of the surrounding vineyards and a wine-themed spa.
Where to Sip
"Kakhetian wine is subtle and deep," says Wurdeman. "Pheasant's Tears is lucky to have small vineyards across the country and [to be] able to work with different soils, varieties, and styles. But the layered depth of Kakheti —with its amber wines that unify the colorful contrasting Georgian feasts —is like an opera singer with a range from soprano to bass.
Along with Pheasant's Tears, standout wineries in Sighnaghi — known as the city of love (something to do with a 24-hour marriage bureau, apparently) — include the all-organic, all-Georgian-grapes Okro's Wines and the family-owned Kerovani, whose name means (in older times) a shining candle that would brighten a home.
In the town of Telavi, the Telavi Wine Cellar is known for its modern approach to winemaking while preserving Georgian traditions. And the Alaverdi Monastery Cellardates from the 6th century, is still known for its exceptional, organic winemaking traditions, including in qvevri.
Where to Eat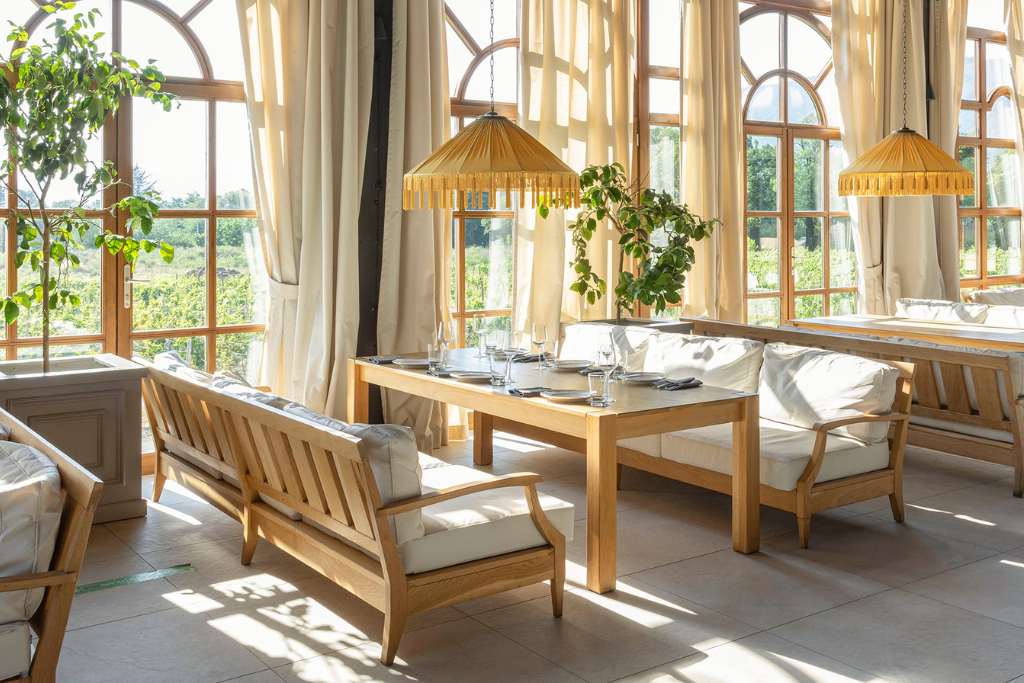 Standard packing advice for visiting Georgia usually includes the suggestion to bring loose-fitting trousers. It's a country where meals are served banquet-style and servers in restaurants set food on stands above the other food. But Kakheti doesn't only compete on quantity. The quality is also high as well, whether it's regional classics like cheese-filled pancakes, herb-spiked salads, and meat stew, or more inventive seasonal fare.
Pheasant's Tears is quite likely the most famous restaurant in Georgia, and deservedly so. The Sighnaghi restaurant is a foodie pilgrimage destination, offering a gastronomic journey through the flavors of Kakheti. Chef Gia Rokashvili goes to the farmer's market every day and adapts the menu to what the forests, rivers, and meadows are offering that day, as well as some products from carefully vetted, responsible local farmers. The idea is simple juxtapositions of very tasty ingredients, inspired largely by the way Georgians eat at home but with influences from around the world. Of course, the wine list is extensive and unusual, featuring not only the house wines but other rarities from the region.
In Napareuli, Twins Wine House is run by an actual pair of twins, who continue their family's centuries-old tradition of Georgian hospitality with a winery, museum, and hotel as well as a restaurant. The last of these is run by a talented local chef, who focuses on dishes like family-grown Kakhetian pork barbecue, Kakhetian cheese served with hot shoti bread, beef stew, village fruits, vegetables, and greens.
Wurdeman's regional favorites include Doli, which has a wood-fired grill and vibrant dining room in Telavi; Marleta's farm, which serves its house-made fresh cheese, as well as salads, dumplings, and grilled meats; and Silver Lakes near Telavi, which he describes as "a destination restaurant that is a dream."