Barefoot on a breezy yacht at sunset in the Maldives' Fari Islands, I stand at the ship's bow and watch how we slice through the glittery sapphire-hued water of a limpid lagoon. It's enough to feel the wind and sun's warmth on my face, but even better is the company. Beside me, Emma Lucy Knowles, celebrated clairvoyant, crystal whisperer, and spiritual coach to the stars (think: Victoria Beckham) looks out to the horizon as if waiting — even calling — for something. Suddenly a pod of dolphins (including chubby babies) surround the boat, swimming along with us, leaping into the air joyfully. For a moment, it seems they want to accompany us on a journey to an enchanted place. When they finally swim away, we feel a sense of disappointment. But, only for a breath. Suddenly, the sky becomes the focus. A huge rainbow stretches across the heavens, casting the colors of the crystals and gemstones we've been handling and meditating with all week under Emma Lucy's direction at our swanky resort, Ritz Carlton-Maldives, Fari Islands. Emma Lucy gazes up at the rainbow nonplussed, as if she's been in cahoots with nature all along.
What is Emma Lucy Knowles Doing at Ritz-Carlton Maldives?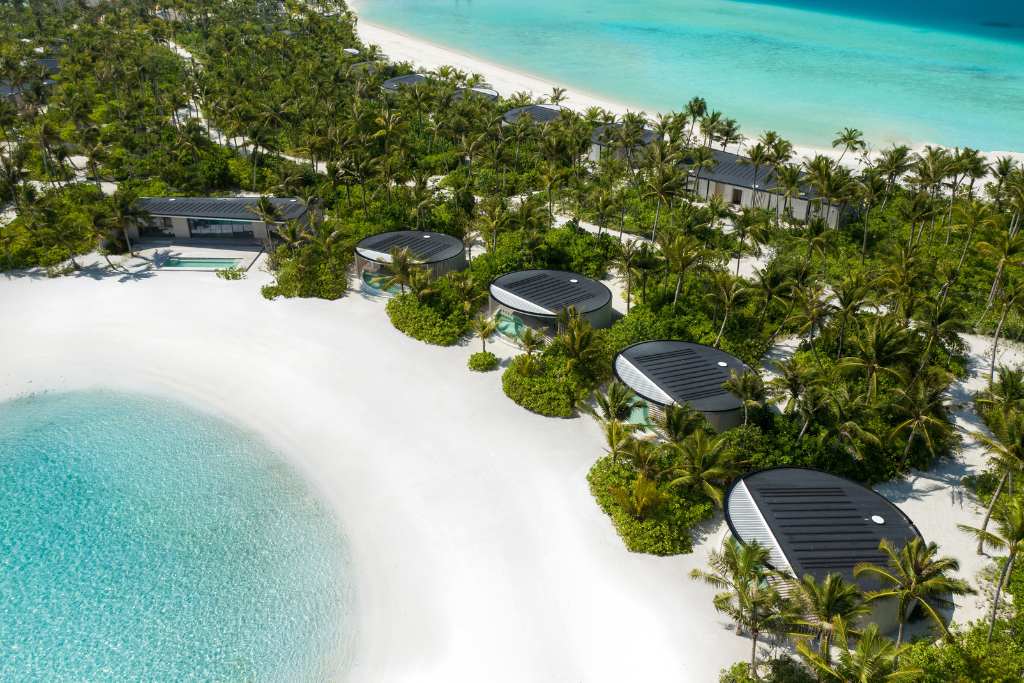 Part of the resort's clever special programming — which brings prominent worldwide talent from bartenders to artists — to the Maldives for guests to enjoy (along with other more traditional activities), Emma Lucy visited The Ritz-Carlton Maldives, Fari Islands to lead workshops, preside over crystal-themed moonlit dinners, give aura readings, and conduct lessons on how crystals can enhance our daily lives. As her weeklong presentation's grand finale, the sunset cruise provided a place for participants to reflect and make intentions. Popular, her courses at the hotel filled up fast, as newly anointed crystal fanatics eschewed the beach and pool to partake of her sessions. "I always wanted to learn about crystals, but I didn't know where to start," one guest tells me when we take a walk around Emma Lucy's villa to learn how crystals can contribute to a healthier home. Another guest described how she was so moved during her aura reading with Emma Lucy, she started to cry, feeling that someone really understood her at last. Even honeymooners took a break from canoodling to delve into the crystal culture. Guests who participated spoke of feeling a shift when in Emma Lucy's presence. Even the staff joined the crystal frenzy, such as when the chef matched up Emma Lucy's curated list of crystals and their attributes to signature dishes in a multi-course tasting menu on the night of an evocative full moon. Note: guests can also partake of an array of spellbinding activities daily from cooking classes to snorkeling excursions to photography labs.
Why Did I Come So Far to See Emma Lucy?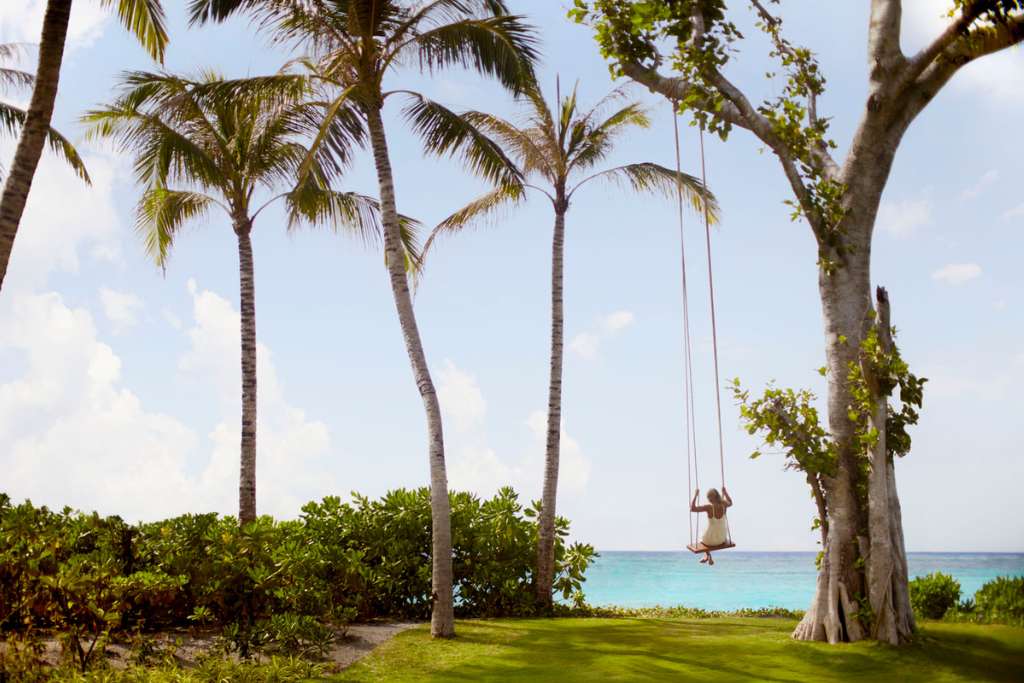 It might seem a sort of madness to fly 36 hours from Texas to gadabout with a crystal whisperer. But, having been to The Maldives before, I knew the trek was worth it. The Maldives, a country composed of some 2,000 islands that pepper 541 oceanic miles from the equator to southwest of Sri Lanka, offer unsullied nature at its finest. More than that, I was confident that Ritz-Carlton Maldives, designed by the late, great Kerry Hill (who designed many Aman Resorts), which opened during the pandemic, would be an architecture-lover's dreamscape, a place created for introspection and rebirth, a spot to delve into my mystical self. I was not disappointed.
What's the Resort Like?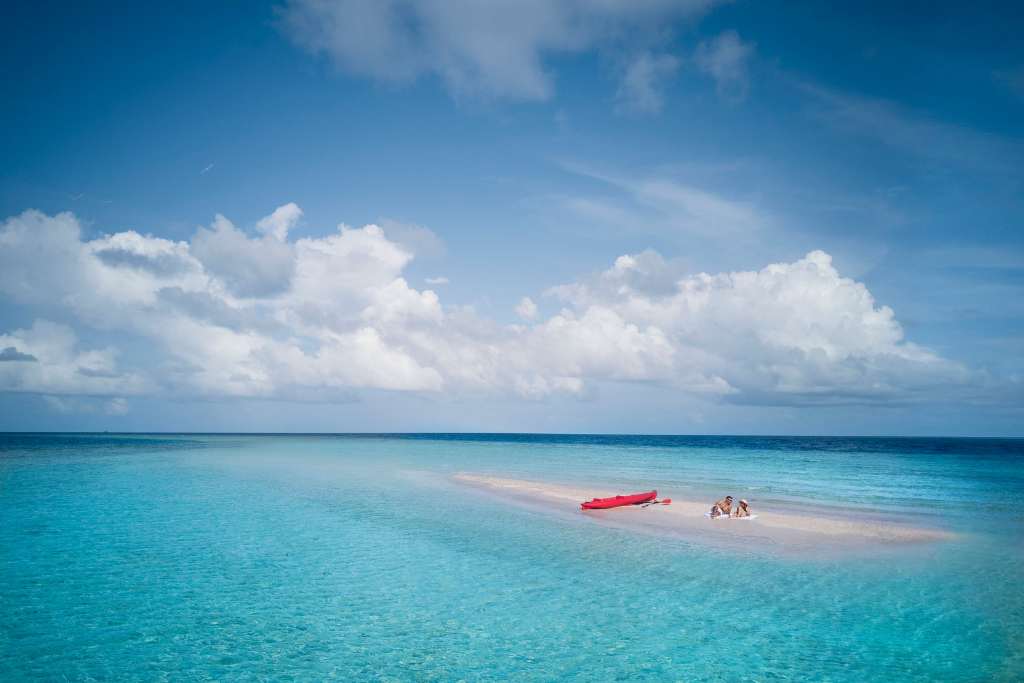 While most of The Maldives' approximately 200 resorts invoke a quintessential vision of Indian Ocean bliss — thatched roofed bungalows, overwater suites, treehouses, and secluded white sand beaches — The Ritz-Carlton Maldives stands alone in its fearless modernistic design. Inspired by the movement of the water, its fluidity and flow, the spa, suites, pool, and nearly all of the common areas feature circular motifs. Add in the long piers, bridges to connecting islands, waterside restaurants, undulating bike paths through verdant jungle, and compelling natural places such as the Mystique Garden with its labyrinthine design awash in swirls (a supreme spot for yoga or romantic dinners), and the entire resort emits a sense of being in concert with the ocean. The result is that one decompresses immediately, melting into the peaceful harmony of the wind and rippling waters of the lagoon. On property, you'll be pampered and supported by an able butler — called an Aris Meehas here, the Maldivian word for someone charged with caring for royalty. Kids will beg to spend every minute at the Ritz Kids Club, easily the coolest children's venue at a resort I have seen in ages.
The Rooms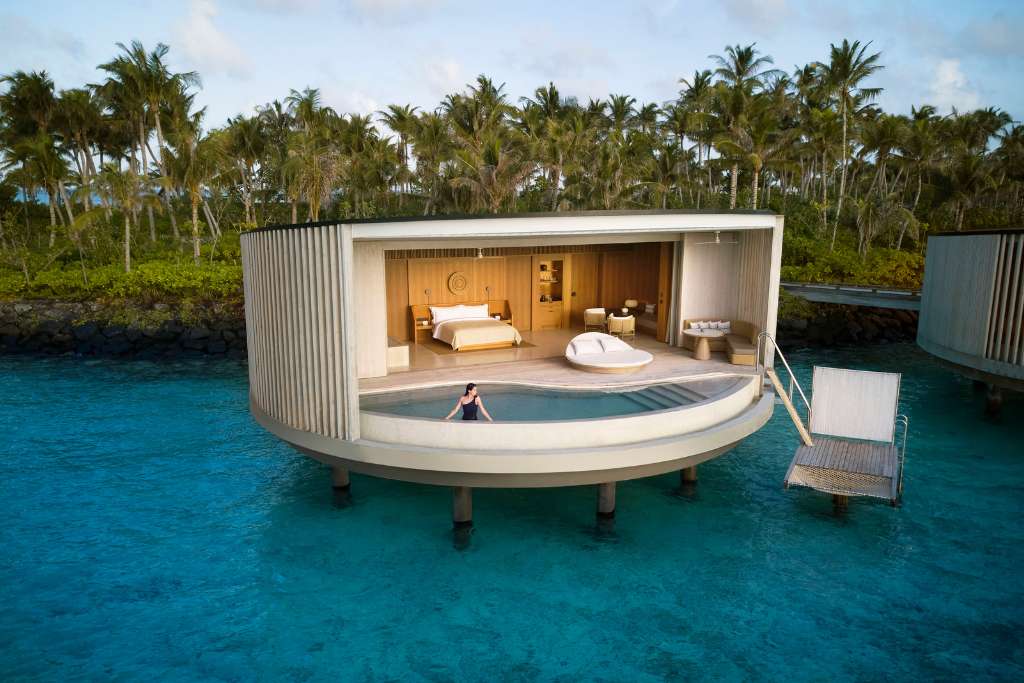 With both overwater villas and beachfront suites, all guest rooms were created to embrace water views. Circular and spacious, the one-bedrooms villas can hold a small family, but the retreat also has a handful of two-bedroom villas and The Ritz-Carlton Estate, a traditionally-shaped, three-bedroom residence, ideal for celebrities hiding away from the throngs. By far the most iconic rooms lie above the translucent water, along the two piers that wrap around the circular spa. Almost otherworldly, they straddle the water with a science fiction edginess. Expect panoramic window-doors that open wide, personal pools, huge soaking tubs, and Maldivian folk touches such as shell and rattan elements in all rooms. One special amenity: each room comes with his and her hats and a beach bag to use on property and take home, items that are difficult to haul in your suitcase on a long flight.
Dine and Imbibe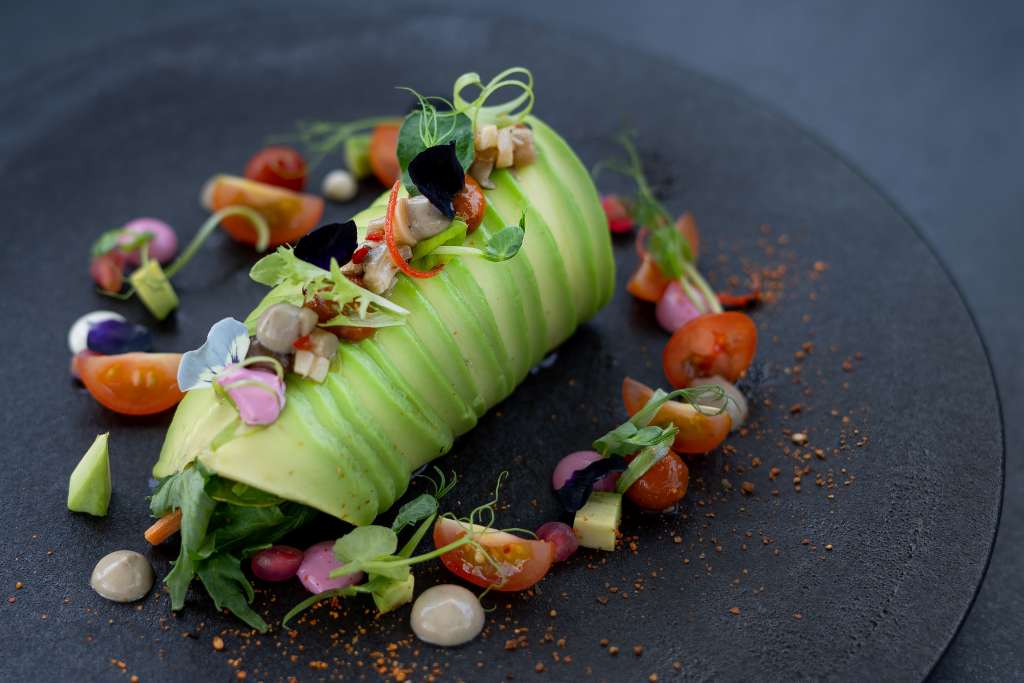 Choose from seven outstanding restaurants and bars, as well as exceptional private dining locations, such as a candle-lit dinner on the beach. A must for sunset, Eau Bar draws a crowd for its arresting ode to dusk, a ceremony replete with local bodu beru drummers and chanters, who march along the edge of the circular infinity pool from two sides, meeting in the middle to light a circular fire ring. Against the backdrop of a tangerine sun cascading into the cobalt sea, the memorable experience brings Maldivian culture to play, something many resorts in the Maldives don't master. Superlative dining reigns all day long, whether a casual lunch at the Beach Shack (I quickly became addicted to the watermelon gazpacho), the soul-satisfying buffet breakfast in La Locanda with renditions of Arabic, Asian, and International cuisine, dumplings and other Cantonese specialities at Summer Pavillon — an outpost of the renowned restaurant in Singapore, teppanyaki at Iwau, homemade pasta at La Locanda for dinner or a short boat ride away on a separate island at Arabesque for Lebanese and Indian specialities.
Spa and Wellness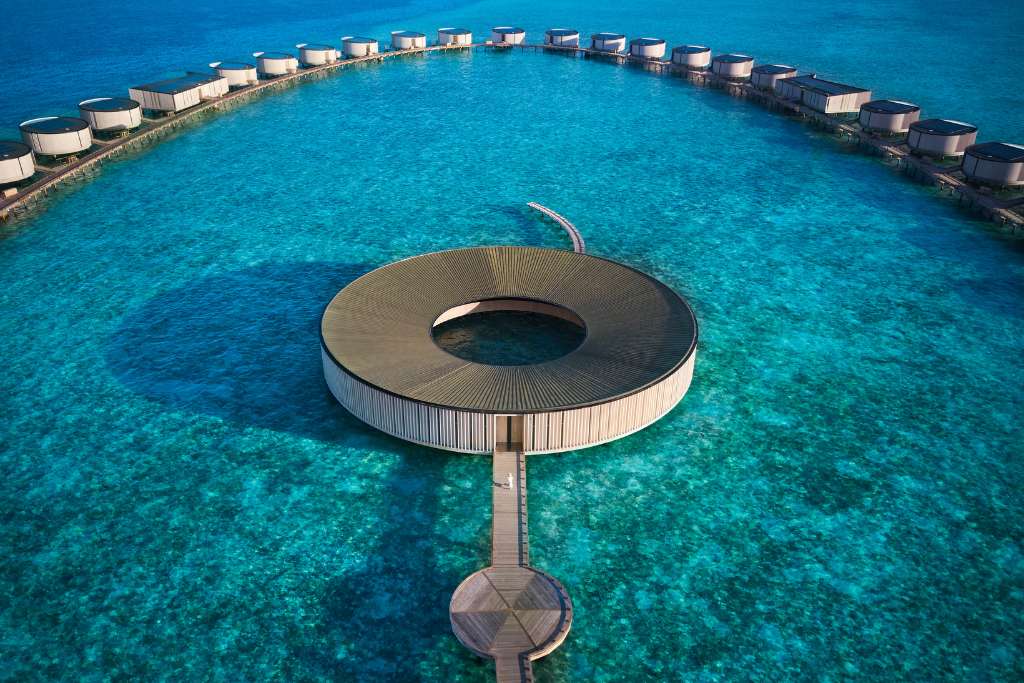 Part of unwinding at a spa is the illusion of stepping into an alternative reality, a place where it is alright to turn off your phone, breathe deeper, and leave your troubles behind. Knowing this, the Kerry Hill Studios team created a circular sanctum afloat on the blue waters, a place reached by a long walk down a pier, easily a metaphor for a transformational journey. Dispensing with dressing rooms, relaxation rooms, saunas, and such, the spa smartly turns nine tranquil — and commodious — treatment rooms into all-purpose sanctuaries. I felt I might be able to nap all day in mine after my treatment, which reminded me how disruptive it can feel after a great spa service when you are ushered from your safe place to a room with other recuperating (as it were) clients. The spa specializes in clean treatments by UK -based Bamford (amazing), but there's also an Asian vibe and zen simplicity conjured in the design — not to mention the best ginger tea. Myriad wellness activities occur daily at the resort, including yoga. The first-in-class gym — on the other side of the resort from the spa — has trainers on hand and weekends involve a group run around the island.
Sustainability
Solar power, zero single-use plastic, and an in-house purification plant are mainstays of this eco-conscious resort. This is "feel good" luxury at its best.