The Maldives, a far flung island nation in the Indian Ocean consists of nearly 2,000 islands, some as tiny as a stone. Scattered like a string of broken pearls from the southern tip of India to the equator, only ten percent of the isles are occupied, most accessible only by a combination of small seaplane and boat. Some islands have tiny communities of people who live off the fruit of the sea, but others hold the Maldives nearly 150 resorts, each a haven of lavish pampering. Exuding shipwrecked chic, like being marooned extravagantly, resorts in the Maldives can only be described as "beyond."
As I zoom over the Indian Ocean in a seaplane, I muse about how much the water below me looks like a swirly sky from a painting by Van Gogh with its cobalt and aqua spirals and ripples. From the air, I notice movement, too — not just boats, but large fish scooting like torpedos through the water and leaping dolphins swimming in a pod. The plane lands softly on the waves, near a pier, then putters to the dock — as canny as a vehicle dreamed up by Dr. Seuss. In further storybook fashion, a hoard of festively dressed greeters await, some singing, others strumming instruments, many proffering cocktails served in coconuts.  Sun-dappled, with an emerald jungle at its core, this island — like every Maldivian isle I've seen — has blindingly bright-white beaches, with overwater bungalows, and beach cottages spread throughout. And, each resort has its own stunning qualities and amenities. Here, a few of our favorites.
Soneva Fushi and Soneva Jani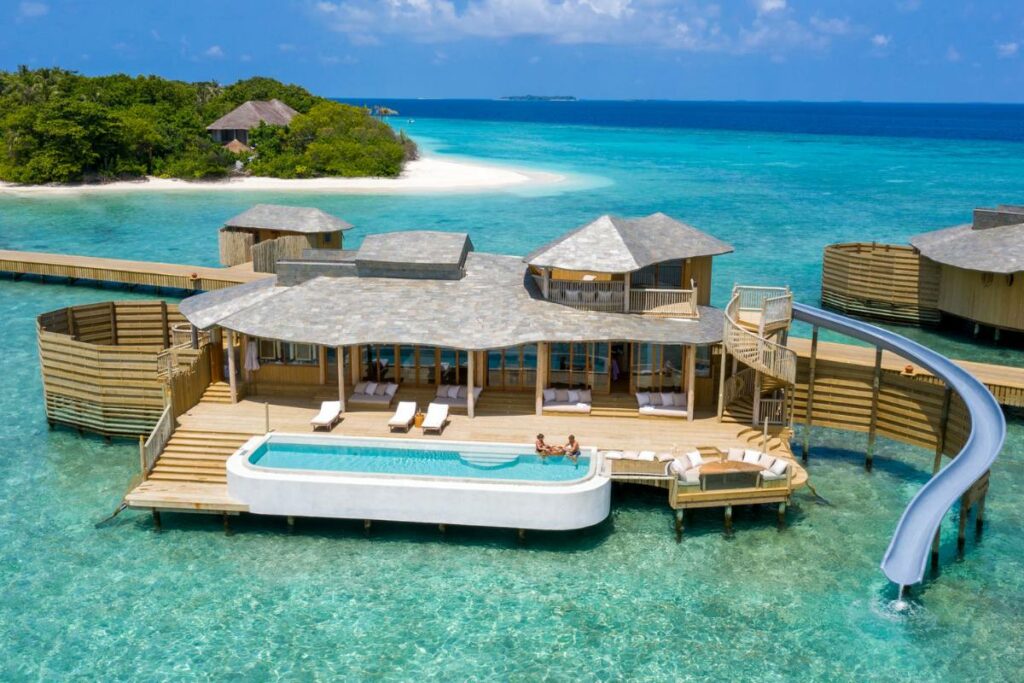 Some people walk to dinner. At Soneva Fushi, home to Flying Sauces, the world's first zipline fine dining experience, you can whiz through the sky to arrive at the treetop restaurant. As the pioneering luxury eco-resort in the Baa Atoll UNESCO Biosphere Reserve, this divine hideaway has both water villas and beach villas, not to mention a plethora of not-to-miss activities including free diving lessons and dinner on a private sandbank. Sister resort Soneva Jani, also eco-conscious features some of the world's most capacious and fanciful over water villas, include some with water slides that flow from rooftops to the lagoon and rooms with retractable roofs over the bed, a boon for star gazers.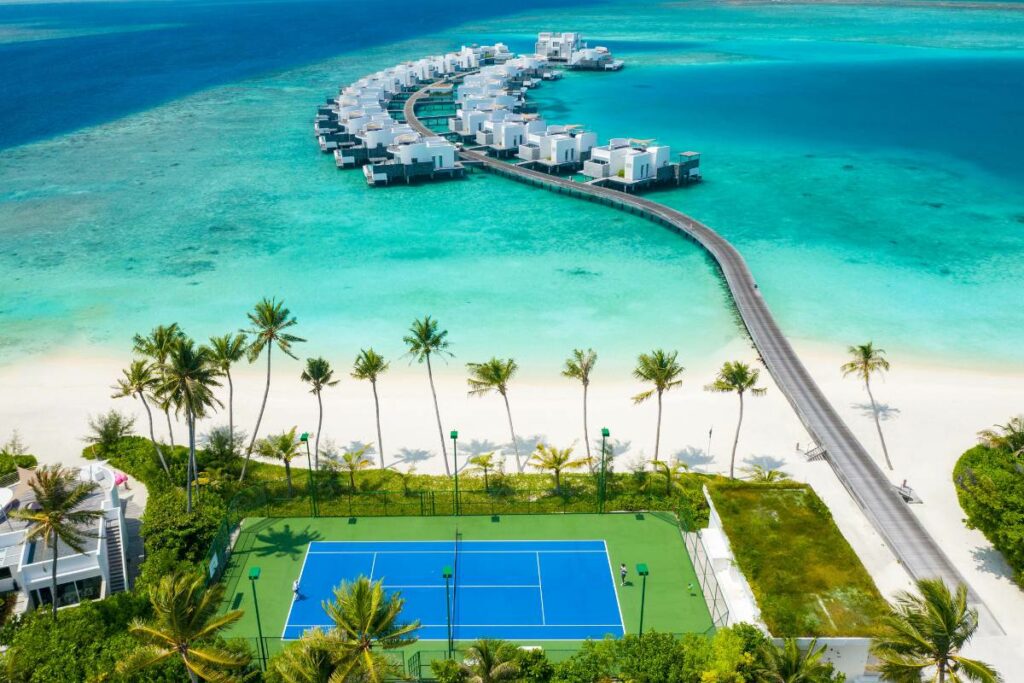 From the people who brought you the magnificent Burj al Arab in Dubai, this stunning, family-friendly resort opened in 2021 with 67 villas. All about water, its over water experience extends beyond bungalows to its Talise Spa, which has six private treatment villas above the sea, including pedicure offerings at the above water beauty salon, rooftop yoga classes, and a spa for kids. Start your day with a floating breakfast in your personal pool.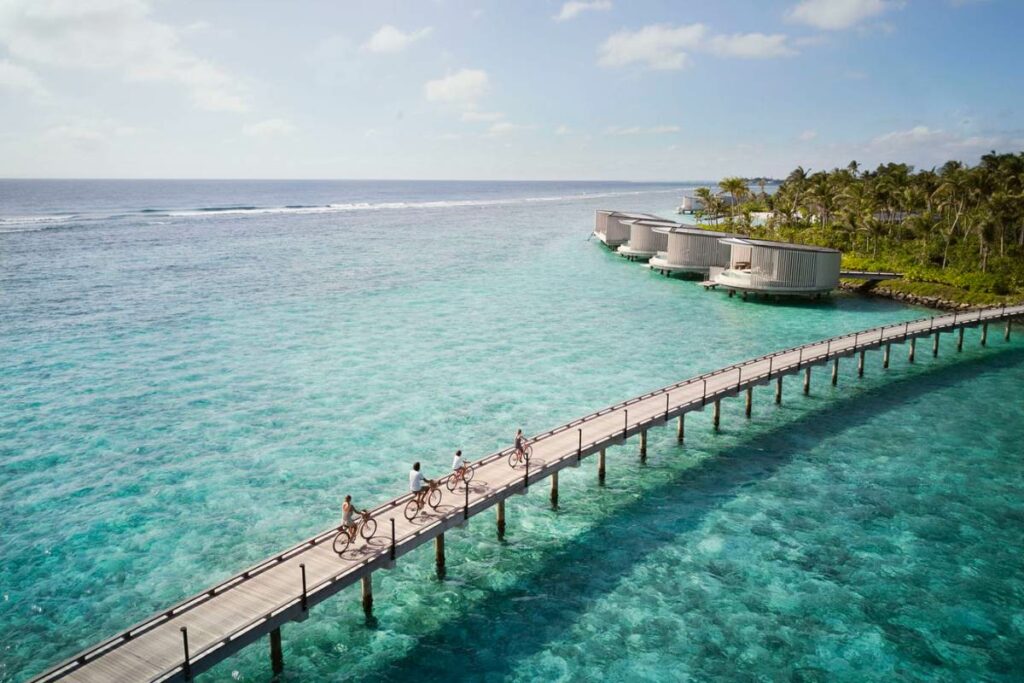 Design buffs will be over the moon at the Kerry Hill-designed The Ritz-Carlton Maldives, Fari Islands .A pastiche-like series of spherical, interconnected villas straddling a gin-clear lagoon, this getaway boasts villas as large as three bedrooms, each helmed by an Aris Meeha, butler, words from the local Dhivehi language that refers\ to a person of great importance assigned to a member of the ancient royal household. Providing a Jean-Michel Cousteau's Ambassador of the Environment program, this resort also triumphs with its first-in-class spa, fortified with treatments by the UK's acclaimed Bamford brand.
Baros Maldives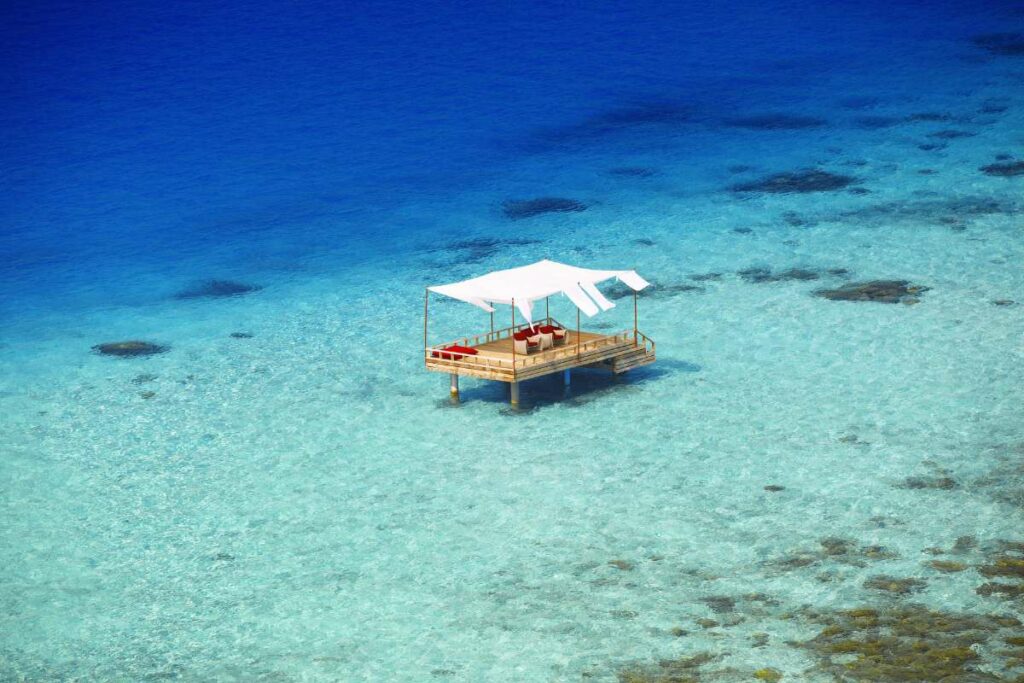 One of the Maldives most storied hotels, Baros has been perfecting holidays in the islands since 1973. Choose between jungle-edged villas on the shoreline, over-water villas, intimate suites, or the palatial Baros Residence, complete with large infinity pool and private beach. With experiences aplenty from the Serenity Spa to sunset cruises, the retreat offers a plentitude of unique dining experiences including the Piano Deck, a wooden platform that floats far from the madding crowd on the water. It welcomes guests for romantic sunrise Champagne breakfasts or sunset dinners of prawns and reef fish.
Siyam World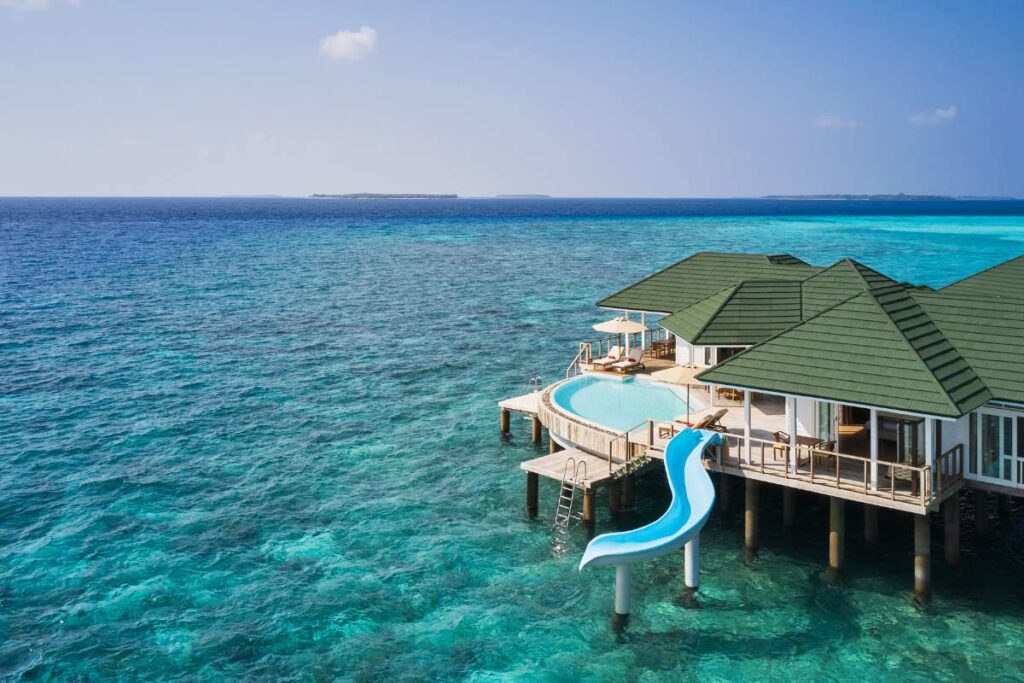 Quirky  luxury? Yes. Please. Proudly Maldivian owned, playful yet still opulent. Siyam World is redefining the Maldives vacation experience. The all-inclusive, five-star hideaway prides itself on never-seen-before adventures, such as the Indian Ocean's biggest floating water park and the Maldives' first resort horse ranch. The unspoiled 133-acre island resort vaunts an alluring variety of accommodations from Pool Beach Villas to playful overwater Villas complete with entertaining water slides.
Anantara Kihavah Maldives Villas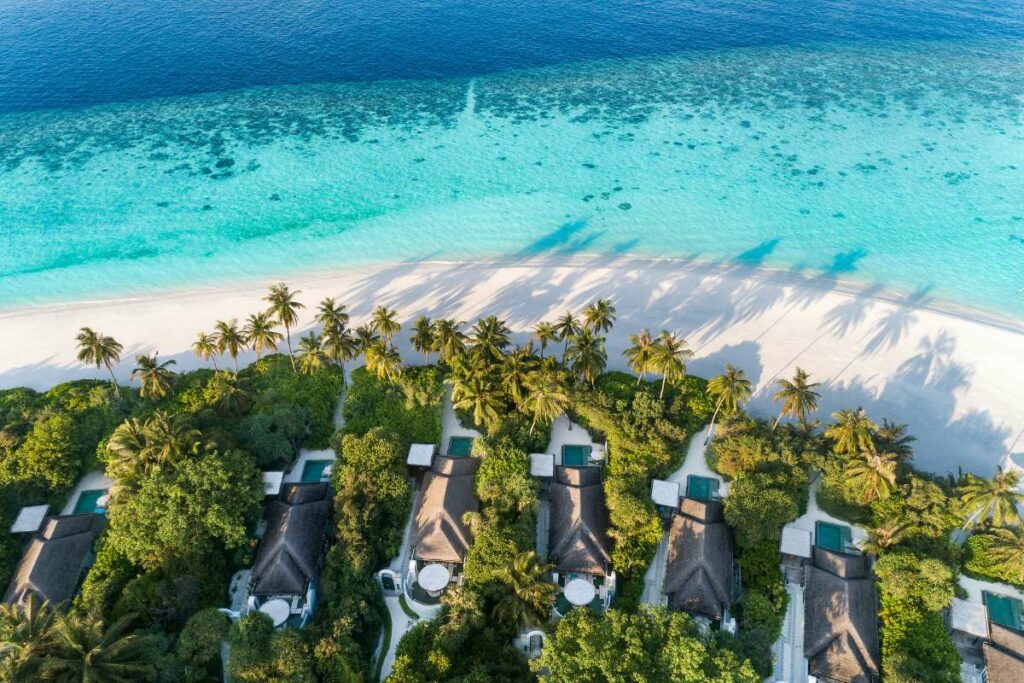 Wine down — way down — beneath the sea for an otherworldly wine-tasting experience. At this divine retreat erected on a naturally formed island, edged by a coral reef, guests can delight in underwater-aged Dom Perignon tastings, comparing the marine version to Dom aged the normal way — in the cellar. A family-friendly, pristine hideaway where you can swim with mantas and Hawksbill sea turtles, indulge in the spa, and enjoy a slew of culinary experience the lush resort has over water and beach villas filled with pampering amenities — including a stocked wine fridge for private tastings with your fellow travelers. Don't miss the new Cosmic Cocktails, stellar libations meant to be sipped at the SKY bar, a perfect pairing for the stargazing experience in the overwater observatory.
COMO Cocoa Island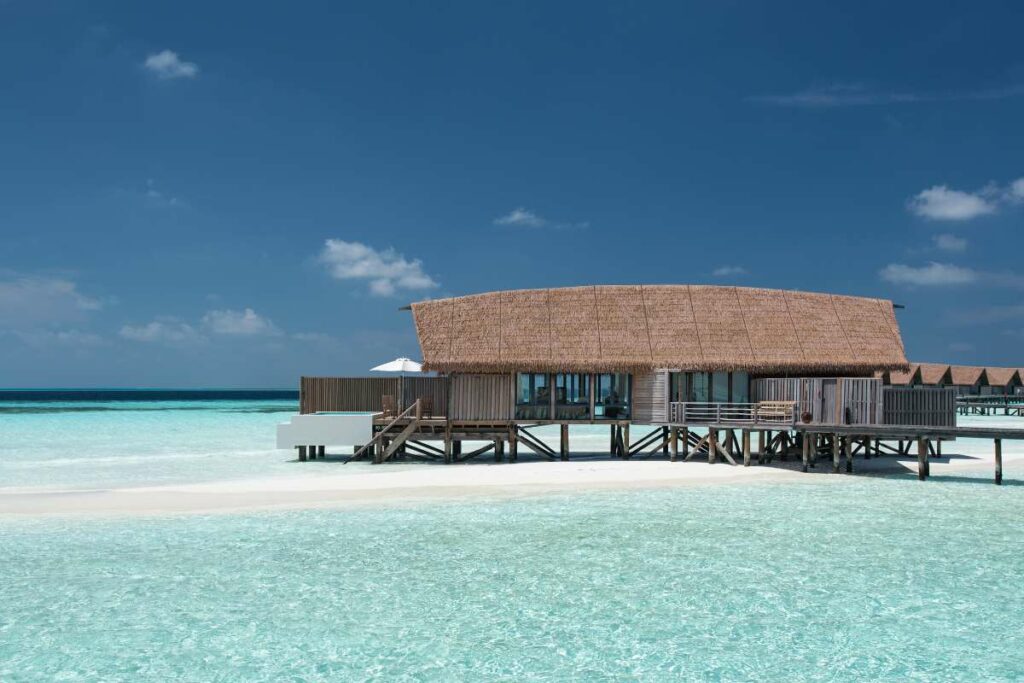 Most visitors to Maldives agree that traditional wooden dhoni fishing boats, curved with lanterns at the bow, are one of Maldives most charming local aspects. COMO Cocoa Island incorporated their shape in the design of their luxury villas that rounded bestride the water. With glossy teak floors, high rafters, elements of New Zealand pine and  Kajan-thatched roofs, the villas exude Indian Ocean elan. Key to the resort, COMO's famous healing happens at its COMO Shambhala Retreat, a bi-level haven complete with yoga pavilion.
The Standard, Huruvalhi Maldives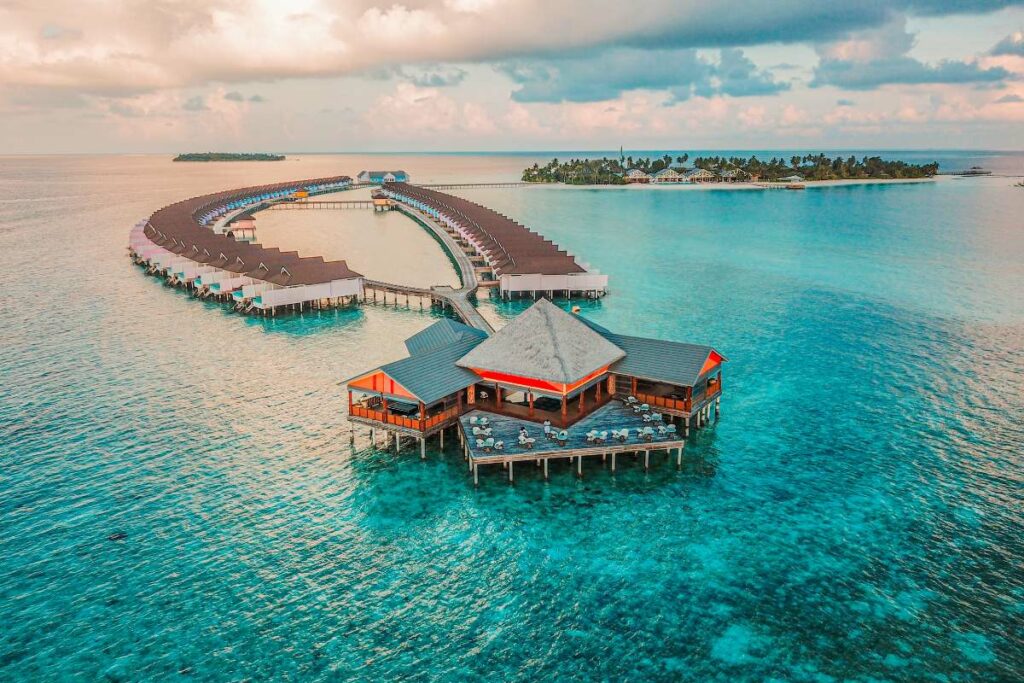 Travelers planning an immense party can takeover The Standard, Huruvalhi Maldives, an entire island playground that holds 115 villas, six unique restaurants, a spa, myriad activity options, and perfect beaches. Snuggled into the  Raa Atoll on Huruvalhi Island, the easily accessed getaway awaits just a short seaplane ride from Male. The 'Island Takeover' package, which begins at  $110,000 per night, includes most meals and beverages, spa treatments, and swims with the Manta Rays.
Four Seasons Resort Maldives at Landaa Giraavaru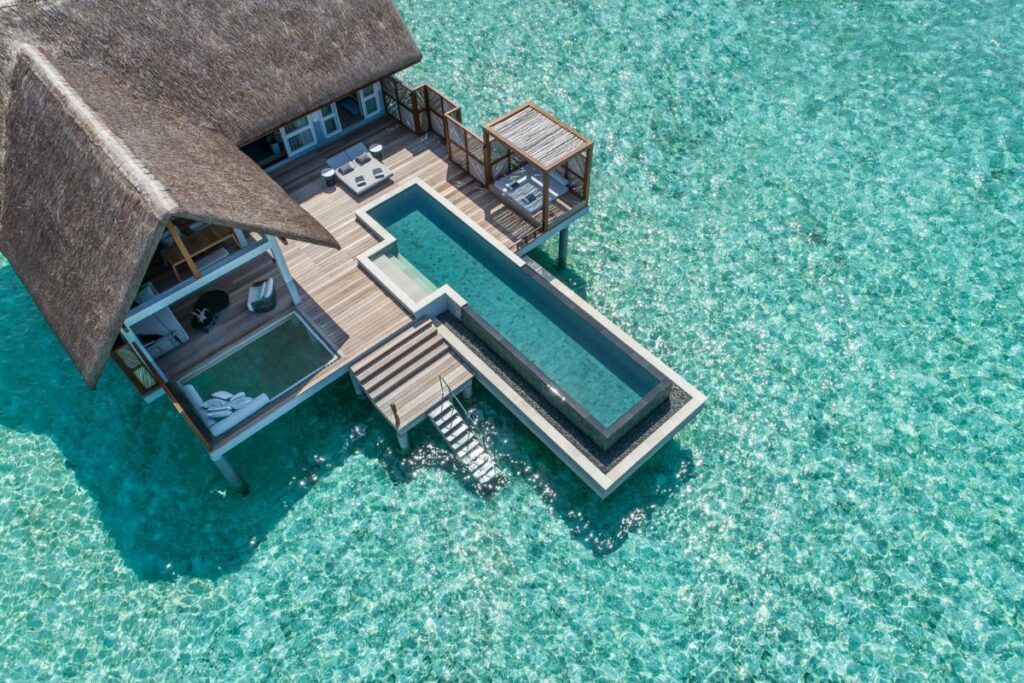 Lest you lose time away from lounging in your overwater bungalow, rehabilitating turtles in the Marine Discovery Centre, riding your bike around the island or having your energy cleared at the AyurMa Ayurvedic spa, glamorously casual Four Seasons Resort Maldives at Landaa Giraavaru provides guests with a beeper during Manta Ray season. When the graceful creatures are spotted by staff, beepers go off and guests can rush to the dock to join marine biologists on speed boats that hover above the ballet dancer like rays or swim amongst them.