I haven't been everywhere but it is on my list. As an avid traveler, I have been all over the world exploring oceans, climbing mountains, embracing cities, and discovering little known towns. But, I'm always drawn to somewhere warm with sun, sand, a lively ocean life, and a luxury resort where I can relax and indulge. I'm no stranger to long flights but hadn't yet had the chance to make the trek to the Maldives, although it has long been on my list of places to visit.
Last month I checked off The Maldives from my must-go list. A vacation I cannot help but hold in my memory forever. Where is the Maldives? A sanctuary of Eden above and below sea level, these picture-perfect islands of pure white sand surrounded by clear turquoise water and spectacular underwater habitats speak of breathtaking natural beauty. Amid the archipelago of more than 1,200 islands in the Indian Ocean, lies four separate escapes from Four Seasons Hotels and Resorts: two distinct resorts that are a 25-minute scenic seaplane ride apart featuring a fast cruising, live-aboard yacht, and your own private island. While the Four Seasons Resorts Maldives offers you any one or a combination of experiences; I crafted mine with a combination of the two resorts and three nights at sea. And if wellness and sustainability are an important part of your experience, The Four Seasons resorts are uniquely set up to cultivate your self care, but also care for the oceans and the planet so you cannot help but feel good every moment of your vacation.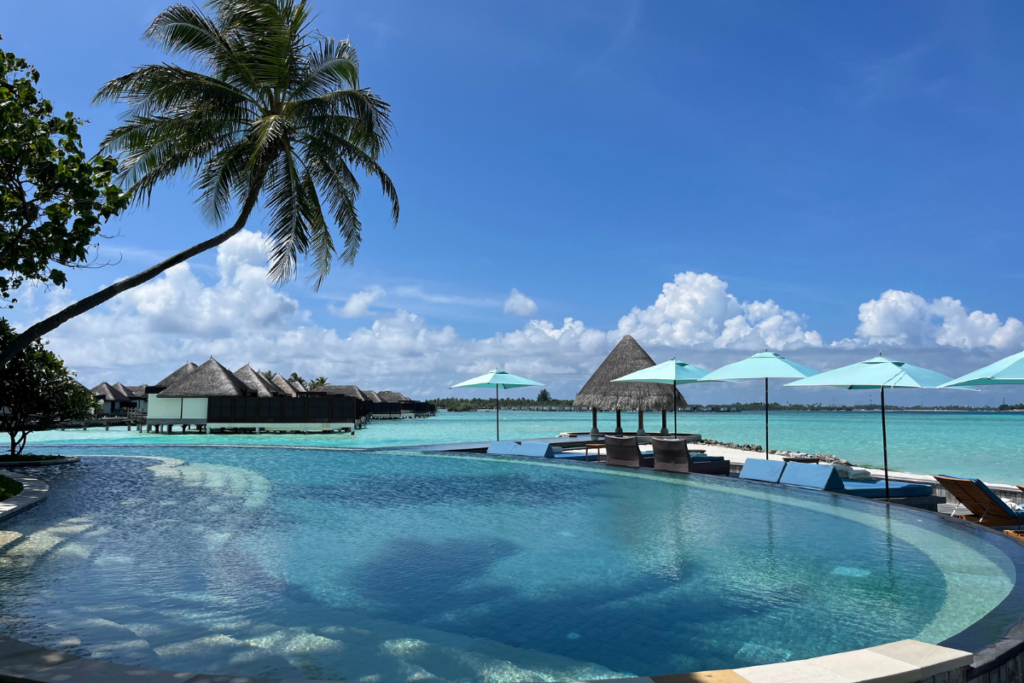 Every beachfront and overwater villa has a private pool and offers inspiring sunrise or spectacular sunset views with expansive outdoor space offering indoor and outdoor extended and tranquil living. The staff offers activities catered to everyone's individual adventure and relaxation level. A place where walking to dinner is set amid lush gardens and fragrant tiki torches and the culinary expertise exceeds your imagination. A destination where wellness cannot help but be a priority with all the yoga, fitness, and spa opportunities. The level of personal attention is unmatched to ensure your visit is extraordinary — from personal greetings and golf cart rides to fresh water and cold face towels handed out throughout the day and the employees have the resources and capability to meet any request. It is absolutely worth the 24+ hours of travel and certainly tops my list as one of the most beautiful and not to be missed places in the world.
Coral Reefs, lagoons, and islands — both natural and manmade — make up 20% of the area. And, with water surrounding you at every turn you can imagine the water activities are abundant. You can start each morning with complimentary yoga, a sunrise kayak, or a fishing excursion. And when you cannot resist immersion into the sea, there are surf lessons, snorkel safaris, and scuba diving adventures. You will see spinner dolphins, green and hawksbill turtles, sting rays, sharks, and the most colorful variety and volume of fish imaginable. The recreation and marine discovery centers offer adventures managed by a team of skilled and caring professionals who guide you from start to finish; a marine staff that not only is concerned for safety and shares knowledge but knows how, where, and when to find the best spots to watch this underwater world float by. You can also incorporate land based exercise into your day at the state of the art fitness centers or on the hotel tennis courts.
While I didn't travel with my kids, The Four Seasons Maldives does offer a slew of things for those under 12 with indoor crafts and games, yoga, cooking, mini spa, as well as outdoor activities from gardening to sand castle building, hermit crab racing, surf lessons and beach games. Many of the parents I asked while staying there said their kids made so many crafts, they needed another suitcase to get home! Kids Club offered 9am until 5pm daily.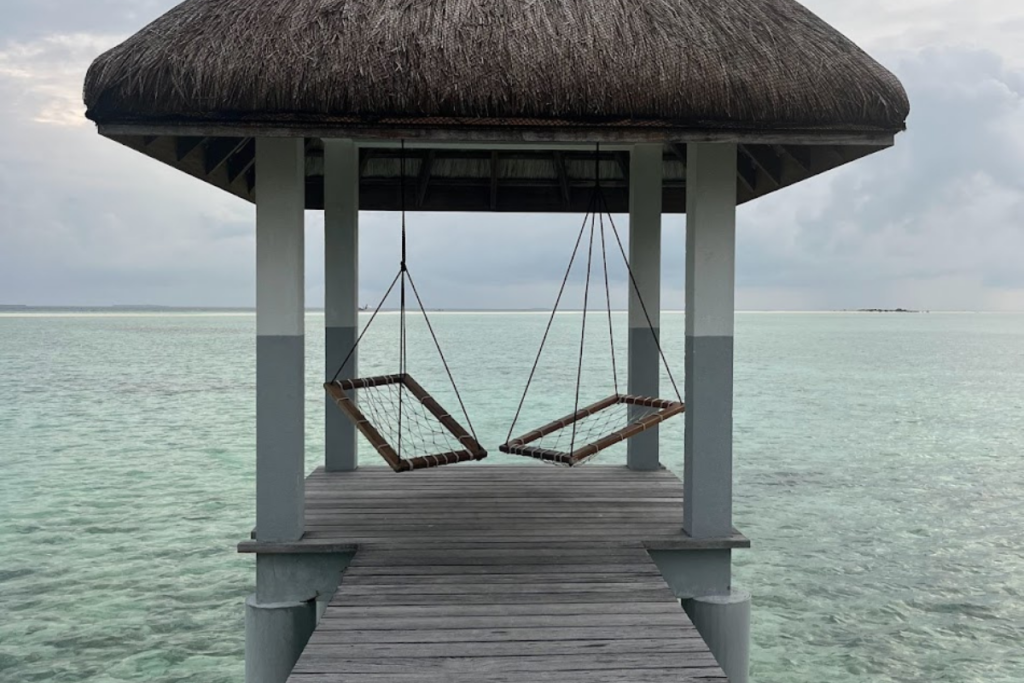 Pervasive throughout is the Four Seasons commitment to operate honestly and ethically to preserve the environment with an emphasis on the ocean and underworld. They are passionate about the island and the marine habitats to the extent that there are no plastic bags, utensils, bottles, or wrappings anywhere on the resorts. The biggest of the conservation projects is the Reefscapers coral propagation project where the teams have built more than 5,000 coral frames to restore and increase coverage and biodiversity. A vacation at Four Season Resorts Maldives allows you to support the natural and cultural history and traditions of the Maldivian people with the properties recycling programs, electric vehicles, solar energy, and its own water bottling. They also offer hospitality apprenticeships and support local health initiatives as well as programs to support the local crafters making lacquer and performing on the drums.
Room rate starting from $1,700 USD per night for a premier ocean front bungalow. Booking can be done by email reservations.mal@fourseasons.com or by phone +960 6600 888
FOUR SEASONS RESORT MALDIVES AT KUDA HURAA
From arrival at the Male International Airport you are whisked by private boat for a 20-minute ride to the resort dock in the North Male Atoll. The 96 beautifully appointed beach, garden, and over-water villas have thatched roofs, timber floors, and lattice panels with teak and tropical vibes. Amid the lush gardens of the lagoon, every room has a private pool and sunrise or sunset views.
The spa at Kuda Huraa is on its own private island, reached by a two minute Dhoni boat ride from the hotel dock. Every spa room is set over the water so you are hearing the waves gently crashing and you are gazing at the underwater world below. The signature service is the Healing Waters Spa Full Body Therapy performed lying face up on cushions of warm water where mineral-rich seagrass from the resort's own lagoon lull you into tranquility. You can also indulge in the night spa experience which includes a body wrap, a massage, and facial treatment on a private beach beneath the stars.
Scuba divers and snorkelers have access to more than 35 nearby sites that make the Maldives Kuda Huraa a dream underwater destination. There's also boating, dolphin cruises, fishing, kayaking, wakeboarding, water skiing, jet skiing, water toys, and windsurfing. But Kuda Huraa's true distinction is surfing. You can learn to surf starting in the lagoon then move to the ocean or hone your skills in what are known as the best waves in the world. The resort hosts an annual invitation-only surfing championship event with legendary surfers competing in what has been hailed as some of the most consistent waves on the planet.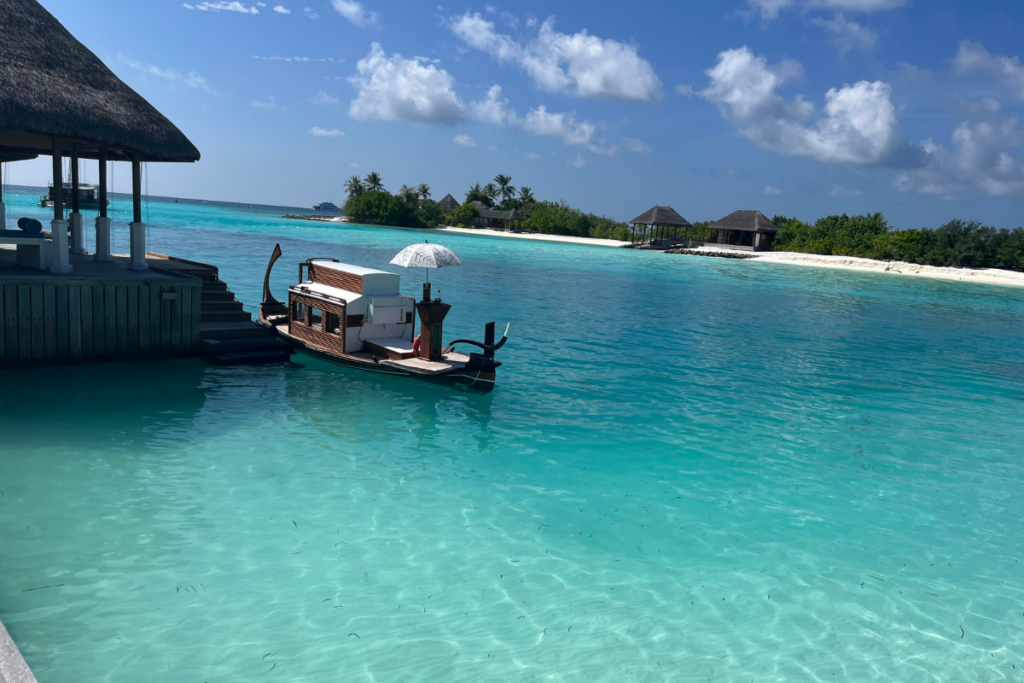 The hotel also has an infinity edge freshwater pool with a swim up bar, tennis court, and excursions including private islands tours, Maldivian village visits, and touring the capital city of Male.
Restaurant Baraabaru is one of the best restaurants on the island, featuring cuisine of northern and southern India. It is just one of the four restaurants, poolside bars, and sunset lounges onsite. You can opt for in-room dining or indulge in a private dinner under the stars at a variety of romantic spots around the island. I was alone on this trip and we all know dining alone garners sympathetic looks and awkward moments but it also allows you to escape the small talk, enjoy your meal in peace, relish in your own company, enjoy people watching, and in this setting in particular to truly appreciate the beauty surrounding you. There's a sense of freedom and accomplishment in dining in a restaurant alone and whenever I do it I feel more confident, bolder in other decisions, and an overall stronger person.
THE FOUR SEASONS RESORT AT LANDAA GIRAAVARU
The Four Seasons Resort At Landaa Giraavaru features 103 beachfront and over water villas each with private pools on the site of a former coconut plantation in the Baa Atoll and UNESCO biosphere. The villas are a blend of traditional Maldivian thatched roofs and coral walls and a more contemporary style with high ceilings and generous outdoor living. The beach villas feature lush indigenous foliage and the water villas have seating and lounging options to include over water hammocks and mezzanine lofts with even more ocean views. There is a kids and young adults club, olympic-size swimming pool, state of the art fitness center, and a mix of water sports (even x-blading). Because Landaa Giraavaru is much larger than its sister property, upon arrival you are assigned a bicycle as an optional way to get around the resort.
The four restaurants and bars feature fruits, herbs, vegetables, and orchids from the resort's own gardens The premiere restaurant Blu offers Italian cuisine and as part of an ongoing collaboration, two Michelin-star Italian chef, Gaetano Trovato, is in residence two times each year creating a new menu which then continues year round.
The hub of resort life is at the Dive and Water Sports Center starting with speedboat trips to the spots where you can snorkel or scuba. The unique Manta on Call program alerts you wherever you are in the resort whenever Manta Rays are in the vicinity (peak season June through November) so you can snorkel among the world's largest known population of rays. The Marine Discovery Center supports many breeding, conservation, research, and rehabilitation programs involving the manta rays, sea turtles, and other fish all managed and led by onsite marine biologists who are doing the research and educating guests inside the center and on excursions.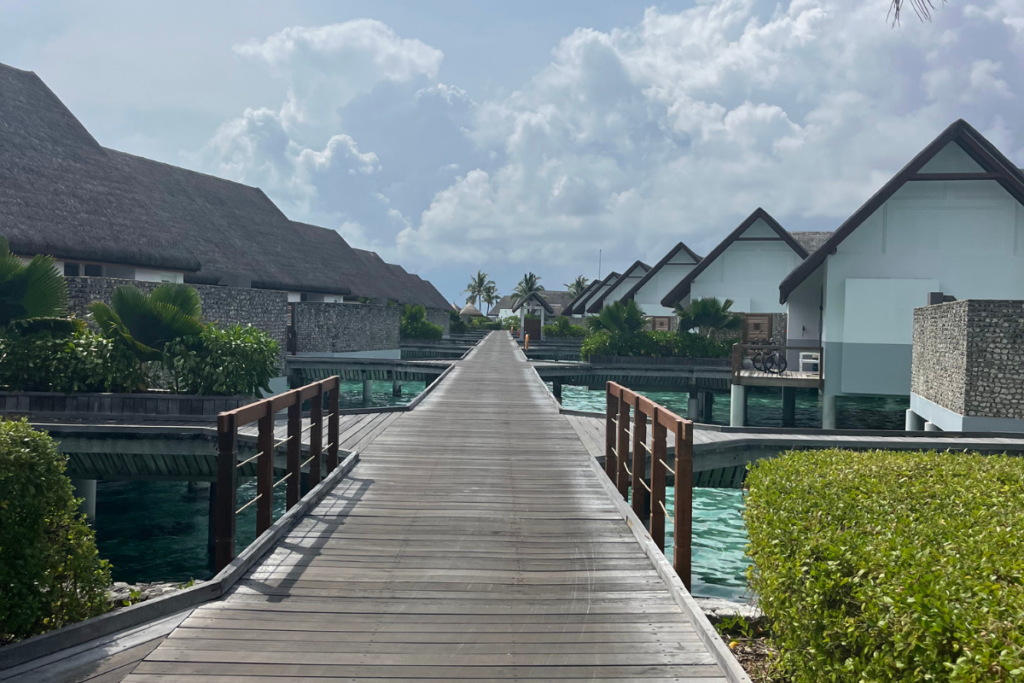 A Maldives vacation cannot be truly complete without including an immersion into Ayurveda, the Indian science of life where mindful self care is the first step to taking care of others and the world. The team of Ayurvedic doctors, neuropathic experts, and yoga therapists offer classes, consultations, immersions, rituals, and treatments in individual sessions or multi-week retreats. The complimentary initial Ayurveda consultation allows you to explain any obstacle that is impacting your life — digestive issues, migraines, muscle pain, poor sleep, spine pain, and then educate you about healing through diet, herbal remedies, and lifestyle modifications meant to optimize your health. It can be as simple as discovering your Ayurveda body type to incorporate the food labeling in the hotel's restaurants and start putting your food health at the top of your priorities list. More deeply, you can find your zen amid the Indian-influenced design and over water treatment rooms or through an aerial yoga experience among the trees to understand your true healing potential. Your program could include acupuncture, a detoxifying mud pack, healing hydrotherapies, or reflexology on your hands and feet.
FOUR SEASONS VOAVAH: YOUR OWN PRIVATE ISLAND
What would you do with your own private island escape? Four Seasons Voavah is a 5 acre, seven bedroom private island resort within the Baa Atoll UNESCO Biosphere Reserve. Just a 40-minute seaplane ride from the capital city of Male, the island includes beach and water villas accommodating up to 22 guests. The beach house includes a dining room and kitchen for personal cooking or private chef. Your private island offers plenty of outdoor sports on the white sand beaches and pools plus its own PADI Dive Center with all the latest scuba and snorkel gear. You can arrange for fishing, surfing, motorized beach toys, activities from treasure hunts to tube rides, and your own 62-foot private yacht for excursions. Indoors you will find a fully equipped gym, pool table, games, and library. There's a spa room over the lagoon, and options for indoor or outdoor yoga. It is a private paradise in a paradise that is fully off limits to everyone but you and whomever you invite to explore with you!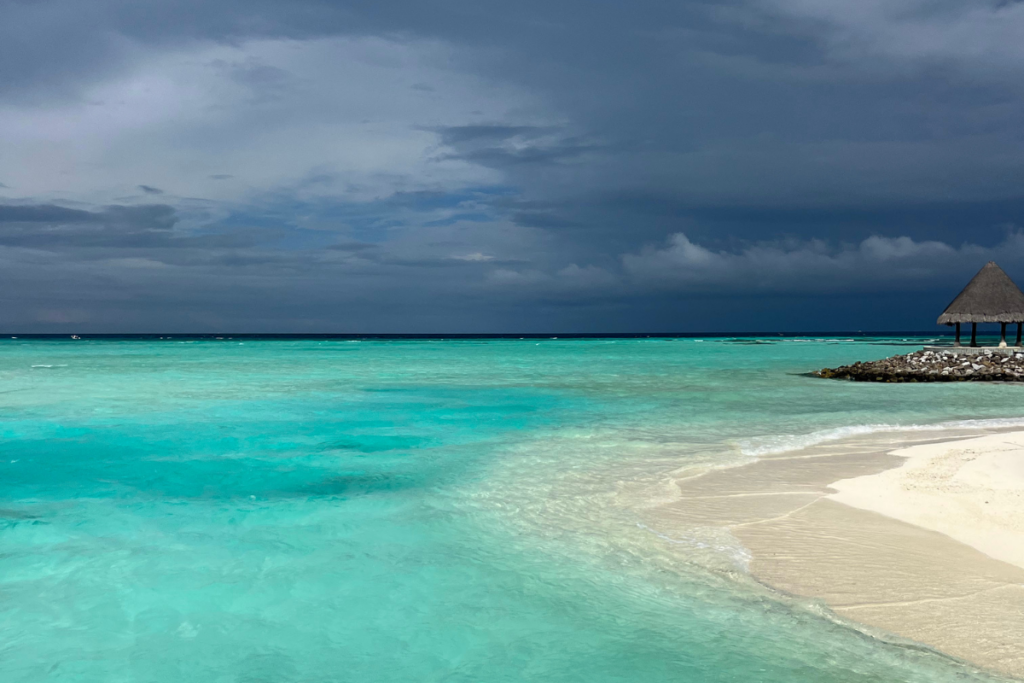 FOUR SEASONS EXPLORER
Four Season Explorer allows you to connect with 3,4,7 night escapes at sea. The fastest cruising live-aboard in the Maldives is a 128 foot three-deck cruiser that holds a maximum 22 guests departing from Four Season at Kuda Huraa on Mondays and the Four Seasons at Landaa Giraavaru on Thursdays. You will experience the same impeccable service with an on board staff of more than 20 to assist with diving and snorkeling, fishing and water sports, spa and yoga at sea, housekeeping, dining and private island visits. The Explorer features its own PADI Dive Center with gear, cameras and a team of instructors including its own marine biologist. Not just for expert divers but snorkelers and even non-swimmers can embrace the experience of cruising the Maldivian islands. Each of the 10 staterooms offer large windows, spacious bathrooms, private bars, and flat screen tv's. The yacht experience includes gourmet dining, a lounge, a library, and of course the Four Seasons service standards. The boat is also available for private charters for dive, surf, leisure, or island hopping cruises.
The Maldives is one of the most sought after destinations in the world and I am thrilled to be able to say "been there, done that" and it's as spectacular as they say.