While tempted many times, I recall — just once — loving a place so much, I spontaneously extended my stay. It was years ago, at an exclusive California spa where I had come to pause, recharge, and transform. Over the course of my week there, I sipped broth, had daily colonics and massages, breathed, steamed, cocooned into the sauna, swam, practiced yoga, and purged ugly toxins from my body. My eye color changed that week — from blue to bluest — and when departure day arrived, I did not want to leave. I had doubt my body would ever again feel so renewed or pure and despite the helpful tools I was given, I was unsure how to re-enter the real world.
Standing now, in the lobby of five-star Abi d'Oru Hotel & Spa in swanky Porto Rotondo, Sardinia — Italy's laidback alternative to the Amalfi Coast — the feeling is similar yet different. After four blissful days here, I do not doubt how to transition back to real life. I simply don't want to.
"Your room is available should you choose to extend," the receptionist, wearing a dress by top Sardinian designer Antonio Marras, smiles. But first Christiano, one of the hotel's super-efficient concierges, steps into action, checking flight availability for the next day. A wide grin and minutes later, he has reissued our tickets to Rome, rearranged our airport transfer, and extended for one more night, our luxurious suite (with two outdoor terraces overlooking the sea).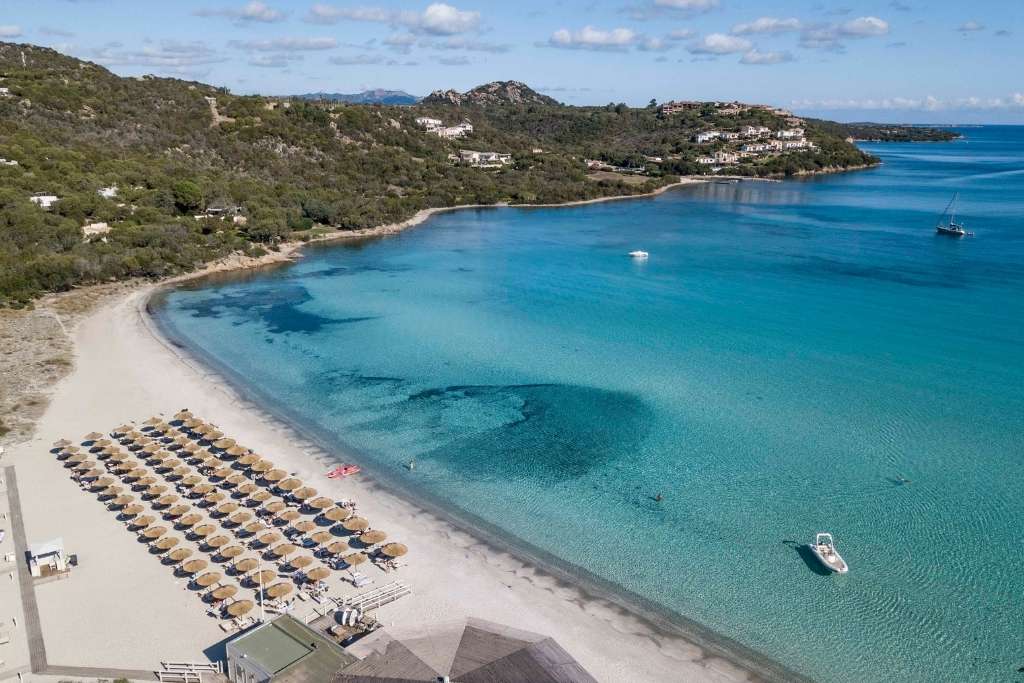 Our only dilemma now is whether to retreat under a private palapa on the beach (home to some of the bluest water I've ever seen), lounge by the pool (que bella) and eat gelato at the pool bar, book another round of spa treatments (featuring local Sardinian products), or return to town (utterly magical with its upscale boutiques and skincare salons, tony marina, restaurants, and cobblestone streets carved with fish). Regardless of the activity, I know with certainty that unlike Italy's beloved Amalfi Coast, there will only be paper-thin (if any) crowds, and unsurpassed natural beauty at every turn: sea, flowers, mountains, and pomegranate trees. Shaped like a loaf of ciabatta and dense with cork oak groves, millennia-old olive trees, pink flamingo sunning on one leg, and brilliant red poppies dancing among ancient Roman ruins, Sardinia — thought by some to be the lost Atlantis — is the very picture of tranquility. It is here that stressed-out Italians come to escape the urban frenzy, and here that Europe's yachting set descends in sensual appreciation of the bluest Mediterranean waters.
Sardinia's Smeralda Coast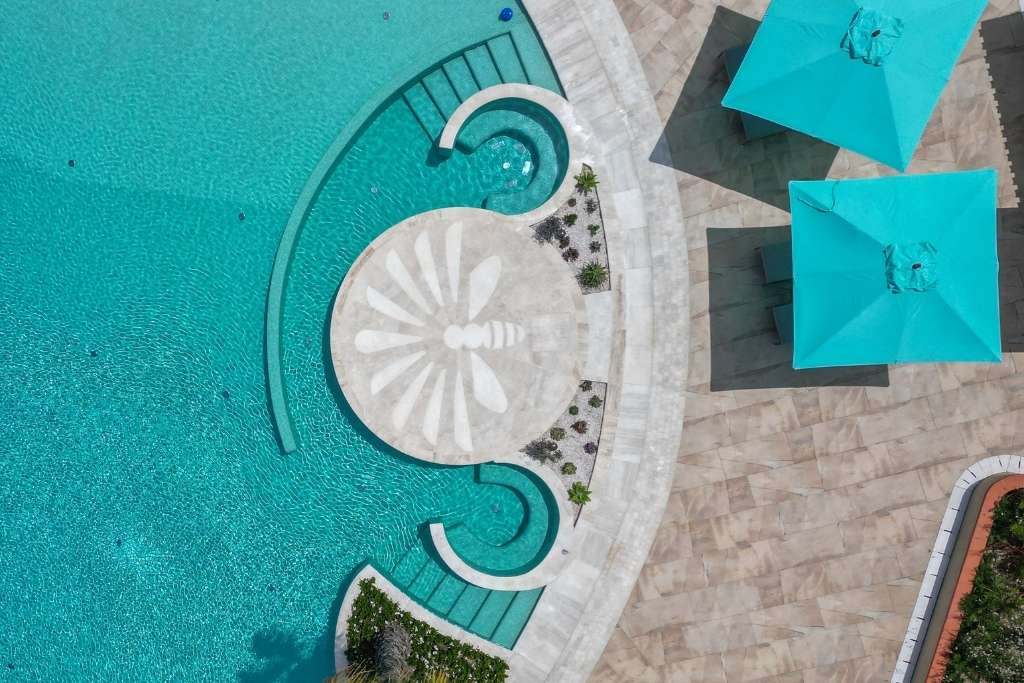 Porto Rotondo (which means 'round port') was developed in 1974 by Count Luigi Donà dalle Rose, a Venetian, and his late brother, Nicolò. A family friend — Count Vitoria Cini, of Venice — intrigued by the Aga Khan's recent purchase of pristine Sardinia coastline (which he named Smeralda), and development of 30-some beachfront acres (Porto Cervo, marked by luxury hotels, an airport, and a yacht club) — wanted to do something similar. Noting he "was too old," he enlisted the young (then just 20-something) Counts to manage "the project" for him. The brothers already knew the island well. As children (in 1949) — long before there was tourism here — their father taught them to navigate the seas, sail, and fish underwater.
While Aga Khan's Porto Certo is today known for its international jet-setting crowd, the Donà dalle Rose brothers' Porto Rotondo — with its upscale fashion boutiques, elevated restaurants, cobblestone streets etched with metal fish carved by artisans, and yachts — attracts mostly Italians.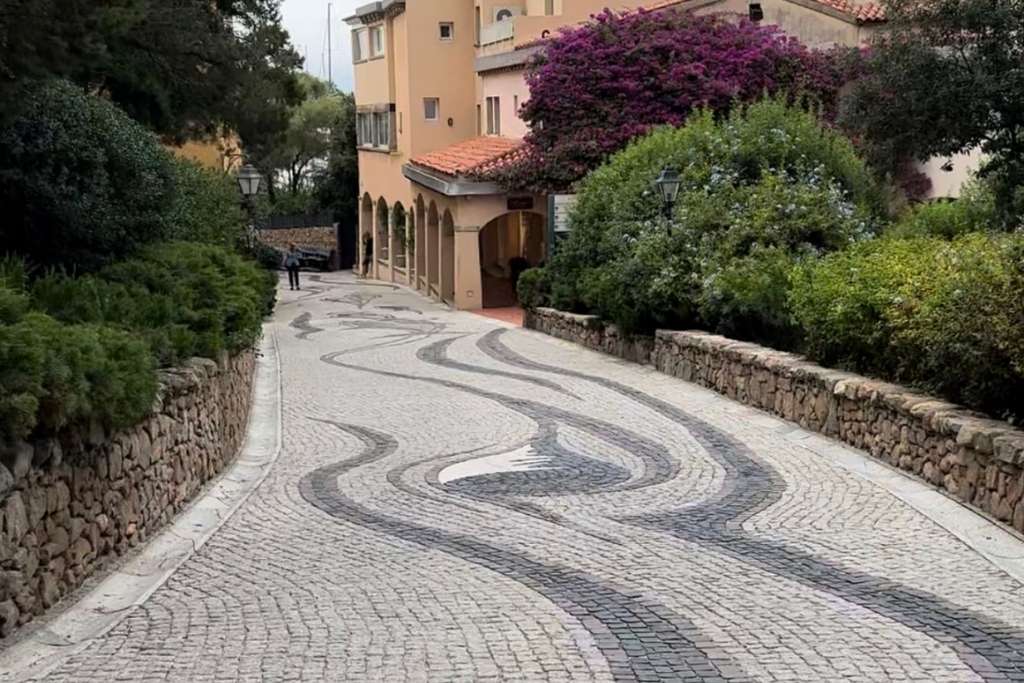 A complimentary town car runs between the charming harbor town and Abi d'Oru Hotel & Spa (a ten-minute ride). Walking or biking to town is also an option. Although to see the beauty of the entire island, renting a car is highly recommended, as is chartering a boat to explore the secret coves and beaches. It is on the water and in the steep hilly villages that details emerge as to why Sardinia is home to more centurions, and is one of only four designated Blue Zones in the world.
The Blue Zone
I find some of the answers to Sardinia's storied longevity at Abi d' Oru's impressive breakfast buffet spilling with colorful fruit and fresh-squeezed juices, grains, and farm-fresh organic yogurts and eggs; and later at the beach where elderly couples (some 90+-years-old) wade hand in hand in waist-deep Mediterranean Sea water — walking back and forth, side to side — for hours.
The spa, too, offers glimpses into why Sardinians live to be 100-plus years, with its use of local medicinal herbs, plants, and honey gleaned from the hotel's own bee hives (in Sardinia, Abi d'Oru translates to 'golden bee') in treatments. My Longevity Facial, which includes arm, shoulder, and foot massage, features Cannonau grapes from Sardinia (which contain three times more anti-aging polyphenols compared to other grapes).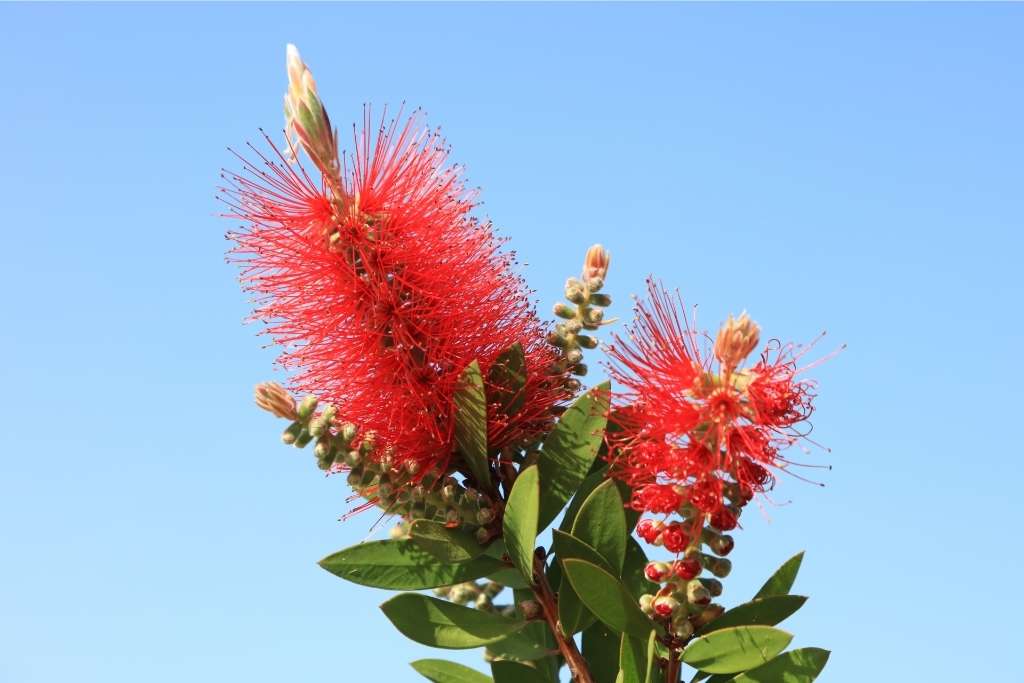 Scientists have long studied (and remain baffled) why people living in certain regions of the world, Blue Zones — Sardinia; Okinawa, Japan; Nicoya, Costa Rica, and Ikaria Greece — live to be 110-120 years old. "No one really knows why," I'm told when I start asking locals the secret to Sardinia's longevity. Although theories abound.
"It's the diet. The buttery pork, the shepherd's cheese, the gelato," says German-born Gaby, who's lived on Sardinia for decades. "No, no," her Sardinian-born friend Carlo counters. "Longevity doesn't come from the cuisine, but from the wine, the sea, the work. Sardinians drink one glass of fine red wine a day. We swim every day in the sea. And we never stop working. All day long, in the open air and by the sea, Sardinians fish, tend to their sheep. Our lives are peaceful. There is no stress here."
Surge in Interest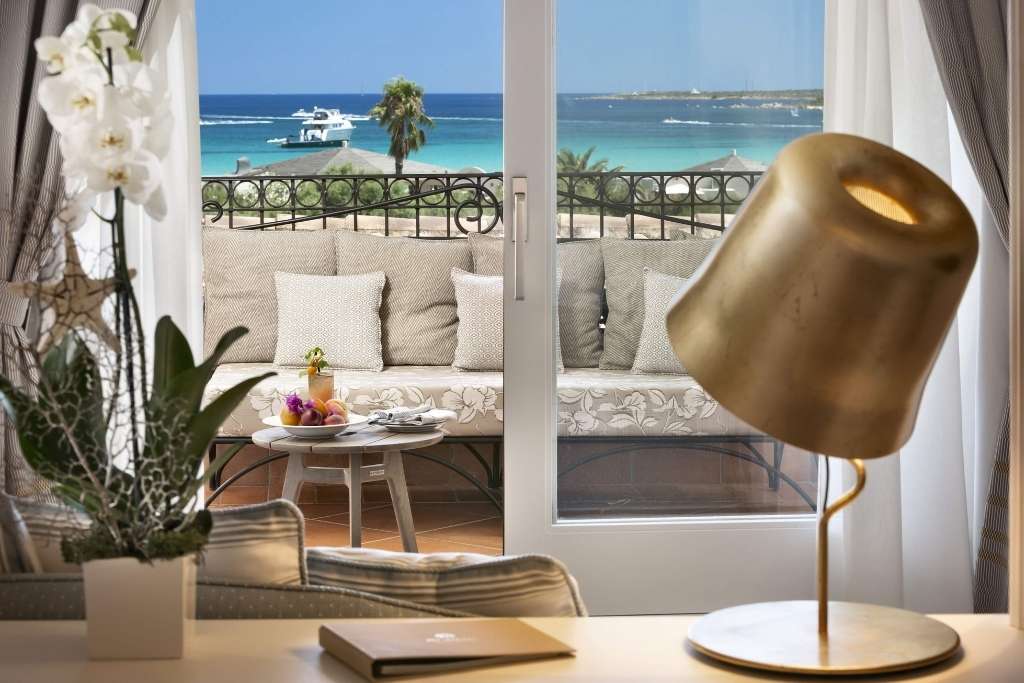 Sardinia's longevity magic — as a wellness haven and respite — came more boldly into the spotlight during the pandemic. Sardinia is Italy's second largest island after Sicily, but its entire population — 1.5 million people — is on par with Sicily's capital city, Palermo. During the pandemic, those looking to get away to somewhere beautiful sans crowds began coming to Sardinia with its fresh air, sea, and sparse population (the country is home to more sheep — 4.5 million — than people). And not only for vacation. Europeans and a growing number of Americans are beginning to buy homes here, many with a plan to retire to the Blue Zone. Luxury hotel brands are also expanding their presence. In 2024, Romazzino (originally conceived by Aga Khan), in Porto Certo, will reopen as a Belmond hotel; Mandarin Oriental is also opening a new hotel (in 2026).
In Porto Rotondo, Abi d'Oru — independently owned and managed by Sardinia's Zuncheddu family — is fresh off its own refurbishment. The hotel's $20 million euro renovation (to be completed by summer 2024) features gorgeous new suites, reimagined rooms, and a fabulous pool — be sure to dip in at night for a fairytale experience. Seven new suites are dedicated to important figures in Sardinian history and culture: writers, artists, designers. The suite inspired by a Nobel prize winner, for example, features her renowned novels; while another comes decorated with ceramic tiles depicting Sardinian costumes designed by a famous illustrator, painter, and ceramist. Throughout the hotel — interspersed with Italian-mod couches and art — guests will find beautifully hand carved wooden doors with typical Sardinian rosettes, traditional Sardinian furniture, and tapestries inlaid with hand-woven pibiones (unique knots in the fabric).
Traditional foods are also on the menu. Marinella, a breezy sea of white tables and decor by the water's edge and known for its local seafood, is the hotel's fine-dining option. Try the grilled Sardinian pink spiny lobster or blue lobster with spaghetti. For more traditional cuisine, Tzia Maria (Tzia translates to "aunt") serves some of Sardinia's most famous dishes: "zuppa gallurese," (roast suckling pig), "culurgiones" (stuffed ink squid pasta), and "seadas" (a dessert of deep-fried cheese raviolo served with the hotel's own honey); while Mediterraneo, as its name suggests, delivers traditional Mediterranean dishes. A cart of creamy homemade gelato — hazelnut, chocolate, limon, berry — properly sealed in stainless steel containers with lids, is also always available by the pool. And where, on our last (extended) day by the Mediterranean Sea, we indulge once more.
Cover image, Courtesy, Hotel Abi d'Oru Beach Hotel & Spa.