When it comes to honeymoons, one size doesn't fit all. Where and how to spend the perfect honeymoon — or any romantic rendezvous — is as unique and varied as the couple seeking it. While one duo may love blue sea waters and lounging under a shaded palm tree sipping cocktails, another may seek high adventure like skydiving or bungee jumping, while another may choose to get lost in an ancient city — Paris, Rome, Barcelona — spending romantic days (and nights) strolling cobblestone streets; savoring art, and architecture,
The word "honeymoon" reportedly surfaced in the 1500s as a term to warn newlyweds about waning love. Today's honeymoon has less to do with that and everything to do with post-wedding relaxation and decompression. For those seeking a honeymoon experience to match their signature couple-dom, we have curated a list of truly unique, small honeymoon hotels, suitable to every type of newlywed traveler. From Italy's dreamy Amalfi Coast to the jungle of Belize to the lesser known side of Greece, we offer some of our favorite honeymoon hideaways.
For True Romantics
Palazzo Avino, Ravello, Italy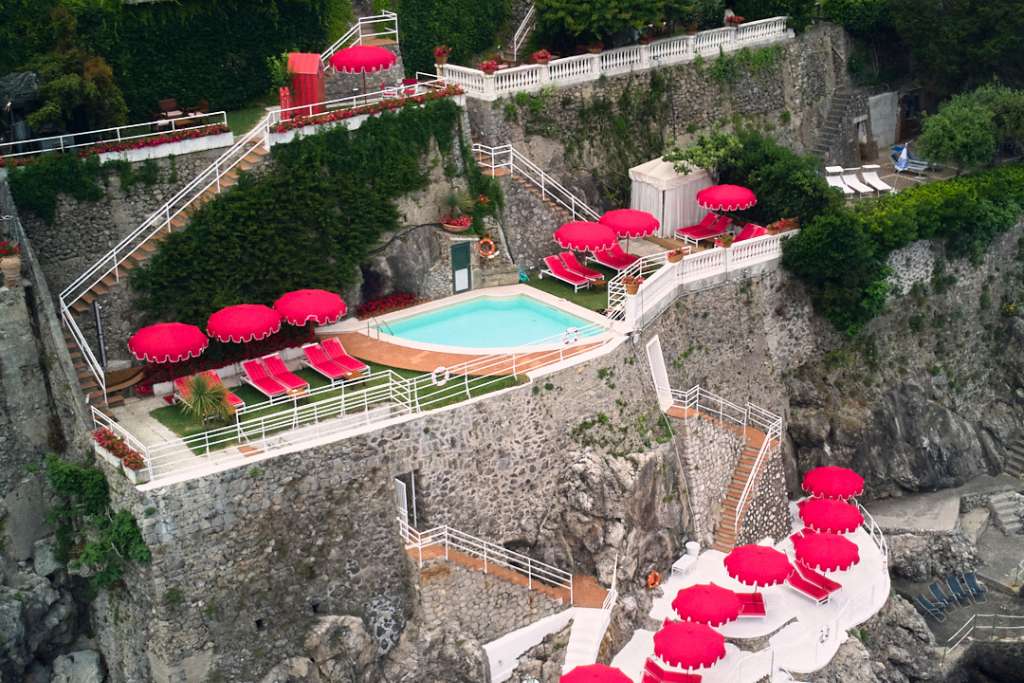 Set high above the Amalfi Coast, the romantic Palazzo Avino, affectionately coined "the pink palace" by locals, was constructed in the 12th century as part of Ravello's aristocratic quarters. Meticulously restored, and transformed into a hotel (in the late '90s) by Giuseppe Avino, the namesake property is now operated by his three daughters, Mariella, Attila, and Mariavittoria. The sisters, who grew up in the hotel, have (once again) breathed new life into the historic palace — updating the experience with the introduction of signatures like a cocktail menu of 100 martinis, cosmetic line, and most recently a collaboration with fashion icon Valentino. Couples will love the romantic and seemingly endless sea views and manicured terraced gardens, the tiled pool, romantic rooms. But the star of the stay is dining at the one Michelin-star restaurant Rossellinis.
For Nature Lovers
Itz'ana Resort and Residences, Belize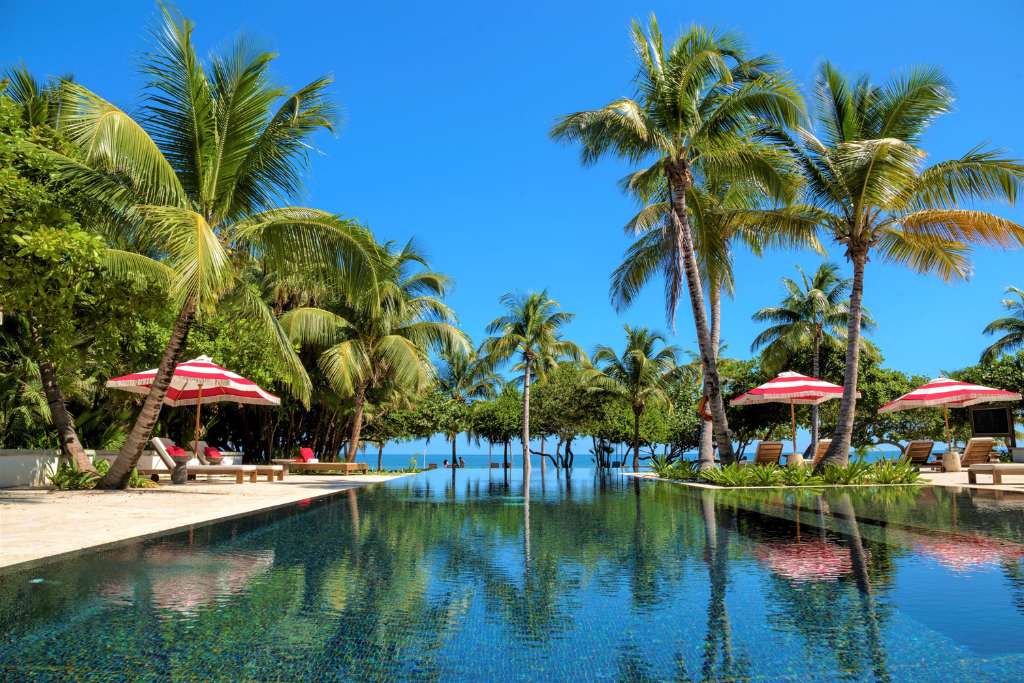 Reef meets rainforest at Itz'ana Resort and Residences, a 20-acre hideaway in Placencia. Look for the Caribbean Sea on one side, turquoise lagoon on the other. Conceived by New York interior designer Samuel Amoia, and Boston-based architect Roberto de Oliveira Castro, this sweet 42-room pays homage to its tropical setting with an evocative color palette, locally sourced materials, and hand painted murals by artist George Venson, founder of wallpaper company Voutsa. Honeymooners will love a guided snorkeling tour to the Belize Barrier Reef (the largest in the northern hemisphere, and second largest in the world) to swim with sea turtles, nurse sharks, and multi-colored fish. Return to relax by the pool, or on a plush lounger on the beach, and end the day over local Garifuna cuisine and handcrafted rum cocktails at Limilia, the resort's signature restaurant.
For Urbanites
Le Bristol Paris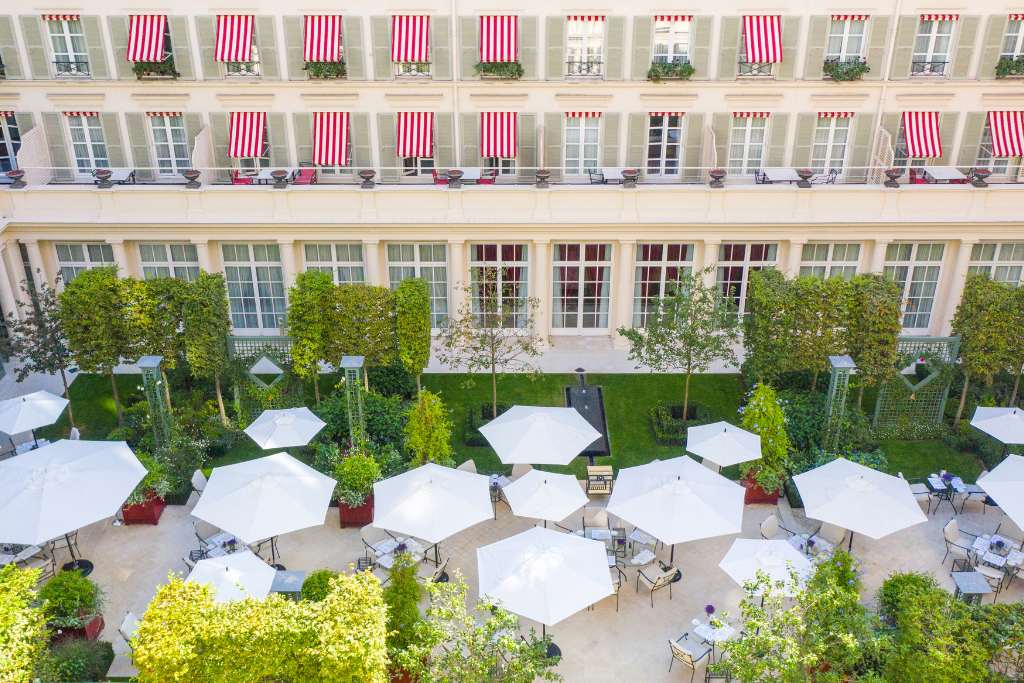 Paris is Paris. It doesn't have to do anything but be. Every inch of its DNA breathes romance. While there are a plethora of romantic Parisian hotels, we adore (for our honeymooners) Le Bristol Paris, the city's first palace hotel. Still family owned, the property, signature in its red-and-white awnings, elegantly lavish interior, and postcard-perfect locale on one of the city's most prestigious addresses (rue du Faubourg Saint-Honoré) conjures every romantic image of Paris. Wander the streets, stroll the Seine, or never leave the Honeymoon Suite which overlooks the Eiffel Tower, Les Invalides, and the Grand Palais. Except of course, to savor a romantic dinner by triple Michelin-starred Executive Chef Eric Frechon at his pasta laboratory, Il Pastificio. The stay in the suite also comes with butler service.
For Foodies
Villa Spalletti, Rome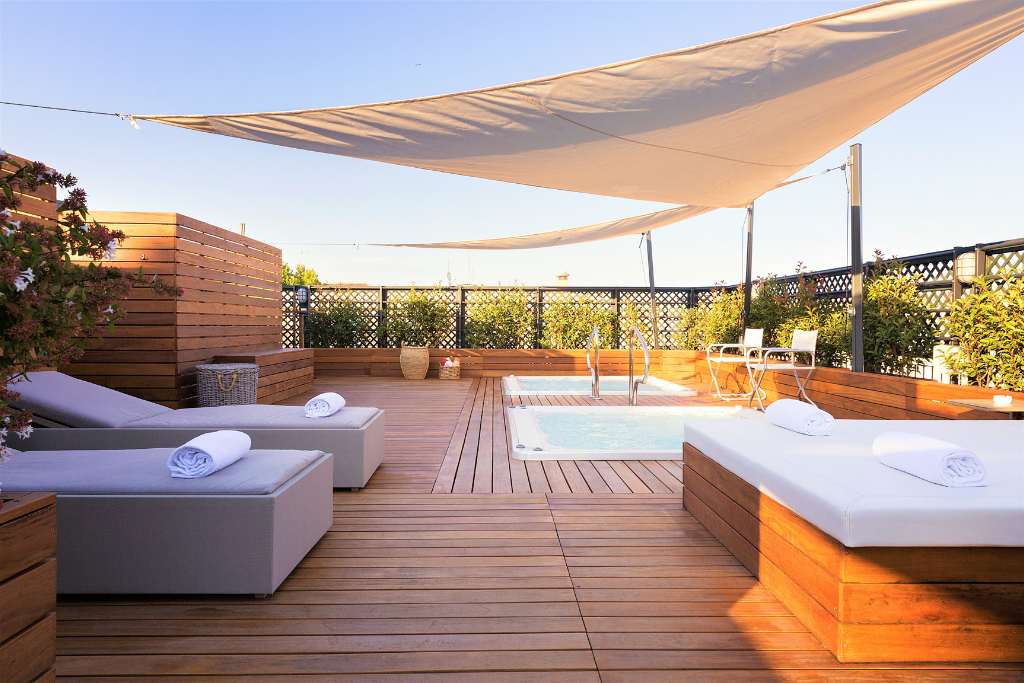 The Eternal City overflows with culinary (and architectural) delights, making it easy for honeymooners to eat their way through the city. One of our favorite VIP food tours — with Lauren Caramico — guides travelers along cobblestone streets to taste-test gelato, pizza, and oversized aperol spritzes. But for a deep-rooted immersion into Rome's culture and culinary perfection, book into Villa Spalletti Trivelli, an elegant, early 20th-century villa owned by an Italian aristocratic family. Each of the villa's 17 guest rooms and suites is individually appointed, as if in a private home, and set within a tranquil and stunning garden. Relax on the rooftop terrace, complete with hot tubs, bar, and apertifs, before an authentic Italian dinner in the sala, the villa's original dining room, where the Spalletti family recipes are still served.
For Art History and Architecture Lovers
Imaret Hotel, Greece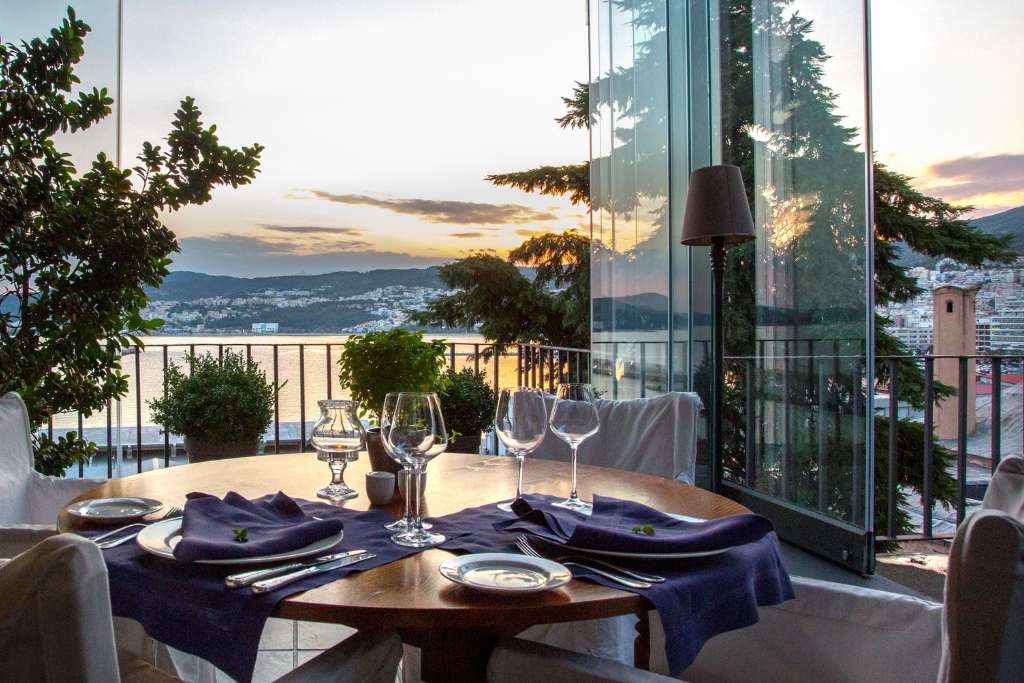 A masterpiece showcasing 19th-century Ottoman architecture, Imaret Hotel served as a school, a soup kitchen, and shelter for refugees before its incarnation as a luxury hotel. Unknown to most honeymooners, this oasis of tranquility is resplendent with fragrant gardens, marble arcades, fountains, and orange trees. Interiors are lavish, transforming from rich velvet and silks (in winter), to elegant handmade French linen (summer). Suites feature sunken tubs, Egyptian chandeliers, and marble bathrooms, some overlooking the Bay of Kavala. A soothing spa is housed in the original hammam. Walk from the hotel to the ancient Castle of Kavala for stunning sea and city views. Explore the historic downtown before returning for a relaxing dip in the pool and cocktails in the glass bar. Garden enthusiasts will want to visit the restored gardens at the Mohammed Ali House museum, blooming with roses, oregano, lavender, and splendid flora attracting hundreds of nomadic bees.
For Adventurers
Eleven Deplar Farm, Iceland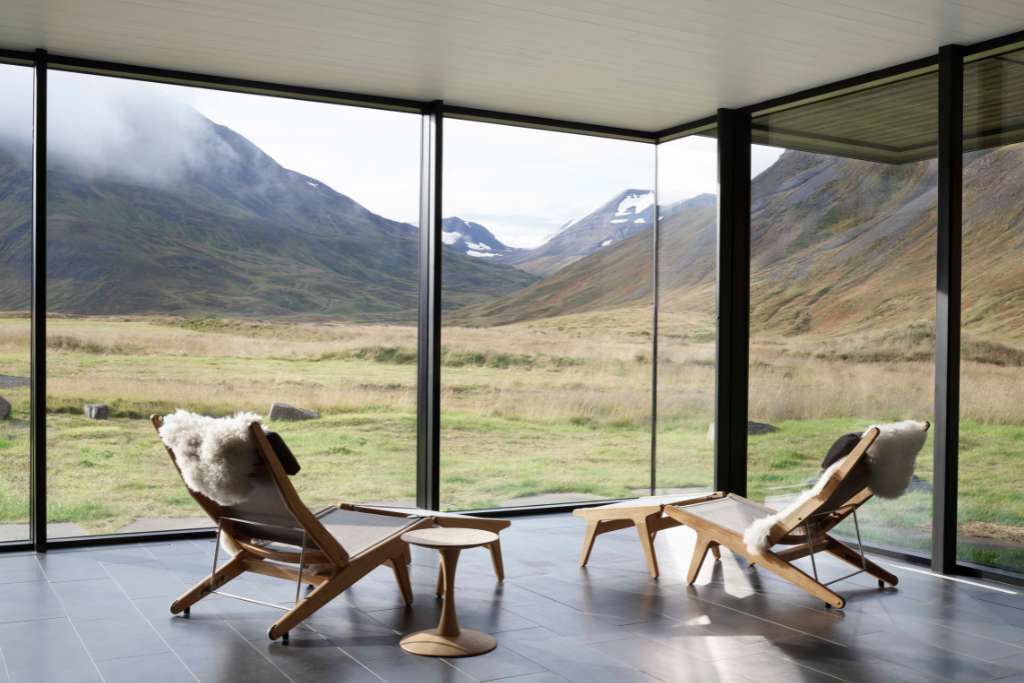 Located in northern Iceland, on Troll Peninsula — home to more sheep than people — this stunning small hotel accommodates only 32 guests. A converted sheep farm, Deplar Farm features a living roof and floor-to-ceiling windows enveloping guests in otherworldly landscape views. Spend days fly-fishing, hiking, horseback riding the island's famed Icelandic horses, or blissfully in the spa — hopping from the geothermal-heated outdoor pool (with swim-up bar) to the hot tub, sauna, steam room, and cold plunge. For ultimate privacy, stay in one of the two secluded cabins located along the farm's eight-mile stretch of the Hölkna River, and prepare for a dazzling night-sky showing of the Aurora Borealis.
For Wellness and Relax
Fontanelle Estate, Tuscany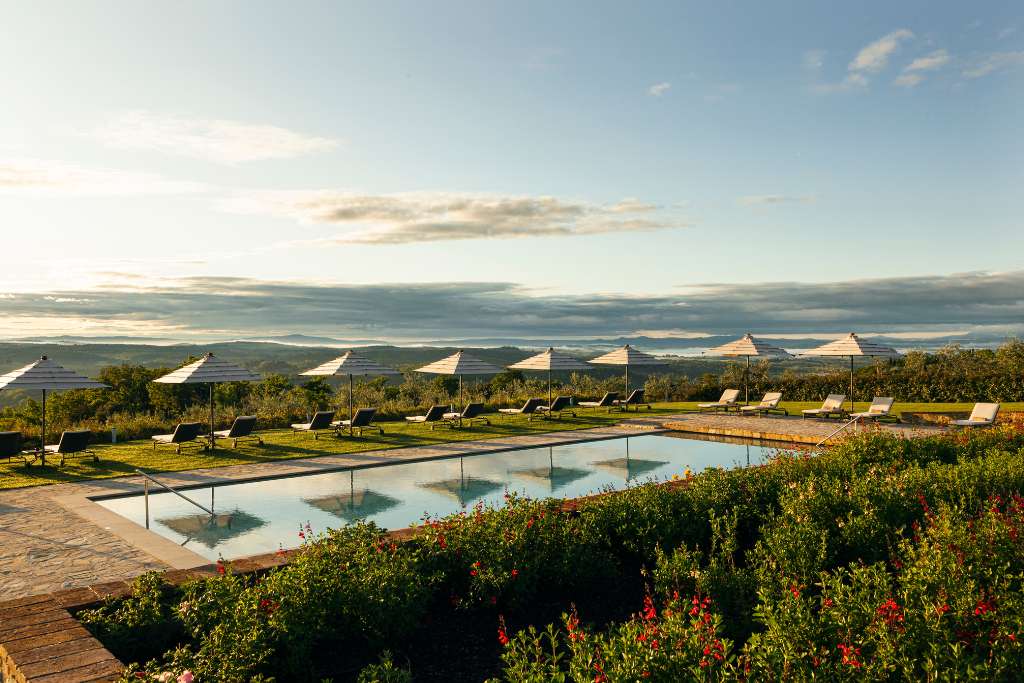 Located in the romantic hills of Castelnuovo Berardenga, the 36-room Hotel Le Fontanelle, the lavish 15-room The Club House, and the Vallepicciola winery offer the perfect settings for wellness and romance. The estate's own love story began in 1999 when Giuseppina Bolfo laid eyes on a 700-year-old stone farmhouse in the hills near Siena. For the decade following, she painstakingly renovated the massive stone structure — building with wood from the region, adding terracotta pavements aligned with Chianti's classic style. Today, the estate — located on nearly 750 acres — is tended by Giuseppina's grand nephew Nicola and wife Phoebe. While there is an ample supply of fine dining and winery — Il Visibilio at The Club House (under the guidance of two Michelin-star chef Giuseppe Iannotti) is known for its 24-dish, 17-course tasting menu; while Vallepicciola produces more than 500,000 bottles of wine annually — the wellness experience (especially for couples) is significant. Relax first in the perfectly curated water circuit, including a tepidarium, Turkish bath and sensorial shower, sauna, and hot tub, before heading for an exclusive couple's treatment. The experience begins with side-by-side footbaths, then massage, with the finale a "Tuscan bath" for two, the tub filled with roses picked from The Club House gardens and laced with salt from a nearby village. 
Cover photo courtesy of Davide Lovatti for Palazzo Avino