As a self-proclaimed art enthusiast, I couldn't contain my excitement as the opportunity arose to travel in the footsteps of the legendary artist Pablo Picasso. While familiar with Picasso's masterpieces, I knew little about the man behind the brush and the places that inspired him. But what intrigued me even more, was the prospect of trying out an art-centric itinerary, where the destinations would be woven together by the threads of an artist's story.
My journey began by delving into the essence of Picasso's life, exploring the significant towns and cities that shaped him across Spain and France. I started in the artist's hometown, Málaga, and continued to Barcelona, where he spent his early years honing in on his artistic skills. From there, I traced his footsteps to the sun-drenched towns of the Côte d'Azur, where he found inspiration from the scenic seascapes. My travels concluded in Paris, a city the artist dedicated a majority of his life to building his legacy.
To no surprise, this artistic pilgrimage did not disappoint and proved to be an exciting and enriching way to plan a trip. Beyond merely retracing Picasso's footsteps, I was left feeling intimately connected to the places that profoundly influenced him. So if you're like me, yearning for a one-of-a-kind and art-filled adventure, embrace this unique travel trend and curate your next trip through the lens of an artist. To spark inspiration for your future travels, follow our step-by-step itinerary that traces the remarkable life of Pablo Picasso, and let this travel blueprint leave you with a new perspective on exploration.
MÁLAGA, SPAIN
Begin your journey along Spain's Costa del Sol, starting in the beautiful port city of Málaga, renowned as the birthplace of Pablo Picasso. The sun-kissed city boasts impressive architecture, meticulously landscaped gardens, golden beaches, and an impressive array of over 40 museums.
What to See?
It seems only fitting to start your trip with a visit to the Museo Casa Natal de Picasso. The museum, located in a 19th-century townhouse perched above the Plaza de Merce, is the original home and birthplace of Picasso. Continue on to the Museo Picasso Málaga, an exceptionally curated museum with over 200 works by the artist.
After soaking in the Málaga art scene, spend the afternoon at La Concepción Historical-Botanical Garden, an enchanting English-style oasis filled with abundant tropical flora and manicured foliage. If you're feeling a bit adventurous, hike up the 11th-century historic Alcazaba fortress, which is well worth the climb for its stunning views. And when it comes to indulging in rich Andalusian cuisine — Málaga's old town is brimming with charming cafes and tapas restaurants where you can satisfy your taste buds, like Illari Vinos y Tapas or El Refectorium Malagueta.
Where to Stay?
Located in the heart of Málaga's historic district, The Palacio Solecio Centro is an impressive 18th-century Andalusian Palace, beautifully renovated to preserve its original Moorish charm and artistic style. Just steps away from the Museo Picasso Málaga, this boutique hotel offers 68 elegant rooms and suites, and an incredible restaurant with locally inspired cuisine crafted by Michelin-starred chef José Carlos García.
BARCELONA, SPAIN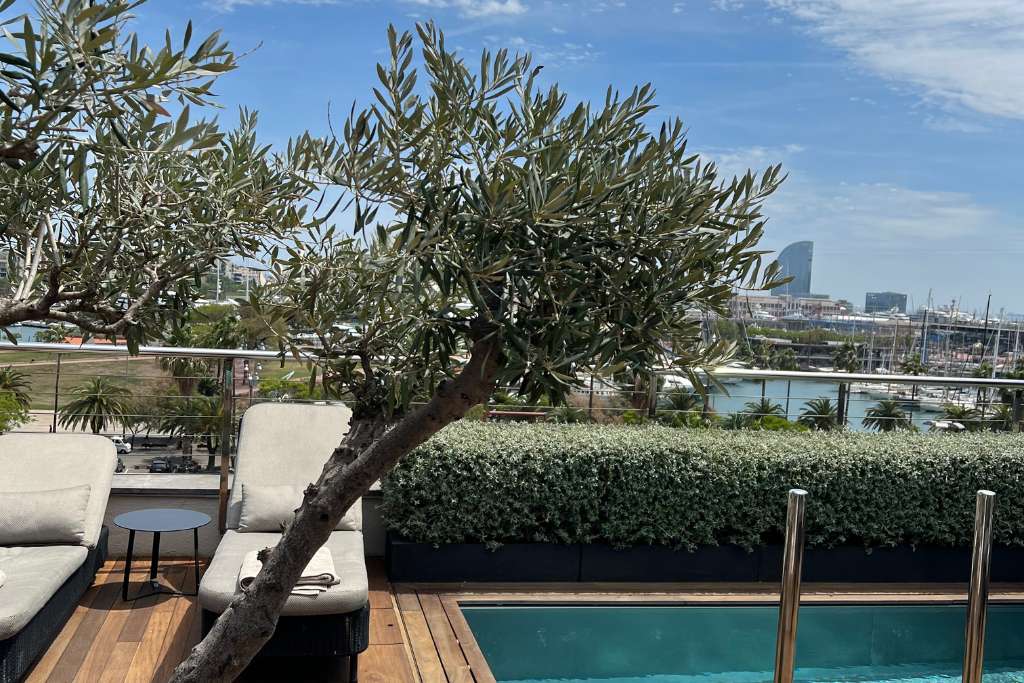 What to See?
Head North up the Spanish coast to Barcelona, a vibrant city brimming with vitality and artistic allure. The Catalonian city holds a prominent role in the remarkable early stages of Picasso's artistic chronicles as a painter. In 1895, Picasso arrived in Barcelona, aspiring to experiment with his inventive style and laying the foundation for his soon-to-be long-lasting legacy.
Trace Picasso's footsteps along the picturesque lanes of the Gothic Quarter, where the artist once roamed, drawing inspiration from the city's architectural wonders and lively atmosphere. Stop for an afternoon coffee at the famous Els Quatre Gats, a historic café where Picasso and other prominent artists, intellectuals, and writers gathered to exchange ideas and host exhibitions.
Delve deeper into Picasso's masterpieces by visiting the Museu Picasso de Barcelona, which features over 4,000 works illustrating Picasso's stylistic evolution and the profound influence the city had on him. And for the ultimate art lover, a drive to the Fundació Joan Miró on Montjuïc hilltop, is well worth the trip. Not only will you be treated to breathtaking city views, but you'll also encounter one of the city's most remarkable collections of art.
Where to Stay?
Experience the artistic ambiance at the stylish Serras Hotel, home to one of Picasso's former studios. This chic boutique hotel offers stunning marina views and even features the rooftop where Picasso brought early works to life, including his famous painting Science and Charity (1897), now displayed at the Museu Picasso de Barcelona.
SOUTH OF FRANCE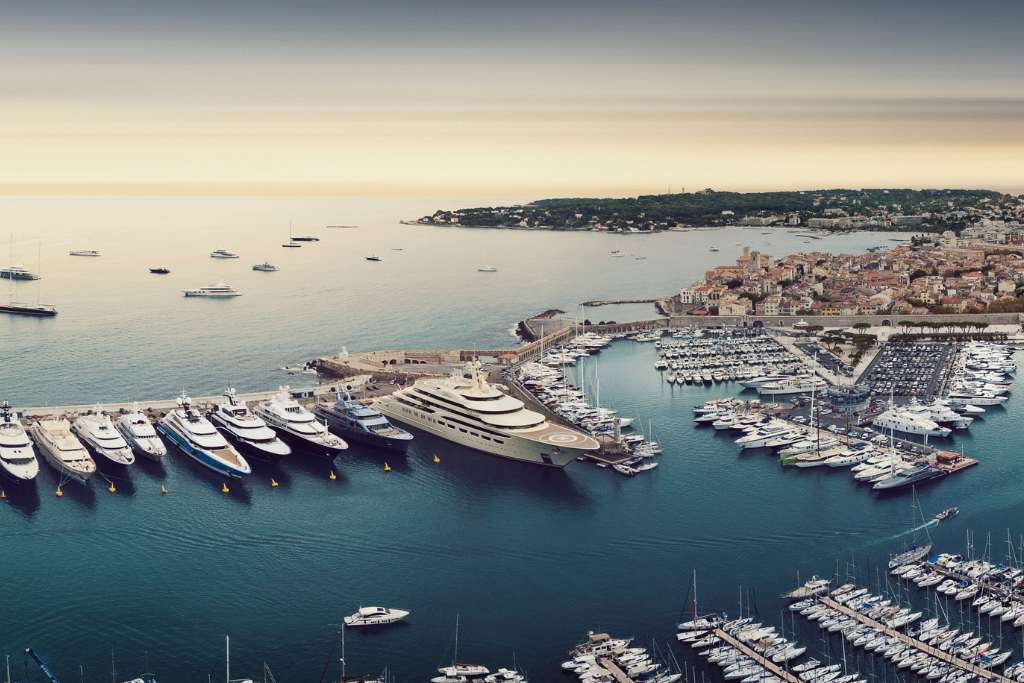 Continue your voyage to the enchanting Côte d'Azur in the South of France. Captivated by the allure of the French Riviera, Picasso found himself drawn to the region as early as the 1920s, escaping to the Mediterranean coast numerous times throughout his career. The entrancing environment profoundly influenced the artist, leading him to spend his final years residing in the hilltop village of Mougin. It's easy to see why Picasso fell under the spell of the radiant coastlines, as there is endless beauty and opulence nestled into each pastel-colored town.
ANTIBES
A short drive from the Nice airport brings you to the coastal city of Antibes, an embodiment of the serene and vibrant essence that defines the South of France. In the aftermath of World War II, Picasso sought solace in the charming old town, making it his temporary home for a few pivotal months in 1946.
What to See?
During his time in Antibes, Picasso took up residence inside the historic Roman fortress Château Grimaldi, where he produced a significant body of work that he would later donate to the town. Today, the transformed Château stands as the Musée Picasso Antibes, a highlight on our list of Picasso museums. This remarkable fortress, with around 245 works by the artist, captures the advancements of his talent and his profound connection to the region, while boasting a stunning outdoor terrace with sea views that will leave you breathless.
Explore the cobbled streets of old-town Antibes and delight in the daily Provencale Market, where tantalizing aromas and a variety of fresh produce, spices, cheeses, and local goods await. Treat yourself to a moment of indulgence at Lilian Bonnefoi, a terraced cafe known for its exquisite one-of-a-kind pastries crafted by the renowned chocolate artisan from l'hôtel du Cap-Eden-Roc.
For a delightful ending to your day, visit The Absinthe Bar, located in a quaint cellar just steps away from the Provencal Market. Housed within ancient walls that trace back to the time of the Romans, this underground bar is steeped in history. As you enter, you'll be greeted by a mesmerizing display of assorted Absinthe bottles and intriguing music memorabilia. Prepare to be transported back in time to an era of nostalgia and enchantment as you sip "the green fairy" poured from your very own absinthe fountain.
Where to Stay?
Tucked in the southern tip of Antibes, The Hotel du Cap-Eden Roc stands as a symbol of opulence and luxury on the French Riviera. With a rich history dating back to 1870, this iconic hotel has maintained its status as a favored hotspot of artists, writers, and celebrities, attracting the likes of Picasso, Fitzgerald, and Hemingway. This charming historical gem spreads across 22 flawlessly landscaped acres. It features a remarkable restaurant with unparalleled views and a heated saltwater pool, which has served as the backdrop for numerous Slim Aarons photoshoots.
VALLAURIS
For true art aficionados, Vallaruis is an unmissable stop on your way to Mougins. Here, Picasso experimented with the medium of clay and began to expand his artistic practice starting in the late 1940s. However, what truly sets this place apart is the remarkable masterpiece, War and Peace, painted by Picasso in 1952. The large-scale mural adorns the walls of the 12th-century Romanesque chapel, just next to The Ceramic Museum. Picasso's masterful techniques are brought to life in this vibrant and timeless anti-war fresco.
MOUGINS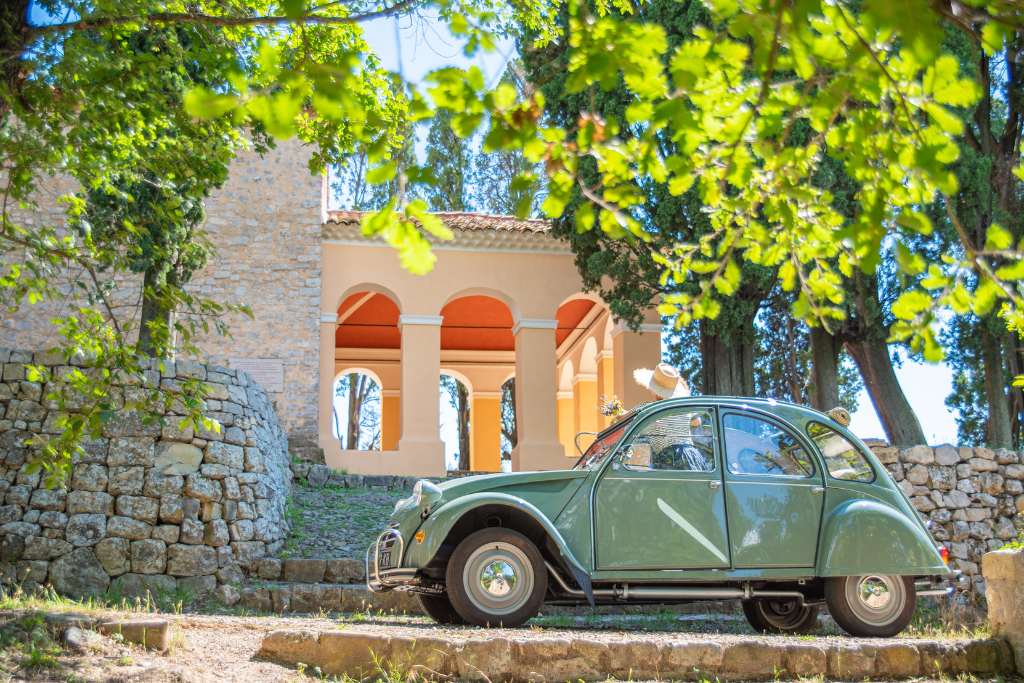 Perched just above the bay of Cannes sits the picturesque town of Mougins. A medieval town that has long been a haven for creative minds over the years and has attracted renowned figures like Yves Klein, Man Ray, and Jean Cocteau. Beginning in the summer of 1936, Piccaso began to frequent the hilltop village, finding solace in the tranquil surroundings. The artist spent the final 12 years of his life in his 35-room property, Notre Dame de Vie, until his passing in 1973. His presence in Mougins has left an everlasting artistic mark that continues to influence and inspire the local community to this day.
What to See?
Today, Mougins stands as the epitome of a luxury art destination, seamlessly blending French charm with artistic flair. Its narrow, winding streets and scenic landscapes create an enchanting atmosphere. Art is woven into the town's fabric, with large-scale outdoor sculptures adorning the streets and a wealth of galleries that dot the town.
Pop into the Musée d'Art Classique de Mougins (MACM), which is home to a remarkable permanent collection of works that will transport you through the ages, from ancient Egyptian, Greek, and Roman artifacts to works by Matisse, Picasso, and even Andy Warhol.
Beyond its artistic legacy, Mougins has earned its reputation as a culinary paradise. Treat yourself to an extraordinary dining experience at L'Amandier, a restaurant founded in 1969 by the legendary French chef Roger Vergé. Secure a table on the second-level terrace where you can savor your meal while basking in the awe-inspiring vistas of the rolling hills.
Where to Stay?
Nestled in the heart of the town's charming spiraled streets, you'll find the sophisticated hotel, Mougin Luxury Retreats. Choose from rooms with stunning pool views or authentic village suites with multiple bedrooms, perfect for families, couples, or friends seeking a refined stay on the French Riviera.
PARIS
Wrap up your journey in the cultural epicenter of Europe, Paris. The city served as the main catalyst for Picasso's stylistic evolution, propelling him toward international recognition. While Spain remained his homeland, it was in Paris where Picasso spent a significant portion of his life. Arriving at the artistic hub in the early 20th century, Picasso immersed himself in the bohemian ambiance, avant-garde movements, and vibrant culture that filled the city's streets.
What to See?
Naturally, your Parisian adventure begins with a visit to the Musée Picasso-Paris. Located in the historic Marais district, this remarkable museum is housed in the grandiose Hôtel Salé, showcasing a collection of over 5,000 of the artist's works generously donated by Picasso's heirs. Over the years, the collection has expanded with remarkable acquisitions and contributions from Picasso's family and friends, making it a true treasure trove of artistic masterpieces.
After the museum, take a leisurely stroll through Montparnasse, a bohemian neighborhood in the 14th arrondissement known for its cafes, bars, and studios. Experience the Années folles ambiance once enjoyed by Picasso, Cézanne, and Hemingway by sitting on the shaded terrace of historically famous cafes like La Closerie des Lilas, Le Dôme Café, or Café de la Rotonde.
Where to Stay?
For timeless Parisian charm, a stay at the stylish hotel Château Voltaire is a must. Its central location places it just a stone's throw away from the iconic Place Vendôme, allowing guests to explore the city's renowned attractions easily. Château Voltaire is a delightful retreat for travelers seeking both sophistication and convenience in the French capital.
Cover photo courtesy of Mougin Tourisme