When I was growing up, I had a friend who often brought me on her family vacations. Most were long weekend excursions and always, it seemed, involved wildlife. I remember, in the wilds of Virginia's Shenandoah Valley and Blue Ridge Mountains, trying (and being sharply reprimanded by her parents for doing so) to lure a black bear and her cubs to our cabin deck with fresh berries we'd picked. One of my most memorable animal encounters with her came not in the forest, but the seashore when we spent time in Chincoteague (Virginia), and Assateague (Maryland) Islands. Both avid readers, my friend and I had devoured Marguerite Henry's Newbery Medal-winning book, Misty of Chincoteague, and her parents (college professors) rewarded us with a trip to the watery town and national park where the wild ponies run free. Our outing to Assateague was rife with mosquitos but I didn't care. I put on long (striped red-white-and-blue) bell bottoms and watched from the marshes, the small herds of horses. Mesmerized, I wanted never to leave.  I did, of course, but the ponies — some 300 strong — are still there, and today are divided into two different herds. The Maryland horses roam the Assateague Island National Seashore, and are looked after by the National Park Service. The Virginia horses, which graze at Chincoteague National Wildlife Refuge, are cared for by the Chincoteague Volunteer Fire Company. 
Most of the wild horses seen in North America today are said to be descendants of the domesticated herds brought by Spanish explorers in the 16th and 17th centuries. In addition to Assateague and Chincoteague islands, wild horses can be spotted along the east coast in North Carolina and Nova Scotia, Canada; and in the west in Nevada, South Dakota, Montana, and Wyoming. With their powerful legs, and wind-swept manes, they remain a mysterious blend of intrigue and beauty.
Nevada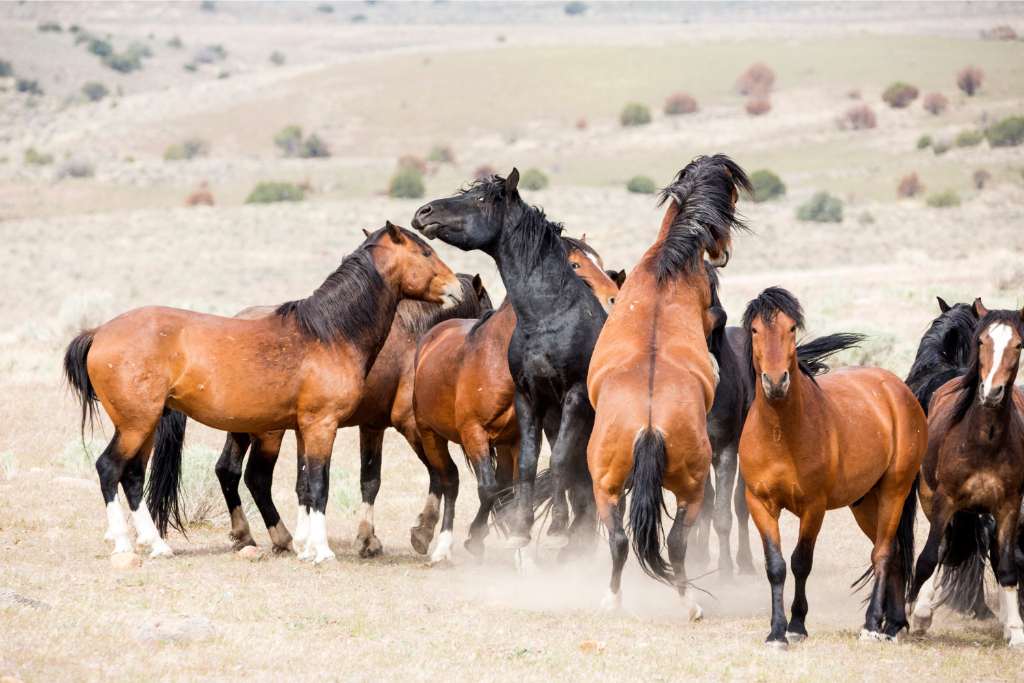 Nearly half of the entire wild horse population in the U.S. resides in Nevada. The largest herd, called the Virginia Range, comprises nearly 2,000 mustangs (translated from the Spanish word mesteño, which means stray horses) and can best be spotted between Reno and Virginia City. Another herd, the Red Rock wild horses and burros, live in the open range of the Mojave desert about 20 miles west of Las Vegas.
Best Stay: Set on over 600 acres of wilderness just south of Wells, Nevada, Mustang Monument ranch is the passion project of American businesswoman and philanthropist Madeleine Pickens, whose personal mission is to protect and preserve the nearly 1,000 rare wild mustang horses that roam the plains. Offered as an exclusive buyout for families, friends, and corporate events, a stay on the ranch includes designer-chic cabins and lavish tipis appointed with leather and plush chairs, hardwood floors, and custom-made beds. Enjoy gourmet meals, plush linens and bath amenities, and personalized, guides tours of the wild horses. Proceeds directly benefit Pickens' Saving America's Mustangs.
North Dakota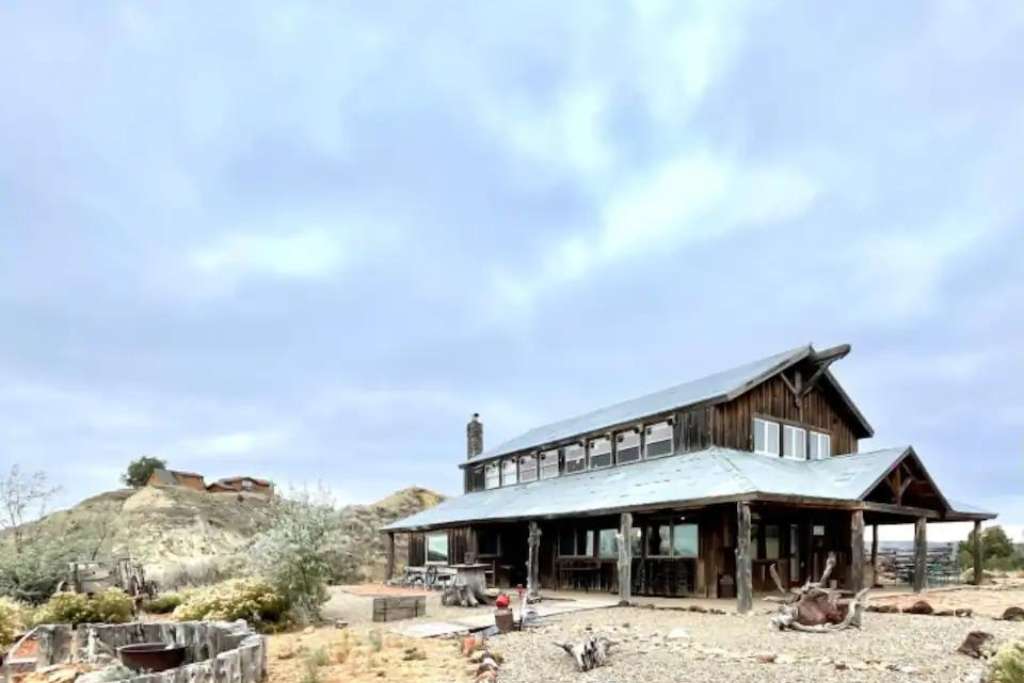 Mustangs are also on view in the Badlands of western North Dakota where up to 200 of the majestic creatures roam Theodore Roosevelt National Park. While the park spans more than 70,000 acres, the herds — which include grays, roans, and pintos — are often visible from the 32-mile Scenic Loop Drive and even from I-94.
Best Stay: This two-bedroom, two-bath cabin directly overlooks the Chateau De Mores, the Little Missouri River, and the state's gorgeous Badlands. It is also just minutes to Theodore Roosevelt National Park, where the wild horses roam.
North Carolina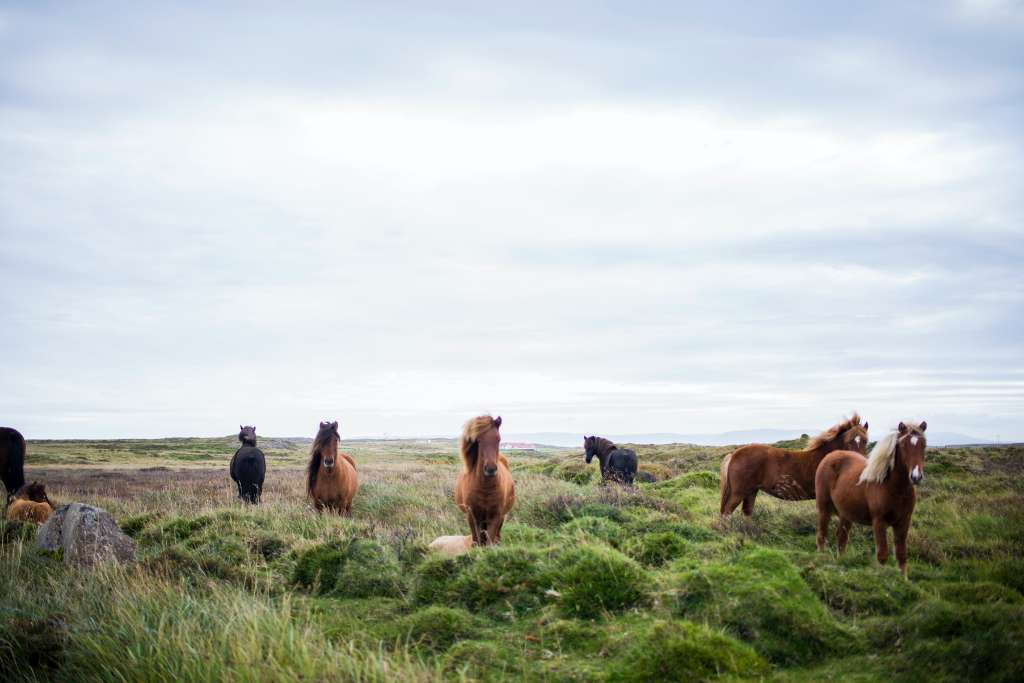 Thousands of horses believed to be abandoned by Spanish explorers used to roam the Outer Banks of North Carolina. Today, fewer than 100 can be found, primarily on the northern Currituck County beaches of Corolla and Carova — accessible only by four wheel drive. Travelers may also visit the Corolla Wild Horse Museum in Corolla village, where proceeds go toward the preservation of the herd.
Best Stay: The entire family will love this uber-private, oceanfront house featuring seven bedrooms and eight bathrooms. Enjoy stunning water views from seemingly every direction, the private walkway to the beach, heated pool, and of course the horses are not far away.
Nova Scotia, Canada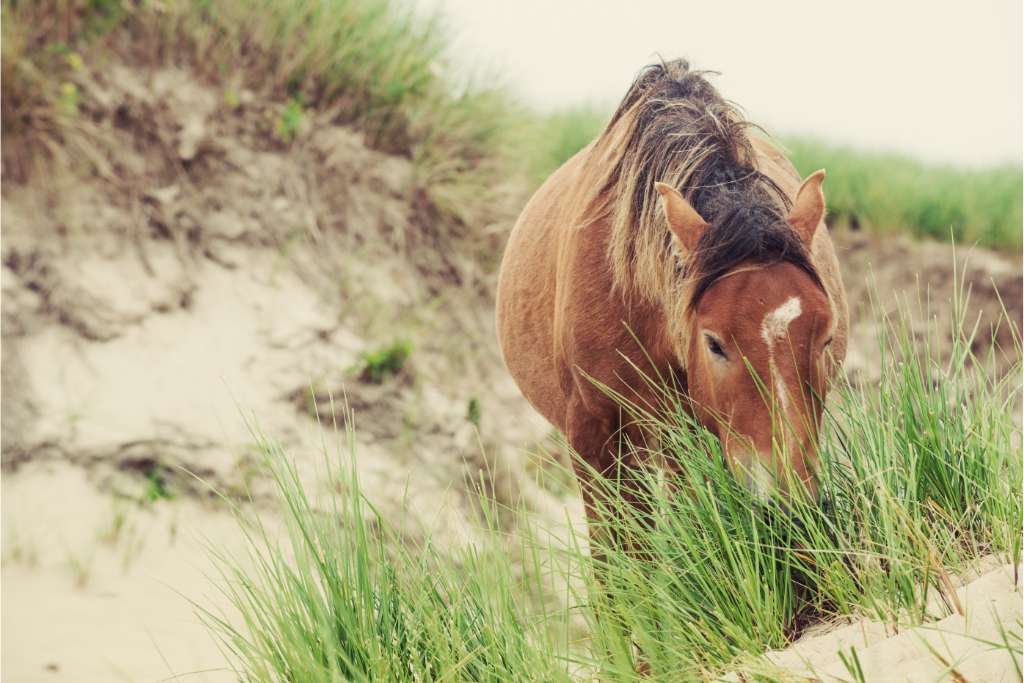 Sable Island, aka The "Graveyard of the Atlantic" due to the more than 350 shipwrecks that have occurred along its shores, lies about 100 miles off the Nova Scotia coastline in Canada. This remote speck of island is home to 500 horses believed to have been introduced in the 1700s and all of which are now protected under the Canada National Parks Act. The horses sport thick, shaggy coats — reflective of their exposed harsh ocean environment — and survive primarily on beach grass, supplemented by beach pea, kelp, and seaweed that washes ashore. The island is also home to the Atlantic walrus, and reportedly the largest breeding colony of gray seals in the world. Travelers can make day trips to the island via a private plane or boat charter, but only a handful of tours are permitted yearly.
Best Stay: Located on the edge of the Halifax waterfront, Muir Hotel aptly resembles a floating ship. The hotel's namesake (Muir) translates to 'the sea' in Gaelic, one of the languages spoken in Nova Scotia. Featuring waterfront views, chic design, a cream and taupe color palette, and tartan throws, the hotel (also home to a restorative spa) offers the perfect base for a Sable Island visit. An exclusive partnership with Kattuk Expeditions offers guests a private Sable Island experience via helicopter. Yes, please.
Wyoming and Montana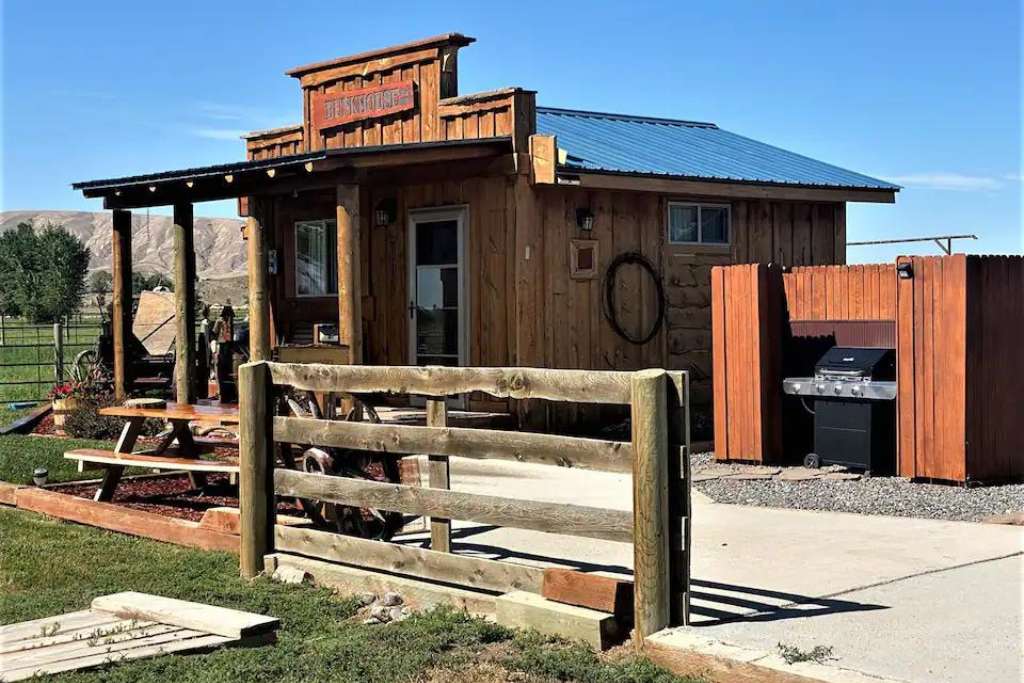 Known as "the island in the sky," the picturesque Pryor Mountain Wild Horse range spans thousands of acres between southeastern Montana and northern Wyoming. The 160 or so horses here trace back to the Lewis and Clarke expedition, and are known for their distinctive markings — long dorsal stripes down their backs, bi-colored manes and tails, and "zebra-like" coloration on the legs. Smaller in size than the average wild horse, they also come in a variety of colors: black, buckskin, roan, and palomino. Visitors are asked to stop by the Pryor Mountain Wild Mustang Center to secure maps, directions (this is Wild West country) and proper etiquette for viewing the horses.
Best Stay: Get your cowboy/cowgirl on with an Old-West style stay at this one-bedroom, one-bathroom private bunkhouse set on a real-life ranch. Located just five miles from the Pryor Mountains (and Big Horn Canyon National Recreation area), the stay comes with mountain views, solitude, and its own (domesticated) horses. Wyoming in all of its splendor.
Virginia & Maryland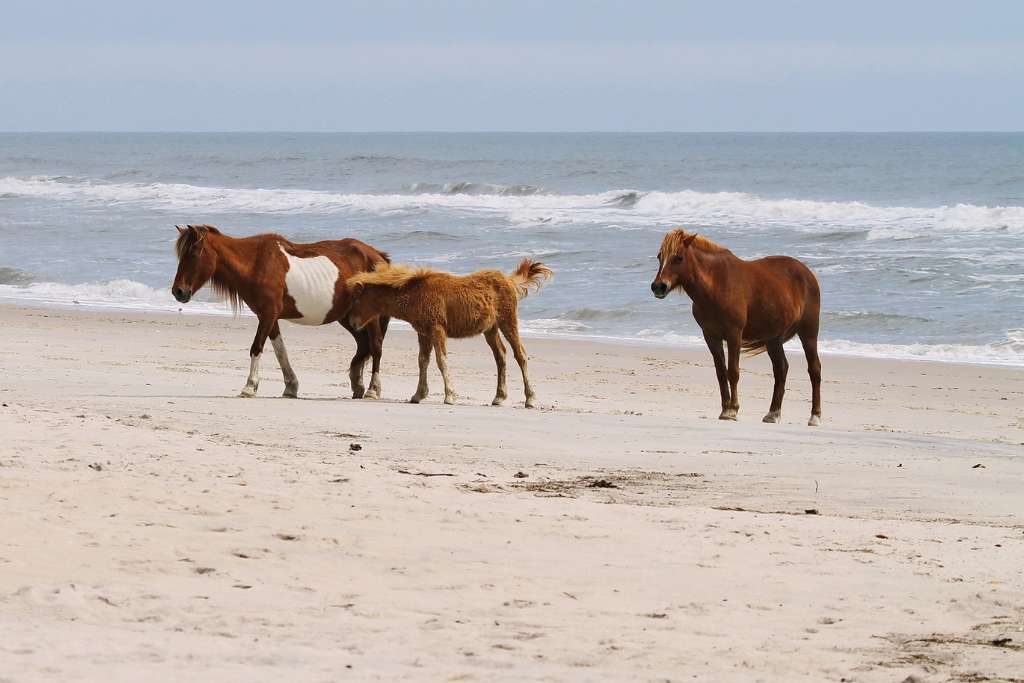 While many tourists descend on Chincoteague the third week of July for the Annual Pony Swim (which marks its centennial birthday in 2025), best viewing of the ponies comes during the off season when the horses are roaming freely in their natural habitat.
Best Stay: Combine Maryland's Eastern Shore with a visit to the Assateague ponies during a stay at the Inn at Perry Cabin in St. Michaels. Overlooking the Chesapeake Bay, the inn is set on 26 acres of gardens, orchards, and wildflowers. Dine on fresh oysters and crabs, slip into the spa for plant-based treatments culled from the hotel's gardens and local farms, and make a day drip (an hour-plus drive) to observe the beauty and magnificence of the famed Assateague ponies. Be sure to wear your bug ointment and favorite bell bottoms.
Cover image courtesy of Joesboy on Canva