"Let's spend the whole day," says my daughter, tossing her law school books onto the table, abandoning her former resolution to study. "The whole day at one winery?" I feign shock, though I'm secretly delighted. We commandeer a car and highjack her boyfriend as the designated driver and take off for a two and a half hour drive through bucolic Virginia, an emerald fantasy of rolling hills and pastoral visions. Red barns occasionally color block the green expanses, as do smatterings of wildflowers. Billowy clouds float through the sky. From the car, we see sheep, cows, goats and horses lolling about in meadows, their placement so stereotypical of sylvan charm, I can't help but imagine them actors paid by Virginia tourism for idyllic effect.
We're wending our way from Fairfax to join up with the Monticello Wine Trail, one of Virginia's dozens of acclaimed wine trails. The Monticello Trail, situated at the foot of the Blue Ridge Mountains near buzzy Charlottesville tempts oenophiles with some 40-plus wineries. Heading to Veritas Vineyards, arguably the star destination on the Monticello circuit, we chat about the fact that wine loving Thomas Jefferson tried (and failed) to grow grapes in this part of Virginia. It was only recently that persistent farmers and winemakers not only succeeded but managed to produce award-winning wines in the Commonwealth. Now capturing the world's wine-loving attention, Virginia boasts eight viticultural regions and 300-plus thriving wineries.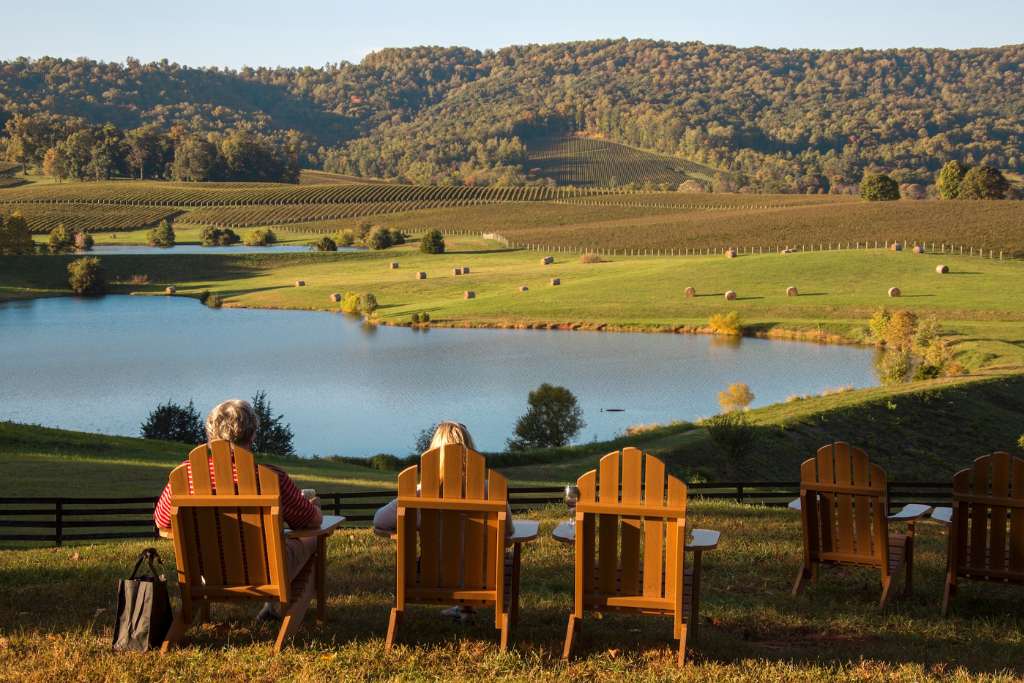 For our study break jaunt, we've chosen family owned Veritas Vineyards, which spreads across some fifty acres, for its hospitable parklike ambiance and stellar wine. Though it offers a menu of epicurean snacks to nibble with flights either in its spacious contemporary tasting room (check out the LOVE art at the bar) or on its expansive porch, Veritas has an understanding of the French concept of art d'vivre that extends to providing guests with a variety of ways to enjoy the winery and grounds. For one thing, they allow kids and dogs, offering a grand lawn that begs for cartwheels and picnics. Indeed, Veritas urges guests to cast a blanket on the grass next to picturesque vines, hang out the sun-dappled brick patio or snuggle amid its grove of trees atop a hill. Staying all day is encouraged, as is bringing your own picnic basket full of food and non-alcoholic drinks (after all, you are here to taste wine, right?). At some point, as we do, you'll want to tour the wine cellar, crush pad and barrel aging room — an expedition that takes about 45 minutes. At the winery, you can try a variety of the labels, wine made from grapes such as Viognier and Sauvignon Blanc, though Veritas has garnered most fame for its Petit Verdot and Merlot. At Veritas, you'll even have the chance to try a Claret, which somehow feels like a nod to Jefferson himself.
If a day at Veritas Vineyards isn't enough (I fully admit to not wanting to leave after multiple tipples and hours of conversation beside the vines), the winery offers a wine hotel option, dubbed the Farmhouse at Veritas. With breakfast and wine hour (hello… winery life), guests have the option of six gorgeous rooms in a circa 1839 homestead. For those wanting to immerse (wine education, cooking classes, Blue Ridge Mountain hikes, yoga and more, the bed and breakfast offers transformative retreats throughout the year, most of them fully booked well in advance.
Below are a few more wineries and wine roads in Virginia to capture your imagination.
Chesapeake Bay Wine Trail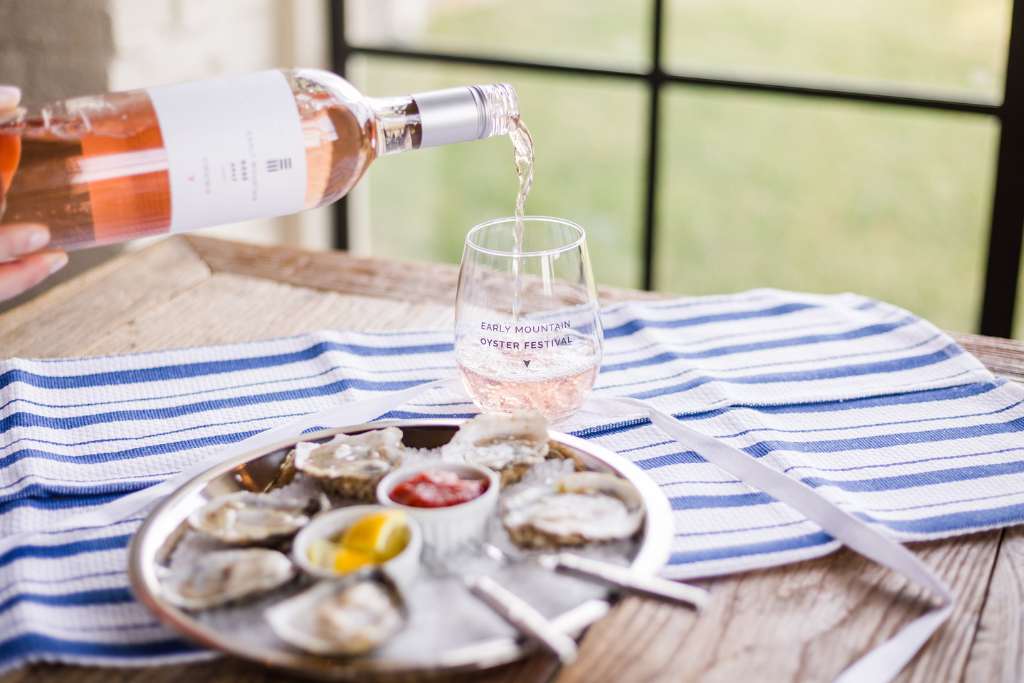 Characteristic towns frozen in time, historic attractions aplenty and home to Virginia's fabled watermen, those who fish for oysters, crabs and fish in traditional ways combine to define this river-filled part of the western shore of Chesapeake Bay, where nine wineries await.
One to Try: In Irvington, The Dog and Oyster Micro-Vineyard, a top 10 winery winner in its previously location now shares space with The Hope and Glory Inn, owned by the Patteson family. Visitors can partake of exquisite wine and oyster pairings amongst the ambiance of a quaint, village-like town.
Fauquier County Wine Trail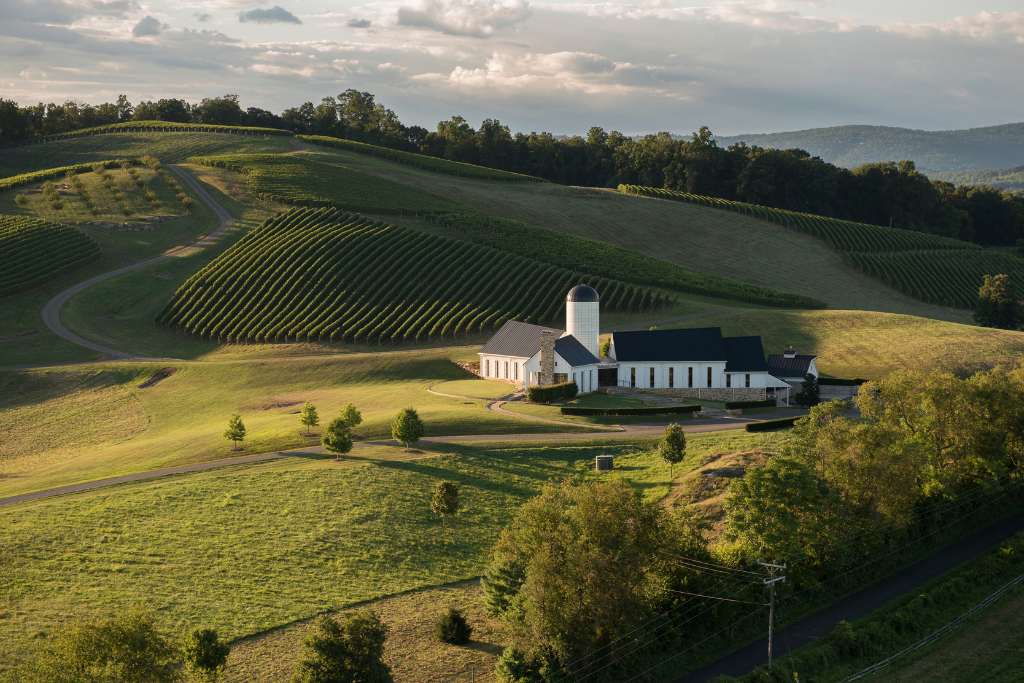 Twenty six wineries and vineyards comprise this farm abundant snippet of woodland and meadowscape, sectioned off with crumbling stone walls and wooden fences. Best known as Virginia's horse country, Fauquier County lies near Washington DC, making it a perfect day trip destination for those visiting the nation's capital.
One to Try: Encircled by foothills in eastern Fauquier County, Permund Cellars features tastings of world class wines made from grapes as diverse as Cabernet Franc, Petit Manseng, Petit Verdot and Viognier. With seating in a variety of locations across the property — the barrel room, the field the vineyards and indoors — it provides an iconic wine day adventure.
Shenandoah Wine Trail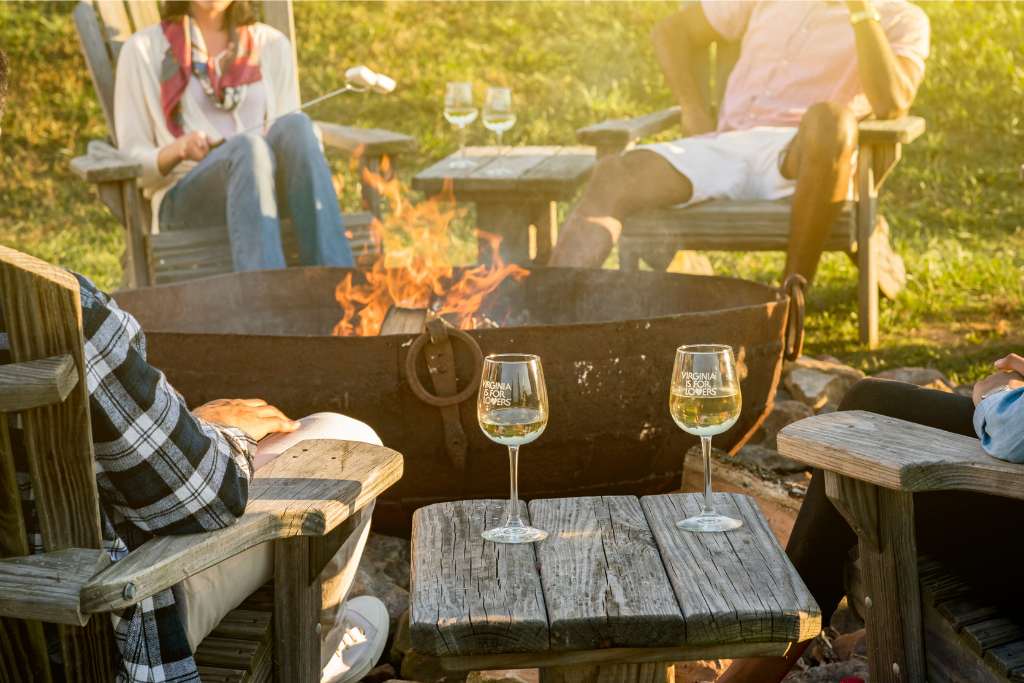 With storied scenic drives, the legendary Appalachia Trail and oodles of history, the Shenandoah Valley has long drawn those with a penchant to ramble. It's Shenandoah National Park encompasses some 200,000 acres aside the Blue Ridge Mountains. Taste the terrain on the Shenandoah Wine and Spirits Trail, which meanders through a host of colorful counties, each peppered with cideries, craft breweries, and wineries.
One To Try: CrossKeys Vineyards sits in the heart of the Shenandoah Valley on a 125-acre estate. Offering winery tours, a tasting room, a Tuscan-inspired restaurant and eye-catching event space, CrossKeys has won multiple awards for its white and red wines. Sip the Meritage 2021 for a real treat.