As the story goes, when Winston Churchill stayed at Vancouver Island's legendary Empress Hotel, he had a peculiar habit, enwrapped in subterfuge. Craftily, to dupe the prohibition police, he ordered his daily large measure of gin to be served in an Empress teapot. Presumably, he sipped it at the regal Empress' renowned afternoon tea, perhaps washing down his scone with his tipple, his large hands gripping the graceful china tea cups cautiously — and his mood full of glee. A veritable Edwardian castle in bustling, waterside Victoria, overlooking the harbor, the monumental Empress opened in 1908, becoming Fairmont Empress in 1999. Long an elegant see-and-be-seen retreat, it has been a place for glitterati to convene, a hotel where Hollywood stars hobnobbed with world leaders and politicians. Some guests came from miles away just to partake of the famous tea. Now there's a gin inspired by the hotel that Winston Churchill surely would dream to call his own. Empress 1908 Indigo Gin, crafted by Victoria Distillers, one of Canada's oldest small-batch spirits companies, features an array of classic botanicals — including cinnamon, coriander, ginger, juniper, and grapefruit. With their own twist, they reimagine gin-making with a bit of black tea from the Empress' tea room's signature tea blend. Most fun, they add exotic butterfly pea flower, which turns the spirit a mesmerizing purple/indigo hue that adds an element of fantasy.
More About Empress 1908 Indigo Gin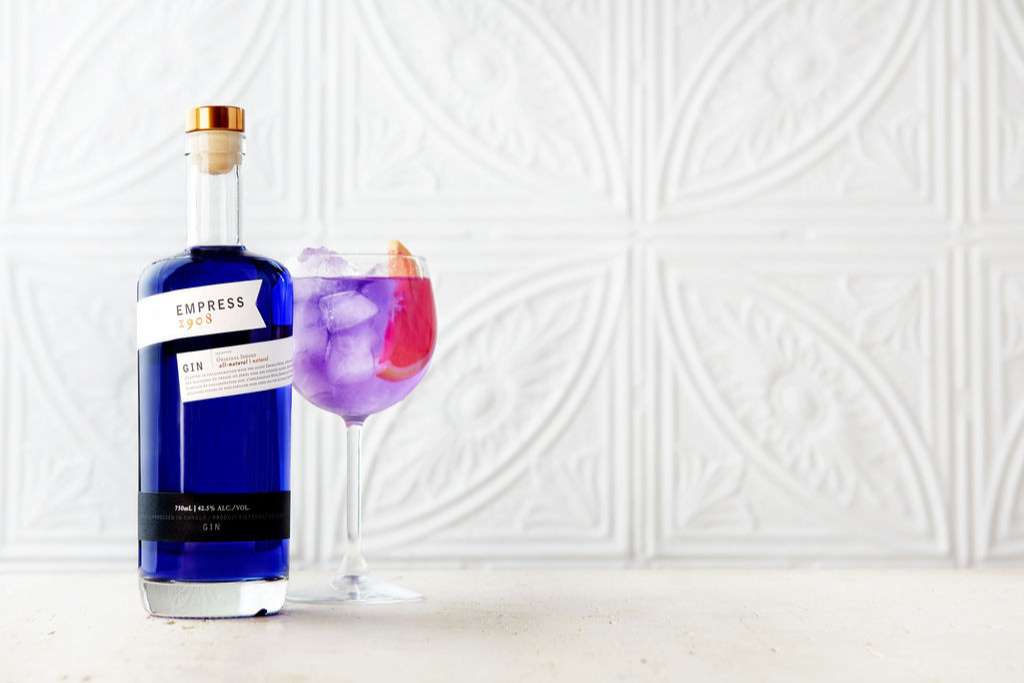 With a citrus-and-spice profile, festive color, and herby balance from the butterfly pea flower, this elegant gin gets gravitas from the tea's earthy undertone. Handcrafted in small-batch copper pot stills, Empress 1908's color varies from pink to lavender depending on the mixer. Try this one in a celebratory gin and tonic — or like Churchill, drink your's from a tea cup. Here are more we love:
Four Seasons Hotel Sydney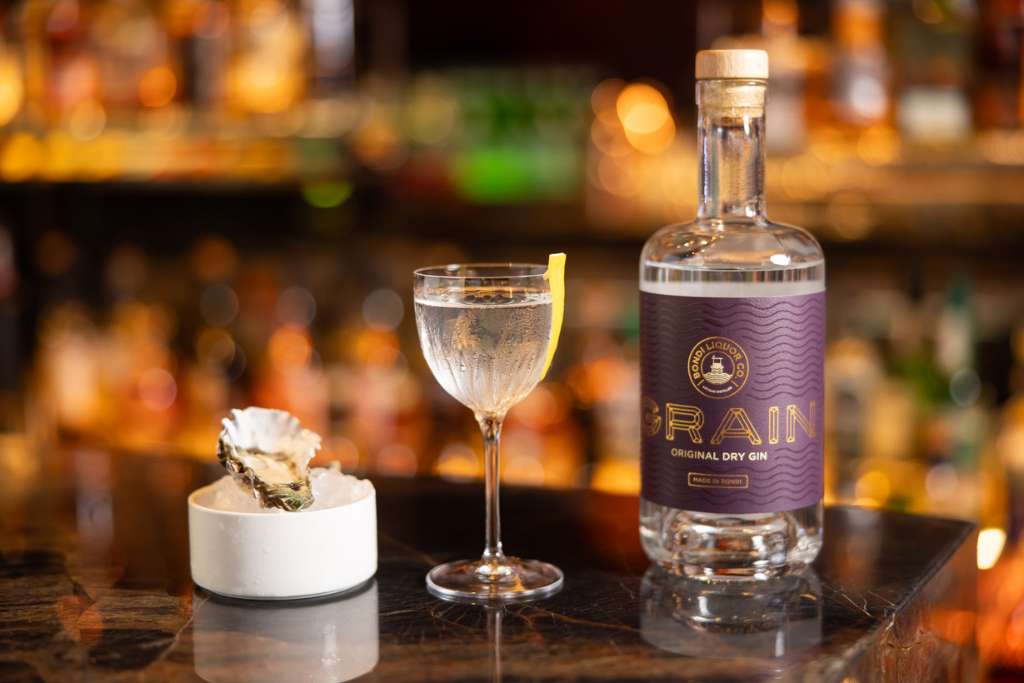 At Four Seasons Hotel Sydney celebrate first-in-class views of Sydney Harbor and a convenient location at the doorstep of the Central Business District with something equally awe inspiring: hotel cocktail bar Grain's custom gin. Created traditionally with botanicals such as juniper, coriander, orange peel, and orris root, the gin, dubbed Grain, delves into Australian locality with twists such as distinctive Australian native finger lime, grains of paradise, pepper leaf, and cardamom. With a wheat base, this gin has a crisp light profile that lends itself to citrusy martinis and bodacious gin and tonics. Find it throughout the hotel at Grain itself, Mode Kitchen & Bar, the pool bar, and the hotel's minibars.
Chatham Bars Inn, Cape Cod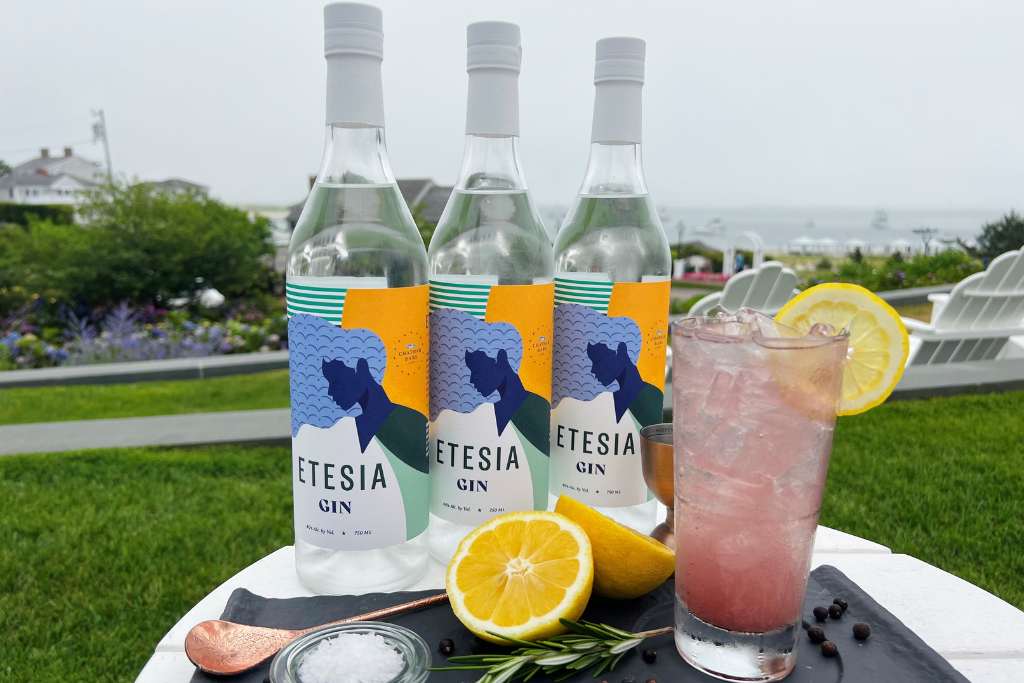 llustrious Chatham Bars Inn, a Cape Cod treasure, first opened as an opulent hunting lodge for well-to-do Bostonians in 1914. Today's guests can leave their hunting gear at home and take advantage of myriad alternative activities — including nipping some custom gin amongst the hotel's sumptuous digs. Offering Etesia Gin, bottled and crafted by Don Ciccio & Figli in Washington D.C., the hotel lauds the spirit as a complement to the area's famous Chatham Oysters. Made with sea salt from the waters just off the Inn's beach, Etesia garners its flavor from a balanced bouquet of classic botanicals, including juniper and fresh Italian citrus. Try yours in a Negroni or Gin Rickey for old-school appeal.
Anantara Royal Livingstone Victoria Falls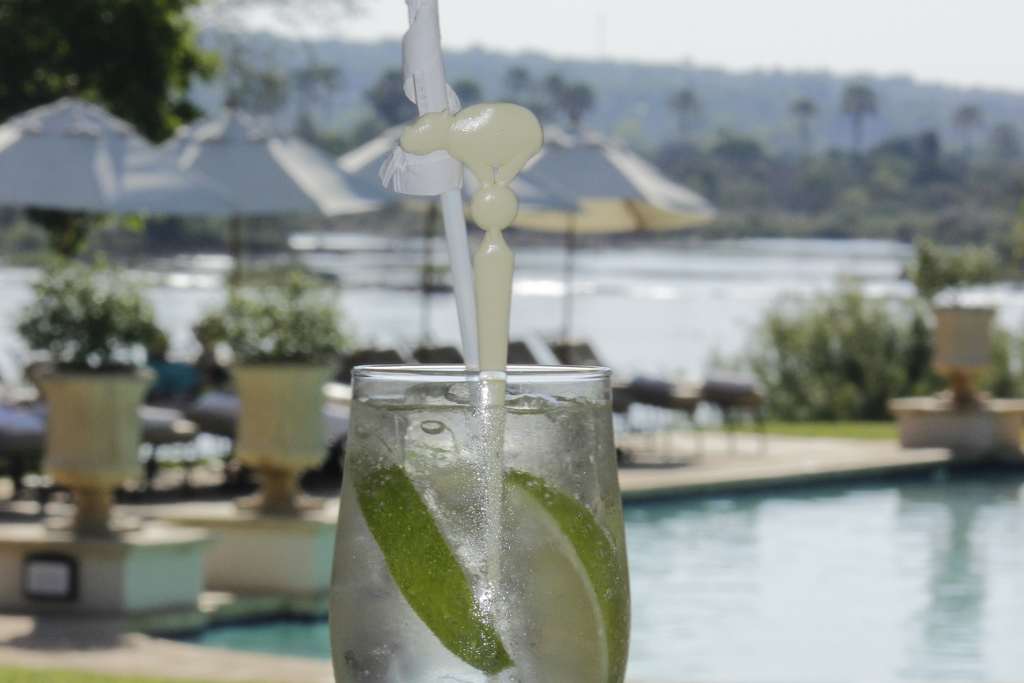 Situated across a cultivated lawn from Victoria Falls, this stately hotel, new built to reflect bygone times, feels legendary and historic. Arrive by boat on the Zambezi River to be greeted on the dock by a chorus of staff singing Zambian songs and passing out welcome cocktails, mixed from the hotel's house-made gin. Exclusively crafted for Royal Livingstone, Mundambi Gin reigns as the bartender's pouring gin, procured from a 25-liter barrel displayed in the Travelers Bar. Intoned with mundambi plant, a species of hibiscus, the gin has a bright citrus nose, a silky constitution awake with juniper, and a lingering, smoky aftertaste. Sip it in a G&T, which the bartender will garnish with cucumber rind or pink, dried mundambi flowers.
Sheen Falls Lodge, Ireland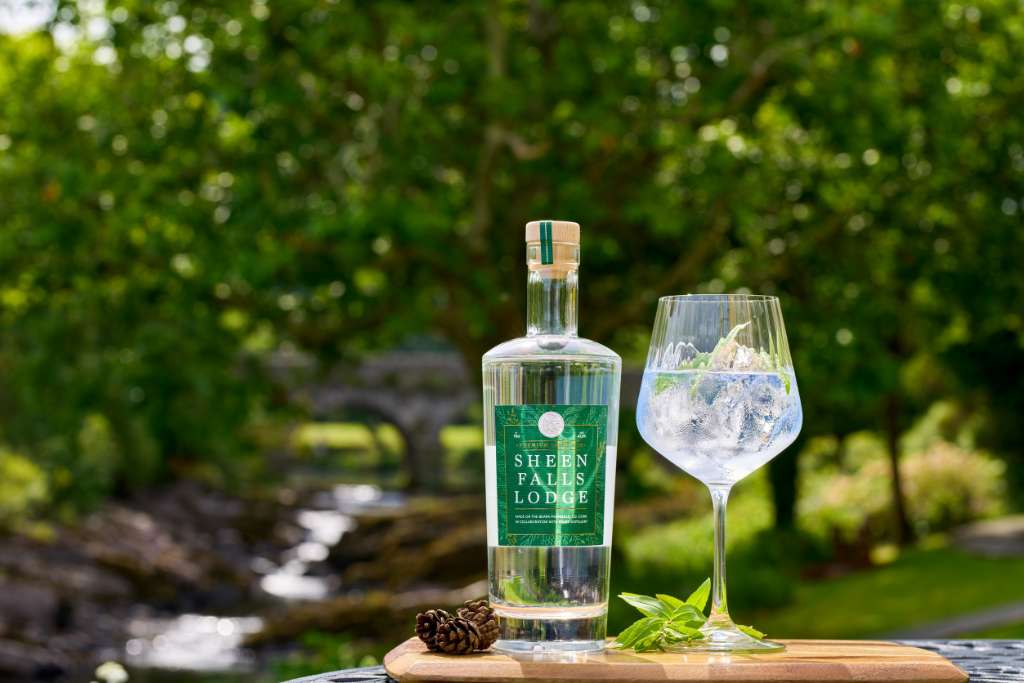 For its terroir-intoned signature gin, 5-star Relais & Chateaux country house hotel, Sheen Falls Lodge, a haven in County Kerry, uses lemon verbena and pine botanicals gathered on the bucolic estate. Made at the Beara Distillery, founded in 2017 on the Beara peninsula in County Cork, the gin bears the artistry of this small- batch spirits maker, who uses mountain spring water from nearby hills for its products. Sheen Falls Lodge incorporates Sheen Falls Lodge Gin in a variety of house cocktails — and it can be purchased by the bottle at the hotel's bar.
Rosewood Little Dix Bay, British Virgin Islands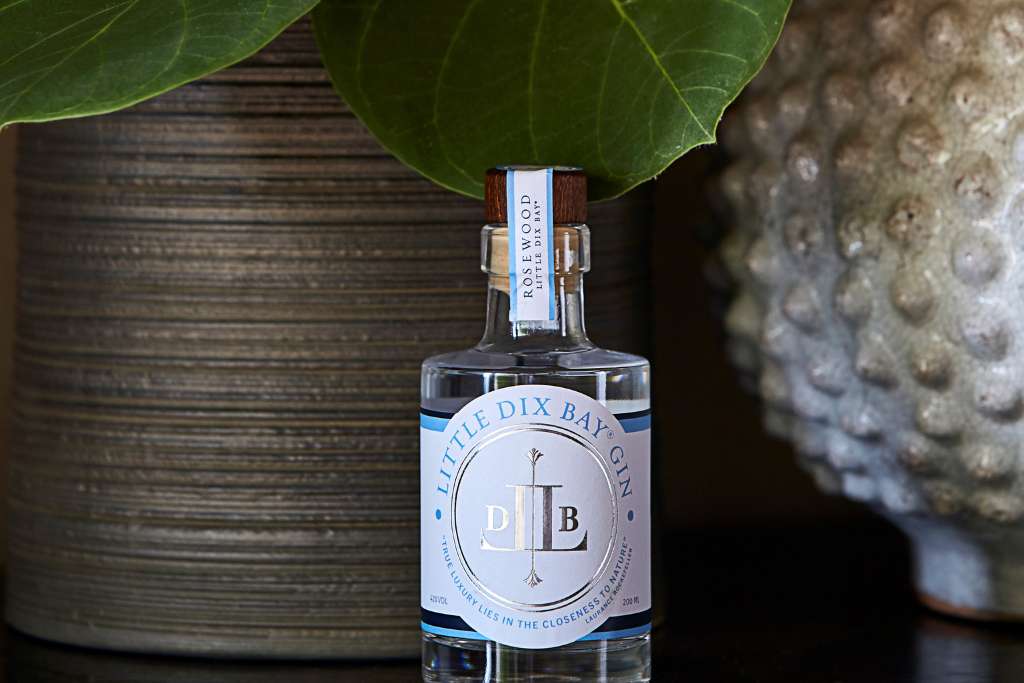 Founded by the inimitable Laurance Rockefeller, who knew a sacred bit of land when he saw it, Little Dix Bay began welcoming jetsetters in 1964. As Rosewood Little Dix Bay nowadays, the legendary hotel has been stunningly refurbished and re-imagined. With a strong culinary program, the hotel decided to partner with The Little Dix Bay Distilling Company, a British Virgin Islands-based distillery to create a unique gin, inspired by the hotel's elan. Little Dix Bay Gin is distilled in a 60-liter handmade copper column still using the "London Dry" gin method, meaning all the intricate, classical flavors preside in Little Dix Bay Gin, with the added magic of lemongrass and thyme from the Rosewood property.
Cover photo, courtesy of Victoria Distillers.