As one of the country's most visited national parks, welcoming millions of visitors each year Joshua Tree National Park in California's Mojave desert stuns with its stirring beauty and otherworldly landscapes. Twisty, spiky, and seemingly straight out of a Dr. Seuss book, the Joshua tree, also called yucca brevifolia, is a member of the agave family. Some contend that mid-19th century Mormans named the tree after the biblical figure Joshua — the tree's outstretched limbs interpreted as guiding them westward. In turn, homesteaders and gold miners were said to use the tree's prickly limbs and trunk for fencing and corrals.
Today, modern travelers come to the desert for its spindly beauty (and easy proximity from LA) and to lay their heads in truly over-the-top homes (hotels are scarce) like these 10 Airbnbs.
Joshua Tree National Park may draw visitors with its stillness and ethereal ambiance, but the area is home to some of the most spectacular design-forward homes for rent in the country. Floor-to-ceiling windows afford breathtaking desert views, while amenities such as private yoga studios, plunge pools, hot tubs, and patios perfect for stargazing let you enjoy and appreciate the unique setting.
Here are our favorite Airbnbs to rent in Joshua Tree National Park.
Mojave Moon Ranch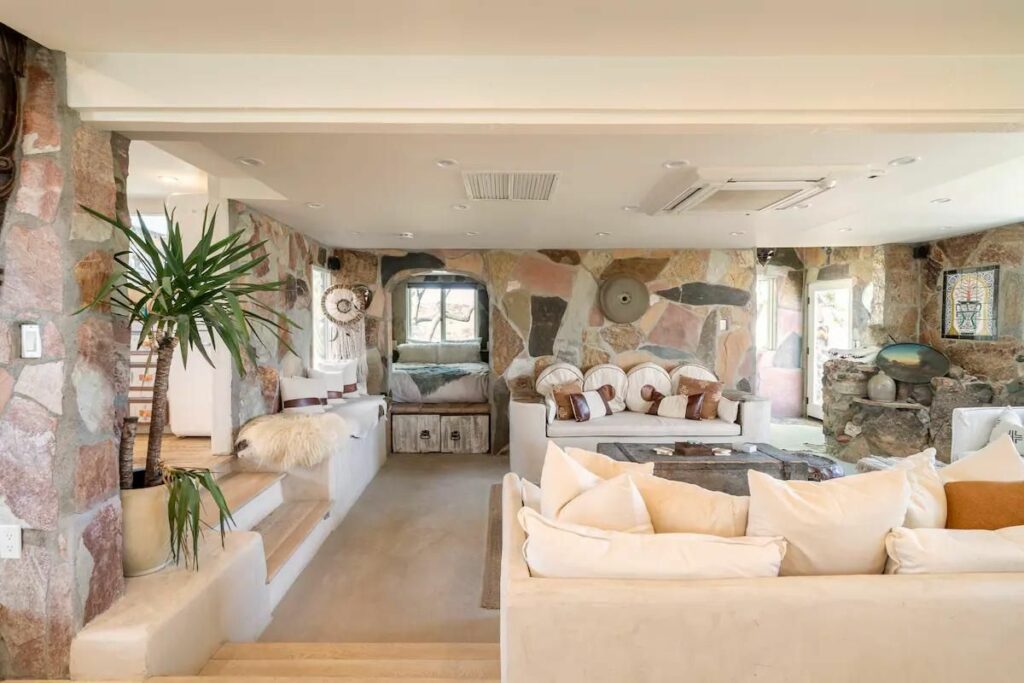 Owned by designer Morgan Brown, this stunning property, known as "The Jewel of Joshua Tree," has been meticulously remodeled to provide a sophisticated escape while preserving the desert's rustic beauty. With over 220 acres, the space is perfect for hiking, meditation, and stargazing. Wander the cacti gardens, float in the heated saltwater pool — a stone cabana provides shade from the sun. And enjoy the close viewing of the property's newest art sculpture/installation — 30-foot "Transmission" — a collaboration by Brown and global artist Daniel Popper.
To book: Airbnb.com
All-Glass Villa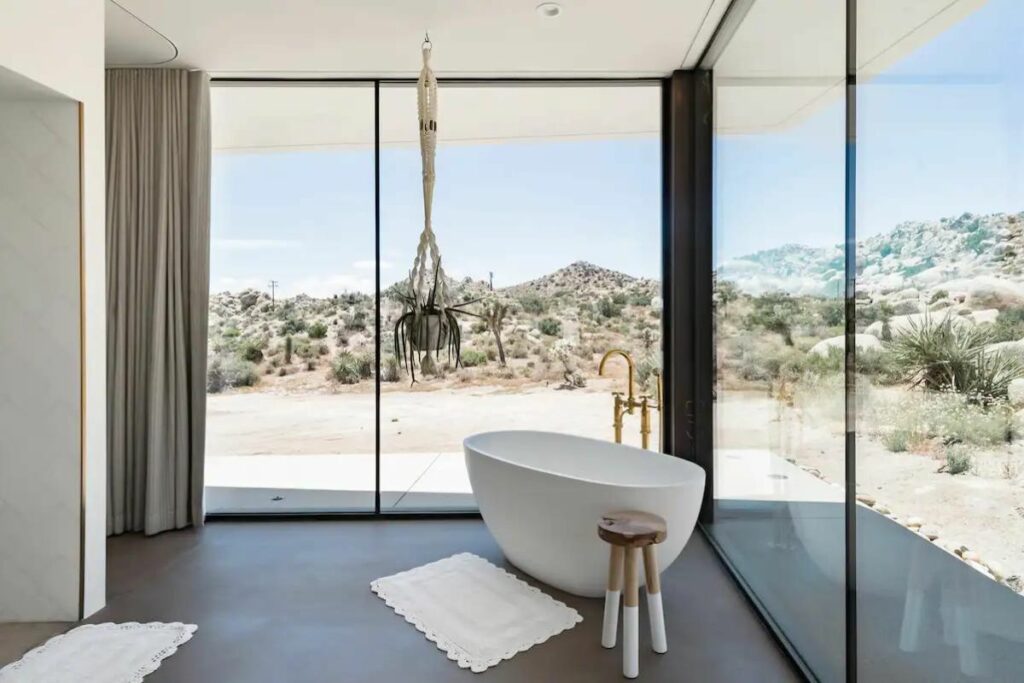 Privacy abounds at this dreamy all-glass villa set on six acres of rugged boulders and exotic cacti — three acres of which are gated and include a luxurious saltwater pool, outdoor shower, and fire pit. Most of the villa's glass walls slide open (creating an indoor/outdoor feel). Other touches include Waterworks fixtures, Ann Sacks tile, locally sourced items and furniture, and art by Jim Olarte. The property sits between the main entrance to Joshua Tree National Park (a 15-minute drive) and Pioneertown (10 minutes).
To book: Airbnb.com
The Sowe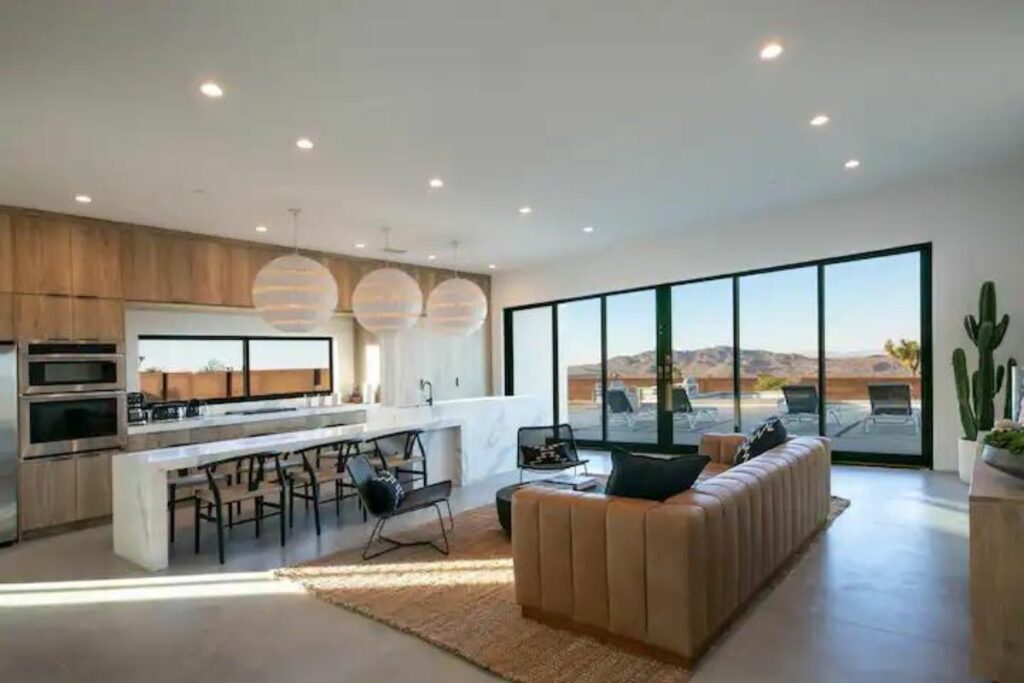 Built in 2023, this modern desert retreat offers stunning mountain views, two bedrooms, two baths, a private pool, and Jacuzzi. Though located in a neighborhood, The Sowe offers complete privacy and is just a short drive to downtown, and entrance to Joshua Tree National park.
To book: Airbnb.com
The Weekend House
If escaping from civilization sounds enticing, The Weekend House, located on 10 private desert acres, is perfect. Interestingly there is a touch of Tuscany here too: cypress trees lining the drive and olive groves. Dip into the dreamy plunge pool, stargaze around the firepit under inky skies, and in the mornings, sip coffee while watching quails, roadrunners, and doves.
To book: Airbnb.com
Villa Kuro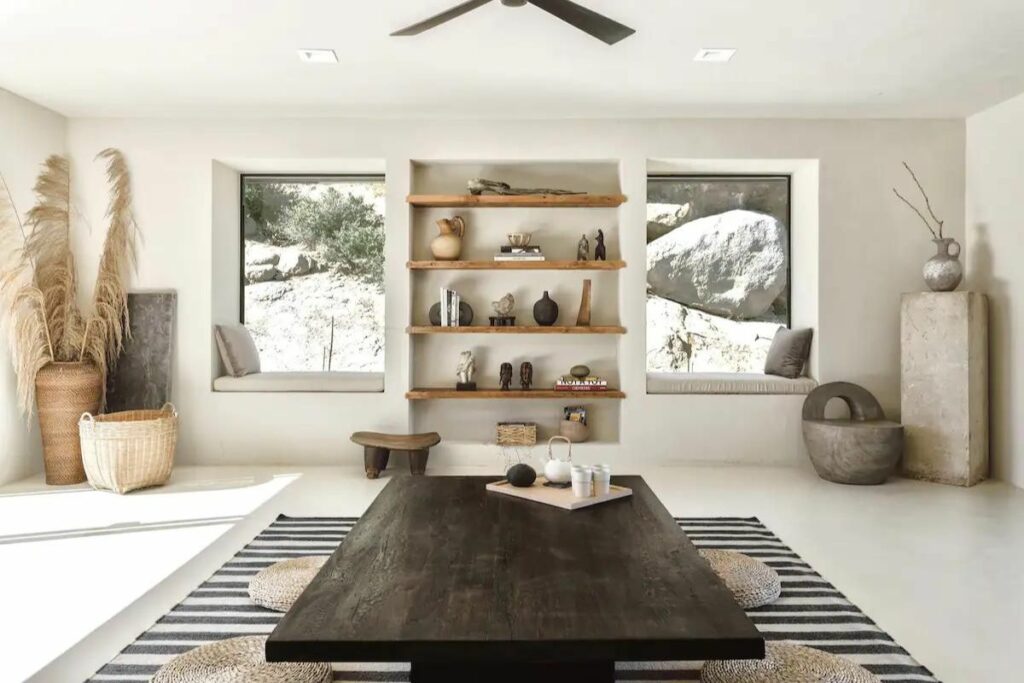 Set on 3.6 acres in front of a boulder hill, the property extends to the peak of the mountain, setting the stage for a stunning stargazing experience.  Originally built in the 1960s, this mid-century modern home features two bedrooms, two bathrooms, a neutral color palette, and a blend of rare new and antique finds collected over the years. We especially love the covered outdoor patio, saltwater hot tub, firepit, and rock and cactus garden. For electric car owners, there is a charging station.
To book: Airbnb.com
Los Coyotes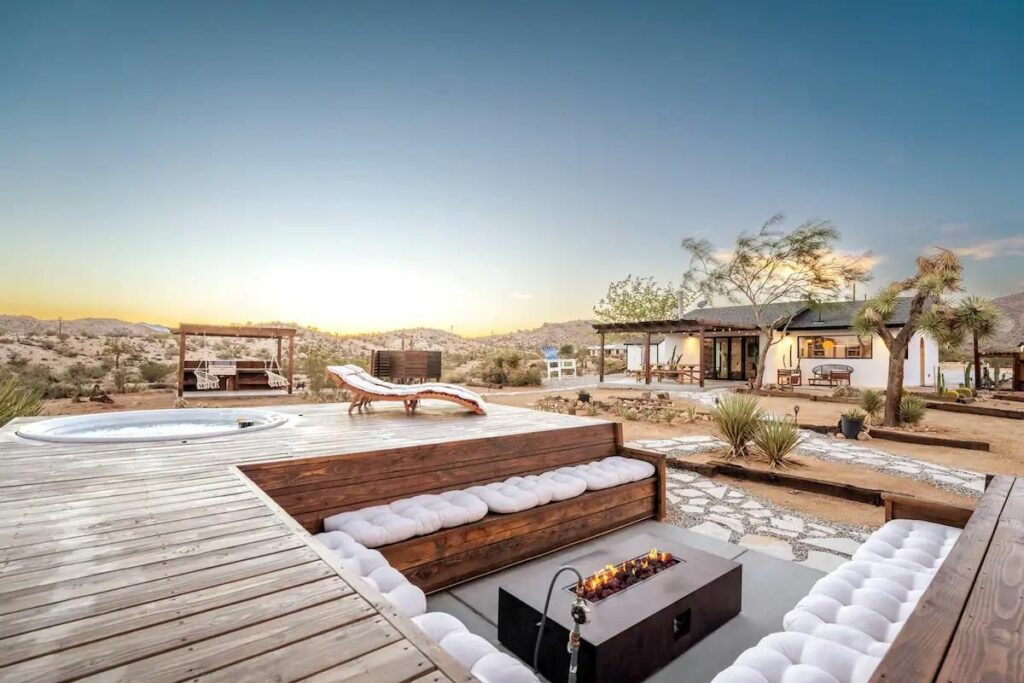 Located just five minutes from Joshua Tree National Park West Entrance, this stylish modern desert home features two bedrooms and two bathrooms, making it the perfect romantic escape. Relax by the pool or gaze at the cactus garden from the hot tub after a long desert hike. Shower outdoors under a starry Van Gogh sky, cozy in front of the wood-burning fireplace, and listen to the far off howling of coyotes.
To book: Airbnb.com
House of Kuna, Yucca Valley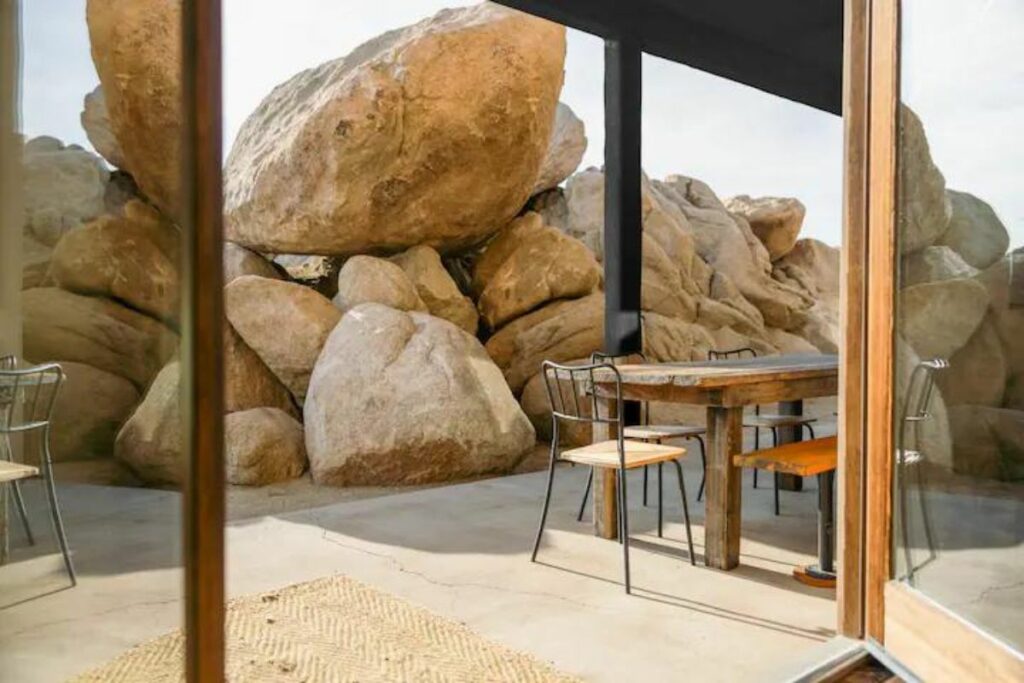 Set on 2.5 hilly acres overlooking California's Yucca Valley and just minutes from Joshua Tree National Park, House of Kuna offers the ultimate desert escape. Rise predawn to enjoy a mesmerizing sunrise, practice yoga in the stunning, separate studio, hike the nearby trails, and relax afterward with a dip in the custom-designed 'cowboy pool' and hot tub, surrounded by boulders and overlooking the desert. End your day by stargazing on the patio by the fire pit. Added bonus: furry guests are welcome.
To book: Airbnb.com
Boulder Cove
Enter the front door of this three-bedroom, three-bath home and immediately take in the breathtaking boulders and mountain views of Joshua Tree National Park. Retractable floor-to-ceiling sliding glass doors transform the living and dining rooms into an indoor/outdoor sanctuary, while the custom multi-level pool and hot tub offer the perfect viewing spot for sunsets and stargazing. We also love the bedroom wing with a waterfall shower and floating soaking tub.
To book: Airbnb.com
Black Desert House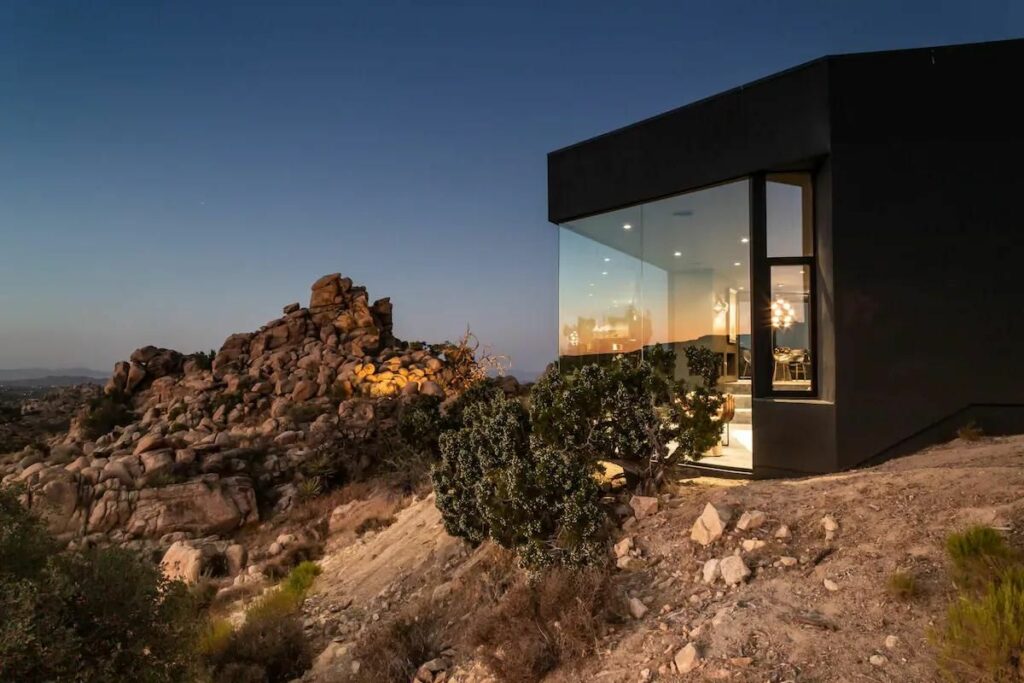 Brought to life by Oller & Pejic Architecture, Black Desert House sits on a secluded perch in one of the area's most exclusive neighborhoods.  Highlights of this two-bedroom, two-bathroom home include floor-to-ceiling windows with desert views, unparalleled architecture and interior design, a disappearing-edge heated pool and hot tub, sleek gourmet kitchen, and media room. Parking is via an underground carport and there is an EV charger.
To book: Airbnb.com