"Becca! Wait!" The front desk receptionist at Bishop's Lodge, Auberge Resorts Collection, a newly reimagined, decades-old resort in Santa Fe, rushes from her office as I descend a pine-scented hill toward my waiting car after checking out. I stop to turn, and she hands me a small envelope."We have a parting gift for you. A memento." I thank her, then peek inside to find a flinty arrowhead, its edges alluringly jagged to the touch. An effusive feeling of nostalgia overcomes me as I hold the manmade object in my hand."It's a talisman," explains the receptionist. "Take it with you. This means you will return to us someday soon."
I'm moved by this gesture. In part because I do want to return, but also because I have been returning to Bishop's Lodge, an historic retreat, since I was a child. It was a place I came with my parents most summers, and then, much later, it became a haven I returned to with my own kids. Recently conveyed to modern times by Auberge Resorts Collection, with the brand's characteristic style, canniness and understated elegance, the beloved, once dude-ranchy retreat just off Santa Fe's Old Spanish Trail, now feels both excitingly up to date and gratifyingly… the same. It's as if the owners metaphorically polished the resort's tarnished soul to a gleaming shine. As good as new and better than ever simultaneously, Bishop's Lodge feels as soulful as the hand-built, wabi-sabi crockery the resort uses in its stellar restaurant Sky Fire and at reception for the lavender-infused, Aqua Santo welcome drink, served in a fetching chalice.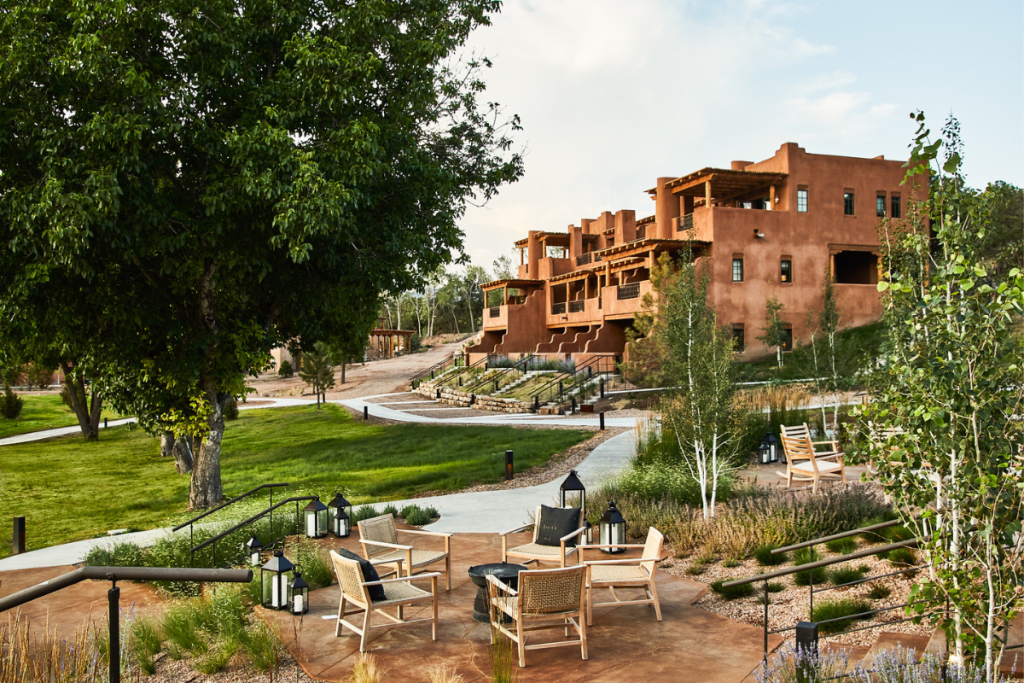 In the Sangre de Cristo Mountains' Tesuque Valley just ten minutes from downtown Santa Fe and twenty minutes from its small airport, the Pueblo-style enclave clings to red-dirt hills, awash in sage, lavender, agave, chollo, pinon and fir trees, daisies and yarrow. A gurgling creek, brimming with fish, runs through the property, a pool anchors it and a horse stable, situated just where it sat in my youth, invites equine connection. Positioned to suggest a village, both new-built adobe structures and refurbished original buildings hold space amid the resort's 371-acres. (Our first floor king resort-view-room in a building dubbed Sunset was extra large with a kiva fireplace, airy bathroom, gated outdoor patio and dreamy bed.) Dominating it all, crowning a hill, a diminutive, century-and-a-half-year-old chapel catches the eye — as it did when I was a child visitor. The veritable spiritual inspiration for the resort, the chapel and its anterooms served as the rural escape for Santa Fe's first Archbishop, Jean Baptiste Lamy. Later, the Pulitzer family of publishing fame built a home on the grounds, which morphed into the old school, family-friendly hotel of my childhood, most popular in the summertime.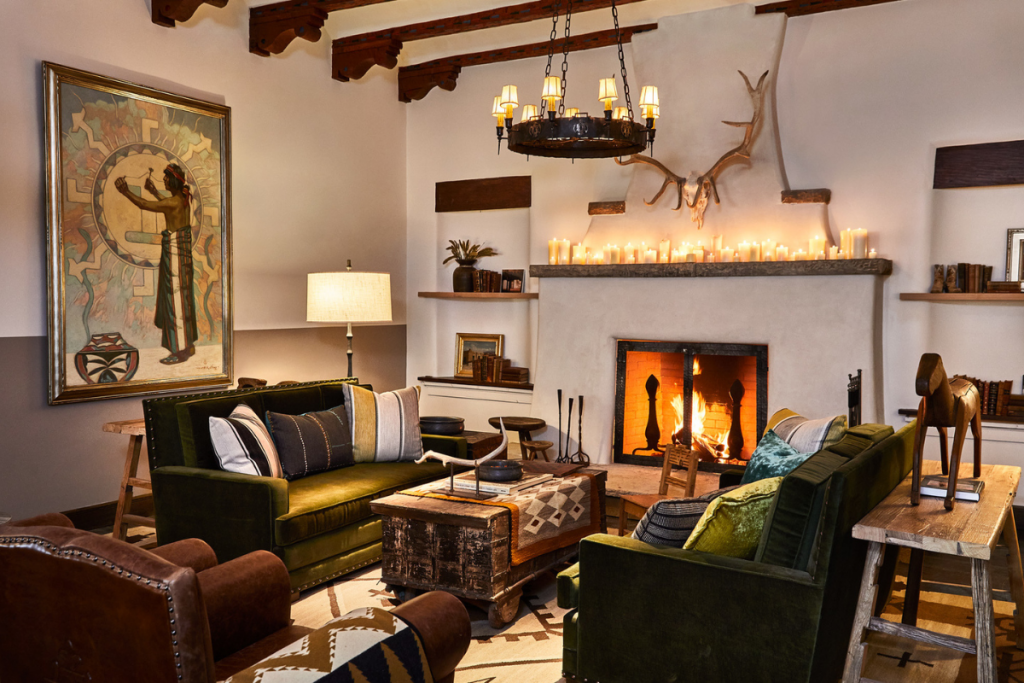 More than ever Bishop's Lodge awaits to feed the soul — whatever that means for you. Under Auberge Resort Collection's able lead, the all-season, deliciously opulent, reborn resort will know no bounds. What's clear is that the hotel respects the past, while being unafraid to tip its western hat full of hospitality and pampering toward the future.
The Rooms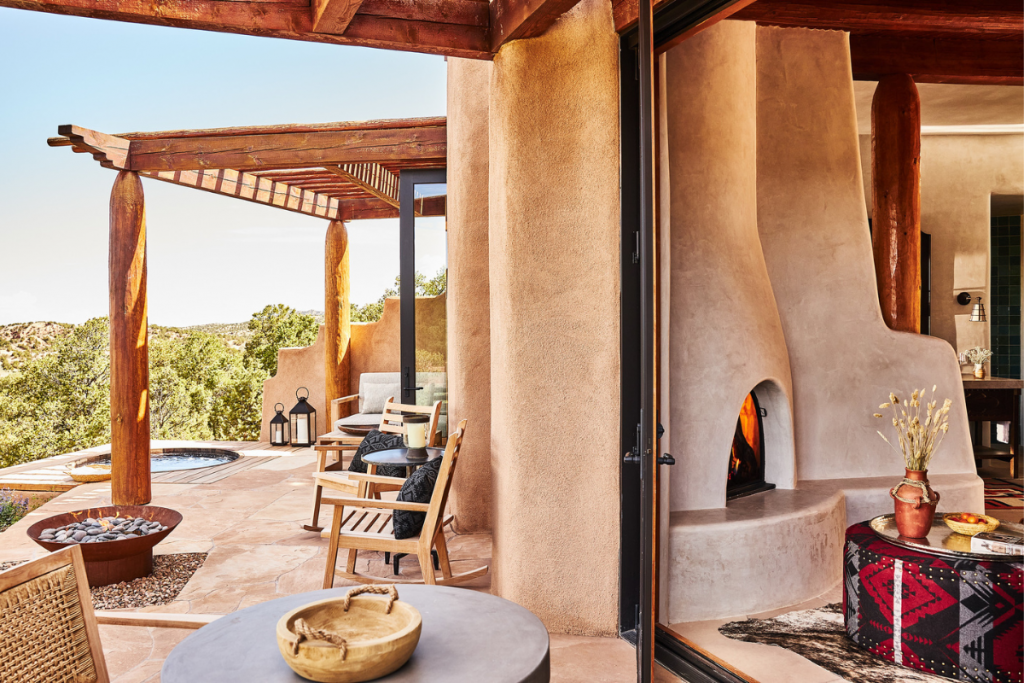 Expect a view of something jaw dropping no matter which accommodation you choose. Room types range from my lower level (but capacious) Resort View King to the extra knocked out, hilltop Kiva Suites (I envied their copper bathtubs, as my own room just had a shower — albeit a grand one) to the barn-like Bunkhouse, which with 12 bedrooms is ideal for group rentals, such as wedding parties. Completely Santa Fe in decor without being kitschy, every room, from restaurant to suite, exudes the city's special style. Look for leather, hand-carved furniture, animal skins, centuries-old paintings, silver details and woven items.
The Vibe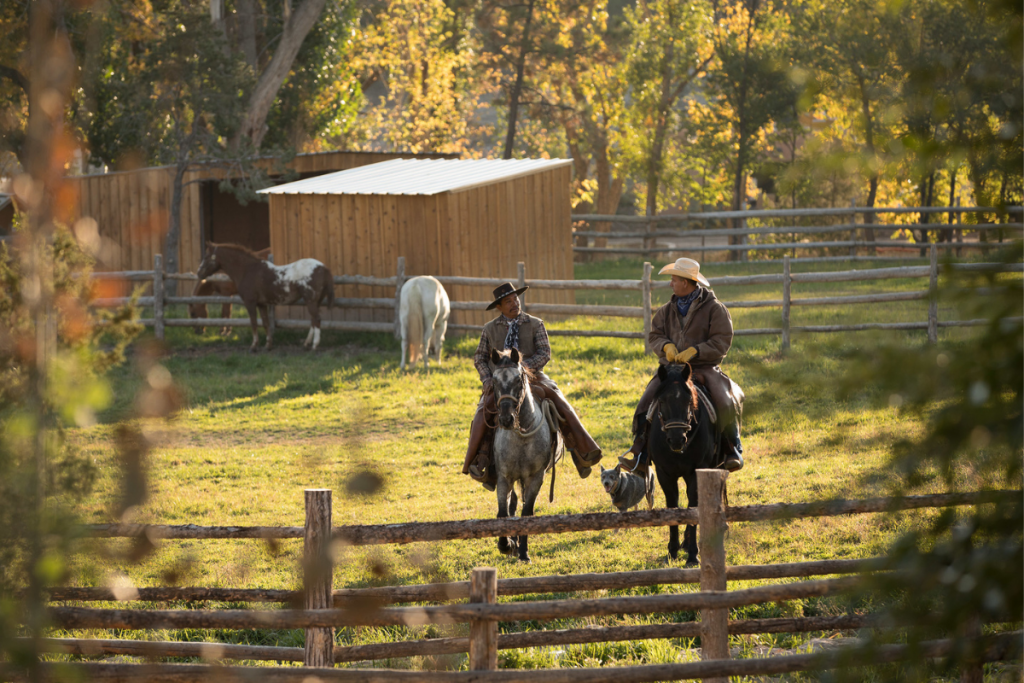 As family friendly as it was when I cavorted across its grounds, the "new" hotel also supports traveling with a brood. Its popular Coyote Camp Kid's Club provides meaningful, day-long activities; while the retreat itself has a long list of adventures and outings, such as a slew of jaunts (fly fishing, hiking, horseback rides, Pueblo visits, etc.) as fun for parents as children. Note to honeymooners: fear not. Bishop's Lodge brims with romantic nooks and crannies. The Kiva Suites, in fact, reign as adult-only rooms.
The Food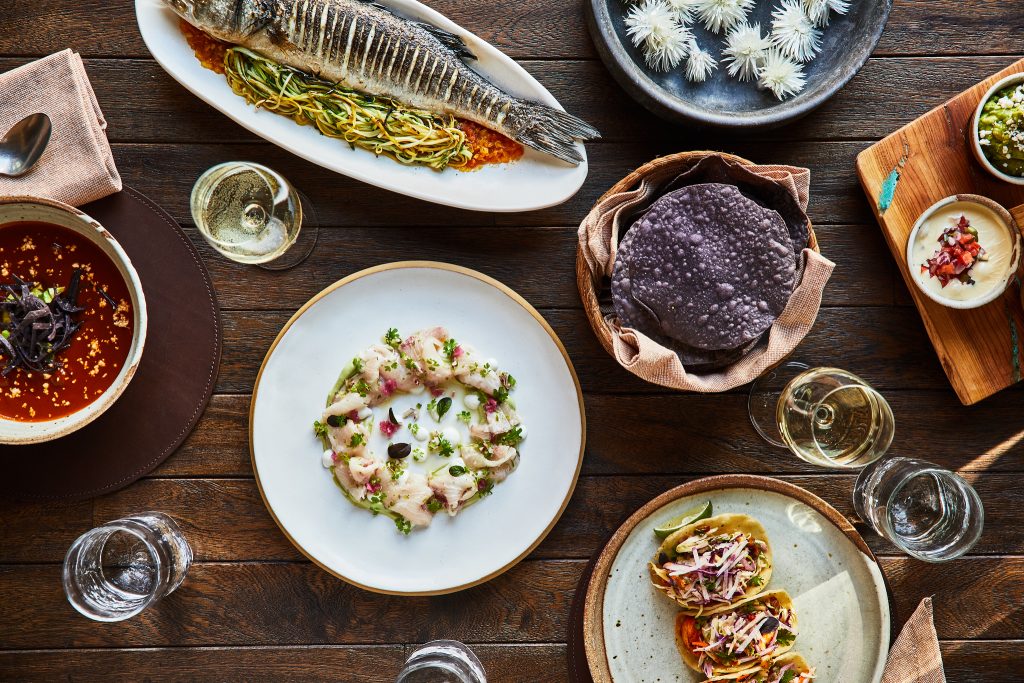 Here, they call sundowner's Bishop's Hour, and it's easy to imagine the lofty Lamy himself descending from his prayer room to loll about on the expansive, sexy deck for a Holy Margarita (that's right, it's so good, it's sacred, enhanced by some local apricots and more). Sky Fire, the resort's main restaurant, turns out exceptional dishes, each inspired by local ingredients, all a nod to Santa Fe and its rich culinary history. The Green Risotto made us moan aloud. Its umami-making combo of mushrooms, hatch green chile, and poblano become even creamier when the crown of soft-cooked egg gets stirred into the mix.
The Spa and Wellness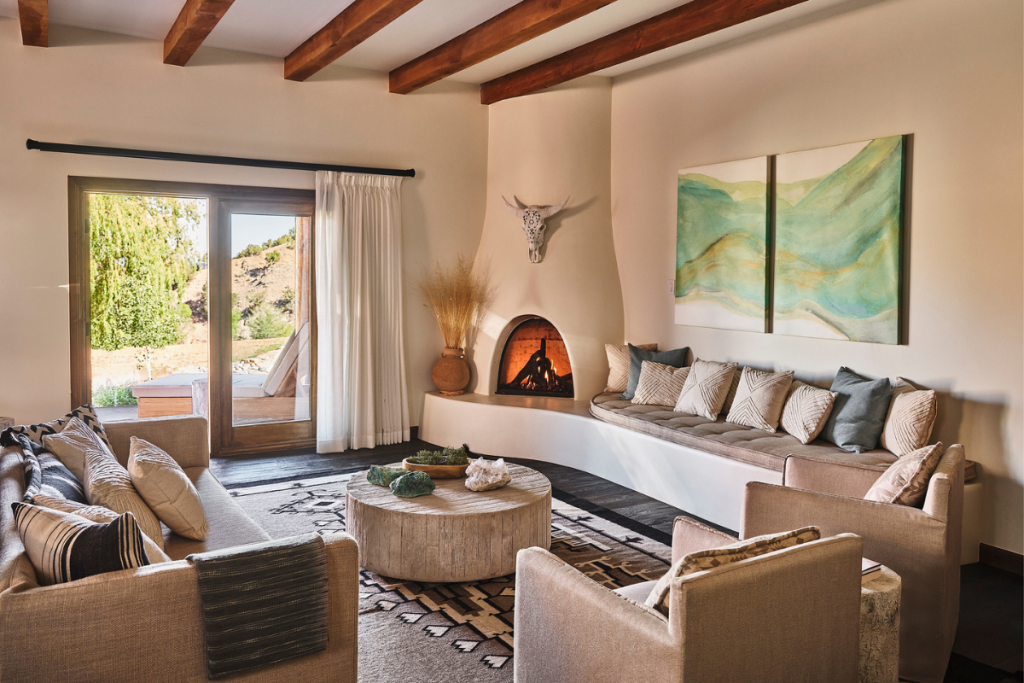 The retreat's graceful Stream Dance Spa takes cues from the region's long standing healing traditions. Offering traditional rituals (facials, massages) as well as those meant to create energetic shifts or unveil undiscovered layers of oneself (Shamanic healing, for example, which I did and loved), the spa truly addresses mind, body and spiritual well being.