Centuries ago, New York City's elite — including the Rockefellers, Vanderbilts, Astors, and Morgans — escaped to the Adirondacks where they built "Great Camps." These elaborate, timber lakefront homes allowed them to escape the Big Apple's summertime heat and commotion for a relaxing getaway with Mother Nature.
The gilded set arrived in style via private railway cars, bringing an entourage of family and friends to share in their memory-making vacations. While only a handful of these "Great Camps" still exist, such as The Point at Saranac Lake and Lake Kora, the concept of a weekend getaway to a beautiful Adirondacks Airbnb is still very much in style.
While spring and summer are perfect times to book one of these lake house rentals, thanks to gorgeous weather and the appeal of escaping the city, there's truly no "best time" of year to visit the Adirondacks. The mountains are an appealing destination come autumn for some major leaf peeping, while visiting in winter offers opportunity to indulge in winter activities like skiing, snowboarding, and snowshoeing. Plus, it's fun to spend time in a cozy cabin — fireplace crackling and hot beverage in hand — while the cold sits on the other side of the window.
Sold? We've rounded up the best Adirondacks Airbnbs so you can indulge just like the Rockefellers.
Why the Adirondacks Are Worth the Drive
The Adirondacks are a four to five-hour drive from New York City and Boston, Massachusetts, and roughly three hours from Hartford, Connecticut, and Concord, New Hampshire. The drive itself is quite scenic, offering views of towering trees, tiny towns, majestic mountains, and pristine rivers and lakes.
Once you've arrived, there is plenty to do in the Adirondacks. Nature lovers and outdoor enthusiasts will appreciate the area's picturesque forests and waterways which provide plenty of opportunities for hiking, fishing, water sports, and rock climbing. The Adirondacks are also rich in culture and history. Take a drive along the history Olympic Byway, which is speckled with quaint mountain towns replete with museums, restaurants, cafes, and shopping.
Our 7 Favorite Adirondacks Airbnbs for a Magical Stay
No more hunting for the best places to stay in the Adirondacks — we have you covered with the best Adirondacks Airbnb listings, which range from petite cozy cabins to large homes perfect for big groups.
Tree House, Remsen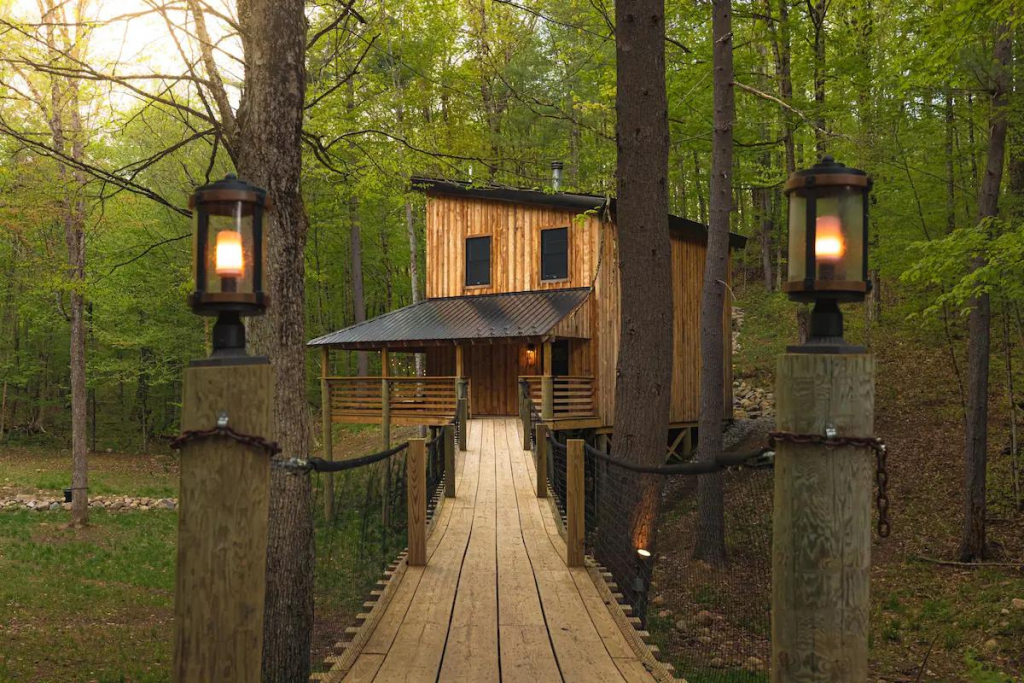 An 80-foot suspension bridge and 50-foot waterfall are the hallmark features of this dreamy two-story, two-bedroom, one-bath tree house. Built by the local Amish, the treehouse showcases an entire wall of glass overlooking the waterfall and woods (in the main bedroom), a wood-burning fireplace, and Edison light fixtures.
There's a fun bunk room that's perfect for kids, and the main bedroom comes with French doors, high ceilings, and a floating king size bed. We also love the romantic bathroom, with its spacious tiled shower for two, complete with two rain heads and hand-held sprayers, and a 1920-style black crystal chandelier.
While You're There: Enjoy the entire property. Guests have access to both the lake and sledding hill. For a romantic night out, dine at Beardslee Castle, just outside Little Falls. The restaurant is housed in a once (reportedly) haunted castle.
Guests/Rooms: 4 guests/2 bedrooms
Cost Per Night: $295
Minimum Nights: 1
To book: Airbnb.com
River Road Loj, Lake Placid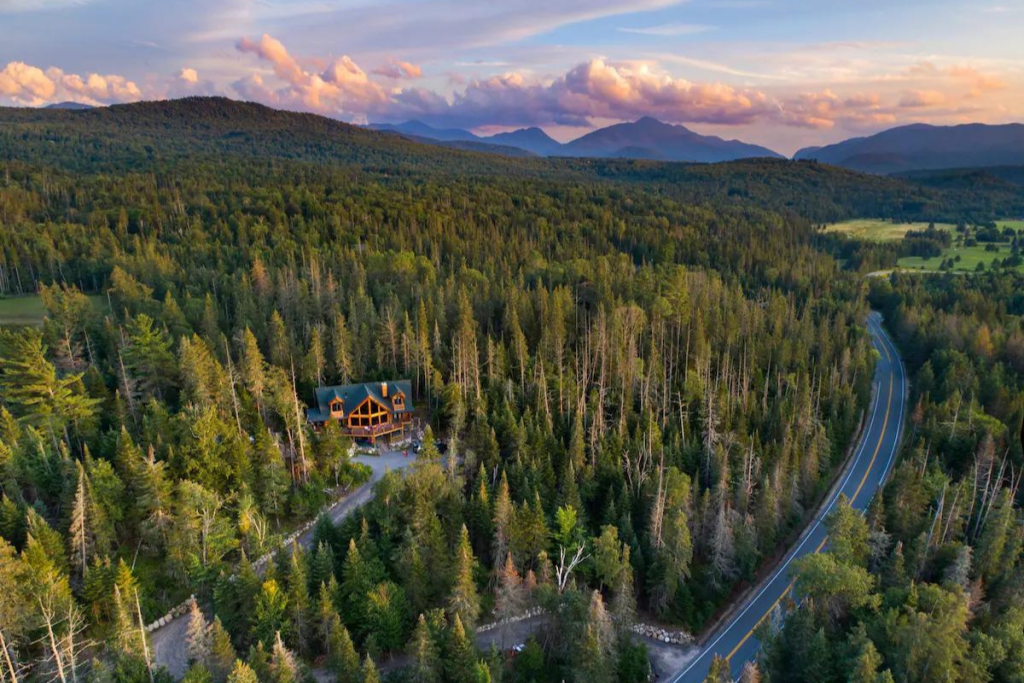 This four-bedroom, 3.5-bath lodge-style log Lake Placid Airbnb in the Adirondacks sits high on a hilltop on a quiet road used by Olympic athletes for training runs. Spanning three levels, the house offers a modern-rustic Adirondack vibe: log-post bed frames, white birch and cedar bark trim, a wood-burning fireplace with stone hearth, and massive ceilings.
The primary bedroom features a king bed, a walkout balcony with views of Whiteface Mountain, a walk-in tile shower, and deep soaking tub. Relax on the decks, covered porches and balconies; while perusing a collection of books, maps, and essays on the Adirondacks. Given its proximity to the Olympic ski jumps and the Whiteface Mountain ski area, this is a great Airbnb for skiing enthusiasts. 
While You're There: Fish on Ausable River (one minute away), visit the Olympic ski jumps (three minutes), Lake Placid (five minutes), Whiteface Mountain ski area (nine minutes, and High Peaks trailheads (ten minutes).
Guests/Rooms: 11 guests/4 bedrooms
Cost Per Night: $422
Minimum Nights: 3 or 4 depending on the time of year
To book: Airbnb.com
Birch Falls Spa Cabin, Remsen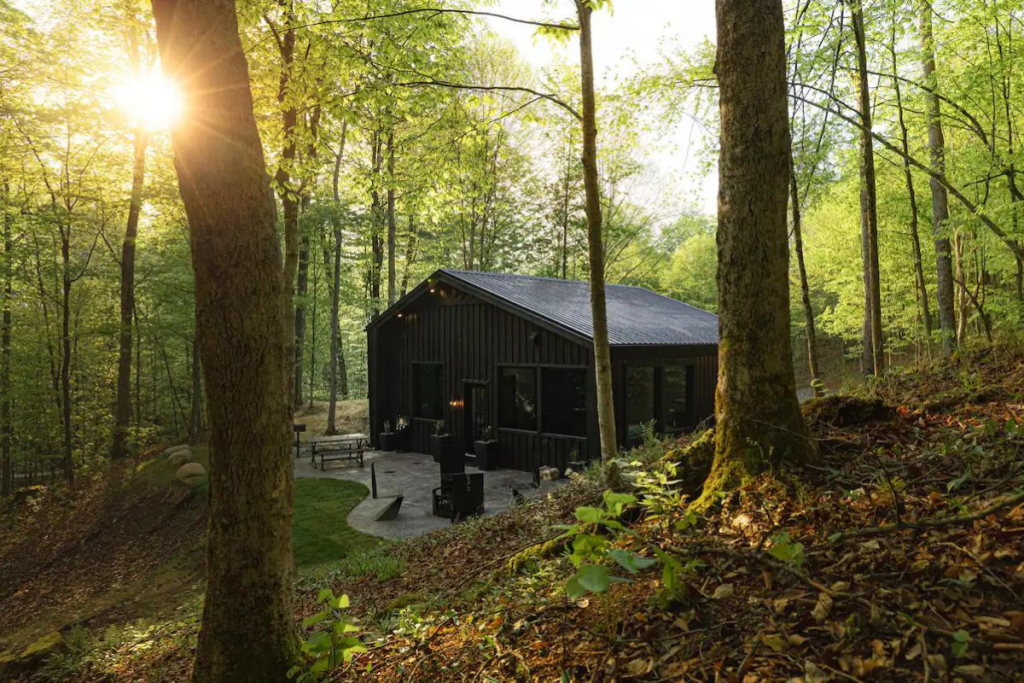 Couples will never want to leave this cozy and intimate Adirondacks Airbnb with one bedroom and one bathroom. Designed by J.Lynn Designs Durham, of Connecticut, the vibe is a blend of mid-century modern, modern-rustic, and contemporary. The cabin is super elegant and we love the deep-soaking bathtub, with a view of the forest. But our favorite feature is the 18-foot indoor waterfall and massage therapist who arrives daily for massage treatments.
While You're There: Guests will need to drive their own vehicle (4WD in winter) to the cabin, as there is no taxi or uber service available.
Guests/Rooms: 2 guests/1 bedroom
Cost Per Night: $338
Minimum Nights: 1
To book: Airbnb.com
The Boathouse on Fourth Lake, Old Forge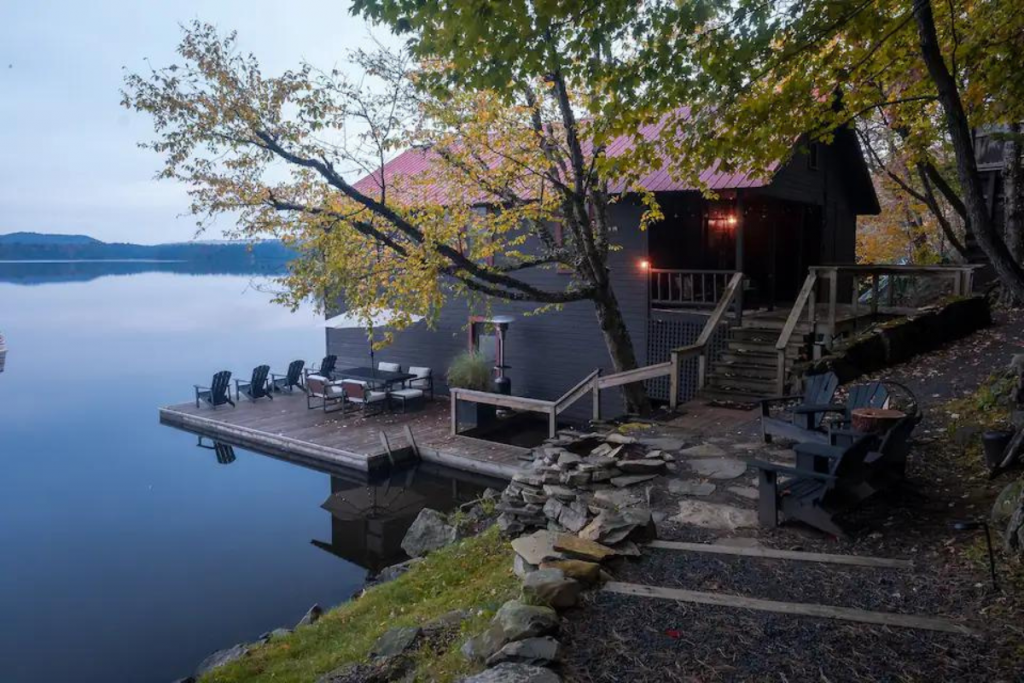 For the ultimate lake immersion, dock into this historic Old Forge Airbnb boathouse built in 1916. Located directly on Fourth Lake (with two boat slips beneath it), the house has been renovated and modernized, while still maintaining its authentic Adirondacks vibe.
All three bedrooms overlook the water, as does the kitchen, living room, and porch. We love the open-concept, gourmet kitchen, hardwood floors, outdoor waterfront fire pit and traditional Adirondack 'lean to.'
While You're There: BYOB (bring your own boat), rent one from the local marina, or simply choose from the kayaks, water toys and canoe provided at the boathouse. Prepare a leisurely meal in the kitchen (or venture into town); afterward, toast s'mores over the waterfront fire pit.
Guests/Rooms: 4 guests/3 bedrooms
Cost Per Night: $495
Minimum Nights: 2
To book: Airbnb.com
Birch Tree Camp, Johnsburg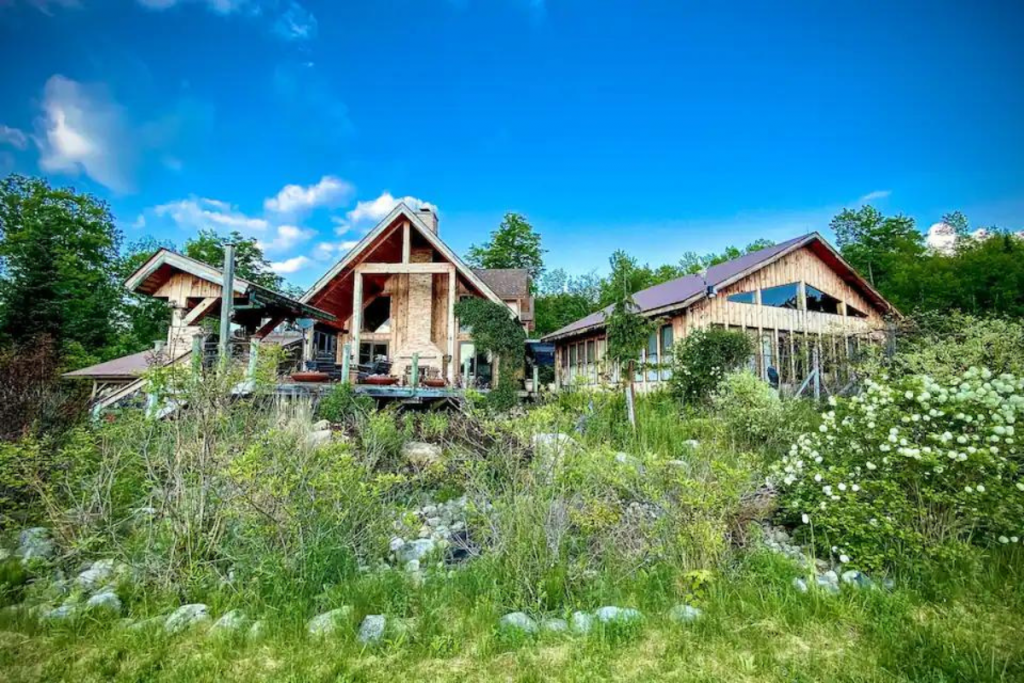 This stunning and remote Adirondacks Airbnb is located on 15 acres of unspoiled wilderness, complete with including lakes, rivers, hiking trails and historical sites — right in the heart of the Adirondacks.
The home is beautifully curated with antiques inspired by nature. The outdoor space is equally inviting with its hammock and rocking chairs by the garden, hummingbird feeders, patio with dining table, outdoor fireplace with Adirondack chairs, and fire pit with lounge seating surrounded by wildflowers and pine trees.
While You're There: Marvel at the sunset overlooking the mountains, bundle up with s'mores by the bonfire, stargaze, or sway in the hammock surrounded by hummingbirds. There are also grapevines on the property. In season (late August/early September), guests are welcome to pick the delicious sweet grapes.
Guests/Rooms: 8 guests/4 bedrooms
Cost Per Night: $741
Minimum Nights: 3
To book: Airbnb.com
Camp Stillwaters, Saranac Lake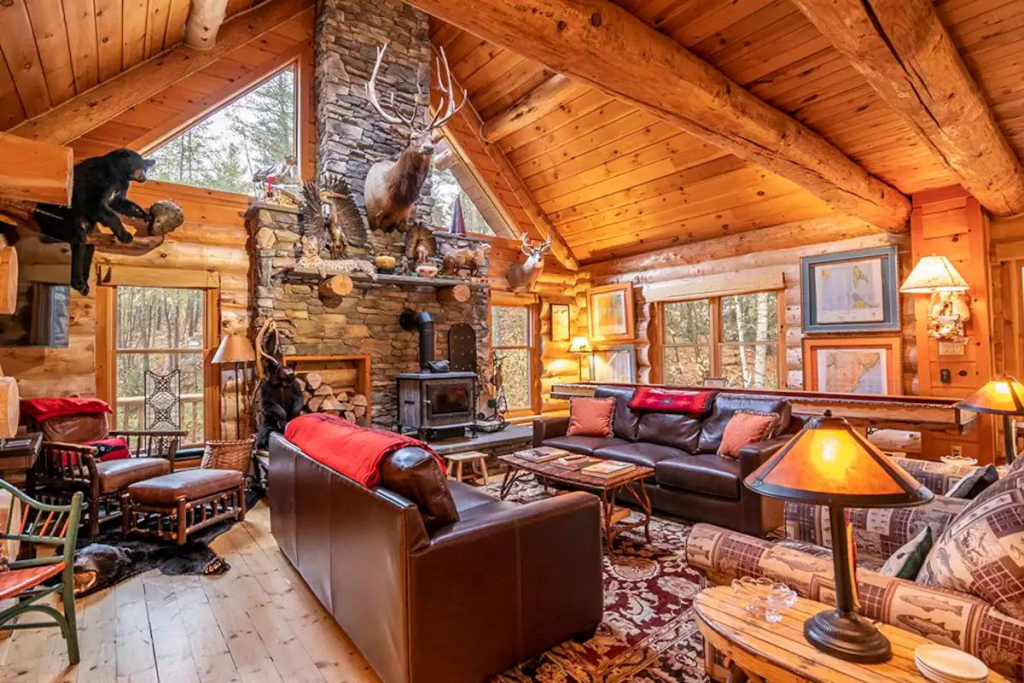 Located directly on Saranac Lake, this four-bedroom, four-bathroom home offers a quintessentially authentic Adirondacks experience. The great room features cathedral ceilings, massive logs (and yes, taxidermy); while bedrooms come with private baths and decks overlooking the water. There is also an outdoor firepit, lean-to, and sauna.
While You're There: Explore the property's connecting 24 miles of waterfront including Lower Saranac Lake, Middle Saranac Lake, Kiwassa Lake, and Lake Flower. If visiting in winter, four-wheel-drive is necessary.
Guests/Rooms: 12 guests/4 bedrooms
Cost Per Night: $725
Minimum Nights: 3 to 5 depending on the time of year
To book: Airbnb.com
Castle Cottage, Bolton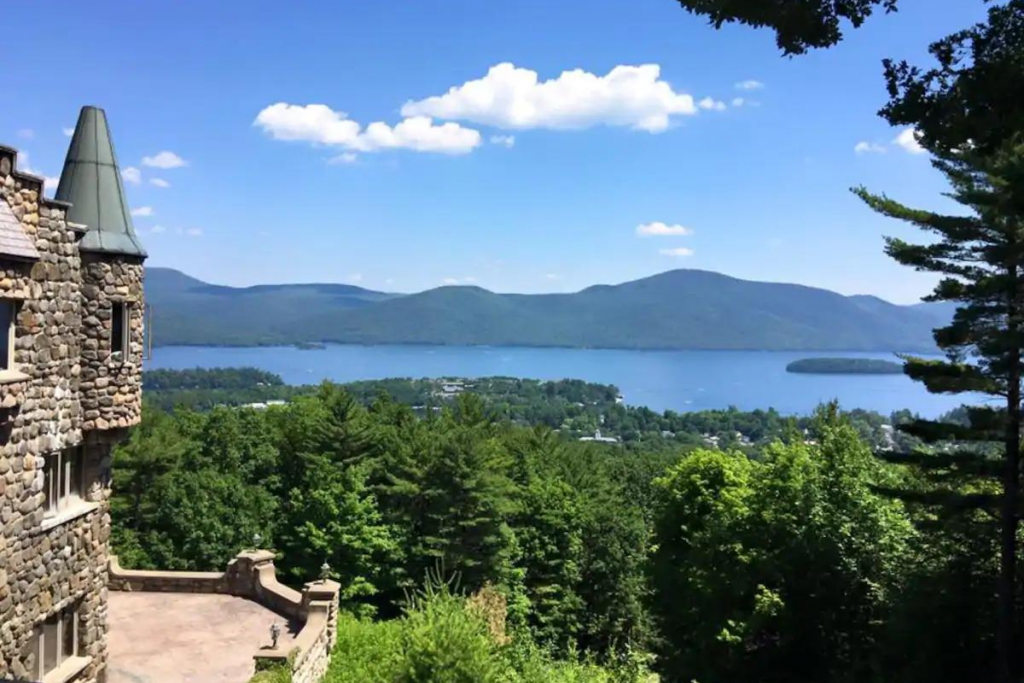 If a castle stay sounds dreamy, look no further than this two-bedroom, one-bathroom, mini stone castle on Lake George. Featuring a neutral color palette, tiled floors and truly stunning grounds, the fairy tale standout is the lake-to-mountain view. Perfect for a romantic weekend or even honeymoon; the setting is also conducive to a small wedding. Castle Gatehouse and the larger Highlands Castle are also on property, making it possible to rent the entire kingdom and sleep up to 21.
While You're There: Venture into 'downtown' (three minutes away) for gourmet restaurants, boutiques, hiking, swimming, and other lake water adventures, like kayaking, canoeing, water tubing, boat rentals, and scenic boat tours.
Guests/Rooms: 6 guests/2 bedrooms
Cost Per Night: $1,145
Minimum Nights: 2
To book: Airbnb.com