If you have dreamed of staying in a sexy, old-Hollywood-style villa where silver screen legends like Marilyn Monroe and Elvis have hung out, head to the hills (and desert) of California. From retro to high glam, here are five fabulously famous villas to check out (and in to). Oh, if those walls could talk.
Celebrity View, Hollywood Hills
(4 bedrooms, 3 baths)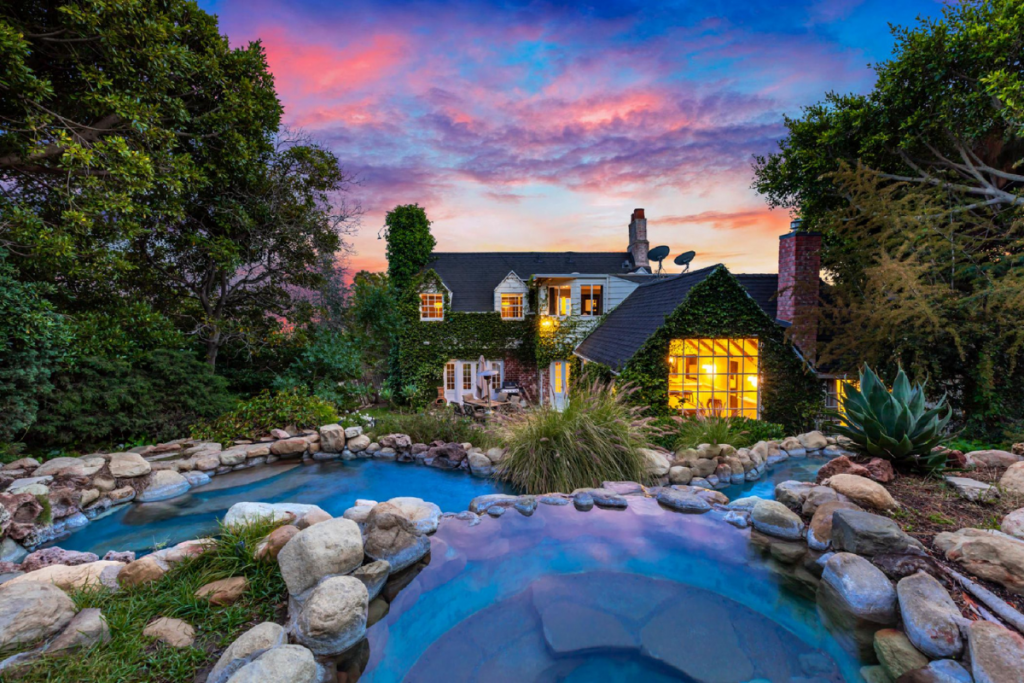 Originally owned by filmmaker and actor Orson Welles (who wrote Citizen Kane while living here), this legendary Hollywood Hills villa was also home to Rita Hayworth, Frank Sinatra, Barbara Streisand, and David Bowie. Aptly named Celebrity View for its location on a hill overlooking Sunset Boulevard, the villa offers a lavish outdoor space: lagoon pool surrounded by lush foliage, and stunning views of Hollywood.
The Houdini Estate, Hollywood Hills
(4 bedrooms, 4.5 baths)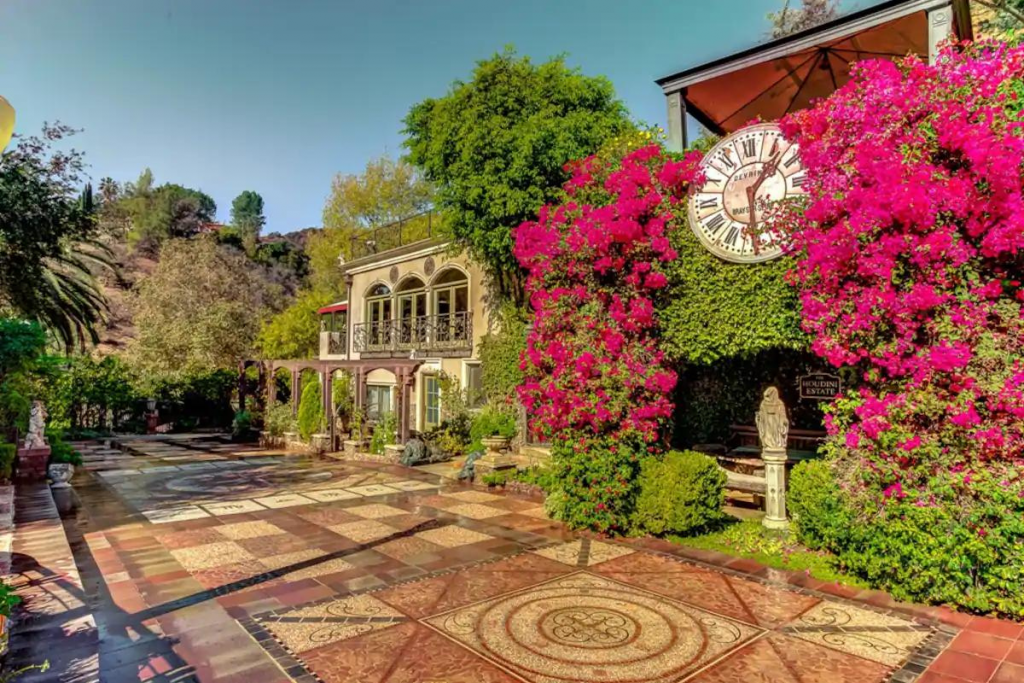 Set on five acres, complete with caves, terraced gardens, hidden tunnels, rock waterfalls, and hiking trails, The Houdini Estate is beyond magical. Built in the Edwardian tradition of the early 1900s, the villa comes with a massive pool, where illusionist Harry Houdini practiced his intricate, mind-blowing acts. The famous deep-water tank used to perfect his underwater escapes is also still there. Following Houdini's death in 1926, the magician's wife continued to live on the property, where she once hosted a legendary party with more than 500 magicians.
432 Hermosa, Palm Springs
(6 bedrooms, 7.5 bathrooms)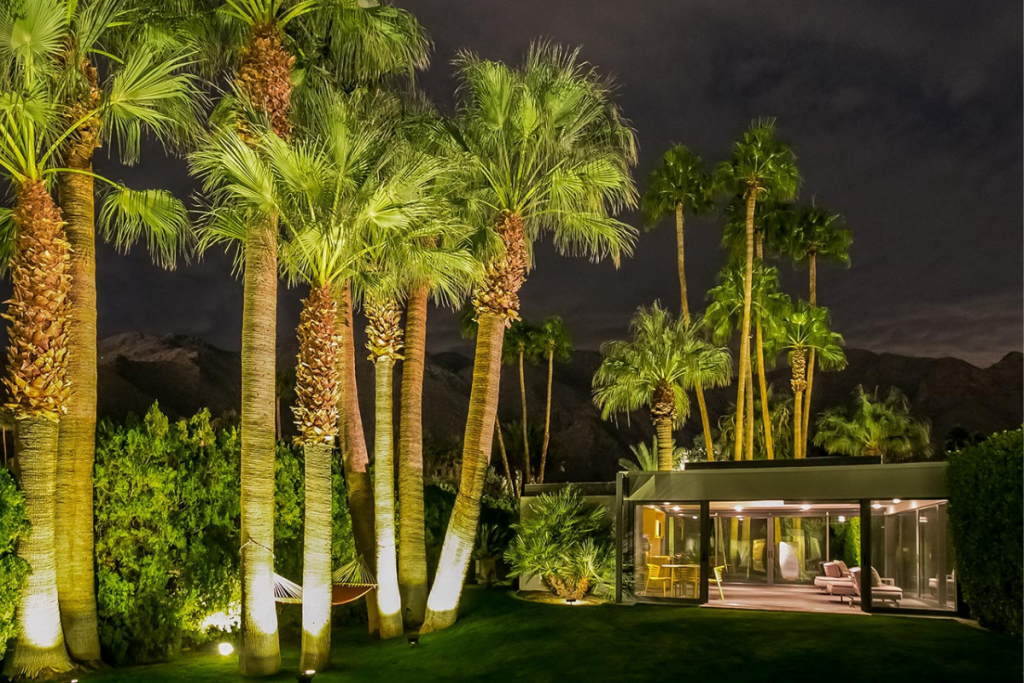 Built by famed architect Donald Wexler in 1964 for the late singer, Dinah Shore, 432 Hermosa is currently owned by actor Leonardo DiCaprio. Considered one of the best examples of mid-century architecture in Southern California, the villa also served as a vacation home for Marilyn Monroe, Elizabeth Taylor, Dean Martin, and Elvis Presley. It comes with a heated swimming pool, tennis court, chef's kitchen, hot tub, cocktail bar, and grand piano.
Villa Carmelita, Palm Springs
(5 bedrooms, 5 bathrooms)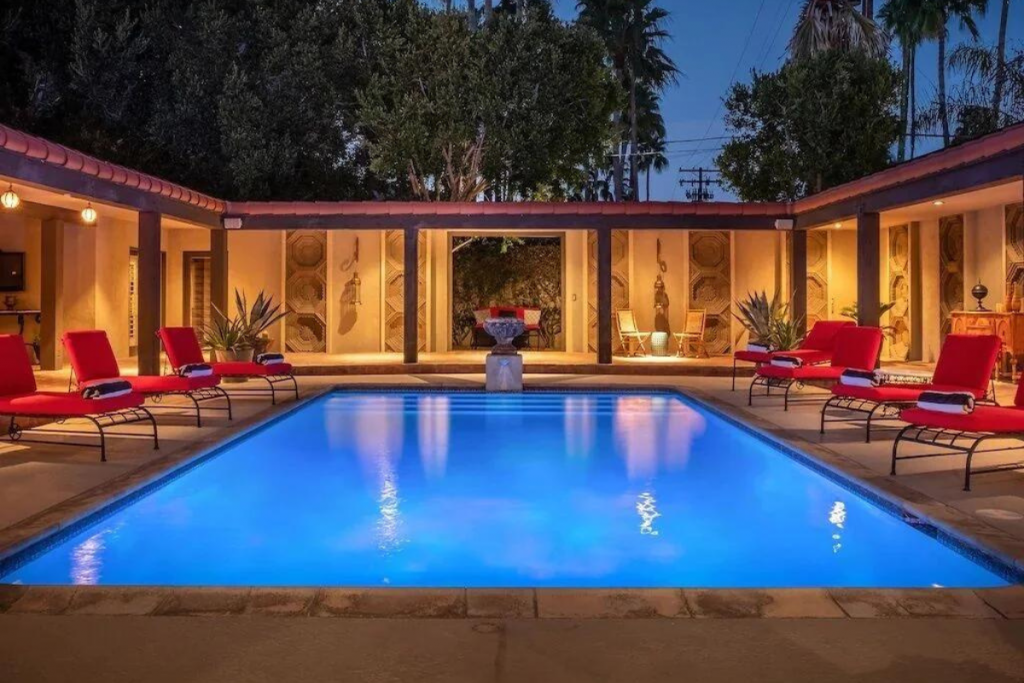 Originally built for Citizen Kane actor, Joseph Cotton (and frequented by the late Natalie Wood, Tom Bosley, and Kirk Douglas), Villa Carmelita was later — and most famously — owned by 1970s pop duo, Sonny & Cher. Located in the secluded Mesa neighborhood, the villa is ultra-private — completely walled and gated. Guests love the center courtyard with pool, alfresco dining, and living area with fireplace and a daybed. Added touch: the scattering of Sonny & Cher photos throughout the villa.
Reese Witherspoon's "Big Little Lies" House, Malibu
(6 bedrooms, 7 bathrooms)
Although the present-day television series, Big Little Lies, is set in dreamy Monterey County, the villa (which doubles as the home of Reese Witherspoon's character, Madeline), is actually located in Malibu. Casual chic and with private access to Malibu's most exclusive beach, the villa comes with two primary suites — one with outdoor fireplace and private deck; the other with a deck and Jacuzzi. There are separate his/her bathrooms and walk-in-closets, and even a completely separate guest house. Enjoy, also, the sauna, outdoor seating, and hot tub.