By now, you've probably binge-watched season 2 of Bridgerton — and yes, OK, maybe there wasn't quite enough sex this time around — but OMG the grandeur. If the hit period series has left you hankering after a European escape where you can live out your Marie Antoinette fantasy, there's great news. The infamous Queen of France once called the Palace of Versailles home, and now you can too. Here, we step inside the lavish world of a former palace turned luxury hotel, the first one open to the public within the gates of Versailles.
Fit for a Queen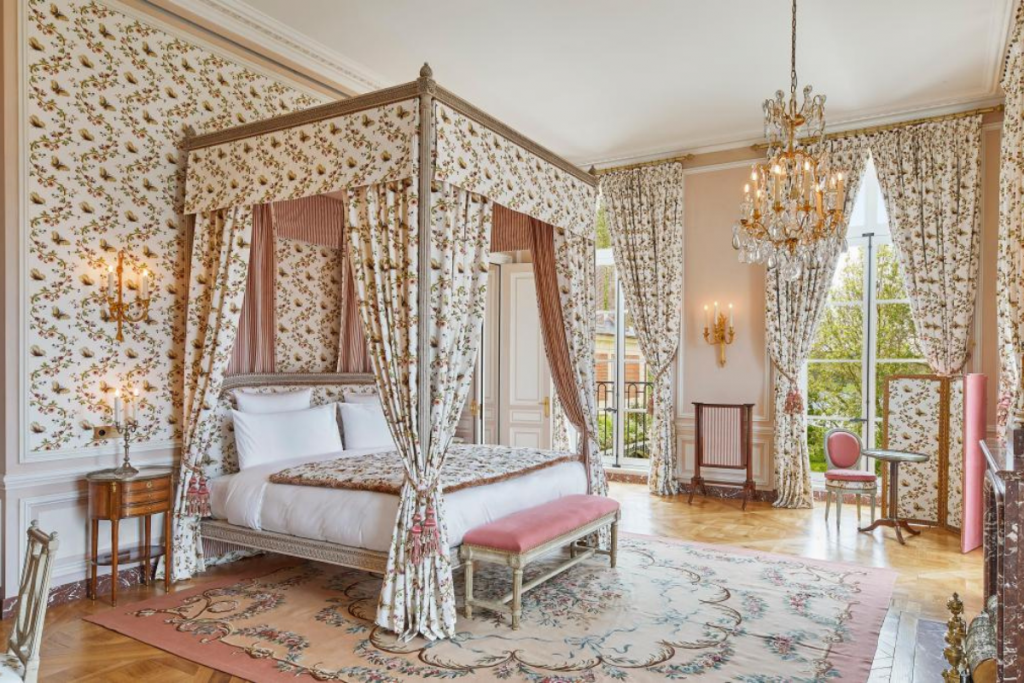 Travel an hour outside of Paris, to be transported back to the 18th century, where you can bed down at a former palace, on the same grounds that Louis XVI and Marie Antoinette once called home. The first luxury hotel to open in Versailles, Airelles Château de Versailles located in the Le Grand Contrôle building (originally 1623 as a hunting lodge and transformed into a palace by Louis XVI) exudes the kind of grandiose and opulence once reserved for kings and queens. TBH, calling this icon of French classicism a hotel is the understatement of the century.
Palatial Glamor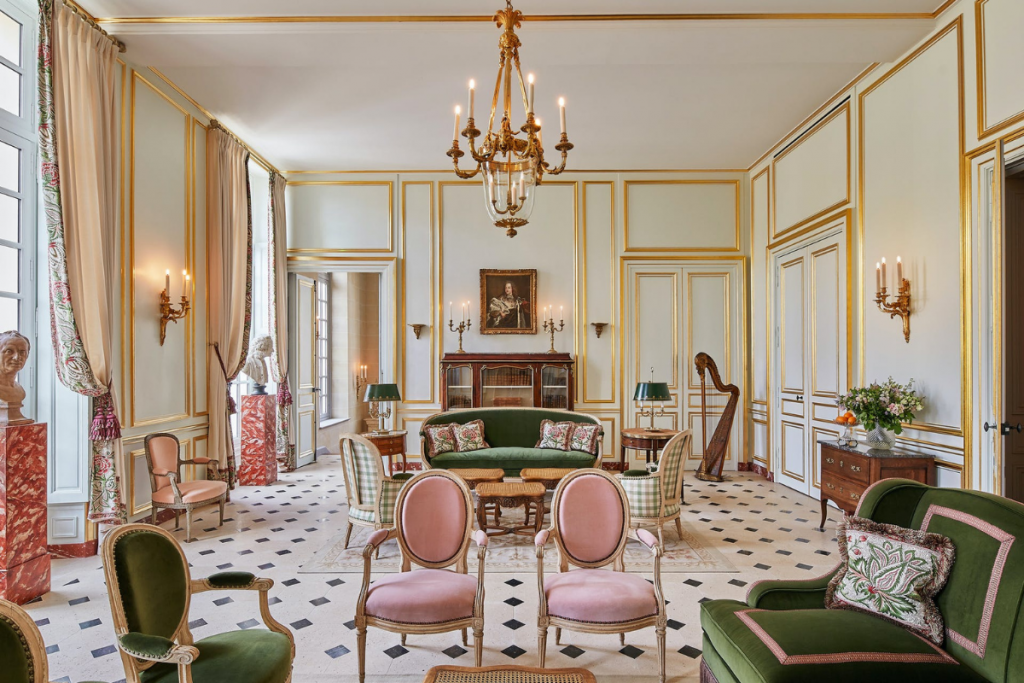 The property, fully restored by interior designer Christophe Tollemer, is a love letter to its regal history and grandeur. Inside its gilt doors, you can trace the footsteps of Marie Antoinette, kings and queens, and European's political and cultural elite in the long hallways which are lined with golden mirrors, and outfitted with luxe velvet furniture, floor-to-ceiling French doors, grand dazzling chandeliers,  a collection of oil paintings curated by a historian and recreations of original wall hangings featuring floral and butterfly-inspired designs, pulled straight from the Versailles archives.
Royal Quarters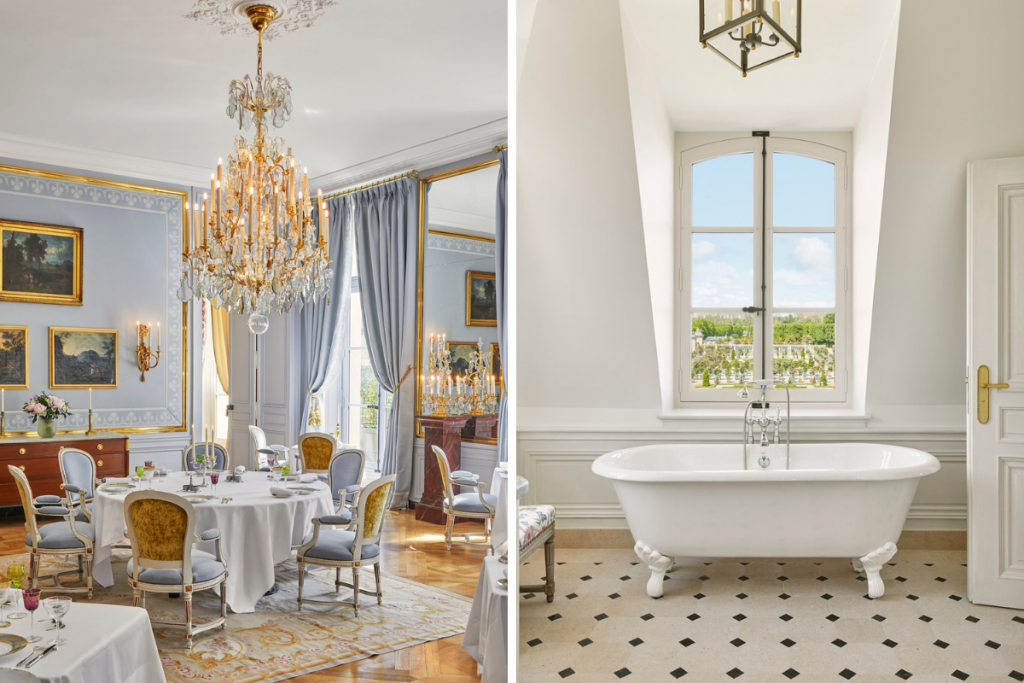 As for the 13 guest suites, these too are positively regal.  Designed by artisans, each is bursting with its own charm, theme, and color palette (blush pinks, ruby reds, duck-egg blue, and rich gold).  Glorious period-accurate decor and furniture also await— four-poster beds, ornate wallpaper, silk curtains, 18th-century chairs, ornate tiled floors, historic cabinets, and luxurious claw-footed bathtubs that face French doors to provide surreal views of the palace.
Modern Day Fairy Tale
Guests can also live out their royal fantasy at Airelles in the castle-worthy outdoor courtyard with its restaurant by famed French chef Alain Ducasse, stroll the 2,000 acres of grounds and manicured gardens, lap up the decadence of the spa by La Maison Valmont and 50-foot subterranean indoor pool. And be sure to take the private after-hours tour of the Palace, and indulge yourself with the Marie Antoinette-themed day to discover more about the history of Versailles and step into the Queen's footsteps with a personal butler, wardrobe fitting, afternoon tea, and spa services. While honoring its past, the hotel has also stepped firmly into the future — geothermal energy heats the building, LED lights now give antique chandeliers their glow, all restaurant ingredients are locally sourced, there are no single-use plastics and guests have access to electric golf carts.
More Castle Stays
As you might expect, a stay at Marie Antoinette's palace comes with a fit-for-a-queen price tag, with rooms starting at $2,770 per night. You can also fulfill your dreams by checking out our curated list of Europe's most magnificent castles. Or truly live like a queen and rent your own chateau in France to step back in time, sleep in a former royal residence, and enjoy the spoils of a private chef, long walks in nature, and that unmistakably French l'art de vivre. Here are 10 of our favorites.