Costa Rica, like other cultures, has a soul speak-like phrase — "pura vida" — which translates to Pure Life (perhaps actually meaning sacred life).  Like Hawaii's aloha, pura vida conveys a variety of emotions and communications, from greetings to goodbyes. It can be used to mean "you're welcome," "no worries," "that's life," "cheers," and more depending on the conversation. While the words pura vida might sound like an elixir from the Fountain of Youth or a tropical libation from your favorite juice bar, the words aptly embody the curative and organic essence of Costa Rica, a treasure trove of natural wonders, unsullied biodiversity, untarnished beaches — all inhabited by an affable populace. Amazingly, six percent of the world's biodiversity can be found in Costa Rica, with more than a quarter of its landscapes passionately protected. Wedged between the Pacific and the Caribbean, this unique swathe of terrain teems with flora and fauna — legions of which can be found nowhere else in the world. Poison Dart Frog? Ocelots? Tapirs? Howler Monkeys? More than 900 species of birds? That's just the beginning. Rainforests, jungle canals, coffee plantations nestled on steep volcanoes, natural hot springs and fish-rich coastal waters define the destination. Rustic pueblos and urbane cities contain a well-educated populace responsible for the small democracy's ambitious awareness of its virtues and deep commitment to conservation. For eco-conscious travelers in search of luxury, Costa Rica is . . . Pura Vida. Ready to experience it? Here are the best luxury hotels for your trip to Costa Rica.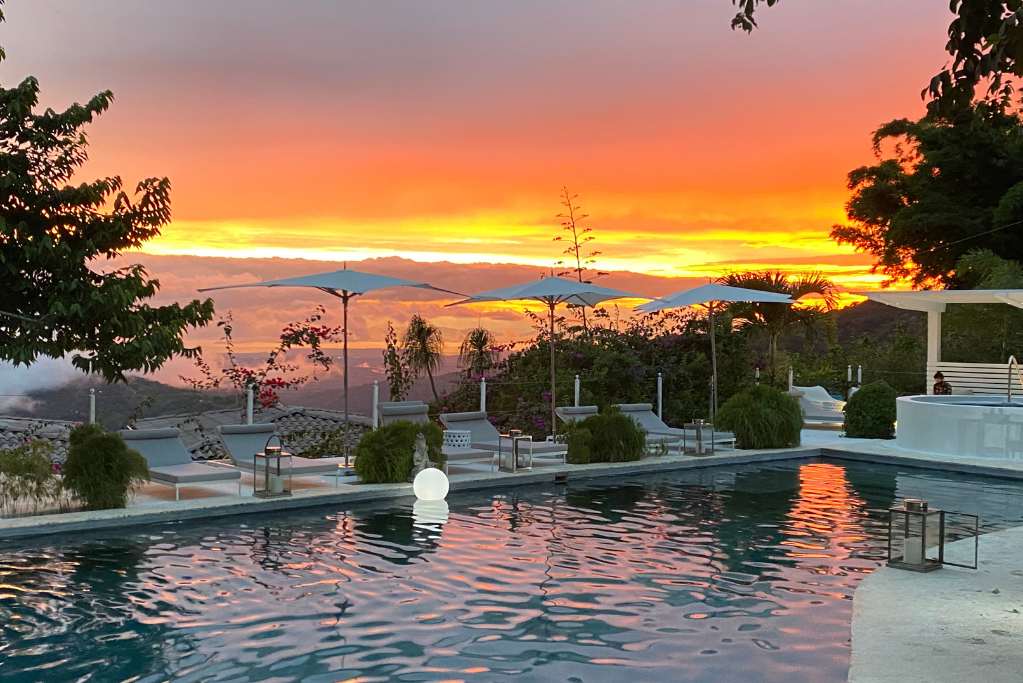 The Retreat Costa Rica Wellness Resort & Spa
Poised on a 60-acre, mystical crystal quartz mountain with views of the verdant, Blue Zone-documented Nicoya Peninsula and the Pacific Ocean, The Retreat harnesses the healing power of its location. A den of sustainability and simplicity, The Retreat has 18 television-free rooms, each anchored by a selenite crystal, known to connect with the chakras. Consider booking the new luxury lofts, which boast floor-to-ceiling glass windows, accentuating the view. At the intimate hideaway, organic gardens, an organic farm (which provides most of the resort's food), a coffee plantation, cooking classes, salt water pools and a river connect guests to nature's healing powers. The 8,000-square-foot Vida Mia Healing Center & Spa completes the task with a collection of more than 50 treatments including farm-to-spa rituals and Ayurvedic work.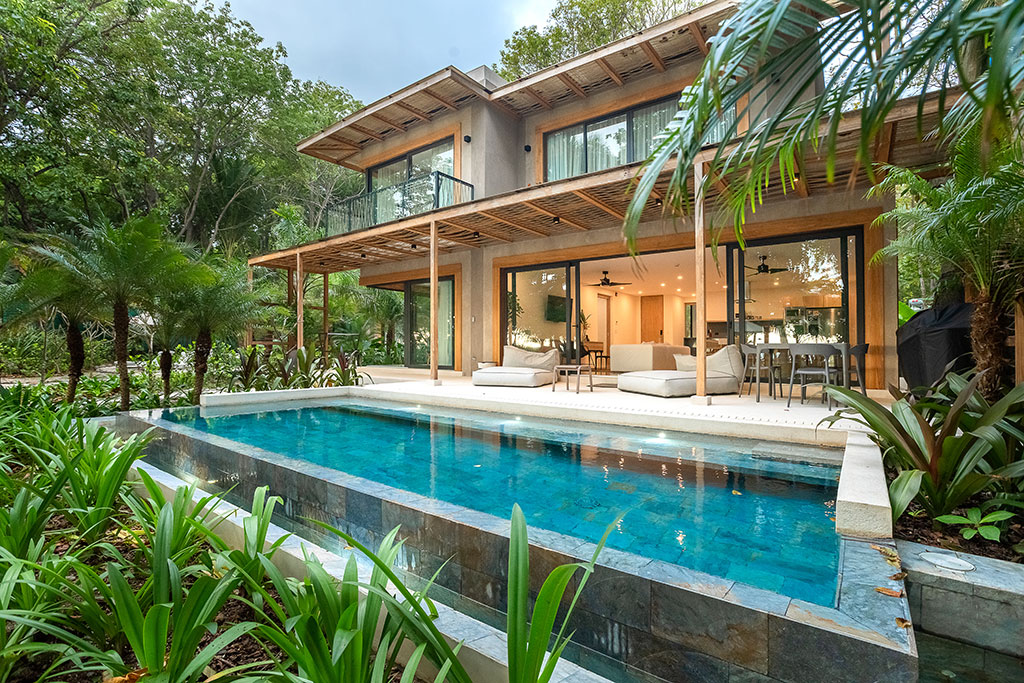 Hotel Nantipa, a Small Luxury Collection Hotel
While a vacation in one of the world's five Blue Zones won't guarantee that you'll live to be 100. But, after a stay at charming Hotel Nantipa, sustainably ensconced on the beach in the world-famous surfer's hotspot, Santa Teresa on the Nicoya Peninsula, you'll feel suffused with the region's palpable salubrity. Soak it up in one of 21 luxurious bungalows, suites, or villas strategically planted amongst nearly six acres. For extreme TLC and celebrity-style privacy, opt for one of the new 3-bedroom villas, complete with 24-hour concierge services, on-call private chefs, and yoga teachers. Eat well at Manzu Restaurant, one of the area's most acclaimed restaurants, known for its 7-course tasting menu, a showcase of Costa Rica's regions.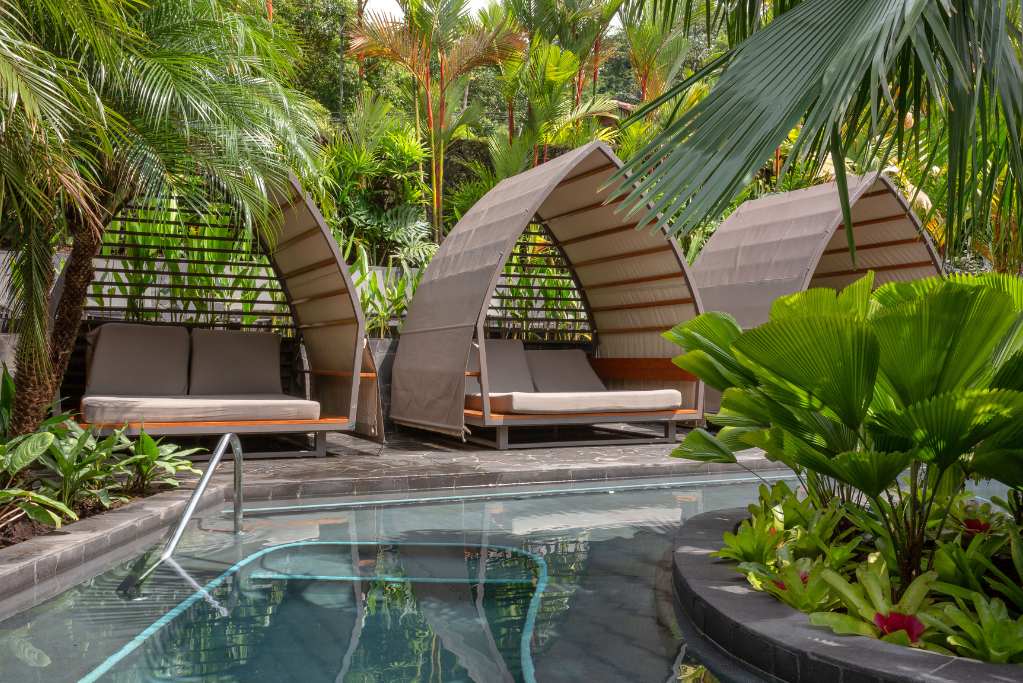 Tabacón Thermal Resort & Spa
Soak up pura vida — literally. At Tabacon, nestled into the base of the Arenal Volcano in northern Costa Rica, health-conscious travelers can submerge in an astonishingly large network of healing hot springs, accented by cascading thermal waterfalls and tranquil pools. Long a leader in sustainable tourism, the cozy retreat celebrates its 30th birthday this year, still loyally dedicated to helping support the lives of its neighbors and the surrounding community. Occupying 900 unspoiled acres, it features 105 rooms. Fourteen of them, recently renovated to be either Honeymoon Suites or Rainforest Rooms, have been designated adults-only zones, including four that score with private plunge pools fed directly by thermal water from the property's own volcanic hot springs.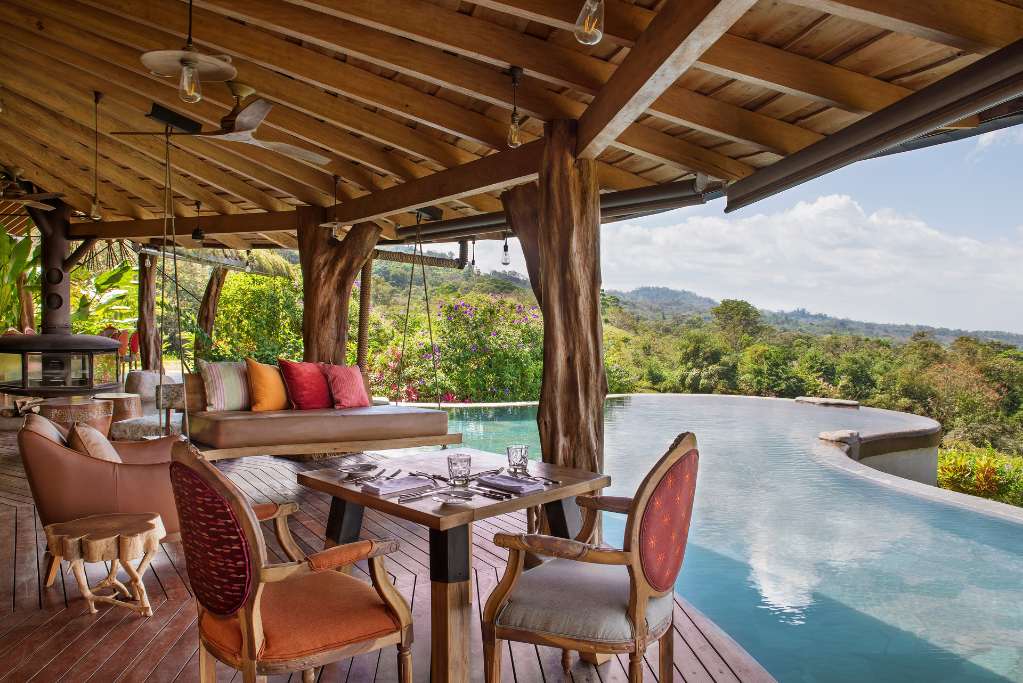 ORIGINS Lodge
Get lost in a private rainforest jungle at ORIGINS Lodge, a diminutive paradise on 111 acres of breathtaking nature. With just six one-bedroom, circular villas, and one grand — but architecturally sensitive — three-bedroom villa — dubbed Vertigo, it melds with the landscape. Drawing guests instantly into its own natural harmony, an Om-like roar of monkey chatter, birdsong, parrot caterwauling, and leaves whispering in the wind, the eco-lodge-style destination has fire-heated bathtubs, ample terraces, a spa suite, an infinity pool, and an idyllic yoga studio that feels like the retreat's defining heartbeat. Gourmands will delight in French-inflected, locally sourced El Salto, created by Michelin-starred chef Jean-Luc L'Hourre and powered by an on-site organic garden. Activities include safari-style explorations of the property, waterfall hikes, yoga (among others), and just pausing to admire the view. Consider this one for a wedding buyout. It couldn't be more perfect.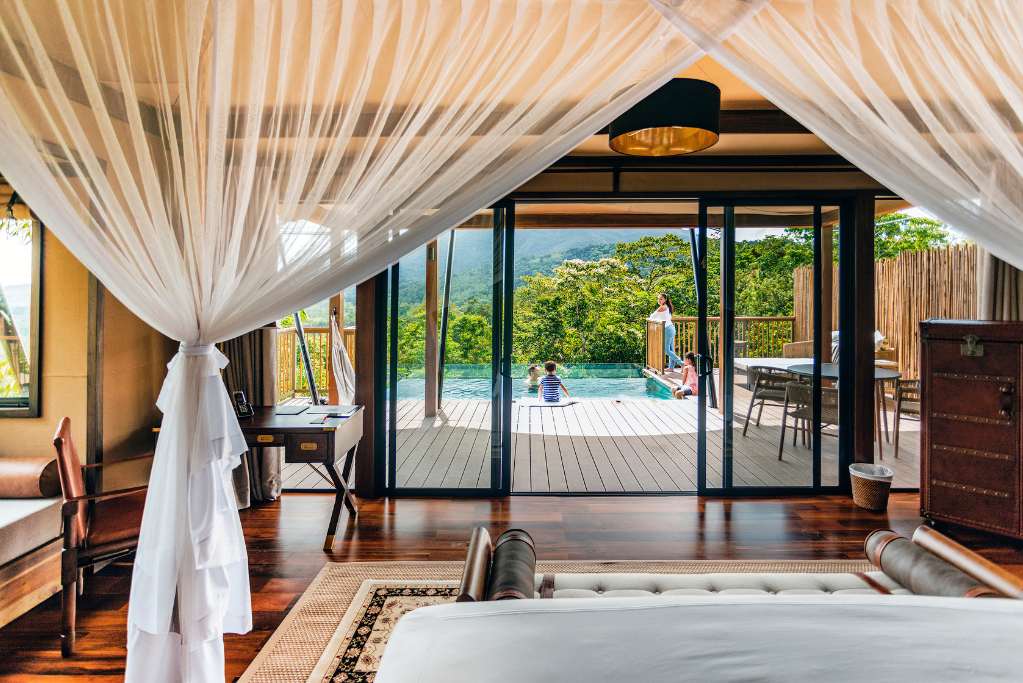 Nayara Tented Camp
Truly a stylish way to camp in the Arenal Volcano National Park, the glamorous Nayara Tented Camp set up its safari-style accommodations amongst the lush mountainside in 2019. Eco-tourism trailblazer hotelier Leo Ghitis had sought to bring elements of the quixotic adventure lodges he'd seen during his travels around the world to the untrammeled landscapes of Costa Rica. A grand success, his 39 suite-like tents immersed guests into Costa Rica's spellbinding nature. Now, Nayara Tented Camp shares the 4,500-acre Nayara Preserve with two other sister Nayara properties, all inviting exploration: adults-only Nayara Springs and family-friendly Nayara Gardens. Guests traverse between the properties on paths and footbridges for dining and sundowners, as well as for activities such as spa treatments and yoga. A good-for-your-conscious retreat, Nayara plays a critical role in serving as a sanctuary for sloths and other regional animals as support to the Arenal National Park. 
Hacienda AltaGracia, Auberge Resorts Collection
Treat your budding scientists and nascent nature lovers to an enchanted, family-friendly adventure in Costa Rica's bedazzling cloud forest. Tucked into the mountains of the San Isidro Valley, incorporating 180 rapturous acres of wildlife rife nature, Hacienda AltaGracia, Auberge Resorts Collection, an inclusive resort, reigns as one of Costa Rica's most celebrated adventure and wellness destinations. Equipped with a hands-on Junior's Adventure Club for kids, developed as a laboratory of cultural fun and meaningful play, the retreat joyously embraces family travel. Swing like Tarzan at El Jugando, a (just challenging enough) rope course for kids, and Caligo, the retreat's new enclosed butterfly garden. Parents can decompress at The WELL, with signature treatments such as Hierbas Y Flores, a deep massage performed with freshly picked herbs and flowers, clamber through the tropical forest canopy to visit the remote Boruca tribal village, and the whole family can gather at night at Grano, a Costa Rican culinary foray.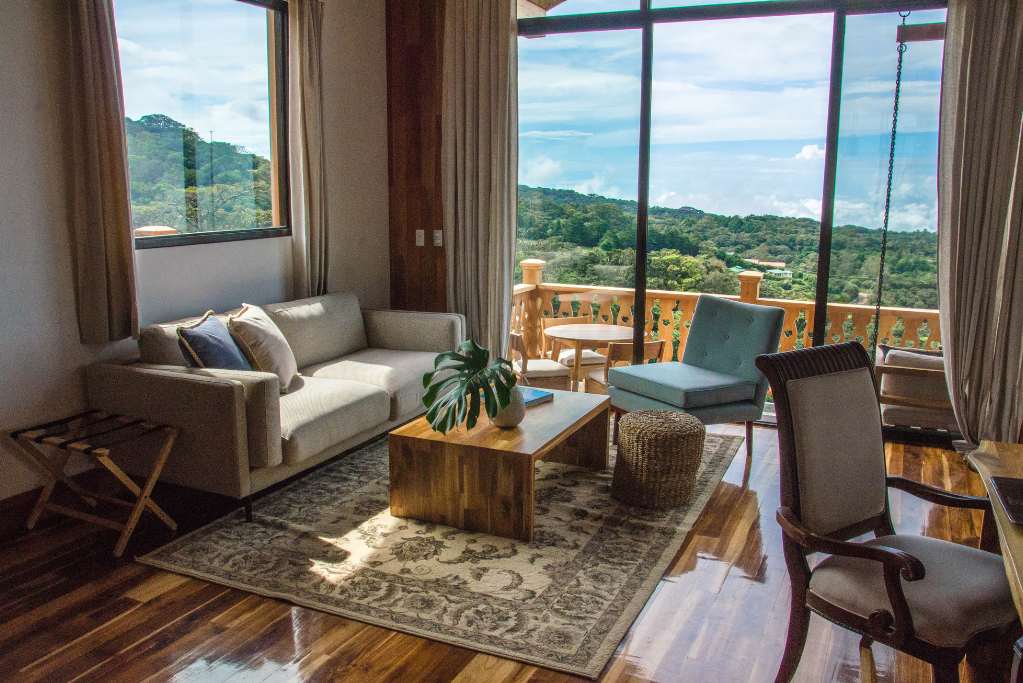 Hotel Belmar
Birders: grab your binoculars. Hotel Belmar, a 26-room eco-hotel marvels with a boutique vibe and unveils the largesse of the Costa Rican mountains of Monteverde, one of the world's most sought-after international birding destinations. Planet positive, the first hotel in the area to become carbon neutral (in 2016), Hotel Belmar continues to make strides in its efforts to further responsible tourism. Its private reserve, SAVIA enables earth-loving adventures with a purpose, such as gourmet picnics above the forest canopy. Book the jaw-dropping Penthouse Suite, which caps the hotel. It flaunts an ample terrace, big enough to play auditorium seating to each night's fulgent sunset over the Gulf of Nicoya — a sure reminder of pura vida. Note to beer lovers: this hotel flaunts a microbrewery.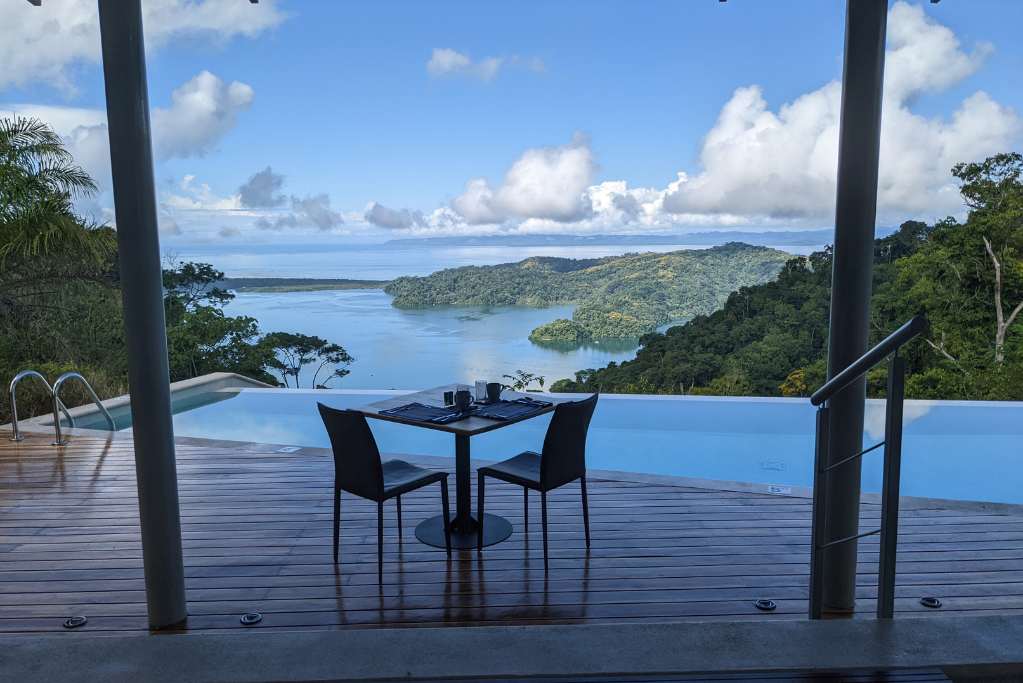 Cielo Lodge
A bijoux luxury eco-lodge on 380 acres of rainforest in Golfito, facing the Golfo Dulce, Cielo Lodge expertly customizes visits for its guests — as if welcoming family. With off-the-grid appeal, the rainforest utopia transports visitors far from the stresses of urban life. That's just the timbre the owners, Keith and Nicole Goldstein hope to imbue — after all, they themselves left the software world behind to yield to pura vida in this pristine and wild part of Costa Rica. On their recommendation, you'll walk barefoot on soft dirt paths to the forest bathe, participate in a nighttime frog walk, waterfall hike, or morning dolphin or whale watching cruise, spend the day with the indigenous Boruca community, visit a chocolate farm, or just loll about in your sleek, contemporary digs in tune with the universe.