"I'm staying at The Dorchester."
I let the sobriquet roll off my tongue as succulently as if it were a nibble of caramelized foie gras, as effervescently as if it were a sip of bubbly Champagne, as casually as if it I had been going to this storied, Mayfair-situated hotel every weekend for fête and debutante balls all of my life. I've been before but that doesn't damper my elation at a chance to return. Built in 1931 from concrete and steel as the modern, lavish alternative to that era's predominant, stodgy, Victorian, men's club-style hotels, The Dorchester quickly became the hub of London haute monde between the wars — a status that never faltered. Today, just as glamorous, just as packed with glitterati, The Dorchester has the deepest bathtubs, the best views of Hyde Park, the most scrumptious afternoon tea, Rudyard Kipling poems on audio in one its restaurant's bathrooms, the most see-and-be-seen bars, suites draped in silk, the most illustrious guests — and the only Liberace piano in London.
Just refurbished, with additions such as the Lalique-studded Artists' Bar at the end of the repositioned Promenade, the Vesper Bar (replacing The Bar), a haven of James Bond-inspired dapperness and the Cake and Flowers Boutique, it remains a place to run into celebrities. Case in point, the time Ringo Starr and I met briefly in front of the elevator and I had the audacity to say: "You're Ringo Starr." (I'm sure he knew who he was!) before his entourage extricated him from my clutches. Everybody's somebody here. It's the place where Elizabeth Taylor brought all her husbands, where Sly Stallone got married, Ian Fleming and Ernest Hemingway swilled, Noel Coward and Stevie Wonder gave impromptu piano performances, Princesses Elizabeth and Margaret celebrated momentous occasions and Kate Moss has been seen sipping martinis. Get bedazzled in The Oliver Messel Suite, a Rococo fantasy by genius stage designer and artist Oliver Messel. It vaunts a riot of florals and a conversation-starting gold, scalloped toilet seat — among other enchantments.
Here are the most luxurious London hotels you can book.
Shangri La The Shard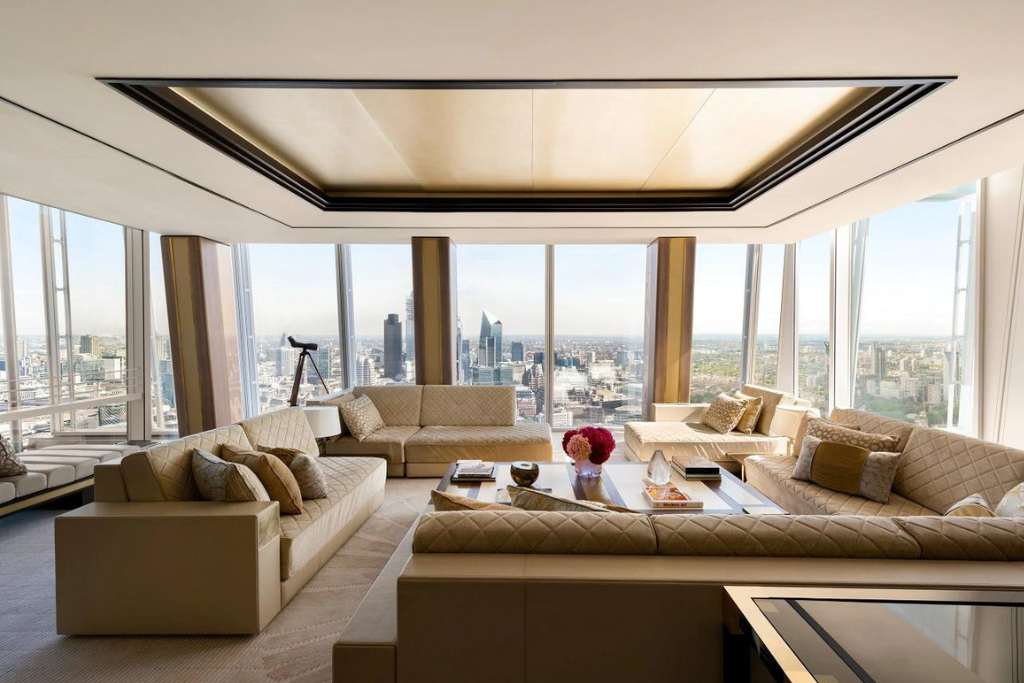 One can't mention this swish hotel without waxing poetic (or screaming through a megaphone) about the views. Enveloped within Western Europe's tallest building, The Shard, designed by Renzo Piano, begins on level 34, then rises up 18 floors. At its summit, it brandishes the world's highest infinity pool, Sky Pool, on level 52. Vistas boggle the mind, embracing bucolic countryside as far as Kent more than 40 miles away. But mostly, it's the unmatched views of London, a whirlwind of landmarks from St. Pauls' Cathedral to The Tower of London. Eat at GONG, but sleep in the jaw dropping Shangri-La Suite, a VIP haven that occupies most of level 39. Look for Shangri La's immersive decorations which change by the season.
Brown's Hotel, a Rocco Forte Hotel
A nobility favorite Brown's Hotel, a Rocco Forte Hotel reigns as London's oldest hotel. Lording over the heart of Mayfair amongst a slew of shops with Royal Warrants, the quixotic hotel, rife with colorful furnishings, splendorous textiles and extravagant floral arrangements never ceases to stir up feelings of being part of a Brit Box production. Book the delightful Sir Paul Smith Suite for its whimsical ambiance, signature stripes, and hand-selected artwork. Though the Coronation has come and gone, take advantage of The Royal Experience, fit for a King, which includes a two night stay, as well as a 'King's Elixir' cocktail in The Donovan Bar or Charlie's Bar, made with Berry Bros & Rudd No.3 Gin and King's Ginger liqueur, a tonic made for King Edward VII; a welcome pack with luxurious treats and gifts from various Warrant Holders in Mayfair (Hatchards books, a bottle of King's Ginger Liqueur, etc.) and dinner at the aptly named Charlie's restaurant.
45 Park Lane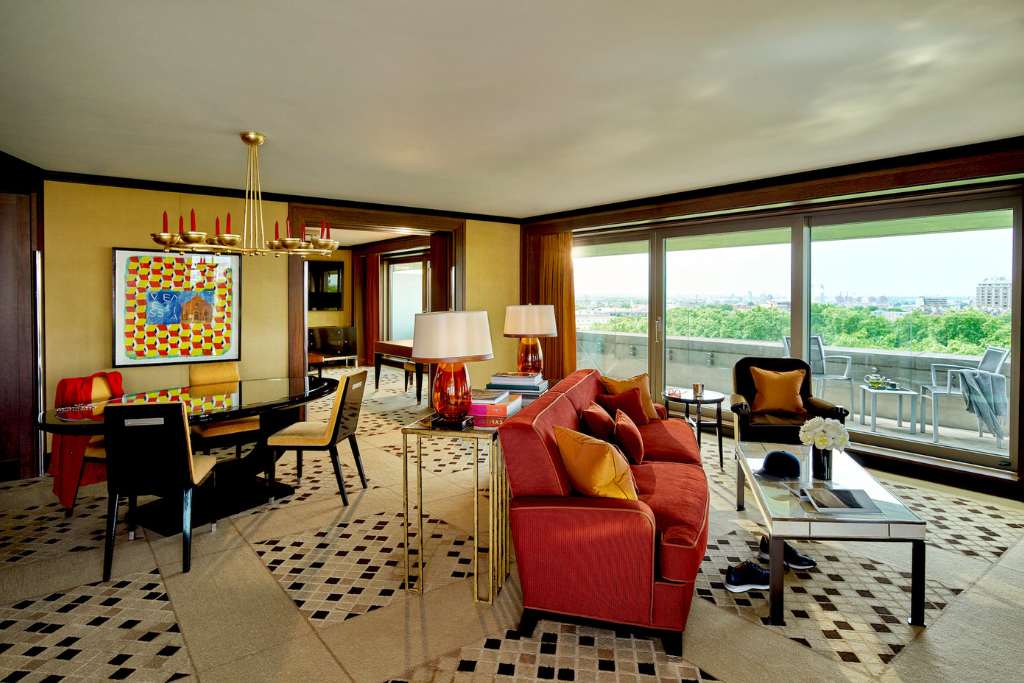 Clubby 45 Park Lane redefines London hotel culture with its personable host concept, a person assigned to each room able to aid and abet all manner of customized moments and dispersing local knowledge with the verve of regional virtuosos. Emitting a residential mood real enough to incite a fantasy of actually being a London resident in a posh apartment building, this intimate property has just 45 rooms and suites, each an indulgent pocket of contemporary capaciousness. Look for the hotel's own art collection, a nod to its past as a private residence.
Hotel Cafe Royal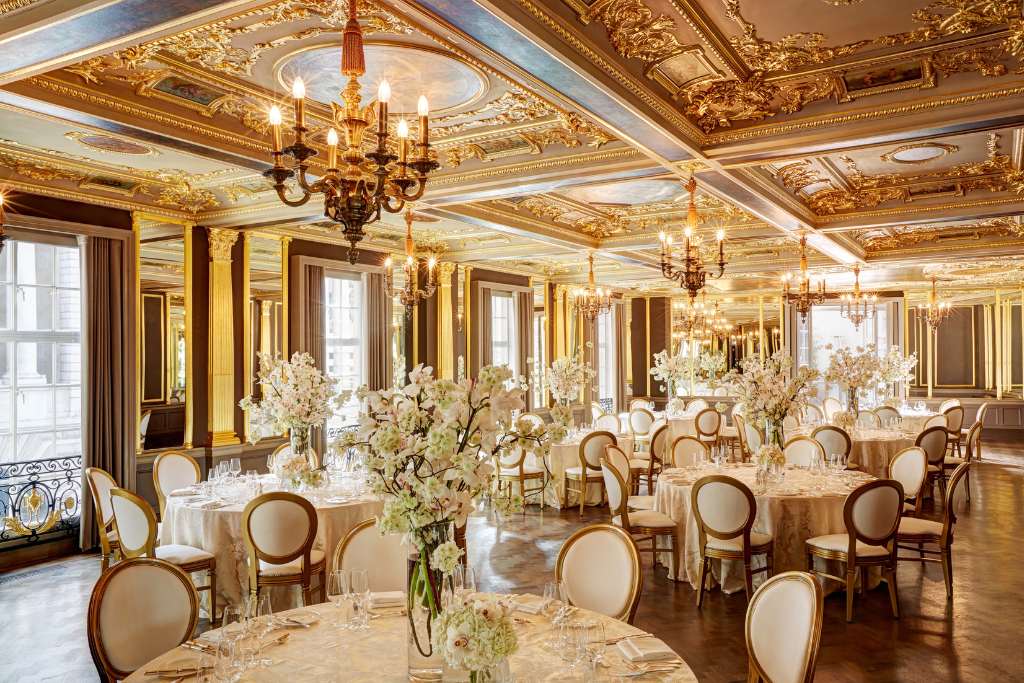 Foodies and gastronomic historians will want to bite into, chew and digest Hotel Cafe Royal, currently the lair of two of the world's most acclaimed chefs as well as the site of a bygone restaurant so beloved by Oscar Wilde that he held his salons here and so craved by Winston Churchill that he frequented it for its steaks and stilton. Today, guests can partake of two Michelin-starred Alex Dilling's French intoned cuisine and Michelin-starred Albert Adria's flawless sweet treats. As for the hotel, with 160 rooms and 49 suites — some of London's most immense — Hotel Cafe Royal summons the sense of tiny apartment living all under the tutelage of a liveried butler. Don't miss the otherworldly The Green Bar with its speakeasy-feel.
One Aldwych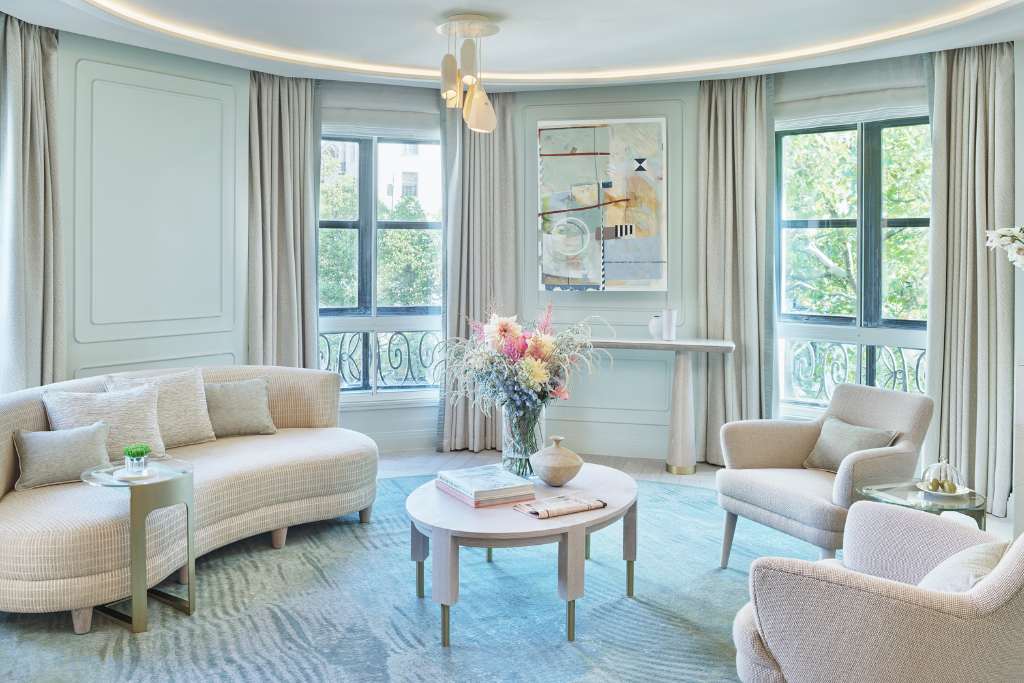 West End loving guests and theater lovers relish the art-filled halls and stylish vibe of playful One Aldwych. The hotel set the standard for chic opulence when it opened in 1998, pioneering new horizons for once seedy Covent Garden. In an Art Nouveau building that once held the Morning Post newspaper, steps from the River Thames, One Aldwych now snazzily embraces new London modernity with sleek contemporary, slightly edgy, re-imagined English flourishes by Fabled Studio and Robert Angeli. Privately owned, One Aldwych features an eye-popping art collection, a subterranean swimming pool, complete with underwater music, The Lobby Bar (frequented by fashion mavens) and Indigo, a regionally conscious, neighborhood restaurant by Chef Dominic Teague.
The Adria
I suppose we all have longed for a long lost uncle or auntie to appear in our lives, a duke or duchess, with a grand home, set gracefully in a pocket of London perfection, such as the Royal Borough of Kensington, a splendorous neighborhood, awash in exemplar Victorian facades. Ideally, they'd give us spending money for Harrods, let us run wild in Kensington Gardens, or experience the riding stables in the Royal Park. In their home, we'd be mollycoddled by a fire, eat breakfast in bed, gobble up sandwiches at afternoon tea, and sip a martini from the martin cart — if we were of age. Enter, the Adria Hotel, a pied-à-terre-style extravaganza, woven into a 19th-century townhouse, kitted out with just 24 suites. The bonus: this hotel belongs to the peerless Bürgenstock Collection, purveyors of inventive stays such as Bürgenstock Hotel & Spa that hovers above Lake Lucerne in Switzerland.
The Lanesborough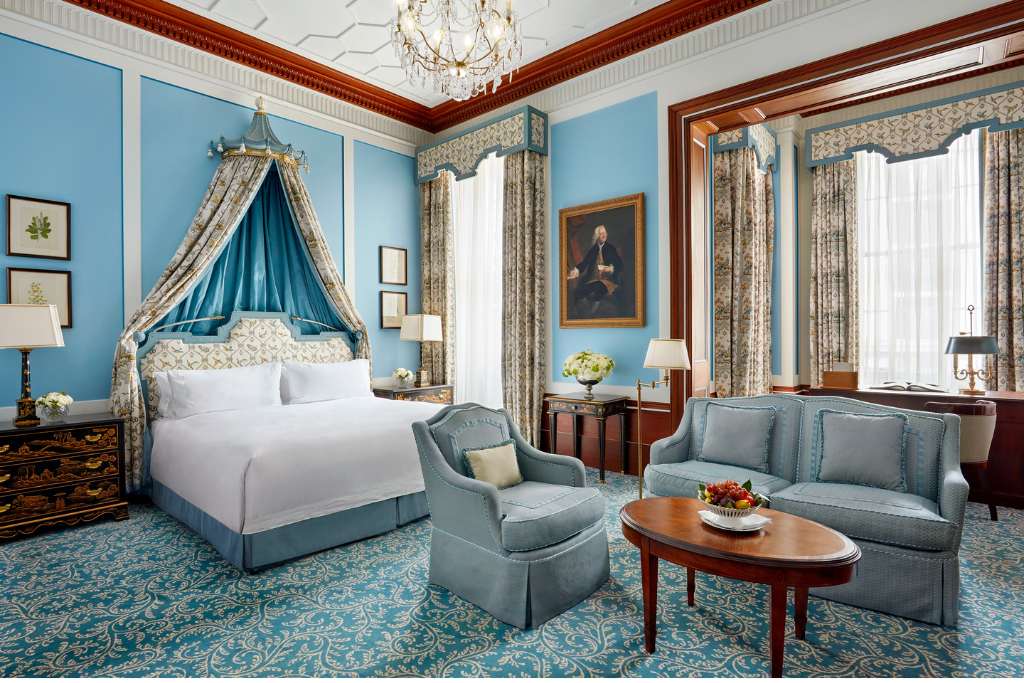 Once the home of a Viscount, close enough to Hyde Park to smell its soft green grass, this magniloquent hotel with its dark paneled doors, lush fabrics, and restoration work by British artisans (a confection of breathtaking details including trompe l'oeil, gold leaf, ornamental plasterwork, and stenciling) couldn't be more stately, formal, and sophisticated. And yet, The Lanesborough cheekily (and honestly) proclaims itself a family hotel, warmly welcoming children with gifts, daily treats, movies, games, and special delivery items (think: milkshakes and popcorn) from their personal butler. Not an indestructible place (watch those little hands!), owned by the family Oetker, The Lanesborough also loves parents, who will nibble truffled eggs for breakfast, take solace in its immense spa, a fantasia of wellness delights. The whole family will indulge in unique seasonal activities such as The Lanesborough's just launched Queen Charlotte Afternoon Tea, a homage to the Regency era, inspired by Netflix's Queen Charlotte: A Bridgerton Story.
Rosewood London
Savoir Faire reigns on High Holborn. With an entrance that summons thoughts of secret passageways à la a dramatic wrought iron gate, this Belle Époque hotel has a flair for understated drama, the sort that sneaks up on you. Behold the Rosewood London's myriad mini wunderkammers (cabinets of curiosities) that whimsically reference surrealistic works like Magritte or Clockwork Orange, all amid unabashed luxury. Pastries adorned to evoke a Damien Hirst or a David Hockney work to eat at afternoon tea? That's all part of the fun. Sleek, simply opulent rooms embody hideaway havens, cozy escapes from the buzz of the throngs outdoors. Bring your best friends to take over the Grand Manor House Wing, a seven bedroom oasis with its own entrance and postcode.