In Iceland everything is fire and ice, so what better place to (metaphorically) melt in front of a roaring fireplace than at The Retreat at Blue Lagoon, a sleek hideaway set amid ancient lava fields and milky-blue geothermal waters. While guest rooms such as the stunning, bi-level Blue Lagoon Suite boast personal fireplaces, I take refuge in the subterranean Retreat Spa, which also offers some fiery nooks. There, I partake of The Ritual, The Retreat's renowned self-treatment. It includes various steps and applications, such as crushed lava for exfoliation, wet, green algae for head-to-toe detox, and a moisturizing, white, silica, all-body mud mask.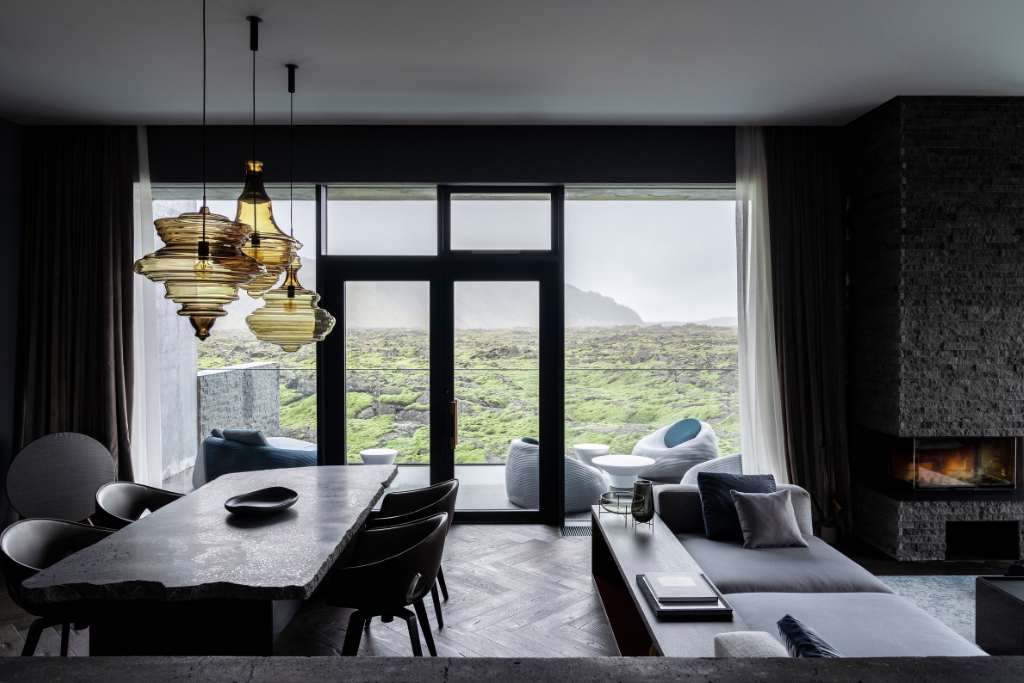 Afterwards, sheathed in my bathrobe, my paramour at my side, I seek the romantic allure of a well-earned nap by the fire. We migrate to the warren-like spa's various common areas, stopping at the fireplace room, where sumptuous loungers encircle a hypnotic central fire. Later, for my grand fireplace-infused finale, I take over the reservation-only Lava Cove, the spa's dreamy "spa within a spa." Anchored by a sleekly designed wood-burning fireplace, the 538-square-foot oasis also features a spellbinding private lagoon, contemporary interior design, a kitchen and dining area — ideal for six hours of inflamed quiet time with your beloved.
Whether igniting a new relationship, rekindling one that has burned to ashes, fortifying the best union of your life, or refueling with some alone time, these quixotic resorts provide an ardent hearth to warm your heart, soul, and toes.
Bürgenstock Resort and Alpine Spa, Switzerland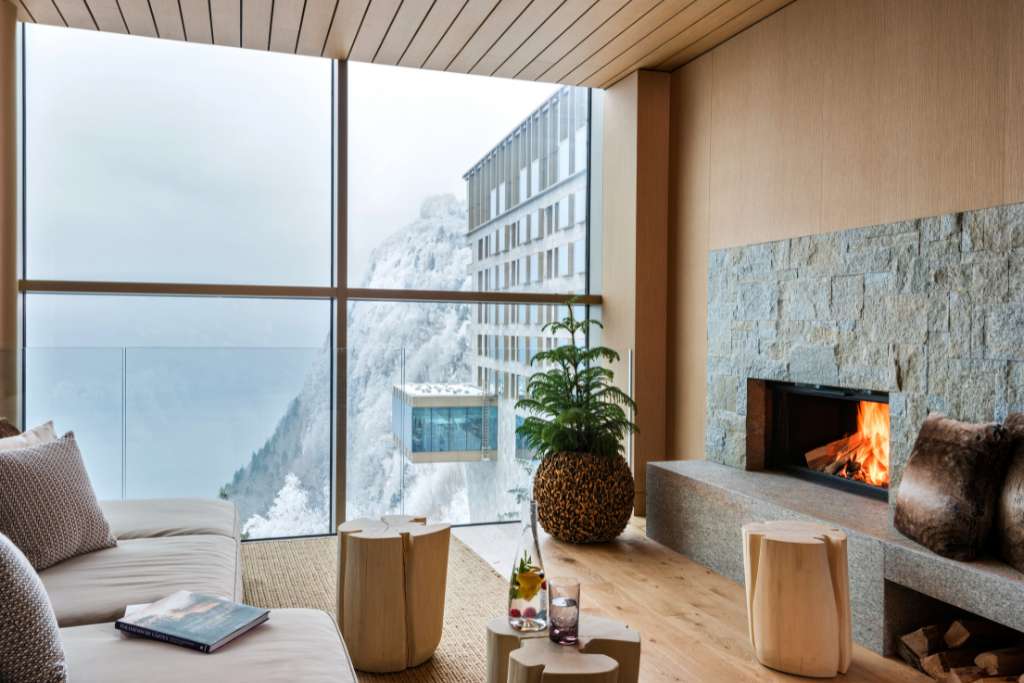 When you arrive at Bürgenstock Resort, a love nest poised 1,500 feet above glimmering Lake Lucerne, you'll be obsessed initially with the astonishingly Instagrammable infinity pool, a vision that clings to the cliff. You'll submerge there for hours, watching the boats on the lake below, perhaps leaving at last to sit in one of the resort's myriad saunas or to hike among the meadows filled with bell-wearing cows. But, it's your lavish suite that will draw you back to the resort for subsequent visits, a haven equipped with a double-sided fireplace, hedonistically set to illuminate a sybaritic bathtub with space enough for two.
San Ysidro Ranch, California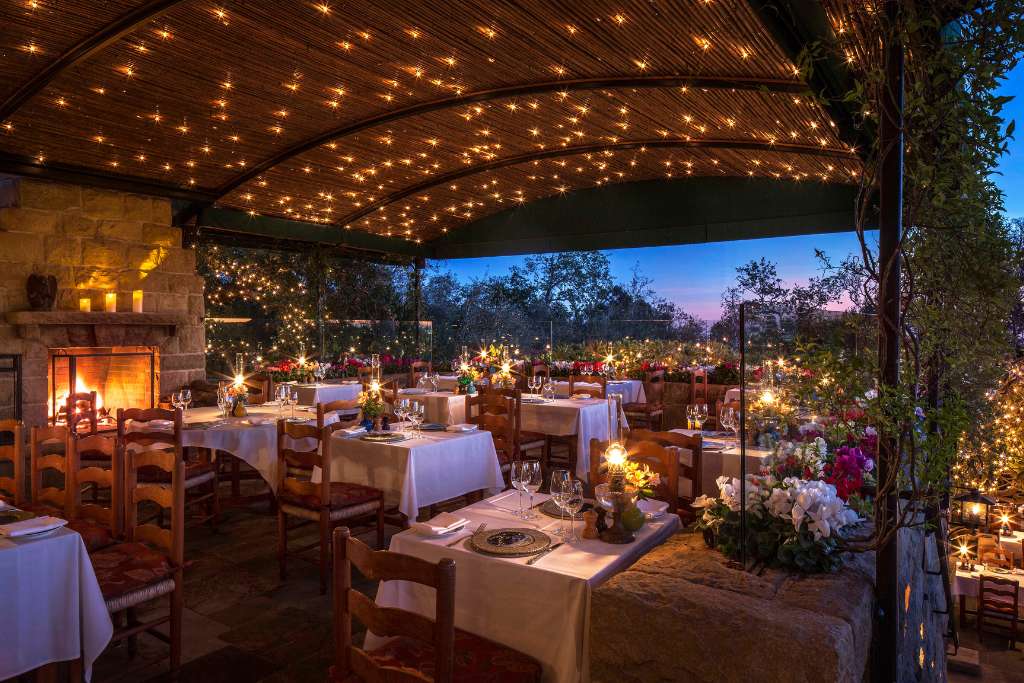 Woo your beloved at one of many fireplaces at this 500-acre legend, situated 90 minutes from Los Angeles near Santa Barbara. Blessed with riveting views of the Pacific Ocean and Channel Islands, hoarding a history of celebrity guests that includes John F. and Jacqueline Kennedy who honeymooned here, Winston Churchill, and Groucho Marx in bygone times and hotties like Justin Bieber more recently, the citrus-tree-brimming refuge prides itself on its abundance of roaring hearths. Whether in the lobby, spa, restaurants, or individual cottages, ember-loving guests can find a place to flirt before the flames. Enjoy the spa's couples treatment room, which offers an in-room fireplace and bathtub, then book a private dinner at Old Adobe (a California historic landmark that dates back to 1825) for nourishment and a provocative personal fireside tete-a-tete.
Royal Champagne, France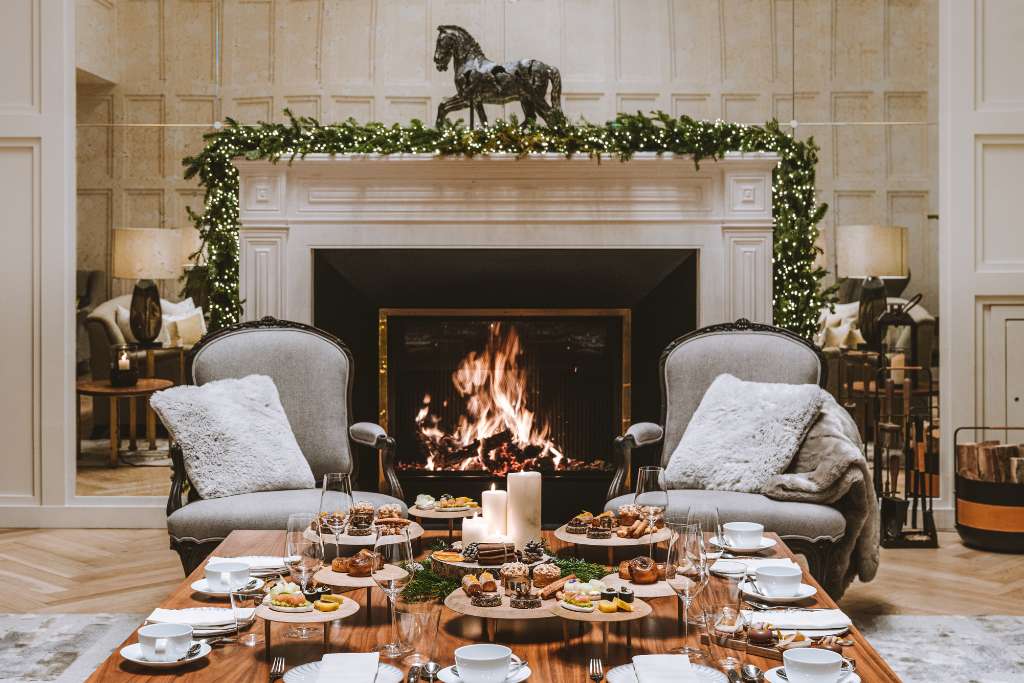 Winter is mystical in the Champagne region, especially as seen from the hilltop where Royal Champagne Hotel & Spa hovers between Reims and Epernay. Jaw-dropping views of UNESCO-protected vineyards, suffused in smoke, set a moody note, as the vignerons prune the vines and burn the cuttings. At the resort, settle before the white stone fireplace in Salon Fines Bulles, the elegant five-star hotel's grand living room, to sip bubbly and think sultry thoughts.
Ocean House, Rhode Island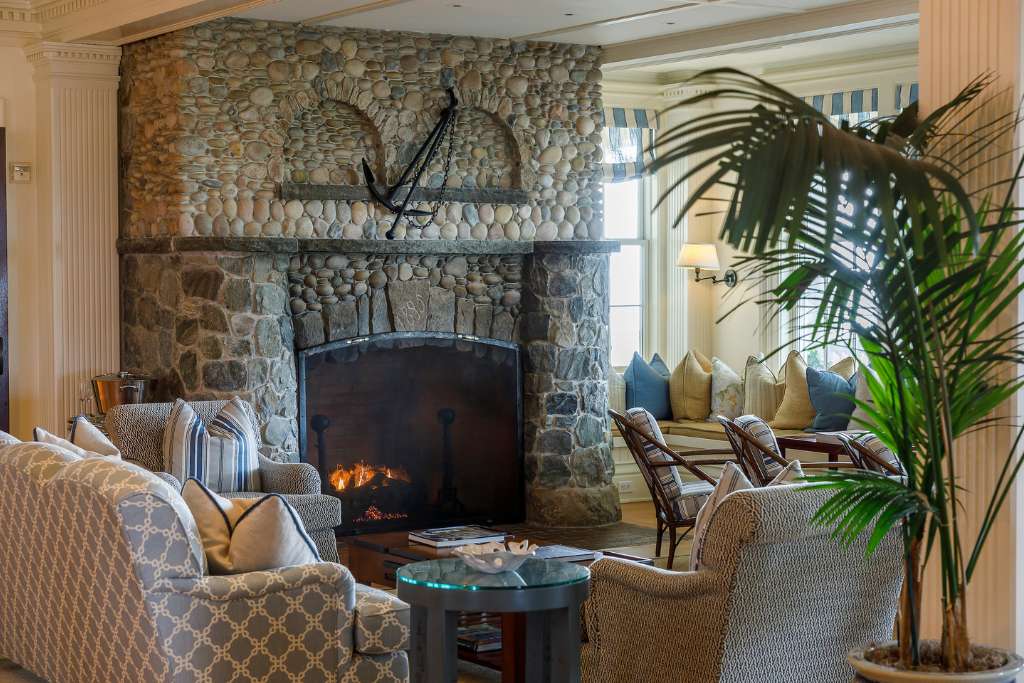 Effusing Victorian magnificence, lording over the bluffs of iconic Watch Hill, storied Ocean House rules the roost as a revered New England seaside resort. With a slew of accolades (AAA Diamond), the peerless inn, a member of Relais & Chateaux, pampers guests with old school charm and modern elan. Dote on one another before the historic fireplace — witness, no doubt to a plenitude of libidinous stories. When renovated recently to its former glory, restorers meticulously numbered each rock to ensure the fireplace was returned to its original form.
Castello di Reschio, Umbria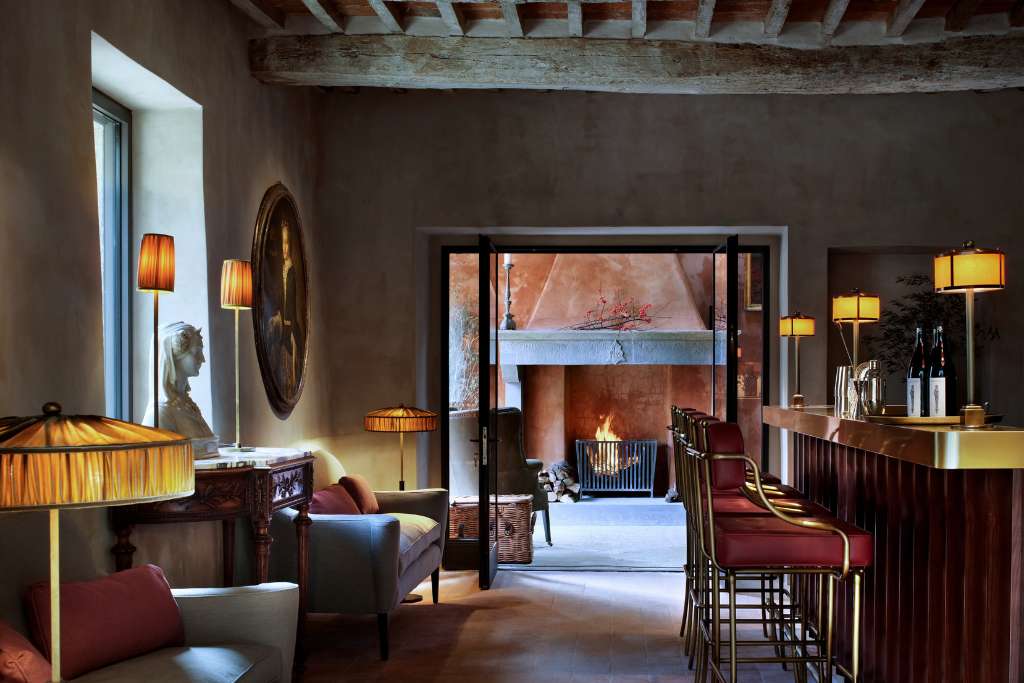 Take your pick from a range of fiery hotspots amid Castello di Reschio's voluminous 3,700-acre private estate in lesser-traveled Umbria. An 11th-century fortress, restored with great care by its owners, Count Benedikt Bolza and his wife Donna Nencia, the 36-suite, ultra-sumptuous fortress opened in 2021. Be impassioned before the blazing fireplace of your choice, whether in the dining rooms, boot room (where you'll be urged to relax with tea or wine as resident designers turn foraged herbs and wildflowers into memorable bouquets before your eyes), or the spa bathhouse, a heavenly place for repose.
Inkaterra la Casona and Inkaterra Machu Picchu Pueblo Hotel, Peru
In high altitude Cusco, ancient home of the Inca civilization, the nights can be chilly. Warm up at Inkaterra La Casona, ensconced in a restored 16th-century manor house. Commune with history before the impressive stone fireplace, which greets guests in the lobby or choose one of 11 suites which also brandish heart-warming stone hearths.
La Residence, South Africa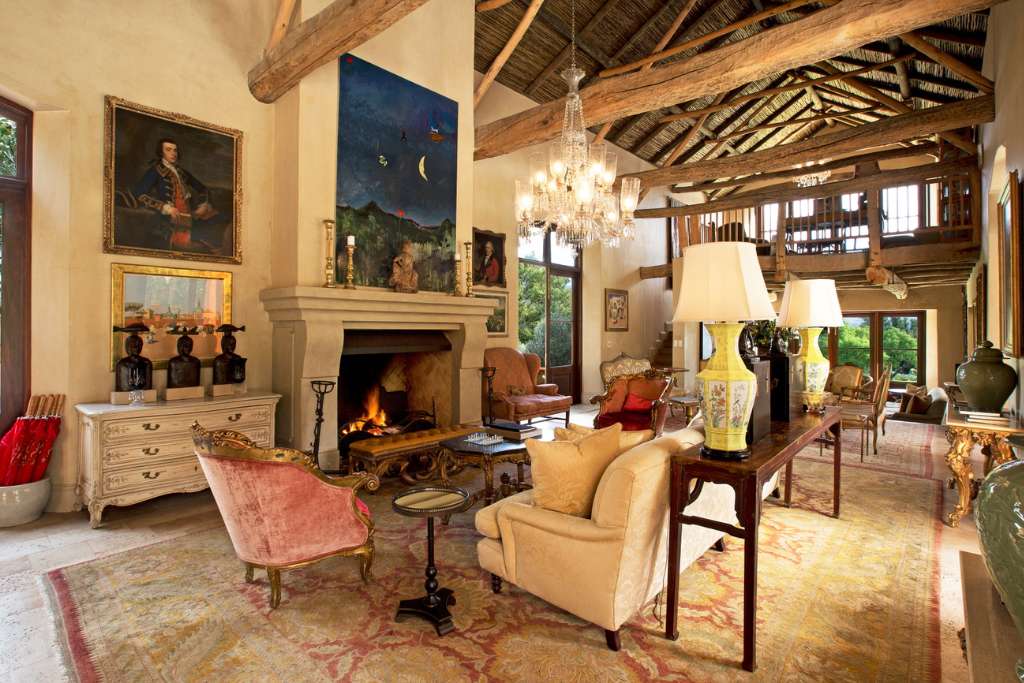 After a day of wine tasting in the Cape Winelands, retire to The Royal Portfolio's La Residence, a lavish hotel as exciting for design buffs as oenophiles. Stand before the monumental fireplace in the Great Hall, like characters from a novel, exchanging wine, chatting, or admiring the boldly opulent decor implemented by talented owner and visionary Liz Biden, lauded for her eclectic mise en scène blending of art, color, and texture – as boldly exotic as a Mattise painting. Awash in drama, the Great Hall and its fireplace seem emblematic of a pre- or post-safari romp in South Africa.
Cover image courtesy of Bürgenstock Resort & Alpine Spa