New York City is well known for its bustling streets and iconic landmarks. However, beyond the well-trodden paths lie hidden gems that offer intimate experiences for those seeking to explore the city's less-publicized, unique corners. The shroud of nightfall serves as a concealing cloak for the city's clandestine corners, tempting speakeasies, and captivating hideaways, safely removed from the incessant gaze and activity of the never-ending stream of tourists. As dusk descends, the skyline morphs into an enthralling mosaic of shimmering lights, casting an enchanting glow that gently illuminates the city's best-kept secrets. Within these veiled corners, you'll discover uncharted territories of desire and romance, where sensuality doesn't just knock on the door; it confidently strides in and reigns supreme.
We'll guide you along the paths less traveled where whispered sweet nothings find a home against a backdrop of awe-inspiring panoramas, and the rhythmic, enchanting hum of the city serves as the soundtrack to your romantic adventure. It will feel like just the two of you in a city of millions.
From the enticing intimacy of dimly lit gastronomic experiences to the palpable heat of rooftop liaisons, these secret spots are the ideal playground for couples yearning to infuse their relationship with an electrifying jolt of romance.
AIRE Ancient Baths
Located in Tribeca, AIRE Ancient Baths serves as a peaceful sanctuary amidst the city's relentless pace. Borrowing from the ancient traditions of Greek and Roman thermal baths, AIRE offers a unique and rejuvenating experience for its guests. Soak in a series of thermal baths with varying temperatures under the gentle glow of countless candles. To elevate the experience, choose a couple's massage or even a wine bath filled with Spanish tempranillo grapes. The tranquil ambiance of AIRE is tailored to foster relaxation and connection, making it a perfect retreat for couples.
"Sleep No More" and Gallow Green at The McKittrick Hotel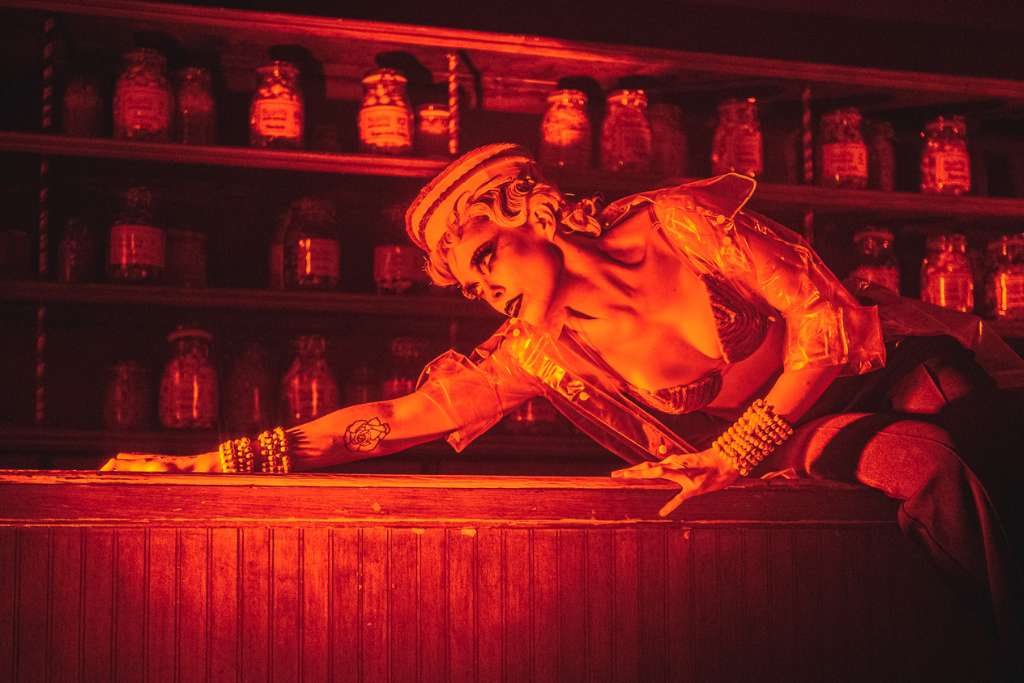 "Sleep No More" offers an exceptional twist on traditional theater. This immersive adaptation of Shakespeare's "Macbeth" unfolds across various rooms in The McKittrick Hotel. Guests, wearing masks, explore the intricate set at their own pace, adding a thrilling element of mystery and suspense to the experience. It's the perfect place to get lost together among the hidden nooks and tantalizing scenes playing out live before you.
After delving into the world of "Macbeth," ascend to Gallow Green, a rooftop garden lounge in the same hotel. Amidst the lush greenery, antique railway tracks, and scattered fairy lights, Gallow Green emanates a dreamy charm that fosters intimacy. Enjoy a romantic dinner under the starlit sky, choosing from a diverse menu of cocktails and delectable dishes.
The Office NYC
The Office NYC, a speakeasy-style bar tucked away in the Mandarin Oriental, provides an elegant escape from the city's vibrant energy. This cozy spot boasts an extensive collection of vintage spirits and cocktails, served in an atmosphere echoing the refined charm of an early 20th-century study. Filled with old-fashioned trinkets and artifacts, The Office NYC encourages hushed conversations and shared secrets, making it an ideal setting for a relaxed evening with your partner.
Odo
In the Flatiron District, Odo offers an exclusive dining experience with its nine-seat counter serving remarkable omakase. Under the guidance of Chef Hiroki Odo, you and your partner can watch as each dish is meticulously prepared, reflecting Japan's rich culinary heritage.
With a rotating menu featuring seasonally fresh ingredients, each visit to Odo promises a unique journey through Japanese cuisine. Pair your food with a selection from their extensive sake menu to complement the dining experience. And you'll do all of this in one of the most intimate settings in New York.
Bemelmans Bar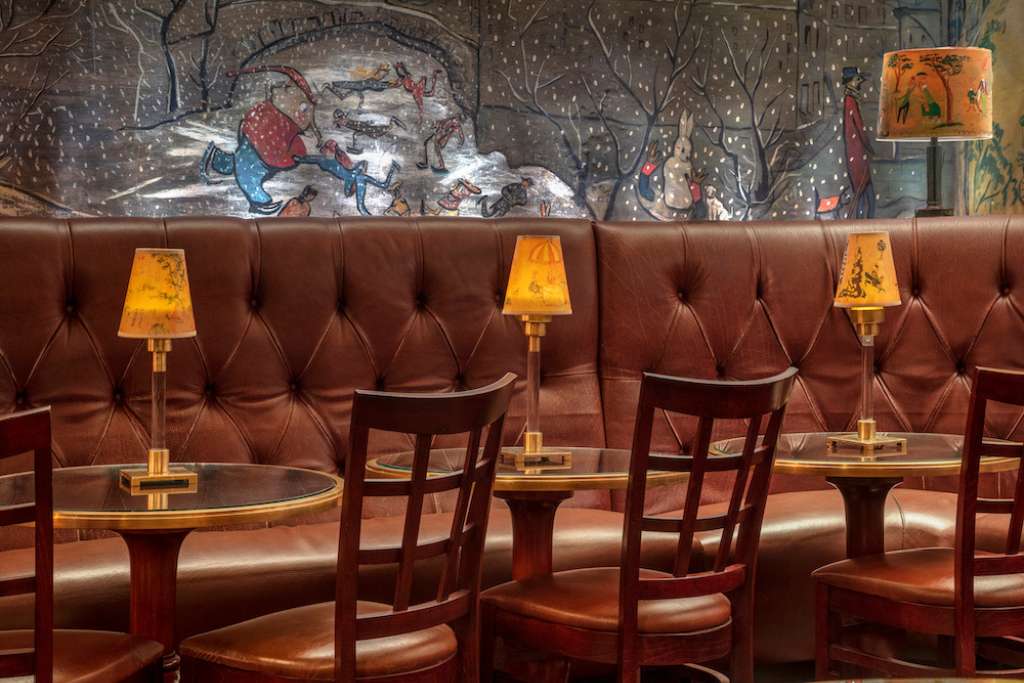 Inside the Carlyle Hotel lies Bemelmans Bar, an embodiment of old-world charm and sophistication. Named after Ludwig Bemelmans, the creator of the "Madeline" children's books, the bar is adorned with his whimsical murals, adding to its unique ambiance. Bask in the warm glow of the dim art deco lighting, savor classic cocktails, and enjoy live jazz performances. Couples often find themselves swaying to the music, adding to the bar's sultry atmosphere. Even Prince Harry and Meghan Markle were spotted dining here.
Governor's Island Collective Retreats
Tucked away from Manhattan's incessant tempo is an enigmatic lovers' retreat, uniquely nestled in the rolling hills of historic Governors Island. Just a brief, picturesque ferry ride from downtown Manhattan, Collective Retreats glamping tents offer a blend of city energy and rural tranquility, providing couples with an unforgettable escape. Engulfed by abundant greenery, this spot subtly whispers the promise of private romantic encounters amidst the urban cacophony. The Island's position within the New York Harbor also affords visitors a spectacular view of the Statue of Liberty. As the sun sets, the fiery oranges and pinks paint an enchanting backdrop, transforming the harbor into a panoramic stage for a sexy evening. Here, amid the privacy and stunning vistas, couples can explore a thrillingly different side of the Big Apple, rediscovering each other and the city itself.
Old City Hall Subway Station
Discover a romantic hideaway in NYC that will transport you back in time, even if just for a few minutes. Step into a bygone era on the 6 train, a nostalgic ride through history. The abandoned City Hall subway station, untouched since 1945, holds its charm with grand skylights, vaulted tiled ceilings, and brass chandeliers. Though the New York Transit Museum offers exclusive tours, there's a cost and a group of people involved. But here's a secret for adventurous couples: take the downtown 6 and discreetly remain on the train after Brooklyn Bridge. The train loops back uptown via the hidden station, offering a free, intimate glimpse of this enchanting, time-traveling spot in the city.
The Beekman Hotel's Turrets Penthouse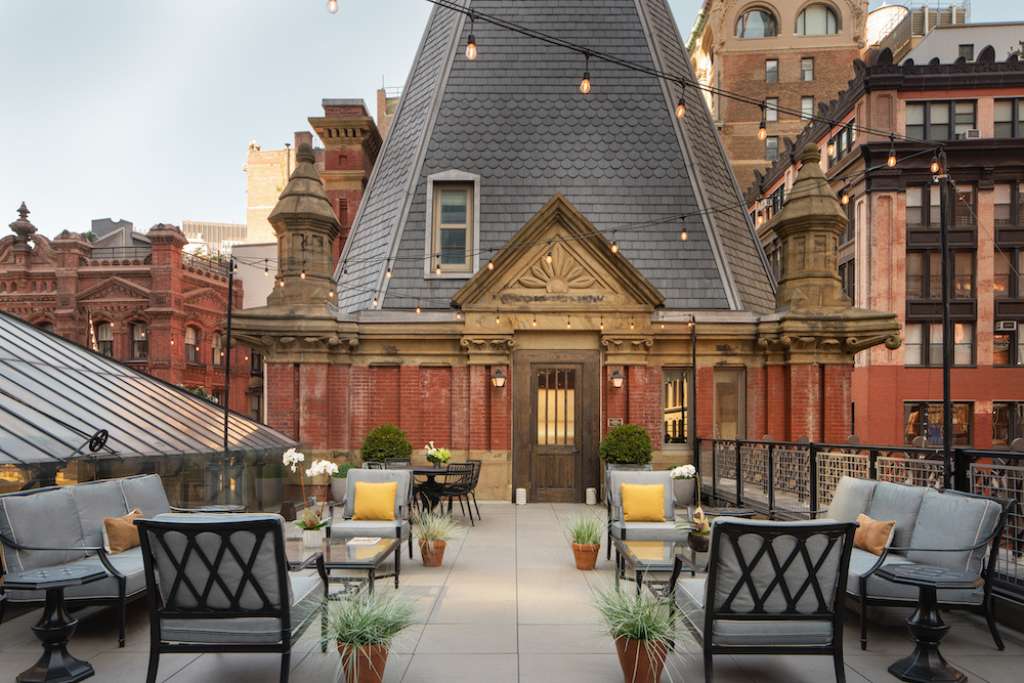 Concealed within the vibrant streets of New York City, the Turrets Penthouse at the Beekman Hotel beckons couples with its alluring charm. A harmonious blend of timeless elegance and contemporary sophistication, this secret spot offers an unforgettable romantic experience. With a lofted master bedroom in a 40-foot tall tower, a private rooftop terrace, and exclusive in-room dining by Tom Colicchio's Crafted Hospitality, it exudes intimacy and exclusivity. Vintage furnishings, curated artwork, and a stone fireplace infuse the living room with warmth. At the same time, the loft bedroom boasts a freestanding soaking tub and a King-size bed with luxurious Sfera linens—an urban oasis for couples seeking a secret sexy spot.
Featured image courtesy of Timo Wagner on Unsplash.