I will always remember my first time. It was aboard a Virgin Atlantic flight from New York to London where I was seated in upper class; a prominent celebrity positioned directly across the aisle. I nonchalantly tried not to notice his chiseled Hollywood good looks, especially as I had just changed from travel-chic wear into the baggy gray sweatpants and sweatshirt provided by the airline (today, the non-descript 'pajamas' have been stylishly reimagined into a black 'sleep suit,' with drawstrings at the waist and ankles). It was early into the flight when I was informed it was 'my turn.' Dutifully, I followed the unformed attendant — one of the 250 or so spa therapists hired by the airline — for a complimentary inflight head, neck, and shoulder massage. The inflight therapists and spa treatments first became a signature of Virgin Atlantic, famously owned by Richard Branson, in the 1990s. I found the concept brilliant — and over the years have used my Virgin wellness experience as a model for using long-haul plane (and train) time to rest, recharge, and renew (bring on the DIY hydrating serums and under-eye pads). Although the airline (first to pioneer spa treatments in the air) discontinued its inflight services more than a decade ago, the concept is still in existence — albeit in varying forms. Here, find the best inflight wellness services now available in the sky and aboard luxury trains.
All Aboard the Royal Scotsman's New Dior Spa Carriage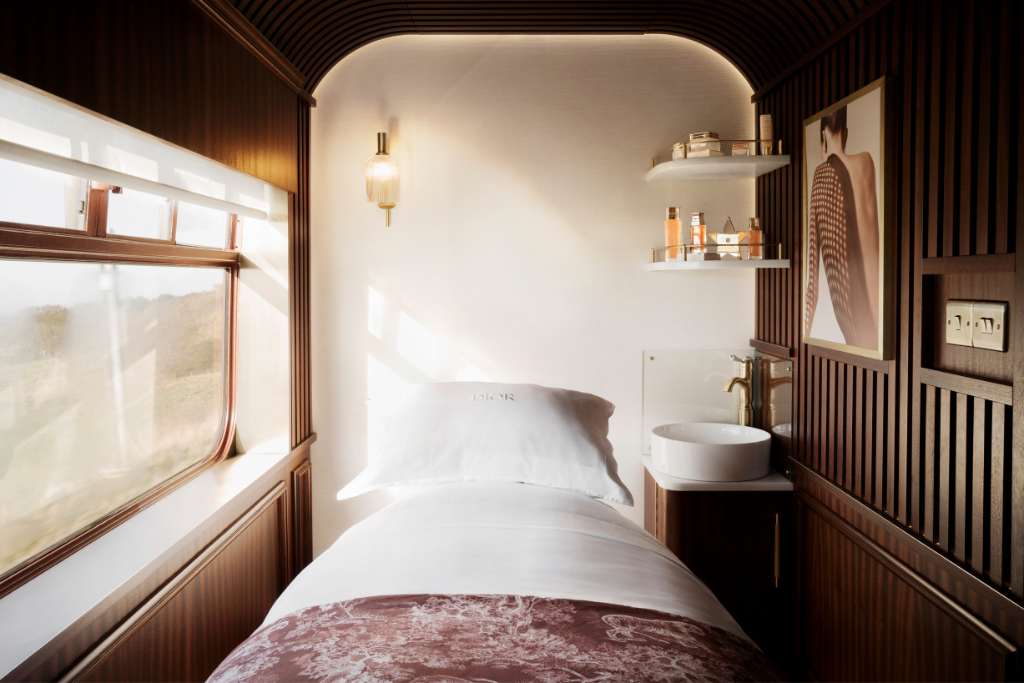 As if rolling through the Scottish Highlands past storybook castles and lochs, while moving eloquently between meticulously restored Pullman cars — plush velvet seating, kilt-clad bagpipers, and sumptuous suites that feel more like an Edwardian country manor — is not dreamy enough, now there is a spa carriage. The new Dior Spa Royal Scotsman pays homage to Christian Dior's love for Scotland (the designer hosted his first fashion show here in 1955). The lavish spa car features two lacquered treatment rooms restyled with Dior's iconic burgundy toile de Jouy motif; the bespoke spa menu, three tailor-made spa treatments (devised by the French Fashion House's wellness experts). Choose from the "D-Travel," a full-body, deep-tissue massage that eliminates toxins, releases tensions, and relieves pain; the "D-Elements" body treatment (inspired by the Scottish seasons) that begins with the application of semi-precious hot stones on the back, or opt for the "Bain Dior" body mist and hot oshibori, recreating the country's drifting mists. If a facial is preferred, try the "D-Highlands" treatment, inspired by Kobido facial massage techniques and enhanced with the Dior Prestige line, resulting in a rejuvenating facial that sculpts the face and improves the skin's appearance.
Singapore Airlines Serving Plated Golden Door Wellness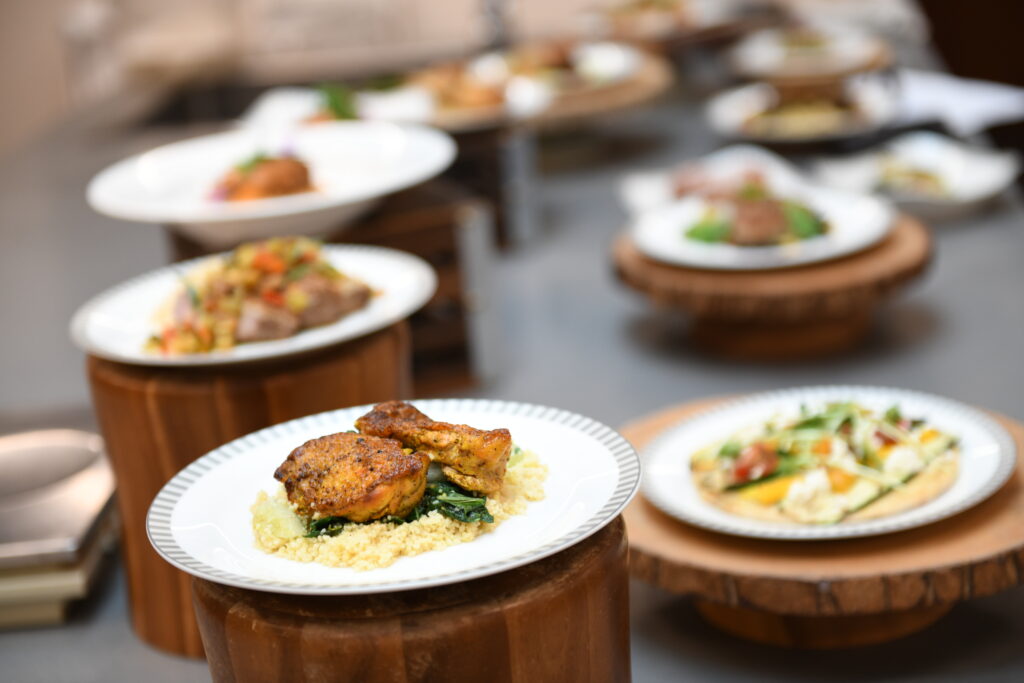 When Singapore Airlines introduced what is currently known as the world's longest flight — 19 hours from North America to Singapore — the already wellness-conscious airline upped its mindfulness wellbeing ante by partnering with southern California's renowned Golden Door spa. 
"A healthier travel experience is no longer a luxury; it is a necessity," says Kathy Van Ness, general manager and chief operating officer at Golden Door.
The partnership — featuring healthy food and spa amenities — is designed to help passengers eat well, sleep well, and relax during flight. The service is available aboard the airline's Airbus A350-operated flights between Singapore and the U.S., which feature only two cabins: business class and premium economy. Passengers in both classes enjoy healthy meals created by Golden Door's famed Chef Greg Frey Jr. Menu highlights include appetizers such as citrus-grilled shrimp salad with honey glazed mushrooms, blackberries, and balsamic ginger dressing; entrees like lemon-roasted Cornish hen, farm verde asparagus, and roasted eggplant fricassee; dessert of avocado chocolate ganache or baked seasonal fruit crumble; and a power-packed breakfast of oatmeal with goji berries, blueberries, quinoa, almonds, and honey drizzle; or perhaps, sourdough French toast with ginger maple syrup, and vanilla berries. Throughout the flight, hydrating wellness-focused beverages are continuously served, passengers are given small-scale exercises and stretches they can do in their seats, along with sleep tips specially designed for the long-haul flight.
Shower Aboard the Emirates Airbus A380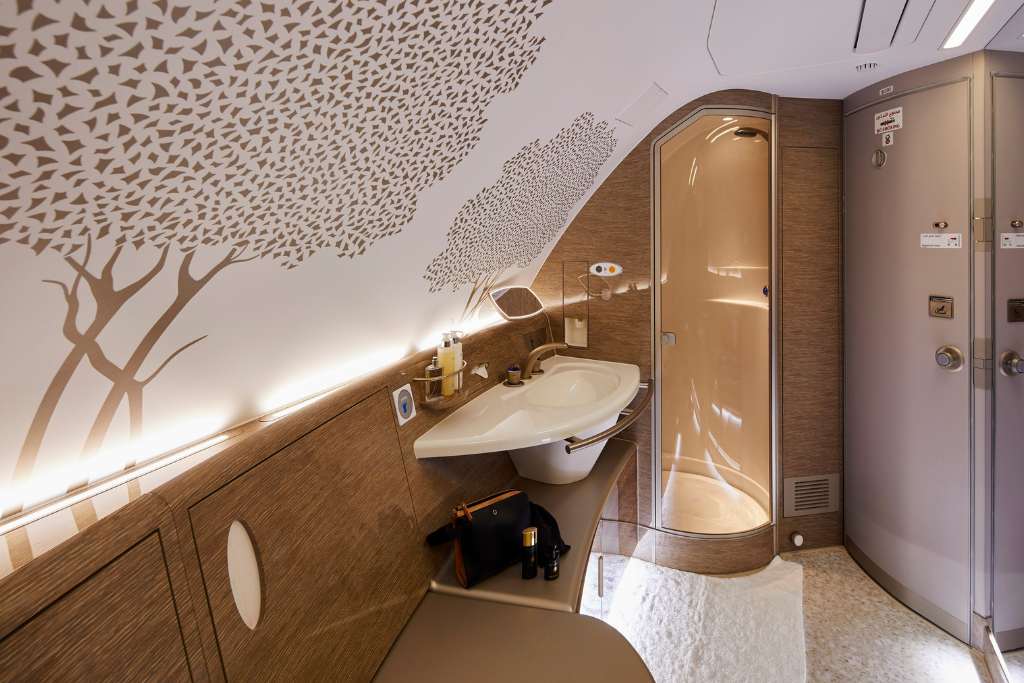 For a truly over-the-top, wellness-sky amenity, take a hot (yes, hot) shower aboard the Emirates Airbus A380. Exclusive to first-class passengers, the aircraft's two luxurious walk-in spa showers are located atop the first-class cabin (a staircase leads to it), and features two showers, wood laminate toilets, a sink, vanity, multiple mirrors, and even a hairdryer (with electrical outlet). Passengers may reserve the shower spa for 30 minutes during flight. The actual water runs only five minutes per passenger, but still, is a refreshing wellness boost, especially when used in conjunction with the organic Voya products (soap, shampoo, conditioner, body wash, and body moisturizer) from Ireland.
Vista Jet Pampers Pets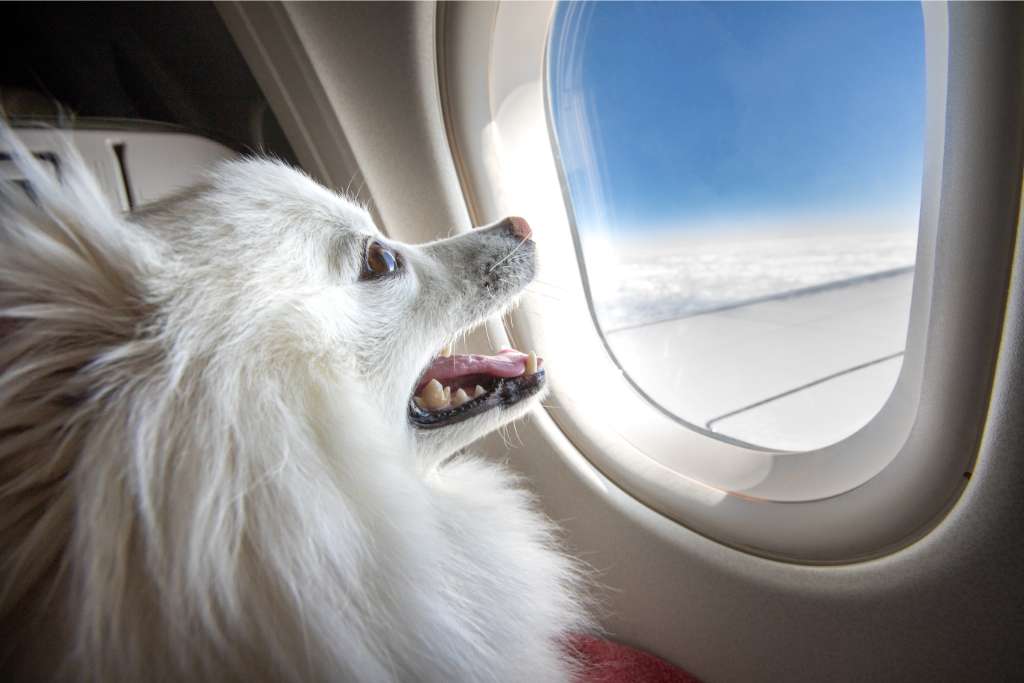 Wellness and wellbeing have always been the impetus behind private jet travel, but not only for humans. Vista Jet, established in 2004 and known for its sleek silver and red fleet, is so enamored with pets, it has implemented the VistaPet program. Roughly one in four passengers of the airline fly with their pet. Designed in collaboration with veterinary practitioners, coaches, dieticians, and groomers, VistaPet offers a score of services: inflight kits include bio-organic, nutritional pet food (from Rockster), treats created by Michelin-starred chef, Michel Roux for The Dog House, and Kibble Pet's water-free shampoo and wipes for salon-quality fur care. For inflight entertainment, there are Furzu rope toys, and natural flower essences are also available to mix with pet's drinking water to help relax. For dogs with pre-flight jitters, there is even a pre-flight program. A four-week flying course (also in partnership with The Dog House) helps desensitize dogs to some of the inflight experiences (i.e. sound of jet engines, cabin air pressure, and air turbulence).
Cover image courtesy of Royal Scotsman.