At Avalanche Ranch near Carbondale, about an hour from Aspen, we tiptoe away from our bunk — Dog Cabin — long before dawn. The rocky road impedes our progress as we stumble along; our path is lit by preternaturally bright stars and a fulgent moon. Somewhere in the velvety early morning milieu a cow moos, just before something rises menacingly from behind a pine tree. We shriek, terrified — after all, we are deep in the wilds of western Colorado mountain country. "It's just the llama," says my husband, as the beast looks on, offended at our reaction. As we scurry along, giggling quietly, our bathrobes gaping to reveal swimsuits, we hush one another. We don't want to wake any other guests because we're determined to be the first at the retreat's natural hot springs pools to watch the sun rise and float in sulfur-y, mineral-imbued depths. It's the routine we've followed for several days at this paradisiacal retreat, one of multiple stops on our Colorado Historic Hot Springs road trip, an 800-mile loop that guides drivers, wellness seekers, and soakers to 23 unique, natural hot springs clustered among eight peerless locations.
The Colorado Historic Hot Springs Loop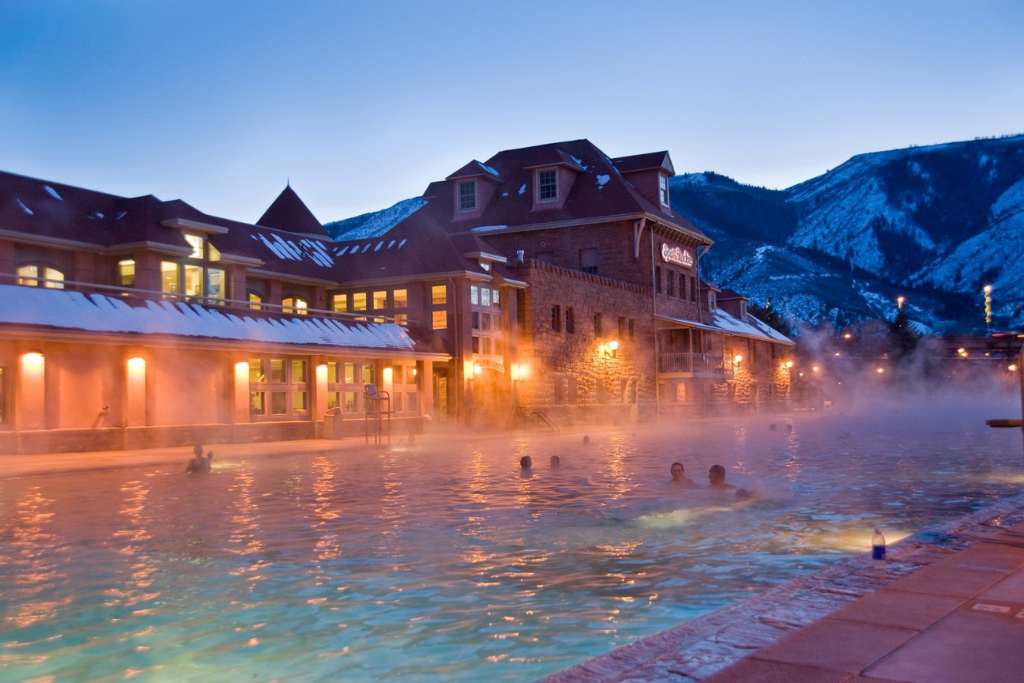 Nearly 100 known hot springs pepper western Colorado's mountainous terrain. The 23 mapped out by Colorado Historic Hot Springs are touted as among the most famous. They range from the biggest hot springs pool in the world to the deepest geothermal hot springs on earth to rustic-chic spots with cabins (like Avalanche Ranch) to swankier lodges suffused with old-school national park charm. To drive and enjoy the gamut can take a couple of weeks if you allow yourself a leisurely pace that includes a host of submersions — and languid nights in characteristic inns, fancy hotels, yurts, and log-walled huts. Along the way, you'll take in historic sites, national parks, ancient monuments, ghost towns, scenic overlooks, and the occasional invigorating hikes through the woods. Enjoy vapor caves, water slides, funky tubs wedged mountainside, and romantic nooks and crannies. For a long weekend, simply choose just a portion of the loop — even one property amongst the 23. All that's left after that is to soak up the wellness.
The Full Meal Deal
Embody your best Jack Kerouac road warrior spirit for this balneotherapy-themed road trip, rife with hair pin turns and unforgettable views. Begin in Denver after an easy arrival to Denver International Airport (DIA). Head toward Chaffee County, where vibrant hamlets like Salida, Nathrop, and Buena Vista await about three hours away. Onward in a southerly direction, steer toward Saguache County, Pagosa Springs, Durango, and Ouray, dawdling as you get drenched. Then, wend in a westerly direction to historic Glenwood Springs, home to a world-famous hot springs pool.
Next up: artsy Carbondale has a variety of hotspots (like Avalanche Ranch) on its verges. Complete the watery loop in Steamboat Springs, a beloved ski town, which has both a pool playground downtown, as well and a time honored hideaway a few miles outside city limits. Want to do the loop the other way around? That's up you!
Why Soak and what is Balneotherapy?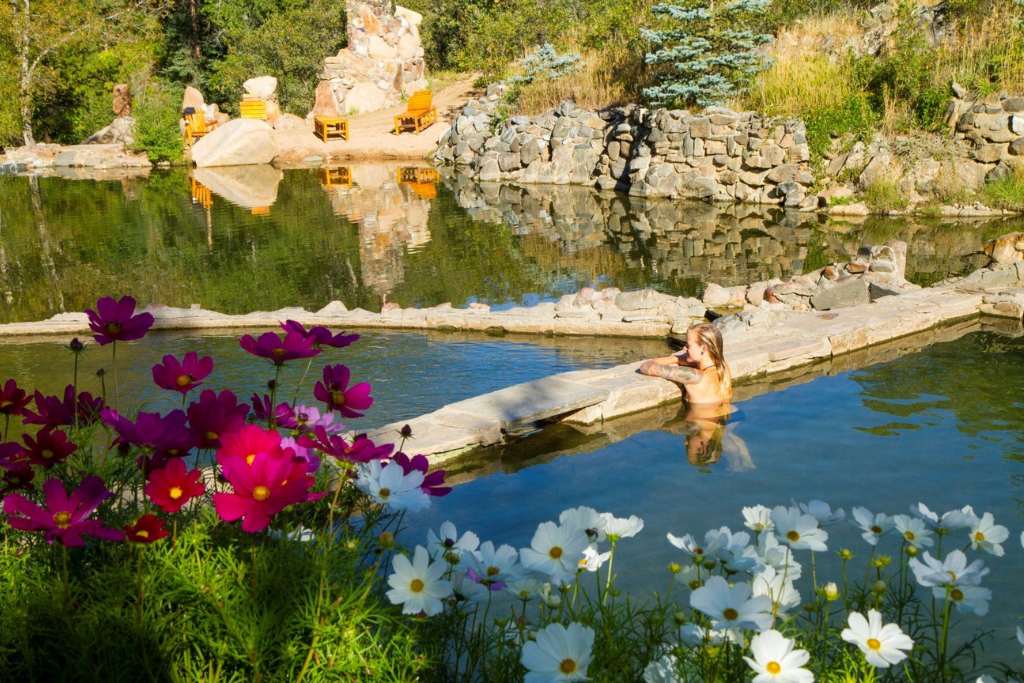 Getting waterlogged as a means to better health is instinctive to humans. Even animals feel the urge to dunk themselves in geothermal waters for well-being (think: snow monkeys in Japan). Called balneotherapy, the practice of bathing in geothermal pools goes back to ancient times. It continues to be part of traditional medical practices around the world, and purportedly promotes relaxation, improves skin conditions, helps with aches and pains, and boosts the immune system. Just being beside or around water can lower blood pressure, bring solace, and induce grounding. Water sourced from the earth's core comprises curative doses of minerals such as magnesium, calcium, potassium, fluoride, lithium, silica, phosphate — even arsenic. On Colorado's Hot Springs Loop, you'll find mineral-rich waters aplenty. You'll marinate in elegant terraced pools, vintage bathtubs, rustic barrels, and muddy river tributaries. Will it be stinky? Maybe. Will you ruin a suit or two? Absolutely. Is it worth it? A hundred times yes.
Details on the Eight Destinations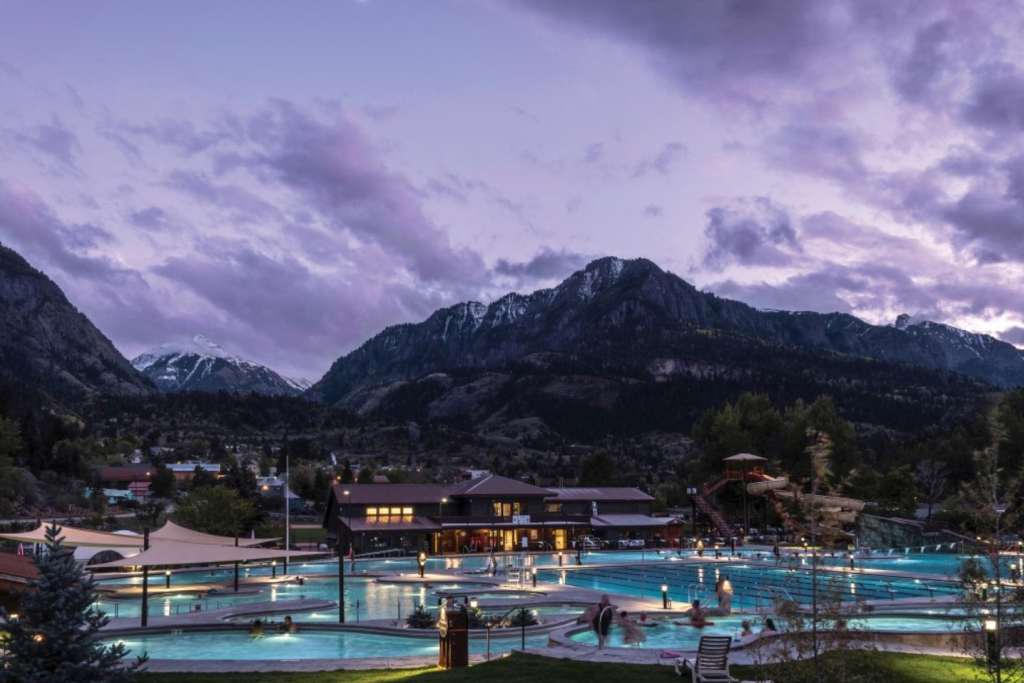 Chaffee County
The habitat of white-water rafting enthusiasts, avid hikers, and ardent mountain bikers, stunning Chaffee County includes quirky, friendly mountain towns such as Buena Vista and Salida — not to mention a plethora of hot springs large and small. For a family-friendly resort-style stay, choose Mount Princeton Hot Springs Resort and linger for a spell. Day trippers will enjoy Cottonwood Hot Springs, up the canyon from Buena Vista.
Best Stay: Mount Princeton Hot Springs Resort
Pagosa Springs
The jewel of the San Juan Mountains, Pagosa reigns as home to the world's deepest geothermal hot springs — the Mother Spring. Book a room at The Springs Resort & Spa. Colorado's premier hot springs resort. Its panoply of amusingly named pools cascade down a hill to the river. Between dips, enjoy its first class spa or indulge in captivating wellness activities from guided hikes to yoga in the wild.
Best Stay: The Springs Resort & Spa
Durango
Anchoring the Four Corners region, this bygone gold mining boom town still sports a Narrow Gage Railroad. Outdoor enthusiasts flock here for year-round sports and the town's celebrated hot mineral waters.
Best Stay: The Rochester Hotel
Ouray
Dubbed the Switzerland of America, this former mining town brandishes a National Historic District composed of restored Victorian buildings downtown, an oasis of breweries, shops and galleries. You'll smell the curative sulfur in the water before you immerse at watery locations as diverse as the contemporary Ouray Hot Springs Pool and Fitness Center and the more-than-a-century-old Historic Wiesbaden Hot Springs Spa & Lodgings, which has an atmospheric vapor cave in its basement.
Best Stay: Box Canyon Lodge and Hot Springs (for its amazing mineral hot tubs poised on the mountainside).
Saguache County
Near Great Sand Dunes National Park in a location so remote you'll feel in the middle of nowhere, this Dark-Sky Community region has an otherworldly ambiance. Get dunked at Alamosa Splashland Hot Springs, an outdoor pool, or check into Joyful Journey Hot Springs Spa where you can walk a labyrinth and stay in a yurt, along with your geothermal saturation.
Best Stay: Joyful Journey Hot Springs Spa
Glenwood Springs
Join the throngs at historic Glenwood Hot Springs Pool, the largest hot springs pool in the world. Opened in 1888, Glenwood Hot Springs pool stretches 405 feet long and 100 feet wide. While some bathers use the pool therapeutically, others swim laps or do flips off the diving board. Whiz down the family-friendly Shoshone Chutes, an inner-tube activity for all ages at the pool's side. For a more tranquil mineral soak, Iron Mountain Hot Springs, also in Glenwood, offers a variety of romantic pools in myriad shapes and sizes, perched above the river.
Best Stay: Glenwood Hot Springs Lodge
Carbondale
With an unpretentious mountain village vibe, arts-besotted Carbondale boasts abundant galleries, boutiques, a super chic distillery, restaurants, and True Nature Healing Arts, an unequaled yoga center. Just 15 minutes outside of town, hot springs beckon. Whether at Penny Hot Springs in the Crystal River — a free outdoor social scene — or any of Avalanche Ranch's three pools (complimentary to ranch guests), geothermal aficionados can take to the waters.
Best Stay: Avalanche Ranch for 24/7 access to the onsite springs and cool cabins.
Steamboat Springs
One of Colorado's most authentic western-style ski towns, Steamboat Springs brims with hot springs, large and small. Restoring those sore muscles in every season, two popular hot spring locations offer completely different experiences. In town, Old Town Hot Springs has eight spring-fed pools, slides, a lap pool, and fitness classes. In the woods, Strawberry Park Hot Springs, complete with some cabins for overnight guests, exudes an earthy, hippie vibe.
Best Stay: Steamboat has a plenitude of cool AirBnbs, whether condos on the ski slope or houses in town. For a family, consider this Airbnb, just a five-minute walk to Lincoln Street, Steamboat's main thoroughfare.
Feature image, Old Town Hot Springs by Corey Kopischke Photography