Those who frequent the finest five-star hotels and Michelin-starred restaurants invariably seek the most luxurious cruise line when it comes to a vacation at sea. They appreciate the style, service, and amenities of ultra-luxury cruises, whether they're seeking a small, intimate vessel or a larger ship with additional offerings. Privacy and personalized attention are among the most valued amenities.
Adventurers will find ultra-luxury cruises in the expedition cruise category as well. The experience often includes notable experts along with impressive expedition teams and the best of onboard equipment. The most luxurious cruise lines feature a staff-to-guest ratio of about 1 to 1 in order to ensure outstanding service and individual assistance.
You won't find water parks or roller coasters on ships designed for ultra-luxury cruises, but there will be plush designer-decorated suites, elegant spas, and an array of posh cocktail lounges and fine dining restaurants, often with menus created by celebrity chefs. In-room dining with meals served by dedicated butlers will please guests concerned with privacy. Entertainment might lean towards classical music, jazz combos, or prominent guest lecturers.
Shore excursions on the most luxurious cruise lines are high-end experiences, setting them apart from the tours offered on most cruises. Private after-hours access to museums, individual helicopter flights to remote locales, or personal shopping trips to designer boutiques are a few examples.
With cruise vacations increasing in popularity, luxury cruise lines strive to offer their guests the finest experiences on land and sea.
Planning a Luxury Cruise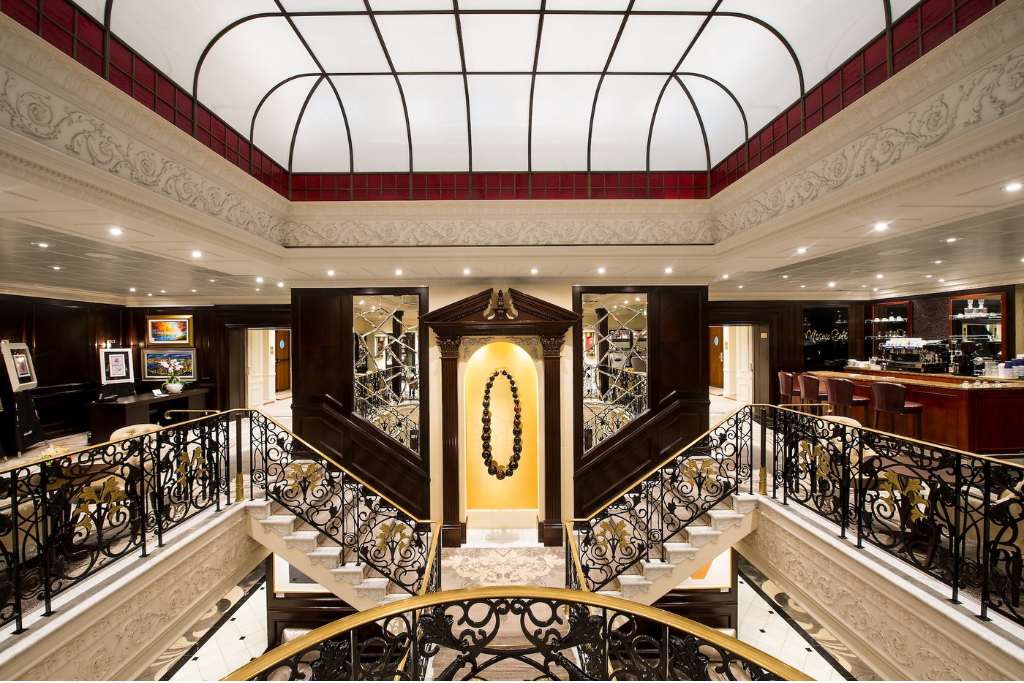 The destination, length of voyage, type of ship, and travel style are basic decisions to be made when planning a luxury cruise. Travelers seeking the most luxurious cruise line have many choices, from an intimate small ship to a larger ship, although ultra-luxury cruises generally carry a maximum of about 600 passengers, even in the more spacious vessels.
Small ships offer the advantage of a more intimate environment, personal attention, and the ability to visit ports that are not accessible to larger ships. On the plus side for larger vessels, they may have more dining options, spa, spacious staterooms, fitness centers, entertainment venues, and lounges.
When considering which luxury cruise line to book after deciding on a destination, travelers should compare such things as stateroom size, shore excursions, entertainment, cuisine, crew to passenger ratio, and travel style. Is there a dress code or formal events that require black tie? Are there exclusive one-of-a-kind experiences available for guests, and are they appealing to their interests? With destination as the primary focus, we present here a few examples of ultra-luxury cruises.
Luxury Mediterranean Cruises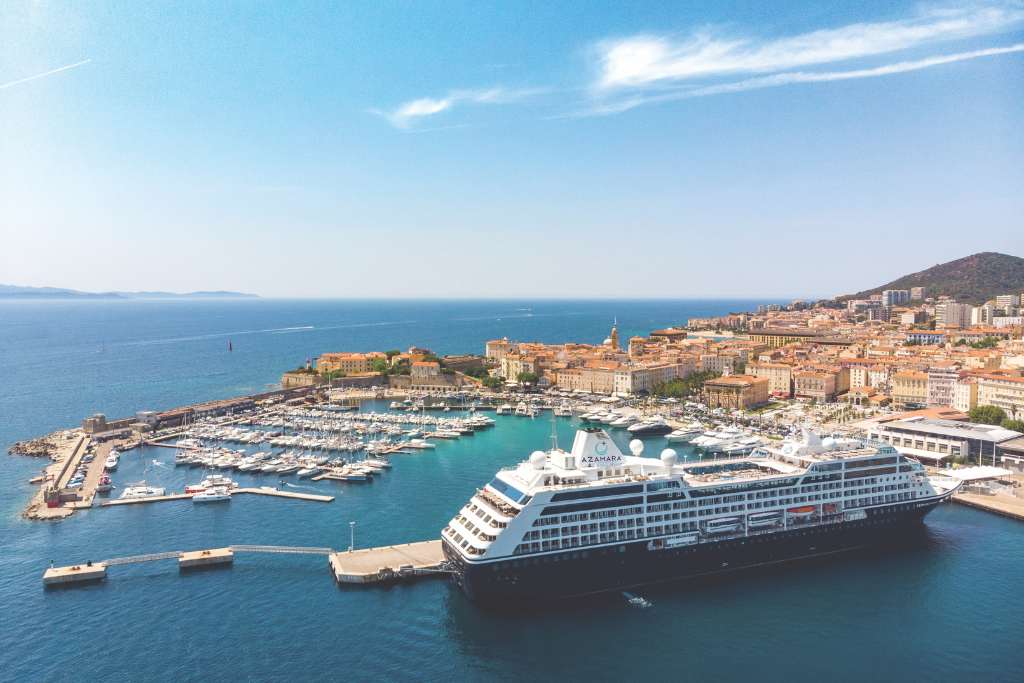 The Ritz-Carlton Yacht Collection offers luxury Mediterranean cruises stopping at ports in France, Italy, Croatia, Malta, Greece, Portugal, Morocco, and Montenegro. The Mediterranean voyages are aboard the yacht Evrima, accommodating 298 guests. Built in 2021, the yacht features five restaurants, six lounges, spa, pool, fitness studio, an observation lounge on the top deck, and in-house classical and jazz musicians. As an example, the 7-night Athens to Valletta cruise boards in Athens and visits Santorini and four other Greek islands before ending in Malta.
Windstar's destinations include the South Pacific, Australia, New Zealand, Alaska, Costa Rica, Caribbean, and Northern Europe as well as the Mediterranean. Their 148-342 guest small ships include two different yacht styles: sleek four-masted sailing ships that accommodate 148 guests in 73 staterooms on four decks and all-suite Star Class ships welcome 312 guests in 156 suites. Windstar's Yachtsman's Harbors of the Rivieras, aboard Wind Surf, boards in Rome, with visits to Portofino, Monte Carlo, Cannes, and Palamos before ending in Barcelona.
Luxury Alaska Cruises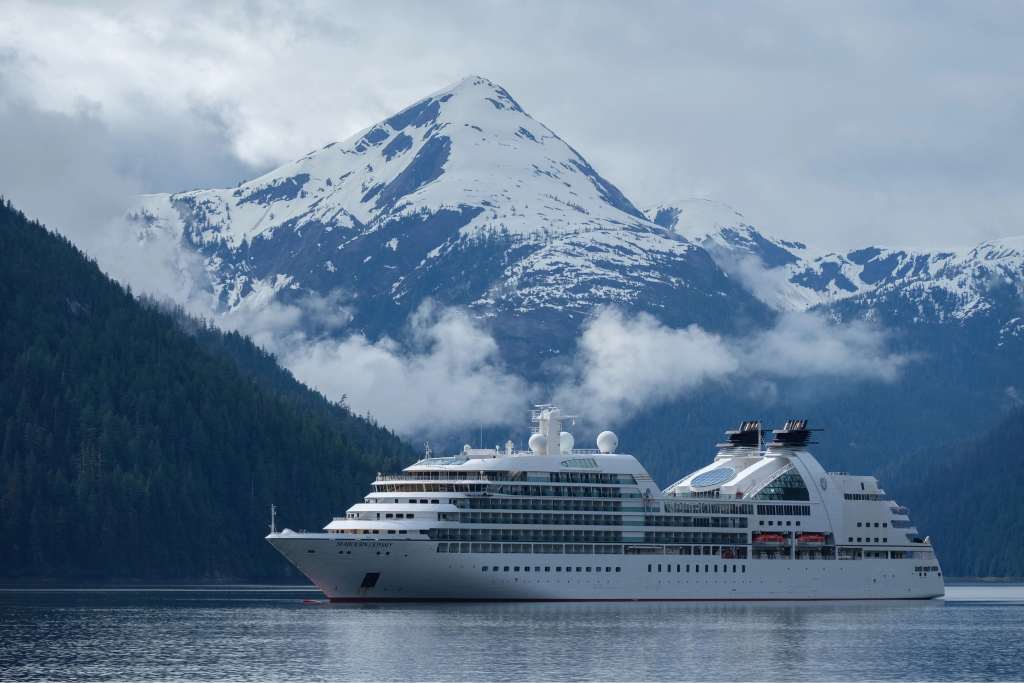 Seabourn offers luxury cruises to destinations around the world, including expeditions to Alaska with teams that include a marine biologist, ornithologist, geologist, historian, naturalist, and photographer. Blending adventure with comfort and style aboard Seabourn Odyssey, the 11-day Inside Passage and Alaska Fjords cruise departs and returns to Vancouver, British Columbia. Guests visit frontier towns, museums, glaciers, Sitka, and Ketchikan with an opportunity to take a Zodiac ride, cruise the fjords in a luxury catamaran, and kayak along a glacier. Seabourn Odyssey features 229 suites, fitness center, and restaurants that include The Grill by Thomas Keller.
Regent Seven Seas cruises the world with luxury all-inclusive voyages aboard their elegant large ships. Their cruises include unlimited shore excursions, gourmet cuisine, fine wines, and open bars. The 7-night Vancouver to Seward "Gold Rush Heritage" cruise departs from Vancouver, cruises the Inside Passage, and stops at Ketchikan, Juneau, Skagway, Seward, and the Hubbard Glacier. Seven Seas Explorer features all balcony suites, "Elite Slumber" beds, spa, bocce court, card room, infinity pool, paddle tennis, putting green, and culinary arts kitchen for cooking demonstrations. With ten decks and 373 suites, the ship accommodates 746 guests.
Luxury Caribbean Cruises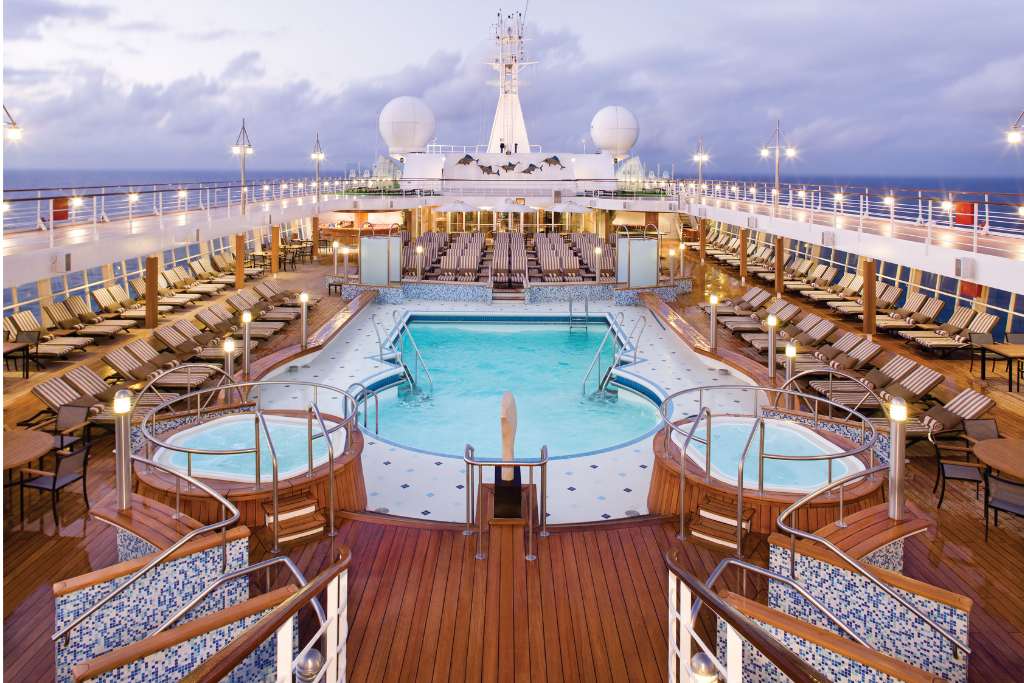 The Ritz-Carlton Yacht Collection's Evrima will be joined by the new Ilma in 2024. Currently, Evrima cruises the Mediterranean in addition to the Caribbean. Their 7-night Fort Lauderdale to San Juan voyage visits Nassau, Great Exuma, and Long Island in the Bahamas as well as Grand Turk and Jost Van Dyke in the British Virgin Islands before ending in San Juan. Evrima accommodates 298 guests and features five restaurants, six lounges, pool, spa, salon, fitness studio, and aft Marina and marine terrace. Dining ranges from casual to fine restaurants and in-suite service, with entertainment by the in-house classical and jazz musicians.
Explora Journeys' "Ocean State of Mind" defines their goal to "connect guests with the sea, themselves, and like-minded people." Their EXPLORA I offers 461 oceanfront suites, penthouses, and residences with sweeping views, private terrace, eleven culinary experiences across six restaurants, twelve bars and lounges, Chef's Kitchen, four pools, private cabanas, and wellness facilities. The inaugural Caribbean cruise, A Yachtsman's Paradise, boards in Miami for a seven-night voyage to San Juan with stops at Key West, Virgin Gorda, Guadeloupe, Antigua, and Barbuta.
Luxury Antarctica Cruises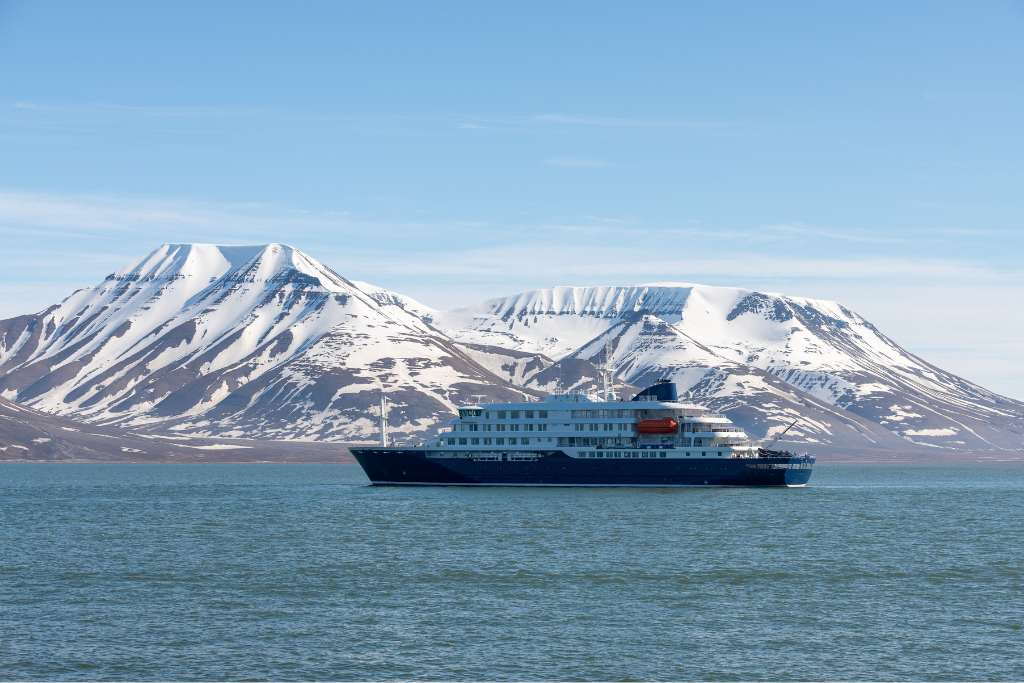 Silversea
Silversea's luxury cruises cover more than 900 destinations on small ships with just over 350 suites on their largest vessels. Butler service, fine dining, and staff to guest ratio of almost 1:1, are part of the plush experience. Spacious, ocean view suites with private verandas add to the "white glove ambiance." Their Puerto Williams to Puerto Williams (Chile) 18-day expedition cruise stops in the Falkland Islands, South Georgia, and the Shetland Islands, with four days in Antarctica before cruising Cape Horn and returning to Chile. Silver Endeavour is Silversea's newest ultra-luxury expedition ship with 100 staterooms and state of the art equipment.
Ponant
Ponant's small ships and luxury yachts include luxury amenities like Hermés products, Veuve Clicquot champagne, and select fine wines. The 12-day Emblematic Antarctica cruise includes a night in Buenos Aires and flight to Ushuaia for embarkation. After crossing the Drake Passage, the ship spends four days in Antarctica observing wildlife and the stunning scenery. Depending on conditions, guests will experience landings or Zodiac outings with expedition leaders. Onboard the ship L'Austral, a sleek French designed and decorated vessel, guests enjoy a spa, two restaurants, and relaxing ambiance. The ship offers 132 staterooms and suites for 264 guests.
More Luxury Cruise Options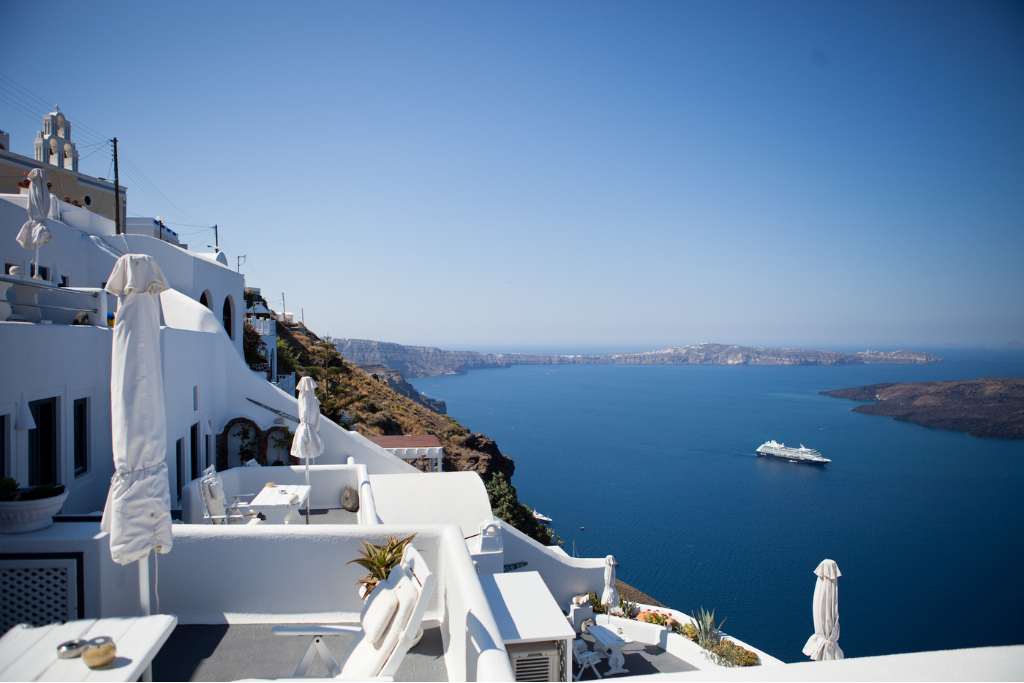 An expedition cruise with Abercrombie & Kent takes guests for an 18 day voyage on the North Pole Expedition Cruise: The Ultimate Frontier 2024. All-balcony accommodations, maximum capacity of 199 guests, and lavish all-inclusive amenities along with immersive enrichment programs ensure a luxury experience. Butler service, French-inspired cuisine, and personnel to guest ratio of 1-1.3 are offered aboard the innovative new icebreaker, Le Commandant Charcot. Departing from and returning to Oslo, the ship visits Svalbard before reaching the north pole and celebrating with a champagne toast.
Azamara's 10-night Riviera & Yacht Harbors Voyage aboard Azamara Onward boards in Rome (Civitavecchia) and continues to Portovenere, Santa Margarita, Monte Carlo, St. Tropez, Marseilles, Sete (France), and Palamas (Spain) before ending in Barcelona. The ship accommodates 670 guests, with seven restaurants, cafés, lounges, pool, spa, and Cabaret Lounge for entertainment. Exclusive experiences, private tours, and personalized excursions are part of the luxury cruise.
Whether you're a first time cruiser or one who has experienced many sea voyages, a luxury cruise is the perfect way to relax, learn, or celebrate a milestone. You can choose an intimate small ship or a vessel with myriad restaurant and entertainment options. Either way, an ultra-luxury cruise will be a journey to remember.