It's a joy to take our dogs pretty much anywhere, but a trip to Savannah with your dog in tow is a particularly good choice. Not only is the city remarkably dog friendly, but it's dotted with 22 park-like squares, urban oases where your pup can take in all the smells while you, thanks to Savannah's open-container law, enjoy an adult beverage al fresco. Another option is Bonaventure Cemetery, a 100-acre spread that sits atop a high bluff overlooking the Wilmington River and is so pretty that when the 19th-century Irish writer Oscar Wilde visited, he declared it "incomparable." Leashed dogs are welcome to stroll along the shady lanes, which are lined with azaleas, camellias, and massive, moss-draped live oak trees. Most of the city's walking tours welcome dogs as well.
After all that exploration, bed down in luxury at one of these posh, pet-friendly lodging options, which run the gamut from historic inns to boutique hotels.
Thompson Savannah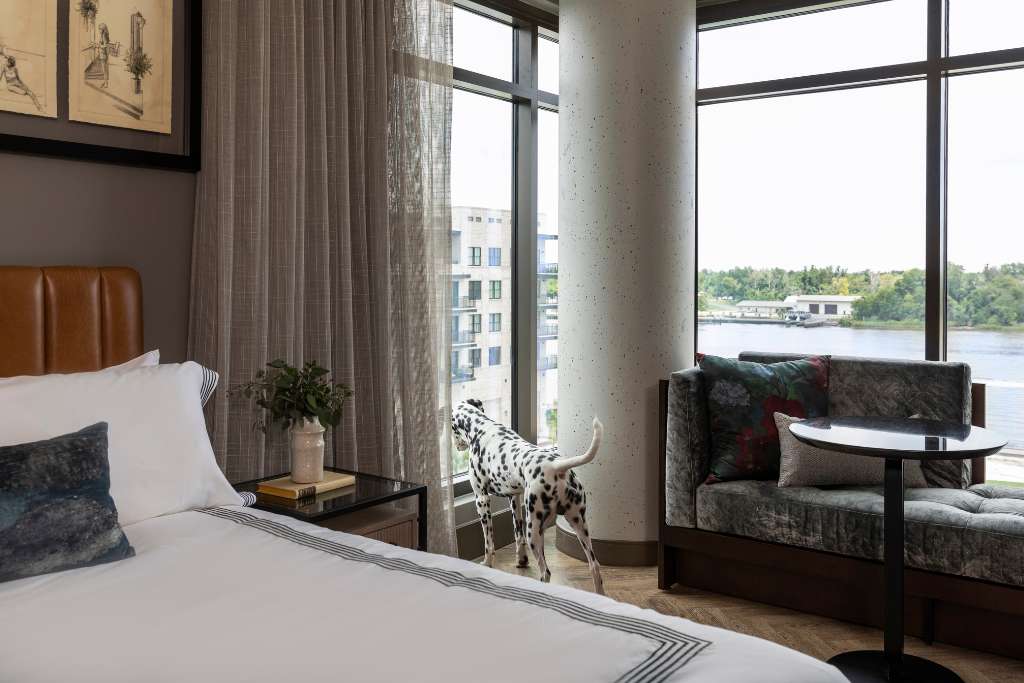 It's all about location at this 193-room property, which is located in Eastern Wharf, a mixed-use project — retail, residential, and office — set near the foot of Broughton Street just before it meets the parkway that heads to the ocean. Dogs (and their owners) will find more than three acres of green space perfect for running, fetching, and exploring; there's also a boardwalk that stretches along the Savannah River, a walking path to lively River Street and, nearby, a historic neighborhood lined with shady sidewalks. The Thompson's pet policy is about as inclusive as it can be: leashed dogs of all sizes are welcome and there's no fee for bringing Rover. Humans will love the hotel's mid-century vibe, super comfy beds and sunsets at rooftop Bar Julian.
Kimpton Brice Savannah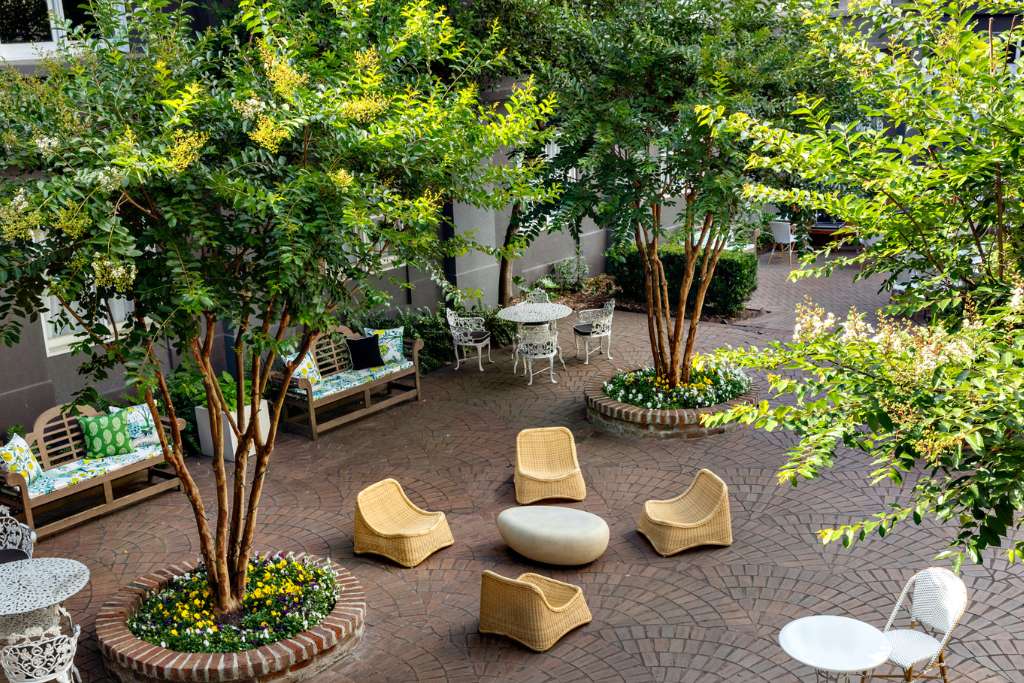 Built in the 1860s as a Coca-Cola bottling plant and converted into a cool, contemporary hotel in 2014, the centrally located Kimpton Brice loves dogs: bring yours (there's no fee or limit on number or weight) and you'll have free use of a bed, bowls, cleanup bags, and mats. When you're ready to explore, stop by the concierge desk for a list of pet-friendly restaurants, bars, and shops; they'll also connect you with local walkers or sitters if you want to take in some of the city's historic homes, museums, or fine-dining restaurants sans pup. The hotel is clean-lined and contemporary, with lots of shady courtyards and a pool; rooms are done up in cool neutrals.
Olde Harbour Inn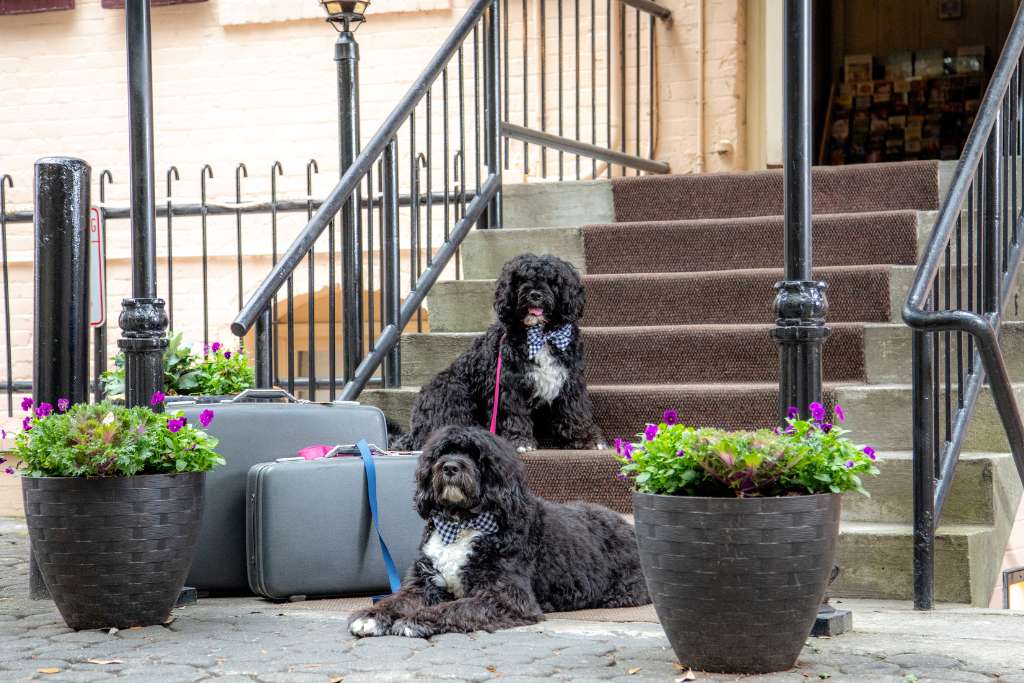 Dogs are welcome at this 1892-era building, but you'll need to book early since the inn has just a few large, dog-friendly suites. But it's worth the time to plan: dogs are greeted with cookies and a tennis ball before being led to oversized rooms with hardwood floors, original exposed brick walls, and views over River Street. Even better, tree-lined Emmet Park forms the inn's front yard, making pit stops fast and easy. Though dogs can't join the inn's nightly happy hour, you're free to take your complimentary wine and snacks outside to start the evening al fresco.
Southern Comfort Cottage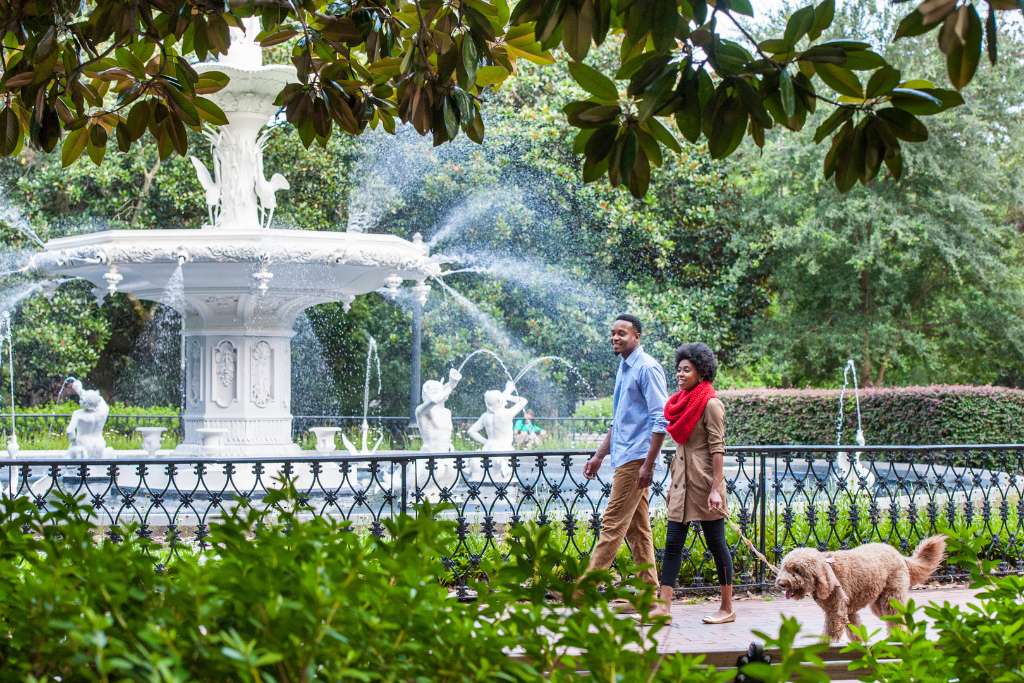 Located just a few blocks from Forsyth Park, this breezy one-bedroom space has everything you need to keep your dog — and her owner — happy, including a walled courtyard, a fully equipped kitchen with stainless-steel appliances, and even a washer and dryer. The spacious, art-filled apartment is also within walking distance of a coffee shop, grocery store, and dog park.
JW Marriott Savannah Plant Riverside District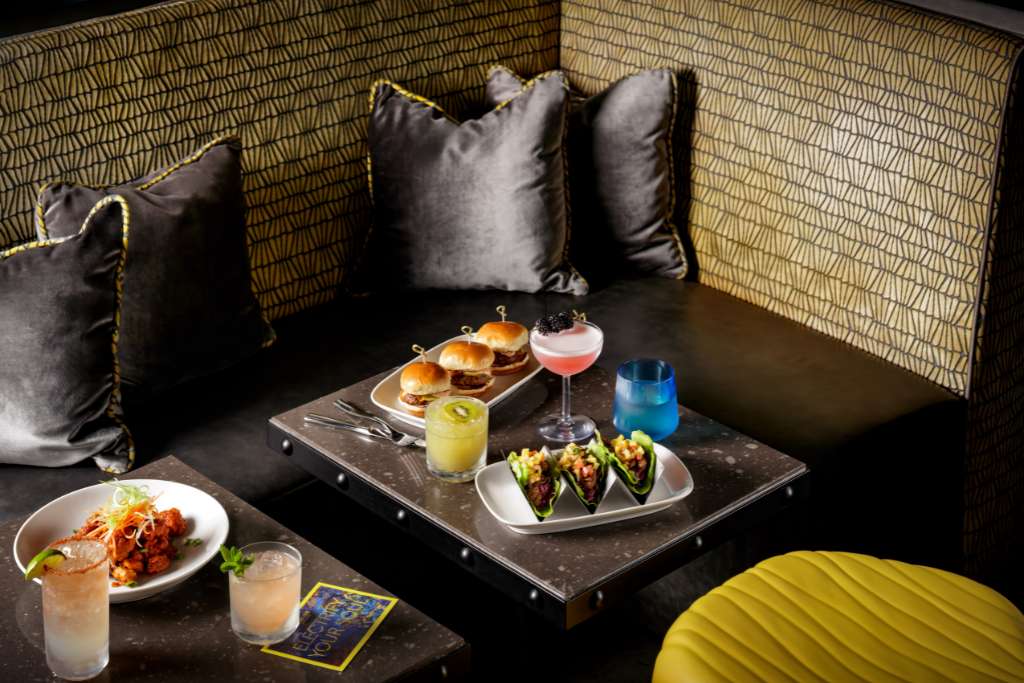 Beyond welcoming dogs of all sizes (for a $150 one-time fee), this luxury property located in Savannah's hottest district offers "Yappy Hour" every Thursday from 6-8 pm at Electric Moon Skytop Lounge, which sits atop the hotel and offers views of the shimmering Savannah River all the way to South Carolina. Yappy Hour includes canine-themed Tito's cocktails, giveaways, shareable menu items, and dog-friendly experiences. An understated nautical theme — think ocean-inspired blues and greens and cool maps as art — give the hotel a jaunty vibe; if you can, book a river-facing room and watch the cargo ships meander by.
Hotel Indigo
In historic cities like Savannah, nearly every hotel occupies a building originally constructed as something else, and Hotel Indigo is equally storied. Over the years, the structure has been everything from a post office to a warehouse, grocery store and coffeehouse. Named for the rich blue dye that was grown in the area, the hotel is a mix of old and new with historic details like old postal drawers as well as artwork from students and faculty at the nearby Savannah College of Art & Design. Dogs up to 80 pounds are welcome in the hotel; the one-time $75 fee is non-refundable.
Cover image courtesy of Thompson Savannah.