Every season has its culinary stars, those dishes we crave as the weather continues its endless cycle of warm to cold and back again. Everyone has a favorite; mine is fall, when the first whispers of cool air, faint but refreshing, have me craving velvety, savory sauces, hearty breads, and comforting desserts.
I don't envy the job of head chefs, who need to find the inspiration to create these deeply-flavored dishes during the heat of the summer, when their hearts are deciding what to do with the bushel of sweet corn that just arrived but their heads know they need to be ready when the weather turns. I am, though, grateful, particularly this year: at restaurants across the country, chefs found the time to craft menus filled with flavors that are edgy but not weird, comforting but not staid and, best of all, as beautiful as they are delicious.
Troutbeck
Amenia, New York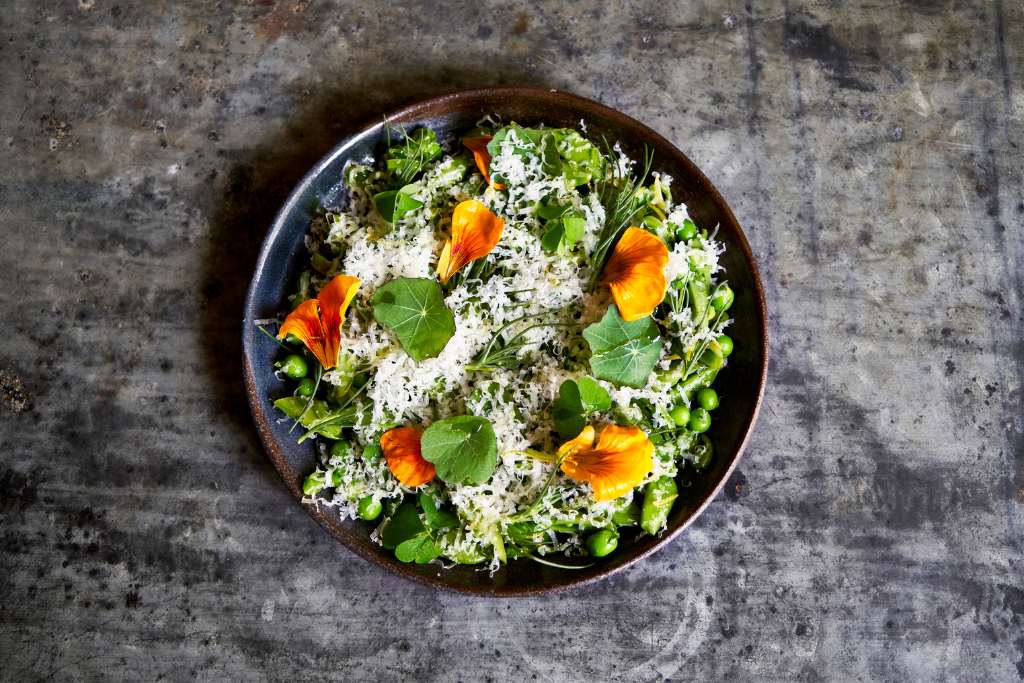 As Chef de Cuisine at SPQR, San Francisco's paean to Roman food, Chef Vincent Gilberti was able to combine his love of Italian cooking with access to California's bounty of stunningly fresh ingredients. Today, as Chef of Troutbeck, a historic estate set within the forested hills and deep gorges of New York's Hudson Valley, Gilberti not only has access to a new array of local produce, meats, cheeses, fruits, and other items, but four distinctive seasons in which to use them.
Gilberti is particularly excited about Maine uni, the creamy, coral-colored roe that's harvested each fall from Atlantic Green Urchins that populate the coastline from Maine through the Canadian Maritimes. "I love to run saffron taglioni with Maine uni and preserved chiles this time of year," he says. Gilberti will also utilize a whole pig each month; fall dishes will include not only terrines and charcuterie, but homemade tortelli pasta stuffed with a pork filling and served in a pork broth studded with local greens.
Though deeply layered flavors will fill each plate, Gilberti's artistry lies in the subtle contrast he laces into each dish, a bit of zing that keeps even meat-filled pastas from getting too heavy. "I like to base pasta fillings on what the farmers are most excited about each week," he explains.
Part of an 18th-century Hudson Valley homestead, Troutbeck is a 37-room full-service hotel that sits on 250 acres of manicured gardens, woodlands, and meadows set with hammocks, bridges, and tennis courts.
o.d.o
New York, New York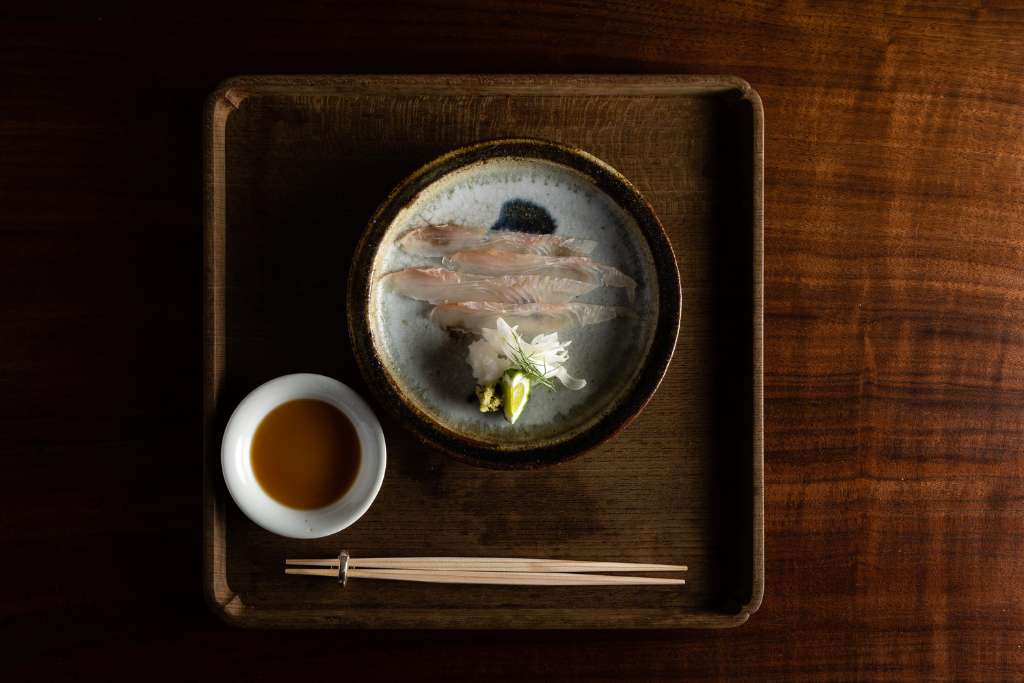 Kaiseki is by its nature seasonal — chefs create menus to celebrate not just a particular time of year, but a theme within it — so it comes as no surprise that chef Hiroki Odo took the calendar into account when he created the newest menu for his Michelin-starred restaurant, o.d.o.
Rare, intensely flavored Matsutake mushrooms take three-star turns on o.d.o.'s nine-course autumn tasting: fried, tempura-style; folded into traditional kamameshi, or kettle rice and grilled before being added to a clear bonito-broth soup.
Located behind an unmarked door near the back of Hall, Odo's café and cocktail bar, o.d.o. seats 14 guests at a single counter. Each course demonstrates a particular culinary technique and presentation including a grilled or pan-fried item called yakimono; takiawase, or simmered vegetables with meat or fish and, to close, gohan, a simple rice dish. Past menu items have included Korean-spiced fluke and vegetable namul with spinach, chicory, pickled myoga, and assorted nuts; the live snow crab with red pepper "oshitashi," and tosazu gelée; and the bluefin tuna broth "ramen." Odo's beverage program includes craft cocktails, a French-influenced wine list, and Brooklyn Kura sake, packaged in an odo original bamboo bottle.
Fleeting
Savannah, Georgia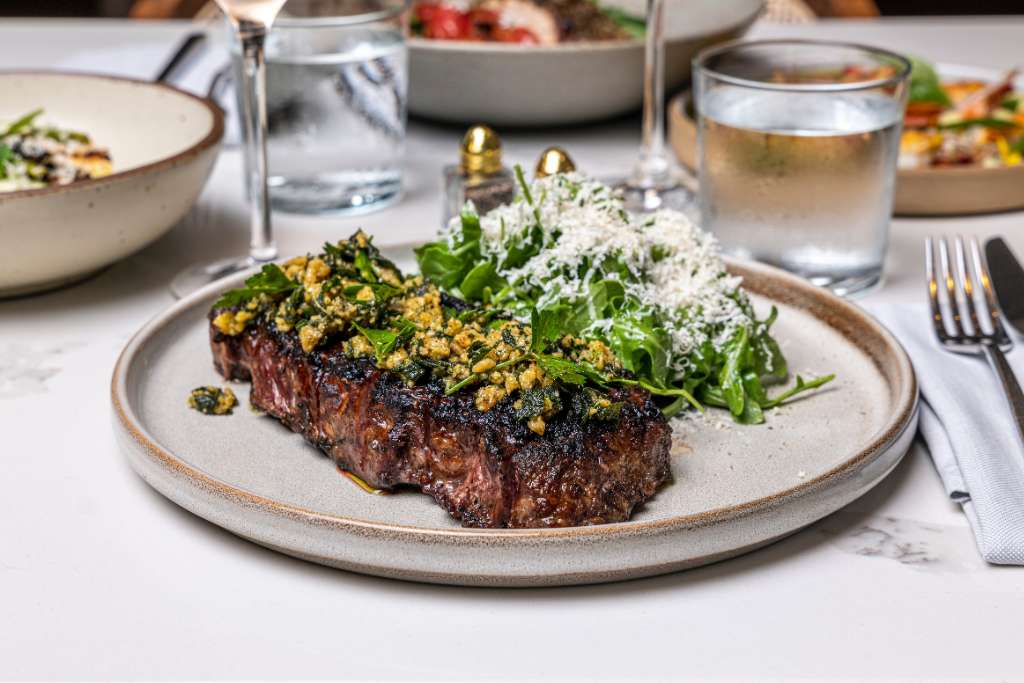 Don't be surprised when you see touches of spring amid the fall bounty on display at Fleeting this season. Newly appointed Executive Chef Victoria Shore says that the south's slow-to-unfold fall allows farmers to grow not just the typical squashes, greens and root veggies, but tender lettuce, bright strawberries, crispy Asian pears and other spring delights long into the fall. Chef Shore is also bringing warm fall aromas to the menu: look for a vegetarian version of Lebanese kibbeh, which subs caramelized onion, squash and apricots, all scented with autumnal-seven spice blend, for the usual ground beef. You'll also find comfort dishes like braises and stews, all enhanced by seasonal aromatics and jazzed up with housemade pickles and preserves. Though it's hard not to order Shore's warm, caramel-topped crullers for dessert, fall sweets featuring local apples, muscadine grapes, and even squash will make the decision a tough one. Fleeting is set within Savannah's sleek and welcoming Thompson hotel, which anchors the city's brand-new Eastern Wharf community and offers sweeping views of the Savannah River.
Dowling's at the Carlyle Hotel
New York, New York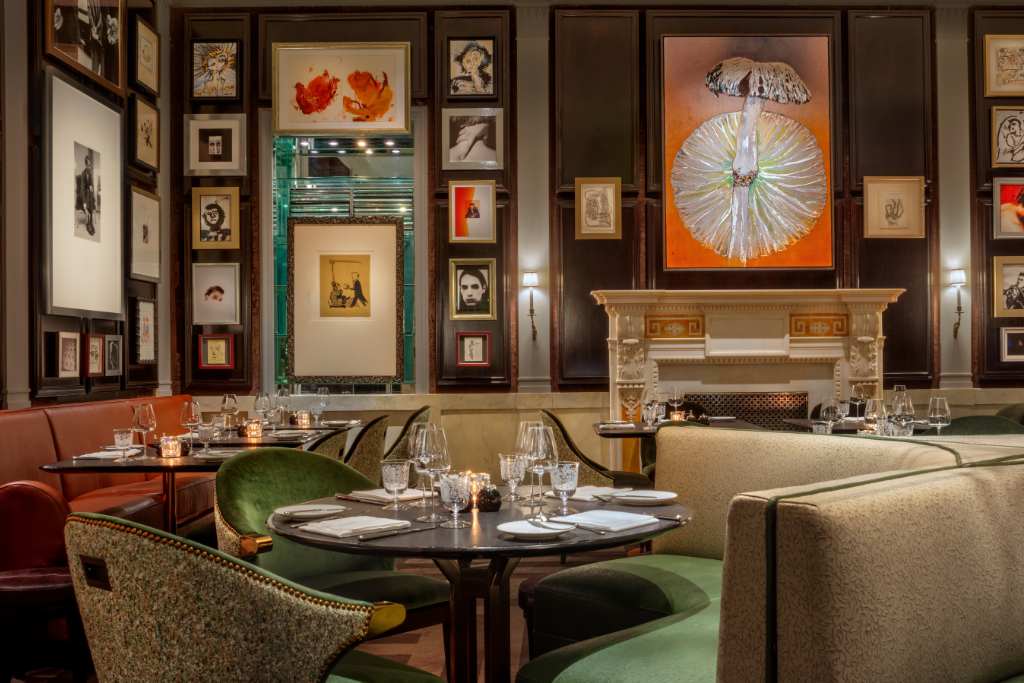 It's said that everything old is new again, and that's particularly true at New York's iconic Carlyle Hotel, a 1930's grand dame that, after a three-year renovation, is saturated with spirited savvy that, like a Picasso painting, is at once timeless and avant garde. This is particularly true at Dowling's, the Carlyle's restaurant, where a gallery of original cartoons, drawings, photographs, and paintings (including several newly-acquired works by Ludwig Bemelmans) surround a calming space of leather, wood, and crystal. Reading the room like a pro, Executive Chef Sylvain Delpique has created a menu filled with updated versions of the kind of luxurious, classic dishes that you'd picture yourself eating here: escargot is scented with curry-adjacent vadouvan and served with naan; branzino emerges moist and tender from its salt crust. For fall, Delpique continues the trend. Caramelized apple and sage brown butter add interest to butternut squash soup; thanks to pumpkin seed vinaigrette and pickled carrot, burrata is suddenly interesting again, particularly with the 2019 Domaine de Piaugier Gigondas that the sommelier recommends as an accompaniment.
Compline
Napa, California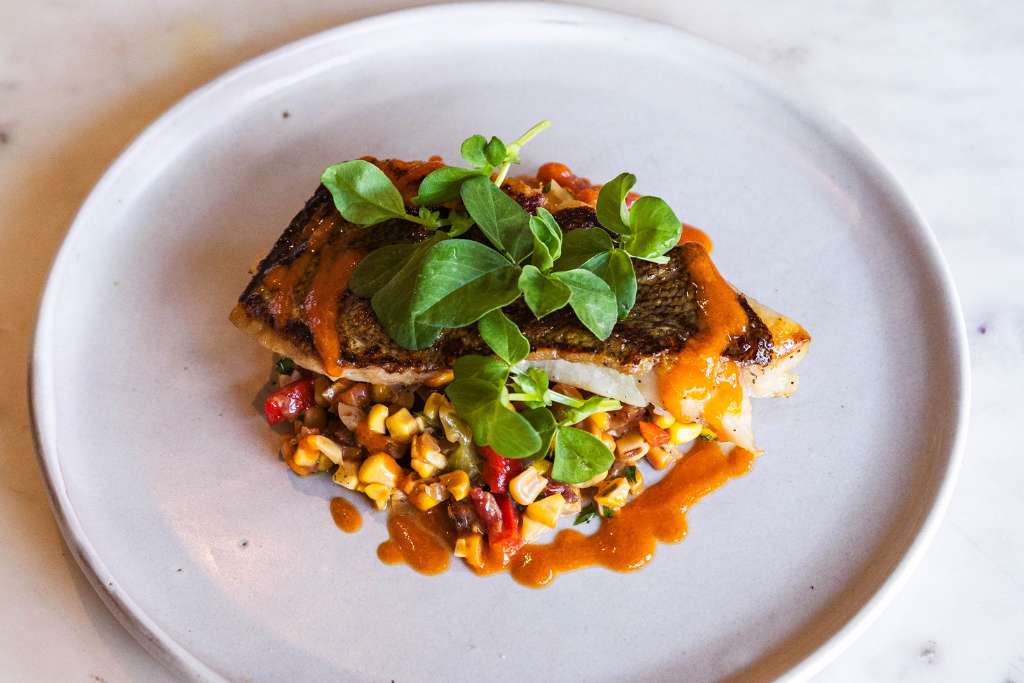 After graduating from the Culinary Institute of America, Vallejo native Jammir Gray worked in kitchens in Chicago, Philadelphia and Washington, D.C. before making it back to California to take over as Executive Chef at Compline, a fresh concept in downtown Napa that fuses a wine merchant, wine bar, and restaurant into a single, streamlined space. The menu is equally agile, offering bites, small plates and full-sized entrees; all share a rousing balance of spice, texture, acid and cool creaminess that make decisions a challenge. Fall menu additions will make settling on a single dish even tougher, thanks to dishes like Pork Loin with Roasted Garlic, Cranberry Beans, and Blackberry Mole. "The sweet blackberries mixed with the spiciness from the chilies and the earthy dark chocolate are a perfect backdrop for smoky grilled pork loin and creamy cranberry beans," notes Chef Gray.
Lighter but equally seasonal is Gray's Bodega Bay Rockfish with Hobbs' bacon, Brentwood Corn, and Smoked Tomato. "It's a great way to get your daily serving of vegetables," laughs the chef, who chose local rockfish for its sustainability and ability to meld with the smoky sun-dried tomato vinaigrette that binds the corn and bacon.
Supper at Hotel Emma
San Antonio, Texas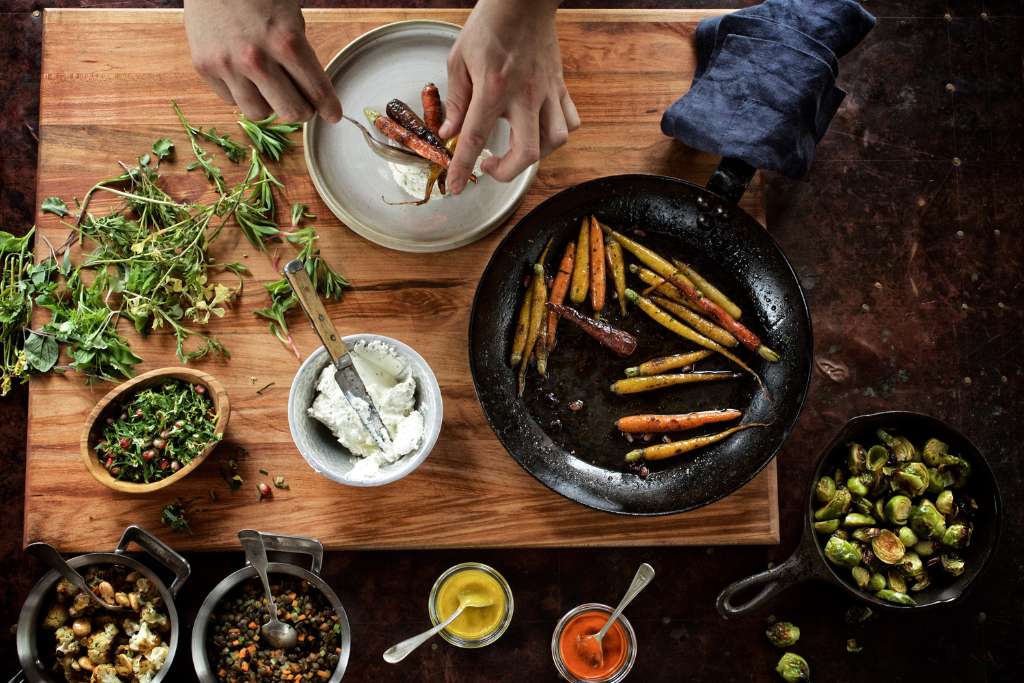 Operating a fine-dining restaurant in a hotel can be a challenge. Not only is the kitchen responsible for three meals a day, it needs to strike just the right balance between the creative and the familiar. Enter Executive Chef Ned Elliot, who brings experience gleaned from time with French master Alain Ducasse and New York restaurateur Danny Meyer to San Antonio. Under Chef Elliot, approachable dishes like scallops, mussels, and red snapper are elevated with accompaniments — grilled lemons, flavorful broths, pozole — that add just the right level of intrigue.
For fall, Chef Elliot continues the dance: grilled black sea bass gets a spicy kick with jalapeno zhoug; smoked tuna is highlighted by aromatic pluots and a bit of horseradish while grilled prawns are bathed in a rich sauce of yellow tomato and saffron. Don't miss Texas' version of Spanish Iberico ham, which comes with green tomato jam and mustard. Housed in a 19th-century brewery and named for the woman who ran it, Hotel Emma is located in San Antonio's bustling Pearl District, a culinary and arts center near the city's art museum.
Cover photo courtesy of Troutbeck.