Dreamy only begins to describe Maui's Airbnbs. Many are downright sexy. Following are a few of our favorites — from beach houses to private mountain hideaways — ideal for both couples-only rendezvous and extended family gatherings.
Fleetwood Villa
Sleeps: 8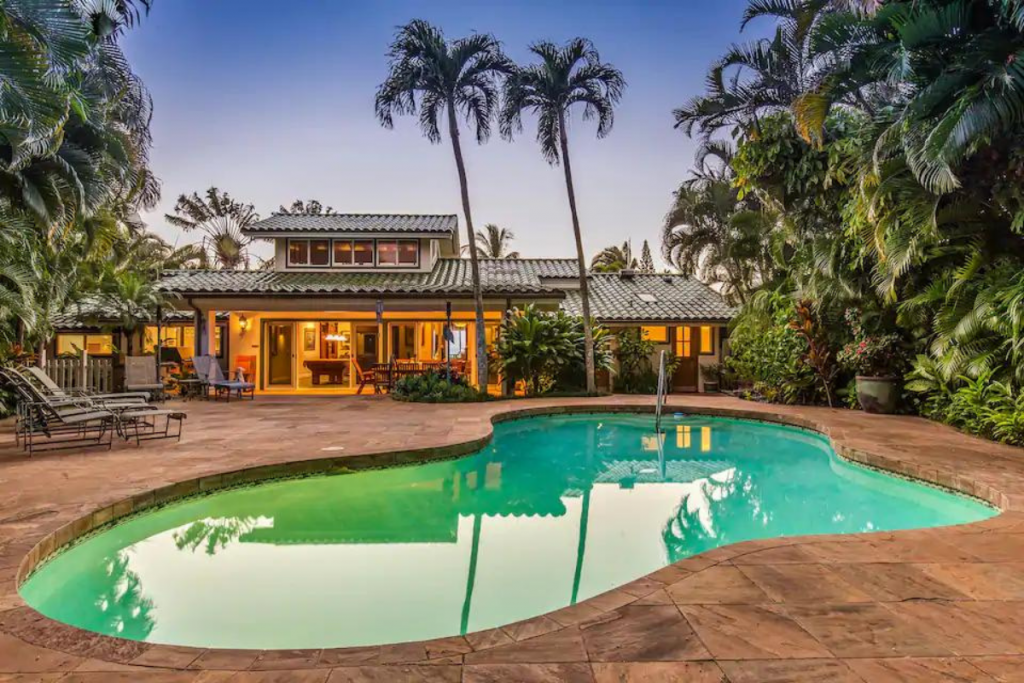 Rock fans will love this zen-like former home of a legendary celebrity rockstar. Located in Napili, the four-bedroom home is within minutes of stunning beaches, top restaurants, coffee farms, and the Kaanapali Golf course. Splash in the contoured swimming pool; soak in the hot tub, dine alfresco and vegetate on the sun loungers. The interior comes with high-vaulted ceilings, large windows, and a spiral staircase leading to a loft and view of neighboring Molokai island.
Cottage for Two
Sleeps: 2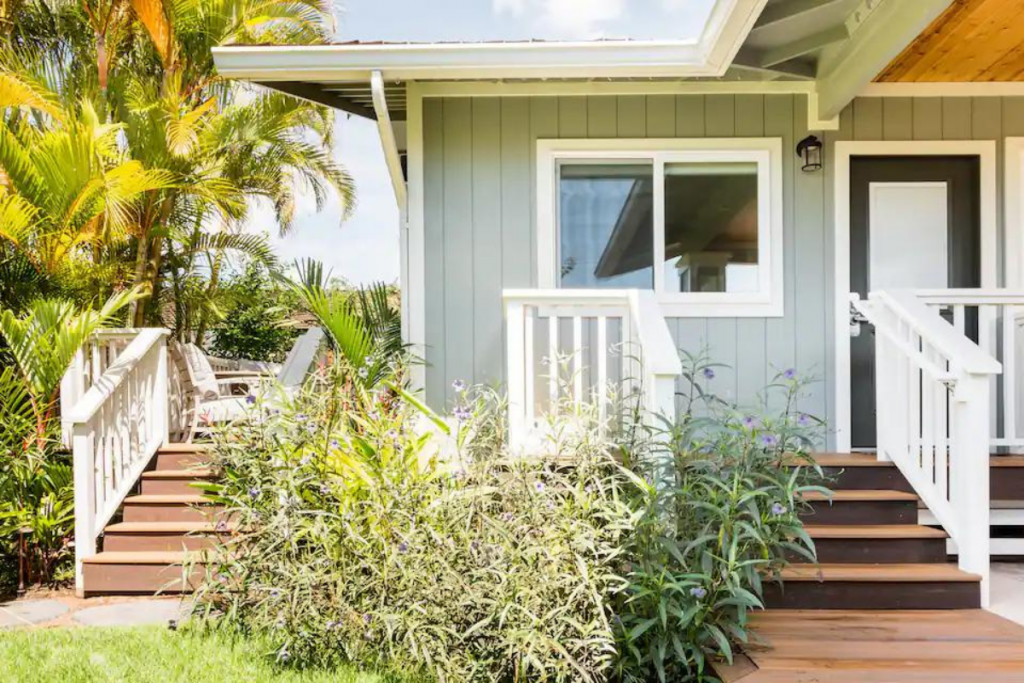 Couples will never want to leave this idyllic Hawaiian cottage for two in Kihei. Walk to the island's prettiest beaches and restaurants. Slip into the saltwater hot tub on your uber-private deck after a day hiking or beaching (hosts provide beach chairs and snorkeling gear). Savor the lush tropical flowers and birdsong, before rinsing off under a warm outdoor shower, and retreating indoors to the one-bedroom stylish love nest.
Oceanfront in Paia
Sleeps: 6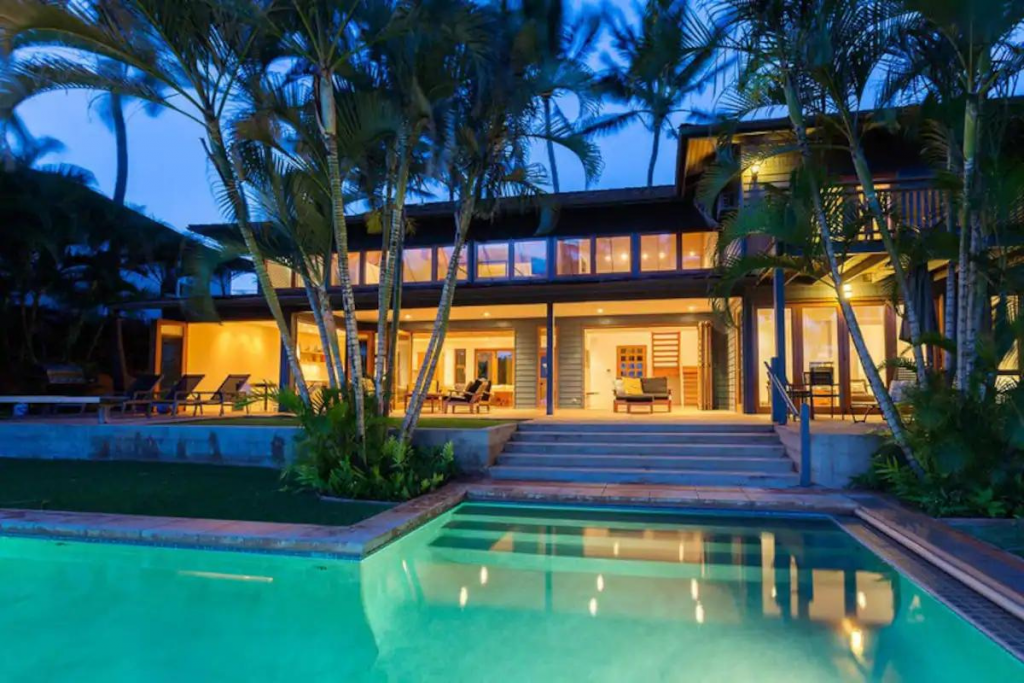 The only 'obstacles' between this stunning four-bedroom house and the ocean are a lap pool and a hot tub. Located at the end of a lane and surrounded by lush vegetation, the experience here is all about privacy. Most of the rooms — kitchen, living room, and three of the bedrooms — face the sea.
Anchor Cove, Kihea
Sleeps: 8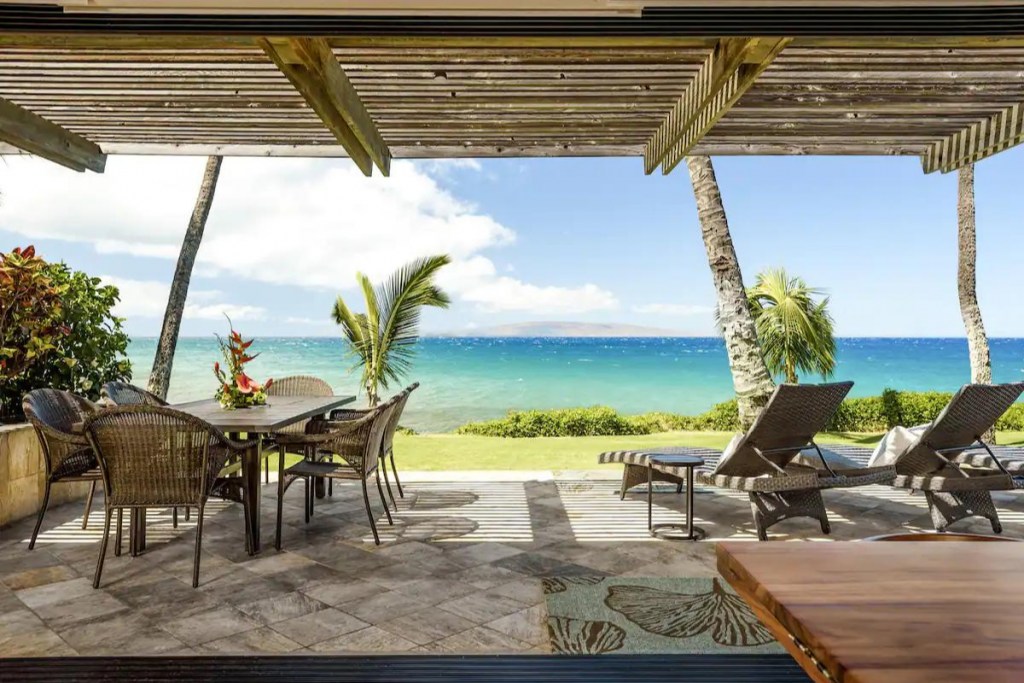 The soundtrack for this three-bedroom oceanfront oasis is the gentle lapping of waves. Just steps from the cerulean waters and perfect for snorkeling (think: lumbering sea turtles), everything about this stunning home is Hawaiian chill. Giant (40-foot) retractable walls open between the living room and terrace bringing the outside in and the inside out.
Paradise Cove
Sleeps: 6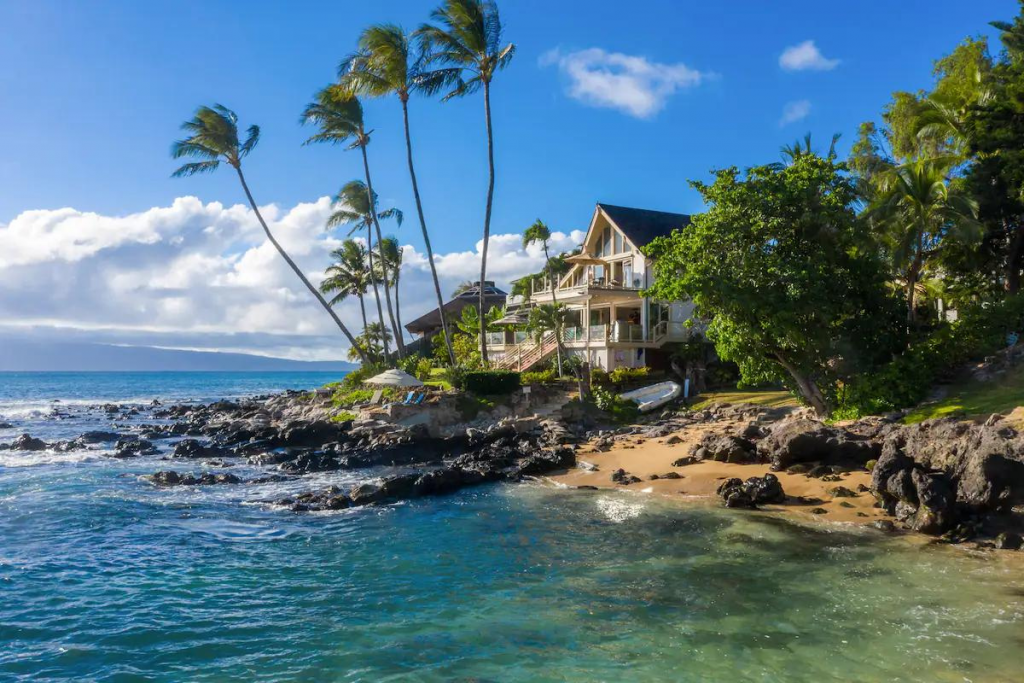 Set directly on the turquoise waters of the Pacific, this three-bedroom aptly named villa offers stunning views of the neighboring islands, Lanai and Molokai. Walk down to the sandy cove and watch for turtles, whales, seals, and dolphins; lounge by the rocks on cushy sun loungers. The interior features a vaulted ceiling, floor-to-ceiling windows, marble floors, and paintings of local plants and wildlife.
Pinnacle
Sleeps: 4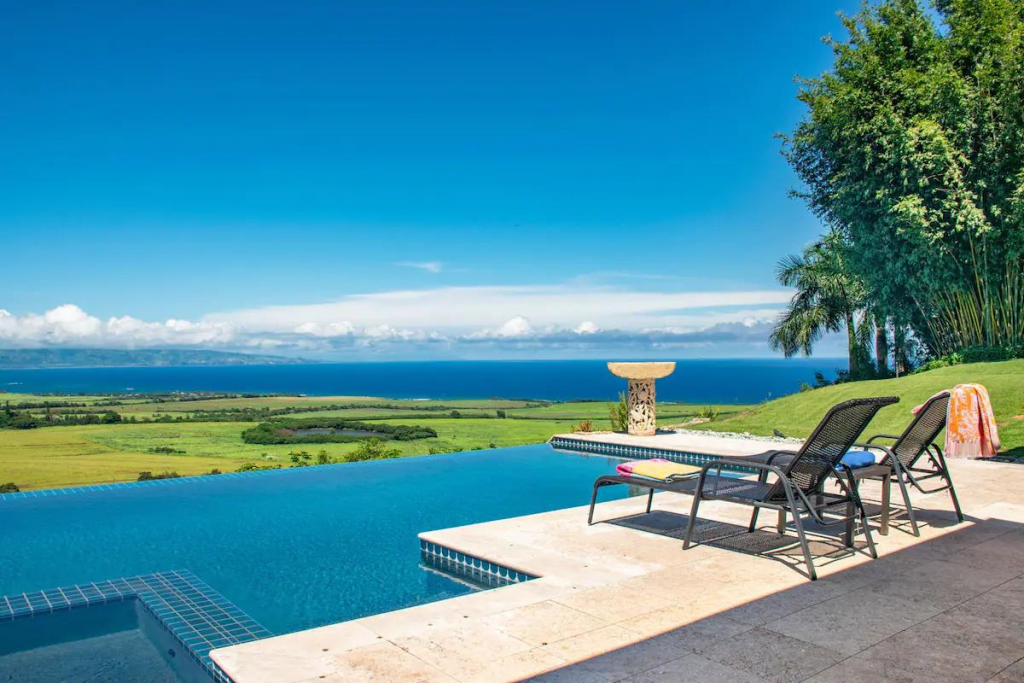 The owners looked for years before choosing this stunning hilltop property to build their three-bedroom dream home. Take in the view — of the sea, valley, island of Molokai and Haleakala mountains. There is also a stunning pool and even a private office area (also with a view) with sliding doors to the lanai.
Napili Cove, Lahaina
Sleeps: 4
Overhanging a cove, with its own private beach, this modern two-bedroom home offers ultimate privacy. Swim with the sea turtles (right from the beach), relax on the palm-shaded patios; and savor the ocean view from the seemingly endless floor-to-ceiling windows. We also love the wooden floors and high-vaulted ceilings.
Blue Sky Villa
Sleeps: 10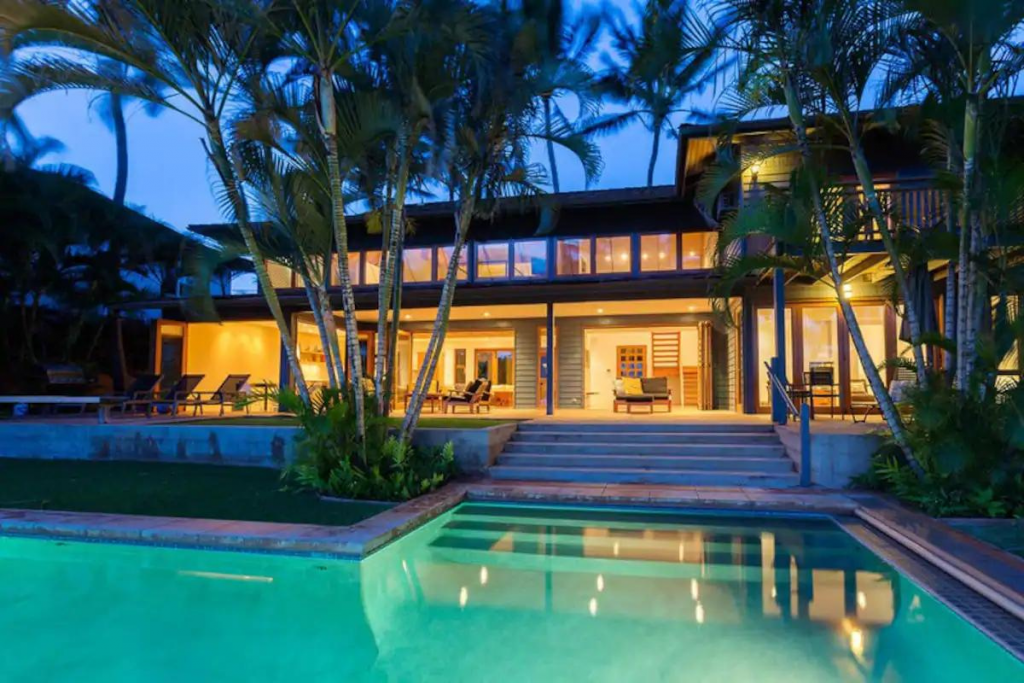 The sea is the focal point of this five-bedroom villa. Surrounded by tropical flowers, the pool directly overlooks the ocean. Doors retract in the living and dining areas, as well as in the primary bedroom, opening to a sea of blue. A white baby grand piano breathes music into the house, while a winding staircase leads to a private meditation tower offering more ocean views.
Hale Makena Maui
Sleeps: 8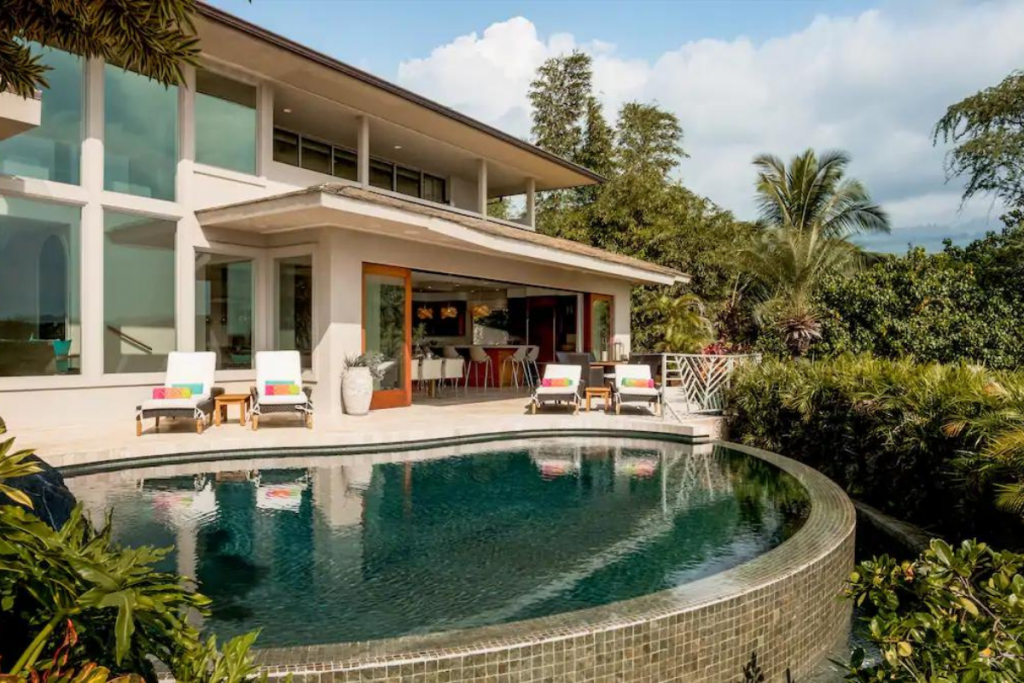 There is a reason why families return year after year to this four-bedroom, contemporary villa, loaded with designer touches. An immense, retractable wall reveals stunning (night-lit) tropical gardens and heated pool; while the alfresco kitchen and circular cabana bar offer views of the Pacific. Bedrooms, too, come with ocean views. Retreat to the private lanai, sink into the hot tub and watch the sunset with a mai tai in hand.
Weak Cottage
Sleeps: 2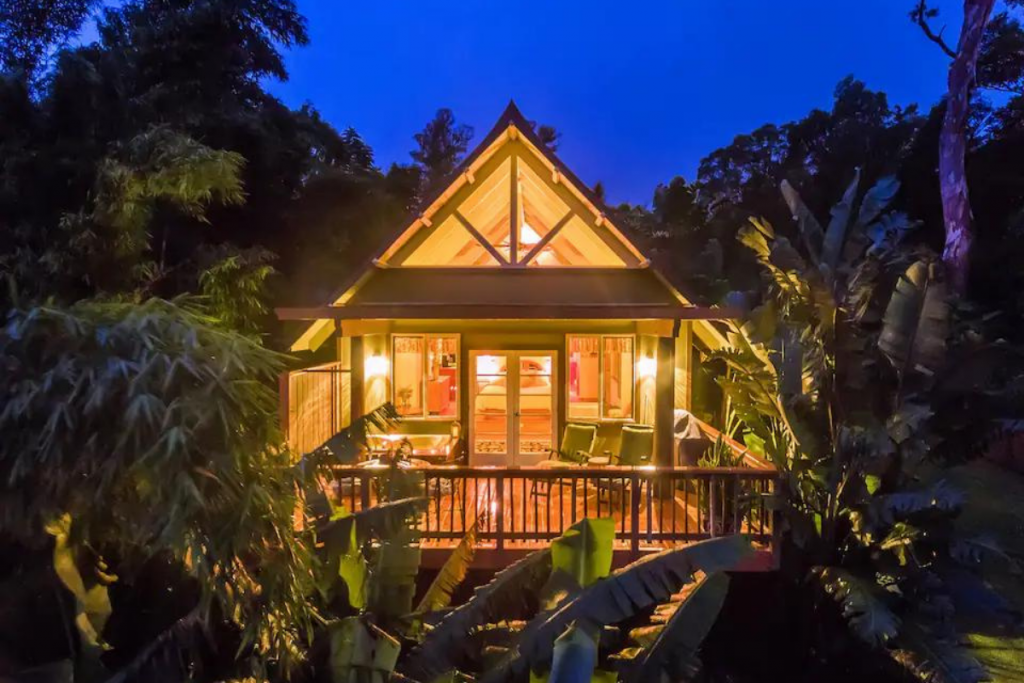 Perfect for nature-loving couples, this romantic, one-bedroom, mountain retreat in Makawao, looks onto majestic tall trees and lush green foliage. The deck features a soaking tub for two; inside, a custom-made (cherry wood) king-size bed is adorned with luxurious bedding. Located at 3,000 feet, nights are cooler here, making it lovely for stargazing and restful quiet nights. Beach chairs, boogie boards, beach towels are provided.
Cliff House
Sleeps: 2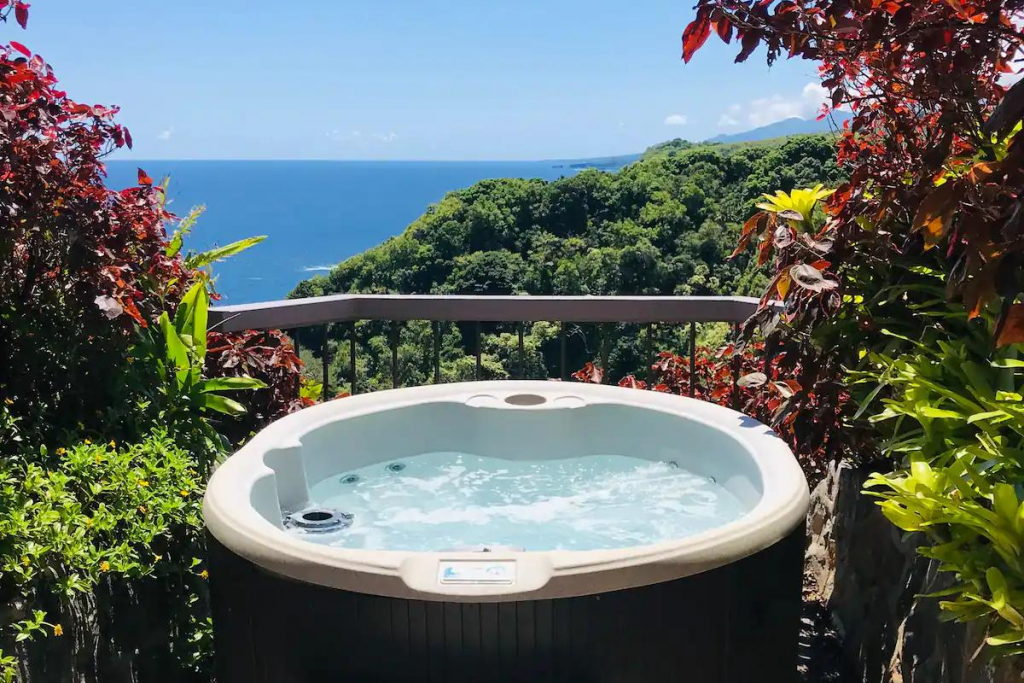 Take in the view — miles of untouched coastline and magnificent Hanehoi Falls thundering into an oceanfront gorge — from the private outdoor hot tub. Just 17 feet from the cliff's edge, the one-bedroom Cliff House comes with an emerald-tile pool, tropical gardens, outdoor shower, lush poolside dining, and barbecue area. The interior is just as decadent with its marble fireplace Javanese marble floors and walls, teak wood ceilings, and king bed positioned beneath a large skylight (perfect for star-gazing).