From a picture window at sleek Louis Hotel, I take in the timeless, bustling extravaganza of Munich's beloved Viktualienmarkt below me, where a flurry of gastronomic activity unfolds. From here, I glimpse some of the myriad (100 or more) food stalls, and a throng of people chewing and digesting the largesse of Bavaria. This centuries-old market square, home to meat vendors, vegetable sellers, pretzel makers, fishmongers, bakeries, sausage stuffers, a popular brewery with underground vats, characteristic cafes, a maypole, sprouting water fountains, and a general air of bonhomie, reigns as one of the Bavarian capital's hotspots for locals and tourists alike. At this vantage point at Louis Hotel, Viktualienmarkt (literally: victuals market) in all its reverie, with bottle-green awnings and worn copper rooftops, looks close enough to touch. I can almost smell the weisswurst being plopped on plates.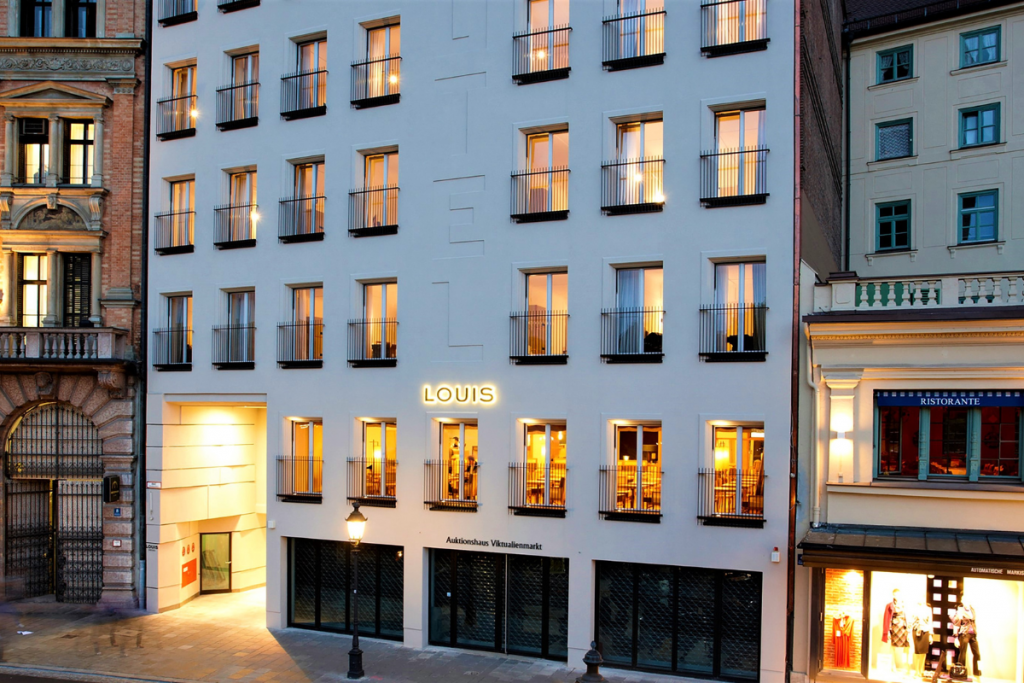 Envisioned to provide an alternative to Munich's better known vibe — that of bacchanalian Oktoberfest — design-savvy Louis Hotel, kitted out in the bones of a 100-year-old building, unveils the sophisticated otherness of Bavaria's famed favorite city. The hotel's au courant elements — white walls, oiled oak floors, colorful glass lamps from India, kilims from Tibet, shiny elevators, a rooftop bar, perfect cappuccinos, avocado toast at breakfast with beetroot salad — join to provide an oasis from the rabble outdoors. Green velvet upholstered furniture sporting Jugendstil-inspired geometric shapes and graceful artwork tie the past with the present. I liken the breezy feeling of ease I feel upon entering Louis Hotel to what happens on hot days when I sit down with a tankard of beer at Viktualienmarkt — or elsewhere in Munich. All my stress recedes. This haven-like hotel helps me slow the pace, but enthralls me with its artistry. At once, it manages to be both glamorous and tranquil. Casual and natty, it welcomes lederhosen and dirndls as much as Birkin bags. Not a boutique hotel but — as one employee told me — "a design and style hotel," Louis Hotel feels like that show stopping piece of art you find in the unexpected corner of a museum, the newly painted masterwork that stands alone. Clearly Bavarian-born, Louis Hotel reinterprets its locale through modern eyes.
The Rooms: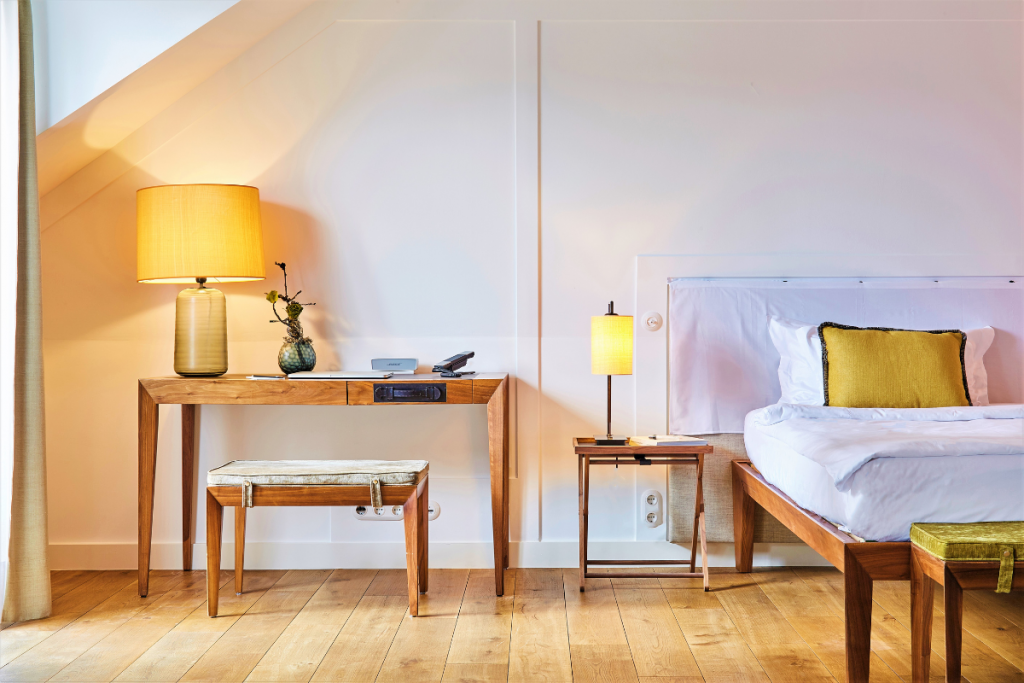 Go for the Market View Deluxe room with its French balcony, which overlooks Viktualienmarkt. Trust me, you'll be so entertained, you'll have no reason to switch on the television. You'll feel the soul of Munich wafting through the air — not to mention hear its hearty, buzzy life force: laughter, mostly — happy sounds. Heated bathroom floors, allergy-free duvets, natural rubber mattresses, and La Biosthétique amenities ensure comfort in rooms, with vaunt sofas and chairs handcrafted specifically for the hotel. By far, my favorite feature, the hidden wardrobe, appeals to my world traveler's gusto for mystery and nostalgia. Pull out a "drawer," to discover a clever, vintage-looking, vertical traveling trunk with leather strappings — like something you'd haul on your trip aboard the Orient Express. (You'll want to immediately fill the wardrobe with feather boas and loden jackets, depending on your preferences.) For special occasions — or at the very least those moments when you need to spread out — opt for the Louis Suite, an expanse of 750-square-feet, boasting two balconies, and views of "Old Peter," one of the city's most noteworthy churches.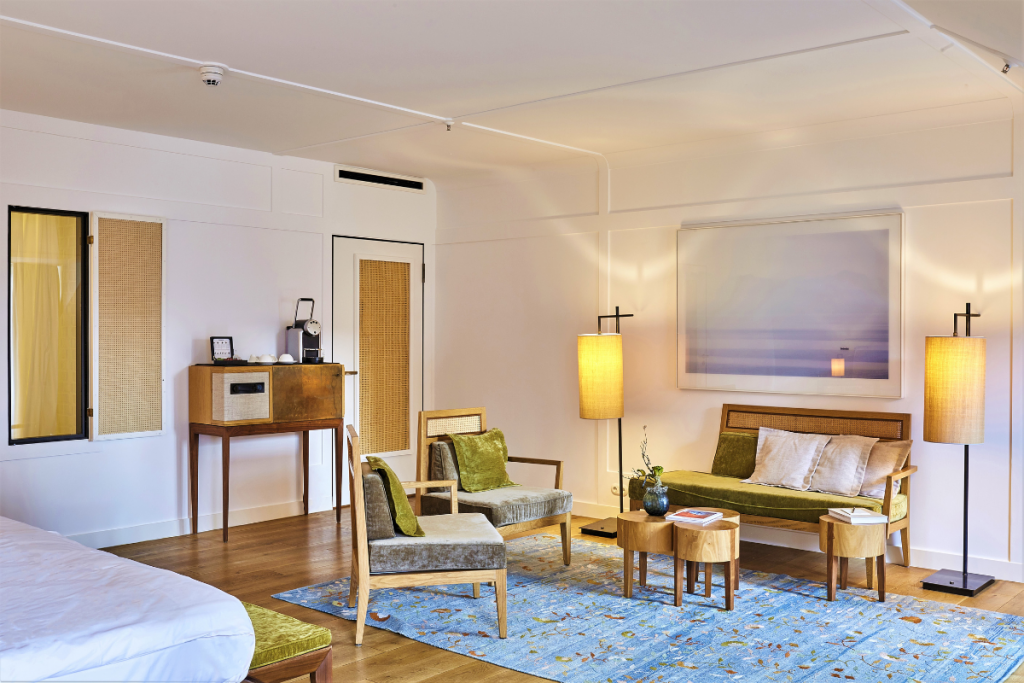 Drinking and Dining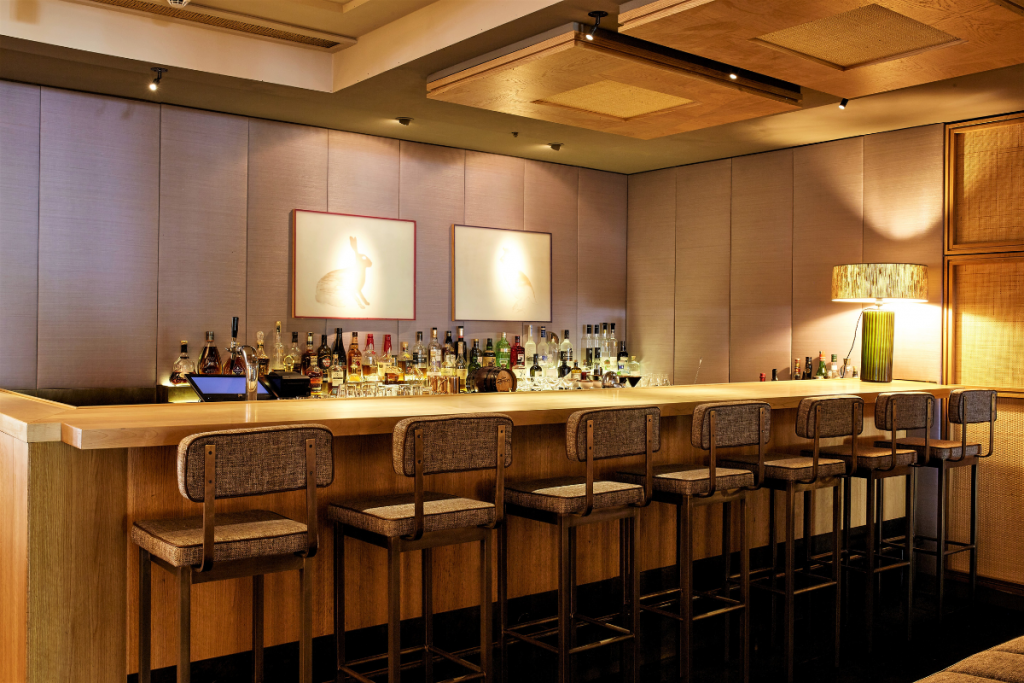 Dark, moody wood and eggplant-colored upholstery create a cuddly, albeit chic, atmosphere in Louis Hotel's signature restaurant, The Louis Grillroom. Conceived as a nod to the products sold next door at Viktualienmarkt, the dinner menu elevates both meat and vegetables. From mains ranging from octopus with yuzu mayonnaise to Chateau Briand for two, the menu also includes a variety of vegetable sides. Nearby, the Sparkling Bar serves snacks and all manner of creative cocktails, Champagne and beer amid a sultry ambiance. But breakfast stands out as the best meal of all. A huge Bavarian repast of breads, pastries, egg dishes, salads, smoked salmon, cheese, sausage, fruit, juices, and more. Gobble up the weisswurst (Munich's speciality) with sweet mustard and — if you dare — a breakfast beer.
Fitness
A sauna and small, but state-of-the-art, gym keeps guests fit. Private yoga and massages can be organized by the concierge team.
Sustainability
Committed to working with local farmers and producers (easy with Viktualienmarkt next door), the hotel sources much of its food regionally. With an anti-plastic policy, single-use plastic bottles have been eschewed throughout the hotel. Natural linens, beddings, towels, and mattresses are non allergenic and cleanly made.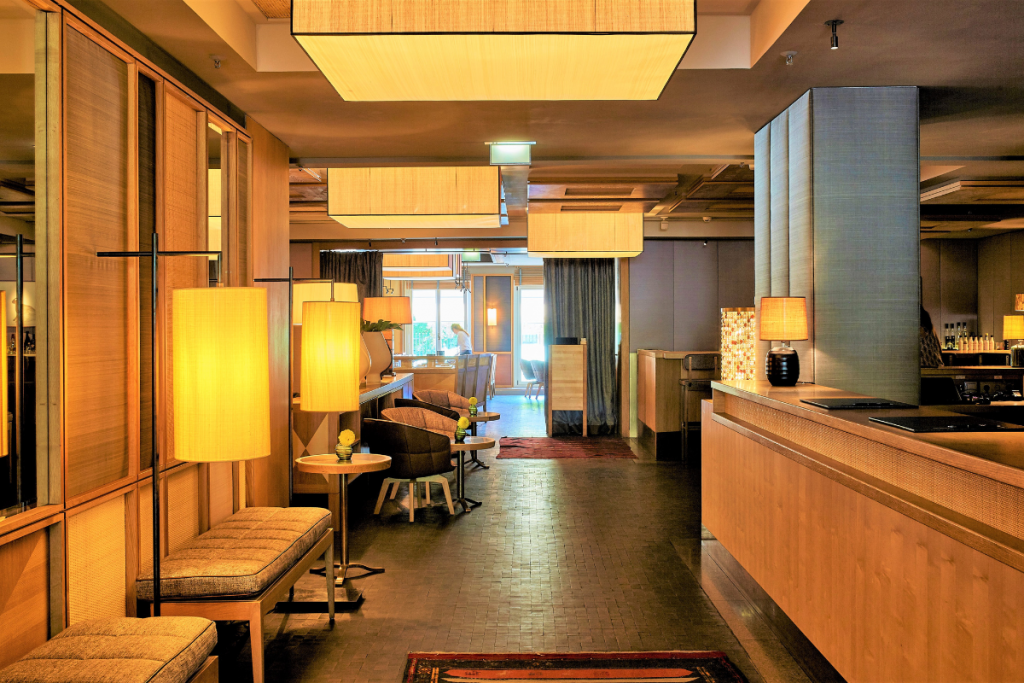 The Service
With extremely personable service, Louis Hotel gets to know every guest, anticipating their needs in a friendly butler-meets-best-friend kind of way.