When it comes to architecture, not all Airbnbs are created equal. Some are just a little more architecturally intriguing. We combed the United States and Canada for these aesthetically pleasing finds that aren't just splendid to stay in, but will also look incredibly good on your Insta-feed, too.
Folly Joshua Tree, Twentynine Palms, California
(Accommodates 6 guests)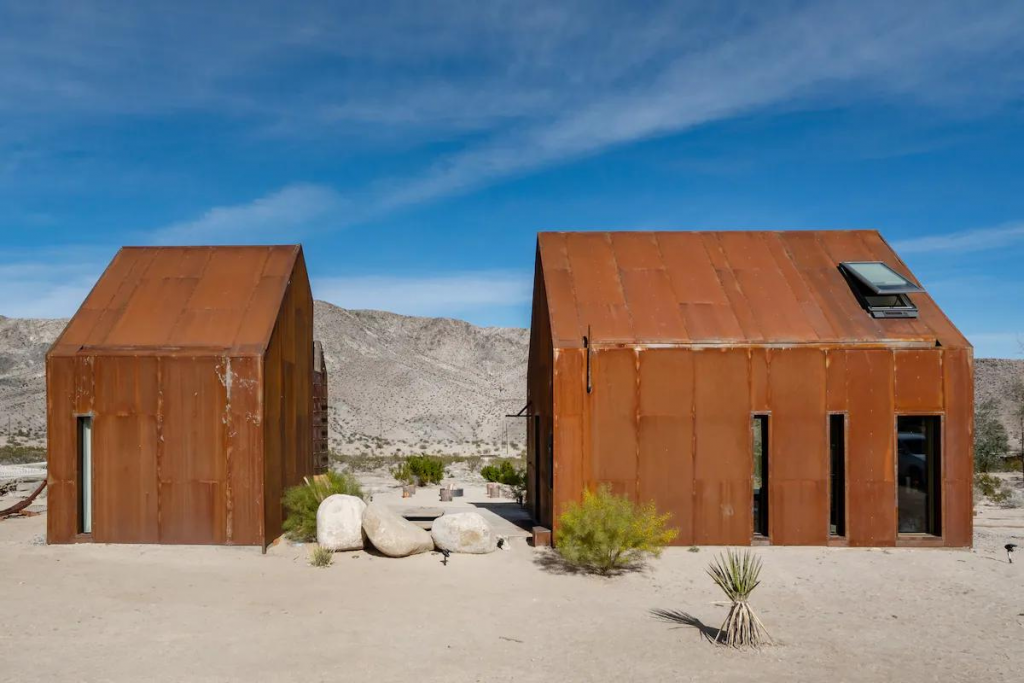 Designed by architect Malek Alqadi, this off-grid home is designed as a gateway to the galaxy. Standout features of the two-bedroom, 1.5-bath home include a stargazing bedroom, an outdoor soaking tub, and shower that provides views of the stars. An ultra-modern and uber-minimalist space, we also love the separate stargazing suite, outdoor firepit and desert-to-mountain views.
Good to Know: Folly is located near Joshua Tree, and within an hour of Palm Springs. Transportation from LA is offered.
Architectural Wonder in the Woods, Rhinebeck, NY
(Accommodates 3 guests)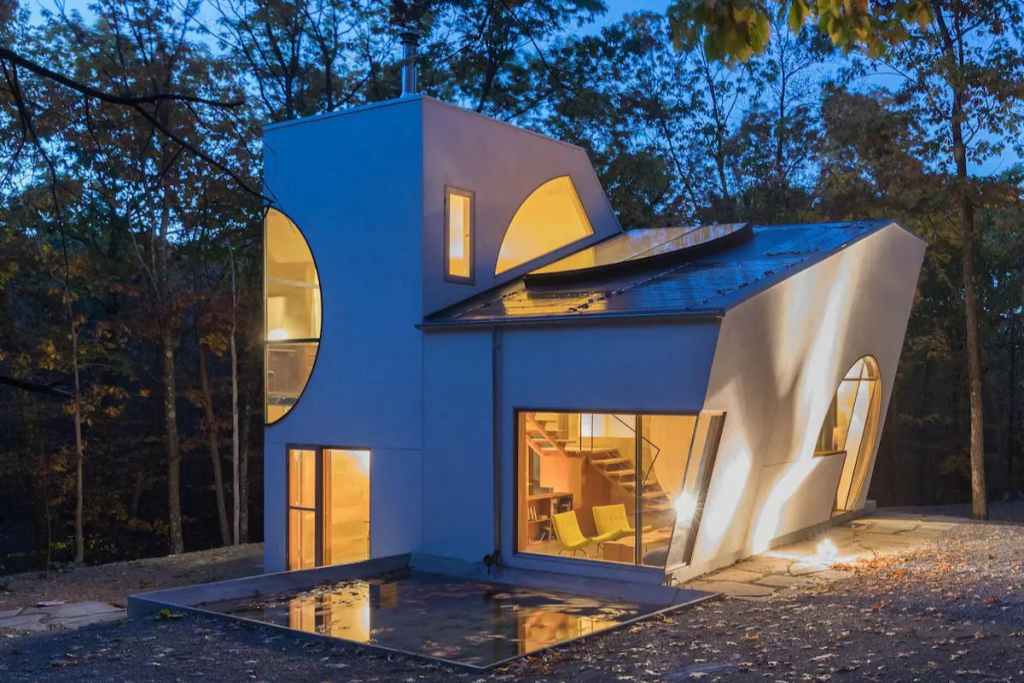 Step into this architectural, geometric masterpiece — an artist project by architect Steven Holl. Completely secluded on 30 preserved acres, "Ex of In" (as the house is known) has an open floor plan with zero bedrooms. An orb of wood, carved out of the house, welcomes guests into a play of geometry. Beds are organic, Japanese futons. Instead of fossil fuel, the house is heated geothermally; instead of grid power, the house harnesses its electricity from the sun. A beautiful trail around the property is available for guests' use.
Good to Know: The house is part of the 'T' Space project, and set up exactly as the artist wants it to be.
Glass House, Winnipeg, Canada
(Accommodates 6 guests)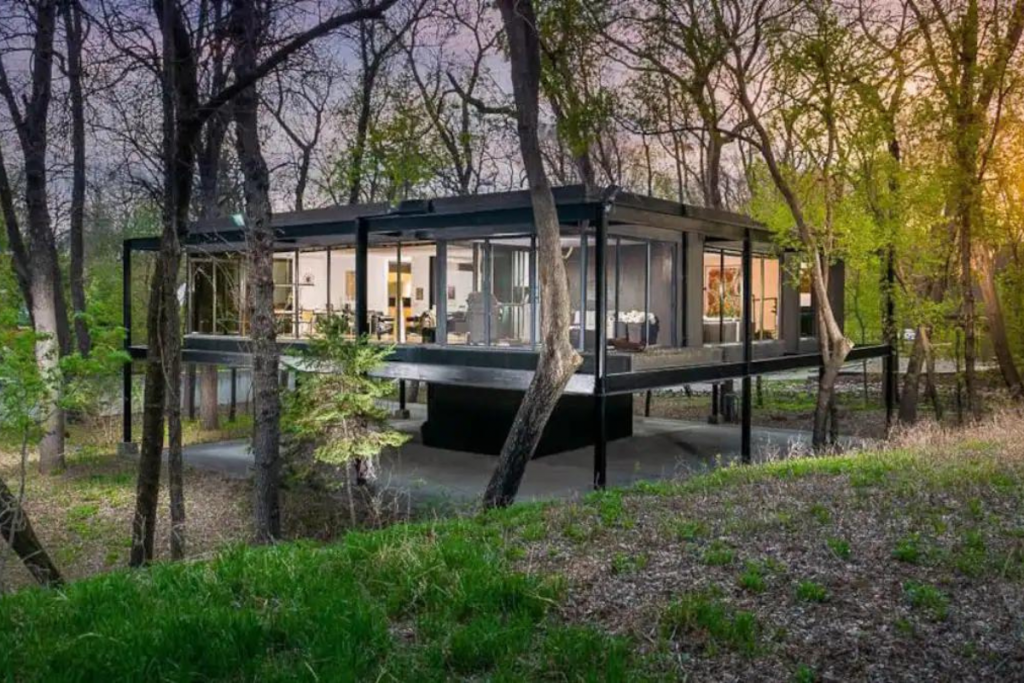 Considered one of Canada's finest architectural gems, this iconic glass tree house was designed by renowned Canadian architect Gustavo da Roza. A stay in this midcentury home — its second floor hovering in the trees — is like living in a work of art. A spiral staircase (and elevator) leads to the main level; there are two bedrooms, 2.5 baths, and two living areas. But the oversized skylights and floor-to-ceiling windows won our hearts.
Good to Know: Glass House is located on the river in a gated community on one of Winnipeg's most exclusive streets.
Kona Luxury Treehouse, Big Island, Hawaii
(Accommodates 2 guests)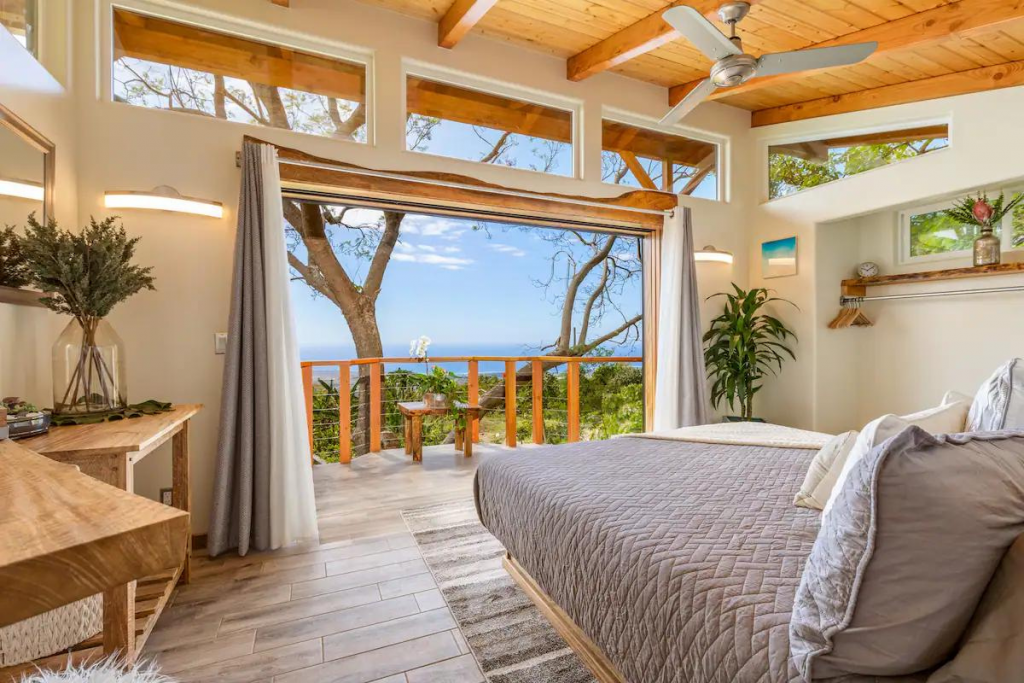 Beautifully handcrafted and set high in a kukui nut tree, this magical treehouse — with live tree trunks growing through the living room — comes complete with an ocean view. Watch the sunset from the wrap-around lanai or from the king mango wood bed, then follow the spiral staircase leading to a private spa area: infrared sauna, outdoor cold plunge shower, and hot tub perfect for observing the night sky.

Good to Know: Guests have access to the fresh tropical fruit (seasonal) and eggs from the chicken coop. Complimentary snorkel gear, boogie boards, beach umbrellas, and beach towels are provided.
Prince Road Container House, St. Augustine, Florida
(Accommodates 6 guests)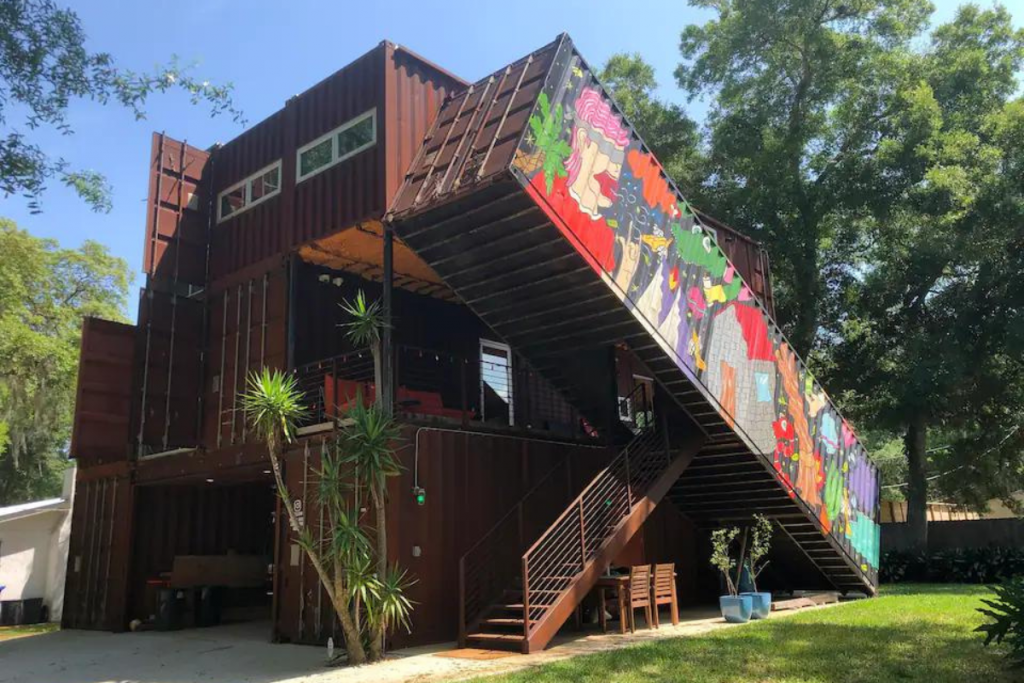 Art lovers will love this colorful, shipping container home. Filled with imaginative furnishings and contemporary artwork, the four-bedroom, two-bath home offers a unique architectural design. The living room, covered in art, is the hub of the creative space, complete with a retro (1950s) working jukebox, television set, and restaurant dining booth.
Good to Know: The home is located just ten minutes from downtown historic St Augustine.
The MICA, Lac-Beauport, Quebec, Canada
(Accommodates 4 guests)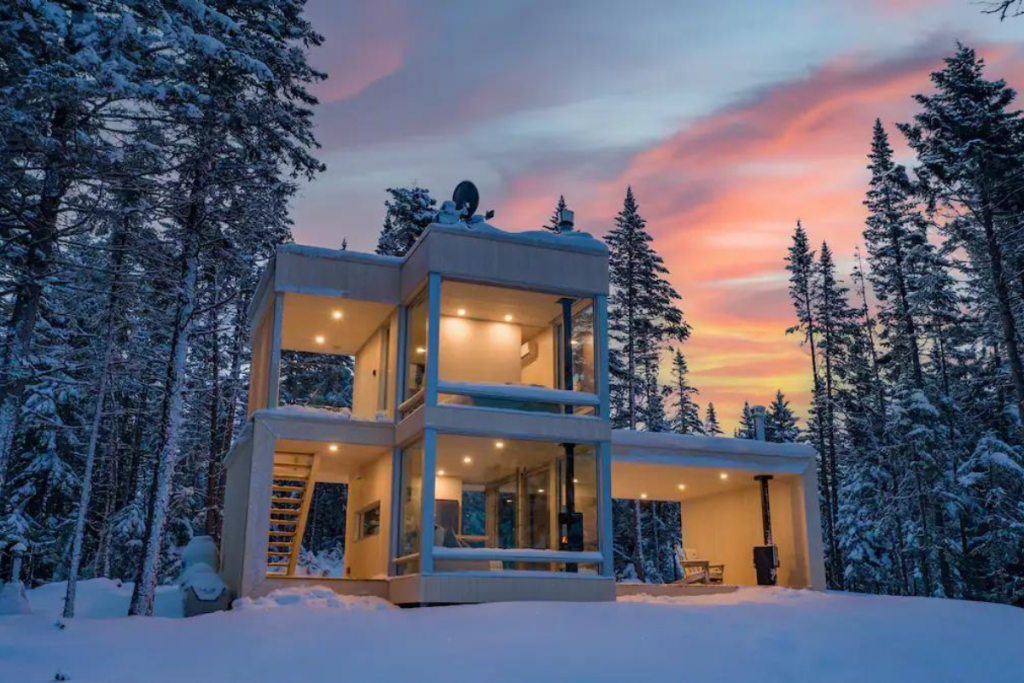 Minimalist in design and massive in windows, MICA, (high-end micro-housing) literally clings to the mountain. Located in the heart of the "Maelström" forestry area (outside Old Quebec city), this tiny two-bedroom, one-bath home is all about immersing in nature. Savor the view of Laurentian Park; take in the sunset at the highest peak of Lac-Beauport. We love the home's clean lines and white-on-cream color palette, along with the 12 miles of walking trails (accessible in any season).

Good to Know: Movements between the two floors are made by a ladder inside the micro-house or by the stairs outside.
Riverfront Cottage, Appomattox, Virginia
(Accommodates 2 guests)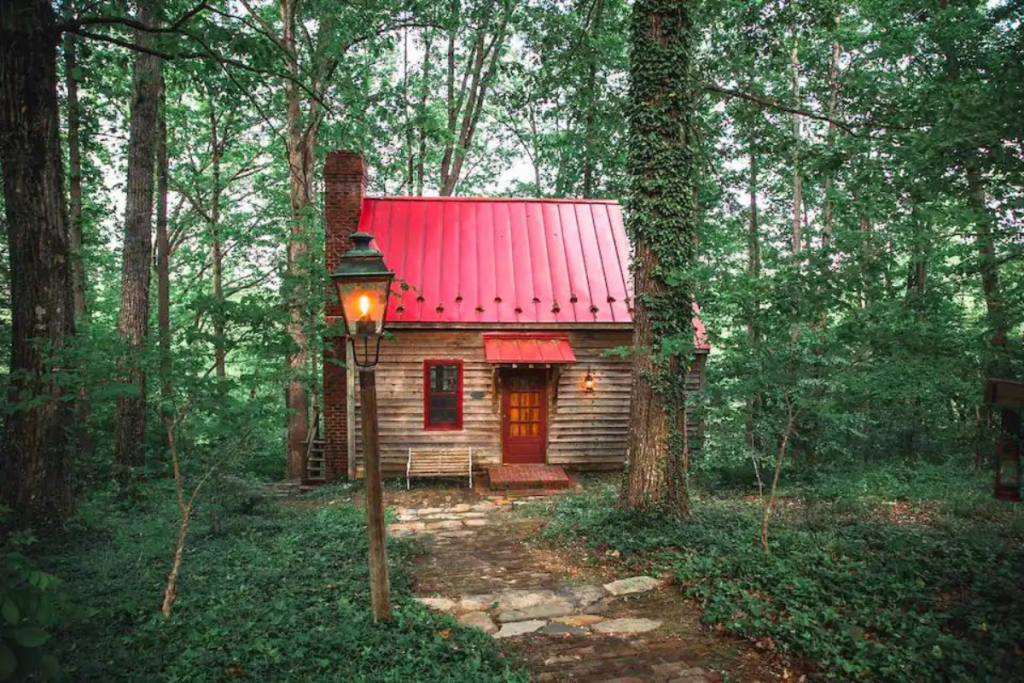 If stepping back in time (but with modern-day amenities) sounds appealing, look no further than this secluded riverfront cabin in the woods. Built in the 1800s and moved to its current location (50 private acres at the foothills of the Blue Ridge Mountains) in the 1970s, the red-roofed cabin overlooks the Appomattox River, and is surrounded by beautiful, old trees. Open the windows to hear the birds singing daily. Even bring your own furry friend, as the cabin is pet friendly.
Blue Wolf Float Home, North Vancouver
(Accommodates 2 guests)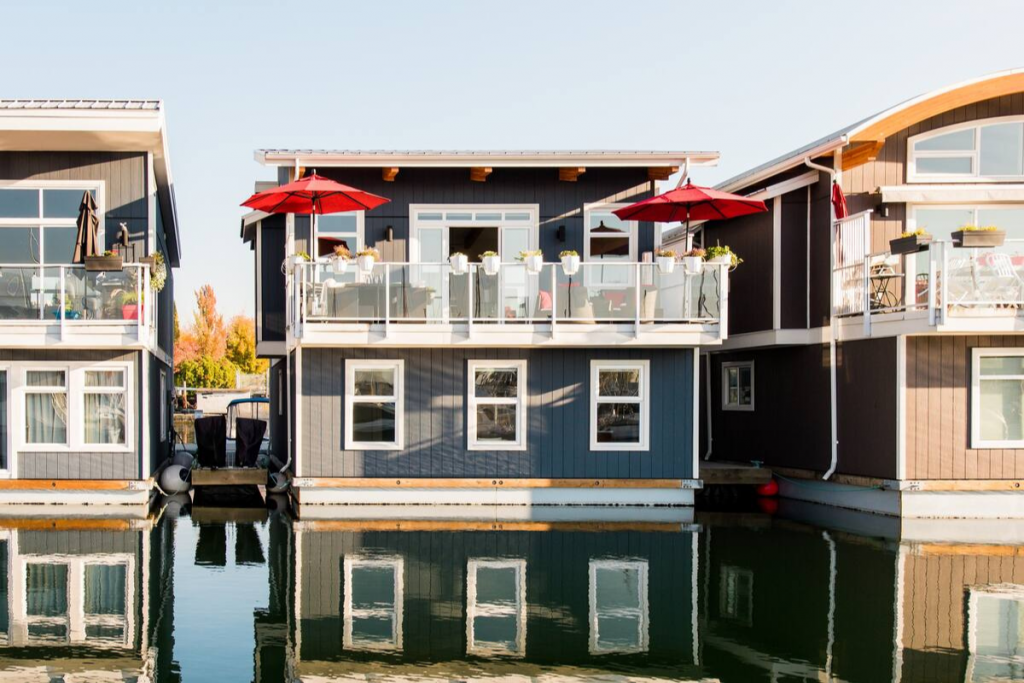 Specifically designed for romance, this intimate floating boathouse is perfect for couples. We love the light-filled interior with splashes of blue, the heated bedroom floors, and harbor view. Relax on the oceanside deck, soak in the two-person tub or steam shower, and enjoy an alfresco dinner under the stars, as the waves lull into the marina.

Good to Know: The location is within easy walking distance of restaurants and boutiques, no need to drive for a night out.
The Dharma Dome, Kerhinkson, New York
(Accommodates 2 guests)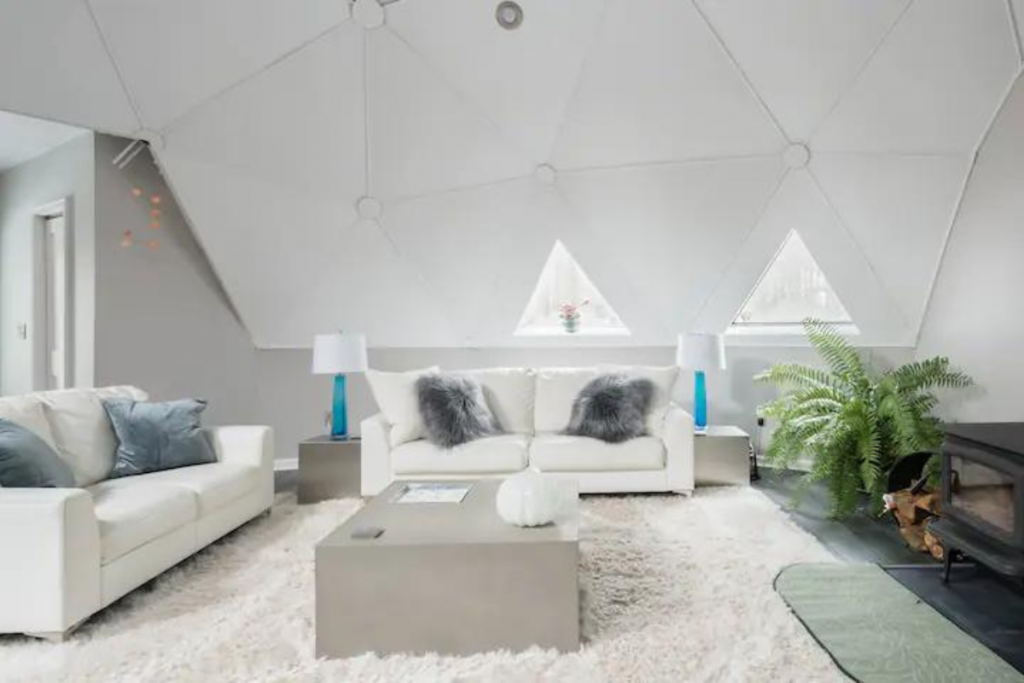 With its 20-foot ceiling and magical white color palette, this Hudson Valley geodesic dome offers an ultra-calming, soothing, and light-filled stay. We love the wood-burning fireplace, outdoor shower, hammocks suspended from the trees, and the large deck overlooking the pond.
Good to Know: The dome is located in the Shawangunk Mountains with many hiking options nearby.
Romantic Treehouse, Old Fort, North Carolina
(Accommodates 2 guests)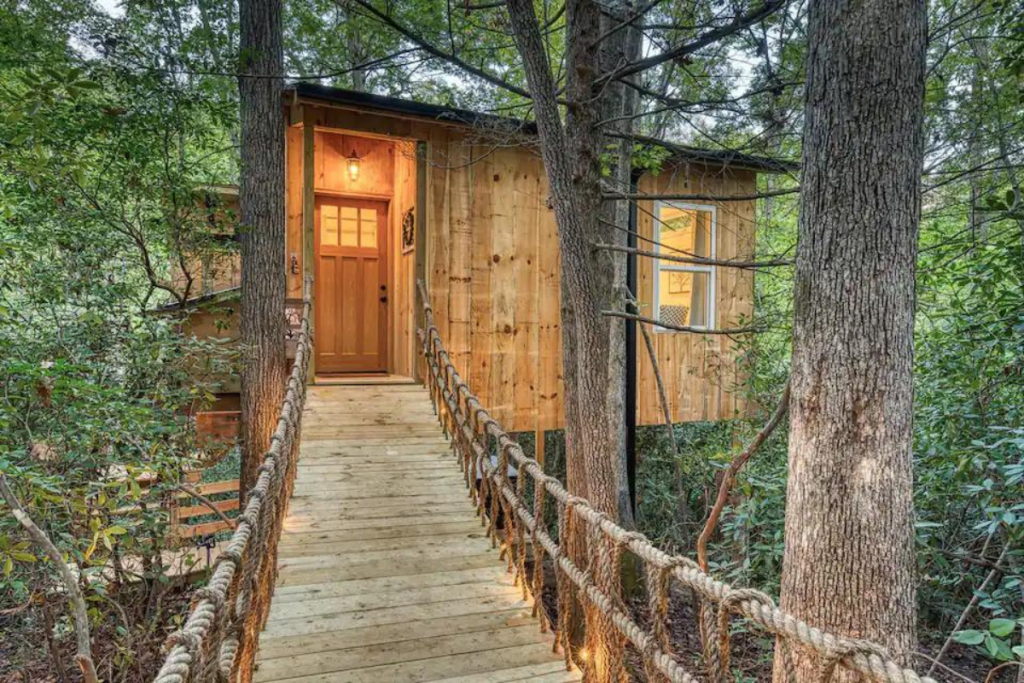 Follow the fairy-lit swinging bridge to this super-secluded and uber-romantic treehouse, surrounded by native laurel and hardwoods. The interior is light and soothing; the deck, a perfect place for morning coffee. We love the outdoor shower and hot tub, and close proximity to Black Mountain (10 minutes) and Asheville (20 minutes).
Good to Know: The gravel driveway to the treehouse is ⅓ mile through the woods, with some hills and curves. The hosts offer 'drive in' and 'drive out' service on their UTV for guests uncomfortable driving on gravel or who have low-profile vehicles.
Earth House Retreat, Springfield, Missouri
(Accommodates 8 guests)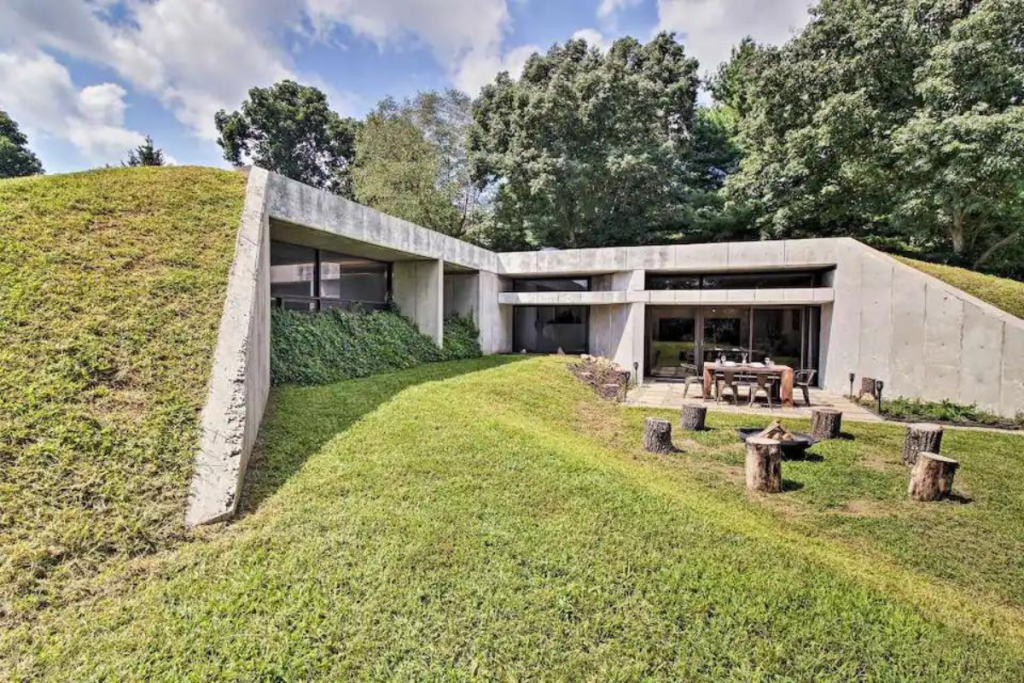 Modern and underground, this three-bedroom, three-bath earth house offers a unique architectural design. Surprisingly loaded with natural light, the interior features modern decor, contemporary artwork, and high-end furnishings. There is also ample outdoor living space, including a spacious yard, fire pit, and patio.
Good to Know: Arrive by daylight if possible, the underground structure can be hard to spot from the road, especially at night.
Big Idaho Potato Hotel, Boise, Idaho
(Accommodates 2 guests)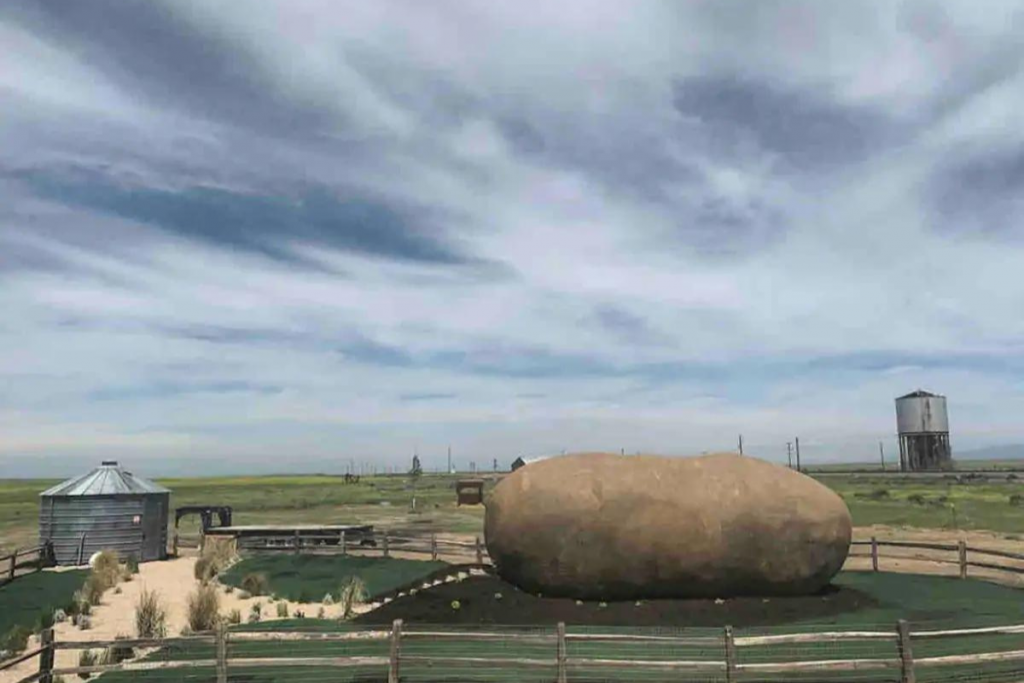 It's silly, but also an architectural marvel. Recycled from the state's 'Big Idaho Potato Tour,' the six-ton potato has traveled to 48 states over seven years. Now planted on a 400-acre farm (south of downtown Boise), the hotel, designed by Kristie Wolfe, offers stylish decor — an all-white interior with pops of pink, a custom-built bed, antler chandelier, and old records. There is also a silo turned spa, perfect for soaking under the stars.
Good to Know: The stay comes with a real-life Jersey cow, the perfect furry friend.