A palatial resort on the sea with a first-class Ayurvedic wellness center in Sri Lanka. A private island resort in the Maldives with an underwater restaurant and over-water villas. An eco-hotel in northern Thailand on an elephant reserve with see-through sleeping domes so you can watch the pachyderms play from your bed. A buzzy urbane hotel on a river in Bangkok. Tented camps and soulful lodges deep in the heart of East Africa. And a bijou Cambodian hideaway in Siem Reap that offers guests a VIP-guided run through the temples at dawn before Angkor Wat opens to the public, fitness breakfast basket included. What connects these hotels besides the fact that I've enjoyed their pampering, fine food, and astonishingly immersive cultural experiences? They're all part of Anantara Resorts & Spas, a lesser-known but utterly prodigious, luxury hotel group that hails from Asia. Able to summon the essence of a destination in the body of each individual hotel like no other brand, Anantara dives deeply into each unique culture to offer an authentic experience for guests whether at the spa, in the restaurants, via the design, or by way of luxury local activities. Lucky for discerning jetsetters, Anantara has begun an exciting expansion into Europe with a slew of scheduled openings this year. I'm just back from two of its newest hotels, Anantara Palazzo Naiadi Rome Hotel and Anantara Plaza Nice Hotel. Here's what I loved.
Anantara Palazzo Naiadi Rome Hotel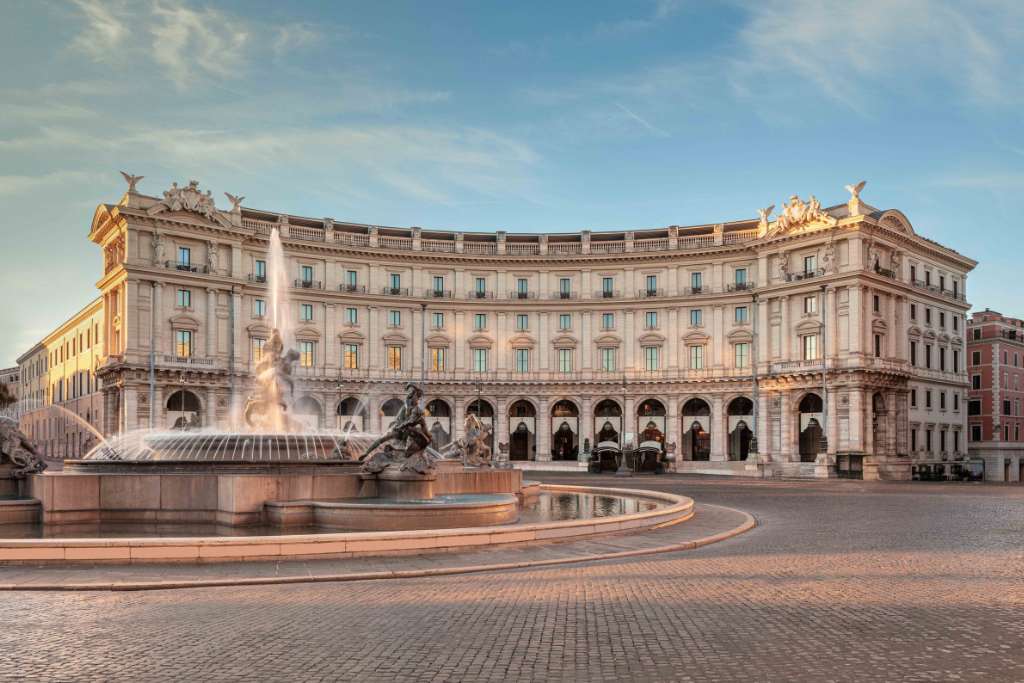 In Federico Fellini's sexy, satirical 1960 comedy, La Dolce Vita, Marcello Mastroianni and Anita Ekberg wade through the Trevi Fountain, saturating their clingy cocktail attire. But I've always thought the director, despite his love for ancient Rome, made a tremendous mistake. Why would he choose the Trevi Fountain, when he could have opted for the Fountain of the Naiads, a massive, spurting Art Nouveau masterpiece that dominates the Piazza della Repubblica, adorned with Ekberg-like nymphs and wafting the sound of the sea? Across from The Baths of Diocletian (commissioned in 298 CE), like a portal to Via Veneto and what I think of as the easy walking loop that encompasses most of Rome's top sites, the fountain also serves as the forecourt to Palazzo Naiadi, a Neoclassical marble extravaganza of grand scale, columns and — for sure — Fellini-worthy drama. It's really Rome's most perfect setting.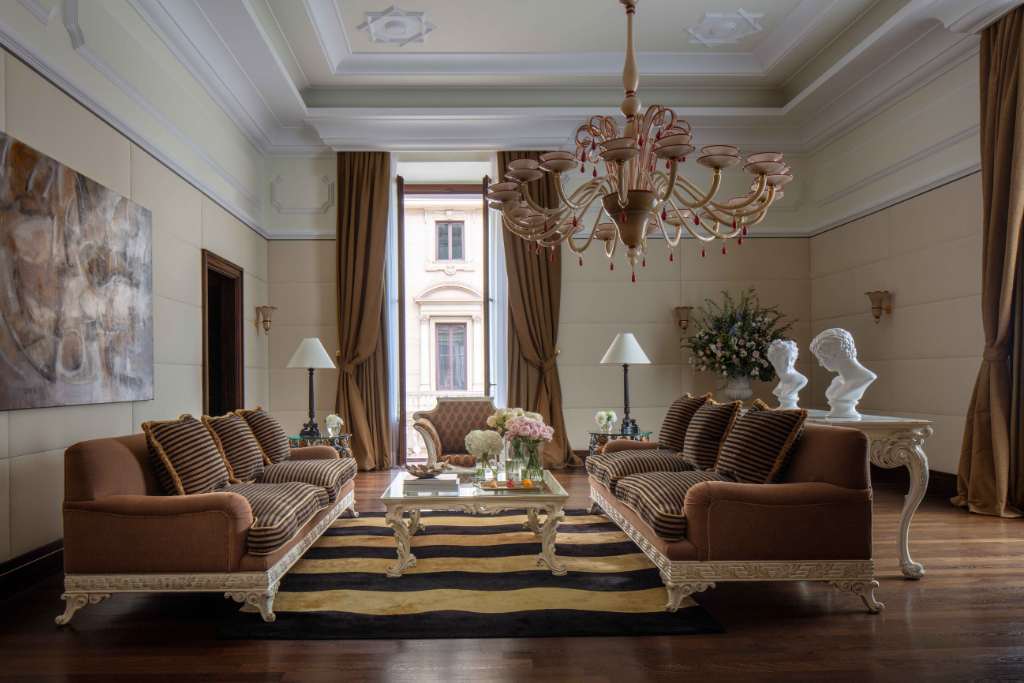 Step in to be enveloped by the flawless fusion of old Rome and new Rome, romance, and sleek modernity. Bedazzled by the Murano glass chandelier in the Lobby Bar and said venue's perfect cappuccino and creative cocktails (don't miss the Kindly Martini, perfumed before serving with a lemon cedar essence), I hung out beneath its soaring ceiling as much as possible. But I also liked to take happy hours in the nook-like Champagnerie or upstairs at SEEN By Olivier, an uber-hip concept rooftop restaurant and bar by Chef Olivier da Costa. The roof also sports a large pool (with riveting views) and a vibe that makes you feel like today's version of the beau monde at sunset.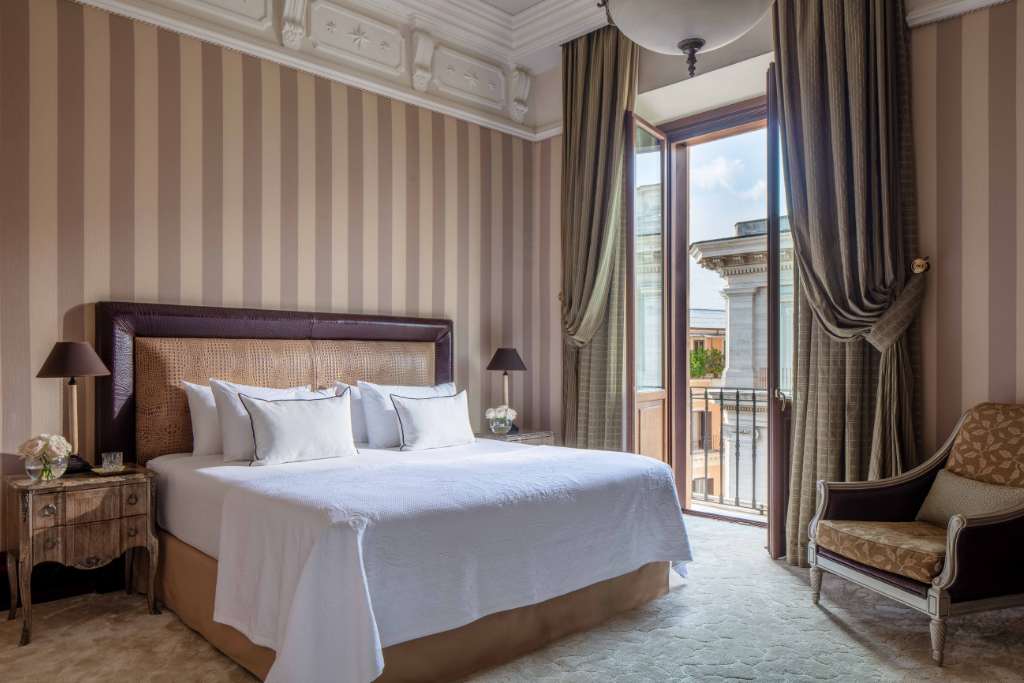 Dinner at INEO, helmed by Roman-raised Chef Heros de Agostinis, wins my heart. The restaurant creatively reimagines market-to-plate Eternal City fare with graceful enthusiasm. There, I nibbled a contemporary tasting menu (think: red raw Sicilian Prawns with Mandarin Ceviche, tarragon oil and Basilicata crusco pepper cream) amid snazzy design and furnishings that mirrored the food. It felt like a deconstructed rendition of old Roman Baroque — again old and new at play. In the evenings I fell into my regal bed after gazing at the fountain from my window, all the while availing myself of the signature Acqua di Parma amenities. Bathtime in my spacious room added a hedonist's joy to my stay, my tub on par with the expectations of Roman nobility — as did my sybaritic treatment at the hotel's Anantara Spa: the Diocletian Bath Ritual (a multi-part dreamscape inspired by Roman bathing traditions and herbs). Still, besides the exceptional service, the hotel's greatest gift to visitors is found on the bottom level, where ruins of Diocletian's Bath, which once expanded all the way to the hotel, are showcased beneath a see-through glass floor. It's the piece de resistance, even the hotel's raison d'etre, as it underscores how the everlasting spirit and gravitas of ancient Rome lives on in the Eternal City, safeguarded here at Palazzo Naiadi.
The Experiences
Thanks to a team of talented concierges, anything can be arranged but currently the newly opened hotel offers a Rome by Vespa Tour (you'll ride along like Audrey Hepburn in a sidecar seat), Secrets of the Vatican (a famed art historian will take you to otherwise closed area and decode symbolism in the art and artifacts), a Roman Cooking class, and Eat Pray Love tour (you'll go through Rome's coolest neighborhoods in a golf cart. Don't laugh. I have been to Rome hundreds of times and I learned some new facts and discovered new things).
Anantara Plaza Nice Hotel
Forgive me Paris but I think the best food in France is in Nice, the French Riviera's gem, a city suffused as much with Italian influence as with its famous glimmer-y rose-hued light. Both (plus the absinthe) drew artists like Matisse and Picasso, not to mention writers like Fitzgerald and Hemingway. Coco Chanel came too for inspiration, and she brought along her coterie, charismatics like Salvador Dali and Jean Cocteau. Only part of France since 1860, Nice bears a hybrid identity that shows in its fare: earthy, soulful bites like socca (a thin, crusty chickpea pancake), pistou (a pesto without pine nuts), ratatouille, pissaladière and salade niçoise. Rose wine dominates—say no more. But what always inflames me most upon arrival to Nice is the chance to walk the Promenade des Anglais. It has a curative effect as surely as walking a labyrinth. Luckily that beachside ramble and those flavors of Vieux Nice can be accessed instantly, steps from the front doors of villa-like Anantara Plaza Nice Hotel, a glamorous grand dame, stylishly re-imagined by Anantara.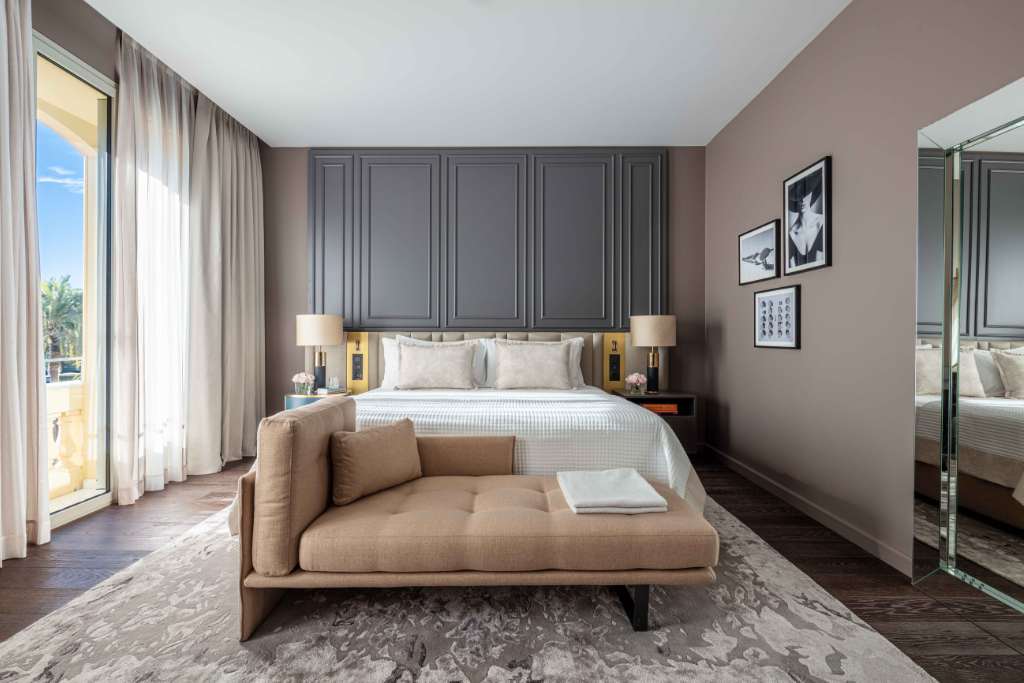 Dating back to 1848, the intimate hotel has just 151 rooms, many with balconies that signal an attitude of mindfulness, begging you to linger and peer at the sea. You'll feel a bit like a bygone siren on your balcony. With its gold-hued exterior, redolent of the Cote D' Azur's light, the Plaza Nice also sets a swish mood with Art Nouveau inspired interiors, shapes, and textures. French chic and heyday Russian allure reign (ala Chekhov who also came to Nice) indicating former times. But upstairs SEEN invites—the Plaza's version of Chef Olivier da Costa's restaurant, all done with a French twist and a madcap vibrant mood. Do try the wines from nearby Château de Cremat winery, which has created a vintage just for the Plaza. Have afternoon tea in Les Colonnades just off the lobby, a spa treatment in the hotel's subterranean Anantara Spa, and breakfast on the rooftop, where SEEN is transformed in the morning to be more zen and relaxing.
The Experiences: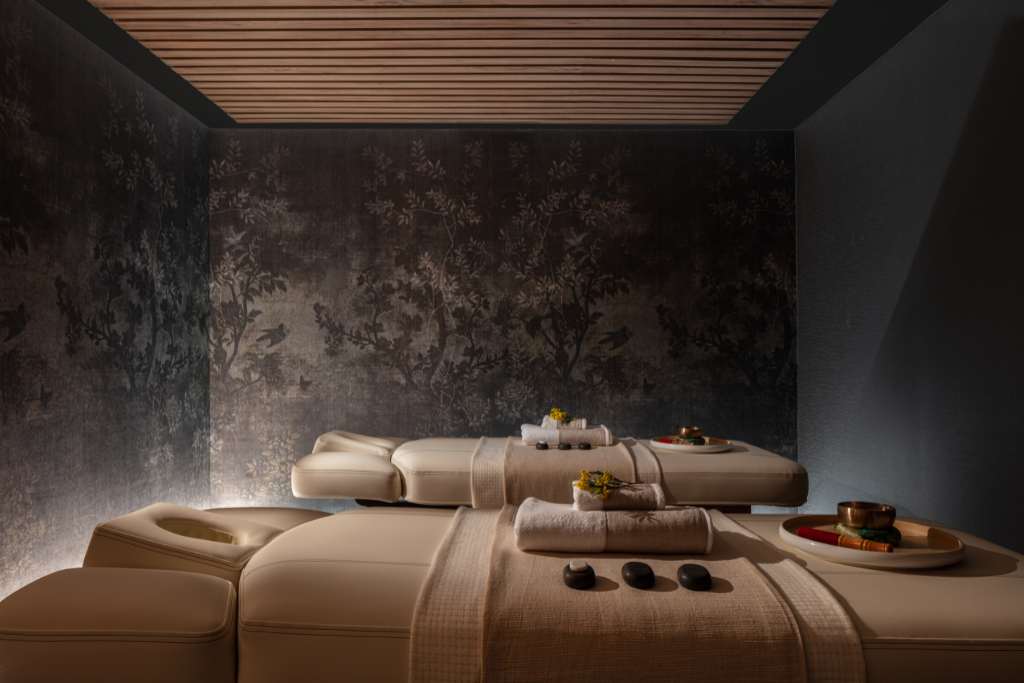 Join chef-led walking tours, art classes in Antibes, an expert guided tour in Vallauris to the Romanesque Chapel where Picasso painted War and Peace, and glass blowing sessions in Biot. Do visit the winery and chateau, Cremat, where legendarily Coco Chanel drew inspiration for her famous emblem, but more importantly where you can capture uninterrupted views of the Riviera, see local art and taste elegant wine in a storybook garden.