On a secluded pocket-sized cay in the South Pacific, surrounded by a cobalt expanse so varied in blues it might have been painted by David Hockney, we relax atop blankets sipping Bloody Marys and nibbling Lilliputian quiches. Though the waves roar and a siege of black and white gulls cackle away, nature mutes its own noise, fusing the cacophony into a meditative silence. Having arrived to this breakfast picnic by boat, we've taken over this cloistered, uninhabited islet as if we were the Swiss Family Robinson shipwrecked in the possession of a master chef. In truth, its our Fijian hotel, Royal Davui, set on its own private island (just a bit bigger than this spit of sand where we nibble), that arranged our outing. They've created this breakfast repast of Babette-sized proportions, then transported us across the waves. All morning we take over our personal sandy hotspot — searching for shells, sunning, and storytelling.
But, now it's time to return to . . . civilization. That means going back across the waves to Royal Davui with its handful of villas, each perched on a volcanic cliff, looking toward the sea. With a relaxed, even languorous timbre, Royal Davui supplies elegant simplicity, peppered with just the right amount of hedonism to achieve that state of shipwrecked chic (without deprivation) vacationers crave.
You'll want to put all of these private island getaways on your channeling Robinson Crusoe travel list.
Royal Davui, Fiji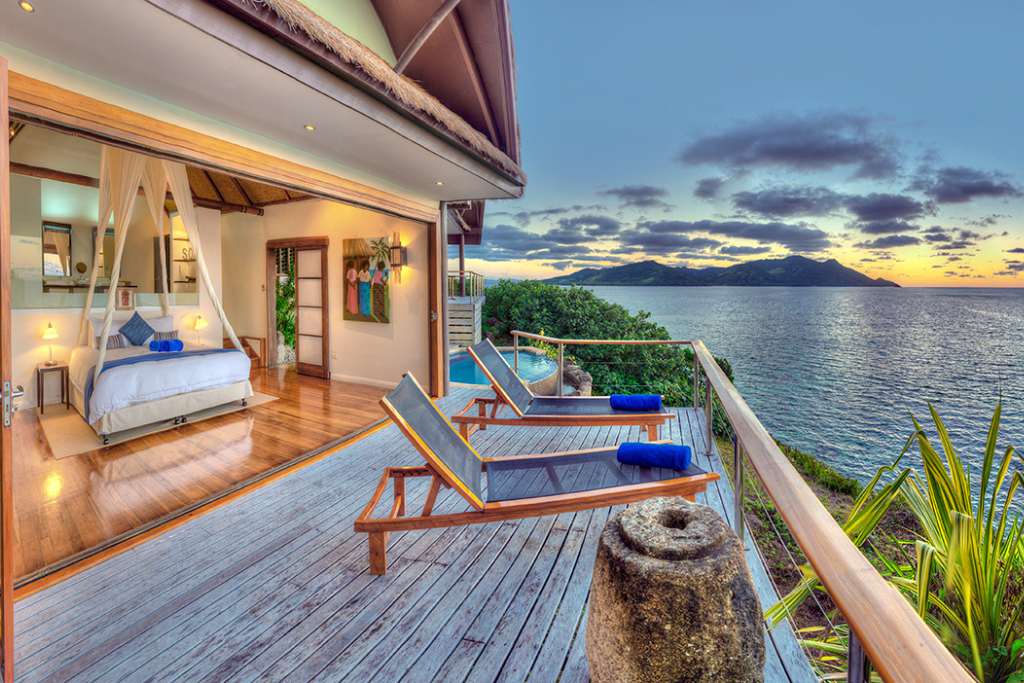 On Beqa Island, one of Fiji's 333 islands, adults-only Royal Davui awaits. Owned by the Southwick family, 5th generation Fijians who are often in residence, Royal Davui fulfills every aspect of your Fijian fantasy. Intimate and immersive, it has 16 elegant vales (the Fijian word for villa), a treehouse restaurant where a nightly kava ceremony takes place, and access to a host of activities from sailing just off the beach to surfing at nearby Pacific Harbour.
Four Seasons Private Island Maldives at Voavah, Maldives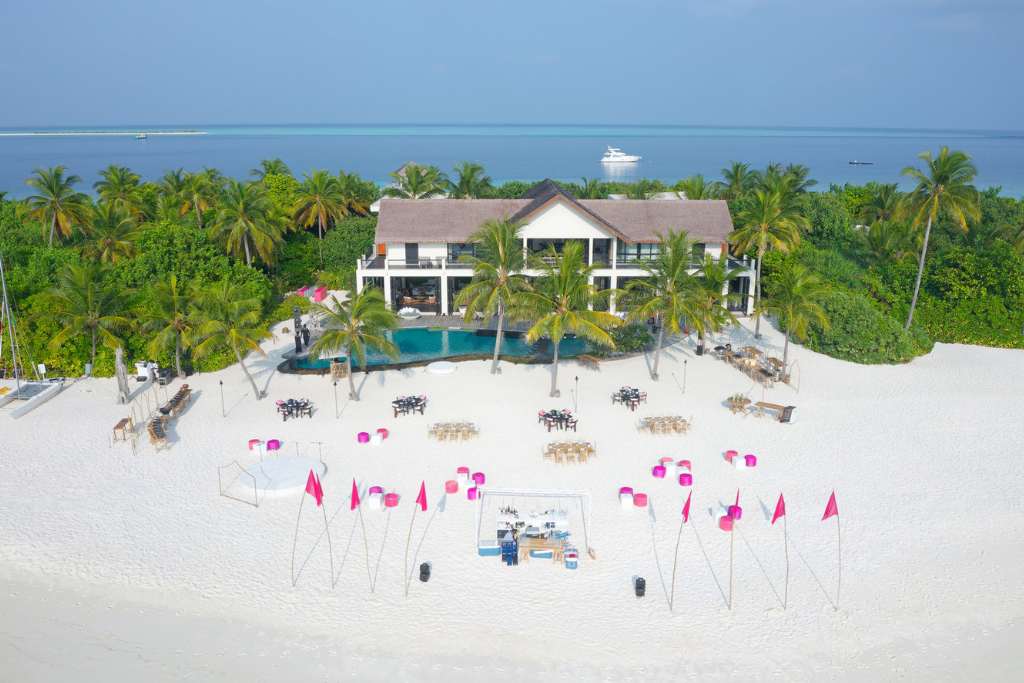 As if Four Seasons didn't already offer enough jaw dropping, soul healing options in the Maldives, the lofty brand now tempts globetrotters with five-acre Four Seasons Private Island Maldives at Voavah. Positioned within the Baa Atoll UNESCO Biosphere Reserve this one island, one booking sanctum accommodates 21 guests in 7 exquisite bedrooms. Non pareil, a jewel box resort, the island comes with its own 62-foot yacht for diving outings, manta ray swims and sails to even more secluded sandbanks — not to mention the Ocean of Consciousness overwater spa, replete with Ayurvedic physicians, acupuncturists and yoga teachers. Stocked with water toys large and small, the mid-ocean playground with private sea plane access ensures guests can go off the grid for true renewal.
COMO Parrot Cay, Turks and Caicos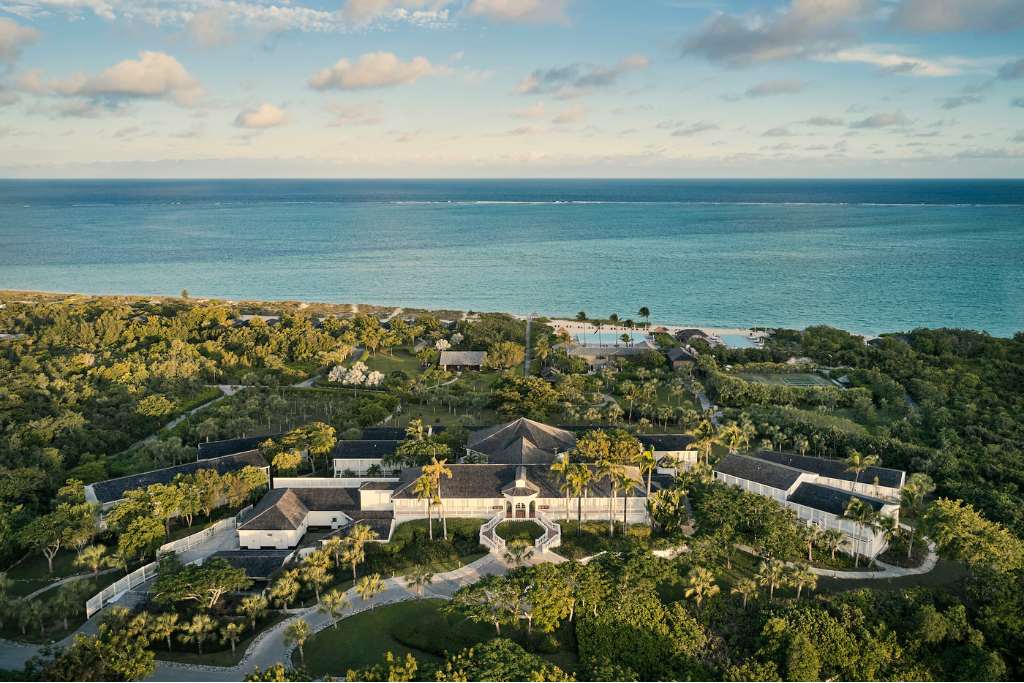 It happens the moment you disembark from the boat that delivers you to COMO Parrot Cay after a fifty minute cruise from Providenciales. Calmness, Quietude. The feeling that perhaps now you can reclaim your life. At this Asian-intoned resort, a place born on the concept of healing mind, body and spirit, you can stay in a guest room or suite in the main building or sequester further afield in a villa, beach house, or residence. Sporty types will enjoy the resort's array of beach-centric activities from snorkeling to mangrove kayaking. Soul seekers can renew in Parrot Cay's spiritual heartbeat COMO Shambhala, a sun-dappled spa sanctuary with a yoga studio and a curative array of therapies, including both traditional and Asian holistic options. Overall, Parrot Cay exudes a clubby feel, albeit one with tranquil underpinnings that appeals to honeymooners and families alike.
The Brando, French Polynesia
Imagine walking into a painting by Gauguin, then walking around the island that the artist depicted, talking to its flower-crowned characters, wrapped in colorful pareos, their bare feet, like your's poking into the soft sand. Inside the painting you can feel the ocean breeze, smell the sweet tiare and frangipani, perhaps hear the laughter of children. That's the world Marlon Brando wanted to share with the world on his private atoll in French Polynesia. Seeking a simpler life, Brando moved to Tetiaroa, determined to keep it unspoiled. With The Brando, still overseen by family members and an active foundation, he aptly succeeded. Possibly the most sustainable hotel in the world, a homage to simple pleasure, The Brando comprises 35 authentic beachfront villas, restaurants, Bob's Bar (a tiki bar in the sand and Brando's favorite) and a pace as slow as molasses. Do a lot or nothing at all.
andBeyond Mnemba Island, Zanzibar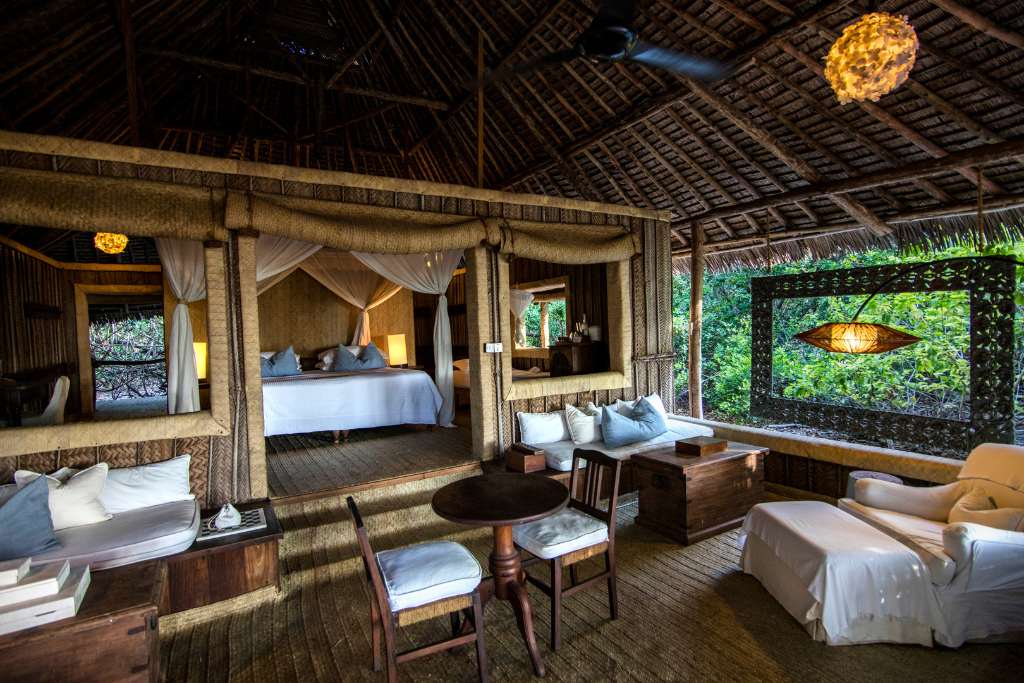 Part of Tanzania, exotic Zanzibar, once known as the spice island, wafts more briny sea air nowadays than cinnamon and cloves, but otherwise the locale has changed little for centuries. Even more organic, romantic andBeyond Mnemba Island lies off Zanzibar's coast, just a quick boat ride away. With room for only 24 guests in 13 thatched-room bandas, it feels excitingly remote. Don't spend time looking for conventional doors or windows as only rustic flaps roll down for privacy, further evoking past eras and barefoot stays on far flung deserted isles. Small enough to be walked end-to-end in an hour, Mnemba Island offers diving, sunset cruises on traditional dhow boats, and candle-lit dinners on the beach. Consider them for après safari chill time
Nayara Bocas del Toro, Panama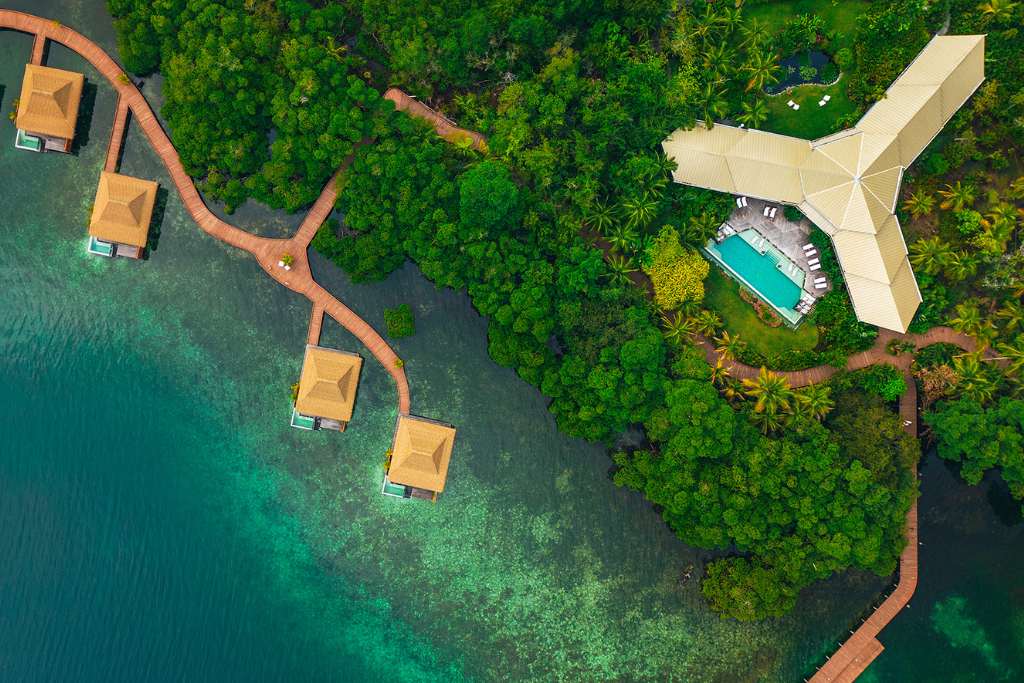 Islas Frangipani. Could a name be more evocative? We can imagine the perfume of the place. Sniff your heart out at Nayara Bocas del Toro, tucked into a private mangrove island on the Caribbean coast of Panama. Anchored with 16 over-water villas and three new Elora Hardy-designed treehouses, constructed from local bamboo and partially petrified beams salvaged from the floor of the Panama Canal, this totally off-the-grid, adults-only escape from reality uses solar electricity and a rainwater filtration system.
Palm Island, St Vincent & The Grenadines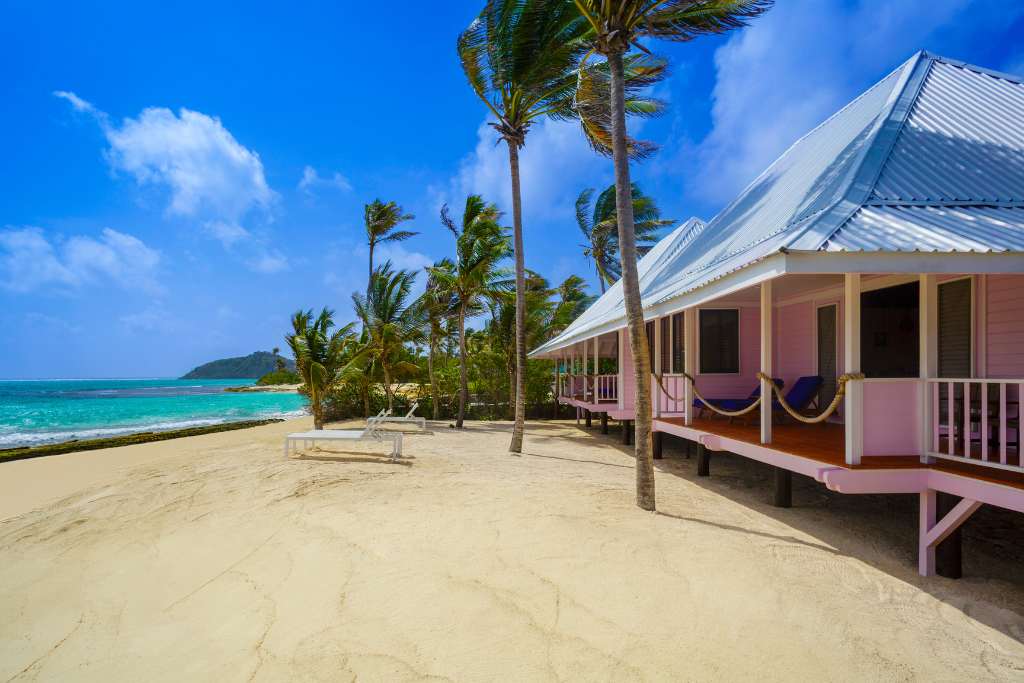 Dubbed the Maldives of the Caribbean, poised in the bluest water imaginable, 135-acre Palm Island feels alluringly lost in time. Adult-oriented, all-inclusive, it accommodates guests in 41 spacious suites and three villas, including Sea Horse Villa, furnished with sustainable textiles made from recycled plastic and furniture built from shipwrecked wood. With two ensuite bedrooms, this beachside residence also has a kitchen and laundry room.
Fun fact: the island produces more than 2,000 coconuts per year and incorporates the tropical nut into various local recipes handed down from local residents and staff members.
Villa Emden, Switzerland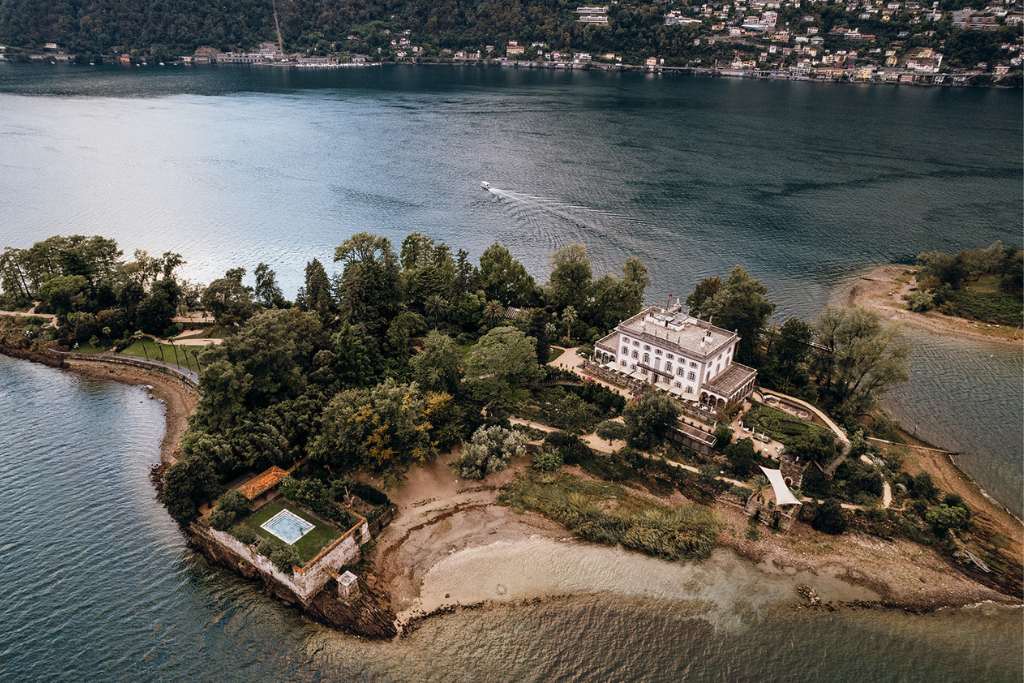 We tend to think of islands being tropical, but lakes and other bodies of water boast encircled bits of land, too. With Italian-speaking Swiss on one side, Lake Maggiore shares its shores with Italy. For centuries, locals on both sides have plied the waters for livelihood and recreation. Open to the public during the day, Isole di Brisago welcomes visitors who arrive by public ferry, but only those checking into evocative Villa Emden can spend the night. A romantic ten room 19th-century villa that lies amid gardens, it summons thoughts of characters in novels with flowing gowns. Note: even the general manager arrives to work by boat.
The Aerial, British Virgin Islands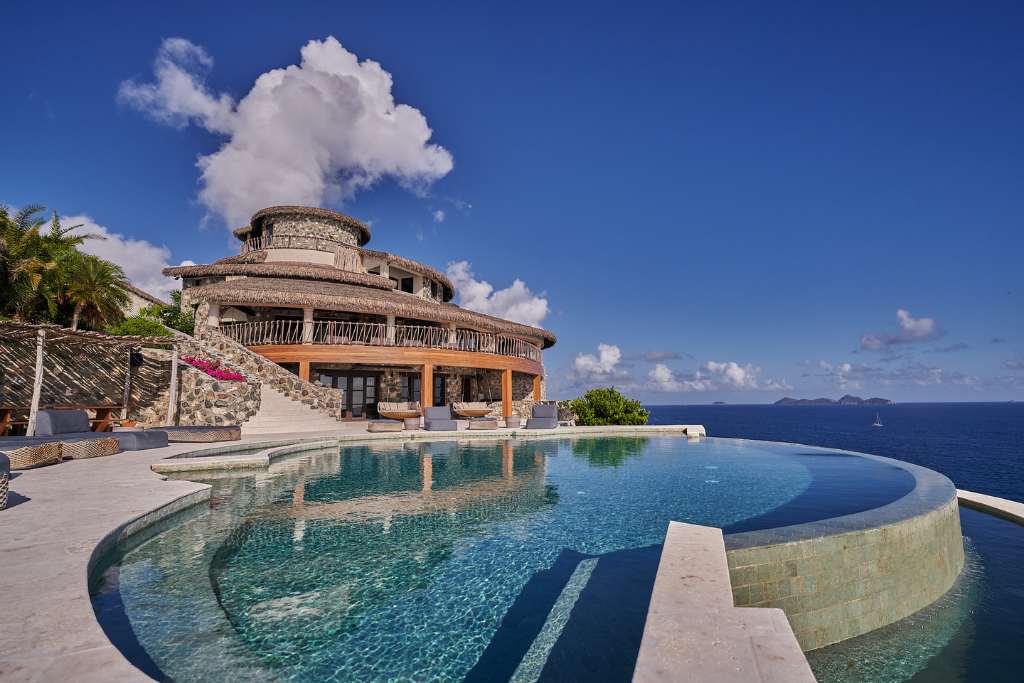 Wellness defines the experience at The Aerial BVI, located on private Buck Island, a 43-acre, tropical paradise. Beyond flamingos, expect to see horses at The Aerials' equestrian stables — even zebras (hoping to be fed) at its Redemption Ranch. Hike, sail, cuddle up for outdoor movies, take fitness classes, try guided writing sessions, practice yoga, and partake of acupuncture at this transformative retreat. Fuel your stay with clean, locally-sourced food and garden-to-table meals. Not just sustainable, but with a penchant to support worldwide overall healing, the community minded resort brings wounded (physically, mentally, and emotionally) veterans for five day stays each month.
Cayo Espanto, Belize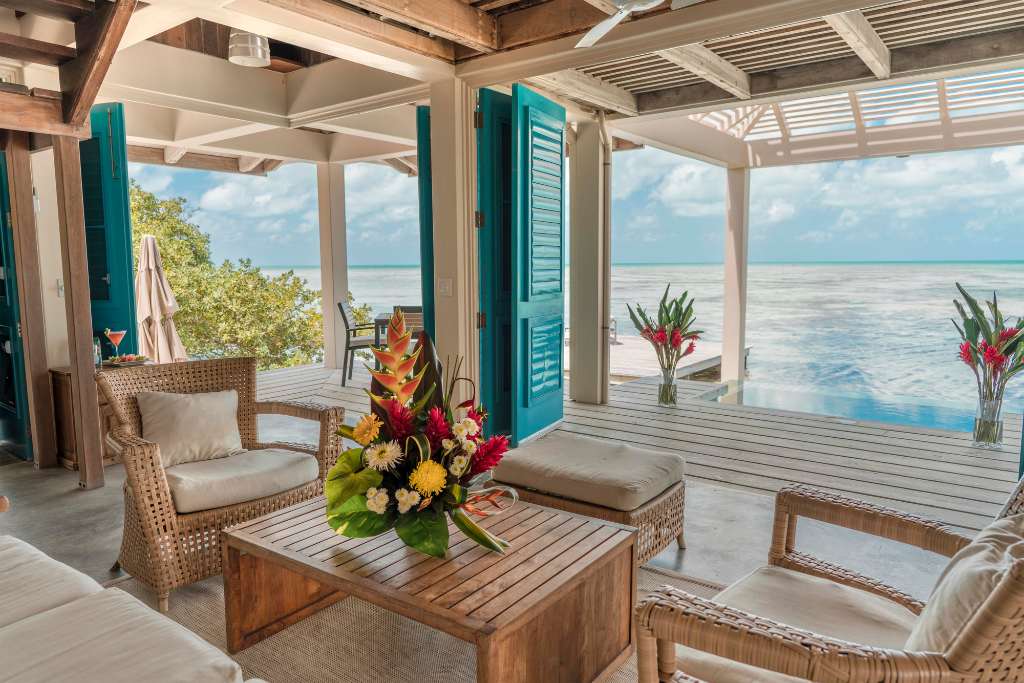 On the southern part of Ambergris Caye, San Pedro buzzes as a characteristic beach town blessed with postcard perfect snippets of sand, turquoise waters and a healthy barrier reef. Three miles off its coast, discover Cayo Espanto, an oasis of barefoot glam. Personal butlers lord over seven stunning seafront villas, customizing itineraries that include fishing, yachting, on-land exploration, and tropical spa treatments. A dedicated chef prepares five-star meals, tailored to guests' desires. Consider this one for a girls getaway buyout or intimate destination wedding.
Featured image credit: Royal Davui