Situated on the eastern end of New York, the East End of Long Island boasts a stunning landscape of beautiful beaches, picturesque villages, and vibrant culture that draws in visitors worldwide. Known for its iconic vacation destinations, the Hamptons and Shelter Island offer diverse experiences to travelers. Whether you're seeking the relaxed atmosphere of a quaint seaside village, the lively energy of a bustling town center, or the serene beauty of untouched natural spaces, the East End of Long Island has something for everyone. Here we share where to stay, what to do, and where to eat in the Hamptons and Shelter Island, uncovering the hidden gems and must-see sights that make this area a truly unforgettable destination.
Where to Stay
The East End offers various accommodation options, ranging from opulent grand hotels to charming bed and breakfasts, ensuring a perfect stay for every type of traveler. Whether planning a romantic getaway, a family vacation, or a solo retreat, the East End has something to suit your needs and preferences.
Baron's Cove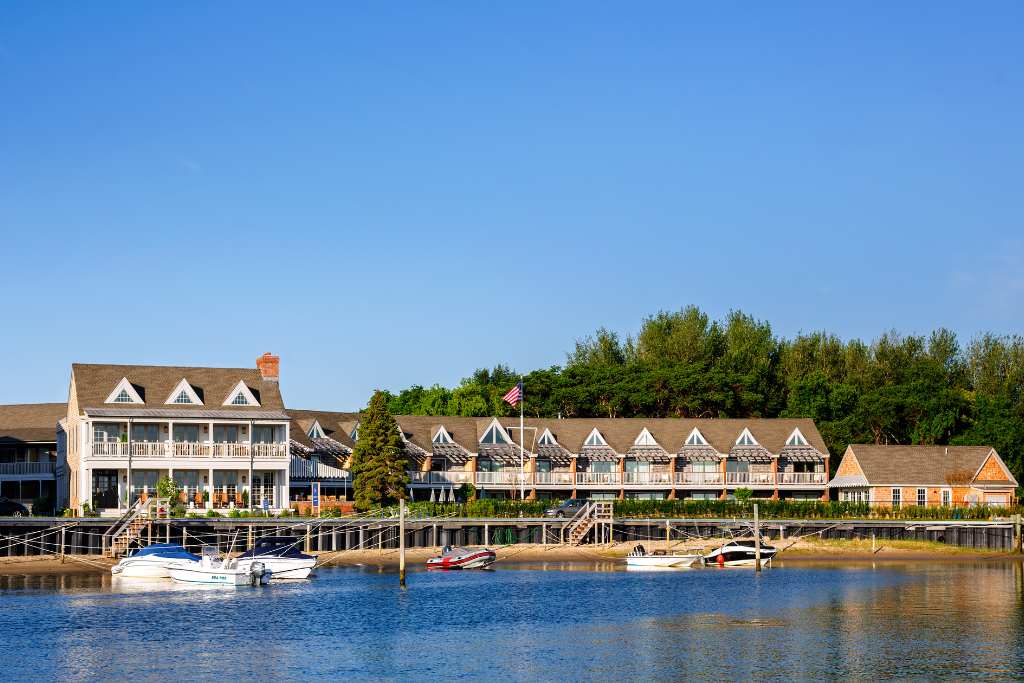 Baron's Cove is a premier waterfront resort in Sag Harbor, one of the most picturesque villages in the Hamptons. Known for its stunning harbor views, this all-American resort destination offers a range of comfortable and elegant accommodations, including village and harbor-facing guestrooms, lofted suites, and dog-friendly options. With 67 rooms, Baron's Cove is perfect for those seeking a peaceful retreat on the East End. The hotel is not only known for its stunning accommodations but also for its world-class amenities and services. The resort offers a range of on-site dining options, including a farm-to-table restaurant, a classic American bar and grill, and a poolside café. In addition, guests can enjoy a refreshing dip in the outdoor heated saltwater pool, take a yoga class in the garden, or indulge in a relaxing spa treatment at the resort's on-site spa.
Plus, if you want to explore the local area, Baron's Cove offers a complimentary shuttle service to the nearby beaches, wineries, and historical landmarks. Guests can also rent bicycles or take a scenic stroll to explore the charming village of Sag Harbor, home to an array of boutique shops, art galleries, and restaurants.
The Pridwin Hotel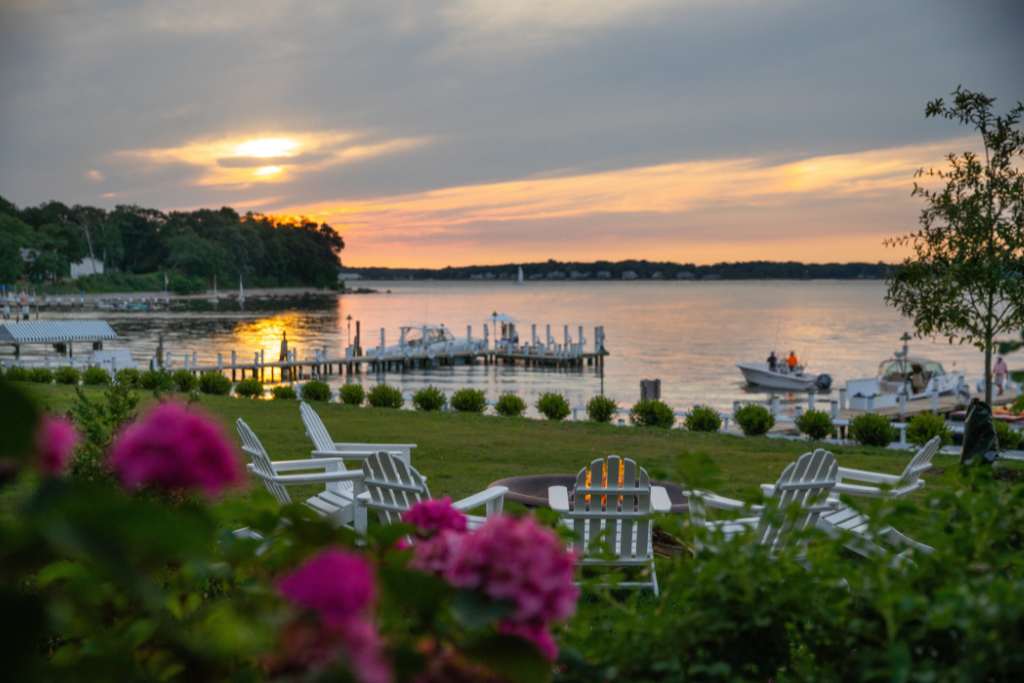 For nearly a century, the Pridwin Hotel and Cottages has been a beloved retreat for travelers seeking an authentic American resort experience on Shelter Island. Set on nearly 10 acres of pristine land on Crescent Beach, the hotel boasts stunning water views of the Peconic Bay, gentle bay breezes, and protected waters that provide the perfect environment for a peaceful and relaxing getaway. Originally established in 1927, the Pridwin Hotel and Cottages has been a favorite among generations seeking a unique and unforgettable vacation experience. From classic American architecture to charming cottages and elegant suites, the hotel offers a perfect blend of comfort, sophistication, and old-world charm to enchant guests of all ages.
The Pridwin Cottages
Those looking for more space and privacy will find the Pridwin Cottages the perfect retreat. Each cottage is uniquely designed and decorated, creating a warm and inviting atmosphere for guests to unwind and relax. Guests can enjoy modern amenities like complimentary Wi-Fi and flat-screen TVs while indulging in the cottages' rustic charm. The Pridwin Cottages also offer a range of activities for guests, including kayaking, paddle boarding, and fishing. For those who prefer to stay on land, there are plenty of hiking and biking trails to explore and a nearby golf course. At the end of the day, guests can indulge in the culinary delights offered at the Pridwin Hotel's on-site restaurant, which serves locally sourced and fresh ingredients. Whether seeking adventure or relaxation, the Pridwin Cottages provide the perfect home base for a memorable vacation on Shelter Island.
Where to Eat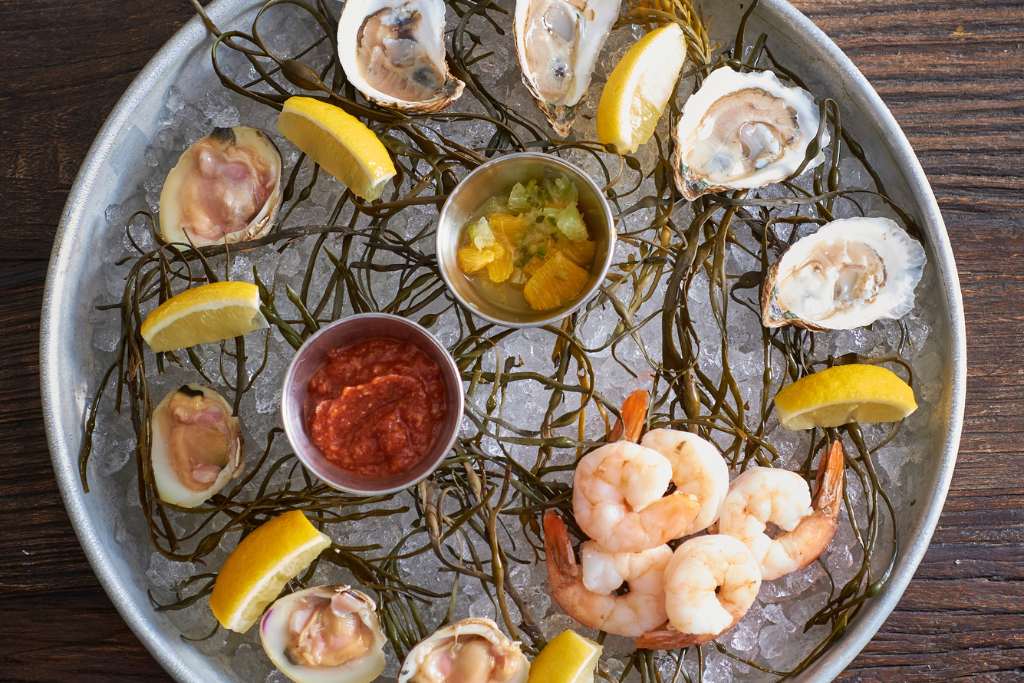 For avid seafood enthusiasts, The Dock House in Sag Harbor is a must-visit. This unassuming seafood shack perched on the harborfront offers a casual, open-air dining experience featuring an impressive selection of freshly caught, locally sourced seafood. But, of course, regulars can't get enough of their exquisite lobster rolls and succulent fried clams.
Nick and Toni's in East Hampton is another remarkable dining destination. It is recognized for its Mediterranean-inspired cuisine that has remained a favorite among local patrons and A-listers for over thirty years. Their menu features a diverse selection of exceptional dishes such as wood-fired pizzas, homemade pastas, and fresh seafood that are simply unparalleled. To accompany these flavorful offerings, the restaurant boasts a comprehensive wine list that will satisfy the most discerning palates.
And be sure to leave room for dessert. The East End is home to some of the best bakeries in the state. For example, Levain Bakery in Wainscott is known for its famous chocolate chip cookies, which have been featured on numerous food shows and publications. Tate's Bake Shop in Southampton is another beloved institution, offering a wide range of delectable baked goods, including their signature crispy, buttery chocolate chip cookies.
In short, the East End of Long Island is a food lover's haven.
What to Do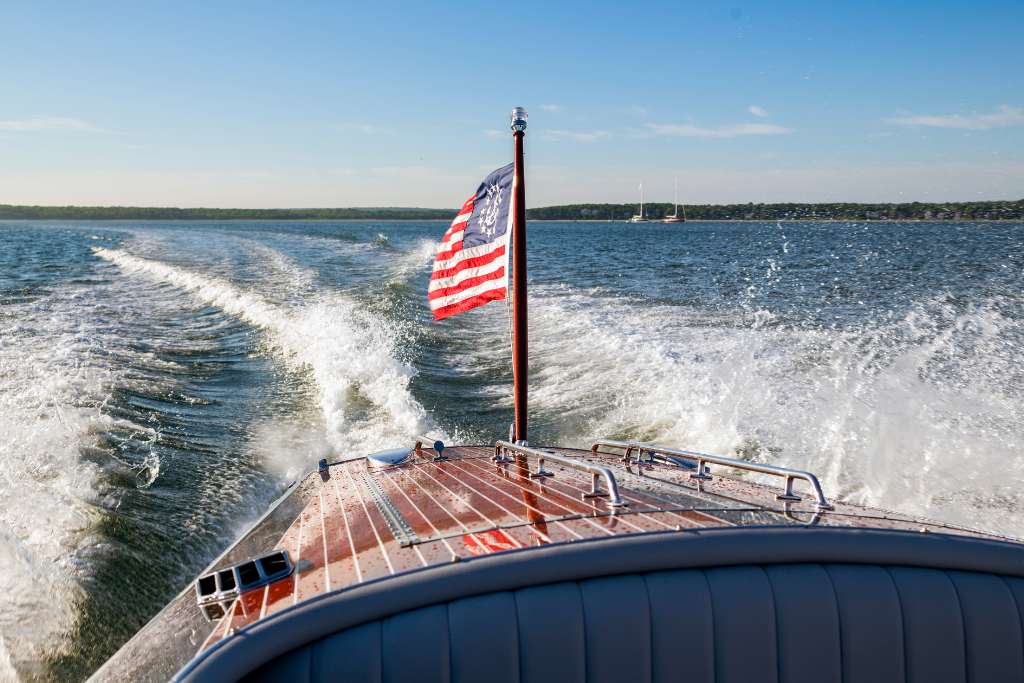 The region, including Sag Harbor and Shelter Island, is known for its beautiful beaches, picturesque towns, and bustling art scene. So whether you're looking to relax on the sand, explore the local shops, or indulge in some delicious food, there's something for everyone in this charming corner of Long Island.
One of the best ways to experience the East End is to stroll through the charming village of Sag Harbor. This historic town is home to some of the best shopping and dining in the area, with a wide range of boutiques, art galleries, and restaurants to explore. To taste local culture, stop by the Sag Harbor Whaling Museum, which tells the story of the village's long history as a major whaling port.
If you're looking to soak up some sun, plenty of beautiful beaches in the East End. One popular option is Coopers Beach in Southampton, which is consistently ranked as one of the best beaches in the country. Another great choice is Sagg Main Beach in Sagaponack, which offers miles of soft sand and clear water.
For a more laid-back experience, head to Shelter Island, a small island between the North and South Forks of Long Island. This peaceful enclave is known for its pristine natural beauty, with miles of hiking and biking trails to explore. Also, check out the Shelter Island Historical Society, which offers a glimpse into the island's rich history as a farming and fishing community.
In addition to these activities, the East End is also known for its bustling art scene. Visitors can explore a variety of galleries and studios, showcasing the work of local and internationally renowned artists. The Parrish Art Museum in Water Mill is a must-visit destination, featuring a wide range of exhibitions and educational programs.
Featured image: Baron's Cove