Romantic Venice, with its winding waterways, ancient Gothic and Renaissance architecture, no-car mantra, and narrow cobblestone streets, is also home to a number of beautiful outlying islands. Among them: Burano, known for its exquisite lace and colorful orange, blue, red, green, yellow houses — said to have been painted bright to guide fishermen through the foggy lagoon on their way home; Murano, famous for the city's world-renowned hand blown glass; and the lagoon's youngest island, Isola delle Rose (a.k.a. The Island of Roses), a former health clinic turned exclusive private-island resort.
Recently two of our Travel Curator writers — Jordi Lippe-McGraw and senior editor Shari Mycek — separately found their way to Isola delle Rose and its exclusive JW Marriott Venice Resort & Spa. Each came for a different reason: Jordi, on a quick girl's getaway with her bestie; Shari, at the end of a week in Italy with her significant other. Both were in search of a tranquil experience away from the frenzy of 'downtown.'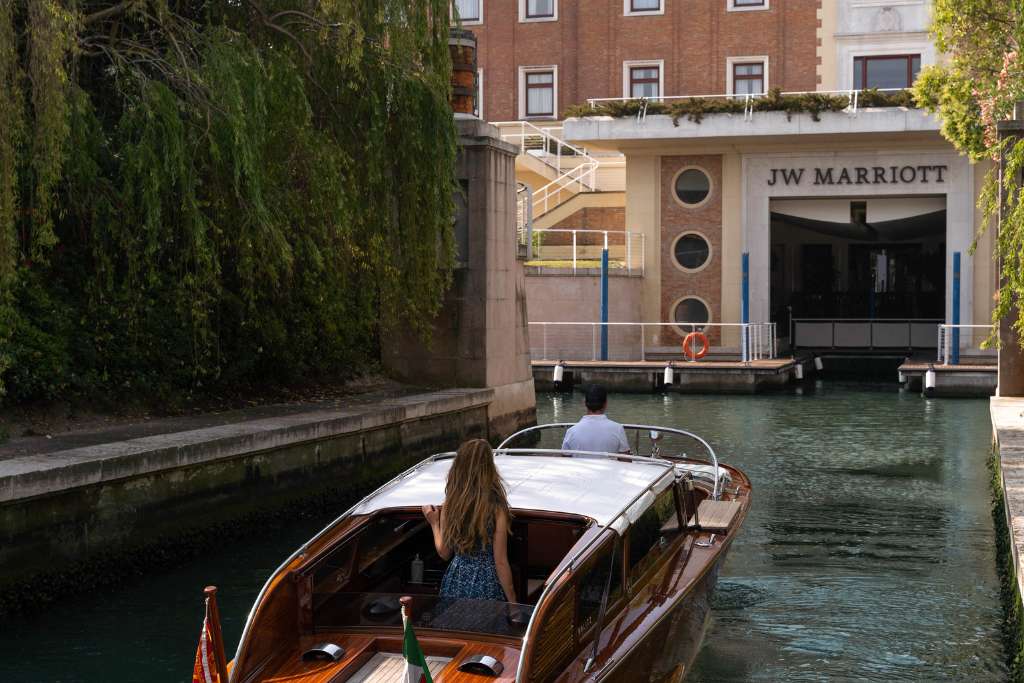 Respite is a role Isola delle Rose has long played. Famous for its unique microclimate — rare-to-Venice jasmine, olive trees, and royal palms thrive here — the island is perhaps best known for its fresh sea air. In 1914, a healing clinic for those with respiratory diseases (i.e. tuberculosis) was established here. In time, fragrant rose gardens, a leafy park, and olive groves (more than 100 trees) were cultivated; a church and men's club were added. When the hospital closed permanently in 1980, the island and its buildings stood abandoned, sans one man (a friar) who faithfully remained on site to watch over the gardens and rose beds.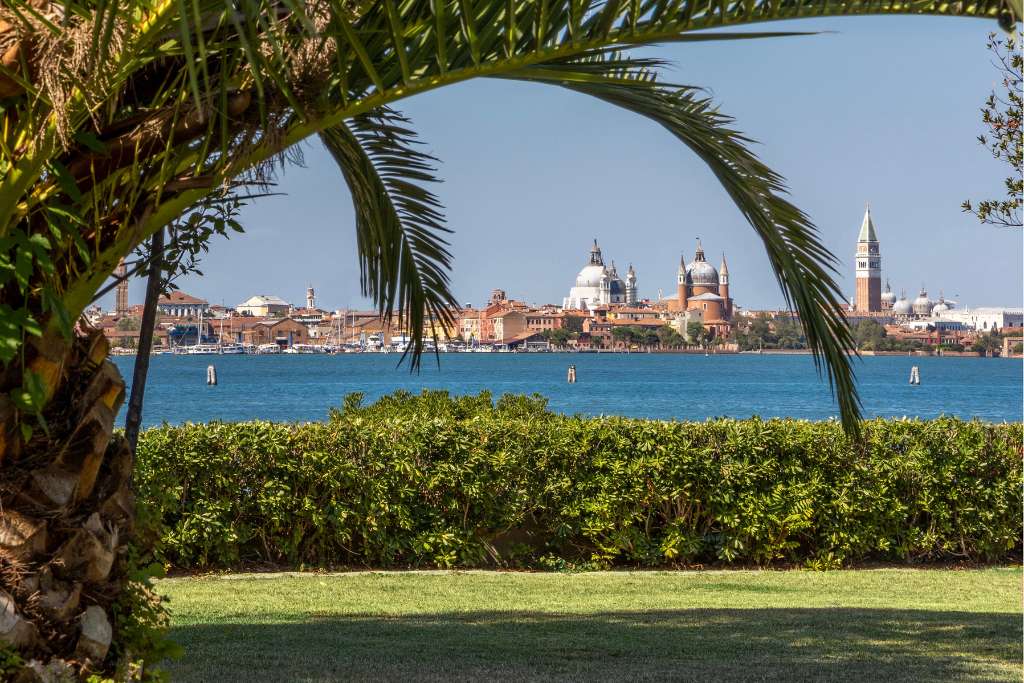 Now a JW Marriott (the only JW Marriott in Italy), the chic property — transformed and reimagined by renowned architect Matteo Thun — features 40 acres of stunning flower, rose and vegetable gardens, an olive grove, and Venice's only water-edge spa. Interestingly, as our writers reveal, the stylish property works well as both a besties getaway, and stay-in-place couple's rendezvous. Following are their accounts:
Girlfriend's Getaway
By Jordi Lippe-McGraw
The past three years have been a relentless rollercoaster for people all around the world, but perhaps no group has felt the weight of these challenges more than mothers. From navigating pandemic worries to taking on the daunting task of homeschooling, moms (including myself) have endured it all. So what better way to rejuvenate the spirit than by embarking on a journey with a cherished friend? In my case, my best friend Allie and I chose the enchanting city of Venice as our destination — a place she had never experienced, with the added bonus of affordable flights that aligned perfectly with our schedules. For us, Venice offered the ideal blend of serene spa retreat, delectable cuisine, and the opportunity to immerse ourselves in rich history, making it the ultimate backdrop for our much-needed respite.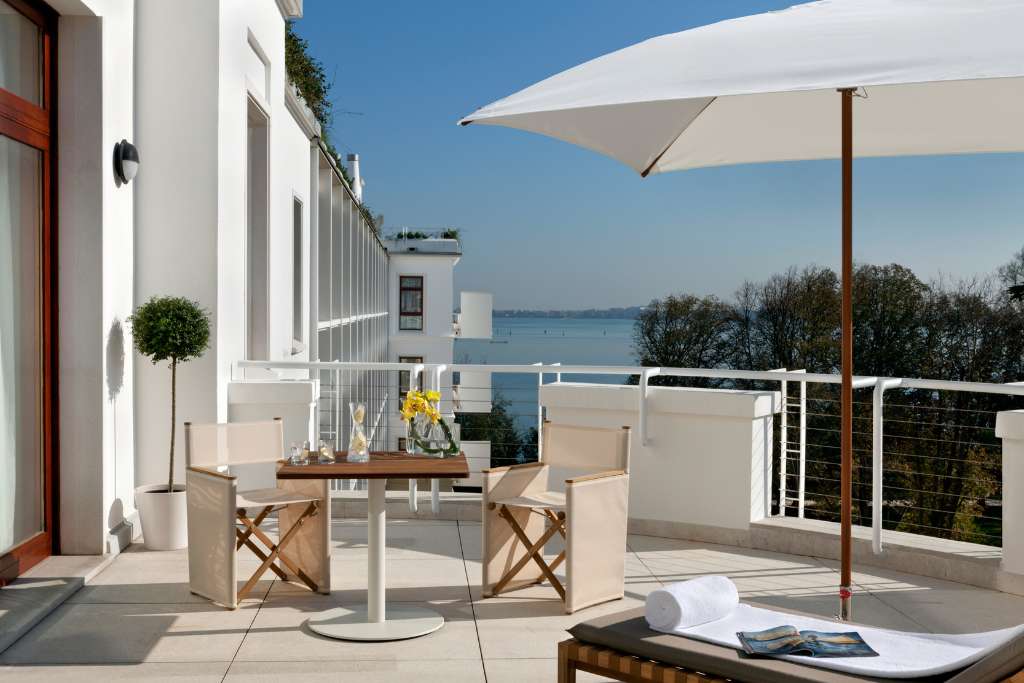 We loved JW Marriott Resort & Spa's exquisite blend of peaceful repose and accessibility to the city's bustle. Just a 20-minute (complimentary) boat ride from the vibrant Piazza San Marco, the resort is a welcoming haven after an adventurous day of city exploration. We loved our elegant rooms with views of the meticulously landscaped gardens and calming lagoon, ideal for heartwarming, intimate conversations.
For us, the crown jewel of the resort was the spa. With a private pool, multiple saunas, and outdoor loungers that provide an enchanting view of the water, it provides a unique retreat to unwind and rejuvenate before venturing out to explore Venice. We spent our entire first day indulging in therapeutic treatments, from detoxifying body wraps to calming aromatherapy massages. This shared day of pampering set the tone for the rest of our trip, fostering a deeper sense of connection and companionship.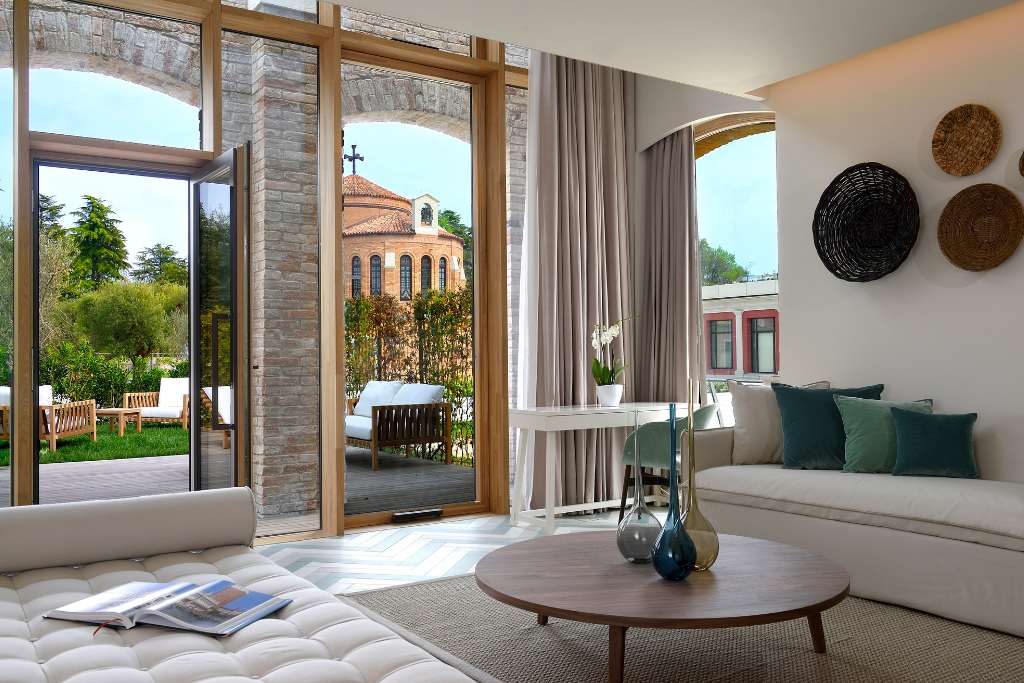 We enlisted a private bespoke tour with TravelLocal, known for its authentic Venetian experience. Our journey began in the city's heart — Saint Mark's Square where we marveled at the church of Saint Mark with its awe-inspiring golden mosaics. From there we encountered the famous Bridge of Sighs (learning the intriguing history behind its name), explored the Castello district, where we visited the lovely "Campo Santa Maria Formosa," showcasing its stunning architecture; walked to Campo Santi Giovanni e Paolo, adorned with a bronze monument crafted by Verrocchio, Leonardo da Vinci's teacher, and made our way to the iconic Rialto Bridge, where we paused to appreciate the world's most beautiful roadway, the market area, the city's oldest part, and the birthplace of many modern economic settings. Our tour concluded with a relaxing water taxi ride crossing Venice's enchanting canals.
A culinary trip to Venice isn't complete without trying the local "Cicchetti," small snack-like dishes served in traditional Venetian bars, known as Bacardi. Our guide led us to her preferred spot, where we indulged in these delicious bites with Venetian wine. For gelato, Suso Gelatoteca is a must visit. This renowned gelateria is the perfect spot for the quintessential Instagram shot — a decadent cone of gelato poised over a canal. And don't miss the unique afternoon tea available at the St. Regis. It features china by Italian porcelain maison Ginori 1735 and Off White.
Couple's Getaway
By Shari Mycek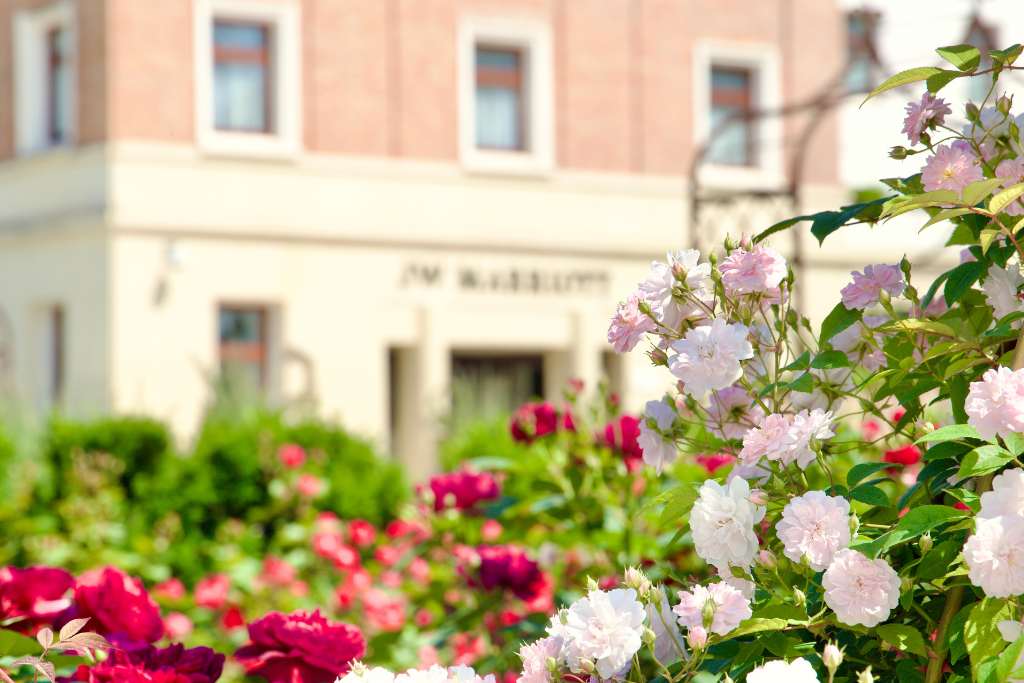 Our stay at JW Marriott Venice Resort & Spa came serendipitously. We had been traipsing through Italy for the past week. Our journey had begun along Venice's Grand Canal at the exquisite Palazzo Garzoni, a restored 15th-century palace, before making our way to Tuscany's Chianti region for a magical stay at the Fontanelle Estate. Back in Venice, for our final night in Italy, we were looking for a quiet send off — a romantic dinner for two, some spa time, and an atmosphere void of crowds. We found all on the beautiful Isola delle Rose.
Stepping off the high-speed train at Venice's Santa Lucia train station located (like everything in Venice, on the water), we were met by our private water taxi and quickly delivered to the hotel. After checking in to our bright, sunny room overlooking the famed rose gardens and lagoon – the walls of our room lined with sexy black-and-white portraits of Sophia Loren and Marilyn Monroe – we set out to explore the lush grounds which include a tranquil park, rows and rows of jasmine and rose beds, a historic brick church, fine-dining restaurant (under the direction of two-Michelin chef Emanuele Scarello) and watery views of the Venice skyline.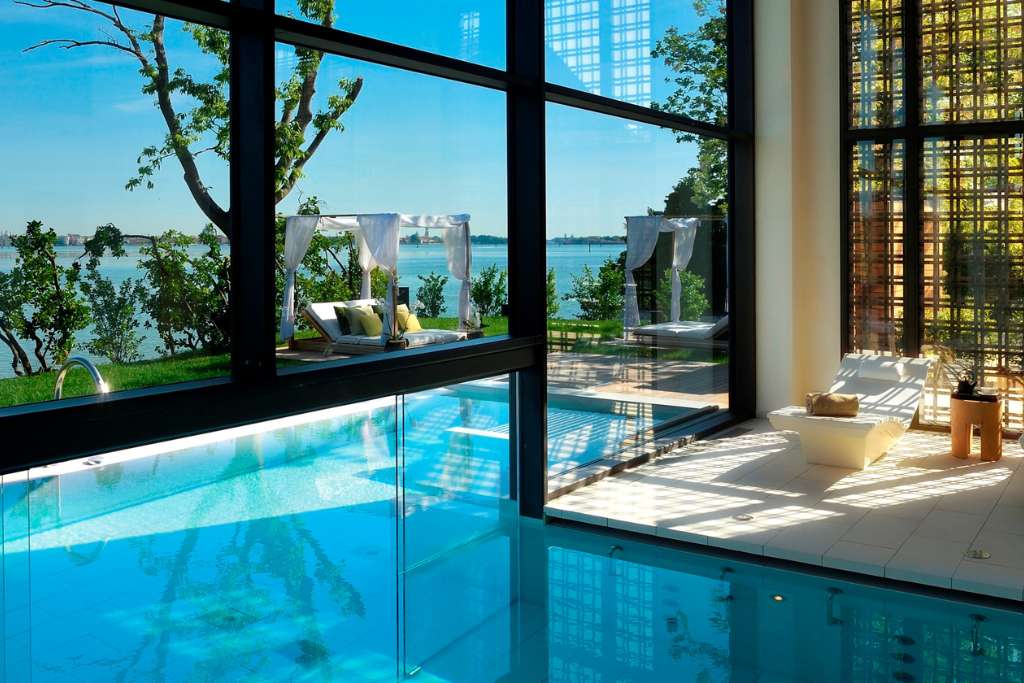 Like Jordi, we gravitated almost immediately to the spa —a wooden, sculpture-like sign, "Nourish the mind, body & soul" leading the way. Excited about the spa's exclusive Italian product line, Bakel — plant-based and made locally — I was disappointed to learn that we were too late in the day for treatments. But all was not lost, as the dreamy water circuit — half inside and half outside overlooking the water — was available exclusively for our use. For the next hour or so, we slipped in and out of hot steam and sauna, dipped into the in- and outdoor hydrotherapy pools, and reclined on cushy lounge chairs watching boats in the lagoon. We could easily have sped off ourselves (on the complimentary boat to 'downtown') to take in more of the sights. But we were blissfully content to stay here in our seemingly own private spa.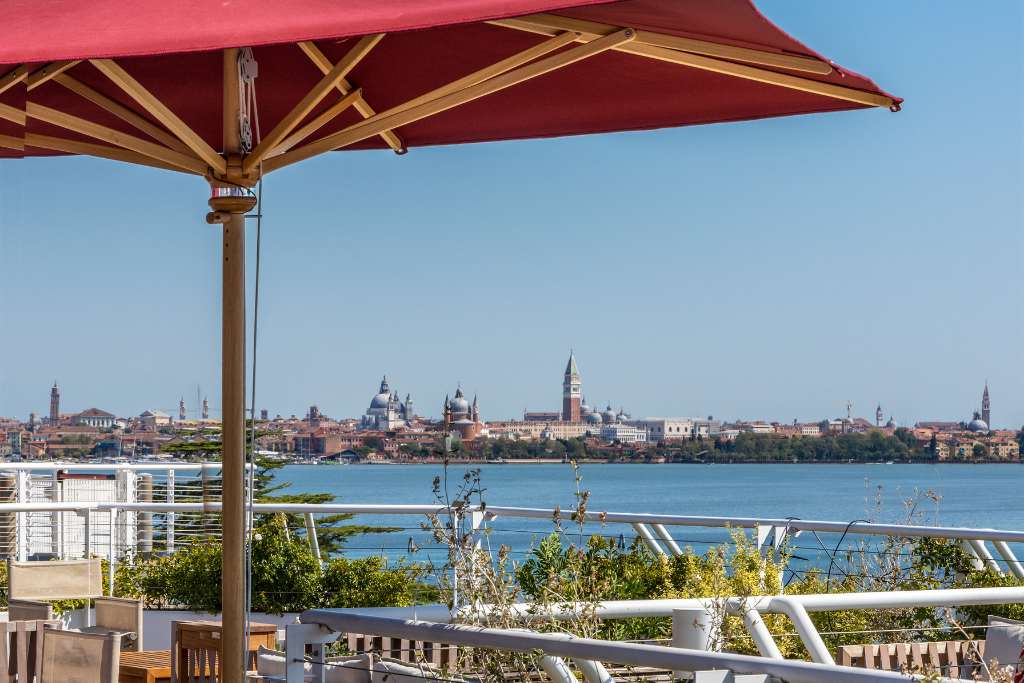 While the resort offers a number of dining options, nothing spoke 'last night in Venice' more than a rooftop table for two at Sagra, led by chef Raffaele Lotto and known for both its authentic Italian cuisine and spectacular sunsets over the water. Our last chance for homemade-in-Italy pasta was satisfied by chef's La Cacio e Pepe (Roberto) and Lo Spaghetto alle Vongole (I), served alongside glasses of local vino. Dessert, which we both normally skip, was decadent — a made-tableside tiramisu. The entire restaurant watched as the tall dessert chef moved effortlessly among the tables with his cart — piping the creme, soaking the cake in fresh-brewed coffee, and even adding a touch of chocolate and liquor (if desired).
Our next morning, following breakfast in the garden and another walk-about the property, we were both sad to leave; our entire experience in Italy had been a dream. But our sadness was lifted with our exquisite airport transfer. Once again, we were in our own private water taxi — our hair (and the Italian flag behind us) blowing in the wind — as we made our way to Venice Marco Polo Airport for our flight home.